The impact last year had on the customer success industry was a significant one. Tech startups and SaaS companies were divided into have and have-nots depending on their segment of activity. Most businesses, especially those in the SaaS sector, realized customer success efforts can accelerate growth, even in times of crisis.
Read our list of customer success statistics and discover what paved the way for innovation and new trends in 2023.
Customer Success market statistics showcase hypergrowth & enticing pay
The pandemic has shifted market conditions and its effect on the economy has decreased revenue for most companies. Organizations have started to realize that Customer Success is vital to long-term revenue growth, which is why CS is becoming a bigger force in the overall business strategy.
An increase in Customer Success hiring is predicted, as companies start to focus on their existing customers. (Source: Successcoaching.co)
The Global Customer Success Platforms Market is estimated to reach $3.1 billion by 2026. Customer success platforms are based on an emerging and advanced technology that simplifies and significantly improves customer success tasks like onboarding new customers and keeping track of customer health scores. It will help companies gather all data on a customer and use it to make a complete analysis. (Source: businesswire.com)
37% of the companies don't have a clearly defined CS strategy. (SurveySparrow)
The increased demand for analytical-based solutions to help CSMs automate workflows will change the market and even transition Customer Success to Customer Success Intelligence.
This hypergrowth of the market and rise of Intelligence within the Customer Success field will also lead to increased pay for professionals.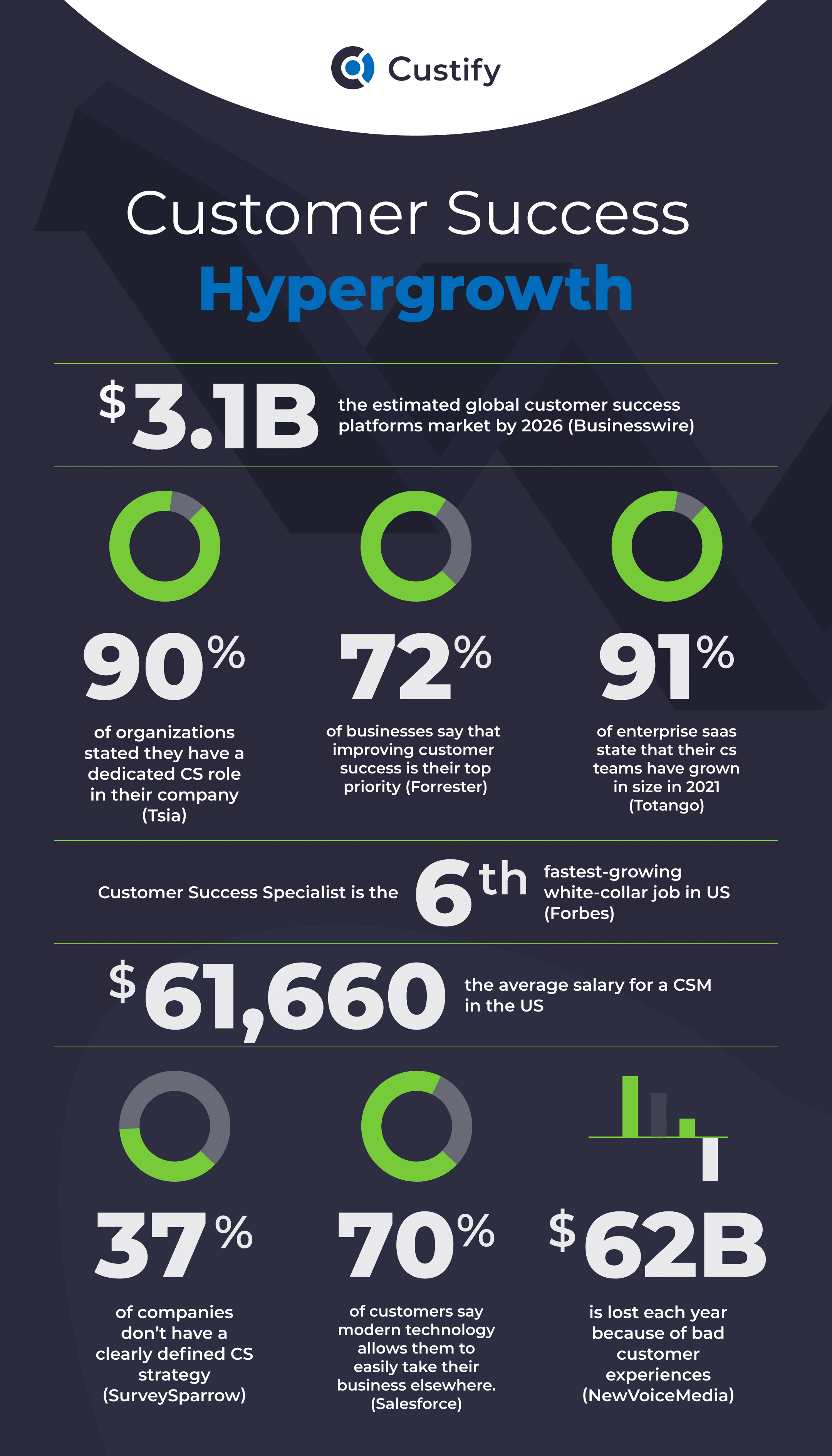 General Customer Success Stats
Since the Coronavirus pandemic hit, companies realized that they needed to focus their customer success efforts on existing customers, because attracting new customers was uncertain terrain.
The probability of selling to an existing happy customer is 14 times higher than to a new customer. (Source: Groove.com)
Customer success organizations have grown the expansion charter from 10% (in 2015) to 47% (in 2020). (Source: Tsia.com)
In 2020, companies that have used predictive analytics models for expansion increased by 22%.
Customers must have the best possible experience throughout their entire customer journey. One of the key points is onboarding, which represents the foundation upon which the company's relationship with the customer is built.
Ever since 2016, customer onboarding has been in the top two adoption activities within customer success companies.
As TSIA's study shows, expectations for onboarding are set during the sales cycle 52% of the time and it normally falls under the responsibility of customer success departments.
Here's a quote from Caroll Simmons, Director of Customer Success at FutureVault, that perfectly summarizes the evolution of the CS market:
Customer Success is now more than a department under Sales, Marketing or Operations; it has become an integral part of the company culture and part of a new growth engine for companies. Companies that always think about how to bring value to their users are the ones that will grow faster and have more success. Giving customers a great experience will keep them loyal and will help to reduce the CAC of companies. At the end of the day, creating a good experience isn't just a nice-to-have, it's an absolute must.
Customer Support & Service Stats that Apply to Customer Success
One study from Microsoft (Global State of Customer Service in 2020) showed that 58% of customers will switch their service to a competitor because of poor customer service. (Source: Microsoft.com)
Despite the technological advancements, customers prefer human touch when it comes to customer service. Personalized customer service is usually a decisive factor in customer loyalty so customer success professionals will be in high demand.
80% of customer engagements could be handled by bots. (Source: Netomi.com)
A study from Salesforce shows that 70% of customers say modern technology allows them to easily take their business elsewhere.
Highly personalized and proactive customer service is vital to customer success and can lead to increases in revenue.
89% of customers are more likely to make another purchase following a positive customer service experience. (Source: Salesforce Research)
Across the globe, 96% of customers say customer service is an important factor in whether or not they become loyal to a brand. (Microsoft)
Poor customer service can make a business lose valuable customers. Moreover, it can be the reason why some leads decide not to turn into customers.
About 61% of customers state they would move to a different brand after one bad customer service experience. (Source: Customer Service Statistics – 123formbuilder)
78% of customers didn't go through with a purchase because of a poor customer service experience. (Source: Glance)
Julian Goldie, CEO of Goldie Agency, believes good customer service is the way to customer success:
The customer success space has finally picked up pace and it will continue to grow rapidly, but if the correct elements are utilized properly. As we can clearly see and evaluate, providing highly personalized and proactive customer service is the key to customer success in 2023 and beyond.
CX Stats that Apply to Customer Success
Although over the years customer success and customer experience have been used to name the same organizational endeavors, nowadays they coexist within a company, as different departments with different responsibilities.
Businesses that offer great customer experience can increase their revenue by up to 8% above their competition. (Source: Bain and Company)
51% of technology and services companies stated they have a designated customer experience department, separated from customer success one. (Source: Tsia.com)
Roughly 32% of the companies polled said their customer success department is in charge of customer experience, while 18% declared they have no department responsible for customer experience within their company. (Source: Tsia.com)
The numbers above point out that having customer success and customer experience as parallel departments in a company is a growing trend on the market and customers are here for it.
73% of customers state that customer experience weighs in on their buying decision. (Source: PWC)
86% go as far as saying that they are willing to pay more to receive a better customer experience. (Source: Super Office)
Customers that have had a good customer service experience they rated as good are more likely to recommend the company to other potential customers. (Source: Qualtrics XM Institute)
On the flip side, the cost of poor customer experience is usually quite high for any kind of business.
89% of consumers have switched to doing business with a competitor following a poor customer experience. (Source: Harris International)
US businesses lose $62 billion each year because of bad customer experiences. (Source: Netomi.com)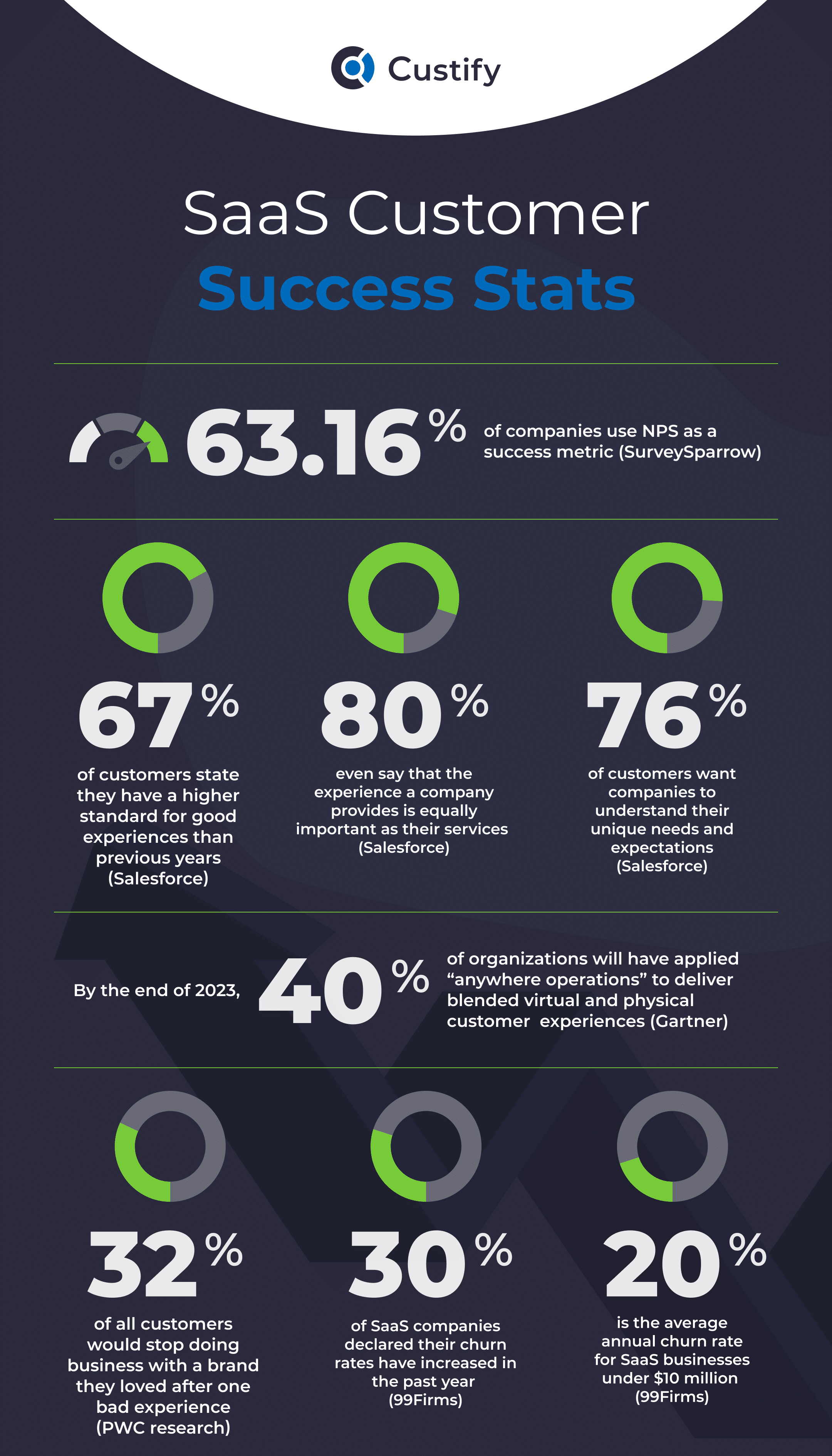 SaaS Customer Success Stats
As Gartner predicted back in 2018, most software providers have migrated to a subscription-based business model.
SaaS customers have high demands so once they make the shift, businesses need to take on customer success responsibilities.
67% of customers state they have a high standard for good experiences, now more than ever. (Source: Salesforce)
80% even say that the experience a company provides is equally as important as their services. (Source: Salesforce)
76% mention they want companies to understand their needs and expectations. (Source: Salesforce)
Gartner predicts that by the end of 2023, 40% of companies will support the customers at all times and give them the best experiences, by having "anywhere operations". (Source: Gartner)
Meanwhile, SaaS companies are still struggling to lower the rate at which customers cancel their subscriptions.
30% of SaaS companies declared their churn rates have increased in the past year. (Source: 99firms.com)
The average annual churn rate for SaaS businesses under $10 million yearly profit is 20%. (Source: 99firms.com)
Stats about Customer Success Salaries & Wages
According to Glassdoor, the average salary for a Customer Success Manager in the United States is $74,500 per year. Based on Payscale's data, the median customer success manager salary is situated at $69,818 yearly.
An entry level Customer Success Manager with 1-4 years of experience earns an average salary of $64,912, a mid-career Customer Success Manager with 5-9 years of experience earns an average salary of $77,104, while an experienced Customer Success Manager with 10-19 years of experience can earn up to $88,128.
Customer Success Managers with over 20 years of experience in the role can earn an average total compensation of $100,474. Most of these roles, therefore, have much higher pay than the average salary in the SaaS space of $73k per year. (Source: Payscale.com)
The highest paying US city for Customer Success Managers is San Francisco, California, followed by New York, New York and Boston, Massachusetts. (Source: Payscale.com)
The lowest paying US cities for CSMs are Austin, Texas and Denver, Colorado. (Source: Payscale.com)
Employees with the role of Customer Success Associate have an average annual salary of $50,131. (Source: Payscale.com)
Professionals with Vice President (VP) of Customer Success as their job title earn an average base pay of $149,550 per year. (Source: Payscale.com)
By comparison, customer service representatives and CX specialists earn an average base pay of around $39k per year, while their customer service managers get $58,910. CX managers, however, average at $65,511 a year. (Source: Payscale.com)
The average base salary for customer success positions across all states is $56,798. California has the highest concentration of these roles with 9.00%, followed by Texas (8.86%), Florida (4.79%), New York (4.77%), Virginia (4.58%), and Illinois (4.13%). (Source: Adzuna.com)
Customer Success Follows the SaaS Boom
Many companies have shifted to full-time remote work as a result of the pandemic and SaaS offerings are in higher demand than ever. The SaaS market is growing and evolving and so is customer success.
The Customer Success landscape will most likely be dominated by data-driven technologies and teams will have more AI-driven conversations with customers, giving them two essential tools – insight and empathy.
Hopefully, these metrics will help you prepare a great customer experience strategy for the year to come and navigate the ever-changing SaaS market.