In our day and age, every review, social media post, or other user-generated content has the potential to go viral. And leveraging customer feedback has become a leading strategy for businesses to improve CX, inspire brand loyalty, and increase revenue.
Tracking CX & CS metrics such as Customer Satisfaction Scores will help you measure customer happiness while providing you quantitative & qualitative actionable data for future improvement and growth.
Read along to find out all about CSAT – what it is, how to measure it, and how to make the most of it.
What Is Customer Satisfaction Score?
The Customer Satisfaction Score is a standard and common business metric designed to gauge how satisfied customers are with a product, service, or business relationship. The resulting number is often brought together with other account and customer success metrics to inform business decisions in a customer-centric manner. To obtain their CSAT score, companies simply ask customers a version of this question:
"How would you rate your overall satisfaction with the product(s)/service(s) you received from [company name]?"
The customer then usually has a range of options to choose from, such as:
A numerical score from 1 to 3, 1 to 5, or 1 to 10.
Verbal indicators such as "very unsatisfied," "unsatisfied," "neutral," "satisfied," and "very satisfied."
International symbols such as emojis or rating stars.
The CSAT scoring process remains the same whether you choose to use numbers, words, or emojis. You can easily include this CSAT question as part of a bigger customer satisfaction survey or just use it by itself.
Customer Satisfaction Score is one of the 3 most popular metrics used to evaluate customers' happiness with your business. The other two are the Net Promoter Score® (NPS) and Customer Effort Score (CES). Each metric has its strengths, and you can gain valuable insights by using them interchangeably.
How to Calculate Satisfaction Score

The Customer Satisfaction Score metric specifically highlights how happy your customers are. Hence, it's usually taking into account the higher ratings you've received through the survey.
The CSAT score ranges from 0 to 100, and the usual way to calculate it is to take the number of positive responses (those who gave the top 2 ratings) and divide that by the total number of survey responses. Then, if you multiply your result by 100, you'll have the percentage of customers who are happy with their brand experience.
For example, if your CSAT survey received a total of 50 responses, and 40 of those were in the top ratings, then your CSAT would be 80% (40/50 x 100 = 0.80 x 100 = 80%).
This method only takes into account the two highest possible response ratings. But there's a slightly different formula you can also use, that considers all the responses you've received:

Finding the total response scores given and total possible response scores is not that difficult. You just have to add up all the response scores received, then divide them by the sum of all maximum possible scores.
Let's say you've asked 7 of your customers to give a rating between 1 – 10 for a service you've offered them. The maximum possible score is "10", so you'd have a total possible response score of 7 x 10=70. Then, let's say their responses are 9, 5, 7, 10, 10, 7, 9, adding up to 50. Following the formula above, your CSAT score will be 71% (50/70 x 100 = 0.71 x 100 = 71%).
The same goes if you've used a symbols-range question: the total response scores should be divided by the maximum possible score, be it a really happy emoji or the highest number of stars.
What Is a Good Customer Satisfaction Percentage?
Monitoring your CSAT score over time helps you get a highly specific overview of whether you're making progress in keeping your business customer-centric.
While Customer Satisfaction Scores vary by industry, a good range is typically between 75% and 85%. The table below gives you some general industry benchmarks for CSAT score, according to the American Customer Satisfaction Index.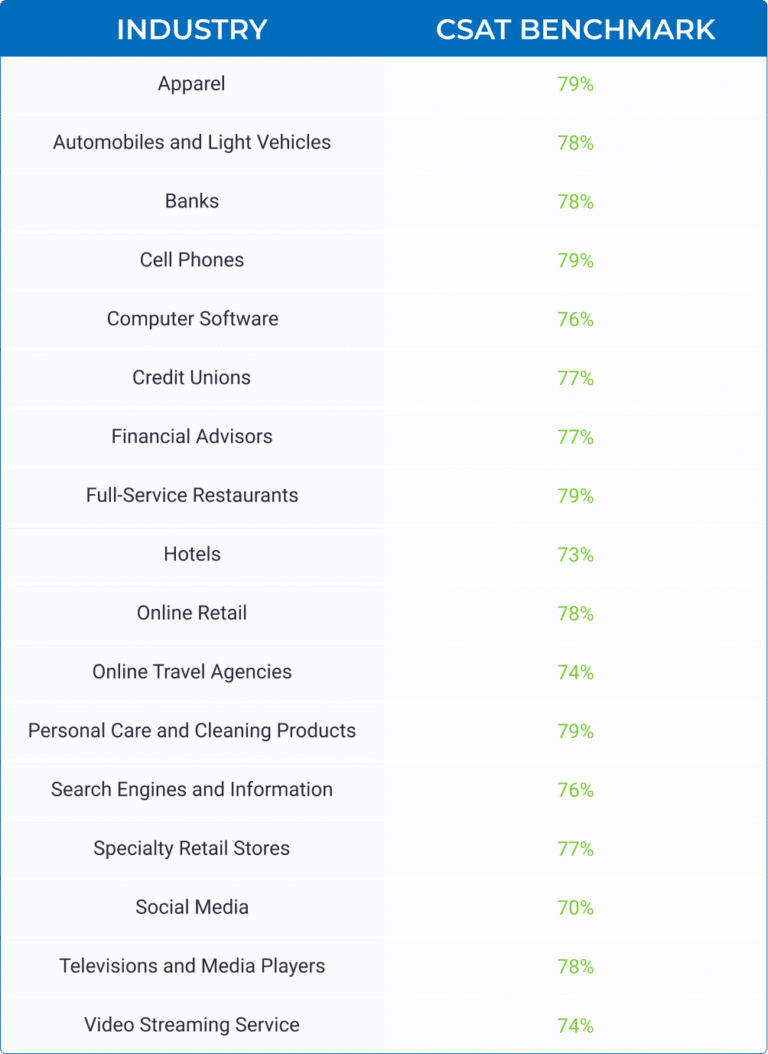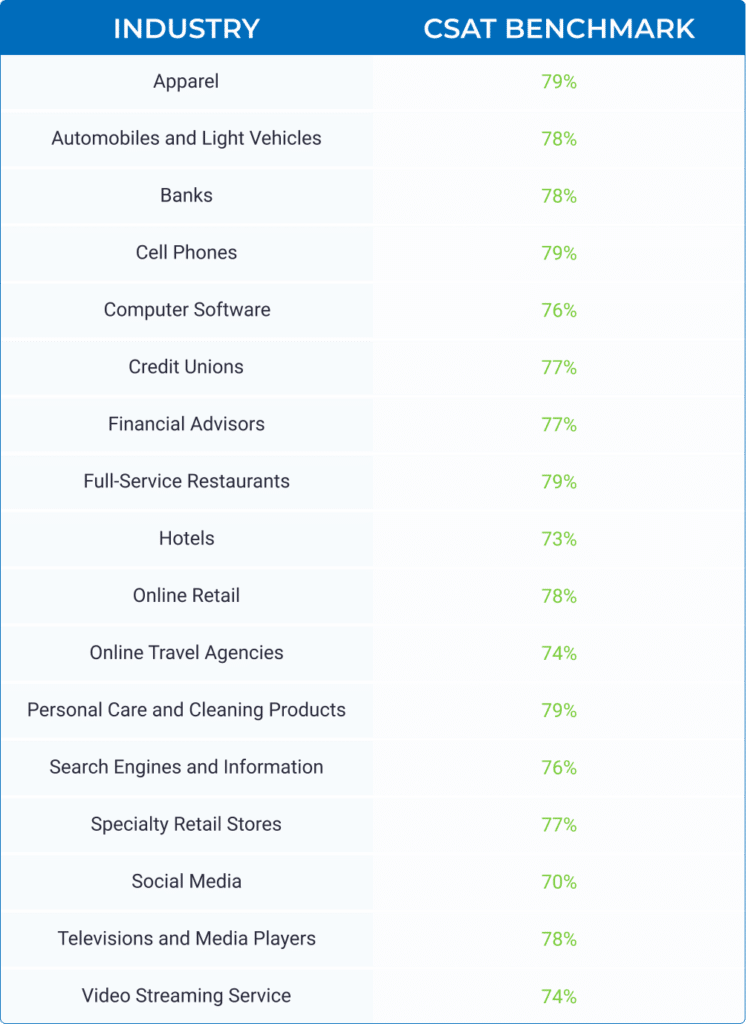 Examples of CSAT Score Questions
Depending on the frequency of your CSAT surveys, how you choose to frame your question is crucial. Here are some examples:
How satisfied are you with the service provided today?
How satisfied are you with our support?
How satisfied are you with the advisor that you spoke to today?
How happy are you with the chat?
How satisfied are you with our website experience?
How satisfied are you with our website navigation?
Did the newest update meet your expectations?
How would you rate the newest update?
How would you rate your satisfaction with our product?
How would you rate this event?
How pleased are you with this service?
How satisfied are you with your recent purchase?
How pleased are you with your shopping experience?
How satisfied are you with our delivery service?
Overall, how do you feel about our brand?
How would you rate our newsletter?
Did we meet your expectations?
Check out more customer satisfaction survey questions suggestions here.
How to Improve Customer Satisfaction Score
Customer Satisfaction Score is a standard metric, used across most industries and business sectors for assessing customer service, support, CX, and CS efficacy. CSAT surveys provide solid results and they're intuitive and easy to use, but their quantitative data might prove insufficient in driving actionable strategy improvements. Here's how to make the most out of your CSAT score:
What Has a Direct Impact on Customer Satisfaction Scores?
Customer support interactions;
Customer chats;
The overall onboarding process;
Updates on product features;
Waiting time until delivery;
Customer follow-ups;
Meeting customer expectations;
Collecting customer feedback.
How to Get Good Customer Satisfaction Scores
Here are 7 sure-fire strategies you can implement right now to make the most out of your CSAT score and increase overall customer loyalty:
1. Improve customer support
Most of the time, customer support is regarded as the most significant pain point in the customer journey for any business.
With the help of customer success platforms like Custify, you can easily monitor all customer support data from one dashboard (support tickets, CRM, emails, and more) and easily analyze it for major insights.
2. Minimize wait times
Customers want their issues fixed as soon as possible, especially if any software bugs or service issues keep them from accomplishing their goal. Automation tools can help you a great deal, by automating the repetitive, low-impact, high-effort tasks, you free up time for your team, so they can then invest in staying proactive and reacting in real-time to customer requests.
3. Offer multi-channel support
The easier your customers can reach you, the higher your customer satisfaction levels will be. These days, conventional email or phone support is not enough anymore.
Instead, you need to meet your customers where they hang out the most, be it on your website, forums, social media, etc. Real-time responses are crucial, as 83% of customers who comment or complain on social media expect a response to come the same day they posted.
4. Ask for open-ended feedback
By using open-ended questions in your feedback surveys, you'll allow your customers to use their own words. This way, rather than simple quantitative data, you'll have access to your customers' direct ideas, opinions, and feelings regarding your business.
5. Ask for feedback across all touchpoints
Asking customers for feedback where they're most engaged is key. Here are some channels you can look into first to get started:
Website and web app surveys.
Email and link surveys.
Mobile in-app surveys.
Chat & messenger surveys.
6. Personalize responses
Using CRM or email & chat integrations can help you ensure your customers are addressed by name, no matter the form of communication, therefore making them feel like being taken care of.
7. Actively seek out unsolicited feedback
Spontaneous comments are usually most helpful, as they provide raw, honest opinions. But make sure you're not waiting for your customers to leave you unsolicited feedback. Create community spaces for your users to discuss their experiences with your product. You'll be able to see how the discussion flows & get some raw feedback from users who are invested in your product.
When to Collect Customer Satisfaction Score?
Ideally, you'll send a CSAT survey when you want to gauge your customers' happiness levels with a certain aspect of your product, services, or business processes, i.e., when a customer completed their onboarding process. With that said, there are 3 standard times that you might choose to trigger a CSAT survey to a customer:
1. After Customer Lifecycle Moments
Measuring the effectiveness of key moments in a customer's lifecycle can be easily connected to the customer insights you get through CSAT surveys, providing you with valuable, first-hand feedback. You might want to look into creating a customer journey map too, as it will help you pinpoint the exact lifecycle moments that need your attention.
2. Prior to Renewal
Because of how simple it is to deploy, you can run CSAT surveys multiple times and at different touchpoints, but especially before renewal. Estimate how long it would take your team to implement any changes resulting from customer feedback after renewal, be it 2, 3, 6 months, and then send a CSAT survey prior to that period. This way, you're making sure you'll have enough time to act on the feedback before the customer renews his subscription.
3. After Customer Support or Other Interactions
Customer Satisfaction Score surveys are generally used after most customer support or other interactions, to help you gauge the customer's level of happiness with the process itself, be it purchasing, using, or simply interacting with your product/service.
Customer Satisfaction Score Pros & Cons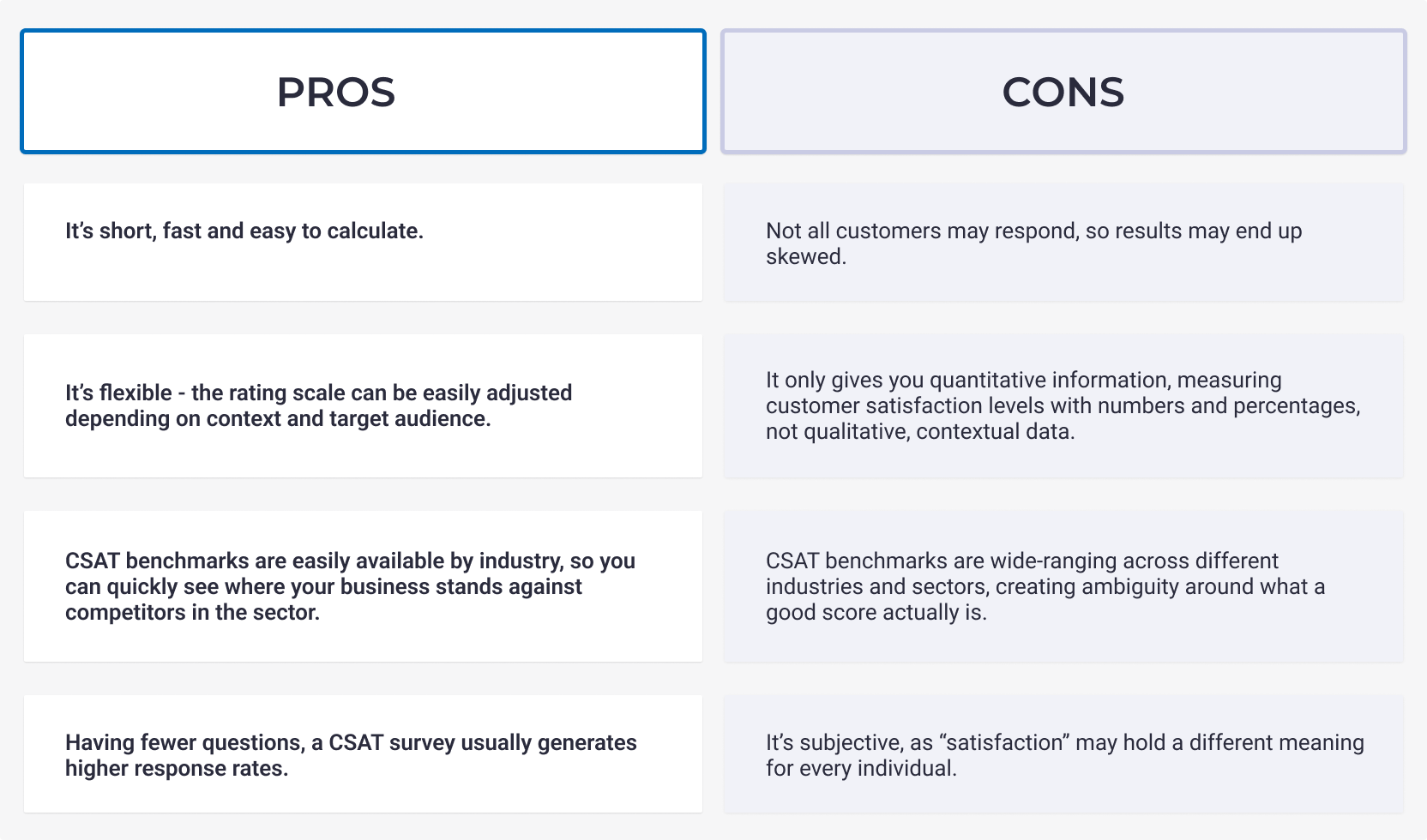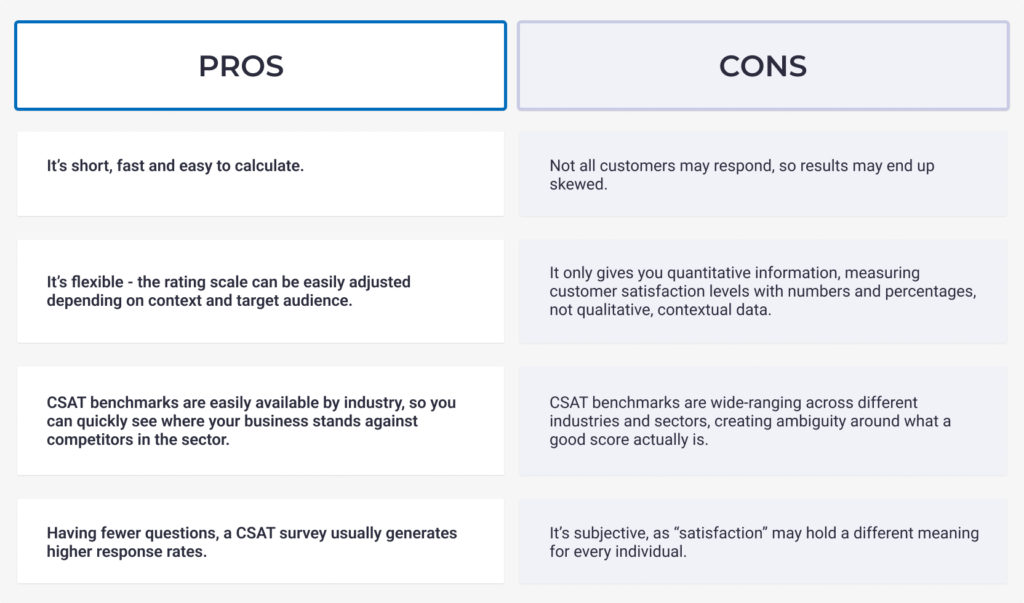 How CSAT & Customer Success Go Together
If you want to run a customer-centric business, you need to care about customer success. Here's how customer satisfaction helps:
1. Satisfied customers are loyal customers that drive major growth
It's been proven that it's 5 to 25 times more valuable to keep the customers you already have than acquire new ones. If you're next to your customers along the way, meeting their needs, solving their problems, and nurturing them, you'll prevent them from churning.
2. Customers that are dissatisfied churn immediately
There's no hesitation in leaving when a customer has a negative experience. They'll quickly switch to one of your competitors due to poor customer service. It takes roughly 12 positive experiences to soften the damage done by a negative one, and most individuals won't stick around that long.
3. Customer satisfaction levels drive business goals
Make sure your actions resonate with your customers first before implementing any changes, be it product development, marketing campaigns, customer service improvements, or any other area of business. If you keep your priorities set on driving customer success, you'll have an easier time deciding on further actions. Not to mention that loyal customers can help you with new ideas through their feedback.
4. Satisfied customers become brand advocates
If you keep your customers happy, they'll naturally become your company's biggest promoters that draw new customers in with their recommendations and positive experiences. And nowadays, over 70% of customers take into consideration online & social media reviews before making a purchase.
How CSAT Works in Custify
With Custify, you can easily send surveys and gather customer feedback directly from the app. Simply go to the Survey menu, choose the type of survey you want to run (CSAT or NPS), and then customize the style and questions.
You can configure your CSAT survey to run for all clients or just a particular segment. Custify also lets you set an automated trigger to send the CSAT survey at any point in a customer's lifecycle, going as granular as you need. Using automation and playbooks in Custify, you can set alerts that ping your Customer Success Managers to intervene if there's a negative response to your survey.
Custify makes it easy for you to visualize your CSAT survey results, be it in each individual's window or on the general dashboard, to help you get a broad view of customer satisfaction levels.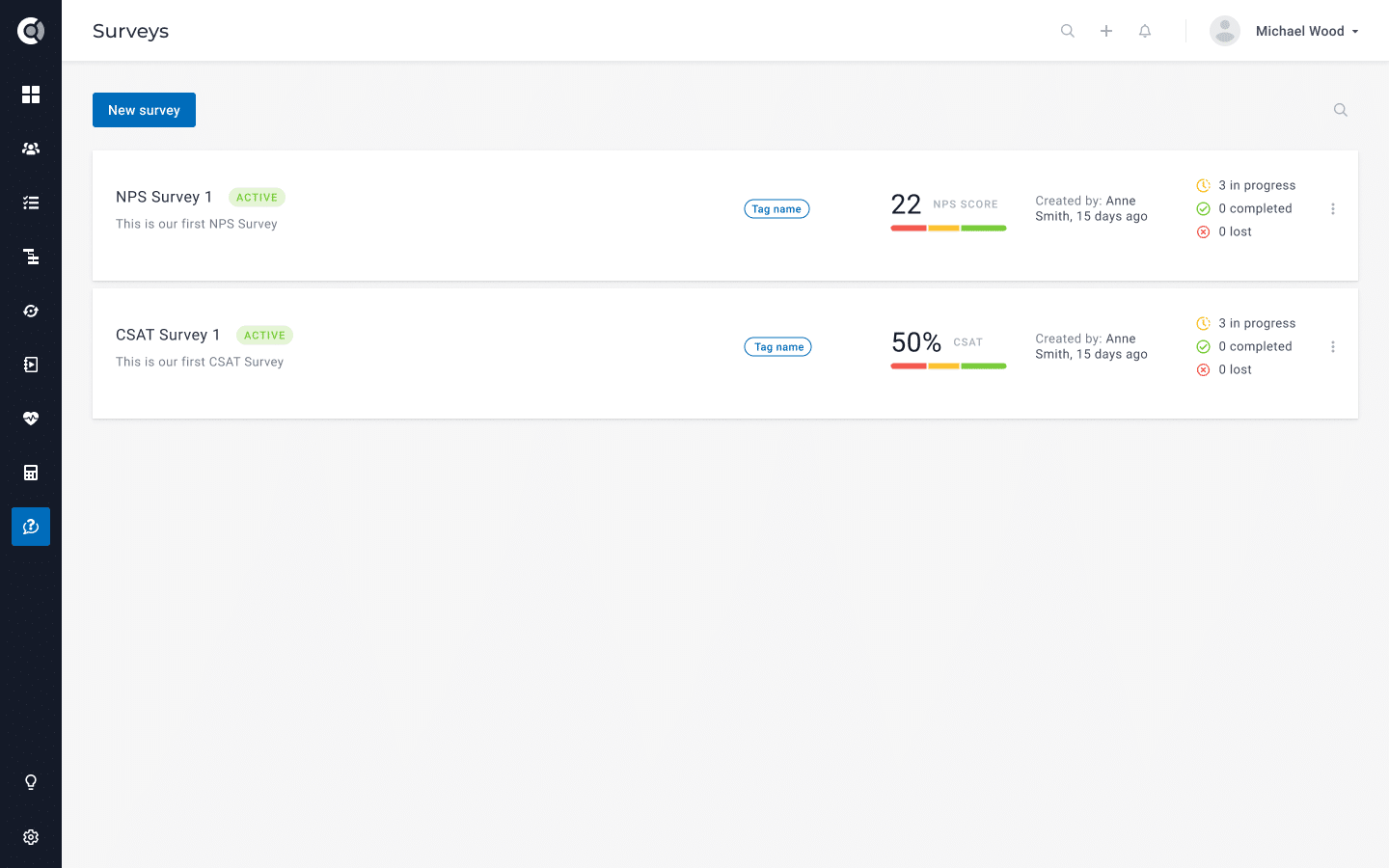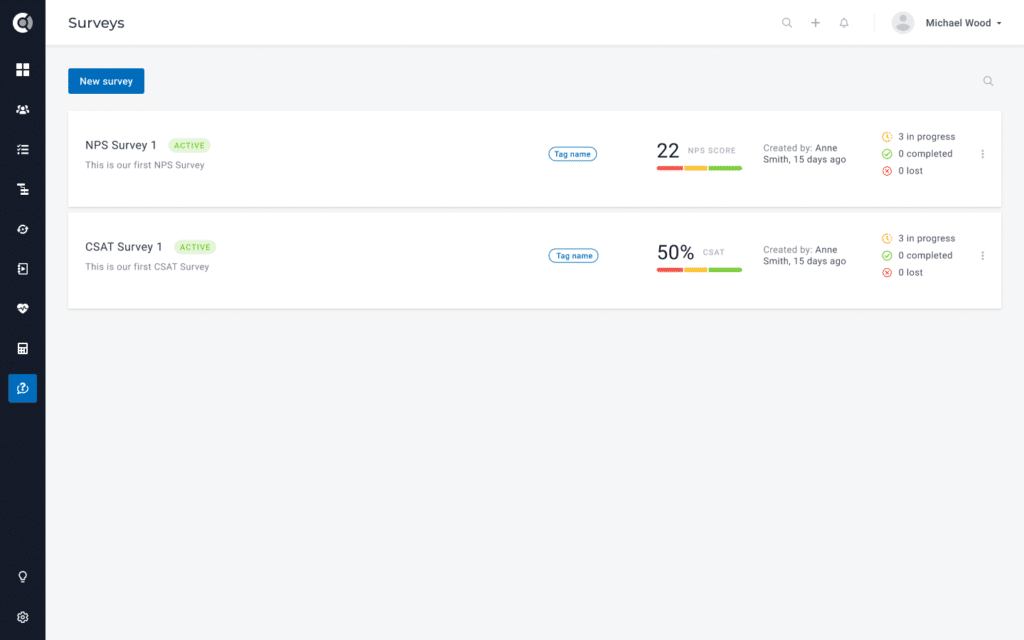 You Can Get More Satisfaction
Regularly measuring your company's performance through Customer Satisfaction Score surveys is becoming a mandatory task, as levels of satisfaction are directly linked with increased customer loyalty, profitability, and revenue. Gathering feedback has one major goal: making tangible improvements to your business and fully optimizing your customer experience.
Every business depends on satisfied, happy customers. You want your customers to have more than an "okay" experience. You want customers that utilize your service to meet their goals. So make sure you don't lose sight of that when you're establishing and monitoring metrics.