Customer Success roles are among the top 10 fastest expanding professions, with a growth rate of 736%, according to a LinkedIn study. But because this role is still very new, and many companies look for Customer Success Managers, especially in the SaaS industry, the hiring process is not an easy one.
One of the reasons hiring isn't as smooth is HR Managers need customer success understanding and experience to be able to ask relevant, highly-informative questions.Plus, they need to follow-up on the conversation to get the insights required to make a decision.
In this article, we share with you a list ofcustomer success interview questions that have proven their effectiveness. These are great helpers, especially when you're hiring for leadership roles such as Customer Success Managers.
A dedicated customer success leader whose job is to create customer success practices from scratch will perform much better than a senior leader who does this role as a side gig with no fixed goals.

Anant Singh, CSM at Fireflies.ai
In addition, you'll get hands-on feedback from SaaS companies who have successfully hired CSMs using the questions below.
Customer Success Manager Interview Questions SaaS Companies Should Ask:
1. Can you tell me about any jobs that aren't in your resume?
It might seem strange to ask CSM candidates about their experience outside the role they're applying for, but, actually, this can reveal just how customer-focused they are.
As a Customer Success Manager, one needs to know how to identify opportunities and solve issues even if they only have ambiguous or opaque information.
"Almost every CSM I've ever hired was once a waiter, worked in hotels or tourism, or some other service job in their younger life. I want people that hustle and know how to bust their butt to get that customer to be a good, growing opportunity" – Lucas Robinson, CMO at Crediful.
2. How do you find a balance between customer interactions and daily tasks?
This is, probably, one of the most important Customer Success interview questions SaaS companies need to ask because great CSMs excel at prioritization.
They are able to find a balance between answering customer queries and delivering their daily tasks while also differentiating between different customer segments.
During the interview, you need to find out if your candidate can build an account prioritization matrix that allows them and the team to identify where to expand, retain, and maintain customer accounts.
"CSMs should be able to prioritize various customer queries based on the relationship status and their business values" – Shayne Sherman, CEO of Techloris.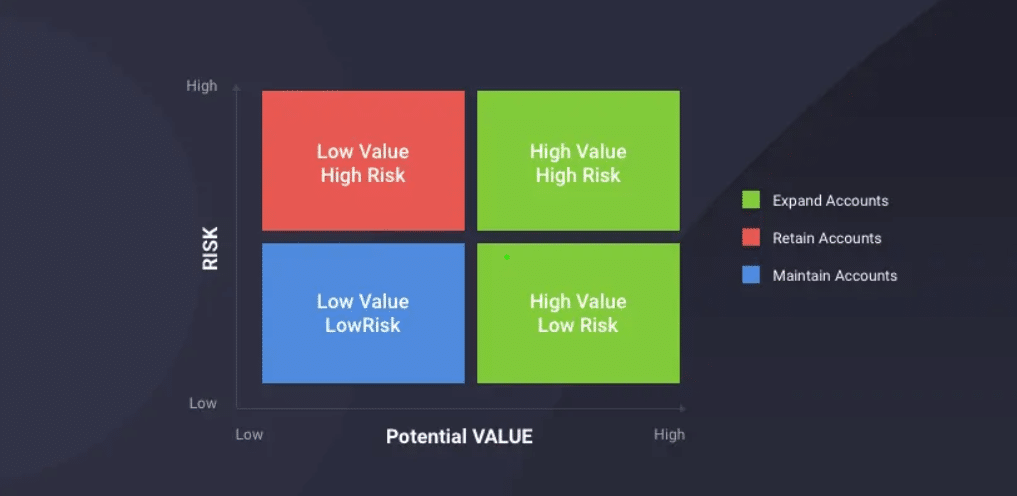 3. What measures will you take to prevent customer churn?
A Customer Success Manager's job is to prevent both revenue and customer churn from happening, so, of course, SaaS companies should analyze each candidate's experience in the field. Their answer will reveal how capable they are when it comes to at-risk customers who are on the verge of switching.
They should touch upon "how they would adapt their customer engagement activities to turn a no to yes, how quickly they can recognize at-risk clients, and what metrics they measure to get an early warning" – Emily Deaton, Financial Journalist at LetMeBank.
4. What's our product's unique selling proposition?
This interview question might not reveal much about a candidate's skills, but it will show you two things:
whether they took the time to learn about your company and its main offerings and how committed they are to their job;
their ability to summarize all your features in a simple tagline based on how the conversation is going. In the end, each customer is different, and showcasing the product from a different angle based on their primary needs is a useful skill.
5. How do you look for and approach upsell opportunities?
On a somewhat related note, depending on how skilled candidates are at digging information about your business, you'll be able to determine how good they'll be at identifying upsell and cross-sell opportunities in your clients' companies.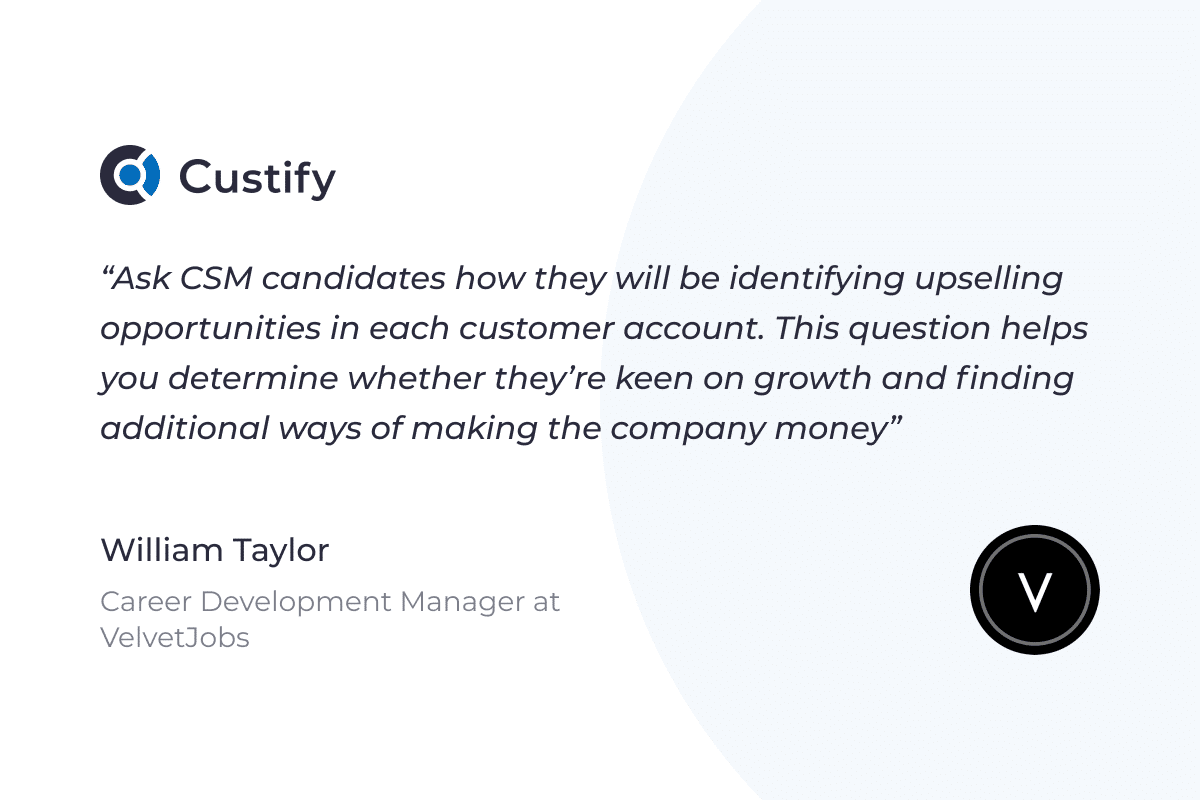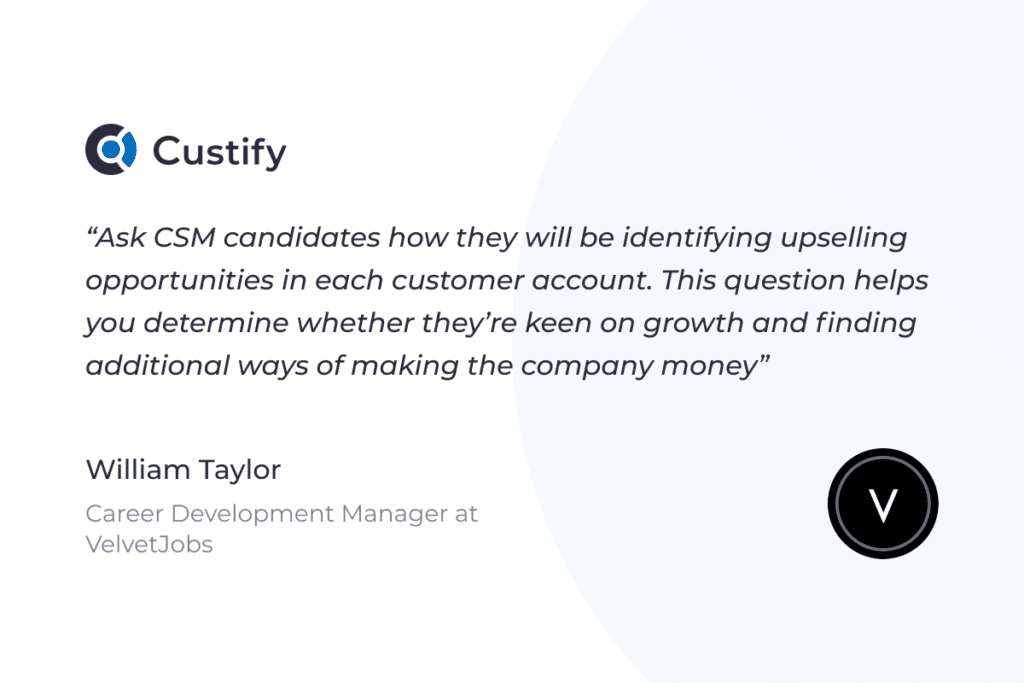 6. A customer's showing churn precursors – can you walk me through your process to try and save them?
This is more of a Customer Success Manager live demo that enables you to see how candidates think, their views on the sale process, and what retention strategies they come up with.
A walkthrough is a particularly important topic to touch upon during the interview because it reveals how the candidate fits within your existing team, what they think about your current processes, and the improvements they suggest.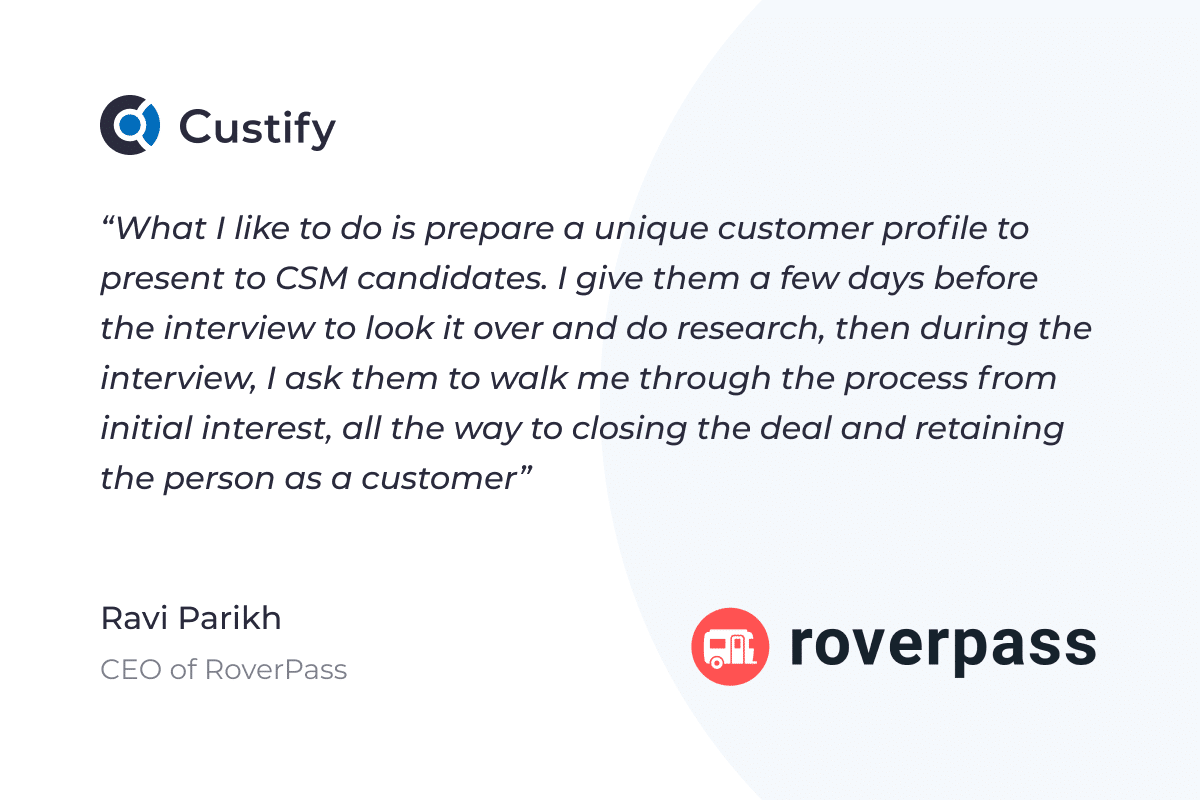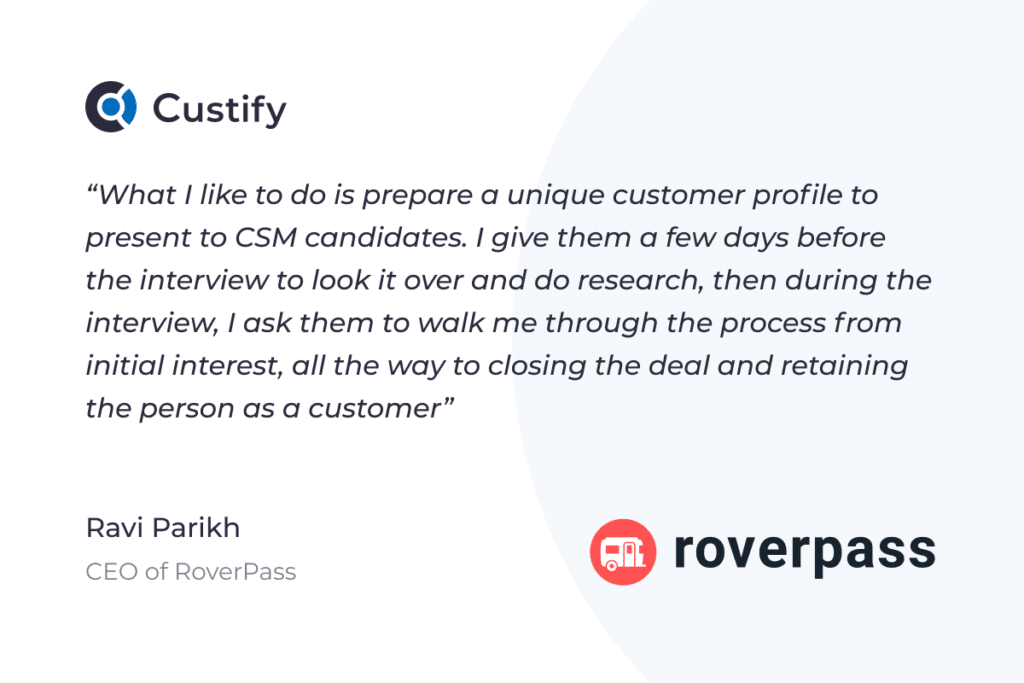 7. What's the biggest flaw in our customer retention strategy right now?
This is our favorite Customer Success Manager interview question! That's because most candidates refrain from responding and say that the product is great and the processes are well-thought-out. This is impossible in the SaaS world – things can (and should!) always be improved.
So be wary of these candidates as they've probably been too lazy to research your company before the interview or think that they'll get the job by praising you. In contrast, those who feel confident criticizing your current way of doing things will offer you a fresh perspective you could actually implement.
"The actual answer gives me insights into their managing style too. I can get a picture of their specialty and what they're passionate about when it comes to their job. If they align well with what we need and our company values, a person who does well on this question would be an instant hire for me" – Dan Bailey, President of WikiLawn.
8. How do you reduce tensions and de-escalate a situation with a difficult customer?
Being customer-facing staff, CSMs also need to handle situations where clients are displeased, and good CSMs are able to turn customer complaints and issues into net wins for the company.
After they explain their strategy, you should also follow up with a question regarding whether they've tried this before and their results.
9. How would you communicate a known issue and an important change to customers?
Proactivity is the core of Customer Success. So even if CSMs should be prepared to handle displeased customers, more importantly, they should be on the lookout for possible issues and eliminate them before the client has the chance to find out about them and become upset.
Two of the most common reasons customers complain are quality issues (crashes, unavailability, etc.) and major changes to the product, especially to the features they relied most on. If a CSM is able to prepare the customer for receiving the bad news, this will go a long way towards strengthening the relationship with that customer.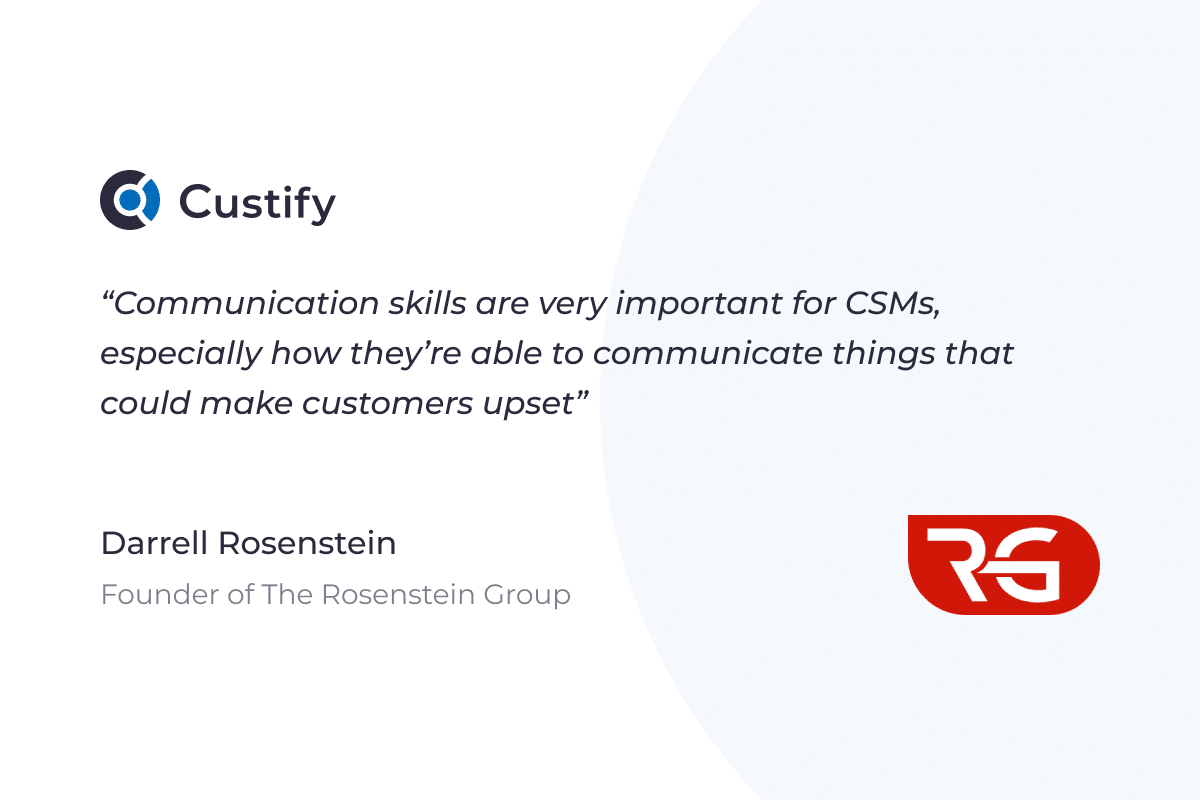 10. Working in customer success can be very distracting, how do you push through those distractions and refocus?
This is another Customer Success interview question that doesn't necessarily reveal much about a candidate's skills but offers you insights into how they prioritize tasks to ensure they remain productive.
Coping with disruptions in the workday is an important skill for CSMs as urgent matters come up regularly.
11. Have you ever surpassed customer expectations and been noticed for it?
A Customer Success Manager's primary role is to serve customers, so candidates should have numerous examples of how they provided excellent service. If they're not sure what to answer, it means that they've never impressed their previous clients.
These are just a couple of Customer Success Manager interview questions top SaaS companies ask, but this doesn't mean you should solely rely on them. Depending on the type of product you have and your industry, you can come up with your own specific questions.
For more information on how to hire CSMs, check out our blog article on How to hire a Customer Success Manager the right way.