Customer experience & satisfaction remains top of many businesses' to-do lists. Still, unless the customer is the main focus at every touchpoint, you're at risk for quickly going from hero to zero.
The concept of customer touch points is more than just another buzzword. But touch points can only become meaningful if you fully understand them.
Besides mentioning the most important touch points from the CX, SaaS, and customer success perspectives, this article will focus on best practices to help you optimize them so you can reap all benefits sooner than later.
Brief Intro to Customer Touch Points
What Are Customer Touch Points?
From start to finish, any moment of contact with your customer is a touch point. These interactions have a significant influence on the customer experience and brand perception.
At the end of the day, all the customer touch points that you set up directly impact your overall customer experience. Whether it's from a marketing perspective – to raise awareness and build consideration -, or from a customer support perspective – to increase retention – customer touch points are key to understanding your customers and how they perceive your brand.
And in order to improve your customer experience, you need to learn how they interact with your company. That's where mapping your customer touch points comes into play.
Mapping Customer Touch Points
Touch point mapping is the perfect tool that can help you visualize and understand your customer journeys, and what drives your customers toward loyalty or defection.
A good interaction keeps them happy and satisfied, while a poor interaction could lead your customers to stop doing business with you ever again. There's no denying the importance of understanding these interactions. It's exactly why over 88% of companies started prioritizing customer experience in 2021.
How to Identify Customer Touch Points
One of the best ways you can identify your customer touch points is by tracking their lifecycle and customer journey phases in your CRM or customer success software, such as Custify. Not only will this help you pinpoint these critical stages, but it will also help you to see which of those touch points frequently turn into friction points or churn reasons.
You should always know where every customer is on their journey. And understanding the actual touch points your customers have is the first step in delivering a superior customer experience, which ultimately will lead you toward customer success.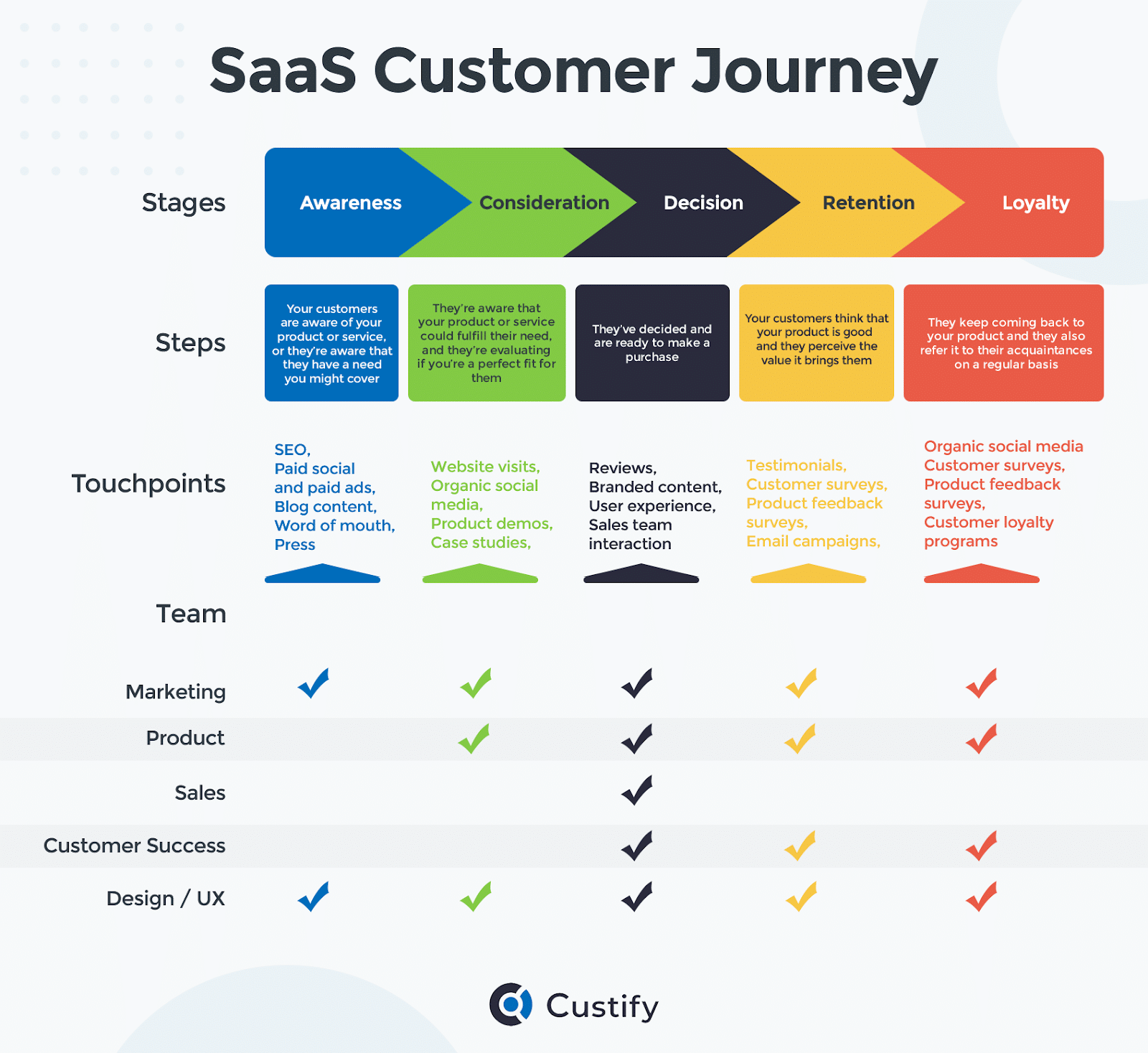 Your customers will interact with your brand at various stages throughout their customer journey, especially for SaaS businesses. You need to accurately recognize these and list them chronologically:
Awareness: your customers are aware of your product or service, or they're aware that they have a need you might cover;
Consideration: they're aware that your product or service could fulfill their need, and they're evaluating if you're a perfect fit for them;
Decision: they've decided and are ready to make a purchase;
Retention: your customers think that your product is good and they perceive the value it brings them;
Loyalty: they keep coming back to your product and they also refer it to their acquaintances on a regular basis.
And for each step of your customer journeys, there's a different opportunity for customer touch points, such as:
Awareness Touch Points: SEO, paid social and paid ads, blog content, word of mouth, press;
Consideration Stage Touch Points: website visits, organic social media and community management, product demos, case studies, onboarding;
Decision Touch Points: reviews, catalogs, tutorials, branded content, user experience, success stories, sales team interaction;
Retention Touch Points (valuable for CS): product value, success stories, testimonials, thank you letters, customer surveys, product feedback surveys, customer support interaction, email campaigns, upselling/cross-selling emails, billing actions;
Loyalty Touch Points (valuable for CS): customer success interactions, organic social media and community management, customer surveys, product feedback surveys, thank you letters, subscription renewals, webinars, success stories, email campaigns, customer loyalty programs.
Assuming that the customer journey is over once they have made their purchase is a mistake that can cost businesses time and money. The success rate of selling to a customer you already have is 60-70%, while the success rate of selling to a new customer is 5-20%.
Let's now see some touchpoint examples for each of these stages in the customer journey!
Customer Touch Points – Examples
In the case of SaaS businesses, there are a number of effective touch points to engage users and assist them in making the most of your solution. Obviously, they are not at all limited. You can always find the ones that work best for your business to take your customer experience to the next level.
Visibility is a necessary requirement for a successful customer touch points strategy. Helping customers that are stuck in any stage of their journey – during onboarding or at any later stage in the product usage is what will ultimately drive customer success.
Awareness Touch Points – Examples
1. First Fold Of The Homepage
It's the first thing your visitors see, so it needs to be attractive, user-friendly, and clutter-free, as it helps you establish the first connection with your customers.
Slack does a great job with personalizing their homepage – it's almost as if you're in a chatroom with them already: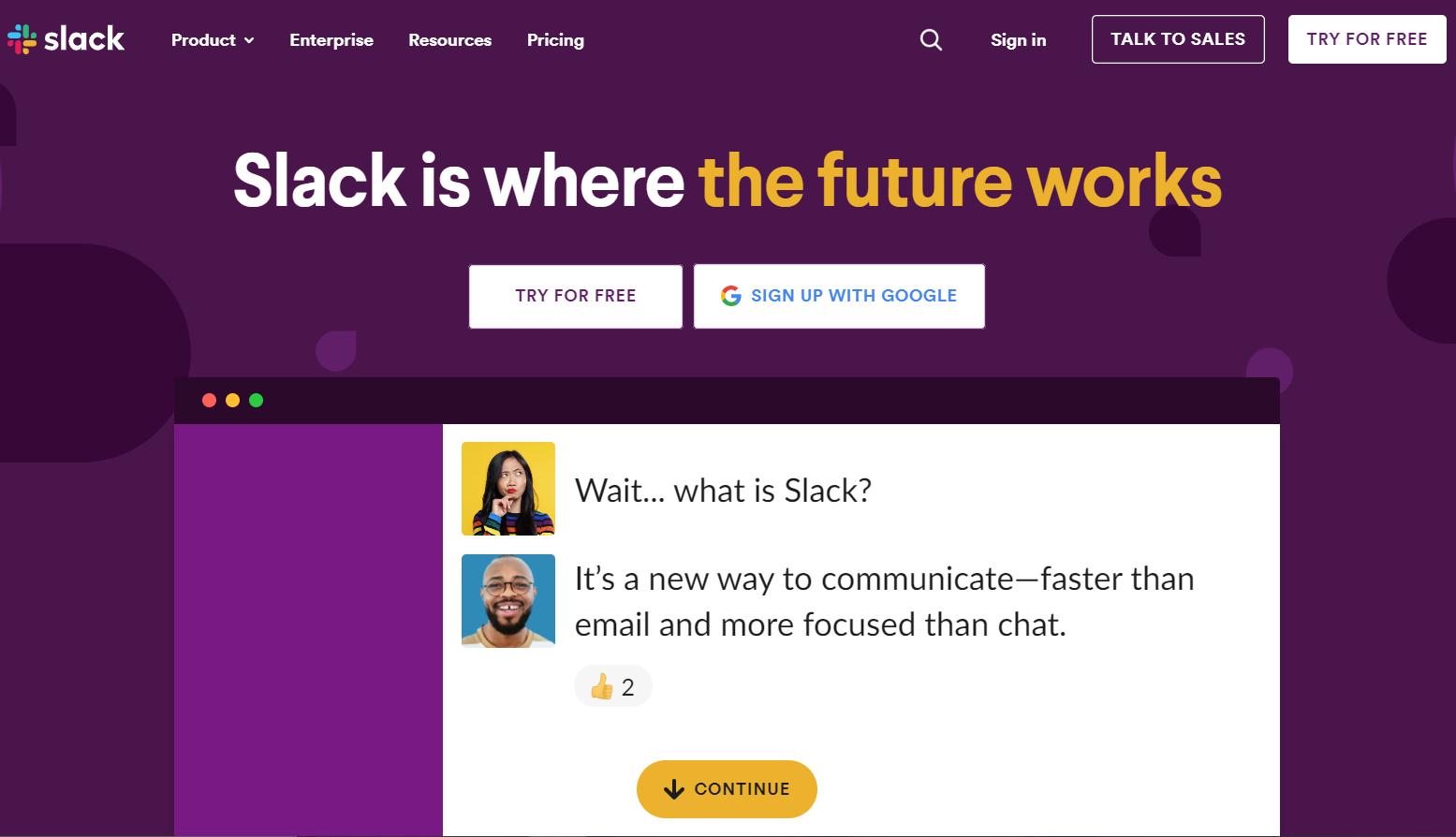 2. On-page Contact Form
On-page contact forms help you collect relevant information about your customers, which in turn, will help you provide even more personalized experiences to them.
Consideration Touch Points – Examples
3. Free Product Demos
Free product demos keep things transparent, helping you build trust and helping your customers assess the value of your solution.
Dropbox gives a great example of urging their leads to try their product for free by scheduling a demo: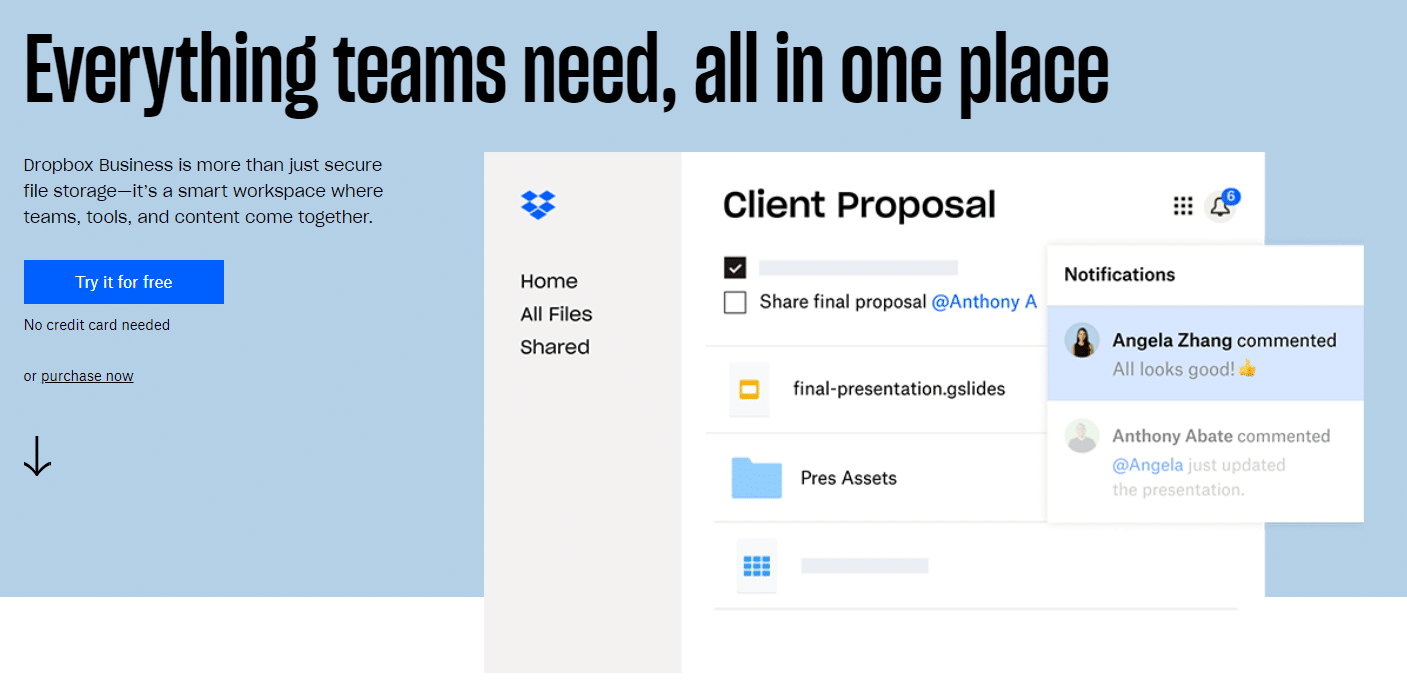 4. Newsletter Subscription Bar
A subscription bar for your email marketing campaigns right on your website is one other important touch point. By having your leads subscribed to your newsletter, you can then create specific segments, to help them go smoothly through the customer journey map.
5. Testimonials & Reviews
It's nothing new: customers need to be able to see what others think about your product or solution when they're pondering about making a purchase.
6. Third-party accreditation and recognition
Whenever new leads are considering buying from you, they'll run their own research. So they might stumble on some press releases, articles or specialist ratings – these count as touch points too, so they shouldn't be ignored.

Decision Touch Points – Examples
7. Point of Sale
This is the last touch point before your customers will be "sold" to your solution. It's the moment when your sales team pitches the product and gets the customer.
8. Onboarding
User onboarding is the process during which you help your new users experience the actual value of your product or get to a point where they see the value potential first-hand. It also plays a major role in customer success.
9. Customer Support Channels
Basically, every platform your customer support team uses to communicate with your customers becomes part of your customer touch point strategy, be it chats, emails, phone calls, etc.
Retention & Loyalty Touch Points Examples
10. Billing Actions
Although billing happens after your customer decides to buy your product, it's still an important touch point for your overall customer success strategy. A poor billing experience can quickly result in churn if you skip this step.
11. Subscription Renewals
Undoubtedly, renewals are crucial to a SaaS business's success. And removing any unnecessary friction from your renewal process will improve your retention rates and loyal customers exponentially.
12. Product Feedback Surveys
Product feedback surveys are an important tool that helps you evaluate the customer's experience with your product or service. And based on their feedback, you can further improve your product. It's a win-win situation!
13. Customer Loyalty Programs
Loyalty programs take a closer look at existing touchpoints, optimize them, and add more on top of those such as quick NPS surveys, context-based feedback forms, and regular check-ins to determine the status of an account. However, if you automate and forget about them, these customer loyalty program touch points can become friction points, or seem completely disconnected from reality (for example if the product goes through significant changes).
14. Customer Success Programs
CS programs are the masters of all customer touch points and it's a CS rep's job to monitor them religiously. Apart from that, they introduce fresh touch points such as proactive outreach, account updater emails & messages, product adoption messages, and many more.
15. Social Media
Social media is a no-brainer. Besides being cost-effective, you can use this obvious touch point at any stage of the customer journey to drive customer success.
But identifying touchpoints is only half the battle. What comes next is important: optimizing your touch points to improve customer experience and drive success.
Optimizing Customer Touch Points
Optimize Your Product Pages
If you want to drive higher conversion rates, you need to fully optimize your product pages on your website.
Many landing pages are written assuming the visitor is already familiar with the product. But this is inefficient and it confuses your brand new visitors, as they'll have to dig their way through the information.
Optimized product pages are crucial for successful sales, as it's one of the most important touch points that will eventually lead to conversion. Make sure to include nuggets of valuable information such as features, benefits, or expected results from using your product.
Here are just 3 of the different products HubSpot has to offer and how they've highlighted their features: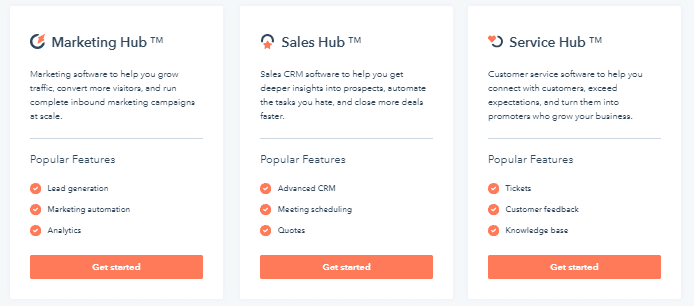 Optimize Your Pricing Pages
Another important aspect to take care of when optimizing your website is making sure you're transparent with total costs, different pricing plans limits, and available features for each.
Communicate your costs and features offered clearly on your website, so your customers know exactly how much they're paying and what they should expect to receive.
Here's a great example from Spotify – their tactics are largely applicable with other businesses too: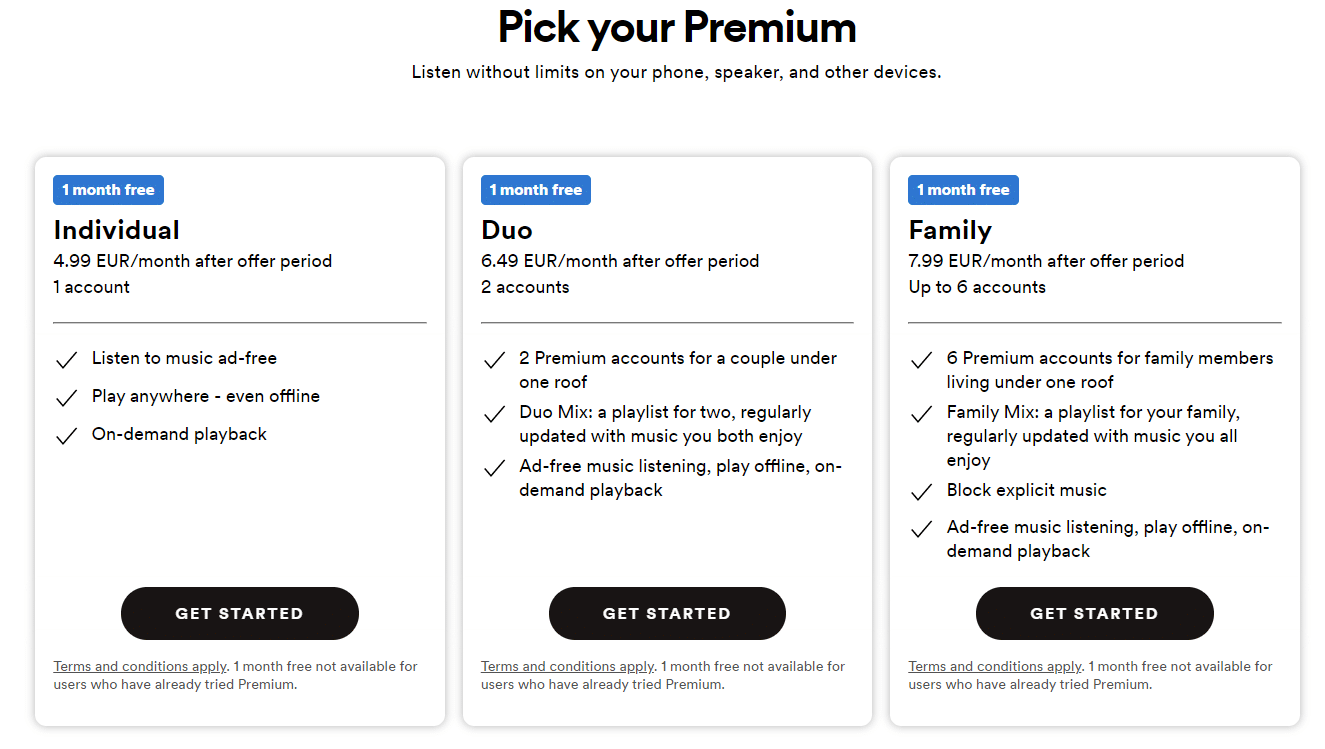 Optimize Your Onboarding Process
By adopting a better user onboarding process, you can boost customer success. By making yourself available through every possible channel and by offering guidance, resources, and support, you can get them to succeed and activate faster. For a more in-depth view on onboarding for customer success, check out our guide here.
An example of step-by-step onboarding with multiple guiding resources can be seen in Sleek Bill: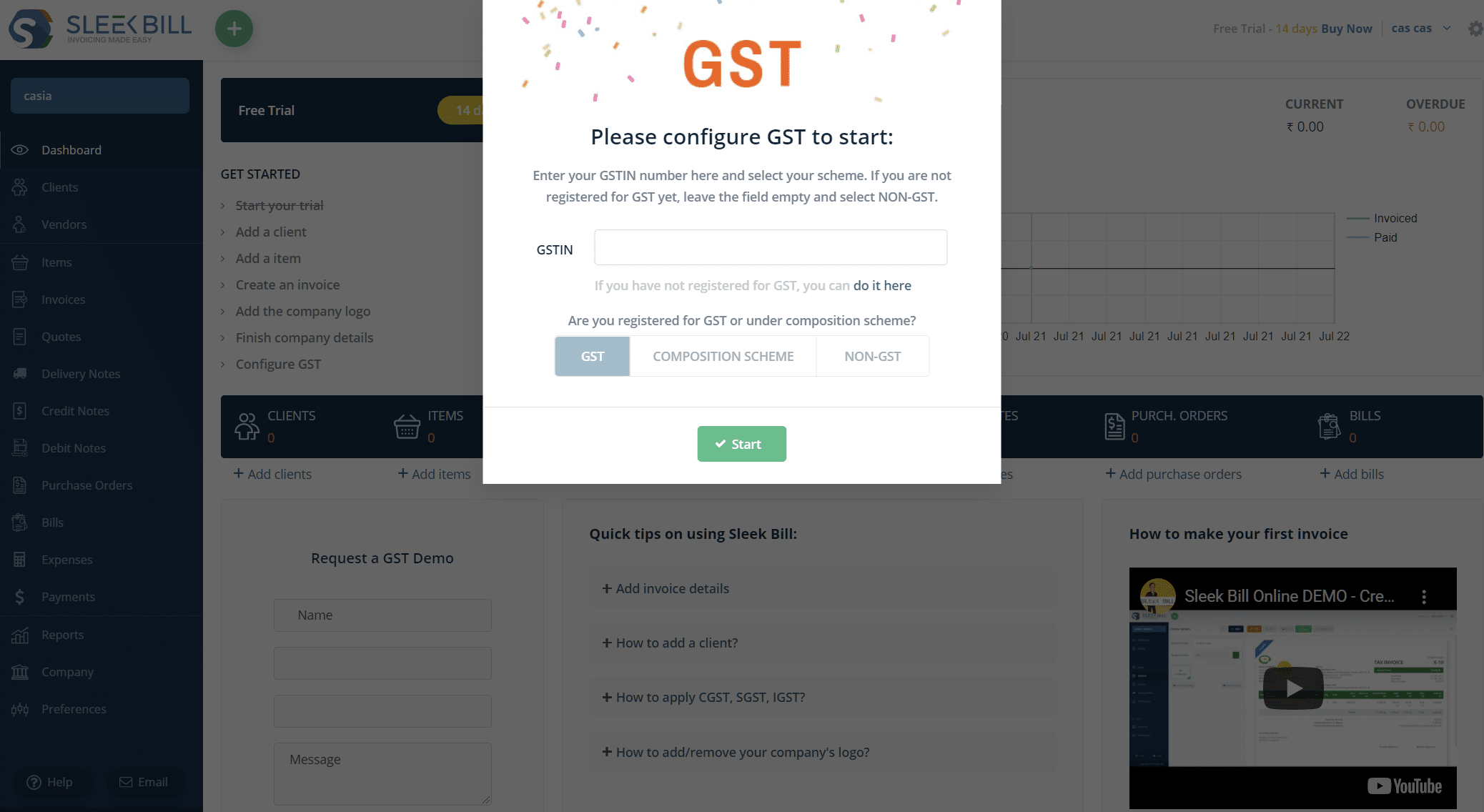 Optimize Your Referral or Loyalty Programs
When optimizing your touch points for better customer experience, your go-to should be a referral program. Not only does it deliver an incentive for both the referrer and the new customer, but it will also encourage them to share their positive experience with friends and family, for powerful word-of-mouth marketing for your brand.
Here's a great example of a referral program from Evernote: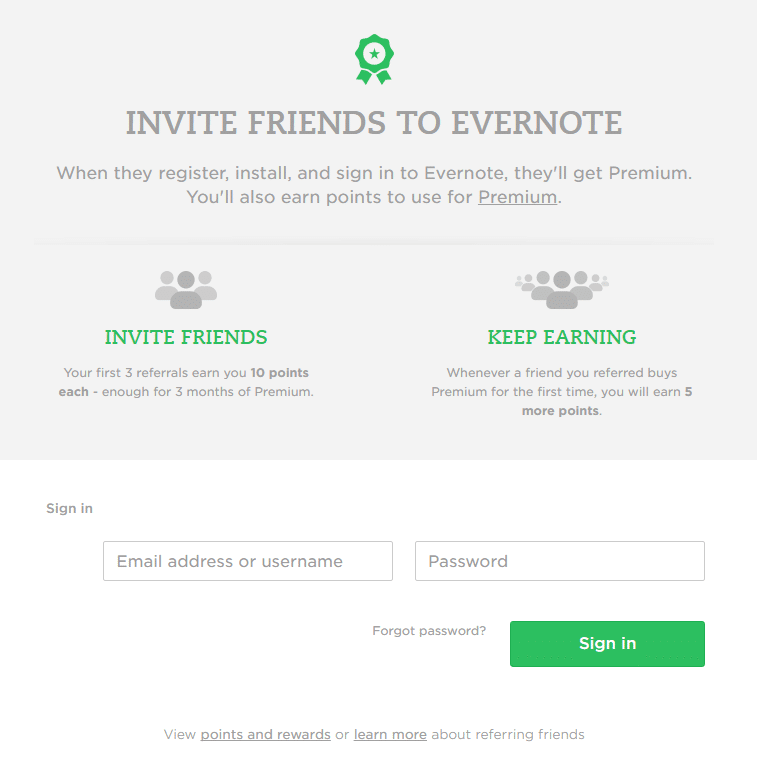 Optimize Your Social Media Profiles
Make sure you engage with your customers on your social media profiles. Social media is, at the end of the day, meant to be social. Your customers should have quick access to your profiles as well, right from your website and that your social media posts link back to your landing pages. Leverage the right content that can help you complement your social media marketing efforts and drive customer success.
Optimize Your Email Campaigns
In order to efficiently leverage the benefits of great email campaigns for your customer experience strategy, you need to consider email automation – it can improve every part of the customer success process, from onboarding to upselling.
Automated drip email campaigns are delivered at the right time in the buying cycle. Email newsletters and broadcast emails treat all customers like they're in the same customer journey stage, but ultimately, customers in different stages are interested in different things. This is one of the use cases of mail merge, for example – which allows you to go the extra mile and not only hit the right timing but also tailor each email to your audience.
Optimize Your Customer Support Process
Over 90% of customers are more likely to make repeated purchases from brands that offer excellent customer service. A poor experience with your support service can easily degrade a customer's perception of your brand. So you need to make sure it's super easy for your customers to contact you in case they have any issues.
Furthermore, you need to detect when touchpoints become friction points and then be the one who initiates the discussion to reach a resolution. One cool way to do this is by setting up a customer success automation that triggers whenever a touch point becomes a potential reason for churn. The specifics here typically depend on your business & customers – but the logic behind is rock solid.
Optimize Your Renewal Processes
There are a couple of options you can employ to keep your customers happy when it's time for renewal payments.
First of all, make sure your customers are aware that you'll deduct a payment from their account. Sending them an email reminder before can be of big help, especially if they're on an annual subscription plan where it's easy to forget about forthcoming payments.
Secondly, optimize your billing update options, so it's easier for your customers to change their information when needed, without having to reach out to your support team.
The Last Touch Point
The customer experience is the sum of all the customer's experiences with your brand, and one poor touchpoint experience could ruin the entire journey. The last touch point is the one when customers leave, so it's important to optimize all the others in order to avoid reaching that stage.
Understanding your customers and how they interact with your SaaS business is critical in driving improved value, repeat business, and the longevity of relationships. Even so, you won't have complete control as the whole touch points scheme is a two-way street and no "pedestrian" is the same as the others.
One way to tackle circumstances you can't control is to implement a thorough offboarding process, such as the one Referrizer did with Custify. By doing that, you'll gain significant insights into future account cancellations and you'll even save some accounts along the way.
But, what you can do, is optimize each touch point to be as satisfactory for the customer experience as possible. Start mapping your customer journey, implementing a great customer success software, and optimizing your touch points now, in order to reap all the benefits.