Scouring the internet to find the best way to allure leads and convert them into your SaaS customers? Why not consider email marketing tools for SaaS?
Email marketing tools are designed to automate your email marketing campaigns, track, record, analyze, and generate reports, and, more importantly, discover growth opportunities and present you with possible solutions.
This article will explore the 10 best email marketing tools that will help you supercharge your SaaS marketing efforts.
1. ActiveCampaign
ActiveCampaign is our first choice of marketing software for SaaS. It offers you an excellent platform to grow your SaaS businesses, whether B2B, B2C, or eCommerce.
Get the best marketing features required for SMS marketing, SaaS marketing automation, and CRM system to grow your business while delivering an exceptional customer experience.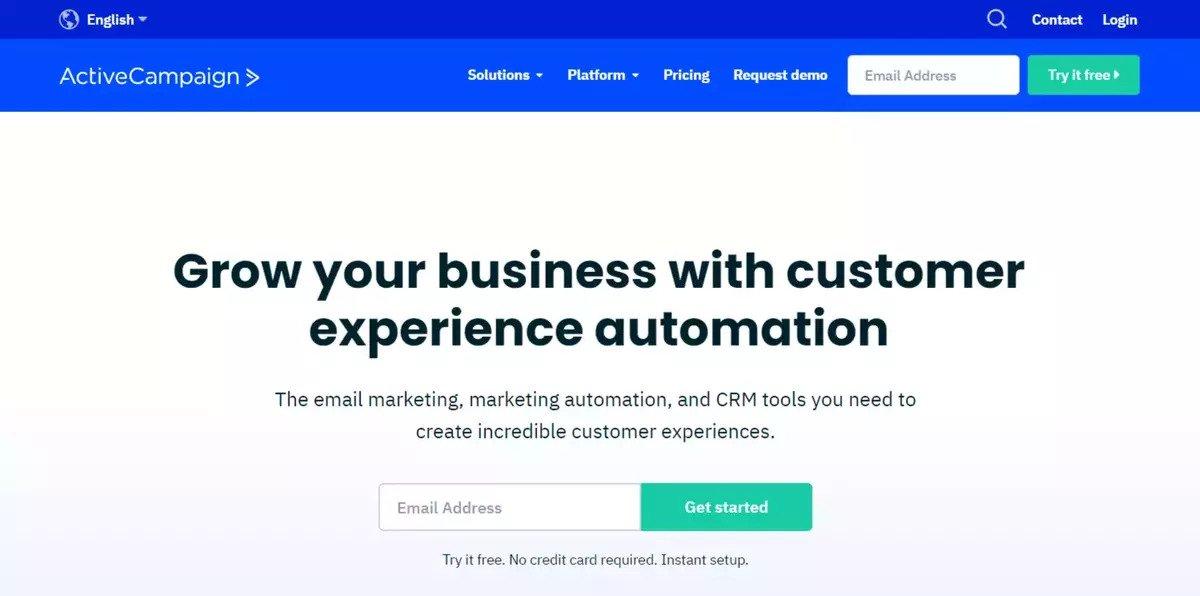 Best features of ActiveCampaign:
Machine Learning
Drag & Drop Email Builder
Mobile-friendly application
870+ Third-party Integrations
Email & automation reporting
Omnichannel Marketing
Split Automations – AB Test
Unlimited Email Design Testing
Unlimited Email Sending
Custom Mailserver Domain
Pricing
Marketing + CRM (Email, Marketing, & Sales Automation)
Lite: $29/month, paid yearly
Plus: $49/month, paid yearly
Professional: $149/month, paid yearly
Enterprise: Custom quote
Pros
Delivers a professional appearance for an affordable price.
Wide range of integration options, which you can figure out effortlessly.
An automated email sequence – just create and schedule
Cons
Not the best customer service – it can be better.
Quite a complex UI for beginners – hard to navigate and find the desired feature.
2. Sendinblue
Sendinblue is an all-in-one marketing solution that provides businesses with all the necessary tools to reach out to audiences and convert them into customers.
It is the best digital marketing automation platform on the market today. We recommend Sendinblue to all SMBs for complete marketing and business growth.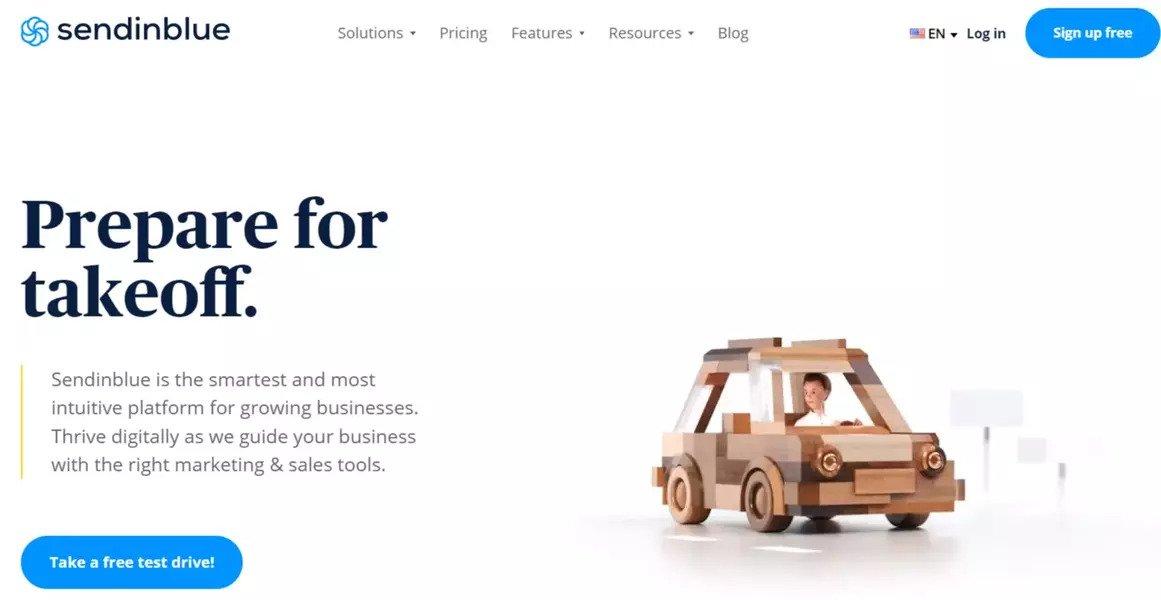 Best features of Sendinblue are:
Drag & Drop Editor
SMS Marketing
Advanced templating language
No daily sending limits
Real-time email statistics
Customized log retention
Marketing Automation
Unlimited contacts & details
Dedicated Account Manager
Phone and chat support
Pricing:
Marketing Platform
Free: 0€/month – includes unlimited contacts & 900 emails/month
Starter: 19€/month – includes unlimited contacts & 20K emails/month
Business: 49€/month – includes unlimited contacts & 20K emails/month
Enterprise: 1,000€/month – includes unlimited contacts & emails
Pros
Quick email delivery with a low bounce rate.
Reasonable pricing considering the top-notch marketing features.
Highly rated customer service by most users.
Cons
The in-app functionalities could still be better.
The UI can be more robust and also newsletter templates.
3. Omnisend
Omnisend is yet another marketing solution that focuses on eCommerce. The company aims to help businesses with the easy-to-use automation feature for SMS marketing and eCommerce marketing.
Omnisend is compatible with almost all eCommerce platforms, and, more importantly, it integrates loyalty review and helpdesk platforms for triggering marketing campaigns based on customer behavior.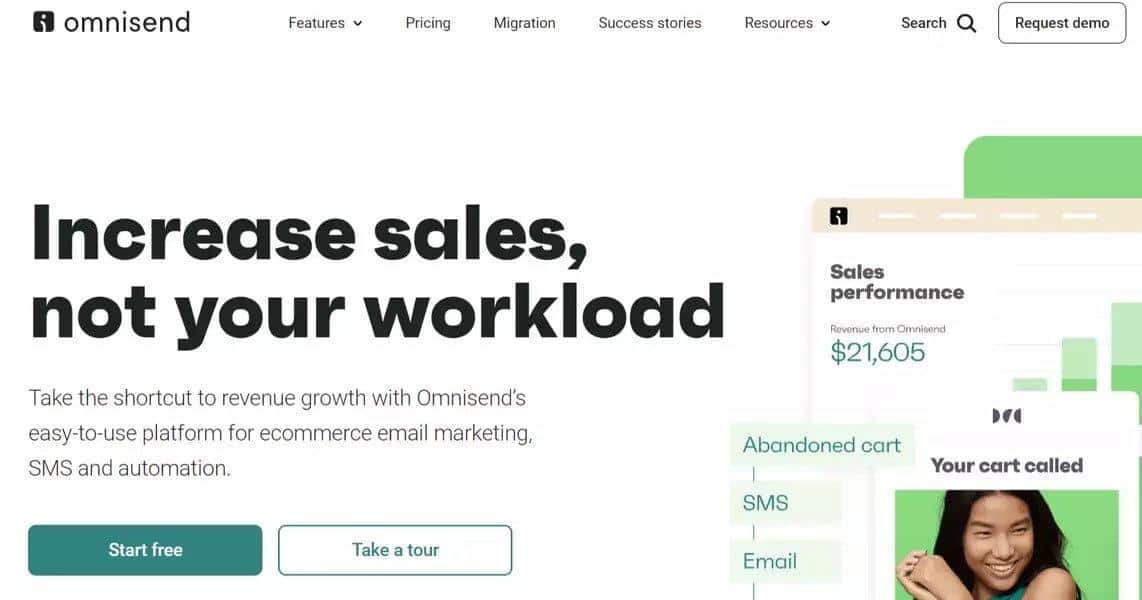 Best features of Omnisend are:
Web Push Notification Campaigns
Pre-built E-commerce Workflows
A/B Split Testing
Multiple Third-party Integrations
Web Tracking Data History
Custom Targeting & Timing
SMS Opt-In Collection
Product Content Block
Advanced Reporting
Campaign Clickmaps
Pricing:
Marketing Platform
Free: $0/month – includes 250 contacts & 500 emails/month
Standard: Starting at $16/month – includes custom contacts & emails/month
Pro: Starting at $59/month – includes custom contacts & emails/month
Pros
Campaign booster available for improving engagement rates.
Easy and practical Triggered email and automation.
Plenty of pre-built marketing automation workflows to reduce manual tasks.
Cons
Unlimited emails and contacts are available only with the Enterprise plan.
Greater flexibility and customization with email marking would be better.
4. ClickFunnels
ClickFunnels is a complete platform that offers you everything you need to build your website, blog, or online store.
You have a built-in CRM, email marketing, real-time analytics, fulfillment, shipping, and split testing all under a single umbrella. You can get the best out of your marketing efforts with ClickFunnels.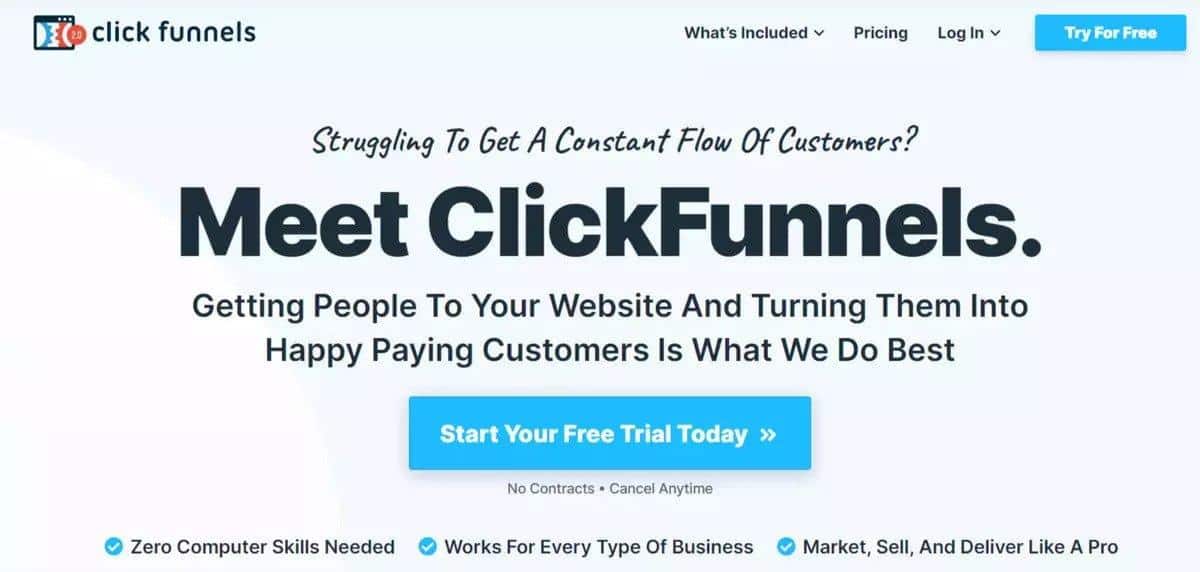 Best features of ClickFunnels are:
Unlimited Email Sequences
Unlimited Funnels
A/B Split Testing
Unlimited Products
API Access
Liquid Theme Editor
Affiliate Program
Unlimited Workflows
Advanced Real-time Analytics
CF1 Maintenance Mode Plan
Pricing:
Marketing Platform
Basic: $127/month, billed annually – includes 10,000 Contacts
Pro: $157/month, billed annually – includes 25,000 Contacts
Funnel Hacker: $280/month, billed annually – includes 200,000 Contacts
Pros
Offers you much marketing-related content.
A simple learning curve with easy-to-use UI.
Easy data tracking to identify the weak points and where we need to improve.
Cons
Backend functionality could have an easier learning curve.
Need to follow a complicated process when connecting to domains.
5. Klaviyo
Klaviyo is arguably the most simple and effective eCommerce marketing platform, with the ability to integrate with most eCommerce software. eCommerce business owners can opt for Klaviyo to carry out their email marketing.
Template quality, predictive forecasting, benchmarks, and eCommerce focus all lean toward greater growth marketing on limited investment.

Best features of Klaviyo are:
Immediately capture customer behavior
Automated A/B testing
Predictive data
200+ Third-party Integrations
Real-time, marketer-friendly segmentation
Real-time customer profiles
Rich pre-built and custom reporting
Precise multi-channel attribution
Ecommerce automations
Pre-built template libraries
Pricing
Free: $0/month – includes 250 contacts, 500 monthly emails
Email: $20/month – includes 500 contacts, 15,000 monthly emails
Email and SMS: $35/month – includes 500 contacts, 15,000 monthly emails.
Note: The pricing structure with Klaviyo depends on the number of contacts and monthly SMS/MMS credits. The pricing above is the minimum pricing with basic requirements.
Pros
Easy to create newsletters & emails with.
Smooth integration with e-commerce platforms.
Responsive and on-time customer service by the team.
Cons
Customization on desktop and mobile could be better.
The platform can be clunky, sometimes slowing down the workflow.
6. Benchmark
Benchmark is one of the top email marketing, creation, and monitoring tools in today's market. It might be the least-known marketing tool on the list — however, you wouldn't know its capabilities until you use it.
Benchmark features alluring landing page creation tools, AI-powered marketing automation, dedicated IP protection, and more to achieve maximum deliverability rates.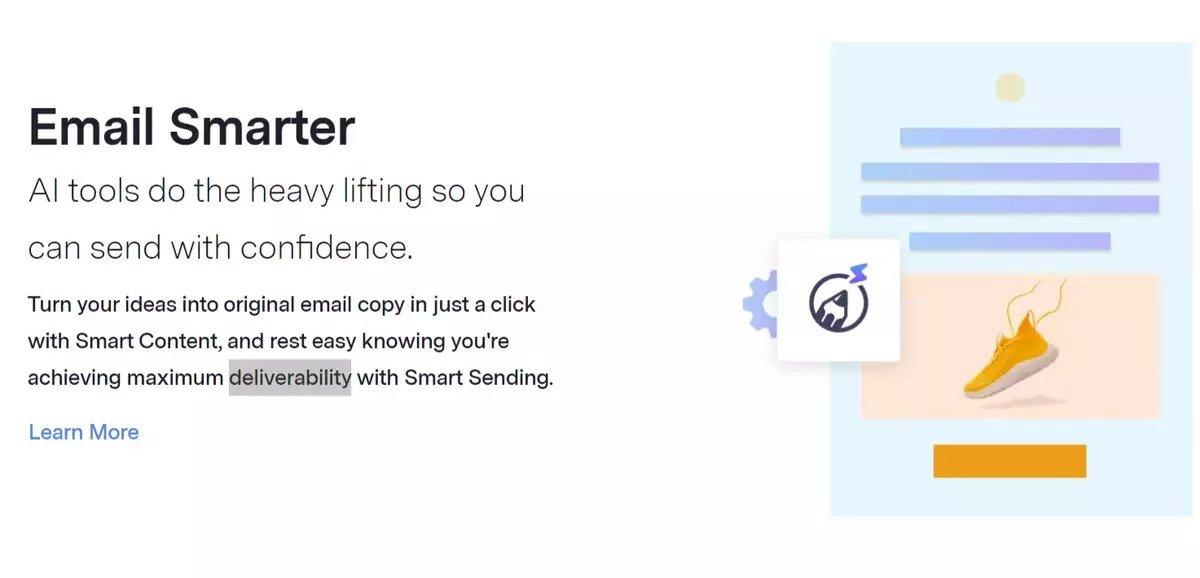 Best features of Benchmark are:
Track email performance
Publish Landing Pages
Automate customer journeys
Unlimited sending
Segment Lists & Schedule Emails
Remove Benchmark Branding
A/B test email content
Protect your reputation with Dedicated IP
Unlimited Email Sending
Launch quickly with managed account set-up
Pricing
Free: $0/month, billed annually – includes 3,500 monthly emails
Lite: $8/month, billed annually – includes 3,500 monthly emails
Pro: $13/month, billed annually – includes 7,500 monthly emails
Enterprise: Custom quote – unlimited emails
Pros
Great native split testing for a/b groups
Very detailed tracking information.
The ability to edit some HTML on their drag-and-drop version.
Cons
Server issues can delay the email-sending procedure.
The signup form design is basic and can be improved a lot.
7. HubSpot
HubSpot is one of the top marketing software tools we recommend to B2B service companies. It is a complete marketing automation tool that offers you a dedicated CRM, landing page-building tools, Omnichannel marketing automation, Behavioral trigger, and custom reporting. Despite the best automation features, it can be quite expensive as your business needs grow with time.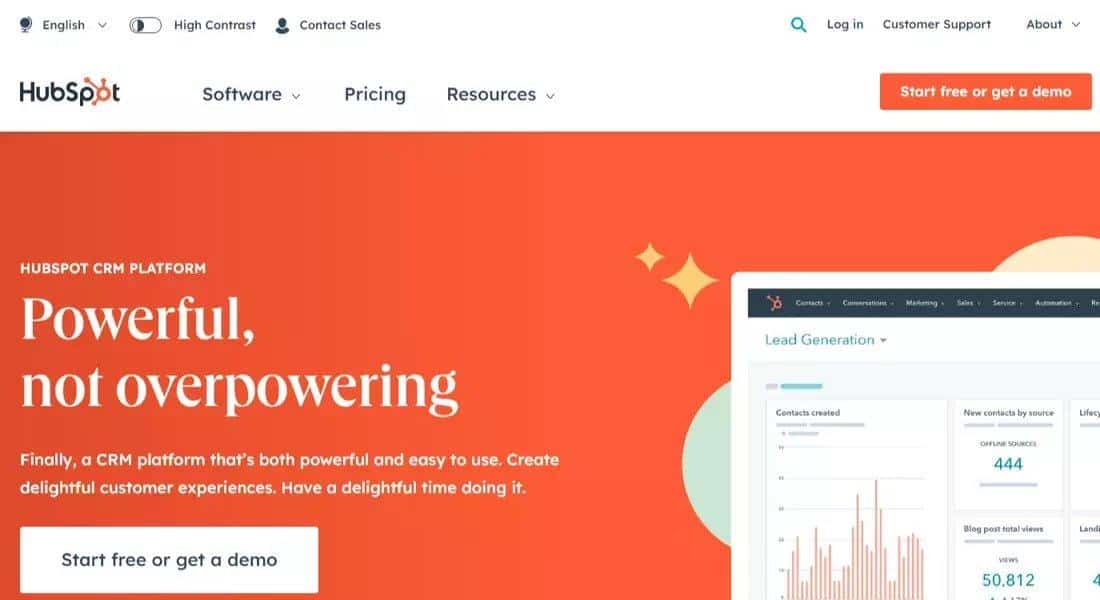 Best features of HubSpot are:
Email marketing
Email and in-app chat support
HubSpot mobile app
Multi-language content creation
SEO recommendations & optimizations
Marketing asset comparison reporting
Omni-channel marketing automation
Standard CRM interface configuration
Adaptive testing – A/B testing
Behavioral event triggers and reporting
Pricing
Marketing Hub™
Starter: $45/month, billed annually – includes 1000 Marketing Contacts
Professional: $800/month, billed annually – includes 2,000 Marketing Contacts
Professional: $3,600/month, billed annually – includes 10,000 Marketing Contacts
Pros
Track up to 10,000 logged interactions per contact.
Easy categorization and segregation of different states of the sales funnel.
Effective customer filtration of a particular segment with common attributes.
Cons
Cannot distinguish between the bot and a human click.
Conducting business can be difficult if the HubSpot CRM crashes.
8. MailerLite
MailerLite is arguably the cheapest platform when it comes to email marketing tools. Not to mention its adequate marketing features required to create effective marketing funnels and generate massive ROIs. We recommend MailerLite to beginners and small and personal projects.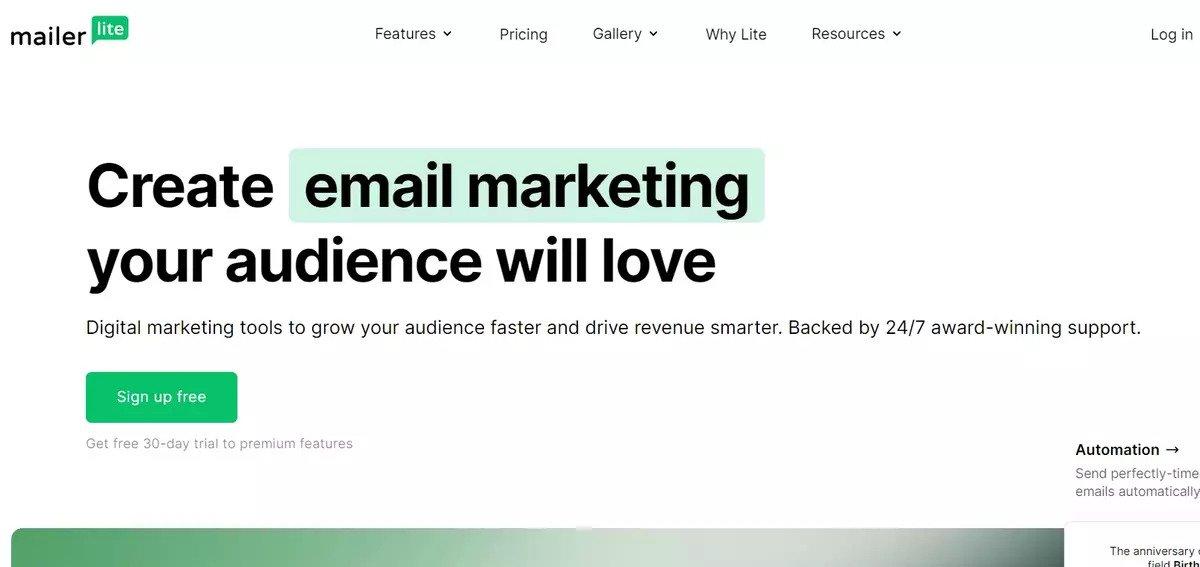 Best features of MailerLite are:
Drag & drop editor
Email automation builder
Signup forms & pop-ups
Auto resend campaign
Unlimited websites & blogs
Multiple triggers in automation
Dedicated IP & deliverability consultation
Custom landing page design
Custom newsletter design
Custom HTML editor
Pricing:
Free: $0 – includes 1000 subscribers, 1 user, 12,000 monthly emails
Growing Business: $9 – includes 1000 subscribers, 3 users, unlimited monthly emails
Advanced: $19 – includes 1000 subscribers, unlimited users, unlimited monthly emails
Enterprise: custom pricing – includes 100K subscribers, 1 user, 12,000 monthly emails
Pros
Unlimited automation, even on the free tier.
Easy drag-and-drop editor to easily create landing pages.
Effective email broadcasting to an entire email list.
Cons
It doesn't offer sufficient integration facilities with third-party applications.
Non-repeating background in landing pages would be better.
9. Constant Contact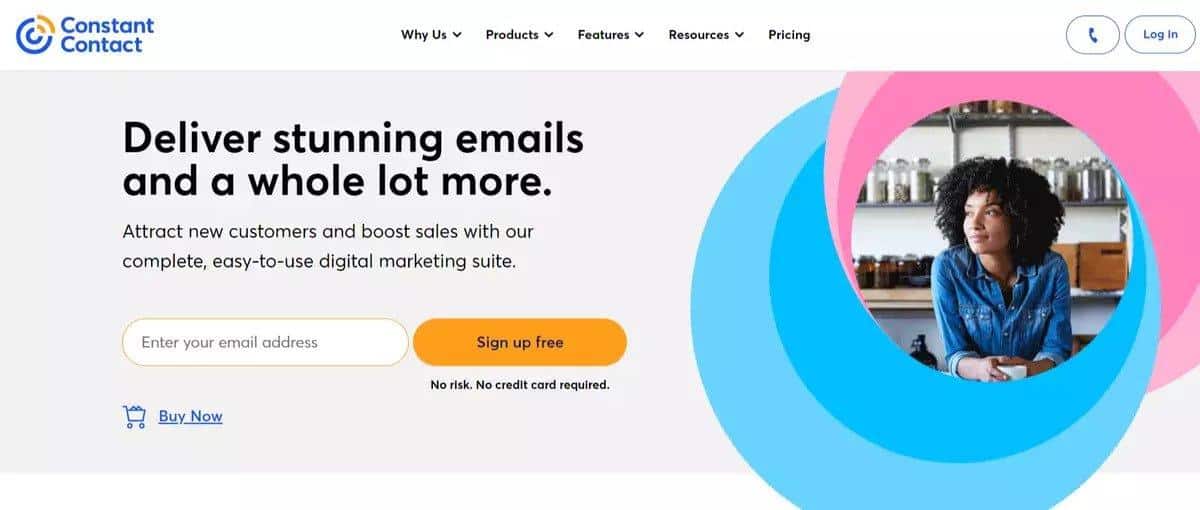 Constant Contact is the best content marketing tool for starters since it has a simple yet elegant drag-and-drop email builder feature, allowing you to build quick emails and landing pages. It also has behavioral triggers to automate email marketing campaigns and drip sequences.
Best features of Constant Contact are:
Social Media Marketing
SMS Marketing
List-Building Tools
Design Templates
Marketing Automation
A/B Testing
Event Marketing
Mobile Apps
Reporting
Ecommerce
Pricing:
All-in-one marketing automation
Digital Marketing
Core: Starting at €9
Plus: Starting at €41
Pros
Teams can create tags & lists for the constituent organizations.
Multiple tools and third-party software integrations.
Attractive and elegant pre-created email templates.
Cons
Monitoring parameters can be tricky to handle on some occasions.
Random glitches within building designs.
10. MailChimp
MailChimp is one of the popular email marketing and automation tools that can help you with personalized recommendations based on AI-assisted data analysis of millions of emails.
It helps you incorporate content automation, customer target and segmentation, and multiple third-party software integrations for smooth and effective email marketing campaigns.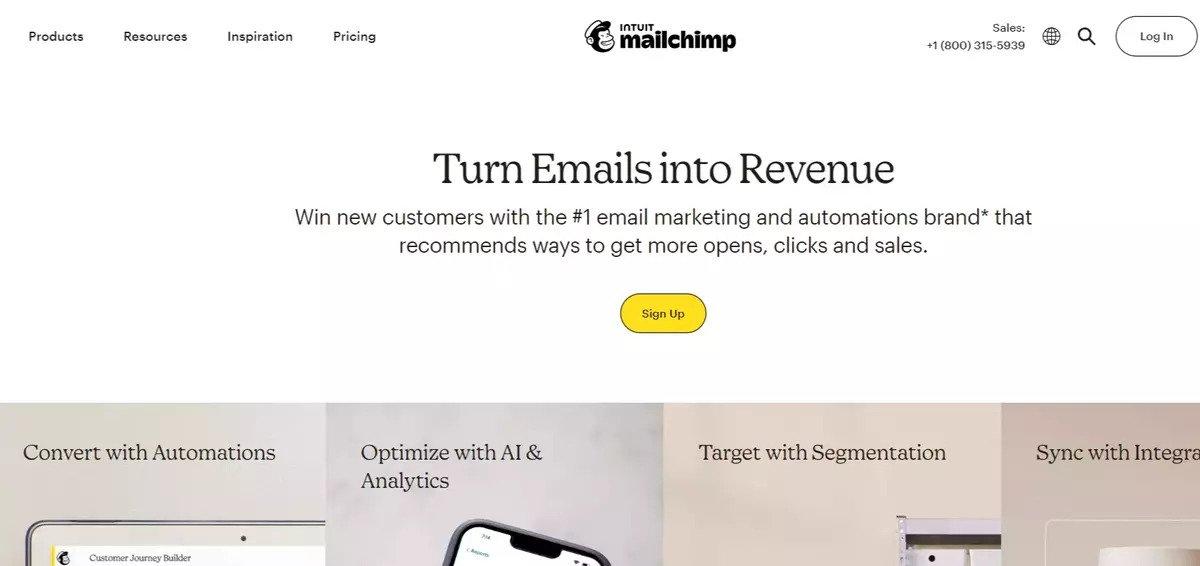 Best features of MailChimp are:
300+ Integrations
Pre-built Email Templates
Content Optimizer
Send Time Optimization
Assisted Onboarding
Advanced Segmentation
Comparative Reporting
Multivariate Testing
Dynamic Content
Automated Customer Journeys
Pricing:
Free: $0 – includes 1 user, 2,500 monthly emails
Essential: Starts at $13 – includes 3 users, 5,000 monthly emails
Standard: Starts at $20 – includes 5 users, 6,000 monthly emails
Premium: Starts at $350 – includes unlimited users, 150,000 monthly emails
Pros
Audience segmentation and list management – easy and effortless.
Very low mail delivery ends up in the Spam folder.
Generate streamlined and impressive reports.
Cons
It doesn't offer sufficient integration facilities with third-party applications.
Lacks enough automation features for email marketing.
Wrapping up on Best Email Marketing Tools
With its outstanding ROI potential and versatility, email marketing deserves a strong foothold in every SaaS marketing stack. However, executing a successful email marketing campaign is only possible if you have the right tool at your disposal.
The good news is that every email marketing tool listed in this article is more than suitable for the job. Whether you're a small startup with a limited budget that's only venturing into email marketing or a large organization looking to take your marketing efforts a step further, there is the right tool for you on this list.