In this article, you will find the best software you can use to record and analyze customer feedback, such as customer survey tools, online review tools, community feedback tools, and even user testing tools. Read on to see what each of these customer feedback tools has to offer.
How Important Are Customer Feedback Tools?
Having a customer-centric attitude is strongly linked to a company's success because customers are the ones that generate income. Customer feedback is essential to all businesses because it shows the customer satisfaction levels and can help identify opportunities for product improvement. This is crucial for SaaS businesses, where customer inputs can be rapidly translated into product development.
Customer feedback tools automate the feedback collecting process and transform it into data that can be easily analyzed to deliver a better customer experience. Here are a few tools you should consider using: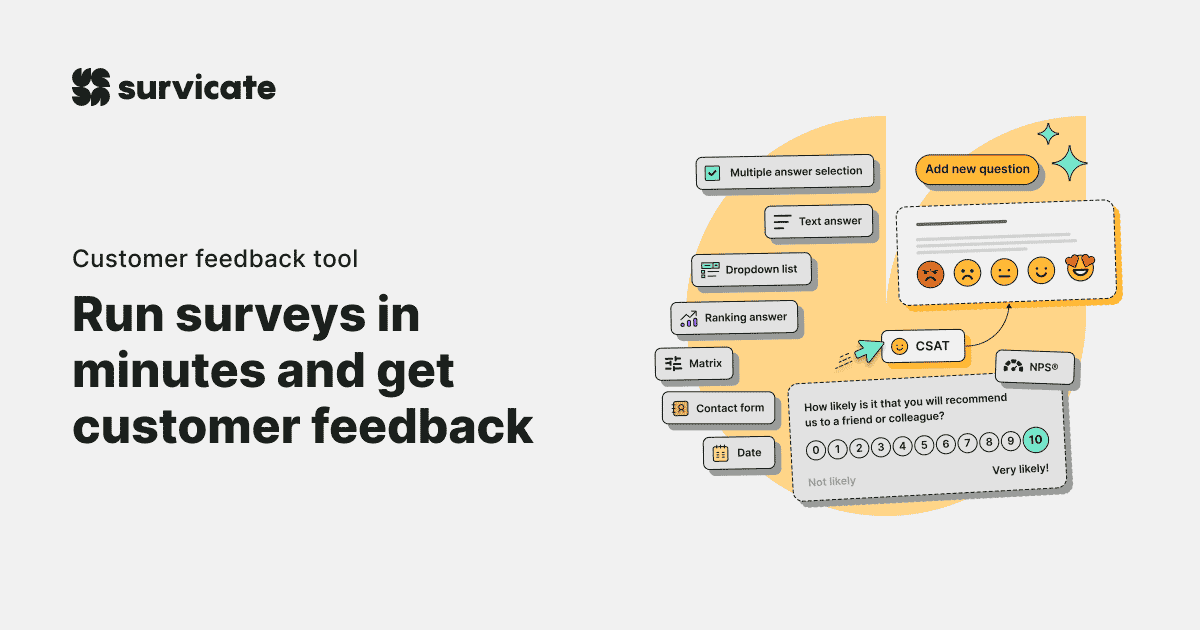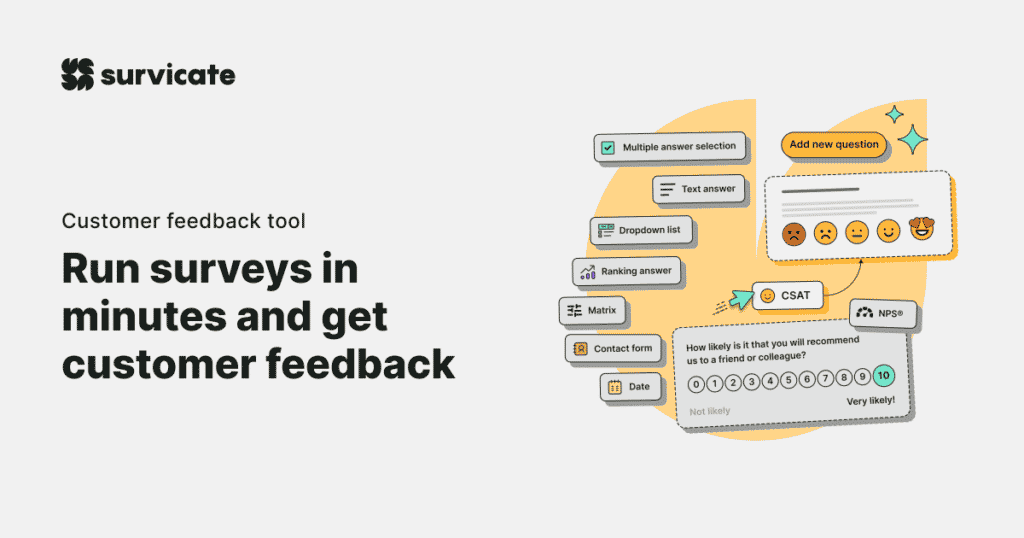 Best features
Many survey distribution channels: email, link, website, in-product and mobile app
NPS, CSAT, CES and 12 more survey question types in one tool
Customize the font, color, background and position of your survey without coding
Hubspot, Intercom and 26 other native integrations
No time limit on the free plan
Unlimited free seats with any plan
Survicate is a tool that helps you gather customer feedback on all digital channels. You can send surveys by email, link, chat or in-product. You can run targeted surveys on websites and within web or mobile apps. It integrates with a large variety of CRM, Analytics, and Customer Support tools, among others.
Survicate allows you to automate customer feedback collection and analysis. Receive customer insights constantly from all stages of the funnel.
Recommended for: All
Starting Price: Free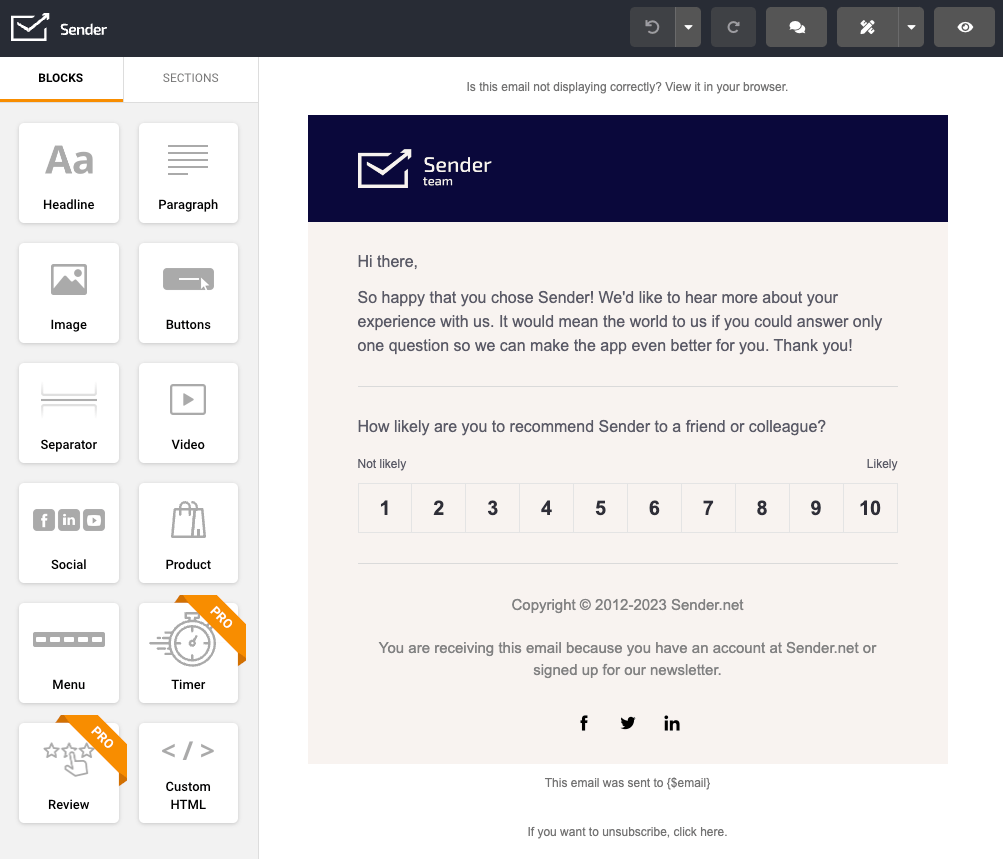 Best Features
Automate feedback surveys across SMS or email;
Marketing automation sequences based on multiple triggers;
Drag-and-drop popup builder;
Behavioral segmentation and activity tracker;
Integrations with all major CRM, CMS, and eCommerce platforms.
Sender is a full-suite marketing automation solution that you can use to schedule, send, and automate customer feedback surveys.
Sender allows you to set up elaborate automation sequences that can be triggered based on user behavior. So, you can send feedback surveys when customers are most engaged.
You can reach out to users to get feedback via email or SMS from a single platform. Plus, if you're planning to run on-page feedback campaigns, a popup builder with behavioral triggers will help you target the most active users. Sender integrates with all major apps and marketing suites, helping you access data where you need it the most.
Recommended For: eCommerce businesses, bloggers, and B2B SaaS companies looking to automate surveys and other marketing operations.
Starting Price: $8 per month. Comes with a forever free plan for up to 2500 subscribers.
3. SurveyMonkey

Best Features:
Survey sharing with fine control over who can view and edit
Multilingual surveys
Free integrations with popular collaboration apps
All file type exports (CSV, PDF, PPT, SPSS, XLS)
Advanced analysis features.
SurveyMonkey is an online survey software that has over 100 available integrations with various apps and plug-ins, such as MailChimp, Slack, Google Drive, Microsoft Teams, and Hubspot. SurveyMonkey comes with 12 pre-made survey templates for different niches (health, marketing, education, etc.) but offers few survey customization options for its users.
Recommended for: All
Starting Price: €30 / user / month
Best Features:
Unlimited typeforms
Unlimited questions
Respondent email notifications
Collect payments
Calculator for quizzes and payments
Typeform is a tool used to build interactive forms, surveys, and quizzes. It has a user-friendly interface, and it offers an extensive library of visually attractive forms, survey and quiz templates, as well as high-level reports. However, it lacks some handy features, such as allowing users to edit the survey's HTML code.
Recommended for: All
Starting Price: €30 / month
Best Features:
Free Online Form Builder
Net Promoter Score (NPS) Surveys
Customer Satisfaction Score (CSAT) Surveys
Customer Effort Score (CES) Surveys
Hubspot is a Customer Service Software that has all the necessary tools for marketing, sales, customer service, and content management. With Hubspot's Customer Feedback tool, you can create surveys to gather feedback and deploy them via email or on your website. Hubspot's focus is on usability, so there aren't many customization options available.
Recommended for: All
Starting Price: €41 / month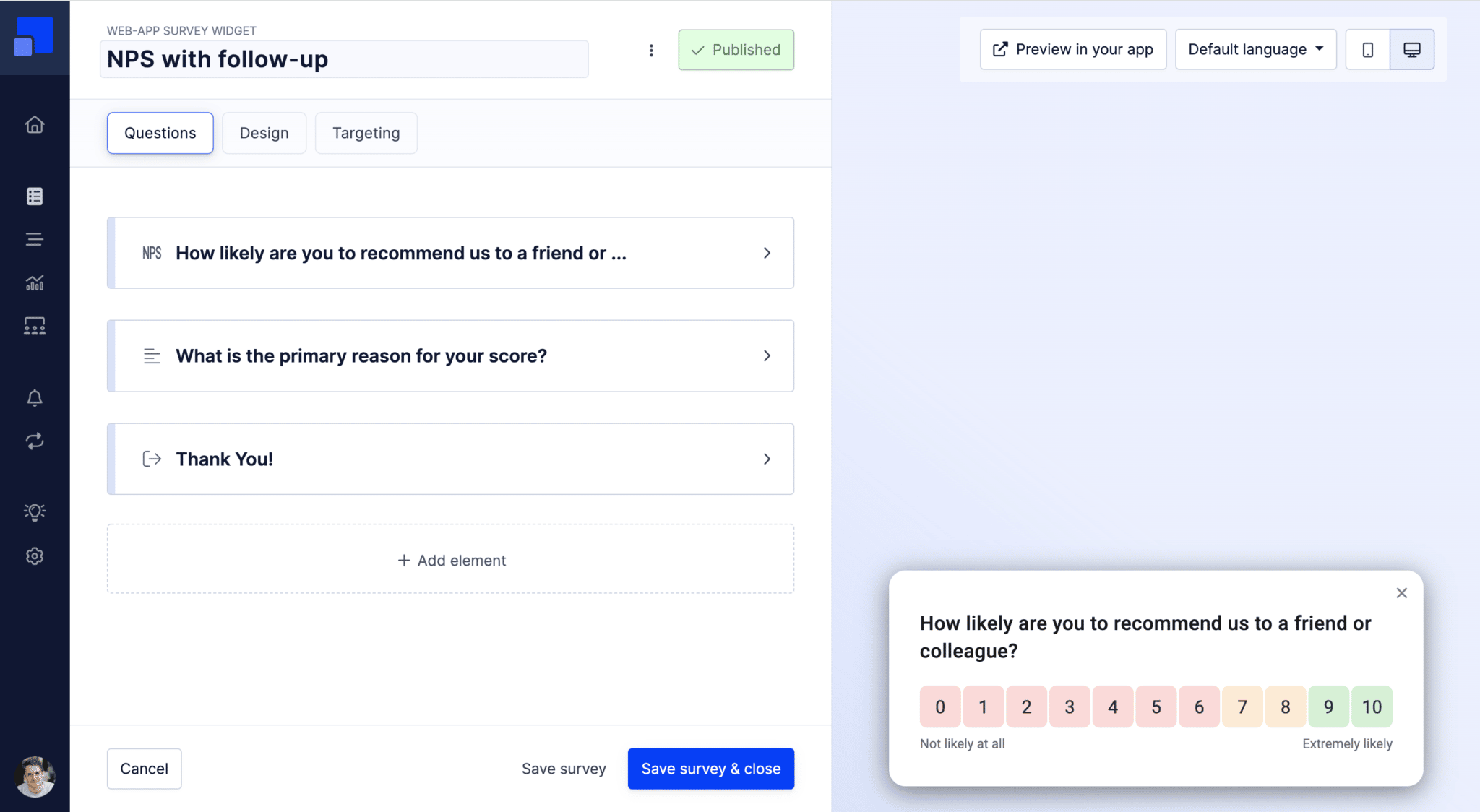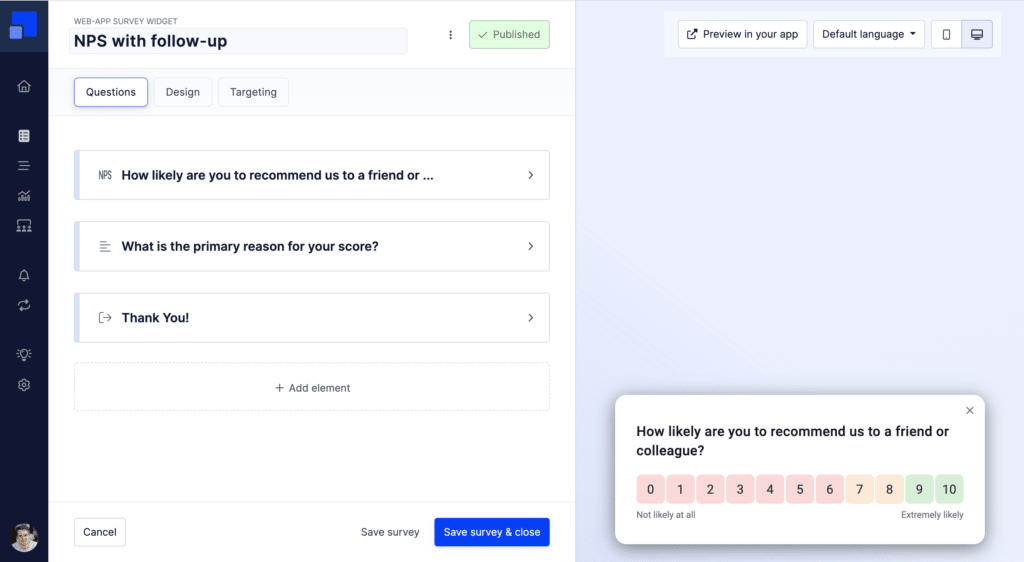 Best Features:
In-app Survey Widgets for Web and Mobile
Survey Links & Email Surveys
User segmentation
3rd Party Integrations
Customizable reporting dashboards
Refiner is a user feedback & customer survey solution for SaaS companies. Refiner makes it easy to track customer satisfaction metrics (NPS, CSAT & CES), profile users or research what to build next.
Refiner lets you create fully customizable microsurveys that can be launched in-app (web & mobile) or on your website, sent by email, or shared with a link.
Uncover new customer insights with customizable analytics dashboards or push responses to your favorite tools in real-time. Refiner integrates nicely with 3rd party tools like Segment, Zapier, Make, Google Sheets, Customer.io, and many more.
Recommended for: SaaS
Starting Price: $89/month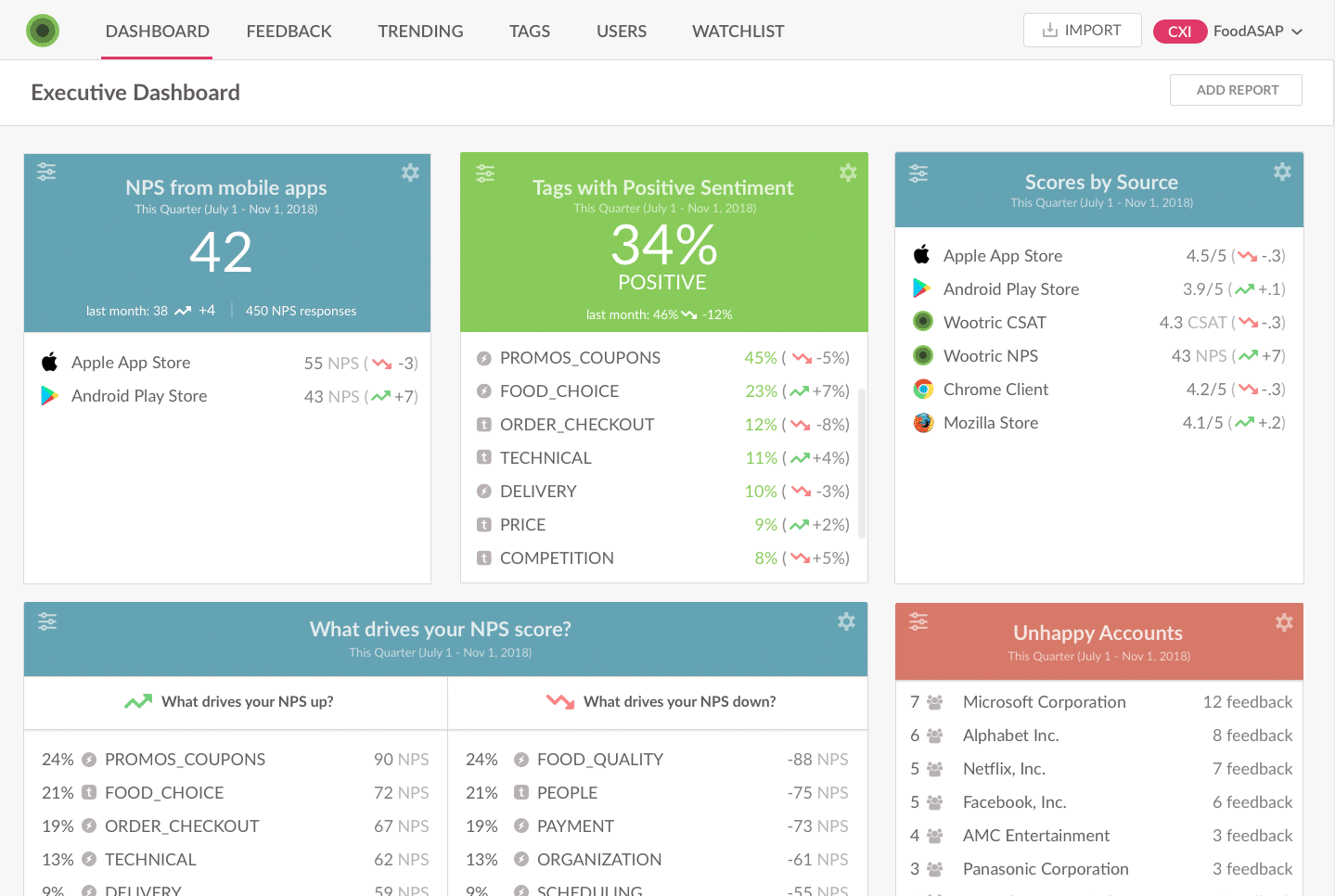 Best Features:
NPS, CSAT, and CES Surveys
Email alerts – route feedback by score
Tag feedback themes
Multiple languages
Export Data
Wootric is a customer feedback tracking software that uses NPS, CSAT, and CES surveys to determine customer satisfaction. Feedback collecting channels include email, web and mobile apps, chat, and SMS. Wootric's user interface is intuitive and easy to use. However, this tool can be a bit slow when loading huge amounts of data. Custify even offers a native integration with Wootric.
A native integration for
Recommended for: All
Starting Price: Free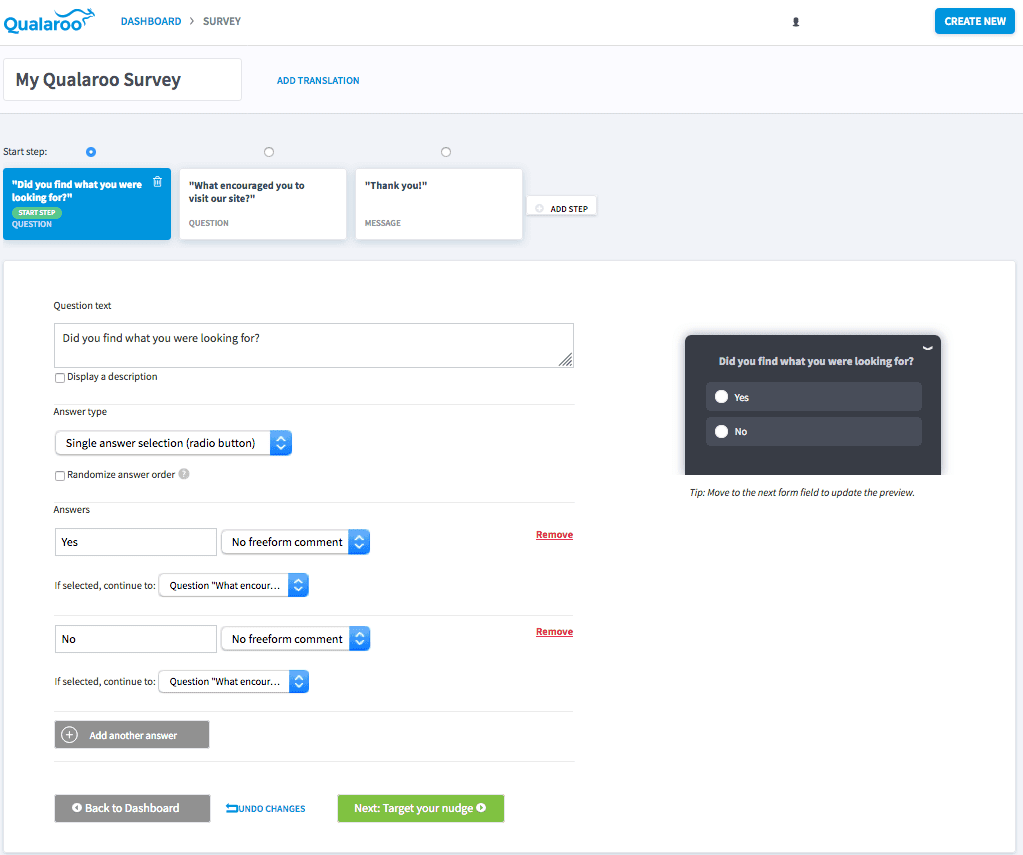 Best Features:
Data export
Reports & analytics
Professional templates
Email notifications
Net Promoter Score (NPS)
Qualaroo provides you with templates you can customize to match your brand. It highlights new responses and helps you categorize questions with sentiment analysis. Its word cloud feature brings out key ideas from free-form answers. However, the platform could use more pre-built survey templates for users.
Recommended for: All
Starting Price: $80 / Month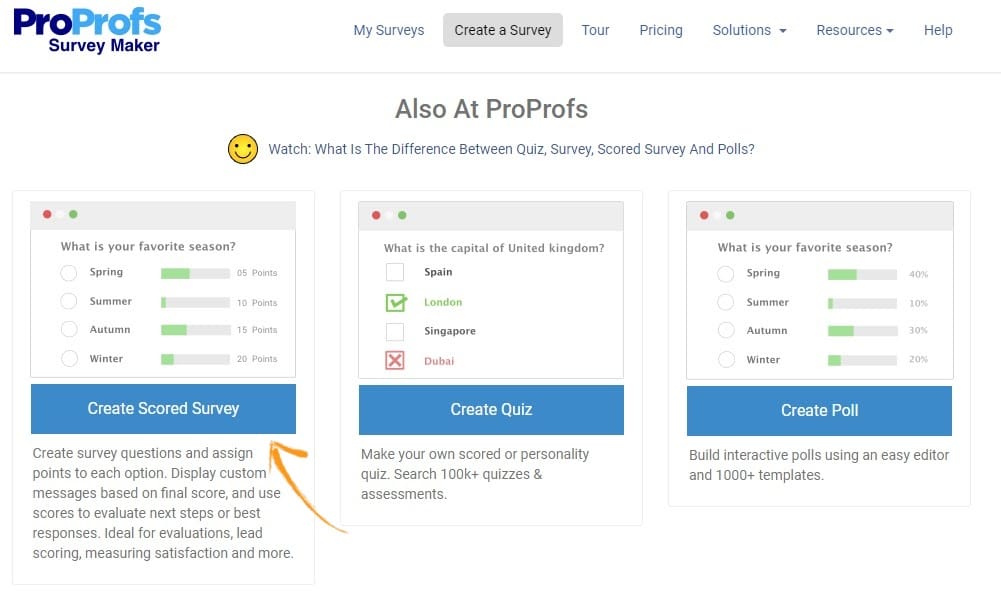 Best Features:
Unlimited surveys
Respondent email notification
Net Promoter Score
Notifications & report sharing
Multilingual surveys
ProProfs Survey Maker is a tool you can use to create surveys, forms, quizzes, tests, and assessments for your business. It provides you with professionally designed templates to create customer feedback surveys that you can share via email and social networks or embed on websites and blogs. Unfortunately, many features are not available if you're using the free version.
Recommended for: SaaS businesses
Starting Price: Free


Best features
Templates for NPS, CSAT, star reviews, and more
Easy drag-and-drop survey editor
Various distribution options: website embed, email, QR code, URL, chatbot
Collect and display testimonials and video testimonials
Automated feedback process
Native integration with Hubspot and Pipedrive
Zapier and API integrations
Trustmary is a marketing automation tool for collecting testimonials and customer feedback. The survey builder is easy to use and includes many tried and tested templates like NPS and CSAT. Integration with CRM enables extensive automation options and easy data transfer between the systems. The Pro plan might be a heavy investment for someone who is just starting out, but the free Solo plan allows you to collect unlimited testimonials and showcase them on your website.
Recommended for: All
Starting Price: $299/month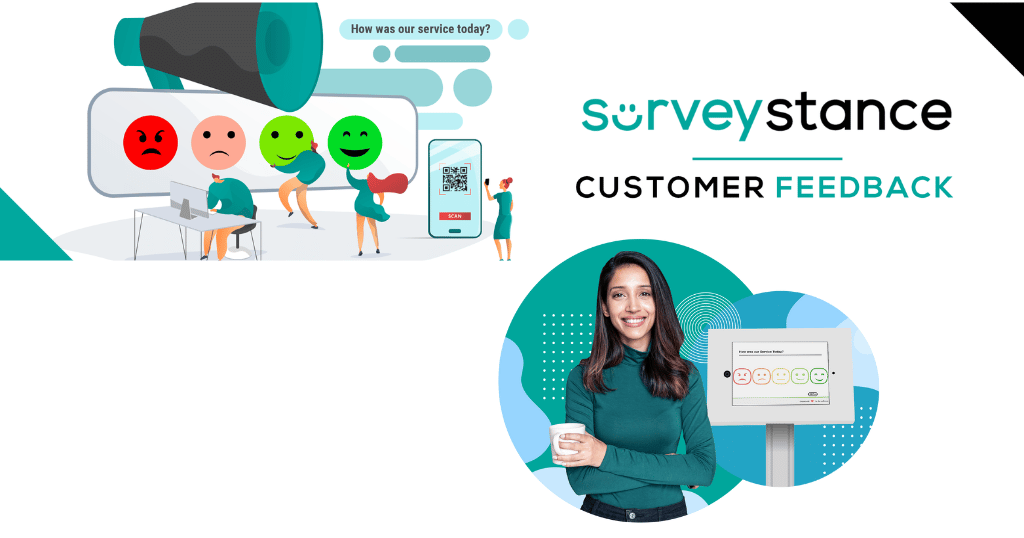 Best Features:
Full package includes Feedback Kiosk, Unlimited Responses, Users, Surveys & Questions
Capture real-time customer feedback in multiple languages
Increase your survey response rates
Get insight into the why
Receive instant alerts for negative feedback
Scales across locations, teams, and users
Actionable & custom reporting data
This is one of the best ways to collect customer or employee feedback in real-time. Emoji-based surveys remove any friction and allow for quick and easy feedback. This results in higher response rates and higher overall survey scores.
Recommended for: Companies looking to capture customer or employee feedback within a physical location.
Starting Price: $69/mo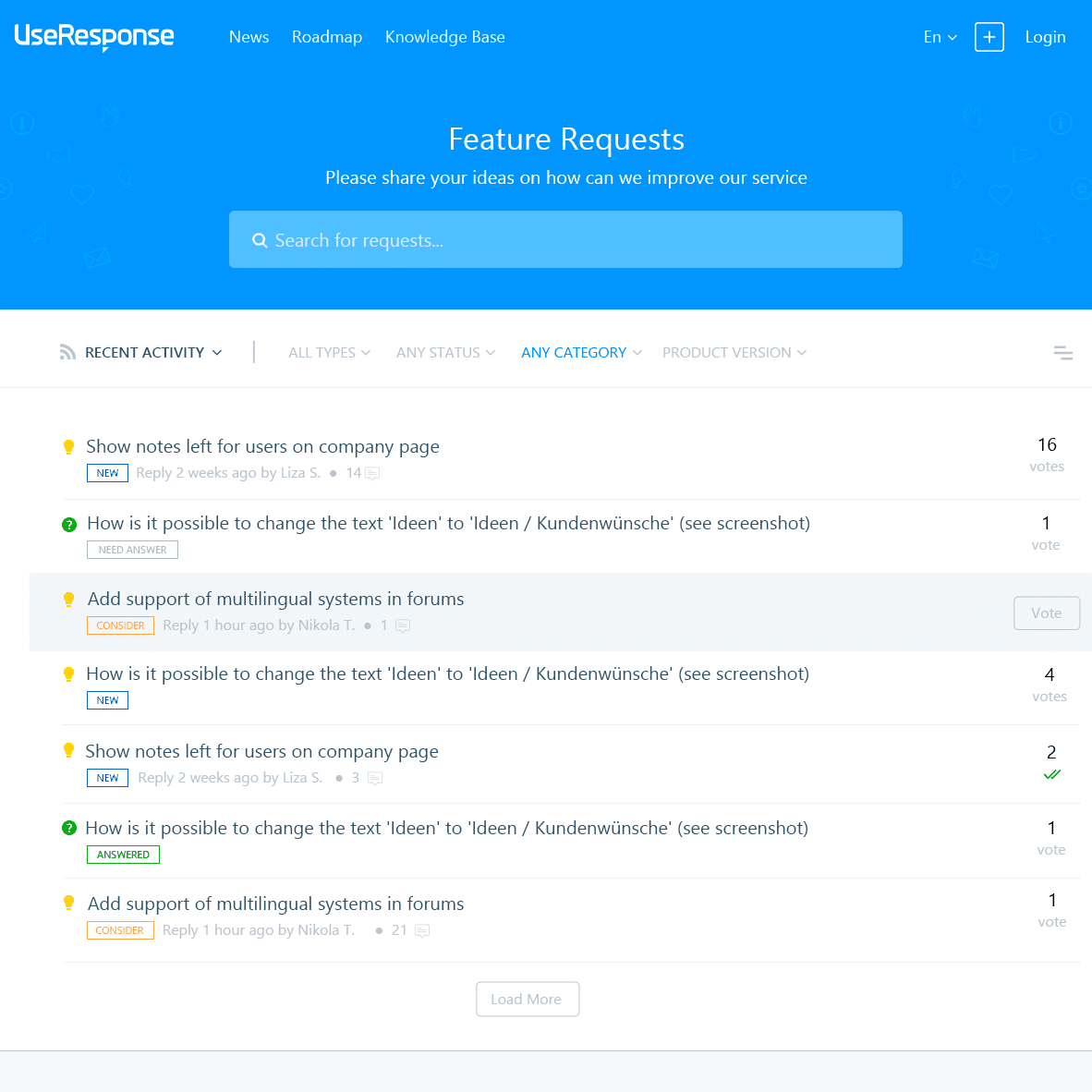 Best Features:
Public feedback collection system
Private feedback community for teams
SSO login for better security
Smart content moderation tool
Trigger automatization of routine feedback processing
UseResponse is a 360° customer support tool that offers customer feedback, help desk, knowledge center, and live chat solutions. You can use it to collect feedback, ideas, and questions in real-time and not only. It can be a difficult tool to understand if you've never used a customer support system, so it's not appropriate for inexperienced users.
Recommended for: All
Starting Price: $1490 / year
13. CustomerSure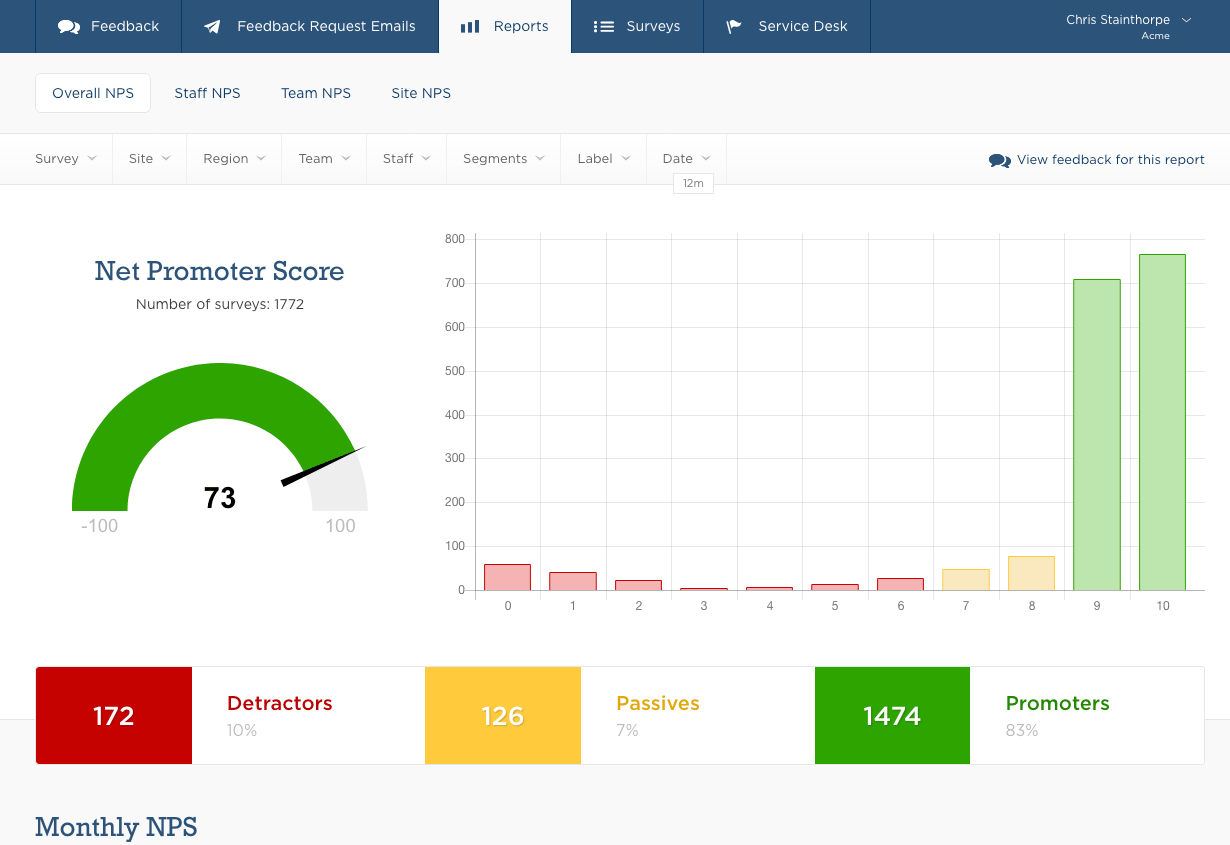 Best Features:
Multiple languages
Survey customization
Track and improve survey rates
Full GDPR compliance
CustomerSure is a feedback tracking software that you can use to deliver surveys via email, SMS, web, app, and more. CustomerSure also helps you track and improve deliverability, engagement, abandonment, and response rates on surveys. The only downside is that its price is quite high compared to other similar tools.
Recommended for: All
Starting Price: £199 / month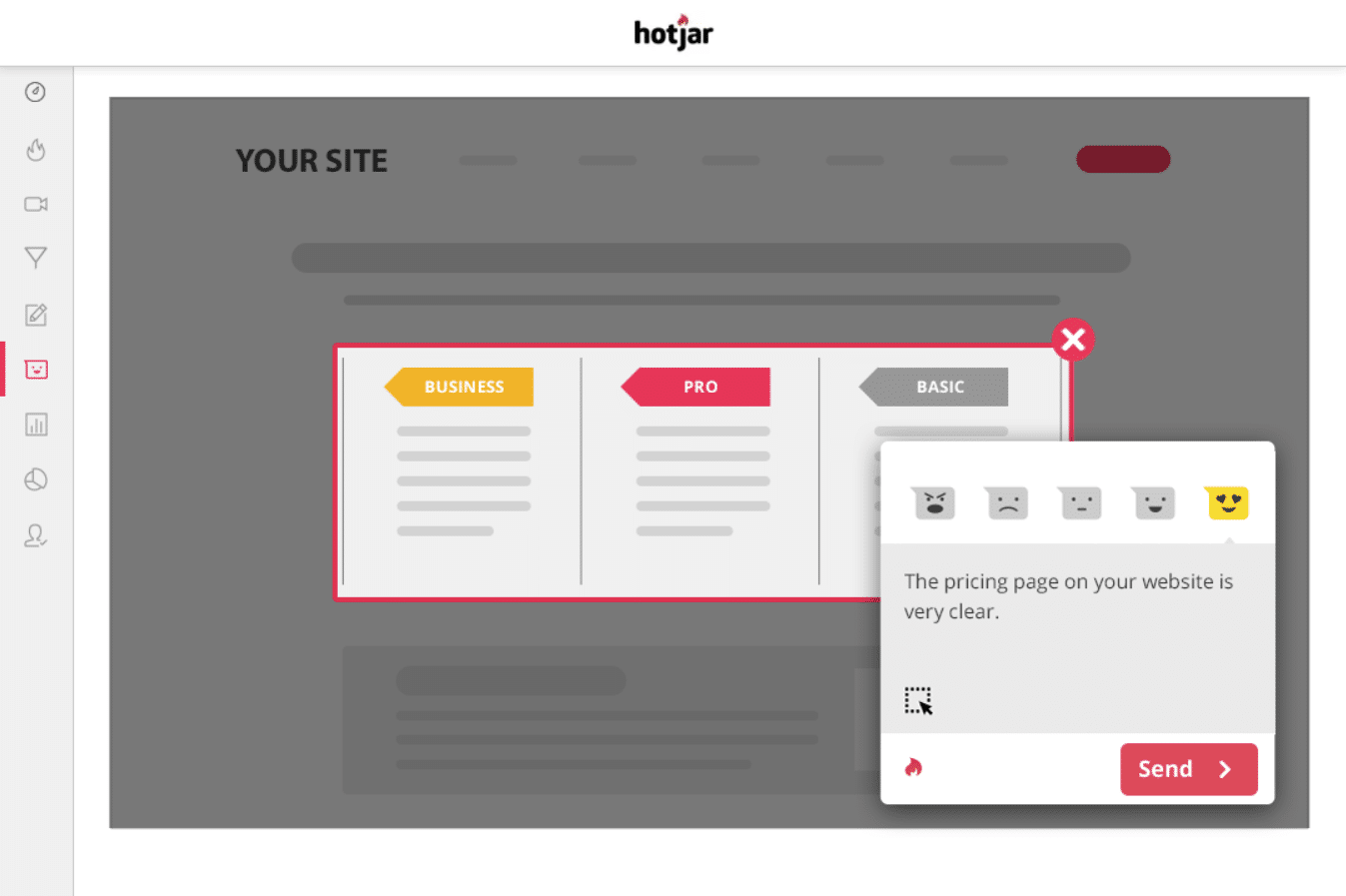 Best Features:
Continuous heatmaps & recordings
Unlimited surveys & feedback widgets
Identify API
Integrations
Hotjar is a customer behavior analytics software that can help you understand how users interact with your website. It uses heatmaps and recordings, as well as incoming feedback and surveys to determine how users really behave and what they want. One downside is that it collects data for all customers together, with no possibility to create customer profiles or segmentation.
Recommended for: All
Starting Price: €99 / month

Best features:
Website widget
Screenshot and annotations
Technical data recording (browser, OS, URL, console logs)
2-way sync with Jira, Trello, Asana, GitHub, ClickUp (and more)
Browser extension / WordPress plugin / JS snippet code.
Custom branding
Marker.io is a visual bug reporting tool made for agencies and software development teams. Simply install the website widget and collect feedback with screenshots, annotations & technical meta-data, directly into your favorite project management tool like Jira, Trello, Asana, GitHub, ClickUp, and more.
Say goodbye to messy emails, spreadsheets, and PowerPoint. There is a better way!
Recommended for: Agencies and development team
Starting Price: $39 / month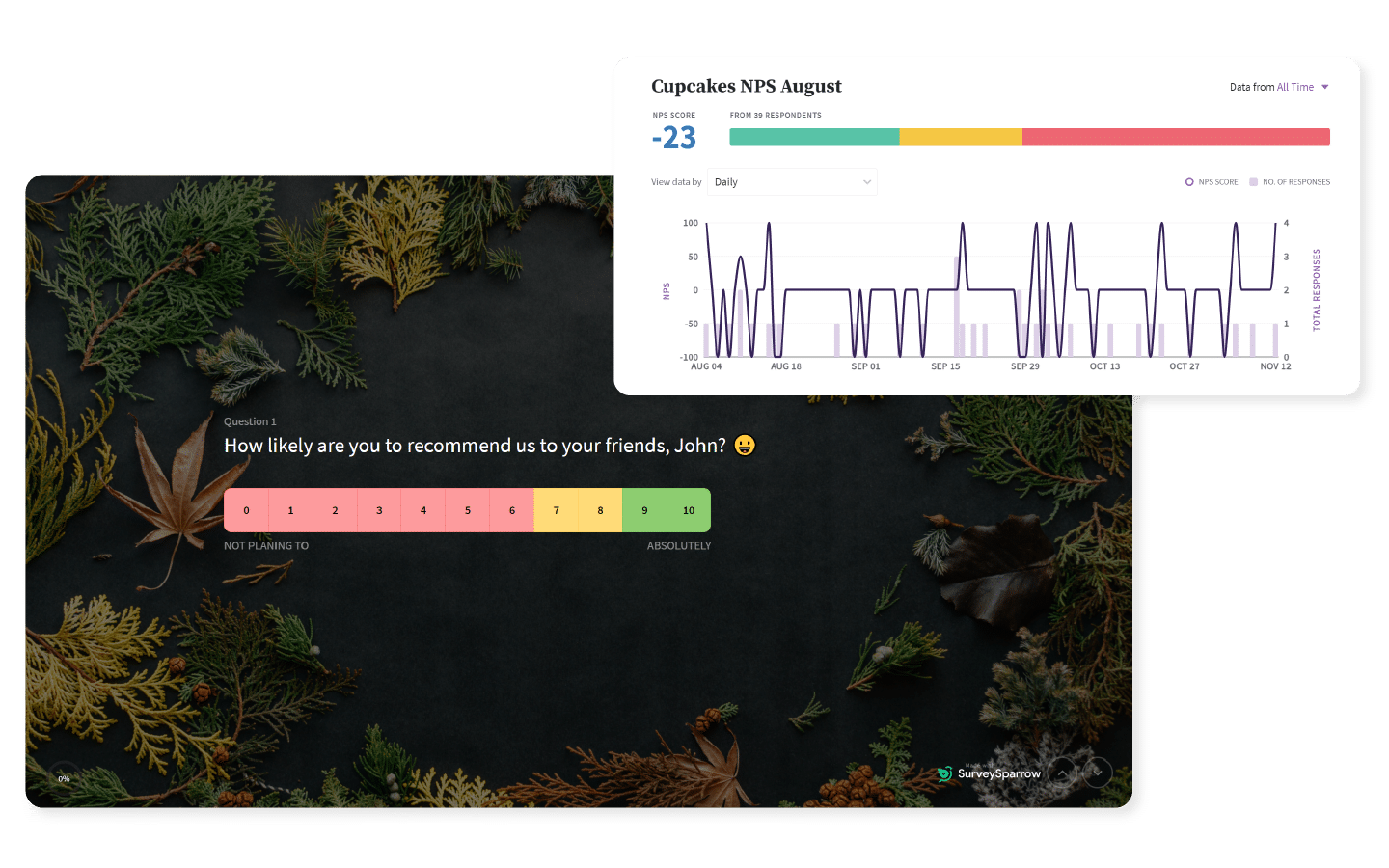 Best Features:
Multi-language surveys
Video surveys
Visual Workflows
API, Webhooks, Integrations
Conversational forms
SurveySparrow is an all-in-one experience management platform that offers the following products: Enterprise Survey Software, NPS Software, Offline Surveys, 360° Assessment, Chatbot for Website, and API. Surveys made on SurveySparrow are responsive, highly engaging, and user-friendly. The customization options are quite limited, so this aspect could use some improvement.
Recommended for: All
Starting Price: $19 / month
17. Client Heartbeat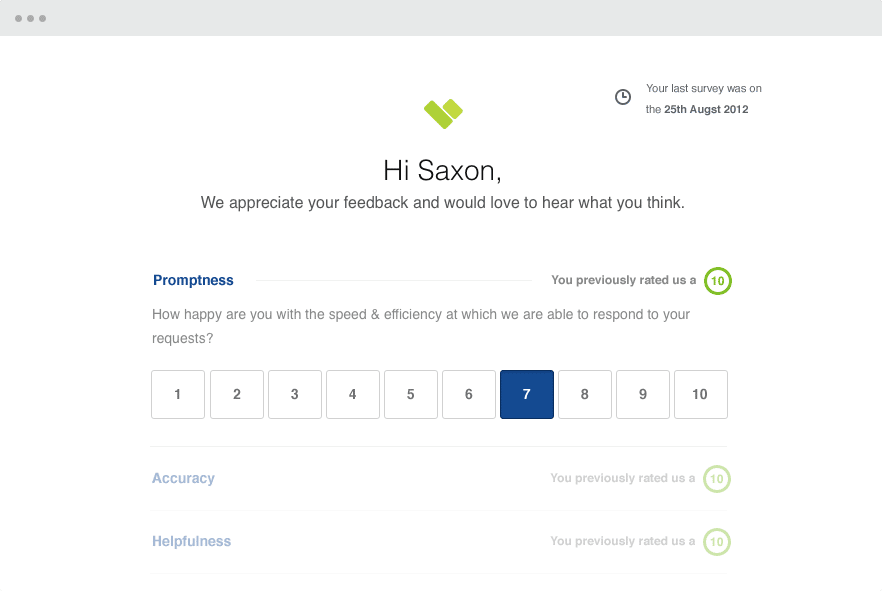 Best Features:
Customization
Periodic survey reminders
At-risk customer alerts
Customer reports
Industry benchmarks
Client Heartbeat is a platform that records and analyzes customer feedback. It provides you with a list of survey questions you can choose from when creating a survey and comes with a Company Dashboard where you can visualize customer and company data. This tool's features are quite basic, so the value you get for your money is not very high.
Recommended for: All
Starting Price: $29 / month
18. UserReport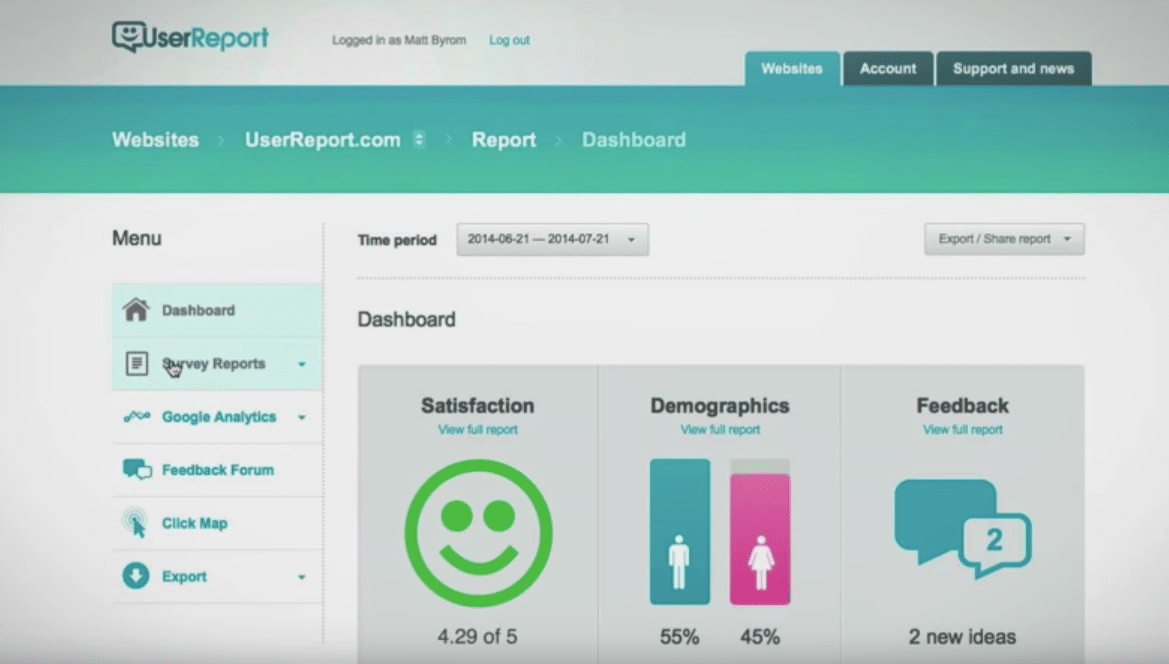 Best Features:
Survey widget
Net Promoter Scores
Demographics
Google Analytics integration
Customizable and localized
UserReport offers a survey and feedback widget that you can integrate with your website or app (you can easily install them by adding a code snippet to your website). It uses Net Promoter Score to show you how many users like your company. Although it is a very useful tool, it's best suited for higher-traffic websites.
Recommended for: All
Starting Price: Free
19. Clarabridge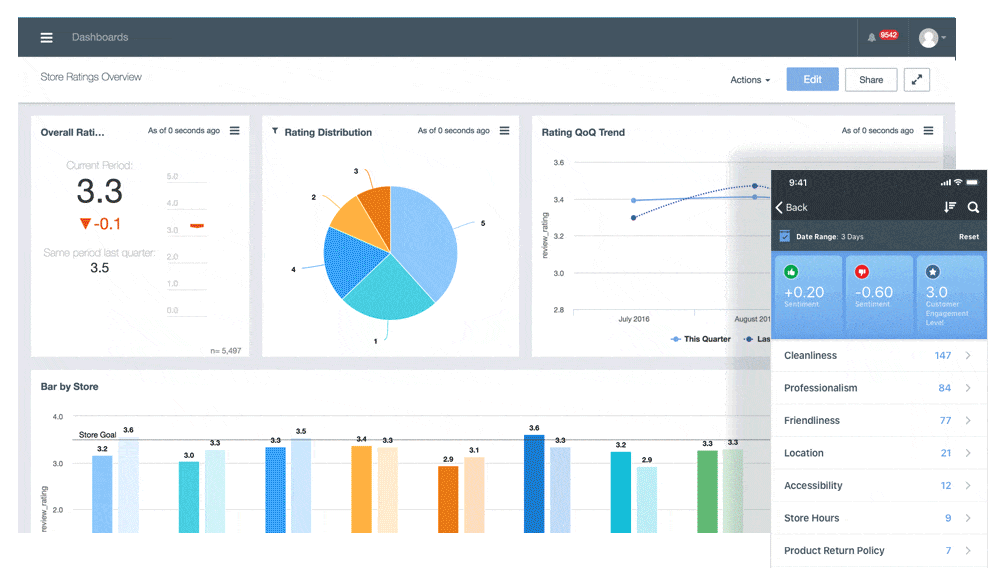 Best Features:
Easy feedback categorization
Emotion analysis
AI-powered semantic analysis
Personalized dashboards for every department
Mobile access
Clarabridge is a customer feedback tool that collects customer feedback from all digital channels: emails, chats, surveys, social interactions, ratings, customization reviews, or forums. You can get both solicited and unsolicited feedback in one place to analyze it. The major downside is that it takes quite a bit of time to set up and maintain, so it's not easy to use by inexperienced users.
Recommended for: All
Starting Price: Price on request
20. GetFeedback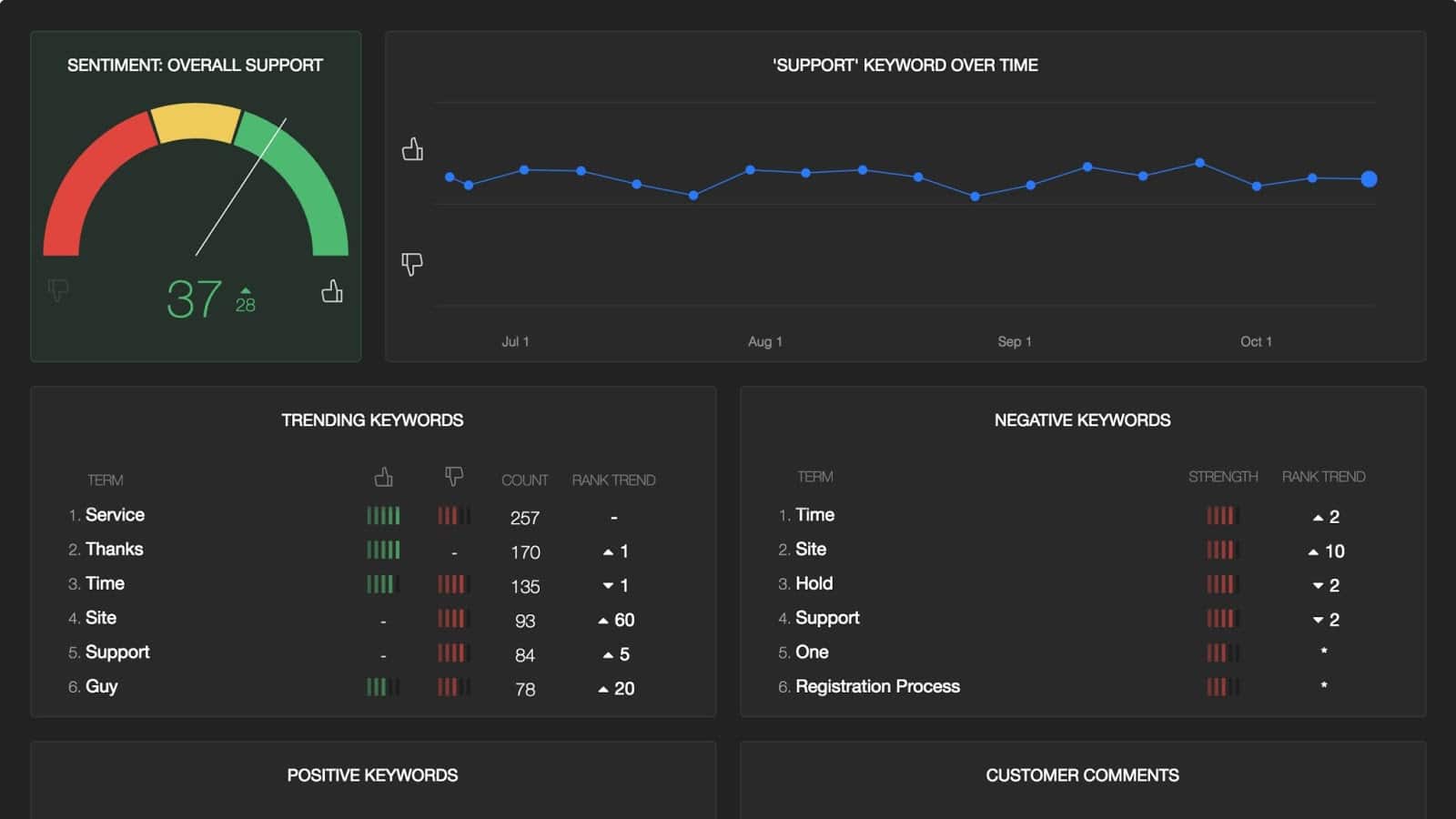 Best Features:
Automated feedback collection
Integrations with popular apps
Pre-made templates
Easy-to-use interface
Out-of-the-box dashboards
GetFeedback helps you bring customer feedback from all channels in one place. You can use it to view your Net Promoter Score (NPS), Customer Satisfaction Score (CSAT), and Customer Effort Score (CES) and understand your customers' needs. Keep in mind that GetFeedback doesn't offer as many integrations as other tools on this list.
Recommended for: All
Starting Price: Price on request
21. Confirmit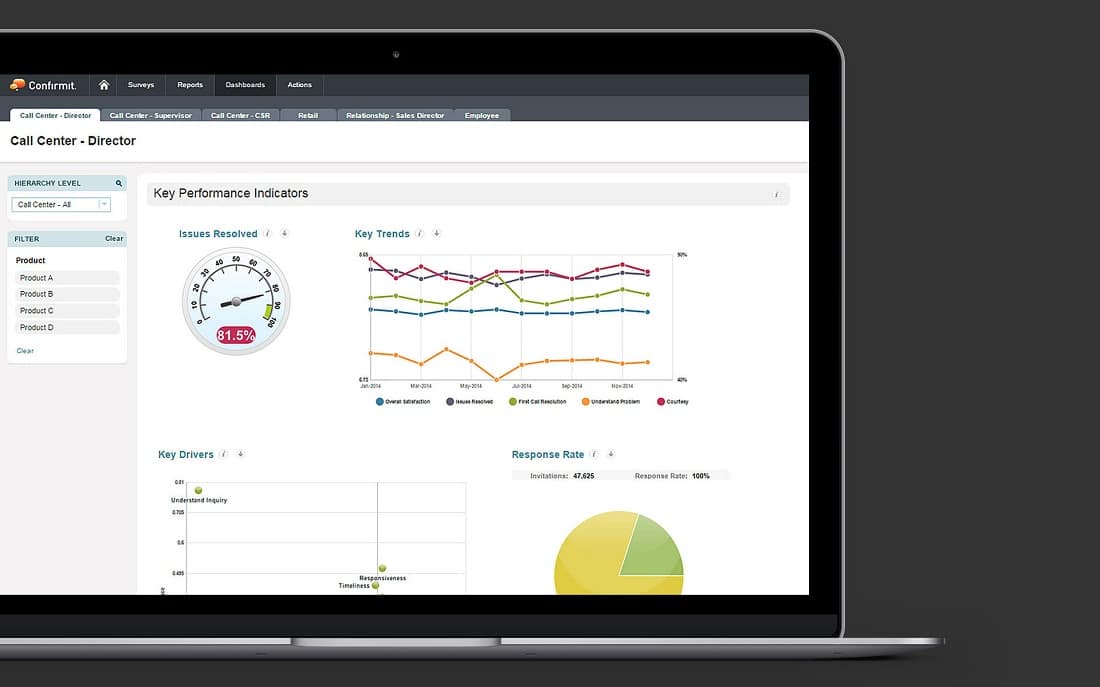 Best Features:
Survey design
Panel management
Data collection and integration
Text analytics
Reporting and analysis
Confirmit is a customer feedback tool that helps you collect feedback from customers and employees, analyze results, and use insights to improve your business. It comes with great customization and adaptation options that are available with other tools but keep in mind that it can take some time to learn how everything works.
Recommended for: B2B, Retail, Insurance, Financial Services, Market Research, and others.
Starting Price: Price on request
22. InMoment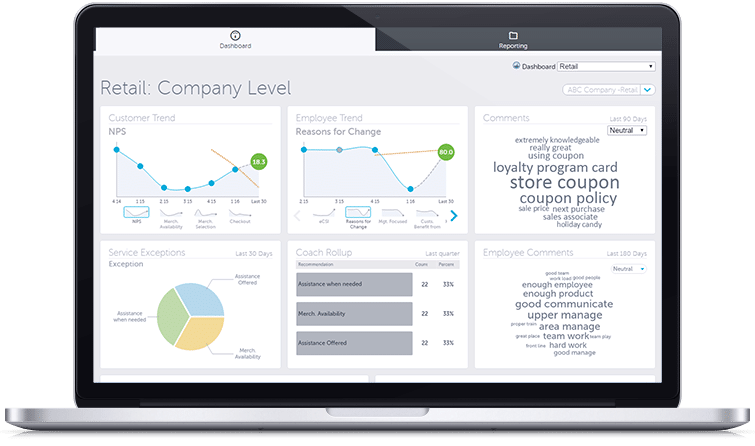 Best Features:
Survey and data collection
Text and advanced analytics
Dashboard and reporting
Predictive analytics
User-friendly interface
InMoment gathers customer feedback using video, voice, text, and active listening while also encouraging customers to provide online reviews. The platform offers various types of reports for an in-depth analysis, but understanding the reporting features can be difficult for first-time users.
Recommended for: All
Starting Price: Price on request
23. Bazaarvoice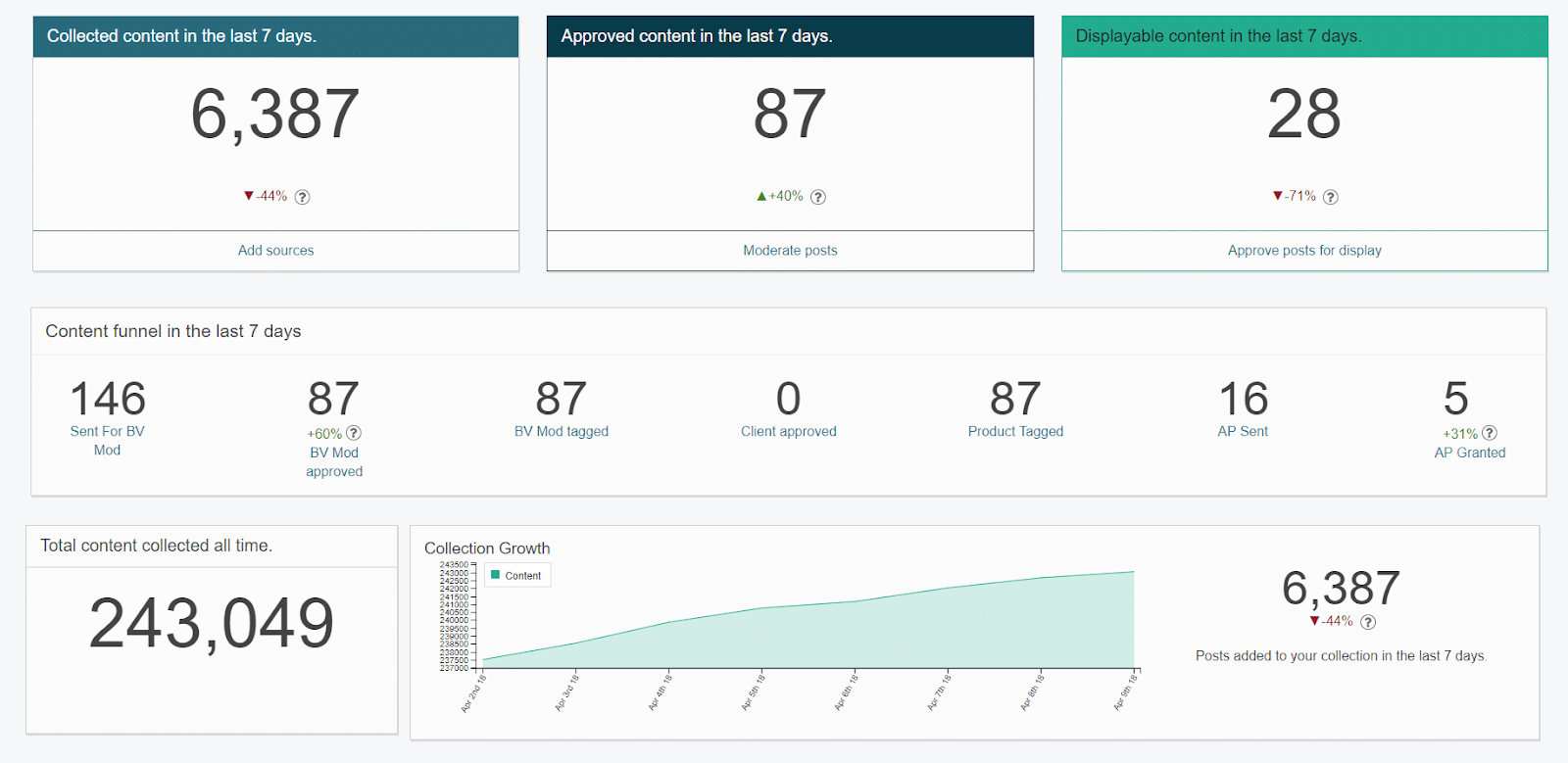 Best Features:
Ratings and reviews
Questions and answers
Analytics
Reporting dashboards
SEO
BazaarVoice brings all customer feedback, questions, ratings, and reviews in one place, which means you can connect with customers and respond to their questions and reviews using a single platform. The BazaarVoice dashboard is easy to navigate and create reports on, but review filtering isn't accurate enough at times.
Recommended for: All
Starting Price: Price on request
24. Ask Nicely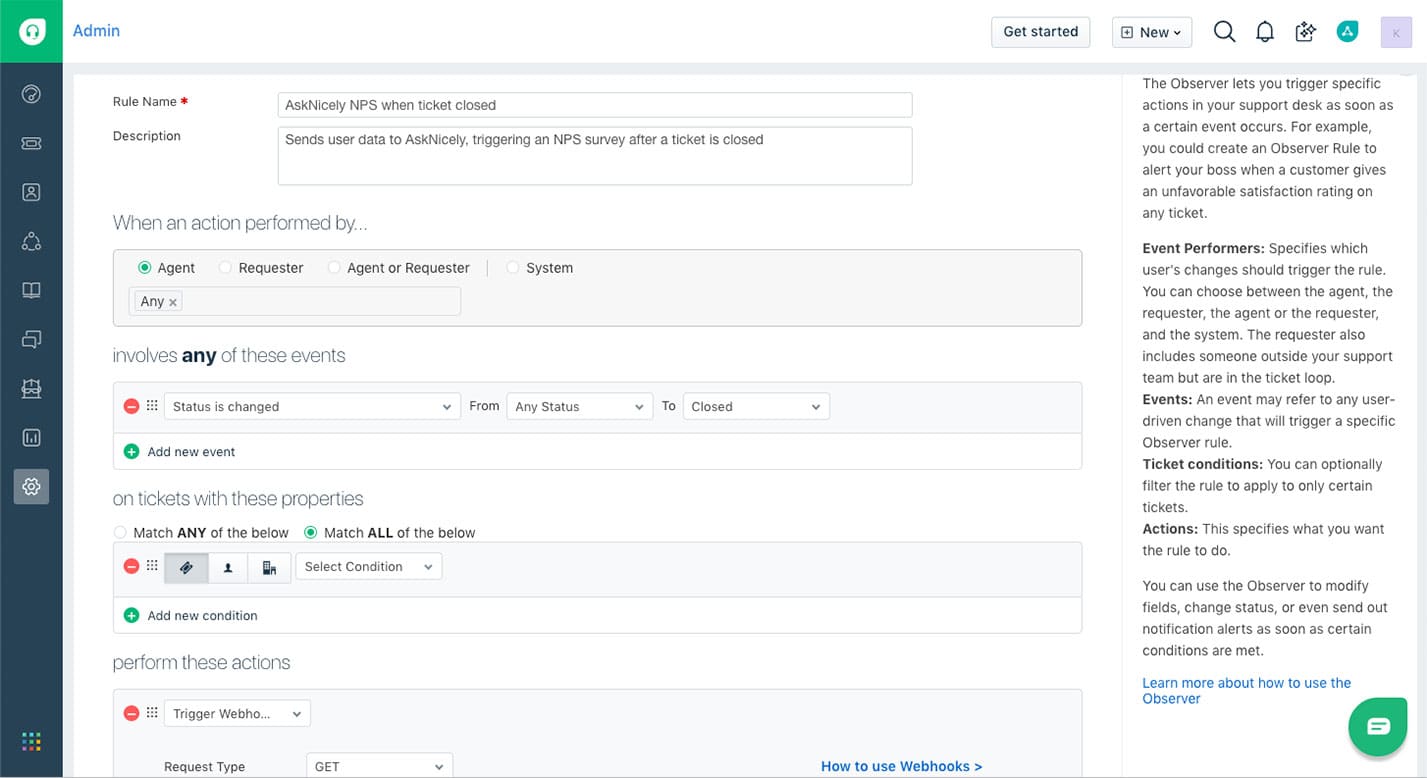 Best Features:
Customer segmentation
Data analysis tools
Multi-channel data collection
Dashboard
Reporting/Analytics
Ask Nicely helps you create customizable client surveys that you can deliver via email, SMS, or web. It allows you to measure customer satisfaction using metrics such as Net Promoter Score (NPS), Customer Satisfaction Score (CSAT), and Customer Effort Score (CES). However, it can be tricky to find your way around as a first-time-user.
Recommended for: All
Starting Price: Price on request
25. Usersnap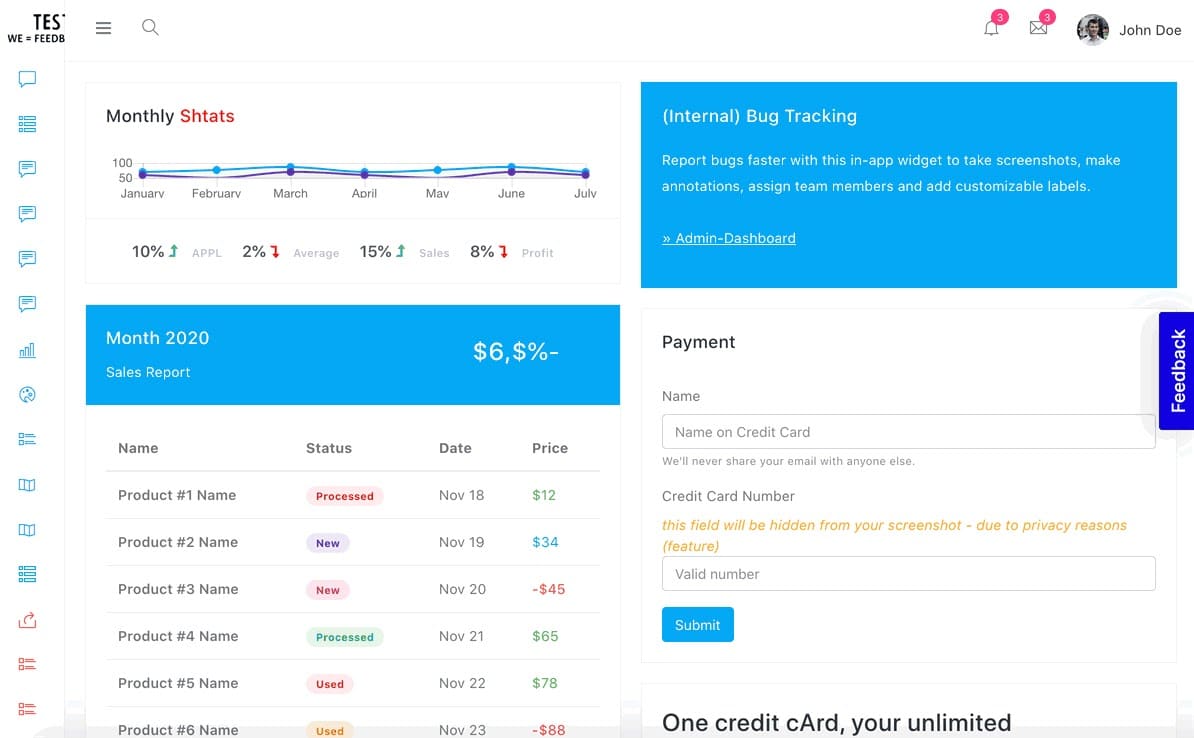 Best Features:
Feedback button and menu
Tickets through screenshots
In-app forms
Dashboard and statistics
Customizable surveys
Usersnap delivers event-triggered customer satisfaction surveys, net promoter scores, and thumbs up/down surveys. Users can also capture and annotate screenshots or use video screen recordings to give feedback. The good thing is that you can see all relevant feedback in one place and analyze it easier, but the platform could increase its customization options.
Recommended for: SaaS
Starting Price: $19 / month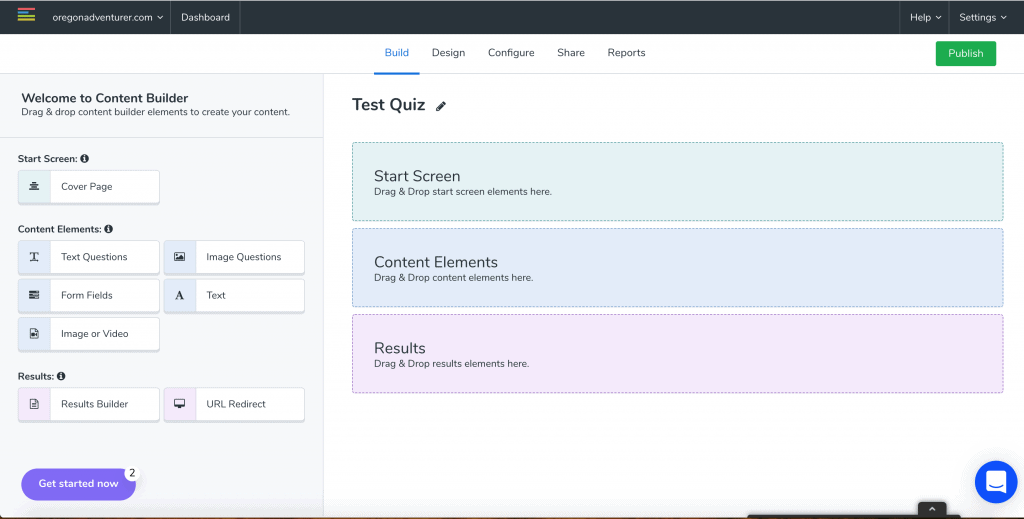 Best Features:
Survey customization
Easy embed to any web page or email
Track and improve survey rate
Integrations
LeadQuizzes is a proficient tool to use for conducting research, getting user feedback, or simply learning more about your audience.
This intuitive survey software comes with interactive templates, allowing survey creation to be done in a matter of minutes.
Recommended for: All
Starting Price: $49 / month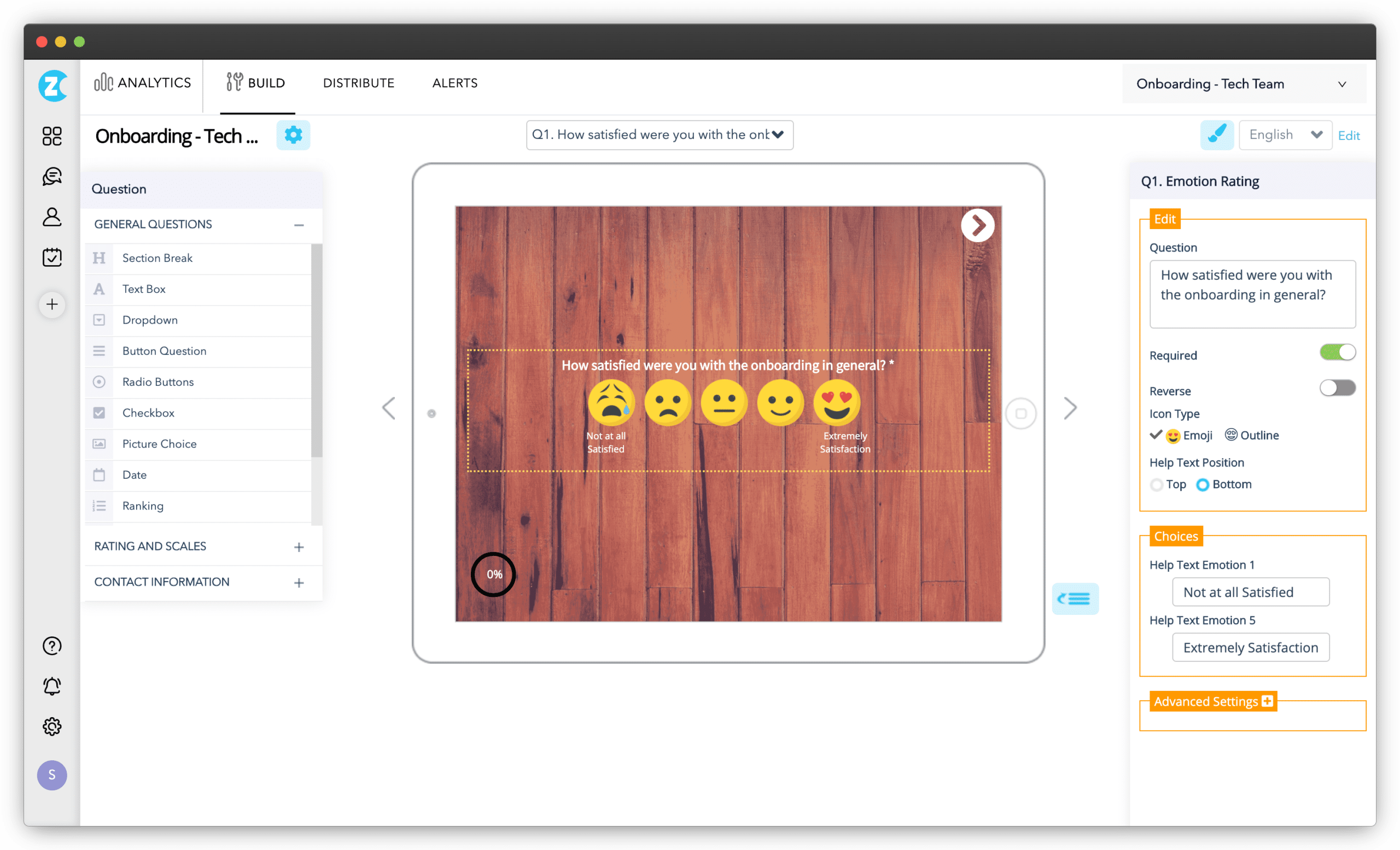 Best Features:
CX Metrics with NPS, CES and CSAT Surveys
Unlimited Surveys & Questions
Multichannel Feedback Tool – Offline, Email, SMS, Website, QR Code
Multi-location Feedback with Location-based Reports
Customer Agent Feedback & Reporting
Detailed Feedback Analysis with Filters
Close the Feedback Loop
Zonka Feedback is a complete Customer Feedback and Survey Tool that equips you to take feedback from all channels and measure CX Metrics with NPS Surveys, CES Surveys and CSAT Surveys. It is easy to use for both small businesses and large enterprises. Zonka Feedback provides real-time responses, in-depth analysis, collaborative response inbox for teams to take, manage and improve customer feedback by closing the feedback loop.
The platform can be integrated with all tools you use with one-touch integrations and APIs to create workflows.
Recommended for: All
Price starts from: $39 per month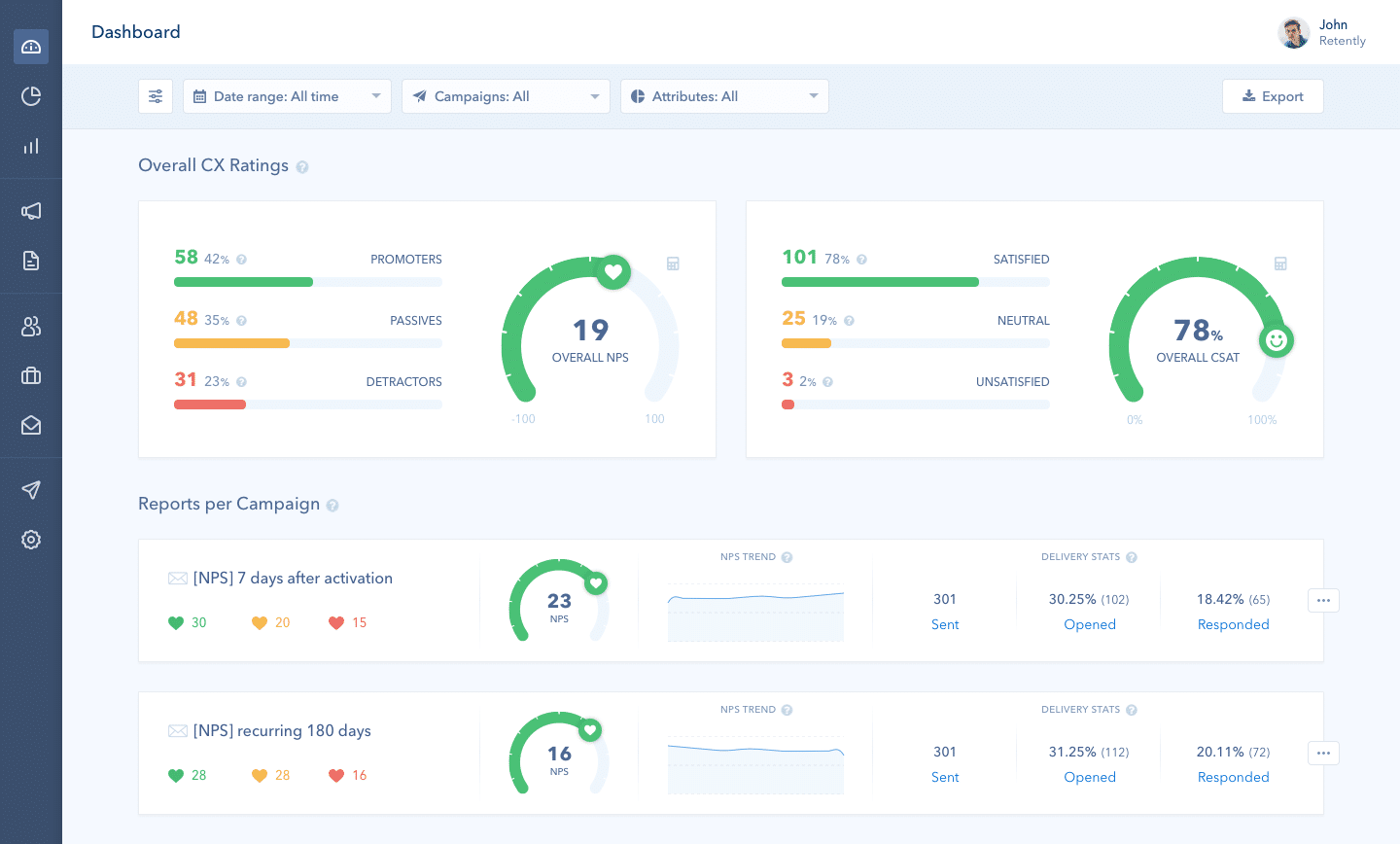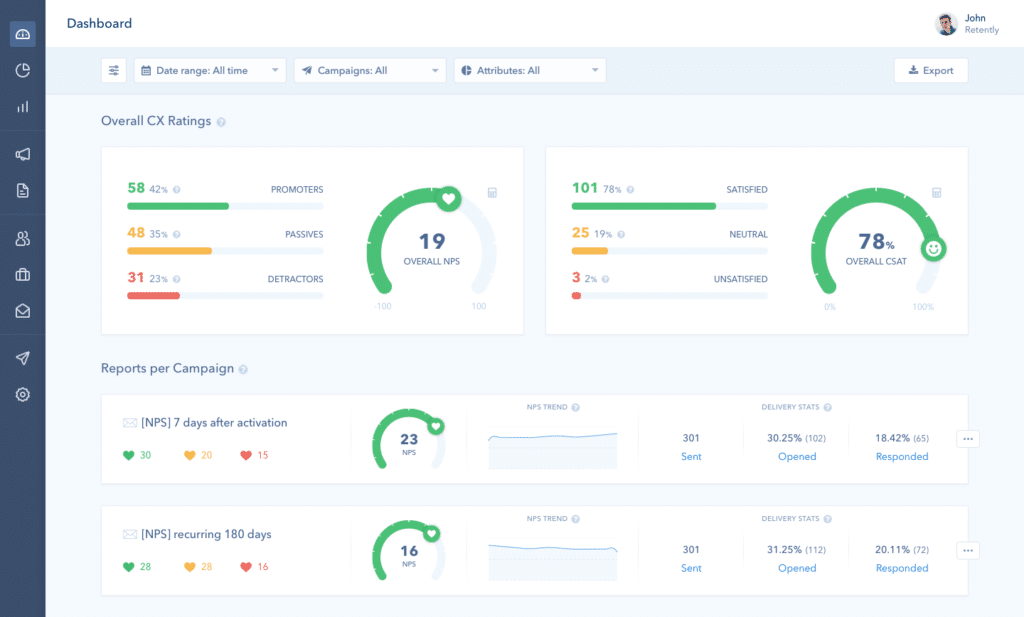 Best features:
NPS, CSAT & CES omnichannel surveys
Feedback management & collaboration
Integrations with CRM, Customer Success & Email marketing
Advanced reports & analytics
Industry benchmarks
Retently is an intuitive CX platform that helps measure and improve customer satisfaction by collecting and analyzing customer feedback. It can be easily integrated with the tools you already use to streamline workflows and manage feedback. The biggest advantage of Retently is that you have all the data in one place. However, this approach can lead to difficulties in navigating the product.
Recommended for: B2B Companies
Starting Price: $59 / month
Final Thoughts
As you can see, you have many options to choose from. Some customer feedback tools like SurveyMonkey, Typeform, and Usersnap offer great value for money. Others, such as Wootric, Survicate, and ProProfs Survey Maker have free versions, so they're perfect if you're just starting out and don't have a big budget.