Call management software is a technology that you can use to coordinate, route, and handle inbound and outbound calls. The system is typically used by contact centers and large-scale organizations that consistently receive and make high volumes of calls.
Imagine running a business that conducts a high frequency of calls without a process in place to handle them… operators would quickly become overwhelmed, customers would be frustrated, and your company couldn't run effectively. This is what makes call management software critical in running call-based operations.
But how do you choose the best call management software for your business and which features and functions are right for you?
Here, we take a look at a few considerations for choosing your call management software.
Skill-based routing
Skill-based routing is the process of automatically distributing inbound calls to the best-placed agent to handle them.
Let's say, for example, you run an insurance company – people could be calling to purchase insurance coverage, make a claim, cancel their cover etc. All of these actions could involve several teams and specialist agents. Therefore, it's necessary to have a system in place that directs their call to the agent that can help them with their query as quickly as possible.
Any good call management software should provide you with a fully customizable skill-based routing function in which you assign agents to different teams depending on their respective roles. This will likely dramatically improve your first call resolution and overall customer experience. It will also boost the confidence of your agents because they will only handle calls that they're trained to.
IVR
Interactive voice response (IVR) combines nicely with skill-based routing because it allows inbound callers to navigate themselves (without agent involvement) to the best department to handle their queries.
This is typically done during the outset of the call where the caller is greeted by an automated message that presents them with a few options they can select using their telephone keypad. The business handling calls can assign teams or departments to specific keypad numbers and all the caller has to do is select the one that's most appropriate to their query.
IVR is also becoming more sophisticated. It's now not uncommon to encounter a virtual agent when calling a business that you can ask to be connected to a business area of your choice. Things are even going a step further by including machine learning-powered virtual agents that can respond to questions about the company (e.g. office opening hours or store locations).
IVR is traditionally associated with inbound calls but its use for outbound campaigns has become very popular. Outbound IVR can help a company reach – and even resolve issues – with huge volumes of customers without any agent involvement. A practical example could be a company reaching out to customers with overdue payments. An automated call is made to the customer and, upon answering the call, they're given a short message and are presented with options (e.g. make a payment and speak to an operator). You can even personalize the call by having the automated message communicate their existing balance.
Omnichannel
Omnichannel functionality has completely changed how we manage calls and customer experience. It provides a seamless transition between customer channels so that you can communicate with callers over the channels that they prefer.
Communicating with customers over several channels (e.g. voice, email, and SMS) is nothing new – and has been historically termed as "multichannel". However, where omnichannel has really changed things up is giving the agent the ability to instantly switch between channels using just one interface. This makes things much easier for the agent to handle and adds to speed up the customer journey.
Imagine a customer has just ordered a product on the phone with an agent. In one application, the agent can confirm the order over the phone, while sending them a confirmation email, and also setting up order notifications via SMS. What's more, if the order is delayed and the customer calls into the business to ask why any agent handling the call can quickly catch up on all previous interactions.
When selecting call management software, omnichannel functionality is definitely something to consider. Also, as we see more and more channels entering the mix, be sure to check out what they offer beyond traditional channels – e.g. WhatsApp and Messenger.
Workforce management
Workforce management, in the context of call management software, is all about coordinating a group of operators across specific projects and teams.
The management of high-volume calls means companies need to be agile and adaptable in how they utilize their resources. This is particularly true in the case of dedicated call or contact center businesses. At any given time, their agents could be handling a diverse number of campaigns – everything from telemarketing to customer service, to debt collection.
Any good call management software should enable you to swiftly orchestrate the agent workforce based on the current needs of the business. Let's say you receive a spike in inbound calls for one team (e.g. customer service) and there's not a sufficient number of agents to handle the calls in a timely manner. A workforce management function will allow you to quickly re-assign agents from another team to ensure you meet your SLA requirements.
Call Analytics
Call analytics is a critical component of call management software. At its most basic level, it allows you to gain an overarching understanding of performance through providing data across call parameters. This can include metrics such as total number of calls, average call duration, calls in queue, call resolutions etc.
How a business analyzes its calls is naturally dependent on the functionality afforded by the call management software. Some will allow you to export call data reports (typically in the form of a spreadsheet) with predefined metrics. Others will also provide a real-time dashboard of call data that can be used to gain an instant overview of current performance. The latter will benefit you in making swift decisions to ensure your SLA and KPIs are kept at an optimal level.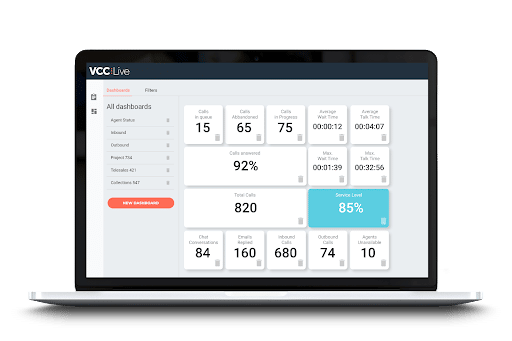 Example of VCC Live's call analytics dashboard
Something to keep in mind when selecting the right call management software is the customization capability of its call analytics. Having a selection of predefined and built-in metrics is great, but businesses are unique in their own desired outcomes. A good call management software should allow you to include new, custom metrics. This can be either requested through the call management software provider or, even better, be simple enough for you to customize yourself.
CRM functionality
CRM (customer relationship management) is a method of interacting with potential and existing customers. The scope of these interactions covers several facets including sales, customer service, and nurturing relationships.
A CRM system allows you to hold a centralized database of customer records and a means to track and expand their overall journey with the company. In the context of call management software, a good CRM feature should allow a call operator to instantly access all relevant information to the customer while on a call with them. This will help the call handler to gain a holistic view of all the touchpoints with the customer to date and quickly understand their current state (e.g. if it's a potential customer or prospect, where they are in the sales process).
This level of understanding for the call operator means they can handle the call accordingly and provide new, worthwhile interactions thereby increasing the quality of the customer experience.
Another factor to consider with CRM systems for call management software is integrations. While some software will have built-in CRM systems, many should allow integrations with your preferred CRM (e.g. Salesforce, SAP, HubSpot). This level of integration will allow you to sync your existing customer records with the chosen call management software.
Other call management software considerations
Power and predictive dialing
Power and predictive dialing are important features for outbound campaigns and should be factored into your call management software decision. Power dialing allows you to upload a list of contacts and, quite literally, "power through" the list by dialing as many numbers as possible in a sequential order. Predictive dialing is more sophisticated because it maximizes your agents' talk time by only ensuring they're connected to live calls (i.e. not dial tones, dead calls, or voicemails).
Call recording and whispering
Call recording allows you to log all call audio files securely and effectively, thereby allowing administrators or supervisors to listen to any previous call. This can be useful in several scenarios, such as training, quality assurance, and issue management. Some call management software also couples the audio recording together with screen capture to give more context to the call. Call whispering provides an extension to this by allowing supervisors to listen in on live calls and provide guidance to agents – all without the customer hearing. Again, this is beneficial for the development agents – especially in terms of scenario-based training.
Voicemail and callback
Voicemail is standard use on cell phones but it has equal importance for businesses when there are no agents available to take the call or the call has been made outside of office hours. A customer listening to continuous dialing with no answer can have negative consequences on their experience, so it's important to at least provide them with information if the call can't be answered. Similarly, giving them a callback option where they can request that the company gets back in touch with them (e.g. by using an IVR/telephone keypad option) adds an extra layer of positivity to the customer experience.
Call management software for different needs
Best all-rounder
VCC Live

VCC Live is a cloud-based contact center software equipped with a number of built-in, powerful features (everything discussed in this article and more) to help its customers manage the full scope of their call management process. The preferred platform of Vodafone, DHL, Decathlon, and SYKES, VCC Live offers a fully customizable platform that can be entirely self-managed with no user coding required. Given the software's usability across customer service, sales, and debt collection, the scope of customer communication channels available, and rolling monthly pricing, it's definitely one of the best around.
Best for small businesses
Grasshopper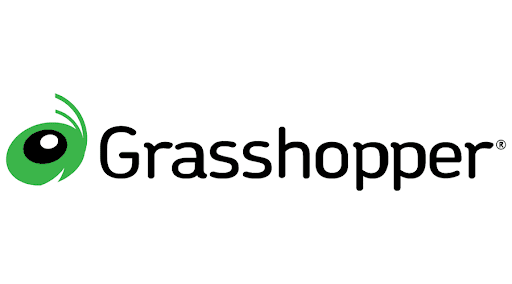 Grasshopper is a virtual call management system for small businesses wanting to give a professional image to their customers. Through their software, you can buy business phone numbers, conduct simultaneous call handling, forward or transfer calls, and utilize voicemail. Working with solopreneurs and startups predominantly across the US, Grasshopper allows you to utilize your personal phone setup and evolve it into a small-scale call management function.
Best for free
Freshdesk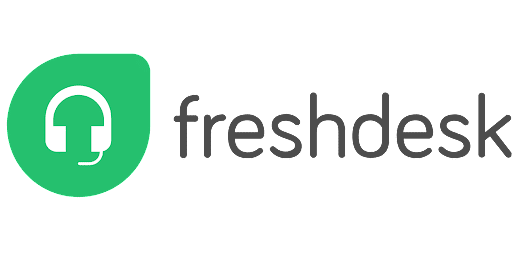 Freshdesk (offered by Freshworks) is a free contact center solution to get started in providing customer support. With the free package, you'll be given features such as inbound caller ID, custom greetings, call metrics, and desktop notifications. While the free package is limited in terms of capability, there are a few more paid-for options that will afford you plenty more features. Partnering with several brands such as Deichmann, Delivery Hero, Bridgestone, and Fiverr, Freshdesk will help you uphold a good customer experience for a low price.