Whether you're a small business owner or a large corporation, your customer relationship management (CRM) platform is key to an effective and efficient sales process. Also, a good CRM platform will help you stay on top of your sales pipeline. This is essential for keeping clients happy and meeting your sales targets.
The best CRMs for SaaS allow you to interact with customers on a more personalized level. They help you tailor your sales and marketing campaigns, ensuring every message resonates with your audience.
To help you select the best CRM for SaaS sales, we've put together this guide.
What Is SaaS CRM?
A SaaS Customer Relationship Management (CRM) system is a software application that helps companies manage their customer relationships. CRM tools make it easier for businesses to understand who their clients are, what they need, and how they feel about the company. They also help them understand what clients want from their relationship with a brand.
SaaS CRM is a powerful tool that can help you increase sales, grow your website traffic, and monitor growth.
Here are some common functions of a SaaS CRM:
Stores customer data and performs analytics
Easily tracks sales pipeline and customer interactions.
Helps you communicate with customers and prospects via email, social media, SMS/text messaging.
Maps out your customer journeys.
4 Benefits of a Good SaaS CRM Tool
I've mentioned some of the things a CRM tool can do for your business. But if you're still not convinced, here are four benefits of CRM for SaaS:
Improves accessibility: CRM tools for SaaS improve accessibility to customer data and the customers themselves. These platforms bring all your customer insights into one place. This is critical for all business decisions. It helps you understand your customers better, allowing you to improve and market your SaaS product more appropriately.It's also worth noting that CRM tools for SaaS are installed on the cloud and can be accessed remotely from anywhere by anyone on the team. This is crucial in modern hybrid workplaces.SaaS CRM is also a budget-friendly option for businesses. Without installing software or hardware, you can manage your customers with little or no technical knowledge.
Requires less maintenance: SaaS solutions are built on cloud technology. If there's a problem with an existing system, you can easily replace it with something better without spending months developing a new version from scratch.You don't have to pay for servers or software maintenance fees. Instead, you get access to a cloud service that is constantly being optimized and improved as new features are released. This ensures that your business will always be up-to-date with the latest technology trends.
Leverages automation: CRM automates many administrative activities that could take up your sales team's valuable time. For instance, a CRM tool automatically logs email interactions, phone calls, and other interactions with customers. This allows the team to focus on other business activities that bring in revenues.
Analyzes important data: CRM platforms for SaaS help you track key metrics like customer satisfaction and retention rates. You can use these insights to attract more customers and maintain a high customer lifetime value.
A CRM tool can play a critical role in helping your SaaS business grow. But how do you choose the right software? Let's discuss that next.
Picking the Right CRM Tool for Your SaaS Business
So, you learned that CRM tools can help a business succeed. Does that mean you should just pick the first one you see and use it for your business? The answer is no. You need to follow a process to determine if a CRM tool is the right fit for you.
Here are some things to do to pick the right CRM tool for your SaaS business:
1. Identify your Needs
Identifying your business needs is important. After all, it helps you determine what you need to address with your tool in the first place.
To identify your needs, discuss them with your team in a meeting. Ask your sales team what their goals are and what they need to accomplish these goals. Write these down.
You may also want to invite your marketing and customer service teams, since they also deal with customers and prospects. This means they also have some role to play in sales.
2. Determine Necessary Technology and Features
Go back to your list of team needs and specify the technology required to address these.
For instance, your sales team may have said they need storage for their prospects' interactions. They might tell you it should also be easy to dig up an entry in the storage when the need arises. To address these two needs, you could say a cloud-based storage with an automated search feature is required.
Do this for all the needs your team specified in your meeting. In the end, you'll have a list of the features your chosen CRM platform should have. If your budget doesn't allow you to get a tool with all those features, determine the non-negotiable features on your list.
3. Assess Benefits of Potential CRM Suppliers
Now it's time to make a list of the various CRM platforms for SaaS that meet your requirements. Each tool you include should have the features — if not all, at least many of them — you specified in the previous step.
Ask yourself the following questions for each, too:
How robust is the tool?
Does it provide most of the features you need, or do you need to pay for additional tools and integrate them with your CRM platform?
How much would it cost?
Don't forget to look at each vendor's pricing plans when making your assessment.
5 Best SaaS Sales CRM Tools
Here's a list of the top five CRM tools you might want to consider:
1. HubSpot
HubSpot made it to our list because it is one of the best free CRM tools. You can easily perform customer management processes without prior experience with the platform. In other words, it's user-friendly.
HubSpot also has features for data integration, analytics, and segmentation.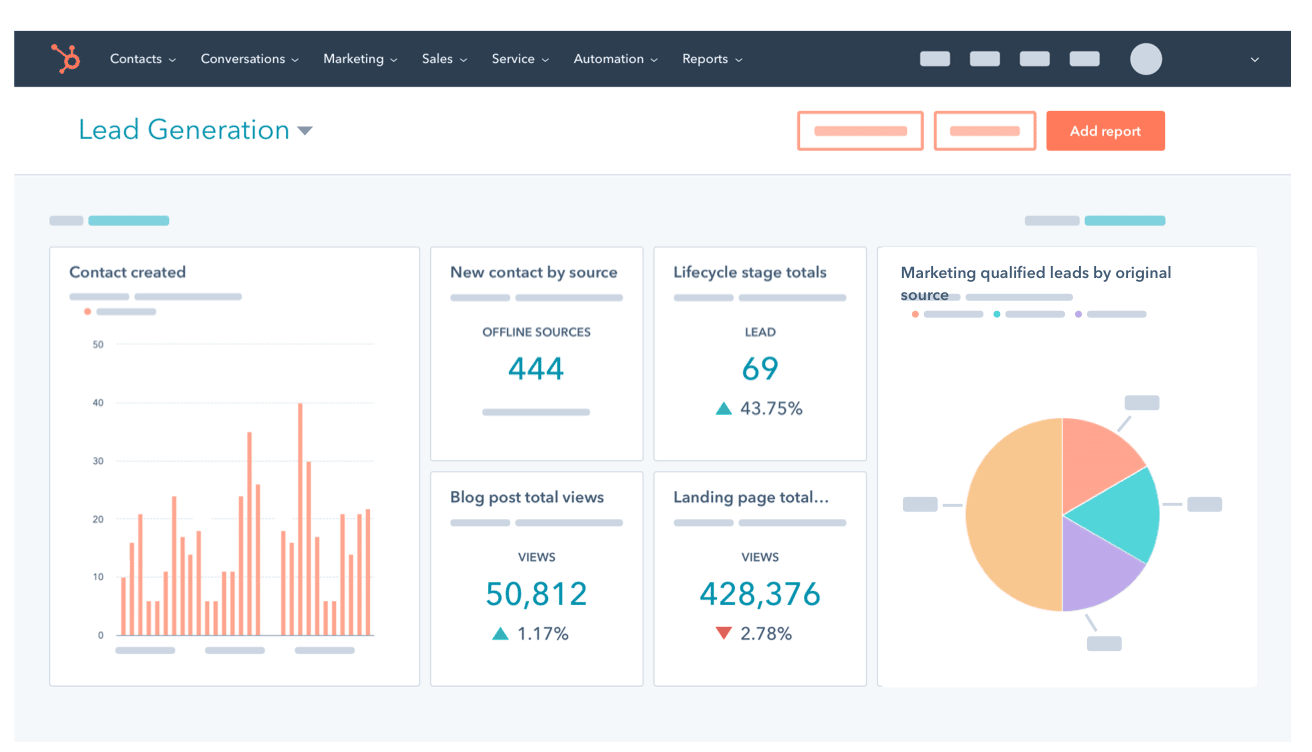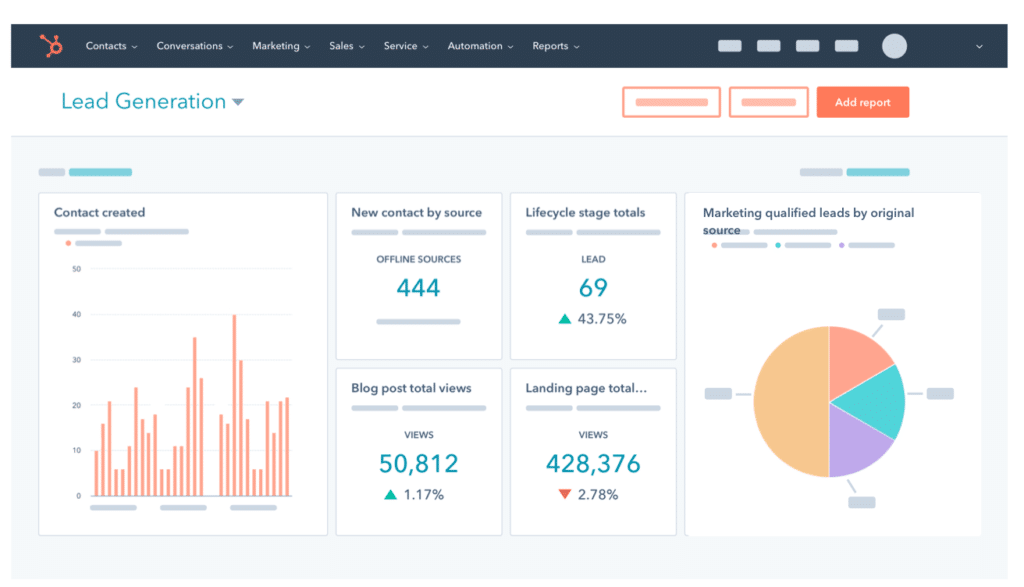 Here are a few other highlights about HubSpot:
The basic plan is free, and this is already an attractive package with many features.
HubSpot provides assistance through AI. Training to understand the platform is also made available.
There is a customer portal feature on the platform where customers can monitor the progress of their projects.
HubSpot is compatible with other tools such as Dropbox, Google, and many more.
HubSpot lead scoring tool is very effective in qualifying the quality of leads.
It has one of the highest user satisfaction ratings at 99%.
You can manage your entire SaaS business from a single dashboard on HubSpot.
HubSpot can accommodate unlimited users.
HubSpot also has readily available templates for marketing, invoicing, and social media.
2. Zoho
Zoho CRM is perhaps the most affordable digital CRM tool there is. That's why it's quite popular amongst startups and growing SaaS enterprises. The platform offers many features to help you improve your customers' overall experience.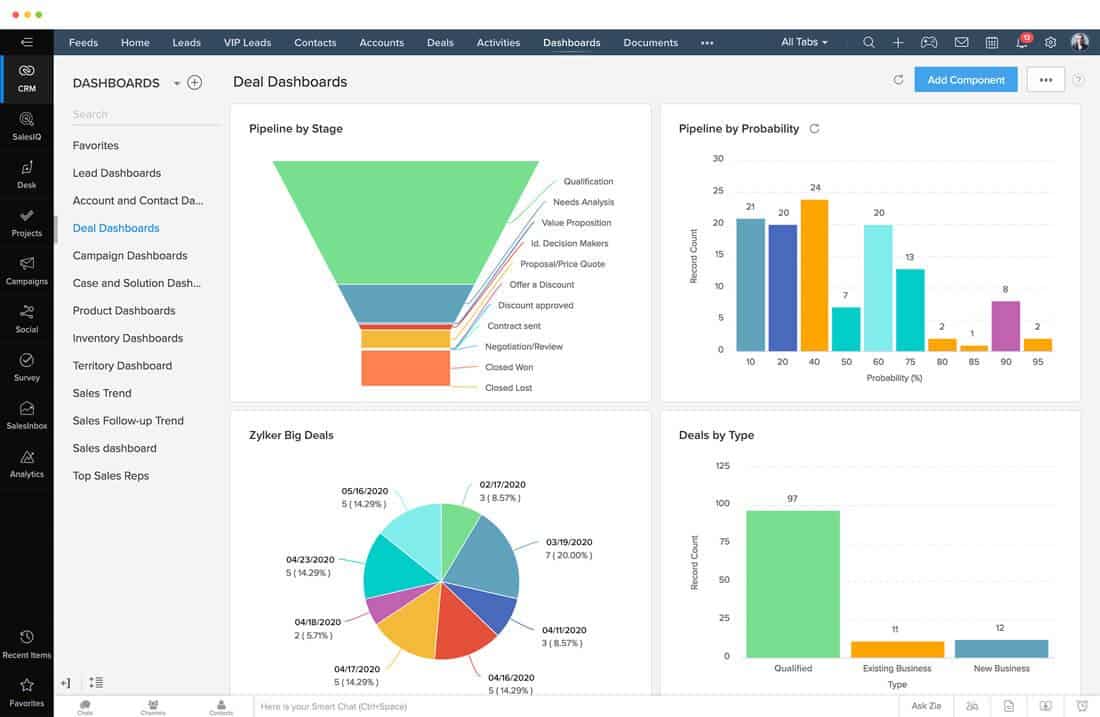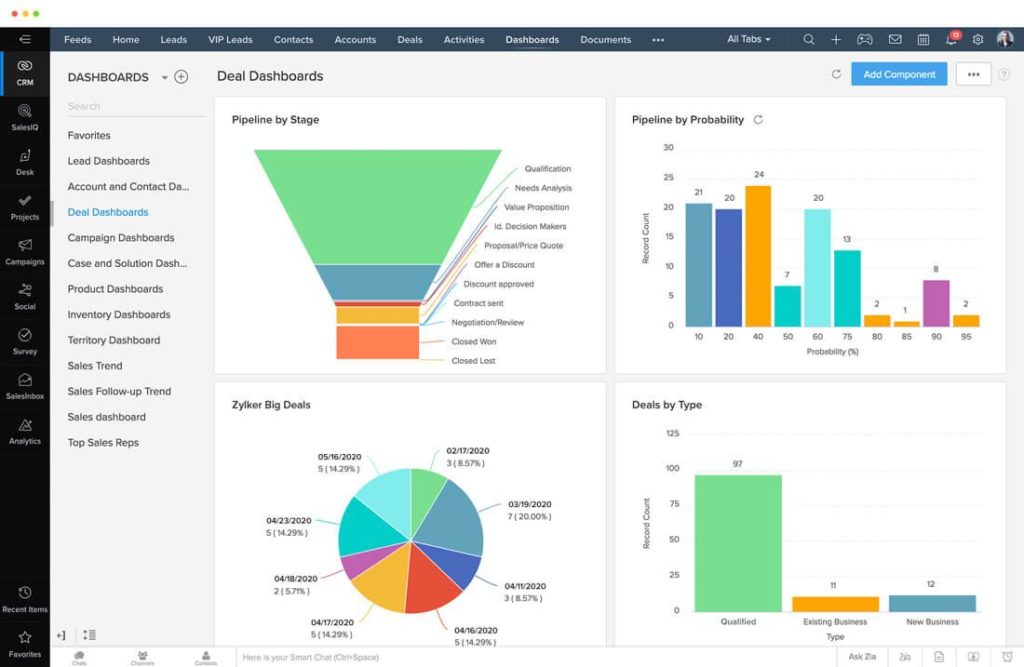 Opportunity Management Tracking can be used to manage customers, leads, clients, and accounts during the sales cycle. Zoho also offers the option to automate routine tasks. Here are other features:
You get notifications when a connection communicates with your business. This allows you to stay on top of all the happenings in your business.
Your clients can easily get in touch via their preferred mode of communication. This includes emails, social media, phone calls, or live chat.
The platform helps you manage social media leads.
Note that Zoho does not have a free plan, but you can get a 15-day free trial.
3. Monday
Because of its drag-and-drop interface, Monday CRM allows you to customize your workflow easily. It's also easily accessible by your team members, wherever they are.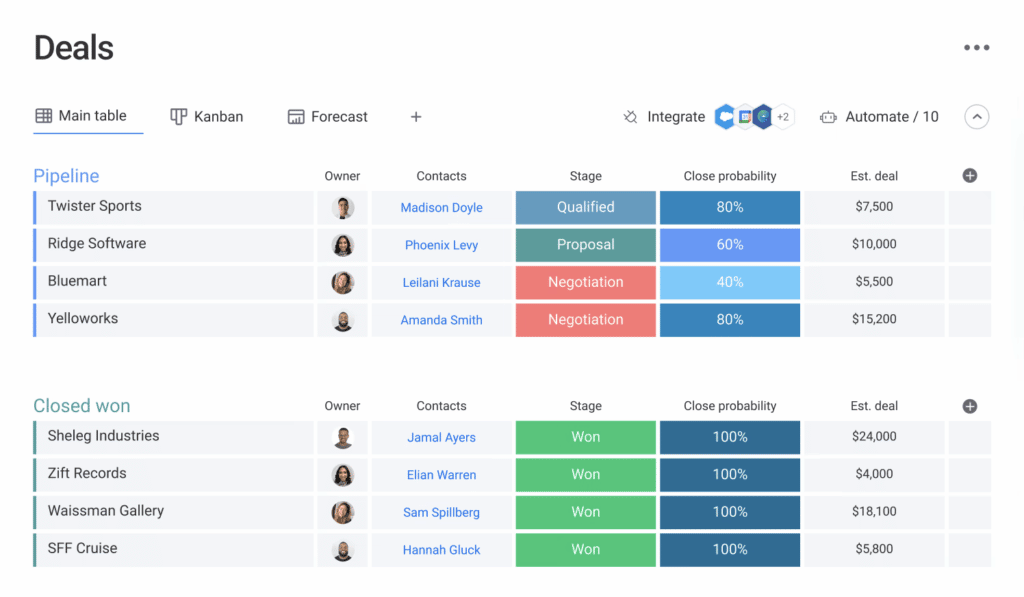 Monday CRM is also an all-purpose platform. A few features that make it stand out are:
Monday helps you manage your contacts with a clean interface and simple tools
It helps you create and track sales opportunities from lead to close.
Intuitive dashboards to see your data in real-time.
Sales processes automation with the Workflow Builder.
4. Microsoft Dynamics 365
Microsoft Dynamics 365 offers a wide range of applications across processes in sales, marketing, and customer service.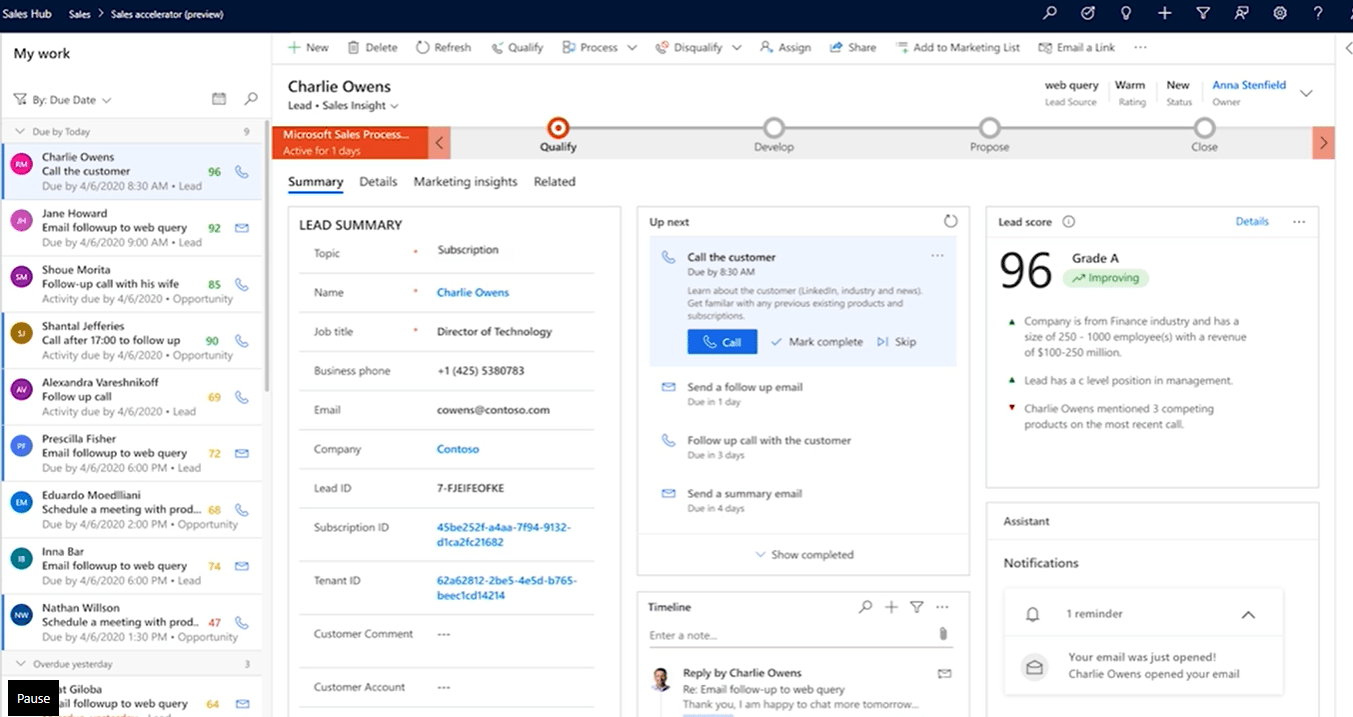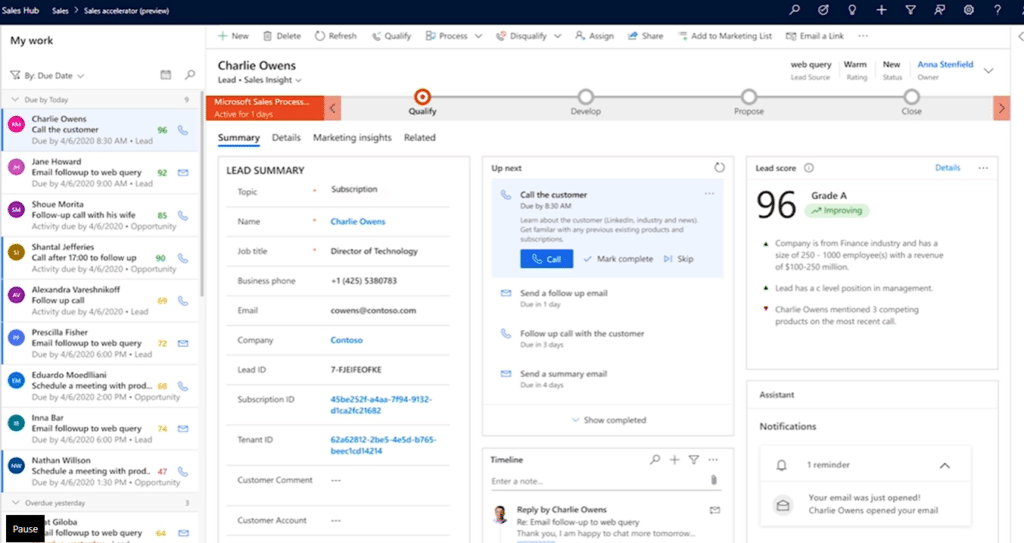 In sales, it helps the sales team organize the general sales process, follow up with prospects, and get leads that convert. It also helps them track KPIs and access customers' data.
Here are a few details and notable highlights about Microsoft Dynamics 365:
There is no free option. You get a 30-day free trial, after which you will have to pay to access all features.
Pricing differs based on the app of choice and licenses.
It is a customizable platform where you can tweak it to suit your style.
It has AI capabilities.
Microsoft Dynamics 365 is used by notable companies and organizations such as UNICEF and Heineken.
5. Salesforce
Salesforce has proven to be one of the top solutions for many businesses. SaaS companies find using Salesforce CRM useful because it is robustly customizable. It can also be integrated easily with other applications such as social media, Gmail, and Microsoft Outlook.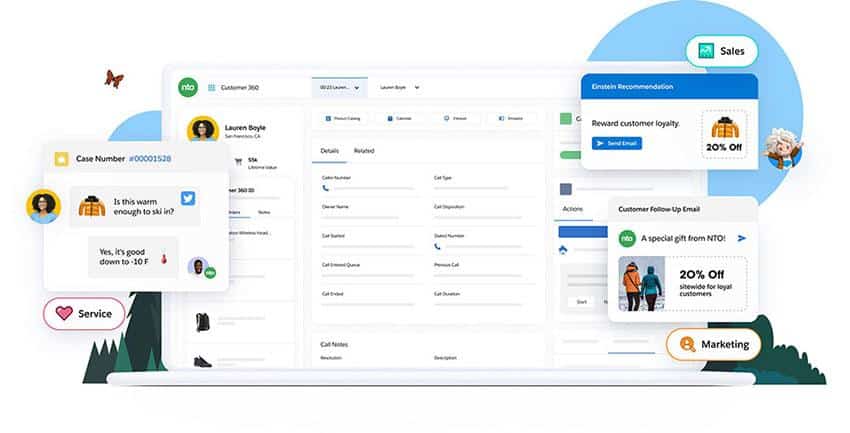 Salesforce also has features that allow for sales forecasting and opportunity management. You get real-time sales data feeds and analyses of different kinds of scenarios. These include your sales pipeline, win-loss, and historical trends.
Here are a few other important details about Salesforce to consider:
It is paid. However, you can try the free trial first.
You can easily do a competitor analysis with Salesforce. Its Sales Competitor Analysis Tool allows you to monitor them and gain instant insights on win rates.
The Salesforce1MobileApp allows you to use specific CRM features from Windows, Blackberry, and Android.
It is the most widely used CRM tool.
The cost you incur for this tool depends on the features you wish to access for your business.
In Closing
A good CRM tool is vital for SaaS sales teams. It helps you manage all of your leads, contacts, and accounts in one place. This way, you can keep track of them easily. Therefore, you increase your chances of business success.
However, with so many alternatives available on the market, it might be tough to pick the best platform for you.
The good news is that you can approach your purchase of a CRM tool for SaaS strategically. Determine your business needs first. Then evaluate the essential technologies and features you'd need based on those needs. Finally, make a list of potential CRM platforms for SaaS sales suppliers that make the cut.
To help you in making a final assessment, I also gave you a list of the top SaaS sales CRM tools you might want to consider.
Good luck!