As a guy who grew up in the UK where 'everyone is a shopkeeper' I inherently understand that the customer is king, and if we don't listen to them our business will come to a slow halt over time.
Understanding what our customers are saying, and gaining insights into their experiences, is critical for any business.
And this is where Voice of the Customer (VoC) software makes it easy to collect, analyze, and act on customer feedback across a variety of channels.
In this post, I'll cover the top VoC platforms that will be leading the pack in 2024.
Let's dive in!
What is the Voice of the Customer?
In a nutshell, voice of the customer or VoC refers to the feedback, opinions, and insights you gather from customers about their interactions with your business.
This includes sources like surveys, reviews, social media, chat transcripts, and more.
VoC gives you a comprehensive view of the customer journey so you can identify pain points and opportunities to improve.
Why is a VoC Strategy Important?
VoC provides tangible data directly from the source – your customers.
It enables you to:
– Pinpoint areas of weakness in the customer experience
– Identify customer needs and expectations
– Uncover new opportunities for innovation
– Drive customer-centric decisions across the organization
– Ultimately improve customer satisfaction and loyalty
I'll give you a quick example.
I recently bought a new smart watch from Apple. For some reason I couldn't get it to charge right away so I went online and opened a ticket with their customer support. It was handled within about 1 hour of me opening the case, and they arranged for an exchange at my local store – fine for me.
I went ahead and got a brand-new product which worked right away.
What blew me away was the speed they addressed the issue – not only keeping me a customer, but more likely making me into a super fan. I'll tell others about this experience which will boost their credibility even more with great 'word-of-mouth' feedback.
So, the kicker here is this.
If you deal with customers on a day-to-day basis using VoC software is vital to obtain the data and then take positive action – turning grumpy customers into raving superfans.
The Best Voice of the Customer (VoC) Tools
So, in my opinion, the Top VoC tools for SaaS companies in 2024 are:
1. Medallia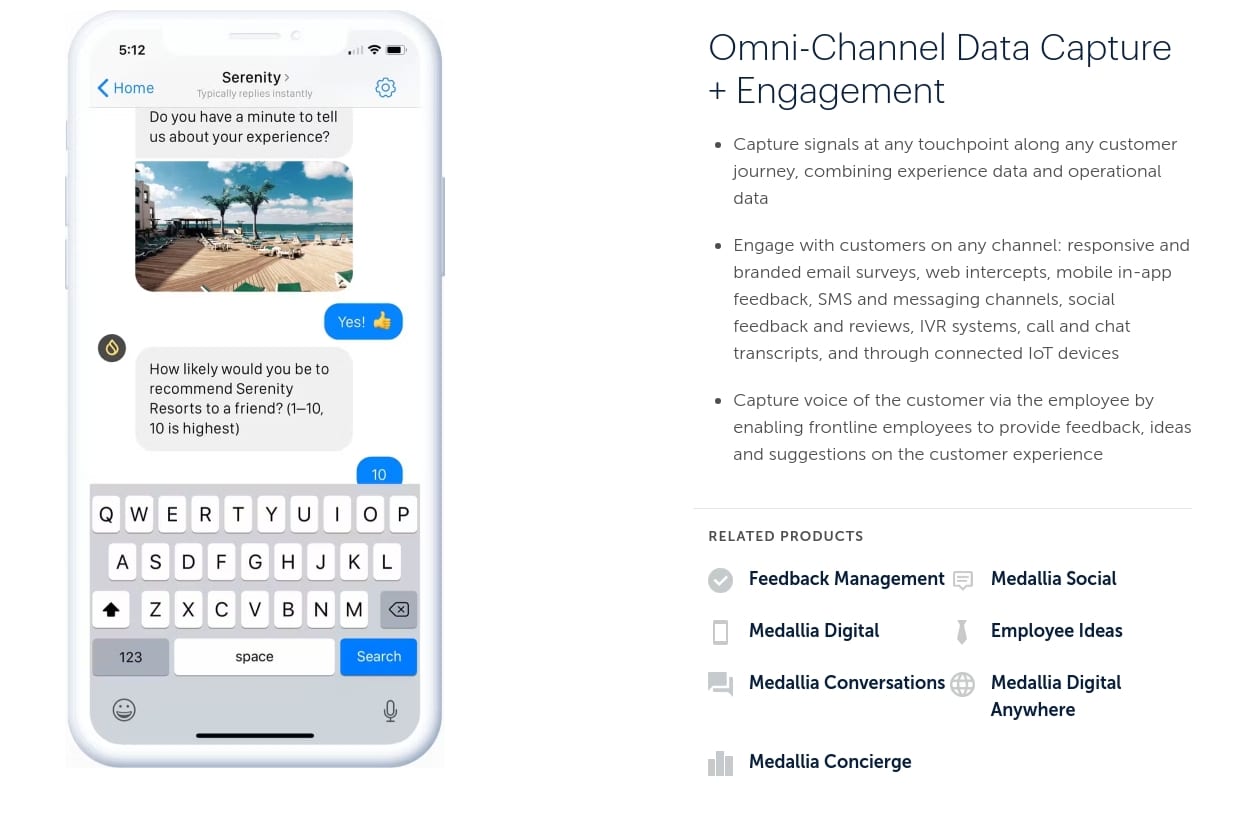 Medallia is one of the big players in the 'experience management' space. It offers robust VoC capabilities including the following:
– Omni-channel data collection via surveys, social media, web interactions, and more
– Powerful text and speech analytics to surface themes and trends
– Mobile diaries and quick polls for real-time customer feedback
– Integrations with operational systems like CRM and ticketing tools
– Custom reporting and executive-level dashboards
For example, they can see in real time if a customer is using your webpage in an erratic manner, which can trigger a popup, asking if everything is ok. Pretty cool.
They can also give each visit to your site a score, to address any pressing issues your customers may be facing on your website.
Opportunities often arise when analyzing this data too – and this data allows you to make a real world impact on the bottom line of your business. It's a great tool.
2. Qualtrics CustomerXM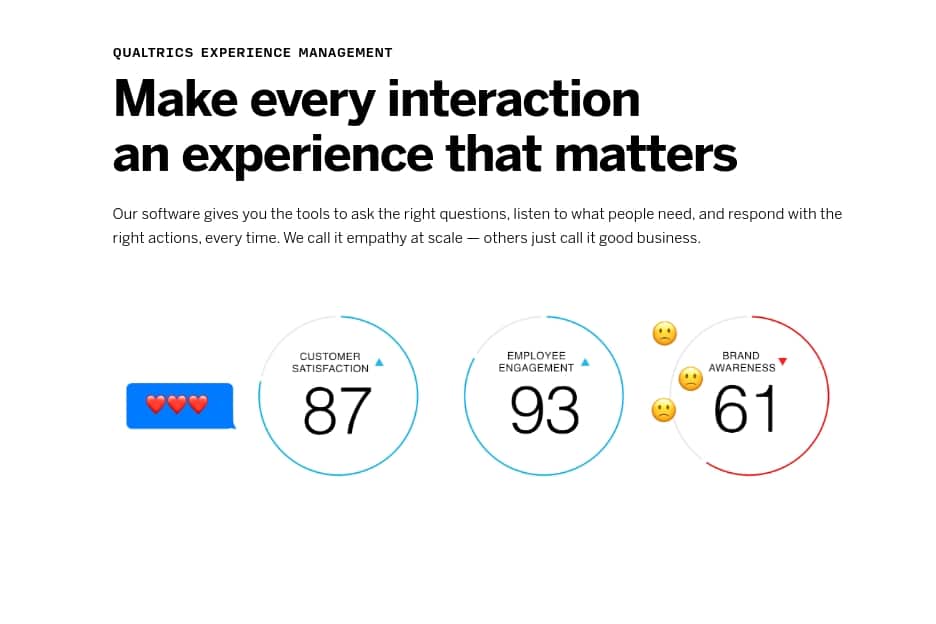 Sure the name is a bit of a mouthful, but Qualtrics CustomerXM will equip your business with some excellent VoC tools including:
– Customer satisfaction (CSAT) surveys
– NPS for measuring loyalty
– Digital feedback channels like web or in-app surveys
– Natural language processing to analyze open-ended responses
– Sentiment analysis and automatic text tagging
– Customer feedback management and workflow
The main dashboard allows a broad overview allowing you to see graphs and trends in real time.
It also has features built in to analyze cart abandonment, as well as to collect post-purchase data with ease.
Great for a range of industries from travel to ecommerce.
3. Clarabridge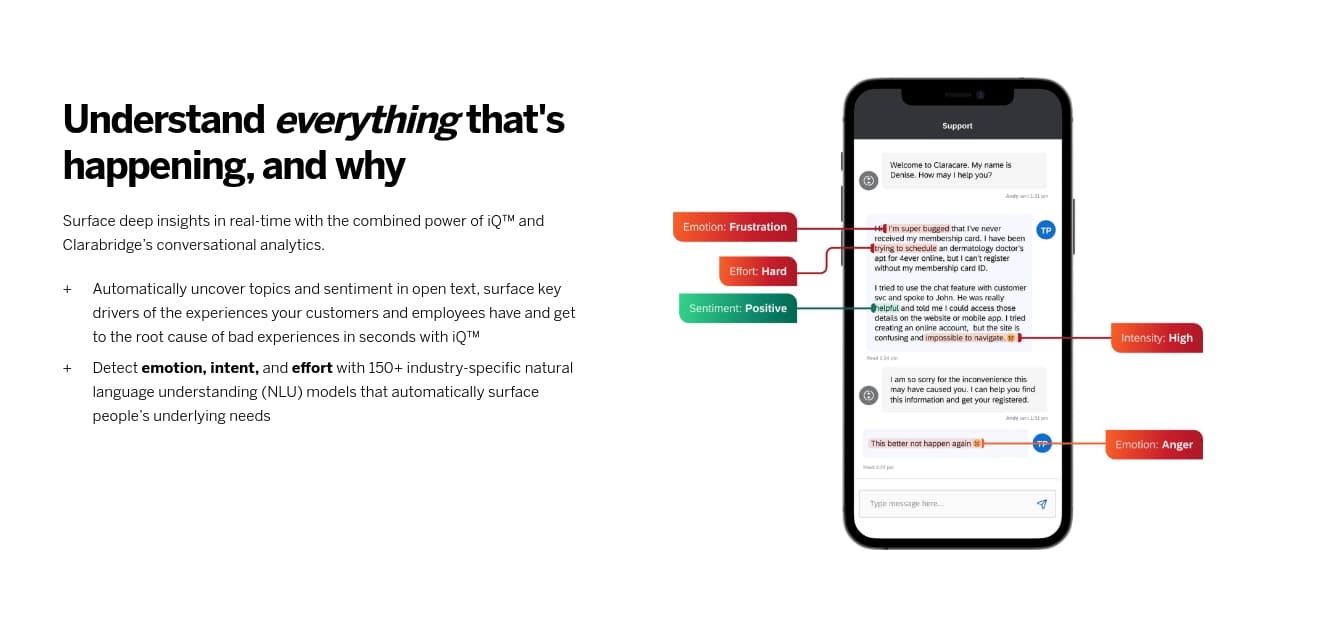 Clarabridge offers AI-powered CX analytics including:
– Speech analytics like call transcription and analysis
– Text analytics to interpret survey verbatims, reviews, chats, etc.
– Customer effort scoring and journey mapping
– Topics and themes identification across unstructured data
– Sentiment analysis and predictive models
Are you listening to your customers? Clarabridge allows you to listen to your customers to engage them, create loyalty and recommendations to others too.
Clarabrigde uses AI-powered text and speech analytics to look meticulously at emerging trends – good or bad. The tool also has the ability to identify opportunities so you can continually improve your customer metrics.
4. InMoment

InMoment provides a range of VoC capabilities:
– Broad data collection through surveys, review monitoring, etc.
– Journey analytics to map touchpoints and uncover breakdowns
– Alerts and workflows to enable real-time CX improvements
– CX metrics and KPI tracking with dashboards
– Mobile app for gathering in-the-moment feedback
InMoment recognizes the importance of treating customers like real humans and not numbers or graphs on a screen. If you can tap into the emotional connection between your business and your customers, the sky's the limit.
Their software helps you as a business owner to increase
Retention
Acquisition
Lifetime value
It's a great VoC tool that displays a tonne of data in a really simple way so you can take action on things that need addressing, and push the aspects of your business that are doing well.
5. Acoustic Experience Analytics (Tealeaf)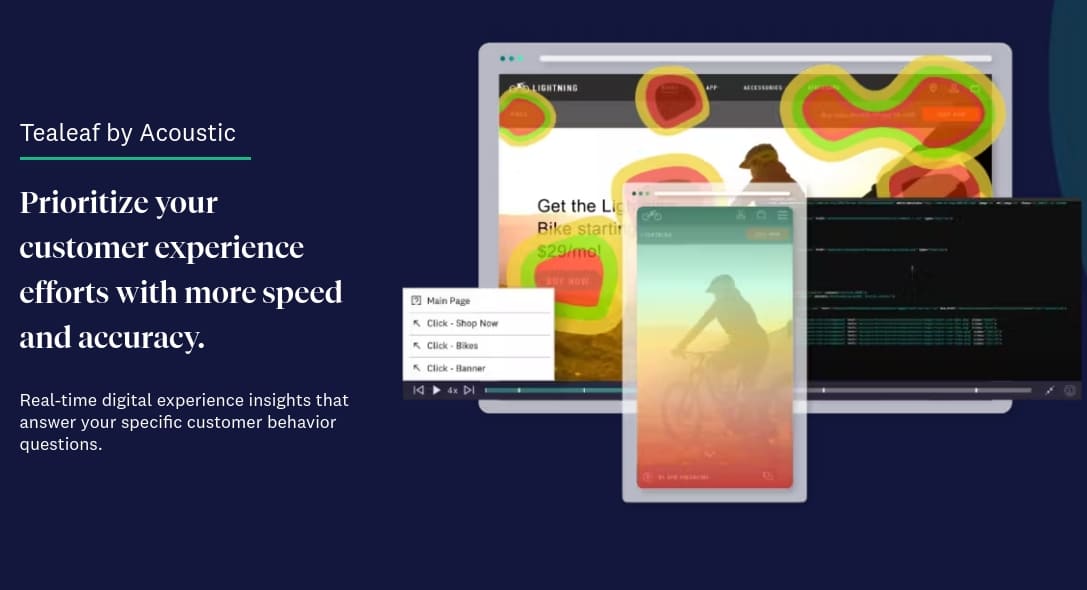 Acoustic Experience Analytics, formerly known as Tealeaf, provides customer journey analytics by reconstructing individual website and mobile sessions.
Key capabilities include:
– Replay of individual customer sessions across web and mobile
– Analysis of behaviors, clicks, errors, transactions etc.
– Integration with other data sources like surveys, CRM, analytics
– Identification of usability issues and improvement opportunities
– Compliance and security features like PII masking
By providing visibility into the detailed user journey, Acoustic Experience Analytics enables deeper VoC insights and resolves CX issues. It excels at session replay and reconstruction for web and mobile apps.
6. Sprinklr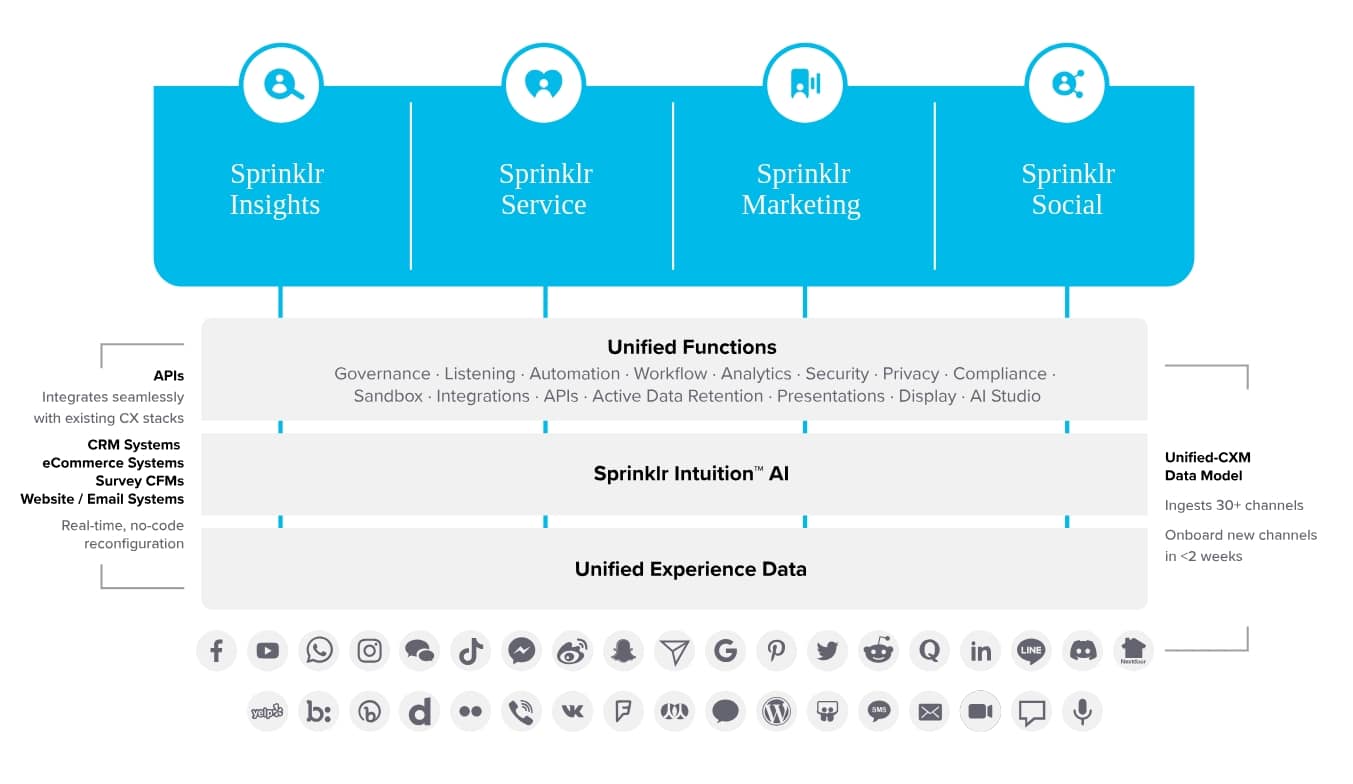 Sprinklr is a little different from the VoC tools we've looked at so far. It offers omni-channel social media management with built-in VoC capabilities including:
– Social listening across platforms like Facebook, Twitter, Instagram
– Analysis of unstructured social data using AI and machine learning
– Sentiment analysis, topic clustering, and data visualization
– Integration of social insights into workflows and systems
– Reporting on metrics like share of voice, audience engagement
It allows you to connect to up to 25 social platforms across the world and then use a series of 'AI listening' to analyze the data.
Sprinklr then tags this data and organizes it into a format that is easy to understand and take action on. It's a really cool piece of Voc software especially useful if your business is active across social channels.
7. Adobe Experience Manager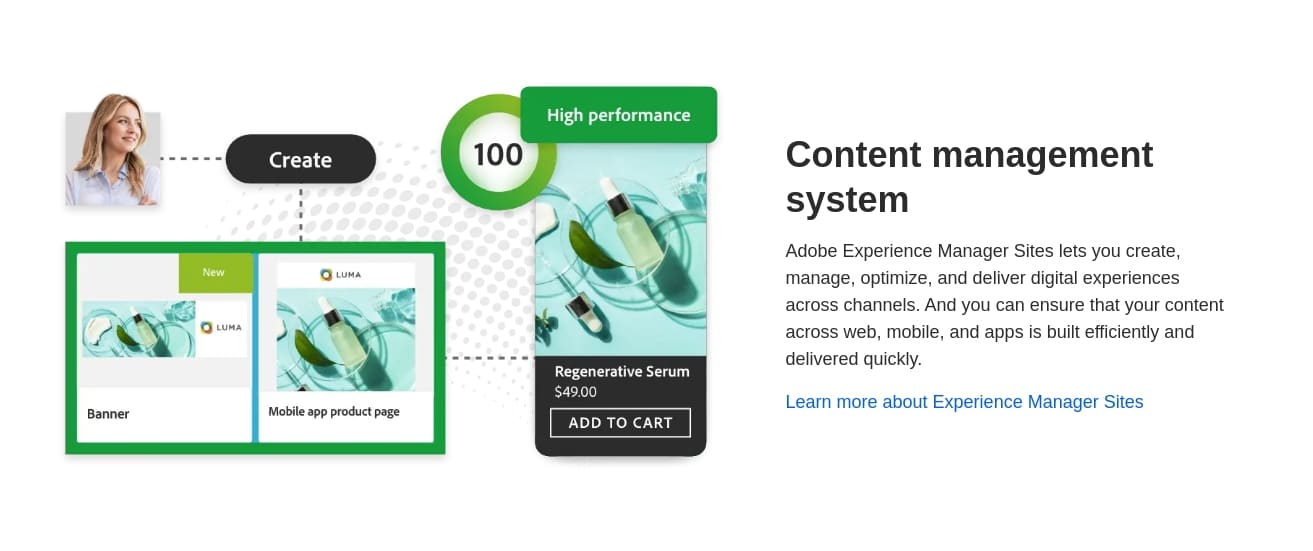 If you already use an Adobe toolkit, the Experience Manager or AEM provides a really robust digital experience management offering, with certain VoC tools like:
– Creation and management of surveys and questionnaires
– Dashboards for visualizing survey data and insights
– AI to categorize open-ended responses and identify topics
– Integration with Adobe Analytics for deeper insights
Its survey creation and feedback analytics integrate tightly with Adobe Analytics, part of Adobe Experience Cloud.
It allows for easy connection of VoC insights with data from marketing, sales, commerce, and other customer touchpoints.
AEM also enables VoC data to feed into downstream workflows and personalization through Adobe Target.
While AEM may not have best-of-breed VoC features, its tight alignment with Adobe Analytics and activation capabilities make it a solid choice for existing Experience Cloud users.
And of course, as it is part of the Adobe Suite, it offers really well optimized UI and analytics.
8. HubSpot

HubSpot CRM includes built-in VoC capabilities such as:
– In-app and email surveys for gathering feedback
– Reporting on survey results and subscriber engagement
– Analysis of text responses using sentiment scoring
– Integration with HubSpot marketing, sales, and service tools
– Easy creation of NPS surveys and reports
So, of course I had to include the behemoth of HubSpot in this list. Its CRM includes built-in features to collect and analyze Voice of the Customer insights.
Users can create and send email and in-app surveys to gather customer feedback.
The platform also analyzes open-ended responses using sentiment analysis and word cloud visualization.
You can also easily create NPS surveys and view reports to measure customer loyalty and aggregate insights and metrics within existing customer profiles.
If you're a fan of Hubspot like I am, be sure to take a look at it.
9. Genesys
Genesys provides call center software with VoC analysis like:
– Speech and text analytics to interpret customer calls
– Sentiment analysis and categorization of unstructured data
– Customer effort scoring based on call transcripts
– Call monitoring and coaching tools
– Alerts for high priority issues like churn risk
Genesys provides VoC capabilities focused on the contact center. Combining chat, email, messaging and phone calls – it can connect all of the dots across the complete customer journey.
Features include speech and text analytics to interpret customer call transcripts, sentiment analysis to categorize unstructured data, and customer effort scoring based on conversations.
And while Genesys doesn't have broader VoC collection methods like surveys or social media analysis, its strengths are applying VoC insights specifically to improve customer service.
A great tool in my humble opinion.
Key Takeaways
Listening to your customers is critical for improving CX and driving better business results. The top VoC software provides comprehensive tools to capture, analyze, and act on feedback across channels.
When selecting a platform, carefully consider your use cases, integration needs, analytics capabilities, and ease of use.
With robust VoC insights, you can continuously refine the customer journey and create positive brand experiences.
Reach out to these VoC providers to learn more and request demos tailored to your business.
Prioritizing the customer will pay huge dividends in the long run.