Customer success working closely with the product team can seem like a luxury for most companies. But it doesn't have to be!
Product teams implement strategy, build the roadmap, and define product features while customer success focuses on ensuring that the current clients succeed with the product.
While they have similar roles and goals, misalignments sometimes occur in customer communications or product priority understandings. Misalignments can happen for many reasons, which you'll read about. But I say that it's essential to focus on CS and Product realignment so your customer experiences don't suffer and there isn't unnecessary friction in your cross-sell or upsell opportunities.
But don't just take my word for it; look what Nick Mehta, CEO at Gainsight, had to say about that: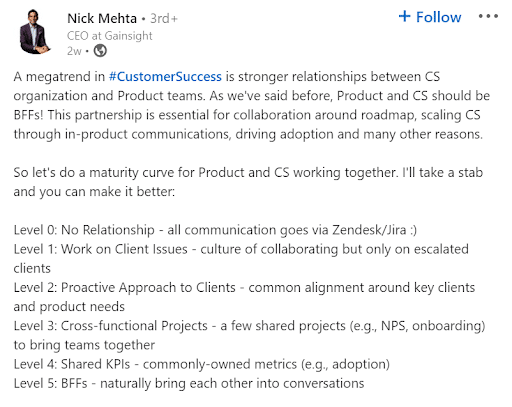 Do these Customer Success and Product Issues Sound Familiar?
As organizations scale and the number of customers grows or their needs change, it becomes harder for CSMs to manage customer expectations and align the appropriate requests to the product team.
These are some of the issues we typically see come up:
Product and CS teams are out of touch and communicate poorly, leaving both teams unable to find creative solutions to drive effective outcomes and lacking confidence in the product.
There aren't enough roadmap discussions between CS and Product. These discussions are essential to understand and prevent issues with feature requests or changes, related customer complaints, apply necessary customer feedback, and more.
CS and Product don't see eye-to-eye regarding the customer experience. Product teams rarely get to be on the frontlines with customers as much as CS, sometimes causing a disconnect.
How Customer Success and Product Management Can Work Together to Solve These Issues
Allow for product feedback
All customer feedback is valuable, the good and the bad. Incorporate customer feedback for your product directly, so CSMs don't have to check in with Product to share a slide on the roadmap, or Product doesn't have to wait for feedback on a new feature launch.
For both CS and Product, teams should focus on delivering an incredible customer experience at every stage of their journey.
Consider having a channel where CS can share customer feedback directly with Product to address issues promptly.
During customer feedback review, Product should focus on the features that solve challenges for the customers, guarantee they work, and improve them. At the same time, CS needs to be diligent with getting back to customers if they suggest or request something. Furthermore, customers value honesty, so set expectations with customers about future plans to let them know exactly how and when something new is coming – and don't forget to follow up on it and actually do it!
Remember, without your customers, you have no product.
Hold regular CS & Product meetings
By getting team feedback from CS, Product can avoid any customer-related issues, and vice-versa, CS can avoid issues with explaining the product features to customers. CS and Product must coordinate and collaborate.
Coordinate in areas like:
Finding users for UX testing
Feature communication
Ticket routing, resolution, and communication
Product marketing
Collaborate in areas like:
Prioritizing features and fixes
Facilitating user groups
Customer retention and loyalty
Whether these meetings are 1:1 or with other stakeholders, the leaders of CS and Product must encourage successful collaboration. They can do so by detailing their respective commitments to each other and identifying any gaps, and most importantly, sharing responsibility for outcomes, like maximizing long-term value for customers.
Track Relevant Metrics, Together
How can you keep your customers healthier? By having your CS and Product teams set some mutual metrics they're going to track, such as product usage, outcomes by product area, open tasks, etc.
The CS team collects, uses, and analyses this customer data to allow the product team to create tools for the customer's needs and wants, and ensure they remain fully engaged throughout the process to get the most value out of the product.
Individual and Global Health Scores can help in this case. Each Health Score will show you upsell opportunities, how customers use your product and how satisfied they are with it, and the risk of churn, among others.
Since not all scores are created equal, whichever metrics you choose to perfect your CS strategy and simplify team collaboration depend on the metrics you find most relevant for your business. You may choose to track any of the following:
Number of support tickets
Customer product usage and percentage of your product they use
Growth of the account (whether they upgraded at any point)
Product feedback metrics.
Also, by keeping track of Health Scores, you'll make your customers' experience seamless and get actionable insights into where you can improve your product as business and customer needs evolve. Download the Full Guide to Customer Health Scores for more examples of Health Scores and how to choose the best metrics to track.
Understand that one can't function without the other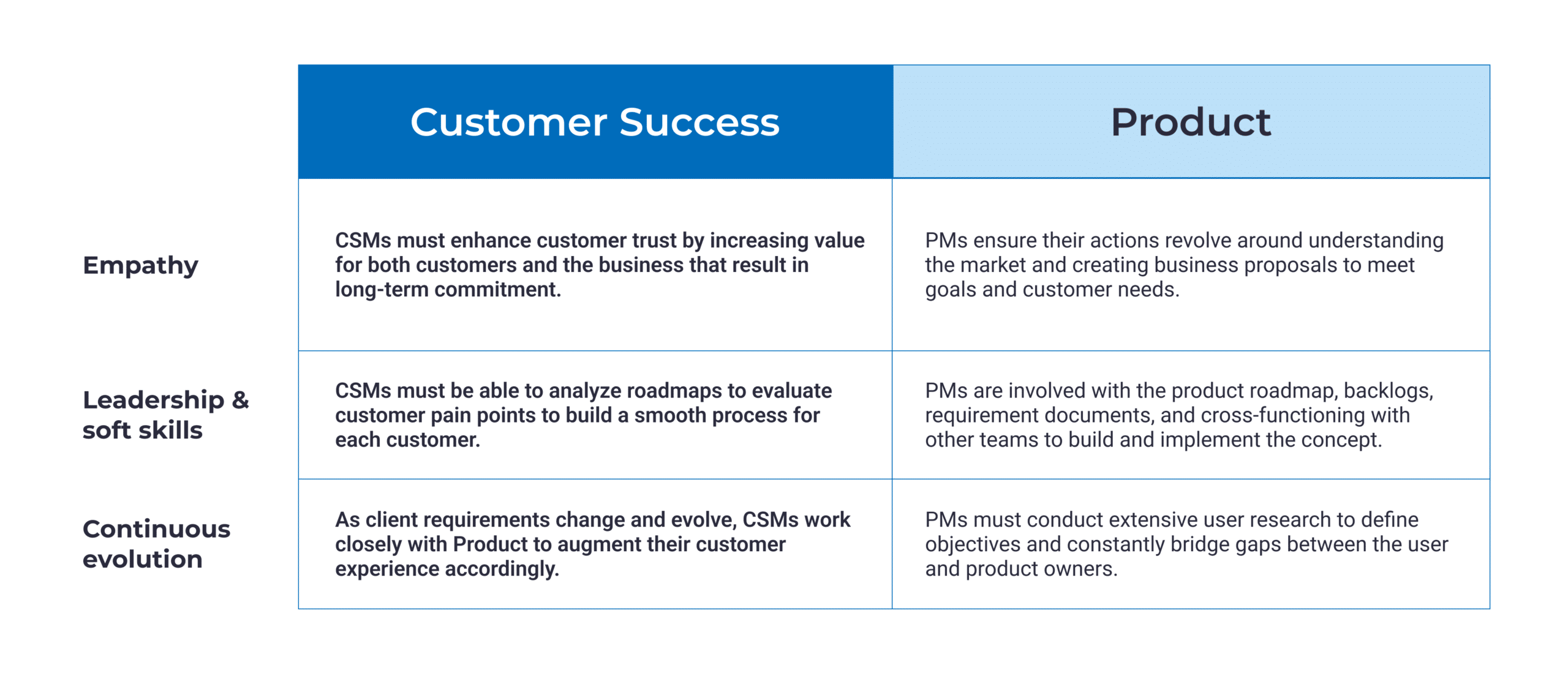 CSMs thrive when it comes to customer experience. There's an emotional aspect of satisfaction and sentiment (qualitative) from talking to customers. On the other hand, the product team doesn't get to spend the same one-on-one time with the customers, but they still understand how and where customers spend time from user analytics (quantitative).
But what do you get when you put them together?
By putting together qualitative user feedback with quantitative analytics, you'll understand the entire story behind the ultimate customer experience and create a single source of truth for both CS and Product. That's because CS needs Product to continue building tools and features customers will love, and Product needs CS to continue driving adoption and customer happiness.
To understand the entire story, you must create transparency and build trust with customers by aligning how CS and Product collect, use, and communicate to leads about better decision-making. Ensure your focus is to:
Get all of your feedback data in one place to identify themes or spot trends. In this way, you'll feel less overwhelmed, and you'll be able to properly use the feedback you've collected. Additionally, you'll have one place where even your "one-off" requests are collected, helping you keep an eye out for similar requests in the future.
Agree on a process with both teams. CS can work with Product to prioritize the roadmap by establishing what data will be interesting or useful. Based on feedback, CS can also help the product team understand which feature requests are nice-to-have, and which are urgent and will cause accounts to become at-risk. The teams can check in with each other once a week or every other week for 30 minutes to start.
Remember the context of feedback. Aside from what you're hearing from customers, remember that other inputs impact product decisions, such as internal feedback, market trends, and product strategy. Another crucial thing to remember is that, although ideal, it's impossible to act on every single request and customers don't expect you to solve all their needs; just don't forget to communicate which requests Product is building back for the customers.
Better Relationships Build Better Products
CS and Product teams working together to achieve customer success is far too important to be left on the backburner. CS deals with the customer experience, but what would customer experience be without the right tools that the product team can implement? These two teams must focus on what challenges exist and how they'll solve them, together.
To make informed decisions that drive value, analyze every customer interaction to help you reach out to customers with the solution they need when they need it. Your product will stay top-of-mind, and you'll address issues before they cause churn and bring value for your customers in the long run.
To build products that customers want and need, you need the coordination and collaboration of both CS and Product. Plan to align the two of them as soon as possible to proactively tackle user needs and encourage growth and innovation.