The question of executive business reviews brings up an interesting debate: are EBRs even necessary? What about QBRs?
As we've seen in a previous article, QBRs can be powerful tools for optimizing your customer success workflows, your understanding of the customer, and the relationship between your two companies.
But they can also be too much since long, laborious reviews are not very efficient if done quarterly. That's where EBRs, or Executive Business Reviews, come in.
In this article:
we'll review what EBRs are
we'll provide some essential pointers and guidelines for CS teams wondering if they should, in fact, conduct EBRs
we'll break down the main things that an EBR should have
we'll look at customer champions and why you should try and score one
and we'll finish off by figuring out how to actually get Executives to attend EBR meetings.
What Is an Executive Business Review?
Executive Business Reviews (or EBRs) are business reviews conducted from a top-down, high-level perspective, designed to be presented to Executives from the client company in a set meeting, often on a yearly basis.
While the focus of the EBR is the partnership between the two companies, they also contain essential information about the client company's products and services, their goals, how you've been helping them with their goals, as well as relevant KPIs and business metrics.
EBRs also zoom in on potential opportunities – analyzing market trends to propose initiatives, investments, and projects, all while scanning for ways in which you can collaborate and grow together.
EBRs vs QBRs
The most important thing to note about EBR vs QBR is that they don't necessarily exclude each other since they're defined by different elements: attendee position and schedule. You could theoretically have an EQBR, which means you'd be presenting a business review to executives in a quarterly meeting. So the difference is predominantly semantic.
However, because Executives rarely go into meetings that aren't absolutely necessary, QBRs are seen as more casual, project-specific, and happening between two relevant departments of two companies in a vendor-customer relationship. While EBRs, since their scope is to be presented to a PM, a CEO, or another decision-maker, tend to be more strategic, growth-focused, and fiscally sound (since the CFO can also be in the meeting). They can be conducted between companies in an equal partnership, as well as between a business and its B2B customers.
At the end of the day, you can find out whether your meeting will be an EBR or a QBR by asking yourself the following questions:
Is this a quarterly meeting?
Should we invite executives?
Will any executives actually attend it?
What do I want to focus on in this meeting?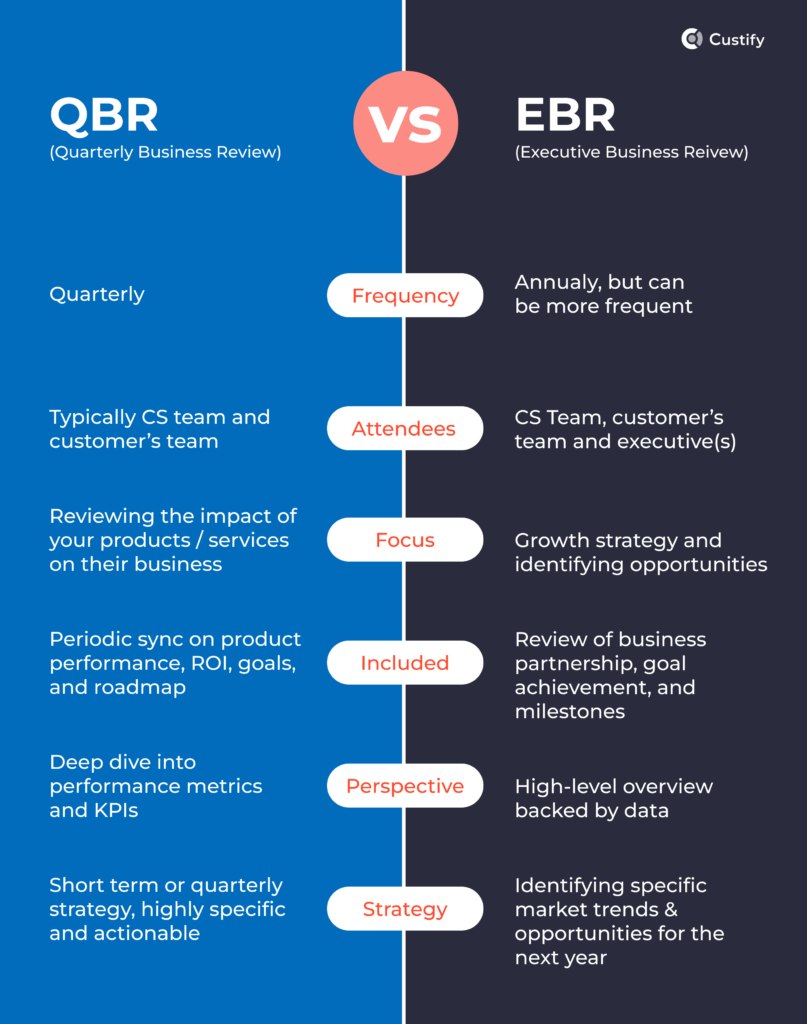 Should My Business Care about EBRs?
Unsurprisingly, if you've read up until now, the question of whether you need an EBR is more a financial one than anything else.
EBRs, or any business reviews for that matter, imply a significant amount of time spent on reporting, which you then either bill to your clients, or toss in a corner along with all the other costs you inevitably accrue in customer success.
So the easiest way to decide whether it's a good idea is to ask:
Can customers afford the time I'm spending on this EBR? Can we?
If the answer to that is yes, then think of the pros and cons of having one: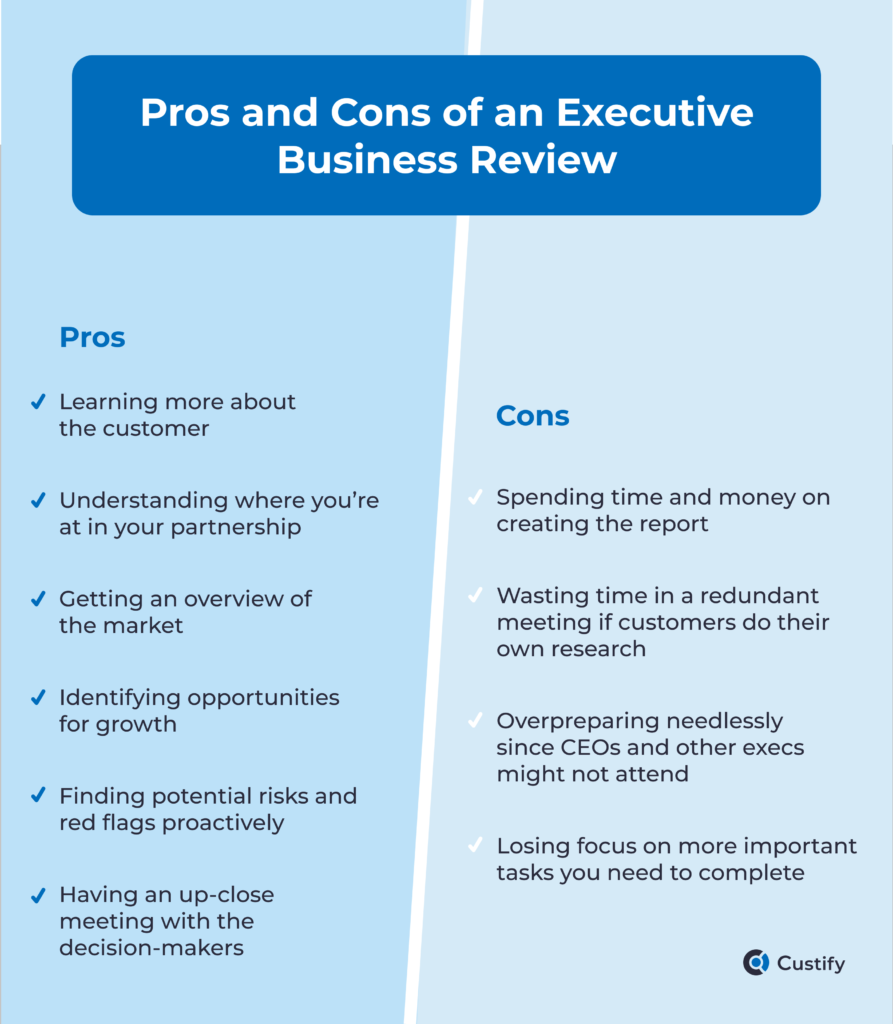 At the end of the day, don't be afraid to say no to an EBR or QBR and instead shift your attention to what drives customer outcomes. Many believe QBRs and EBRs are obsolete, maybe it's the case for your business to.
Should Customer Success Care about EBRs?
A customer success leader, such as a CSM or even the Head of CS, is often the one responsible for both EBRs and QBRs. So in that sense, they should definitely care about them. Beyond that, the debate mostly comes down to the advantages and disadvantages presented above. Plainly speaking, CS is the judge and jury of whether executive business reviews make sense.
If CS decides EBRs are a go, then they should also attempt to make them:
Useful for both the company and the customer
Insightful as to tactics that can push customer goals
Time-efficient both with regards to the meeting and the review itself
Inclusive of diverse viewpoints from across both organizations
Packed with actionable items that an be implemented immediately
Optimized so both teams can deliver success faster & more efficiently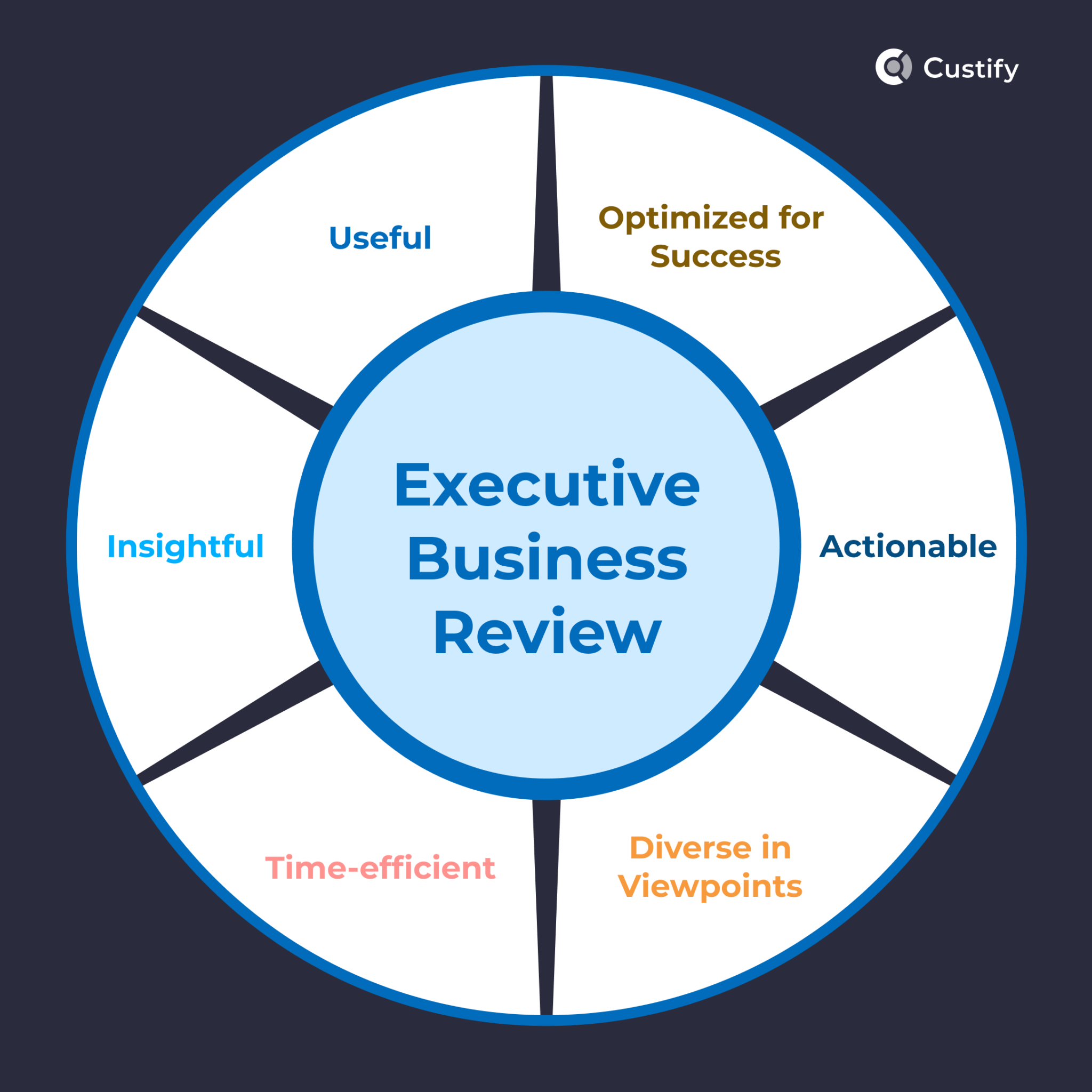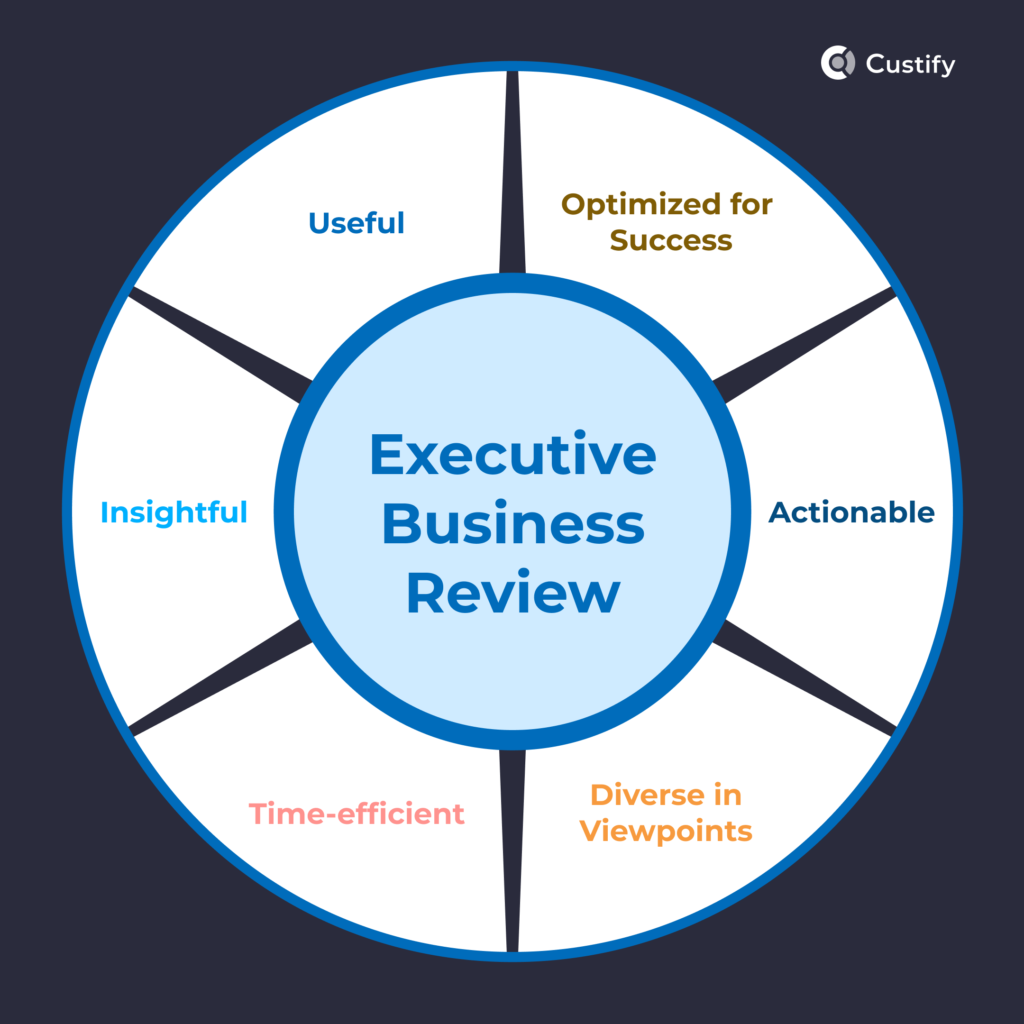 EBRs for SaaS: What Should You Include?
– Executive Summary: A short summary of the main points that will be talked about in the EBR;
– Performance Metrics: data and metrics that show how well the business relationship is going and how far it has come. Highlight the most important goals and achievements that have been reached since the last EBR;
– Difficulties and chances: discussing any problems or chances that have come up and what is being done to fix them;
– Strategic Planning: Look over the strategic plans and goals for the next period and talk about how they fit with the goals of the customer;
Last but not least, feedback on the EBR so we can constantly improve/polish the existing procedure.

Alexandru Calin, President of HTCS/Operations – Hyros
To ensure your EBR isn't a colossal waste of time for everyone in the call (very bad look, especially for executives), here are some things that need to be covered:
1. An overview of your partnership and evolution
Like any good report, EBRs should start by listing the timeline of your partnership and how both companies, but particularly your client, have evolved. The numbers in your presentation should support your arguments in showcasing how you've helped them grow and achieve their goals.
To do this right, you have to:
Write down the goals your customer had for the past year
Correlate those goals with metrics that you have data for
Compile the metrics into an easy-to-read format
Point to standout metrics and KPIs
Explain your contribution to driving those numbers upward
We take the approach of asking all the right contacts (especially all the stakeholders and people that you will invite to your QBR) to complete a brief, ~3-4 minute, assessment of the experiences and outcomes (i.e. how well we've met expectations). Since we do this by persona we get a clear set of data around what's working well and what needs course-correction, and then use the "EBR" (which we call a Joint Success Planning meeting (JSP) to draft a draft of the optimal plan forward based on what they told us. Maybe it sounds complicated but it's actually very easy, and the data that we gain is soooo actionable for the account, while also enabling to roll-up data across accounts to see what are the right "structural" improvements (such as product and process from other departments). Another amazing benefit is that everyone really shows up to the JSP because they want to see what their colleagues said (which is anonymized) but they know it's real and love the transparency and process!

Steve Bernstein, Co-founder – Waypoint Group
2. A detailed timeline of the period since the last EBR
In a normal scenario, EBRs are conducted annually. If your client's executive branch doesn't make time for you between these meetings, you can take the time to bring them up to speed on what the company's been doing and how you've helped them specifically.
This shouldn't necessarily be a data-driven timeline, but more of a list of things that happened, with particular attention given to those you had a hand in moving forward.
3. A breakdown of achievements and milestones
Once you present the timeline, there will be clear wins across the board. It's a great idea to zoom in on these.
List the best things the customer's business did (based on their goals and KPIs) and the best things you helped them achieve (also based on their goals and KPIs).
Think of this part as a highlight reel of your recent milestones.
Also, to combat the "you're always trying to sell us stuff" argument – I like to include a slide detailing all of the Success Initiatives/Investments we've made in the customer. Oftentimes, groups are silo'd and unaware of activities occurring across the company. Can be eye-opening and really change the relationship and conversations.

Brandi Hubbard, Director of Customer Success – Salesforce 
4. A preplanned assessment of risks and red flags
When conducting an EBR, the best thing you can do is leverage your knowledge of the customer and their business, and attempt to present a personal, highly-specific predictive model for the following period.
One idea for how you can bring immediate value to the customer si to use your knowledge of their industry and their business to conduct a risk assessment analysis, identifying red flags. To do so, you can use the traditional PM model:
Identify risks based on customer knowledge, industry knowledge, and your experience with both.
Categorize risks based on impact and probability (high / medium / low).
Find the red flags by isolating risks with high impact & probability, and others you consider important.
Create a plan of attack in case they come true. Such a proactive plan won't just help you, it will assure the executives in your meeting that you've got their backs.
5. A review of recent relevant, useful product updates
Without turning your meeting into a product demo, try to review recent, relevant features of your products that could actively help customers on the path towards success.
To keep things professional and not-too-salesy, you can flip the narrative:
Start from the client goals, as always
Think of what you would like to accomplish to move towards those goals
List the things you would need to do that efficiently
One of these things can be that shiny new feature you just launched
Don't push it too much, keep it short and simple – everyone knows what you're attempting to do, and you can try more in an email (maybe with a video demoing that feature?)
6. An in-depth roadmap of how you'll apply your suggestions
No report is complete without an outlook of the next steps. To top it all off, illustrate how you'll apply the suggestions and insights in your executive business review in a cohesive strategic approach.
For this part, CS leaders should refer back to their implementation process for most clients, remembering how implementation is different from onboarding. Then, all you need to do is create an implementation plan and roadmap.
Add as many stages as necessary, but be cautious not to overwhelm your client with new info, changes, and stuff they need to do.
-State of the Union (what's working well, what's not working well, what can be improved upon, are we meeting our joint commitments to one another)
-Voice of Customer (business imperatives such as current/future industry outlook, goals, objectives, current/future priorities, how can we support these changing realities)
-Investment Snapshot – what have we both mutually invested YTD/lifetime
-Success Review: Adoption scorecard + Health scorecard + Value realized / opportunity
-Key Takeaways + Call to Action

Arinze Charles Okonkwo – CSM
How to Get Executives to Attend Your EBRs
More often than not, in a professional business relationship, the decision-makers of a company are hard to find. Rarely do they enter sync meetings. Either they don't want to, they're overwhelmed by tasks, or they have a schedule so full with other meetings that they simply ignore another long-winded EBR from you.
It's long been known that inefficient meetings can end up costing a lot. Studies have shown that number was close to $283bn in 2017, and that was before the age of remote work, daily syncs, and Zoom fatigue. Estimates say upper management tends to spend about 50% or more of their time in meetings. So why would they choose to attend your 1-hour presentation?
The answer is simple, and it comes from:
Your Champion – Where Customer Success Meets EBRs
Having an executive sponsor or "champion" in a customer's organization is essential in streamlining collaboration and decision-making at the highest levels. They will help remove bureaucratic obstacles, secure resources, and ensure alignment between the customer's goals and your company's value proposition.

Philipp Wolf, CEO – Custify
EBRs and QBRs run better if the CS team manages to secure an executive sponsor within the customer's organization, someone that can act as a "champion" or "influencer" towards the rest of the customer's executive board.
Customer success sponsors are the people in your customers' organizations that really care about your product or services. While they may not be directly involved in all cases, and might not be the final decision-makers, their advocacy for you has been essential and, ultimately, the deciding factor in your business relationship. They're also frequently responsible for product adoption.
But sponsors don't always fall into the executive category.
If they do, awesome – you already have someone who'll attend your EBR.
But if they don't, or if they leave or if you don't have customer sponsorship at all, you need to obtain it. That's possibly the most difficult task a CSM can have. Here are some tips:
Make the customer's executives feel seen by holding a meeting with an executive from your company. Simply treating them with equal respect goes a long way toward gaining their sponsorship.
Find the most likely person to be your executive sponsor and, using proactive engagement tactics, attempt to gain their trust and grow your professional relationship.
Always be aware of your sponsor, so you know if they get promoted to an executive position or quit / get fired.
Once you've got your executive sponsor, it's only a matter of inviting them to your EBRs, or even getting them to invite one or more other execs to the meeting.
Summing Up: What Do EBRs Mean for CSMs?
So there you have it: EBRs can be good, but they must be great in order to make any sense. CSMs and CS leaders must ensure it's not just another report or meeting, but a thorough, specific presentation aligned with both CS goals and customer goals.
Remember: no executive business review is better than a bad one. No clients today expect EBRs or QBRs – they're entirely up to you to propose, so if do you propose them, make sure you rise above the typical EBR and bring in unmistakable value.