Did you know that 79% of shoppers rely on customer reviews?
As a business owner, you have to ensure that your customers are satisfied with your product(s) or service(s). One of the best ways to look into how your business is doing is through customer reviews.
By now, you know that reviews of your products or services drastically increase your conversions. When customers see that social proof of what you do, they're much more likely to buy from you. By using them in your content, you can create new content and show off those glowing reviews in one go.
So, how do you ensure that your potential customers are seeing these reviews? Here are 10 ways on how you can do it:
1. Insert Your Reviews Into Blog Posts
First, blogs are nothing new. In fact, approximately 409 million people view more than 20 billion pages monthly.
Now, you'll already be creating regular blog posts as a way to improve your SEO and generate more leads on your site. For customers and potential leads, they're a very good way to get to know you, and see what you can offer as a company. When would-be customers are reading your blogs, adding some reviews is a good way of showing that you offer the best service.
Though, you would still need to ensure that you're inserting reviews in a natural way. Don't pay your way to success.
"Some companies have them pop up when you're reading the blog, or use them as an example in the blog text," says Sam Niells, a marketing writer at Boom Essays and UKTopWriters. "With that being said, don't force the review in just to promote yourself, as leads can spot it a mile away and be put off."
Pro Tip: Don't spam your customer reviews into blog posts. Otherwise, you'll not only get in trouble with blog admins, but also search engines. Penalties for spamming things online are cutthroat these days – from ranking low in search engines to HIDING your website from public view.
2. Put Reviews On Your Homepage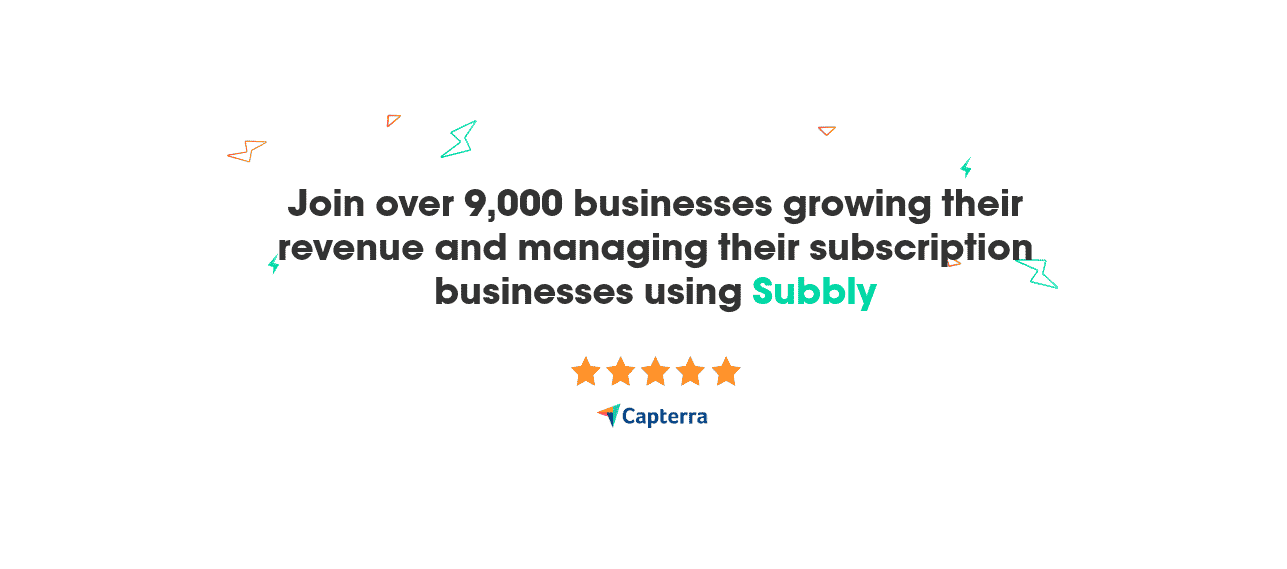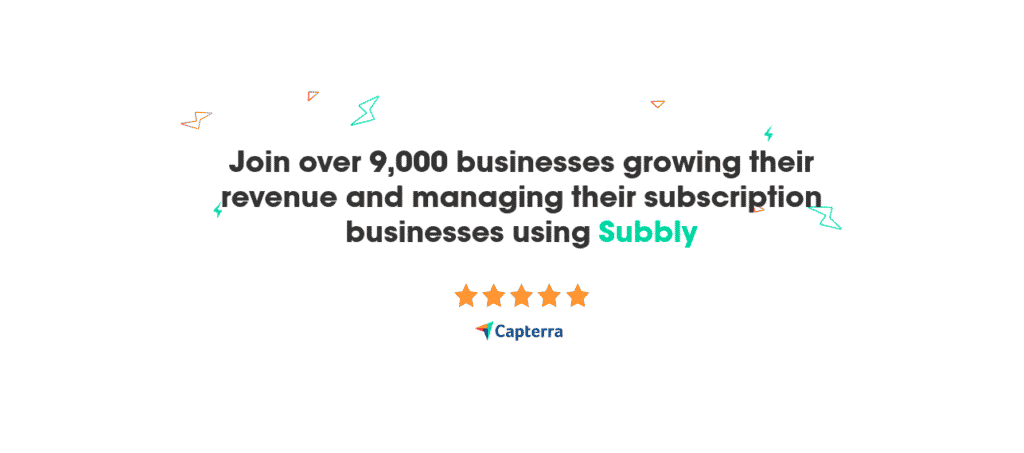 Source: Subbly
Now, this strategy makes a lot of sense, as most people are going to find their way to your homepage first. Therefore, you'll need something to show for it.
Having your reviews here shows that you're a genuine site that they can trust. It's something that most sites are doing these days, so you'll see this advice in action a lot. It's fairly simple to do, as most website builders have tools that help you build them in seamlessly.
Although this might seem counterproductive, don't only include positive reviews of your business. These days, more and more customers are becoming savvy online, and if they're only seeing positive reviews they'll feel as though you're hiding something, or worse, making the reviews up. Feature 4/5-star customer reviews, or good reviews where there was one feature that someone wasn't totally happy with.
Pro Tip: Again, don't pollute your page with customer reviews, or else search engines will deem your site as spammy.
3. Add Reviews To Landing Pages
Similar to your home page, adding reviews to your landing pages will help you convert more people into customers. There are lots of ways you can add them, so you can experiment with different methods and see what helps you get the best results. Adding reviews here can also help convince these visitors to sign up for your email newsletter.
This incentive works well if you don't have anything else to offer right now for email sign-ups, such as a course or eBook. While you're working on these options, you can use the reviews to convince people to sign up. Don't rely on them full time though, and ensure that you're offering something that's unique to get those sign-ups.
Pro Tip: Before placing reviews on your landing pages, make sure that your pages are working properly. You don't want users to click on something and get a redirect error page.
4. Make A Full Customer Review Page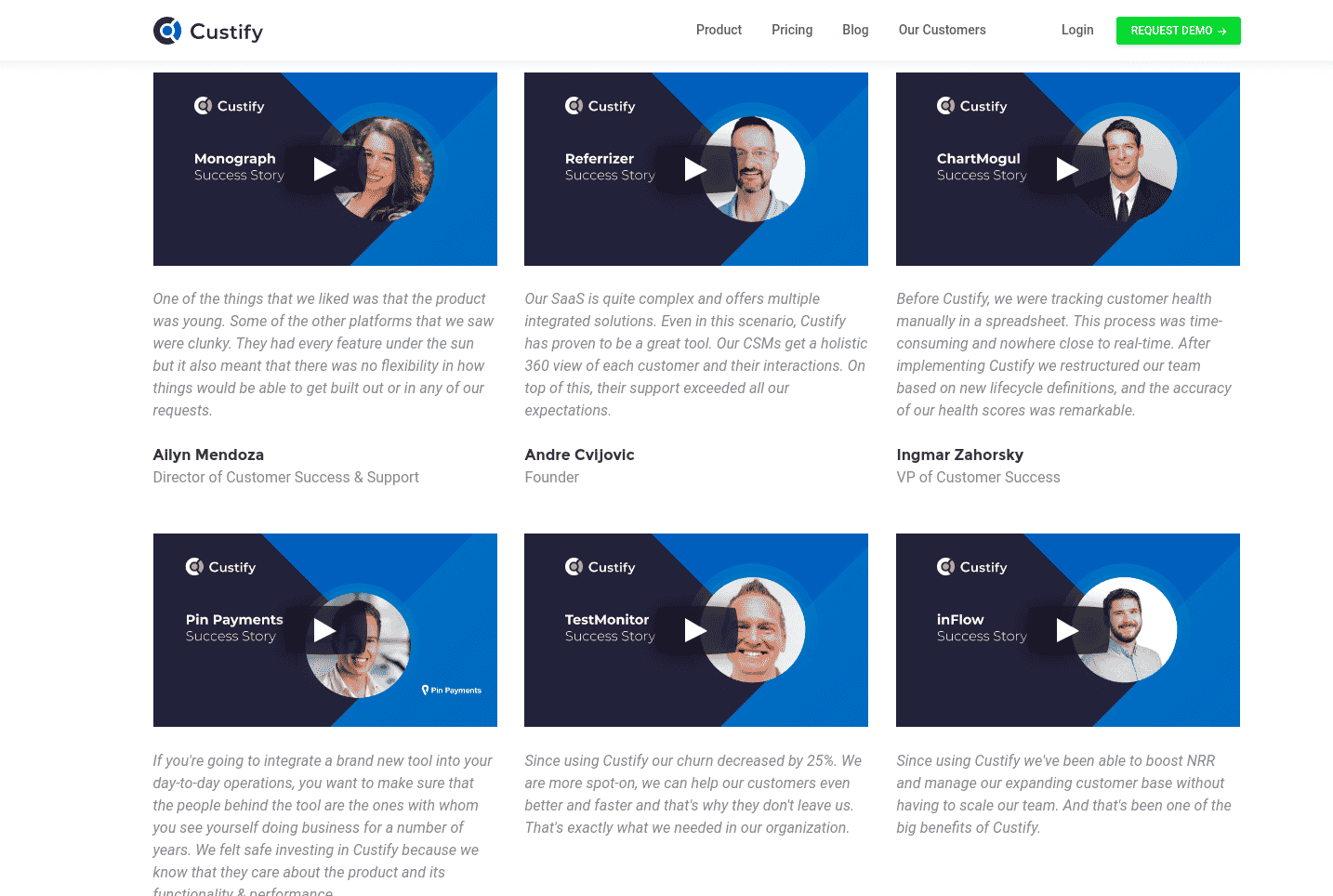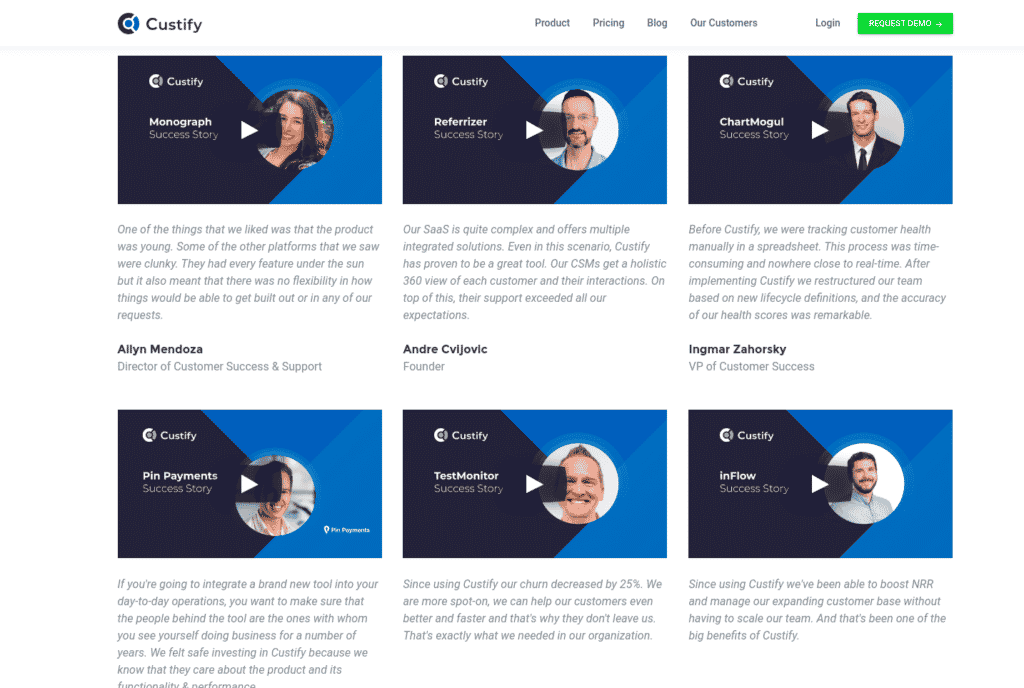 These previous methods have discussed placing reviews on other pages of your site, but have you considered creating a full page for reviews? It's something that a lot of other companies have done, and it has helped them boost business.
"You can take a look at other sites that are doing this, and draw inspiration from them," says editor Hannah Whitehall from Ox Essays and Paper Fellows. "There are lots of good ideas out there, so you can put together your own reviews page."
When you create this reviews page, remember that you're only going to get good reviews if you're offering the very best service out there. You'll still have to ensure you're offering the very best service so you can get good reviews here. Also, ensure that you're responding to reviews and helping put things right when needed. When you do this, you'll get the most out of that review page.
Pro Tip: Just like with any other page on your website, make sure that your customer review page is functional. For this, you'll need to think about the user interface (UI) – the look of a website, and the user experience (UX) – the feel of the website. Consider and implement different UI design tips to effectively enhance the overall experience of your website.
5. Create Content Using Reviews As Inspiration
Next, you can create brand new content using those reviews themselves. Read through your reviews, and see what customers are saying. For example, many may be pointing out that your service helps them solve a particular problem, such as time management. You can use that to create content that's relevant to your audience. In this instance, you may choose to write blogs on time management tips.
Of course, don't just limit yourself to written content like blogs. There's a huge rise in people watching videos online, so you can create guides in video format that can help your audience tremendously. Also, not all the content from your reviews should go into content, so be mindful about what content you choose to use.
Pro Tip: Look at social media. From photos to videos and so on, you can gain a lot of inspiration for creating relevant content for your site.
6. Leverage Negative Reviews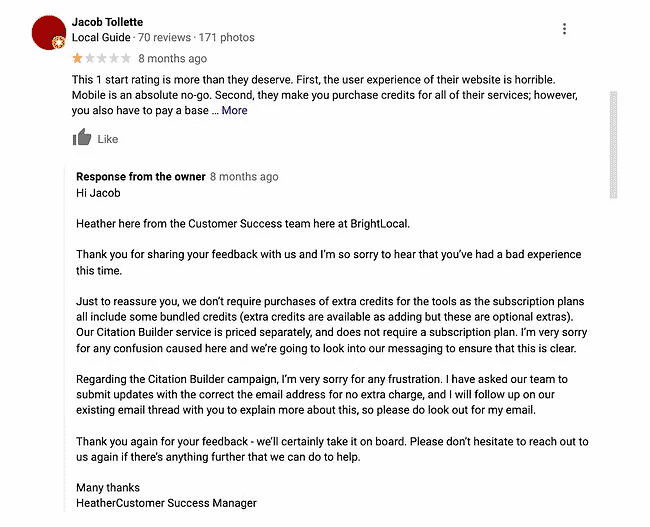 Source: Hubspot
Now, negative reviews might hurt your ego a bit. However, those reviews are still your consumers talking. Just because you get the occasional negative reviews doesn't mean that you ignore them.
The truth is, negative reviews can actually help you in the following areas in your company:
• Customer service
• Marketing
• Sales strategies
• Overall professionalism, etc.
In addition, negative reviews can make your positive ones more credible. In other words, you won't have to create a façade of people liking your product, when consumers want to see authenticity. Besides, no one likes to see a lot of "fake" positive reviews – that can only breed dishonesty. Plus, search engines like Google are already cracking down on disingenuous content (ones that are deemed as spam) on the Internet.
Therefore, honesty is key to your customer reviews.
Pro Tip: Allow people to see negative reviews. Instead of having negative reviews mixed in with the positives, consider categorizing the reviews to where they're easily searchable. Remember: Customers want transparency; so, don't make it complicated.
7. Use Customer Reviews In Promoted Social Media And Display Postings
Believe it or not, social media can be a good thing for businesses. Did you know that 74% of shoppers rely on social media to make buying purchases? Social media opens doors to new brands, services, and so on.
So, when you post customer reviews on social media and display postings, people will see how others are reacting to your product or service. Promote these postings, and you'll soon see people coming to your business to check out the product and service for themselves.
Pro Tip: If you decide to create a paid promotion on your social media, be sure to set a budget. Also, make sure that you who which demographic(s) to target when setting up a paid promotion campaign.
8. Add Credibility With Customer Reviews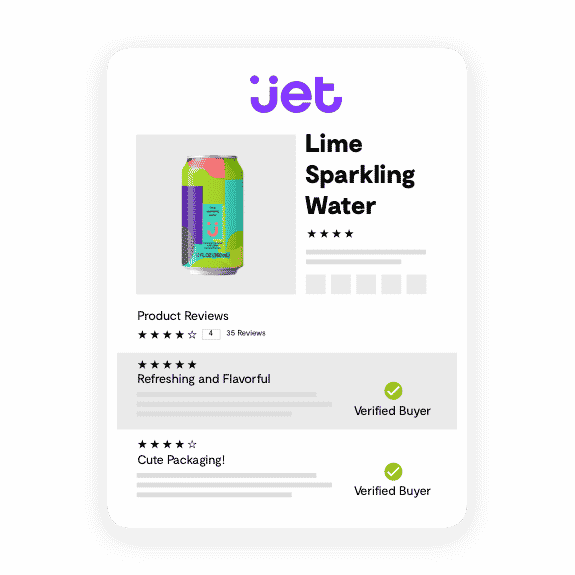 Source: PowerReviews
People are looking for credibility in the products and services that they buy. In other words, why should people buy from you?
The good thing about customer reviews is that you can make success stories from them. From satisfied customers, you can ask them to share their stories with potential buyers with testimonials. Instead of hearing a story from you – the business – people can hear stories from real people that they can relate to.
Pro Tip: If you see a positive review on your product or service, reach out to the reviewer, and see if they want to provide a testimonial (e.g., video). Ask first, before assuming that they'll be okay with it.
9. Happy Clients In Third-Party Platforms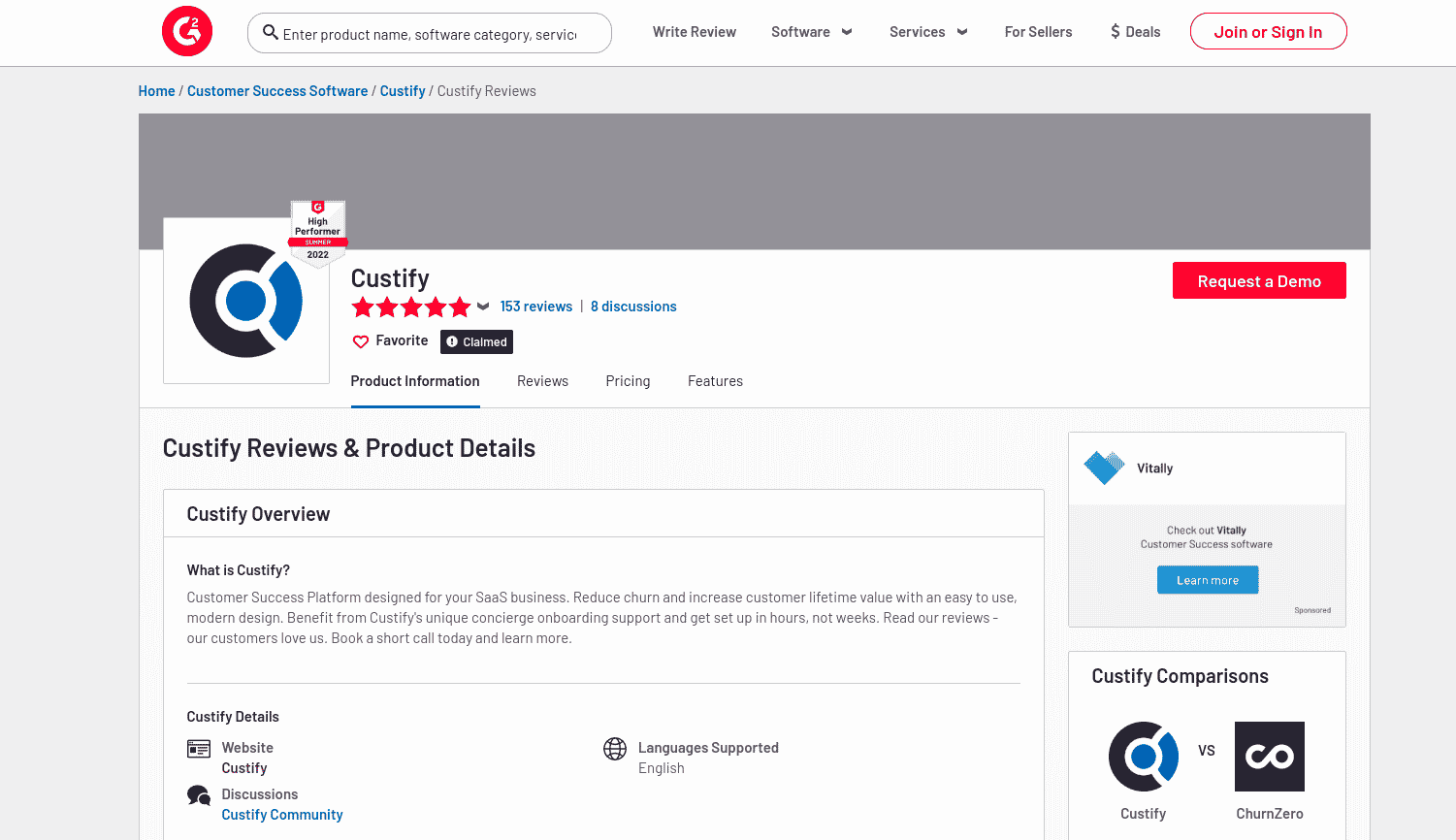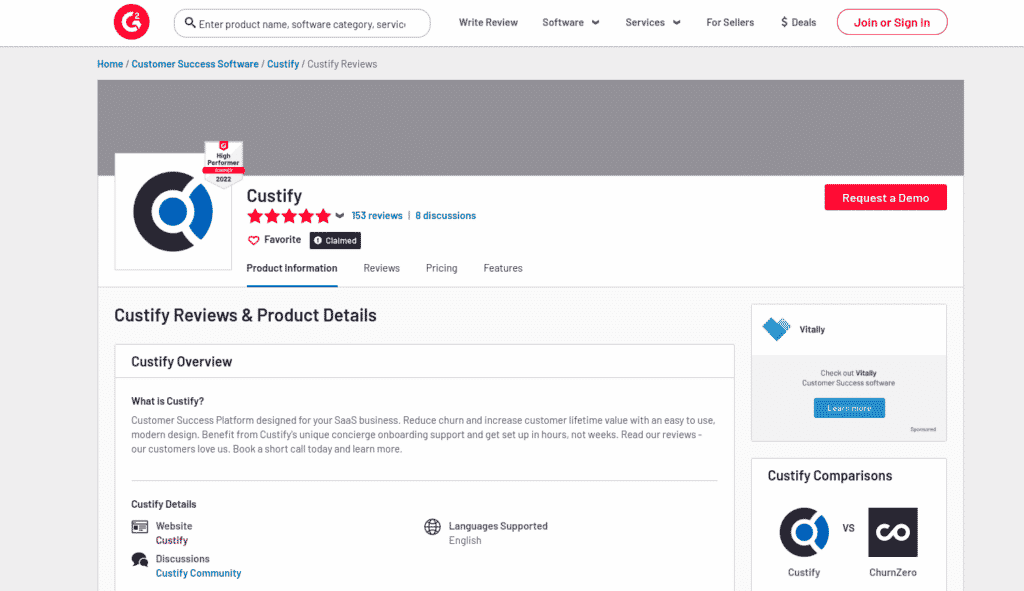 Source: G2
Another way to utilize your happy customers is by having them sing your praises on third-party platforms. In other words, when they share their customer reviews on third-party review platforms like G2, other people in said platforms might want to head over to your store and check out your products or services.
Pro Tip: Be sure to have a section on your site that boasts that your company has customer reviews on reputable platforms like Trustpilot. This adds credibility to your business, even when people are skeptical about the positive reviews.
10. Improve Conversions From Abandoned Cart Emails
Finally, look at how many people have abandoned their carts during their shopping experiences. Now, this is where you can set up automation in your email marketing. When someone abandons a cart, you can send out an email that tells them that they did so.
In the abandoned-cart email, you can point out the positive customer reviews. You can do any of the following in that said:
• A customer testimonial
• A success story
• Detailed reviews, etc.
Pro Tip: Don't get discouraged when someone abandons their cart when shopping. If you send out an abandoned-cart email, be polite and show off your positive reviews, but don't push too hard.
Wrapping Up
As you can see, customer reviews can either make or break your business. Your important job, in this case, is to accept customers' opinions and be open-minded to any suggestions that might rise from the reviews. While some reviews might hurt your ego, take them as lessons that can be learned.
With these tips, you can start getting more out of your reviews, and use them to show potential customers that you are the right person to buy from. Add reviews to your content in these five ways, and you'll see how much it'll boost your lead generation.