Customer success teams have a lot to think about in terms of prioritizing customers' needs and goals. If you sell a product or a service to other individuals or companies, you're probably familiar with one of these two scenarios:
A. You have client calls to finalize sales and provide continuous service, you record those calls but rarely — if ever — go back to listen to them.
B. You have calls with your customers, but don't record them and rely on the notes you put together during the conversations.
Either way, you're throwing away valuable information. When it comes to customer knowledge, sales, and customer success meetings are invaluable, and businesses know it! That's where AI note-taking tools can help.
Read on to find out how customer success managers can implement AI note-taking in their meetings to enhance customer support and ensure post-sales success.
What Is AI Note-Taking?
AI note-taking is a technology that employs artificial intelligence to assist individuals in taking notes. More and more companies use virtual meeting assistants to automate information gathering and organization, while also offering real-time analyses and insights.
This technology has the potential to boost productivity, accuracy, and the quality of your notes. AI note-taking can assist you and your team in capturing, storing, and managing information.
Benefits of Using AI Note-Taking Apps in Customer Success Meetings
A customer success manager may benefit from an AI note-taking tool because it can help automate and streamline many operational tasks.
1. Share Meeting Notes with the customer success Team Members
It can be challenging to transfer important meeting details to your colleagues on time. As a result, sales and customer success teams are not aligned with requests shared on the calls and provide poor customer support.​​
You can use your AI meeting assistant to automatically notify attendees of the decisions or actions taken during a meeting. In fact, some meeting assistants can automatically produce meeting summaries that include key points and action items.
The ultimate goal of sharing meeting notes is to keep everyone involved in the customer success journey in the loop.
2. Collaborate With Marketing Teams & Sales Teams
Customer success teams need to collaborate with your marketing and sales teams to ensure customers have a positive experience with the product or service.
This means that you should focus on understanding customers' needs, providing support and resources, and resolving any issues that may arise.
The best way to do it is to record the summary of every client's meeting and share them with your team members.
The easiest way to do so is to have your AI meeting assistant send all interested parties your meeting highlights in just a few clicks rather than relying on your personal notes to get the job done.
3. Improve Customer Success Strategy
There's no one-size-fits-all strategy to provide your customers with the best experience possible. Indeed, having a solid customer success team structure and doing everything by the book can help. But what if we told you AI note-taking tools could make some processes easier? How?
By Enhancing Operation Monitoring and Analysis
Certain AI virtual meeting assistants can also help with operation monitoring and analysis. Once you have all your meeting notes in one place, you can extract key insights and search for certain moments in seconds. It also helps monitor customer behavior and analyze your team's actions toward client satisfaction.
For instance, you can set up your virtual AI assistant to recognize what topics and keywords appear more often in your conversation with customers. It can be pricing or a competitor's offer, for example. Grab these insights to understand customers' key concerns and provide the best experience.
By Identifying and Resolving Issues
After saving the meeting recordings, the following step is to review them. This is where AI assistants can detect patterns and trends in corporate communications. If a certain issue is recurring for multiple customers, that's where your focus and resources need to be.
4. Offer Personalized Customer Support
Customer communication is one of the key areas where AI meeting assistants can be useful. Tracking your customers' previous interactions with your company is something you need to take into account.
AI meeting assistants can extract a range of data from automated meeting notes, including customer sentiment. This function provides valuable insights into customer behavior and preferences and helps you understand how to serve your clients better.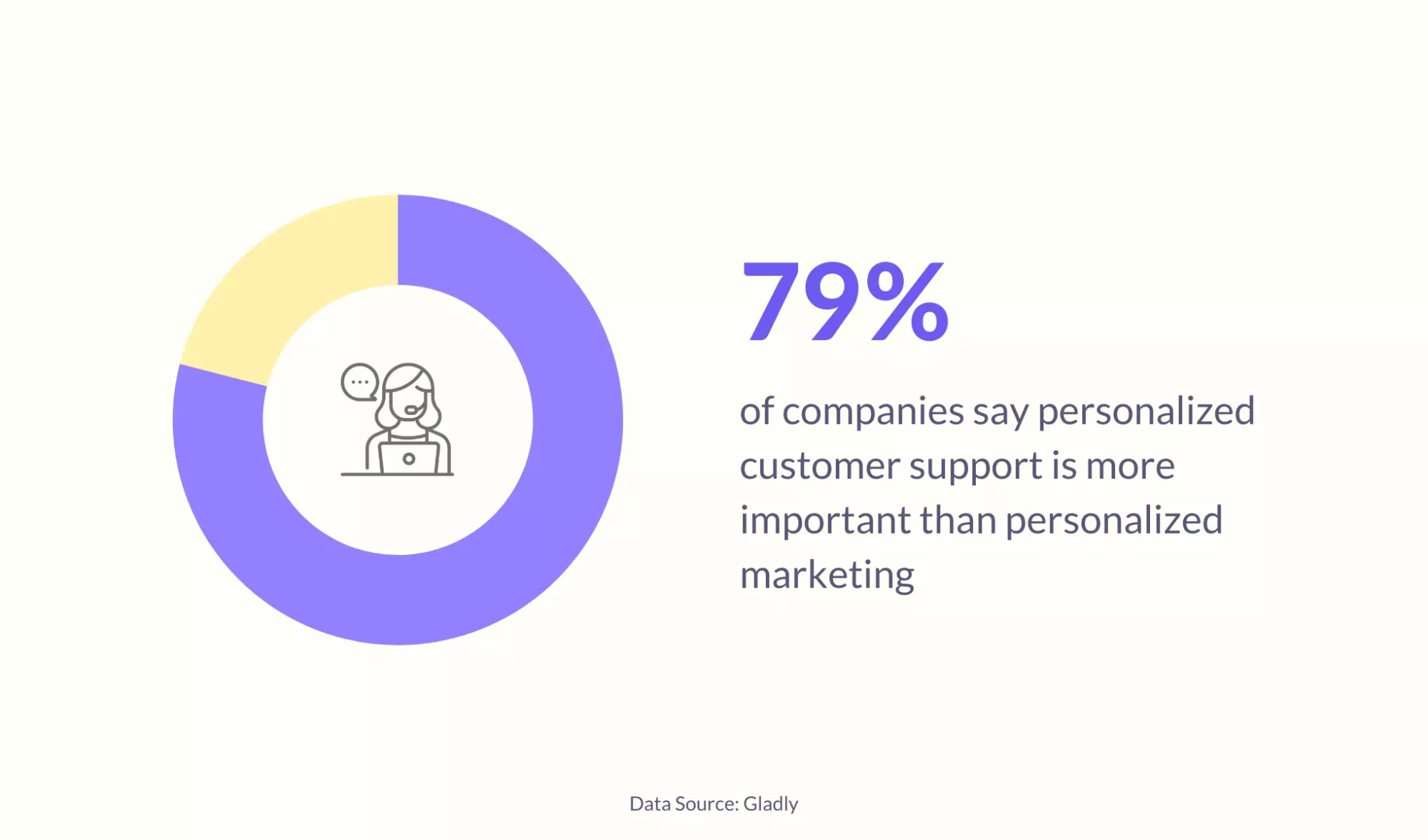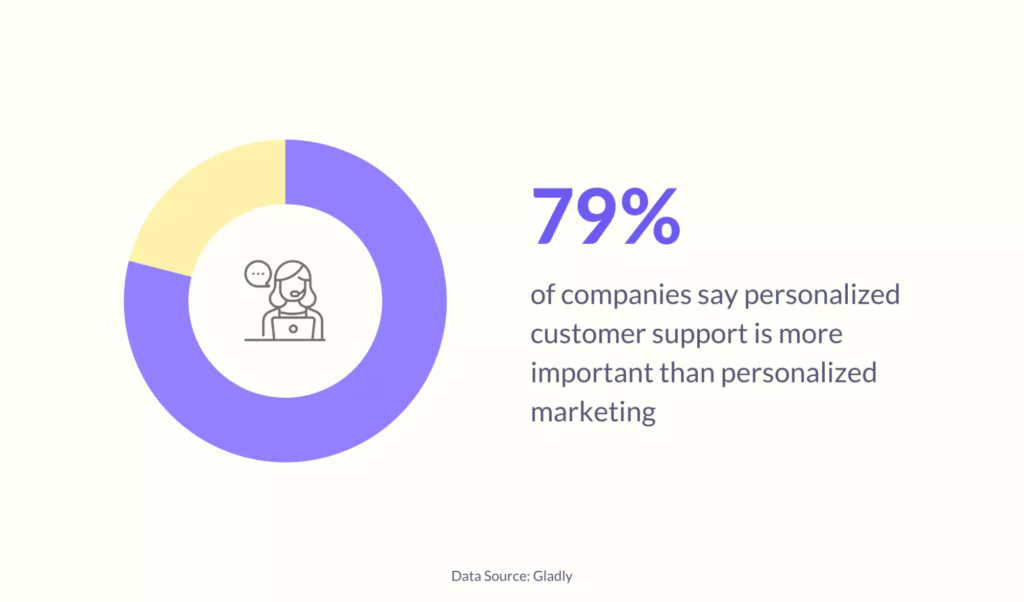 [Source]
5. Focus on Customer Relationships & Increase Customer Loyalty
Customer relationships are the result of successfully completing all stages of the customer journey, from the initial engagement to post-purchase follow-up and ongoing customer service.
AI note-taking tools accurately record customer conversations, allowing customer success teams to focus on exceptional customer experience and strong relationships.
They also allow customer success teams to review notes quickly and easily, helping them identify customer needs, respond to inquiries quickly, and provide personalized service. This level of personalized service can help your team build customer loyalty, increase customer satisfaction, and ultimately, grow your business.
How to Find the Right Note-Taking App for Customer Success Meetings
When it comes to customer success meetings, you need to find a note-taking app that will seamlessly integrate with all of your other workflows and processes.
If you're struggling to find the best virtual AI meeting assistant, here are four main things to consider before making your final decision:
1. Examine Your Use Cases
Even the best software solutions will fall short if you don't understand why you want them and are convinced that everyone taking their own notes is just as good. To avoid that, you must understand your use cases. Here's what you need to ask yourself:
How will your clients and your customer success team benefit from using the note-taking app?
Why do you need it?
How do you plan to use it to ensure customer success?
2. Consider Your Budget
Establishing a specific budget for your note-taking app is imperative. Note-taking apps can be either free or paid, with some of the more expensive options providing more features and benefits.
Additionally, some note-taking tools may require additional costs for maintenance, training, and upgrades. It is important to ensure that you are getting the most value for your money and that you can afford to maintain the tool over a long period of time.
3. Study the AI Note-Taking App's Features & Accuracy
Make a list of the features you are looking for in a virtual AI meeting assistant. Do you need it only to write notes? Is there anything else you need help with during your meetings?
Look for solutions based on that list to refine your search. Here are a few things you might want to take into consideration when trying to find a great note-taking app:
Transcription accuracy
How customizable the automated note-taking process is
Ability to access and edit previous meeting notes
How the notes are stored
Possibility to add notes, insert images, screenshots, and other types of multimedia in the notes
Integrations with other apps/platforms (Zoom, Google Meet, Google Docs), etc.

4. Review the Interface of Each Potential AI Note-Taking App
When comparing several note-taking apps, examine the user interface and overall experience. Is the software easy to use and intuitive? How compatible is the app with your other workflows? Is it difficult to set up?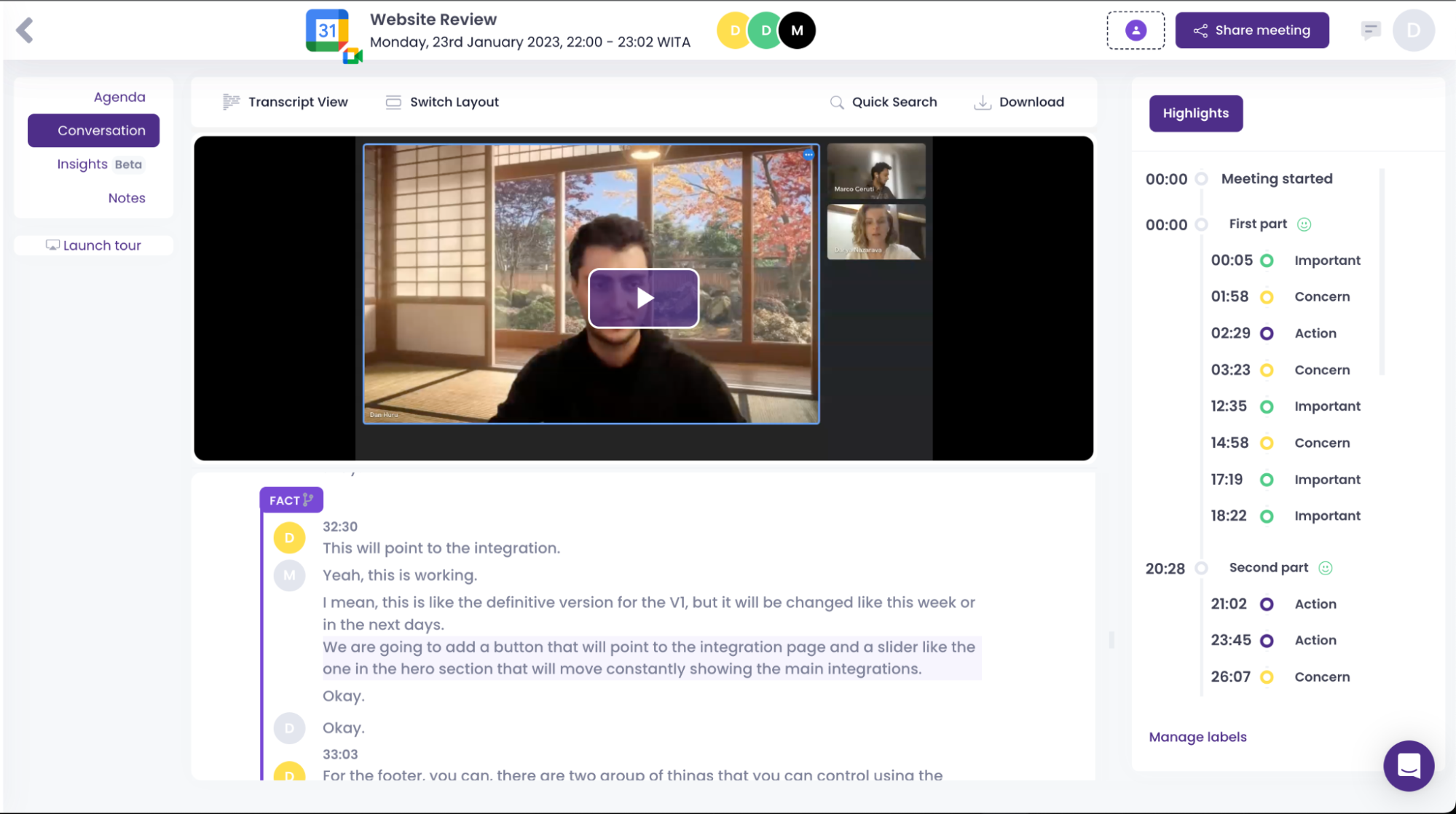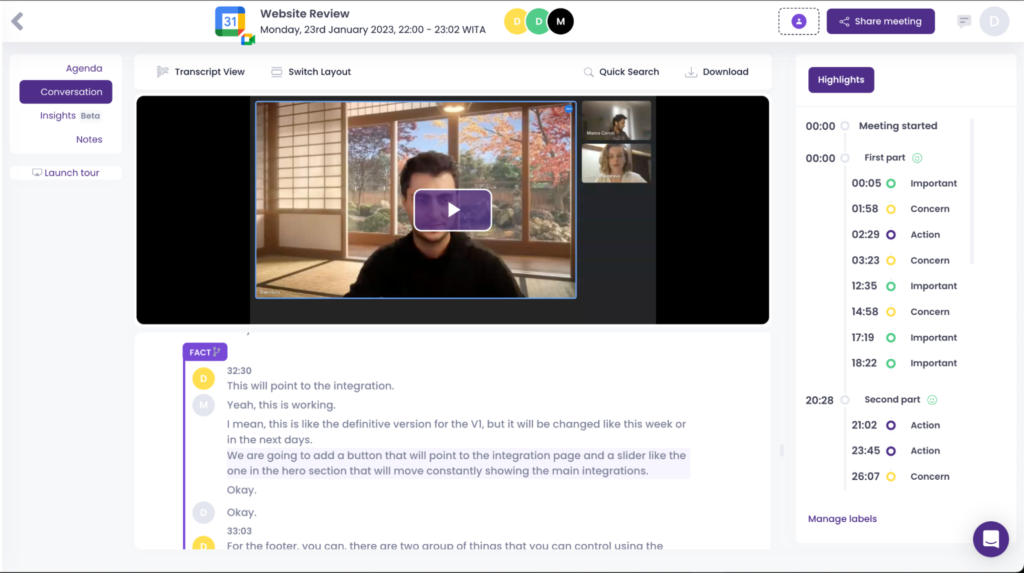 The best note-taking apps are simple and straightforward. They seamlessly integrate into your work routine, which results in increased satisfaction on your side. The best part is that most note-taking software options provide a free trial to assist you in making the right decision.
How to Use AI Note-Taking to Improve Customer Success Team Meetings
While you might be tempted to think that AI virtual meeting assistants are the "set-it-and-forget-it" type of tool, there are some best practices you will need to consider.
A good virtual meeting assistant will help you get the most out of your investment during all the stages of a client success meeting.
A. Before Your Customer Success Team Meetings
Using a note-taking tool begins before entering the conference room or joining your online meeting.
1. Set up the AI Note-Taking Tool
Take a few minutes before your meeting to set up your tool. There are 2 ways in which you can have an AI note-taking app assist your meetings:
Automatically: After you sync the tool with your calendar, it automatically joins and records your meetings.
Manually: Every time you have a meeting, you need to press the 'Record' button.
While this may seem like not a big deal, going for a tool that automatically gets the job done removes any unnecessary obstacles.
2. Sync Your Meeting Agenda with the Note-Taking App
A lot of virtual AI meeting assistants can be synced with a meeting agenda. This allows it to recognize the agenda items, and create a timeline of events for the meeting. As the meeting progresses, the assistant will be able to keep track of the topics discussed and ensure that all items on the agenda are properly addressed.
Additionally, the AI assistant can provide insights and analytics about the meeting, such as how long each topic was discussed, who spoke the most, and which topics were most popular among participants.
B. During Your Customer Success Team Meetings
Depending on the types of meetings you're having with your customer success team, here's how you can use AI-powered note-taking to improve each of these client success meetings:
1. Kick-off Meetings
These sessions typically take place after the sales team has secured an account and has included the customer success team in the conversation.
Needless to say, this is a time when recording, transcribing, and summarizing your meetings are crucial. That's because, at this point, you're most likely to receive information that establishes the guidelines and the tone for the entire partnership.
2. Customer Onboarding Meetings
Onboarding calls are a classic among customer success teams and are critical for advancing the clients toward their goals and building trust with them.
That is why it is mandatory to focus your energy and attention on the customer instead of the note-taking process. Make sure your clients feel heard by giving them your undivided attention and letting your virtual meeting assistant take care of the rest.
3. Check-in Meetings
These might seem like regular conversations, but they serve to reassure customers that you have their back, offer ongoing support, and help you address any concerns that might have come up.
Keeping accurate notes of all the variables that may appear during your collaboration with the customers helps you adjust your approach to answer their needs on time.
4. Customer Offboarding Meetings
When done properly, customer offboarding meetings can be a goldmine of client insights. Having a virtual meeting assistant write down the key takeaways of your collaboration can be exploited in more than one way.
Not only will these insights allow you to improve your customer success team's overall future performance, but they will also benefit your customer success management approach.
C. After Your Customer Success Team Meetings
Your customer success meeting is over, and your meeting assistant took care of the note-taking part. Now, what? Here is what you have to do next!
1. Share Your Notes with Team Members
Nowadays, you can share notes with just a few clicks. A lot of AI note-taking apps create sharable links for you to be able to send to the other team members.
Make it a priority to do this immediately after your team meeting. This way, you can make sure everyone is on the same page, even the people who couldn't attend.
2. Use the Notes to Track customer success Team Progress
When all the information you gathered is accurate, stored in one place, and easily accessible, you can effortlessly track and measure how well customer success teams are performing. This means that there is a lot more room for progress since you know exactly what your main areas of improvement are.
3. Use Your Notes to Write the Next Meeting Agenda
To save time, use your meeting notes as a template for your next meeting agenda. This will help ensure that there is continuity throughout your meetings, which increases the chances for your customer success strategy to stay cohesive and consistent.
Change the Way You Do Customer Success Meetings with AI!
AI note-taking can revolutionize the way you do customer success meetings. To better understand your customers' needs and develop better solutions, you can rely on AI note-taking tools to provide valuable insights and analyses for all of your meetings.
With the right virtual assistant doing the hard work, you'll forget about manual note-taking, and have more time for meaningful conversations with your clients.