Customer success is a dynamic field. Whether you're a beginner or an experienced professional, you should always keep up with the latest customer success concepts and ideas.
Reading customer success books is a great way to do this, while, at the same time making sure you get your information from reliable sources and renowned experts.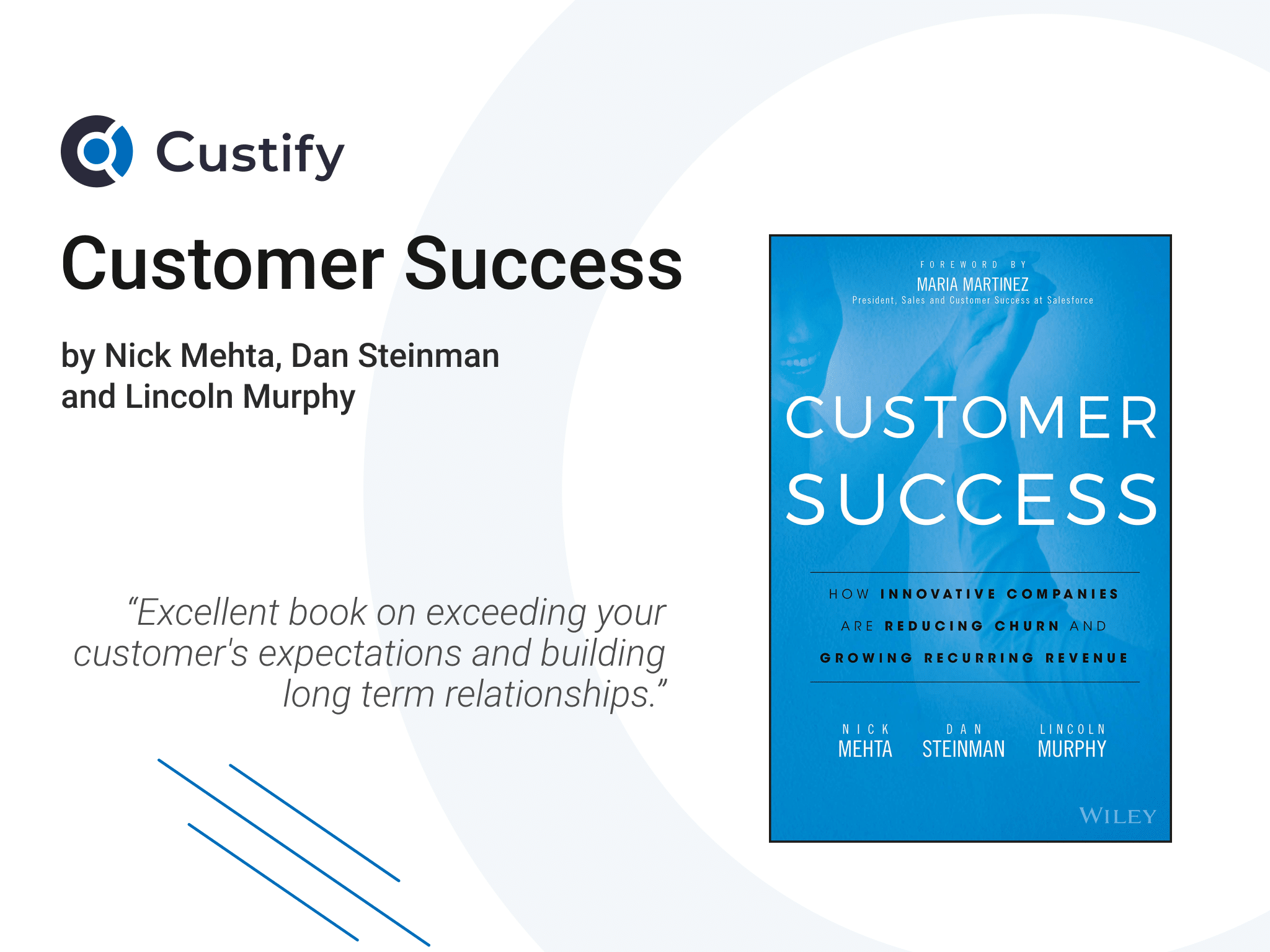 1. Customer Success: How Innovative Companies Are Reducing Churn and Growing Recurring Revenue by Nick Mehta, Dan Steinman, and Lincoln Murphy
This book is a great customer success manual that takes you through what sparked the customer success movement and gives you actionable steps on how to build and implement an effective customer success strategy. It includes expert advice for different kinds of situations that you might encounter while working as a customer success manager, such as drops in customer health.
The three authors offer a solid overview of customer success and make it very easy to understand the importance of customer satisfaction for a business. If you pick it up, be aware that it can be quite a slow-burn read.
Great for: beginner CSMs
Top Reviews:
"Excellent book on exceeding your customer's expectations and building long term relationships."
"Must-read for anyone involved in the growing field of Customer Success."
"The WHY and WHAT of Customer Success."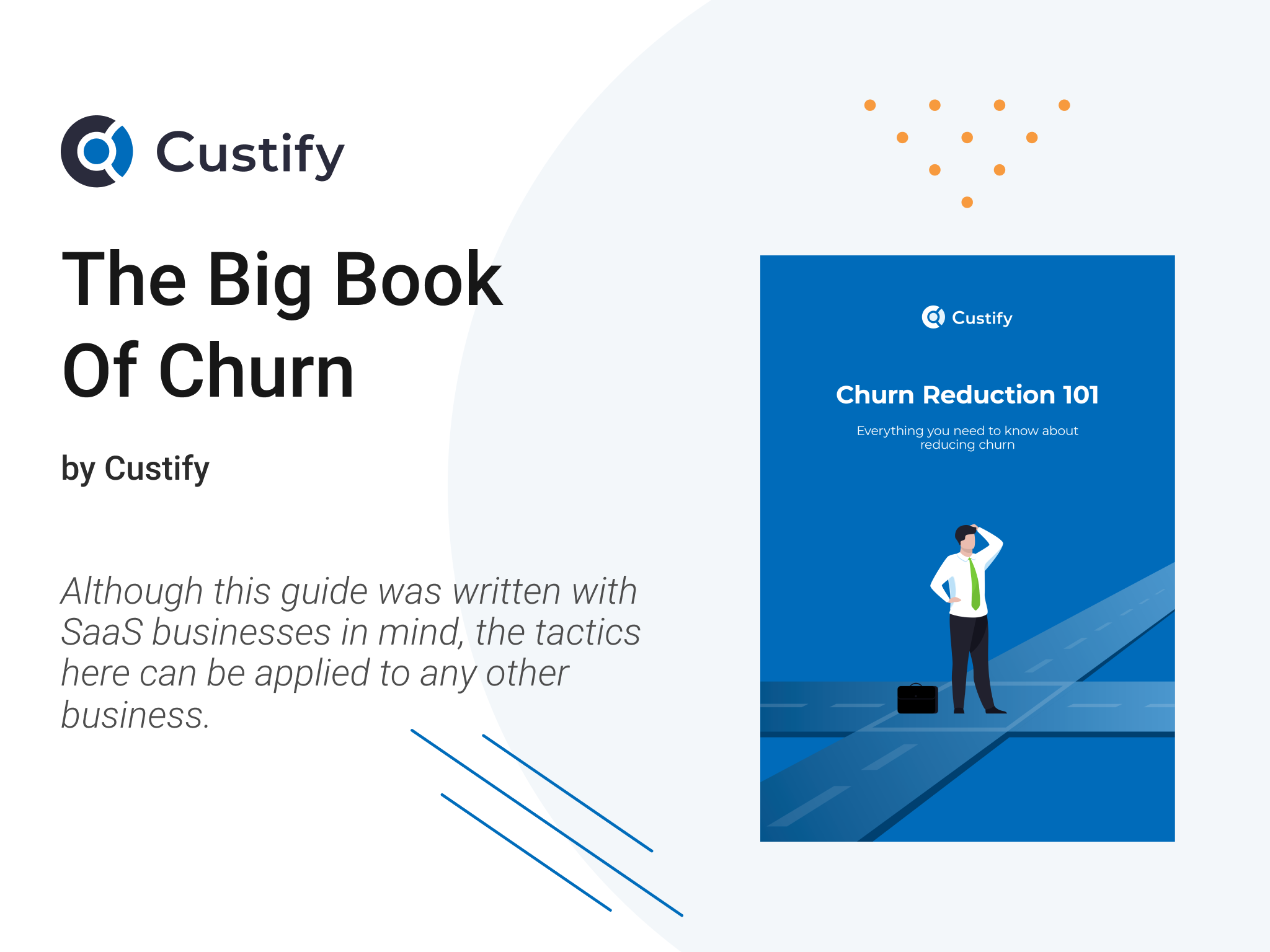 2. The Big Book of Churn, by Custify
Customer churn is any customer success manager's nightmare and can lead to a business's demise. This guide created by Custify will show you how to reduce customer churn and increase customer loyalty. You will also learn how to calculate and analyze churn for any online business and how to tackle each churn type.
This practical guide gives detailed examples of how to reduce churn in SaaS businesses and uncovers tactics to keep customers loyal. Although this guide was written with SaaS businesses in mind, the tactics here can be applied to any other business.
Great for: beginner and mid-level CSMs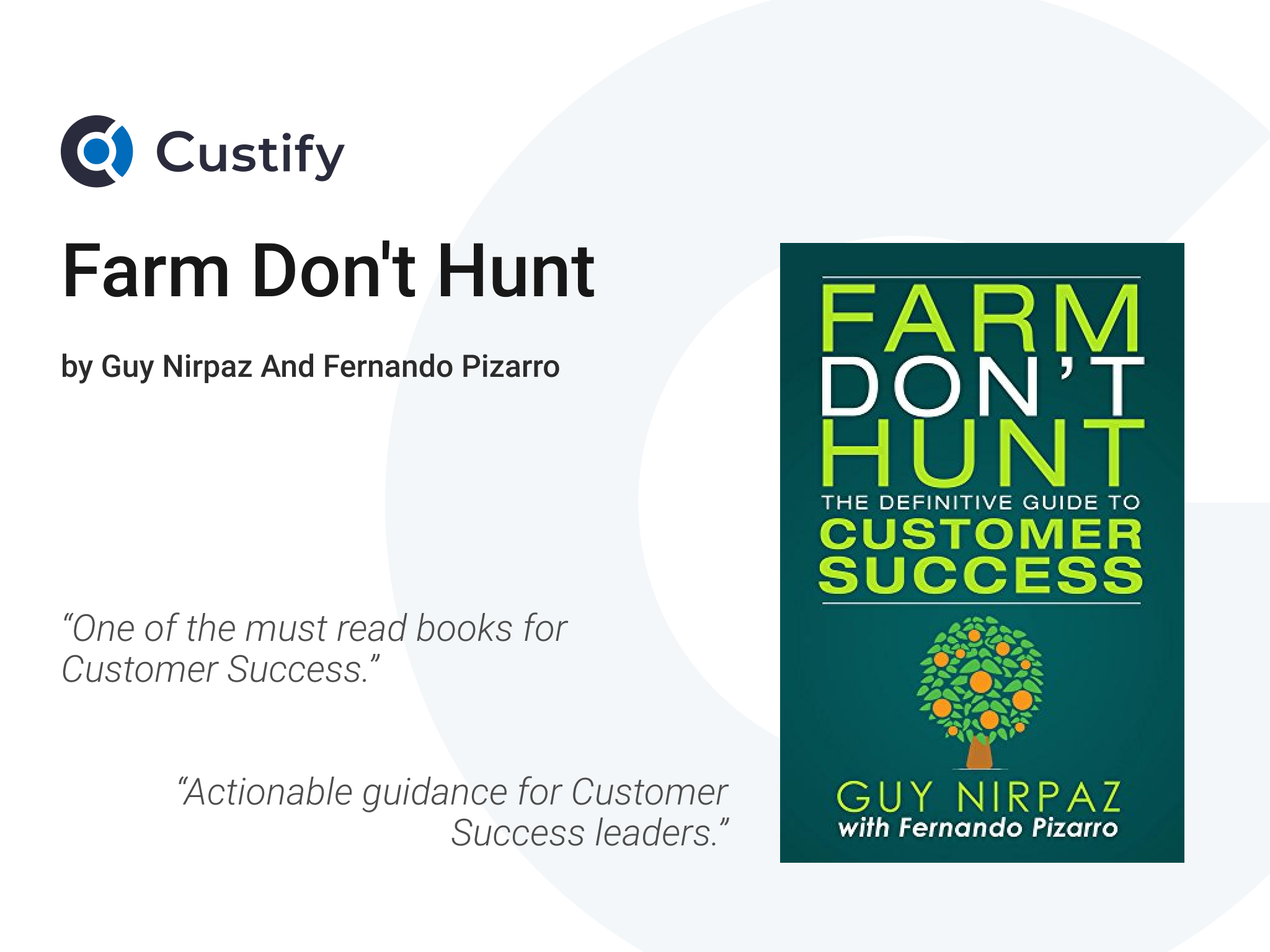 3. Farm Don't Hunt: The Definitive Guide to Customer Success, by Guy Nirpaz and Fernando Pizarro
Farm Don't Hunt is a guide that will show you how to take your business down the customer success route. Guy Nirpaz analyzes the theoretical aspects of customer success, and then provides practical advice to help you cultivate customer relationships and grow your business.
This quick read only covers the basics of customer success so don't expect to get in-depth knowledge on the topic. Also, when you go into it beware that the editing of the book is quite faulty.
Great for: beginner CSMs
Top Reviews:
"One of the must read books for Customer Success."
"Actionable guidance for Customer Success leaders."
"Have your whole team read it and watch your organization improve."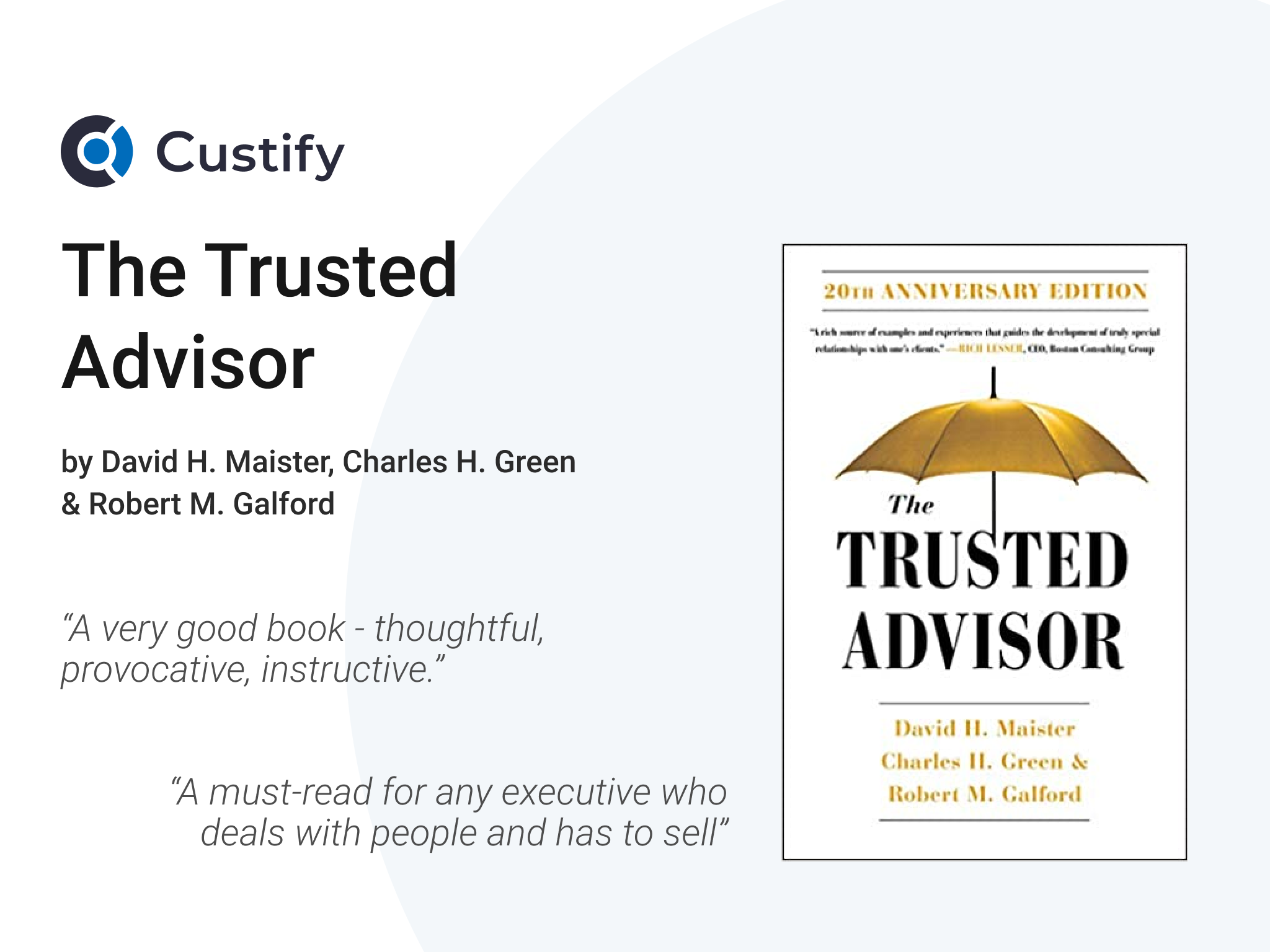 4. The Trusted Advisor, by David H. Maister, Charles H. Green & Robert M. Galford
The Trusted Advisor was first published in 2000 but is still relevant to this day and it will probably keep being so for many years to come. This book emphasizes trust and why it matters so much in relationships with customers. Building customers'' confidence in your business will improve your customer success and ultimately help you increase sales and grow your business.
The authors share anecdotes, experiences, and examples of dos and don'ts that will help you get better at advising, negotiating, and managing complex relationships with others.
Great for: beginner and mid-level CSMs
Top Reviews:
"A very good book – thoughtful, provocative, instructive."
"A must-read for any executive who deals with people and has to sell"
"A good book, that clearly and accurately describes how to master a difficult skill."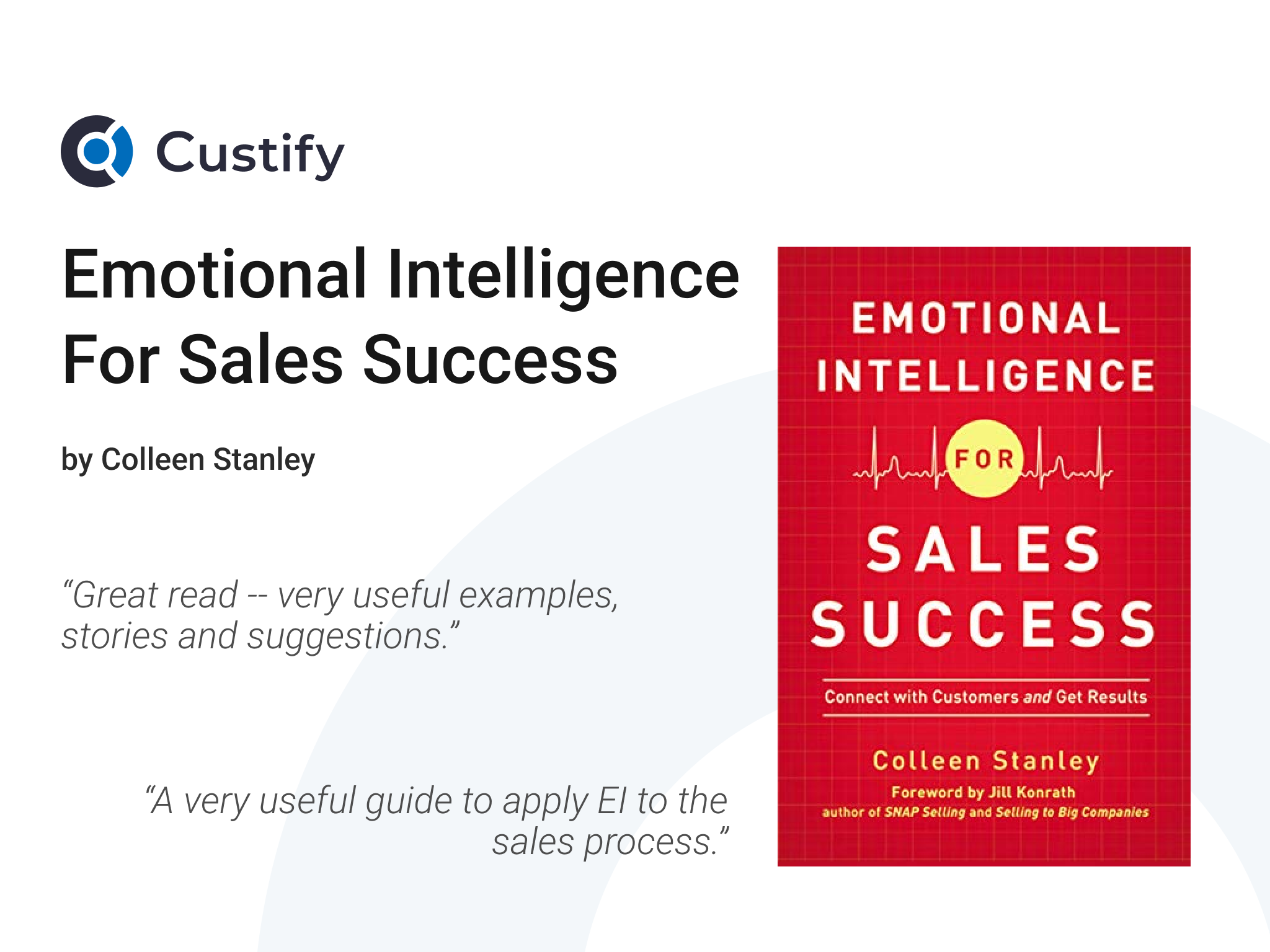 5. Emotional Intelligence for Sales Success: Connect with Customers and Get Results, by Colleen Stanley
Colleen Stanley's Emotional Intelligence for Sales Success places emotional intelligence at the center of the sales process. It offers valuable tips on how to train your skills and increase your emotional intelligence to solve problems and create meaningful relationships with customers.
You'll learn how to make your emotions work in your favor to build trust with customers, display empathy, and actively listen to them. Written as a collection of best practices for professional salespeople, this book is full of tips that work great for customer success.
Great for: beginner CSMs
Top Reviews:
"Great read — very useful examples, stories and suggestions."
"A very useful guide to apply EI to the sales process."
"Smart, fun, effective – restores dignity and gets results."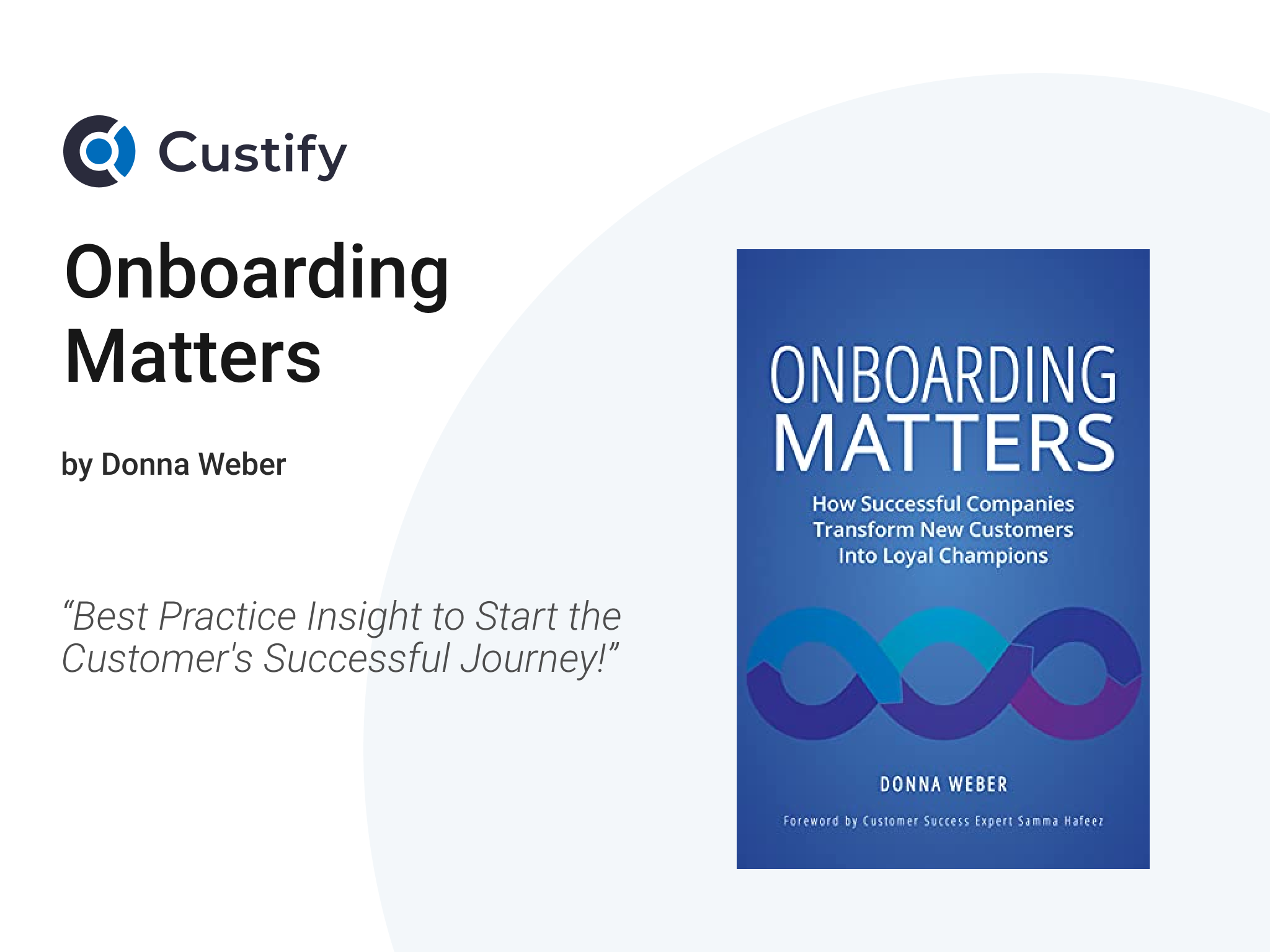 6. Onboarding Matters: How Successful Companies Transform New Customers Into Loyal Champions, by Donna Weber
This fresh off the press book focuses on onboarding, a decisive step in the customer journey. Depending on how you handle it, onboarding can be a great opportunity to build strong and successful relationships with new customers, but it can also be a wasted opportunity that leads to customer churn.
In Onboarding Matters, Donna Weber offers a detailed walkthrough of onboarding and what it entails. She also shares her Orchestrated Onboarding™ framework and provides a clear 6 step process of how to successfully onboard new clients.
Great for: beginner CSMs
Top Reviews:
"Outstanding guide to create your onboarding process."
"Best Practice Insight to Start the Customer's Successful Journey!"
"Inspiring read for onboarding customers AND employees!"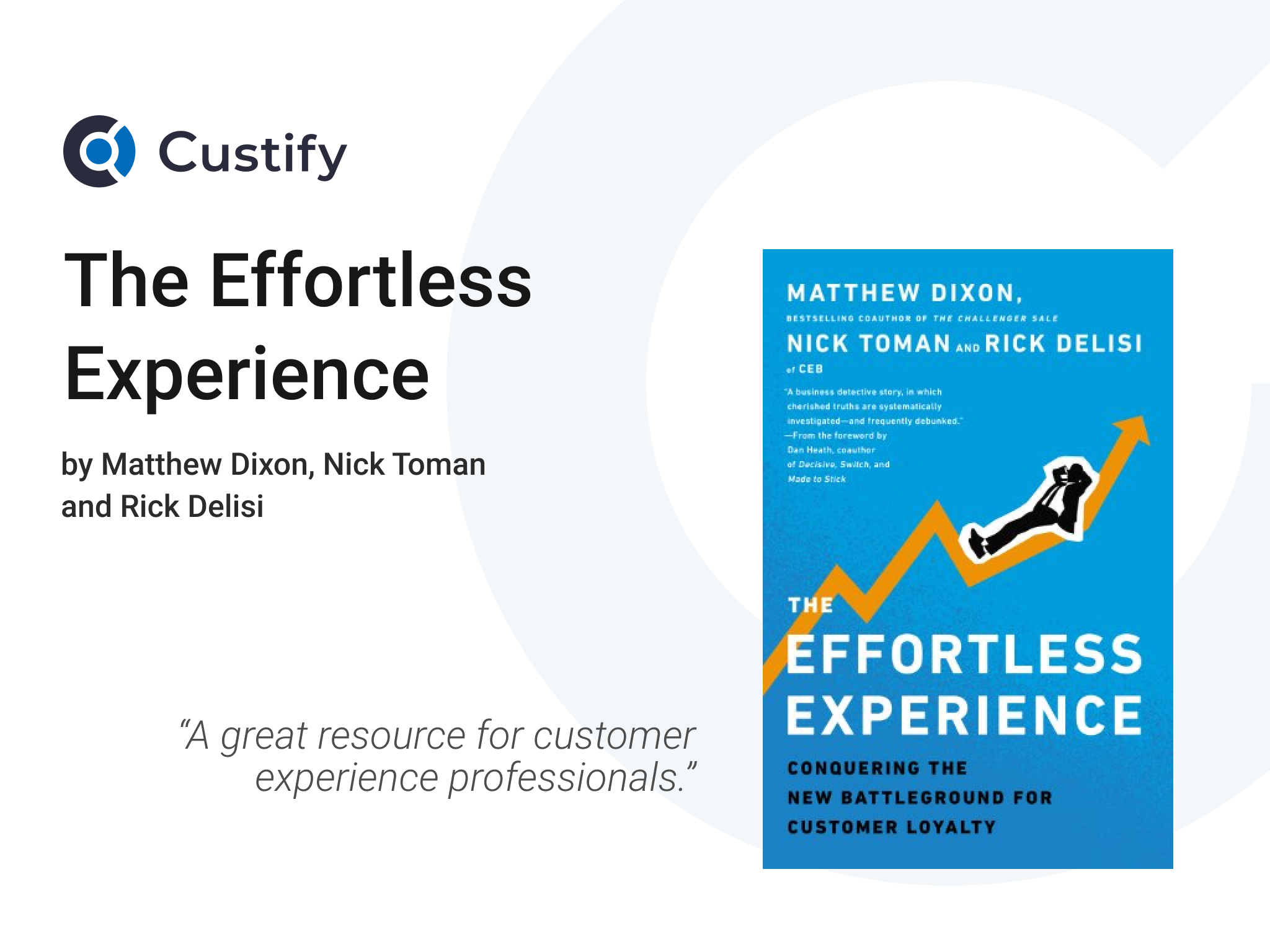 7. The Effortless Experience: Conquering the New Battleground for Customer Loyalty, by Matthew Dixon, Nick Toman, and Rick Delisi
The Effortless Experience builds on the idea that solving customers' problems by delivering on your company's basic promises is key to customer satisfaction. Thus it is more important to reduce customer effort than to try to impress customers with spectacular service.
The three authors back their premise with extensive research and offer hands-on advice to improve service and create an effortless experience for customers. Filled with implementable insights, tools, and templates, this book is a must-read for customer success professionals.
Great for: beginner and mid-level CSMs
Top Reviews:
"A must read, if you are serious about providing a great customer experience."
"A great resource for customer experience professionals."
"The Bible of modern customer service."
8. Chief Customer Officer 2.0: How to Build Your Customer-Driven Growth Engine, by Jeanne Bliss
Chief Customer Officer 2.0 is Jeanne Bliss's updated version of her previous book, Chief Customer Officer: Getting Past Lip Service to Passionate Action. The author puts on paper her 20+ years of experience as a Customer Leadership Executive for huge companies like Microsoft and turns it into actionable steps to increase customer satisfaction.
Although focused on Chief Customer Officers, this book offers great insights into customer service and customer experience so it is a great read for anyone working with customers.
Great for: beginner and mid-level CSMs
Top Reviews:
"The most practical book on cultivating customer-driven growth. All the goods, none of the fluff."
"Full of hard-won wisdom. Must read for those in this rapidly growing field!"
"This is the Handbook for Changing the Customer Experience Landscape."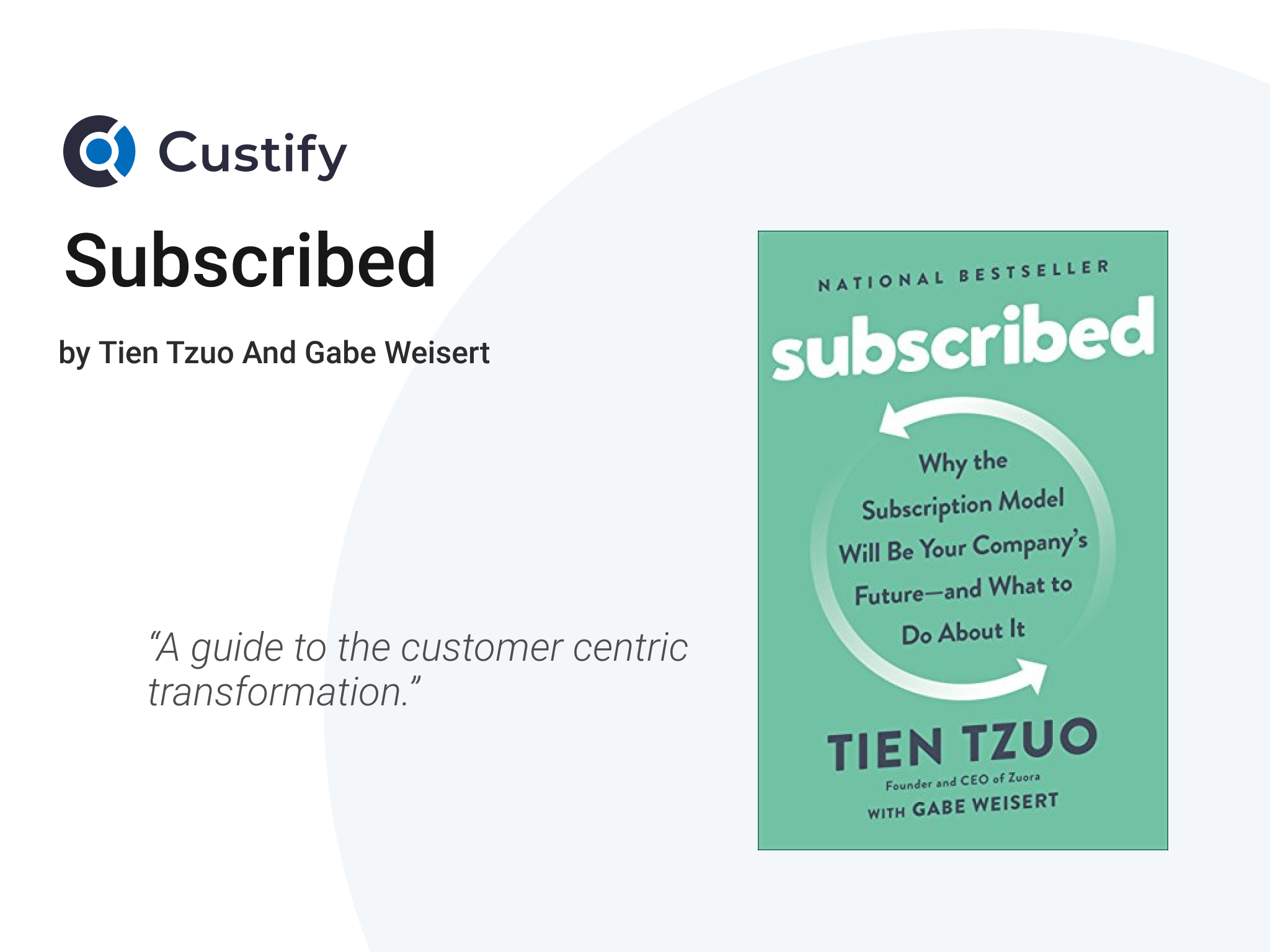 9. Subscribed: Why the Subscription Model Will Be Your Company's Future – and What to Do About It, by Tien Tzuo and Gabe Weisert
The authors of Subscribed state subscription economy is the future and give you a step-by-step guide to rebuilding your business around this customer-centric model. They analyze shifts in the market, and conclude focusing on customer needs rather than products is more likely to grow recurring revenue.
The first part of the book reads like a magazine that focuses on how companies like Netflix, Adobe, and Apple use the subscription model as a main or partial business strategy. Once you get past this part, you discover valuable insights on how subscriptions can help you build fruitful, long-term relationships with your customers.
Great for: beginner CSMs
Top Reviews:
"A Must-Have for anyone with a subscription business or thinking about one."
"A guide to the customer centric transformation."
"Must read for SaaS companies."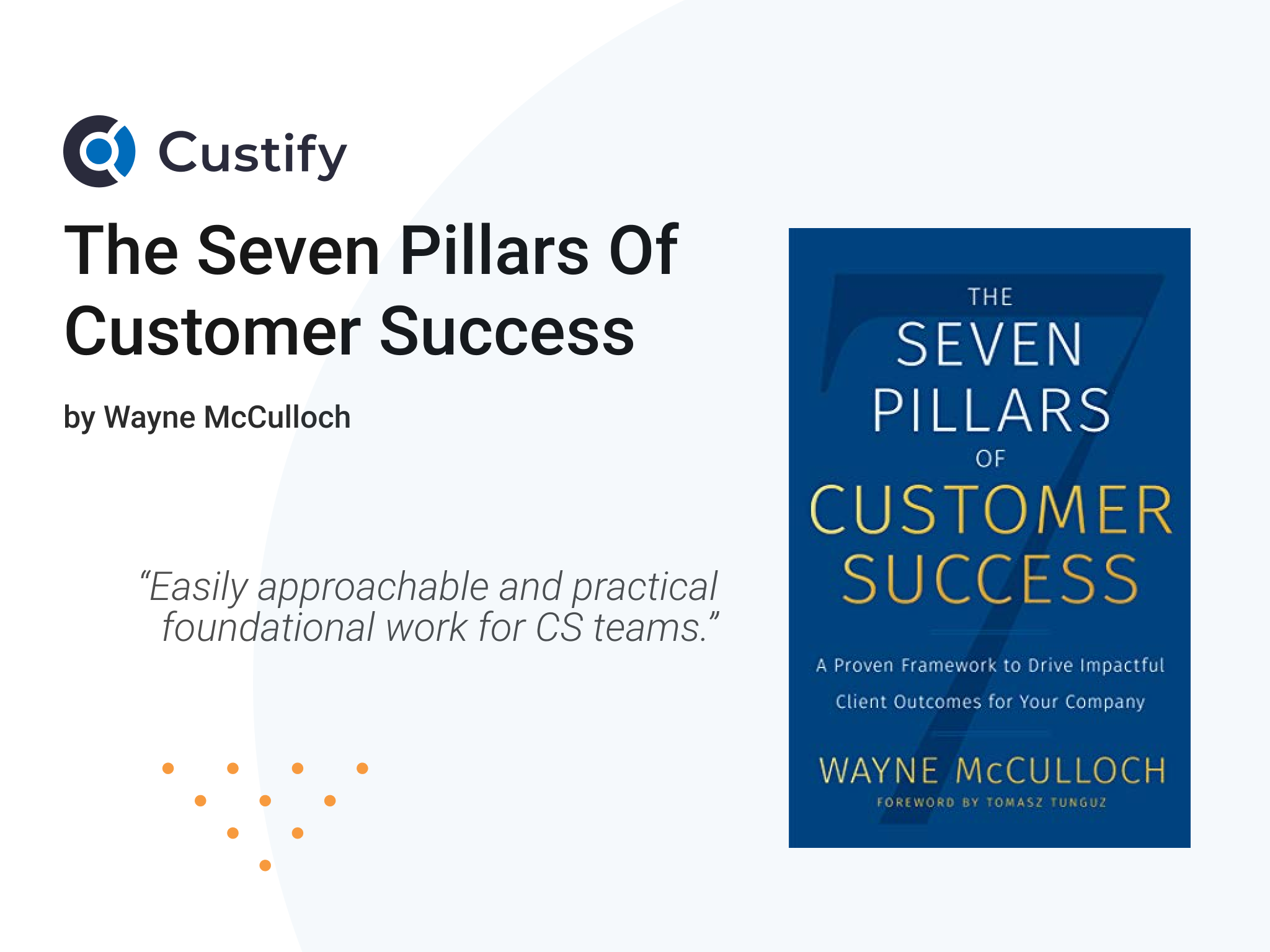 10. The Seven Pillars of Customer Success: A Proven Framework to Drive Impactful Client Outcomes for Your Company by Wayne McCulloch
The Seven Pillars of Customer Success introduces the basic principles of customer success and then provides a practical framework to build a strong customer success organization. This is backed up by case studies of companies that have implemented this framework and obtained great results.
Wayne McCulloch's 25+ years of experience label him as a knowledgeable voice in the customer success space. His perspective will help you see customer success through a sharper lens and his advice will shape your strategy and grow your company.
Great for: beginner CSMs
Top Reviews:
"An Excellent Book For Both CS Leaders and Front-Line CS Professionals."
"Easily approachable and practical foundational work for CS teams."
"You will refer back to this book time and time again!"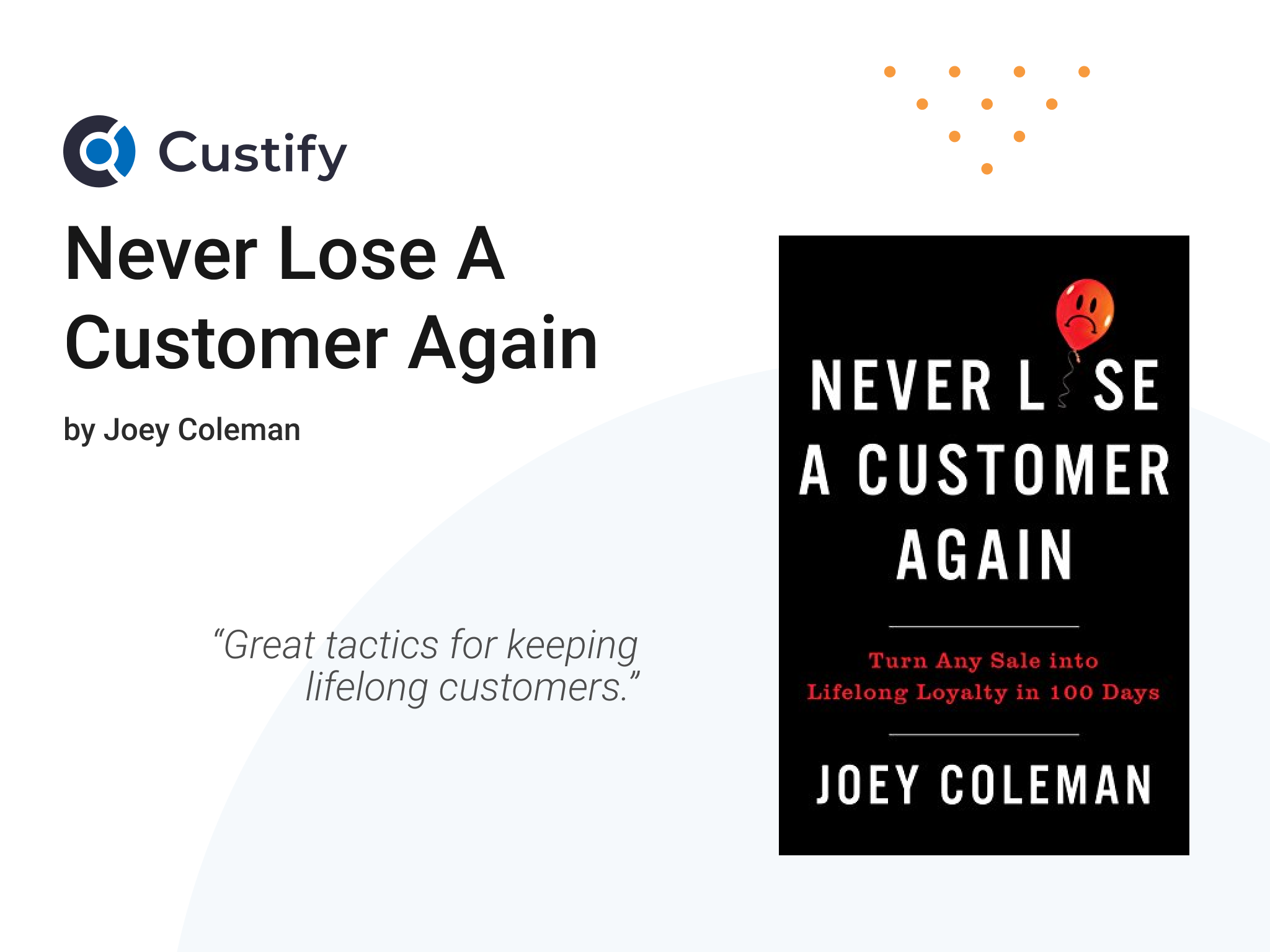 11. Never Lose a Customer Again: Turn Any Sale into Lifelong Loyalty in 100 Days by Joey Coleman
Somewhere between 20% and 70% of newly acquired customers from all industries drop a company's service within the first 100 days after purchase. This mainly happens because of poor onboarding processes that make customers feel neglected.
Joey Coleman's approach to customer retention is about focusing on the First 100 Days® after the sale and the interactions and customer experiences in this time span. He identifies eight distinct emotional phases customers go through and helps you understand and anticipate customers' emotions. Coleman also provides effective strategies and systems to increase customer loyalty.
Great for: mid-level and experienced CSMs
Top Reviews:
"Great tactics for keeping lifelong customers."
"Pay attention to the brilliant advice and process in this incredible book."
"A fresh look at what it takes to wow your customers."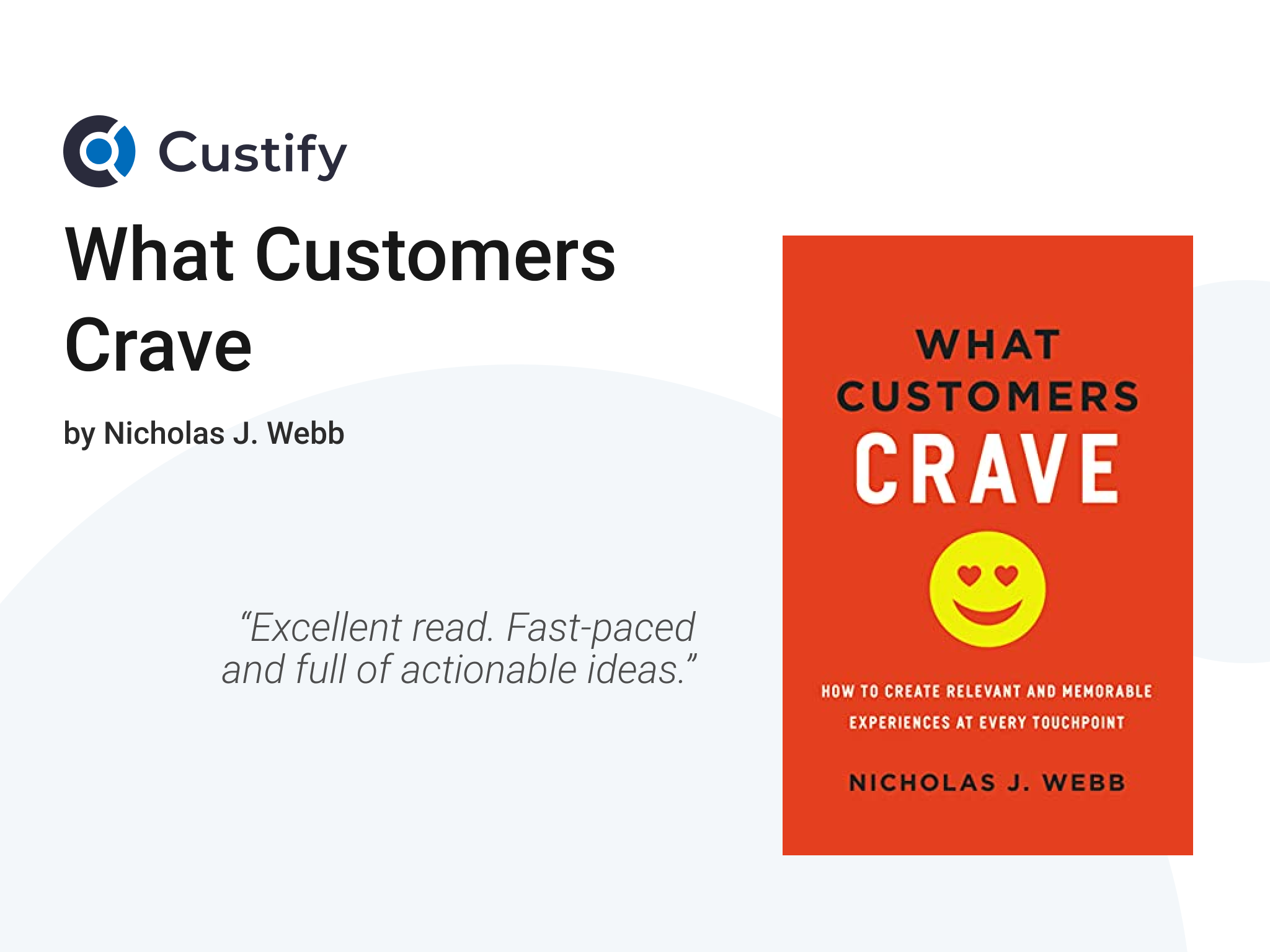 12. What Customers Crave: How to Create Relevant and Memorable Experiences at Every Touchpoint by Nicholas J. Webb
Business strategist Nicholas Webb will help you gain insight into who your customers are and what they care about. He challenges you to start by answering two simple questions: What do your customers love? What do they hate? The author then proceeds to equip you with tools and provide valuable examples that will change the way you engage with your customers.
After reading What Customers Crave you'll be able to discover what your customers desire and deliver it, cementing the relationships and securing them as long-life customers.
Great for: beginner and mid-level CSMs
Top Reviews:
"Excellent read. Fast-paced and full of actionable ideas."
"Must read for anyone who wants to improve customer experience."
"A fresh and original approach to understanding customers and what makes them happy."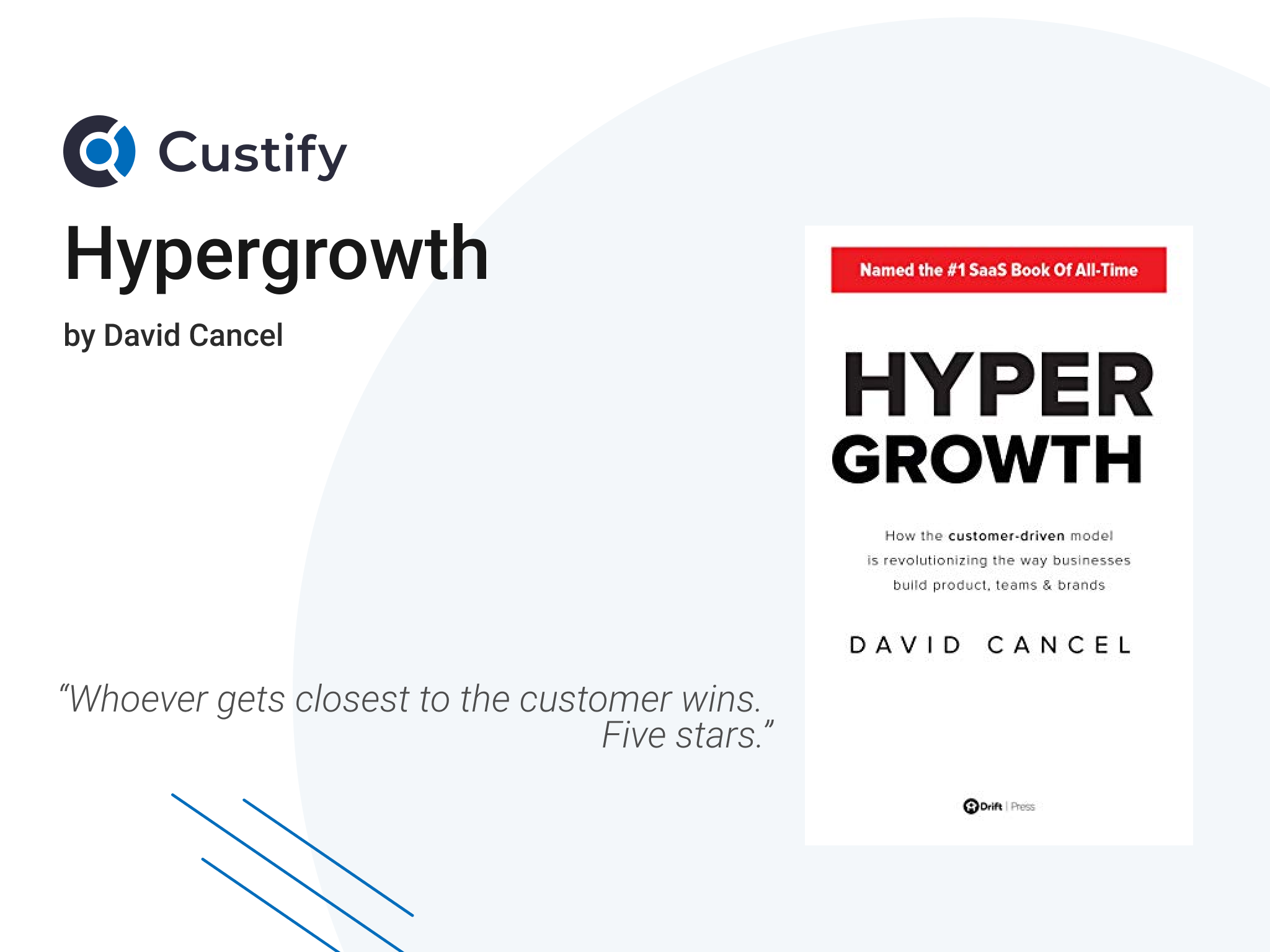 13. Hypergrowth: How the Customer-Driven Model is Revolutionizing the Way Businesses Build Products, Teams, & Brands, by David Cancel
David Cancel's book is based on a very simple premise: you can achieve hypergrowth by being customer-driven. The author draws from his experience as Co-Founder of Drift and CPO at Hubspot, among others, and shares a new approach to product management and developing SaaS products that customers love.
Far from offering abstract information, "Hypergrowth" comes with practical advice that you can use to grow your business by being customer-centric. Although it offers great insights, they are not explored in depth because the book is only 80 pages long.
Great for: mid-level and experienced CSMs
Top Reviews:
"Amazing book for product and engineering. Equally valuable for marketing and sales."
"Great learning on how to be customer driven."
"Whoever gets closest to the customer wins. Five stars."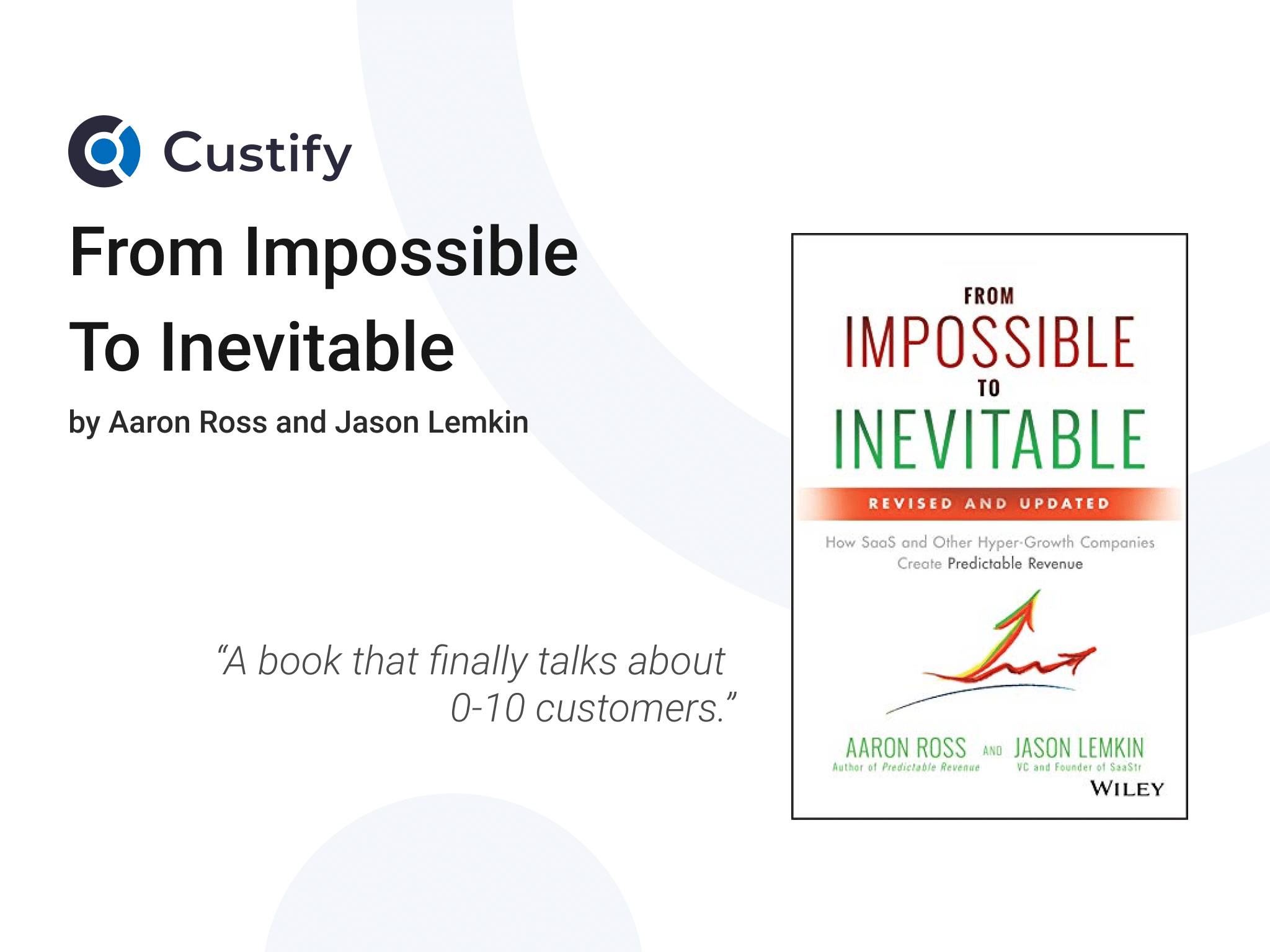 14. From Impossible To Inevitable: How Hyper-Growth Companies Create Predictable Revenue by Aaron Ross and Jason Lemkin
From Impossible to Inevitable is a complete guide for SaaS businesses that tackles customer success, sales, metrics, growth strategies, and even recruiting tips. No matter the size of your business, this book will give you actionable steps for how to exponentially grow your revenue.
The two authors will guide you through identifying the reason why you're struggling with progress, understanding how to get to hypergrowth and why customer success is essential to increasing revenue. The book also includes case studies of real companies' hypergrowth, including Hubspot and Adobe's EchoSign.
Great for: mid-level and experienced CSMs
Top Reviews:
"Great book about sales and growth for SaaS companies."
"Packed with useful insights."
"A book that finally talks about 0-10 customers."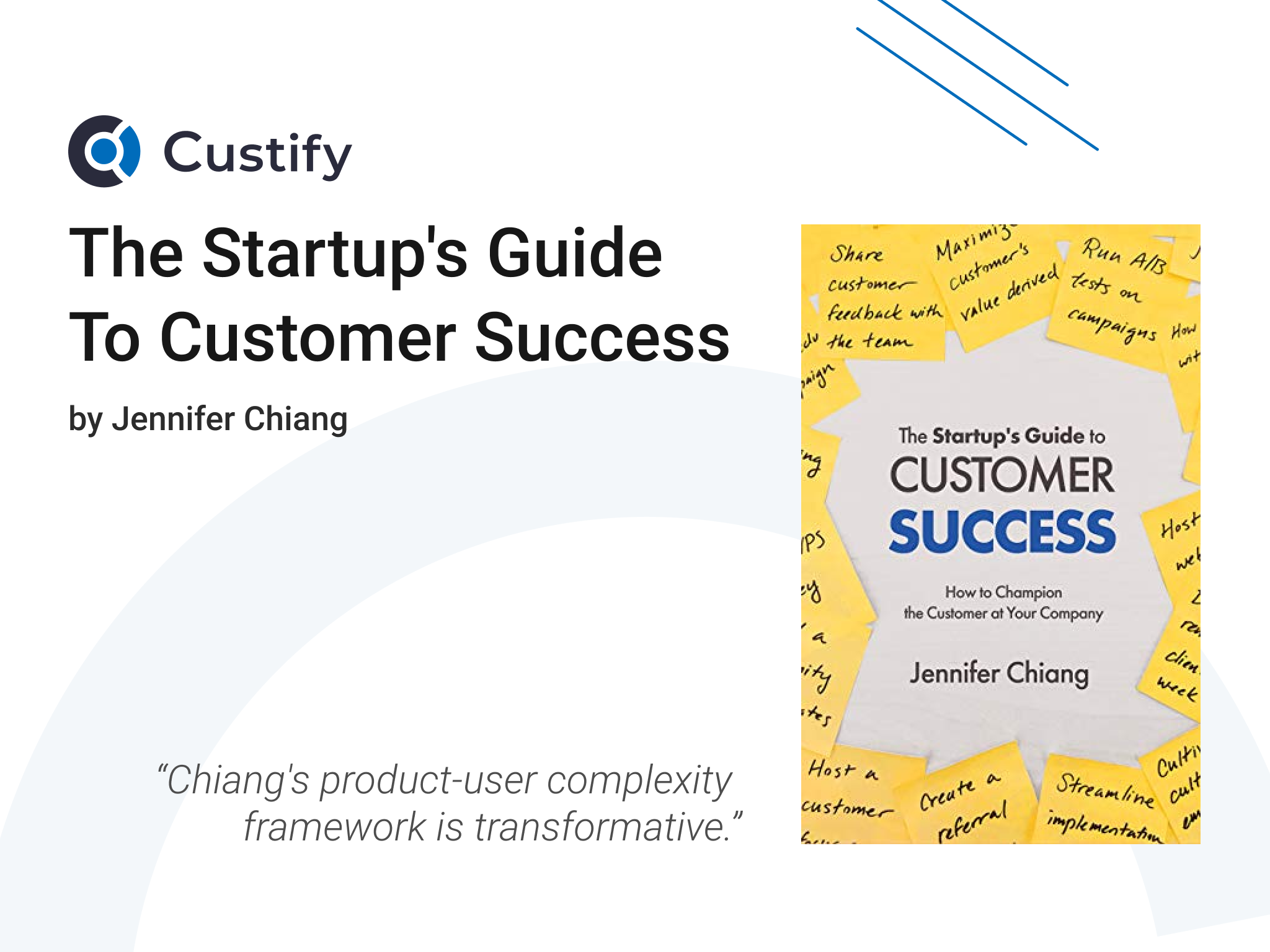 15. The Startup's Guide to Customer Success: How to Champion the Customer at Your Company by Jennifer Chiang
Jennifer Chiang's guide is the perfect read for companies that want to grow a customer success team. She highlights that having a customer success team brings many benefits, like helping streamline experiences, growing product engagement, increasing customer loyalty, and ultimately retaining business.
This book takes you through all stages of forming a customer success department, from planning to executing and growing your team. It is a great and easy read for those who are looking to become familiar with customer success.
Great for: beginner and mid-level CSMs
Top Reviews:
"Important read for those seeking better customer-centricity."
"Chiang's product-user complexity framework is transformative."
"Great for those who are new to CS."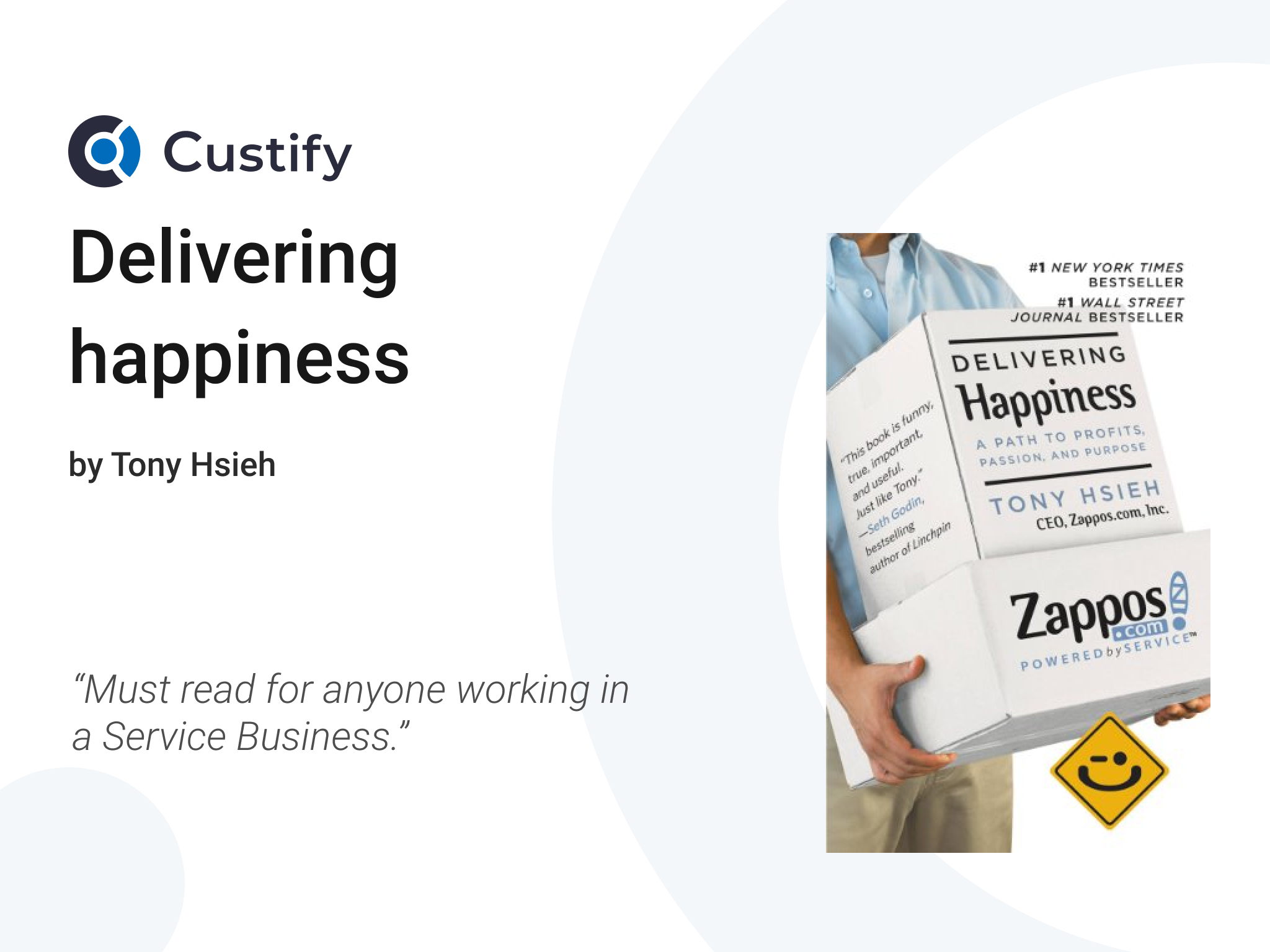 16. Delivering Happiness: A Path to Profits, Passion, and Purpose by Tony Hsieh
In Delivering Happiness Zappos CEO Tony Hsieh explains how he used happiness to create a very different and successful culture at Zappos. He built a framework around the idea that by concentrating on the happiness of those around you, you can dramatically increase your own.
Hsieh believed that happy and satisfied customers will recommend your service and bring more customers and recurring revenue. He was an advocate for good customer service and believes that in order to achieve success, customer service should be a company policy.
Great for: beginner CSMs
Top Reviews:
"More than a business book. It's a book on understanding and delivering and then achieving happiness."
"Good tips for building and maintaining a positive culture."
"Must Read for anyone working in a Service Business."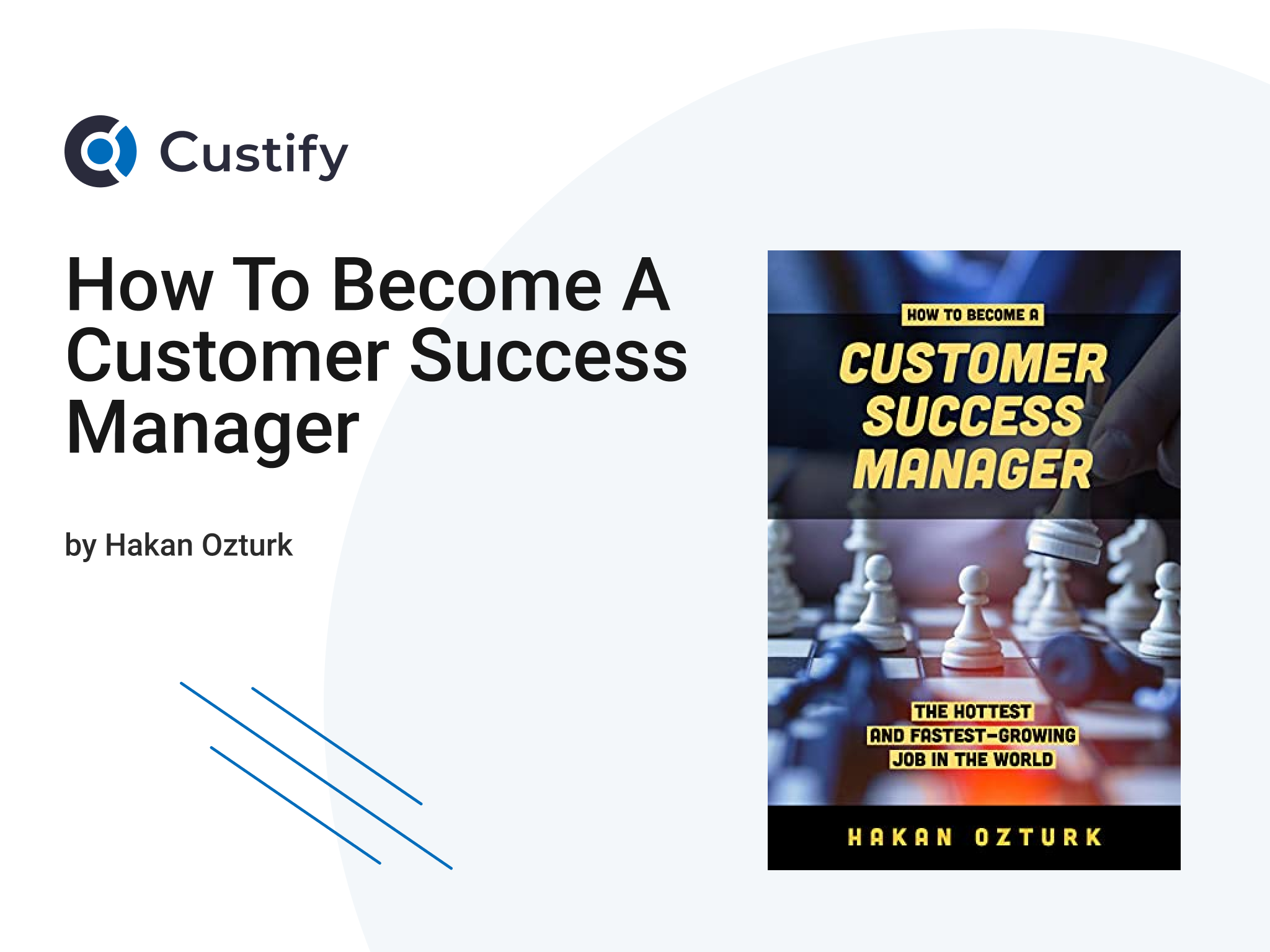 17. How to Become a Customer Success Manager: The Hottest and Fastest-Growing Job in the World by Hakan Ozturk
As Customer Success Manager is a relatively new role (but rapidly growing!), Hakan's newest book is perfect for those who want to learn the skills of a great CSM.
A few things you can expect to find in this book: specific challenges and pain points, metrics of success, some predictions about the future of the Customer Success job role, as well as many resources such as podcasts, blogs, and online communities to help you get started.
Great for: beginner CSMs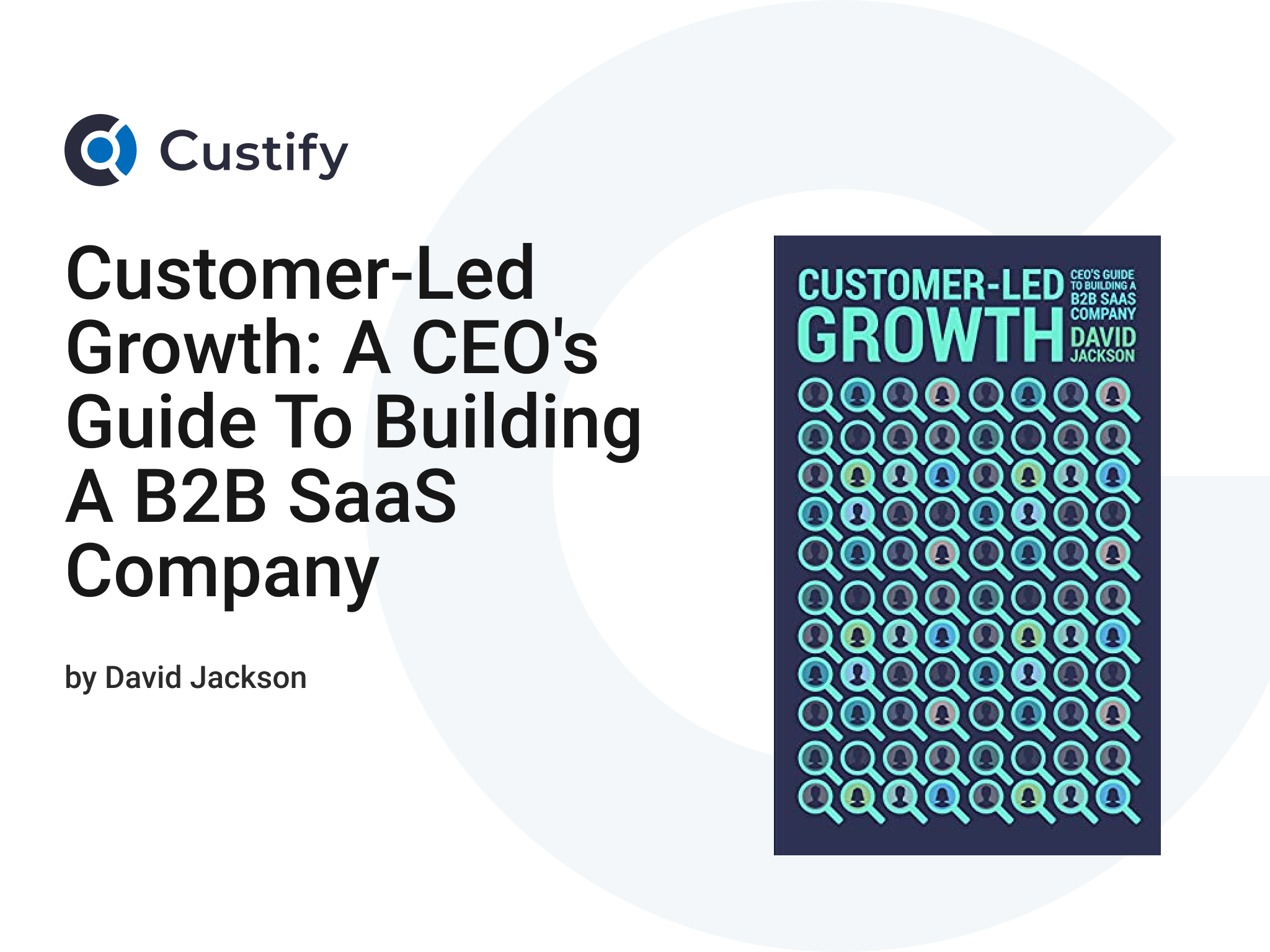 18. Customer-Led Growth: A CEO's guide to building a B2B SaaS company by David Jackson
In his newest book, David shares his first hand experience and highlights the seven principles on which a true company-wide approach to customer focus is built. He gets his hands dirty and challenges the status quo, questioning many B2B SaaS concepts and encouraging business leaders to think differently about customer centricity
This book is practical and provides a comprehensive overview of what it takes to build a customer-first company and how to scale sustainably.
Great for: beginner and mid-level CSMs
We've written this guide with B2B SaaS businesses in mind, but, truthfully, any business can benefit from applying the tactics we suggest. All in all, we present a strategy for improving relationships with customers and growing your business.
More specifically, in this guide, we teach you which metrics you should track, why you need both a Global Health Score and Individual ones, how to measure and calculate them, along with many examples in action.
Great for: beginner and mid-level CSMs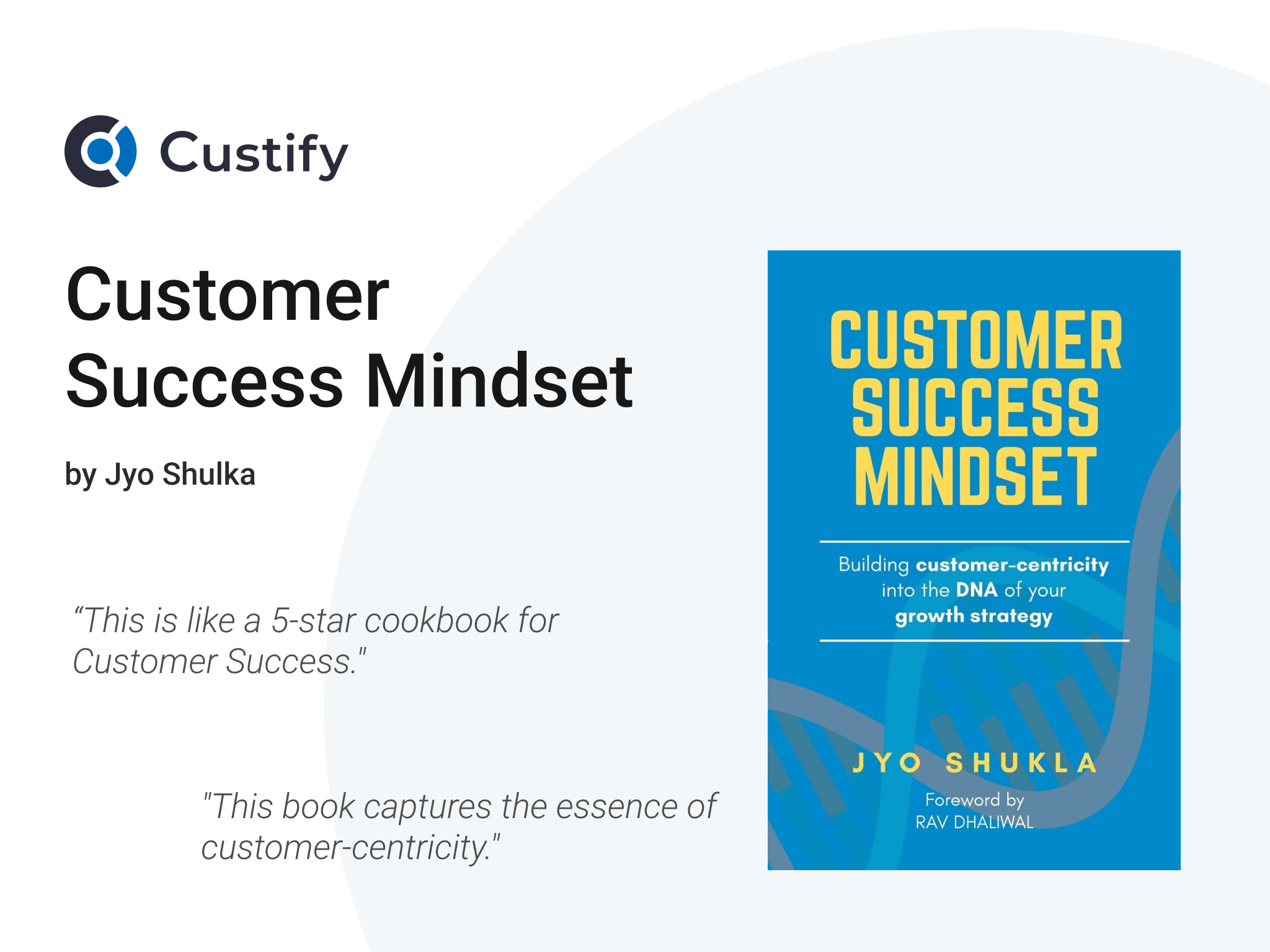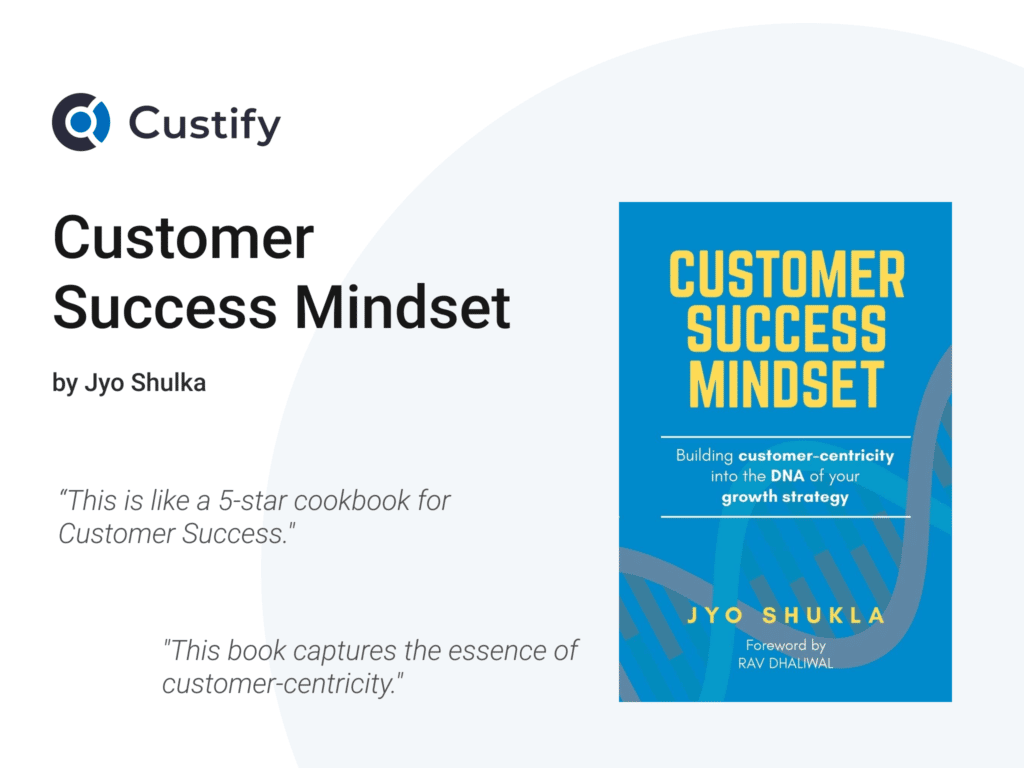 20. Customer Success Mindset: Building Customer-Centricity into the DNA of your Growth Strategy
Customer Success Mindset is a great, easy-to-follow book that can be read by all CS professionals. This book helps you understand why customer success needs to be a mindset and not just a department in your business. Jyo Shukla's book challenges professionals and offers them a new perspective: Customer success is everybody's business.
"Customer Success Mindset is a strategic guide for CSMs, CS leaders, and business leaders to adopt a company-wide customer-first mindset to fuel their growth.
Being a truly customer-centric organization goes beyond just having a customer success function, and this book offers a step-by-step framework to design, execute, and leverage the power of customer success to enhance your profitability and reputation." – Jyo Shukla
Great for: all CS professionals
Top reviews: 
"A must-read for folks – regardless if you are in customer success or not – who want to supercharge their growth strategies!"
"It is a wonderful guide of information for everyone from the entry-level CSM to the experienced Chief Customer Officer."
Read Up, Stay Up to Date on the Latest Tactics
As you see there are many reads to take your pick from. If you're in search of a must-read, manual-type customer success book, we recommend Customer Success: How Innovative Companies Are Reducing Churn and Growing Recurring Revenue or The Seven Pillars of Customer Success: A Proven Framework to Drive Impactful Client Outcomes for Your Company.
But if you, like any other customer success manager, are preoccupied with reducing churn and growing revenue, you should definitely pick up Custify's The Big Book of Churn.