About the Customer Success Strategy Guide
We've put together this guide to help businesses outline their first customer success strategy. By following these recommendations, you'll be able to boost retention rates, increase revenue by identifying upsell and cross-sell opportunities, and overall improve your relationships with your customers.
Here's what you'll find in this guide:
Customer success roles & responsibilities
How to identify touch points and map out the Customer Journey
How to create your first customer success strategy

How and when to segment your customer base
Onboarding optimization
Fighting Churn 101
How to deal with upsells and renewals
When to automate customer success

The challenge in building a customer success strategy – exclusive interview with Mikael Blaisdell, CS Analyst, Advisor & Executive Director of The Customer Success Association
How to measure customer success and determine its ROI
Customer success metrics & internal KPIs – exclusive interview with Jennifer Chiang, Head of Customer Success at Seso.
Is this guide for you?
Customer success is a must for B2B SaaS businesses, but any business can benefit from applying the tactics described in this guide.
Overall, this is a recipe for fostering client relationships and growing your business.
If you want to skip the introductory sections, you can jump straight to the CS strategy subchapter, or download the entire guide by clicking the banner above.
What Is Customer Success?
Customer success was initially introduced with the rise of the subscription-based business model. Since then, however, thanks to its transformative nature, it has successfully been implemented by companies that sell one-off products and services and non-tech companies as well. It's now one of the biggest buzzwords in B2B, and it's only getting more popular.
That's because customer success is not just a business function – it's the way you should conduct business. The philosophy is simple: your success depends on your customers' success.
While success looks different for every business, at the end of the day, customer success is an advanced form of client management whose main goal is to align client and vendor objectives in order to achieve improved results and revenue for both sides.
"Beyond helping your clients meet their goals, customer success should be directly tied to increasing the profitability of the company. Otherwise, you will inevitably find senior management teams deciding that they can improve retention by optimizing the knowledgebase or user interface – thereby saving money. This has happened so many times over the years, with the result that the entire CS group gets wiped out."
– Mikael Blaisdell – Analyst. Advisor. Executive Director – The Customer Success Association
Why Do You Need Customer Success?
In the past, companies would sell a product and make a profit. They didn't really have a relationship with the customer unless they came back for help. Nowadays, however, instead of selling one-off products and services, many companies offer subscriptions.
Although the subscription business model is a powerful tool for growth when executed right, it also comes with its own challenges, the biggest one being that businesses now need to provide continuous value. This is where customer success comes in – it helps subscription-based businesses create relationships with their customers that ultimately lead to customer stickiness.
Beyond the financial factor, however, by using customer success tactics and tools, businesses can also gather insights on how customers are using their products, so they can improve them (this applies to SaaS companies in particular).
In the past, if someone bought accounting software, for example, you wouldn't know if they're actually using it, when they're using it, how they're using it, whether they're happy or, on the contrary, replaced your software for a competitor's.
Another thing to keep in mind is that, compared to when Customer Success first emerged as a business function, today it's introduced earlier in the relationship with a customer. For example, back in the day, the CS department was usually introduced at the same time as the Support department. Over time, however, it started creeping in earlier and earlier:
at the beginning of training
at the beginning of the onboarding
when the contract was signed
before the contract was signed.
The ideal scenario is the one where CS is involved from even before the contract is signed, leveraging their knowledge during the sales process. That's because the more complex a product is, the more you need the handover between departments to go as smoothly as possible. In fact, by following this scenario, there's not even a handover per se anymore.
Ultimately, you need to realize that customer success is an investment. Everyone has a Customer Acquisition Cost – most companies define it in the beginning, and they never look at it again. But have you ever thought about the fact that you also have a Customer Retention Cost? What are you willing to do, and how much are you willing to spend to defend your revenue stream?
CS is not just another small piece of the puzzle; it's actually a large one and, if you want to do it right, you have to recode your company's DNA for this.
What Customer Success Is Not?
In my experience, I see many SaaS businesses confuse customer success for something else or not having a comprehensive image of everything it entitles. So here's what customer success is not:
Customer success is not a department
Customer success is not churn reduction
Customer success is not 'checking in' with customers
Customer success is not hand-holding
Customer success is not product usage
Customer success is not Customer Happiness
Customer success is not a magic tool.
In the ebook, I go in-depth into what customer success is and isn't, so if you want to find out more, make sure to check out the guide.
Customer Success Strategy Examples
If implemented correctly, here's what you can expect to happen if you put your customer success strategy into action (these are just 2 examples on onboarding and automation from our customers, but you can find more examples of how other companies solved retention, scaling, and outreach problems in the ebook:
a. You Can Improve Your Onboarding Process
A high-level B2B social media SaaS company faced some urgent challenges:
Their onboarding process was inefficient – the team didn't always have a clear understanding of their most important leads (trial users), so the lack of insights meant they couldn't optimize trial conversions.
They had a limited ability to segment customers by product interactions, lifecycle, or product satisfaction; every client was treated the same, regardless of their contract value or other characteristics.
CSMs were spending too much time chasing clients or fielding replies, which meant the team was reactive rather than proactive.
Account reporting was hard and time-consuming and wasn't being done on a regular basis, which meant Management couldn't see the value of customer success and was debating whether they should drop it.
After analyzing their case, we worked with them to adapt a customer success strategy focused on automation and customer data unification. This is what happened:
Customer visibility increased – by identifying KPIs and customer health metrics, the team was able to map out customers' onboarding journeys and identify at-risk accounts.
The team was able to segment customers by lifecycle stage, based on set KPIs, which meant they could identify which customers needed help and which accounts they needed to prioritize.
Manual, repetitive actions and communication were automated, which freed up a lot of time for CSMs to focus on other, more important tasks (like higher-level interactions that required human touch).
Final result: after 7 months of using Custify and implementing a new CS strategy, trial user conversion increased by 28%, customer messaging grew by 300%, and the team increased the number of accounts managed by 150% without hiring additional staff members.
b. You Can Solve Growth-Related Challenges
Another marketing and social media SaaS company was facing growth-related challenges, such as:
Limited ability to segment customers based on their onboarding stage, product usage, and adoption.
Lack of clear visibility over the onboarding process: who is stuck, who needs help, who isn't able to fully experience the product value.
Slowed down processes because everything was handled manually, which was frustrating to both their clients and the team.
There was no way to track client success through each step of the onboarding process.
After working together to set a new strategy focused on onboarding optimization and lifecycle tracking, this is what happened:
They automated many of the manual, repetitive daily tasks
By properly segmenting customers, they've improved their communication strategy to better address client needs and could then easily focus on customers who were at risk of churn, who have failed to properly adopt their solution, or on clients who were ready to upgrade to a higher tier.
They've improved user adoption – they were able to better understand which channels clients are coming from, what features they were using within the Growth Engine platform, and how well they were engaging with each product feature.
They have streamlined their onboarding and lifecycle visibility.
Final result: months after following this new strategy, they were able to increase the number of clients (from 30 to 100) with each rep being able to assist more clients (so they didn't need to hire more CSMs), proactive outreach was increased though automation, which freed up time for the team to focus on the things that mattered most to their clients, and client communication was more relevant and efficient due to the refinements in targeting.
"There are many reasons for a company to design and build a customer success group, but whatever the initial motivation, the challenge is to integrate the customer success role into the overall corporate strategy as regards to both product definition and profit generation.

Unfortunately, the typical procedure that most companies take is to advertise for a customer success executive to be brought on to do the whole job of designing and building the new CS group, an approach that has a very high failure rate"
– Mikael Blaisdell, CS Analyst, Advisor & Executive Director of The Customer Success Association
Find out more about why Mikael Blaisdell thinks this approach is doomed, as well as the most appropriate and effective procedure for building your customer success organization from the ground up in our customer success strategy guide.
Customer Success Roles and Responsibilities
In my experience, I see many businesses struggling with determining the exact responsibilities of different departments. So here is a side-by-side comparison: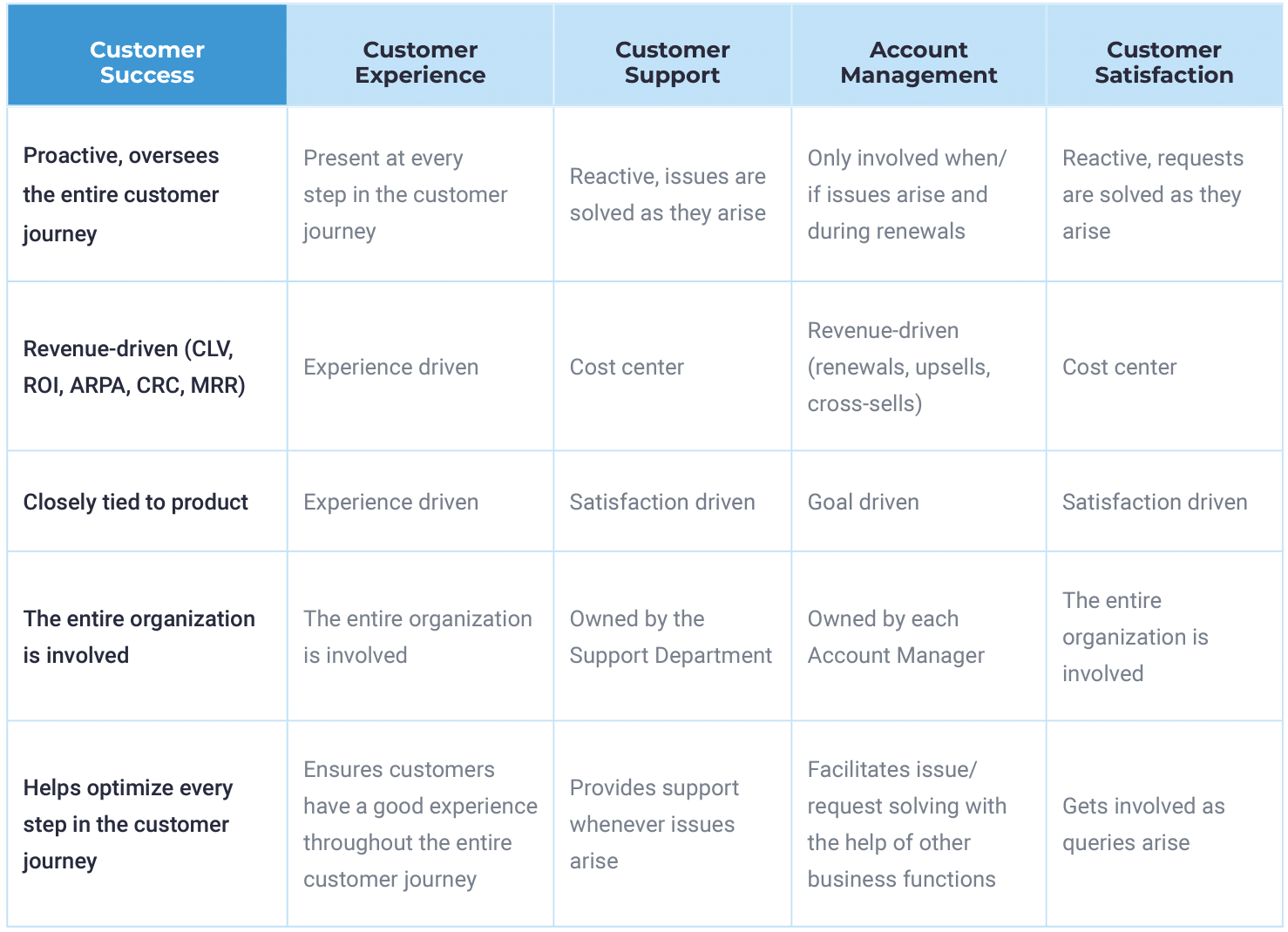 In the ebook, I go in-depth into discussing each department and their differences and similarities with customer success, as these can be very confusing and can lead to many disputes across departments if roles and responsibilities are not clear.
Customer Success Journey & Lifecycle
Identifying and Optimizing Customer Touch Points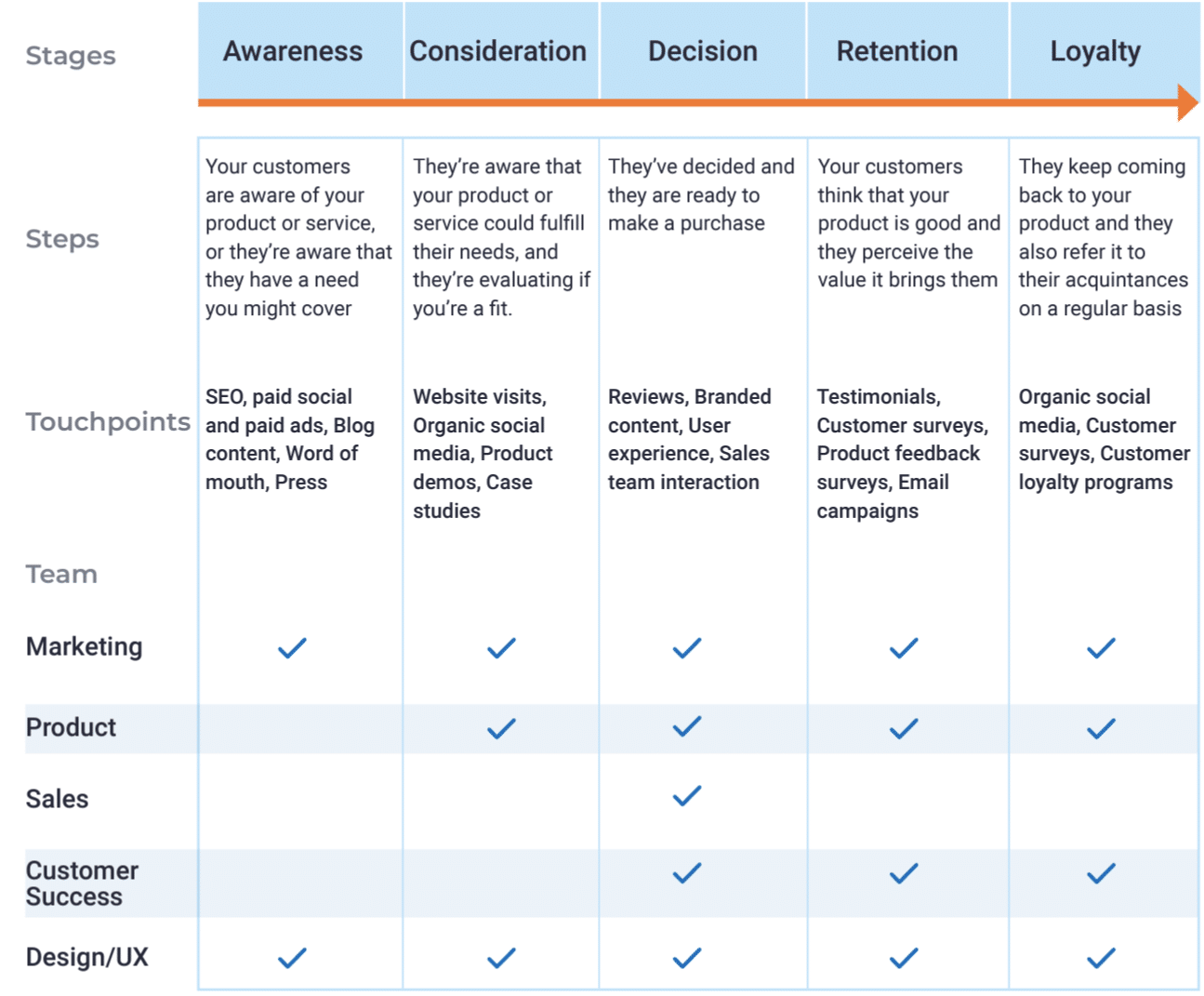 Any moment of contact with your customer is a touch point. These interactions have a significant impact on customers' experience and brand perception, so you need to pay special attention to each customer touch point that you set up.
Touch point mapping is the perfect tool that can help you visualize and understand your customer journeys and what drives your customers toward loyalty or defection. A good interaction keeps them happy and satisfied, while a poor interaction could lead them to stop doing business with you.
One of the best ways to identify your customer touch points is by tracking Lifecycle and Customer Journey phases in your CRM or customer success software. Not only will this help you pinpoint critical stages with precision, but it will also help you see which of those touch points frequently turn into friction points or churn reasons. Needless to say, you should always know the stage each customer is at on their journey.
For each step in the Customer Journey, there are different touch points opportunities:
Awareness Stage: SEO, paid social and paid ads, blog content, word of mouth, press
Consideration Stage: website visits, organic social media and community management, product demos, case studies, onboarding
Decision Stage: reviews, catalogs, tutorials, branded content, user experience, success stories, sales team interaction
Retention Stage: product value, success stories, testimonials, thank you letters, customer surveys, product feedback surveys, customer support interaction, email campaigns, upselling/cross-selling emails, billing actions
Loyalty Stage: customer success interactions, organic social media and community management, customer surveys, product feedback surveys, thank you letters, subscription renewals, webinars, success stories, email campaigns, customer loyalty programs.
Optimizing each and every touch point in the Customer Journey brings you closer and closer to the peaks of customer success. For example, if you have a complex product and you know your customers will have many questions during onboarding, you can optimize the onboarding process by implementing several different methods customers can get in touch with you (such as live chat, phone call, WhatsApp, booking a meeting, or others).
You can learn more about how to identify and optimize customer touch points in our dedicated article.
Mapping the Customer Journey
Together, all customer touch points form the Customer Journey. Keep in mind that customers can take multiple different journeys with a brand; there's no such thing as a single linear journey that every customer will take. However, understanding every different journey is key to improving each.
Customer journey mapping provides you with an overview of all the ways in which a customer might interact with your brand, covering how they:
research your product
buy it
use it
seek support
express their satisfaction or, on the contrary (and all the more important!), their dissatisfaction
recommend your product and more.
By gathering data at every touch point, you can better understand how each contributes to your customers' overall experience with your product. If you can pinpoint specific pain points along the customer journey, you can then improve the touch points that matter most and ultimately improve win rates, sales, and the Customer Lifetime Value.
Because it's impossible to have a single customer lifecycle model that applies to every single business, experts have settled on a handful of basic phases that apply to the majority of companies:
reach
acquisition
conversion
retention
and loyalty.
Take your customer touch points and turn them into a comprehensive Customer Journey.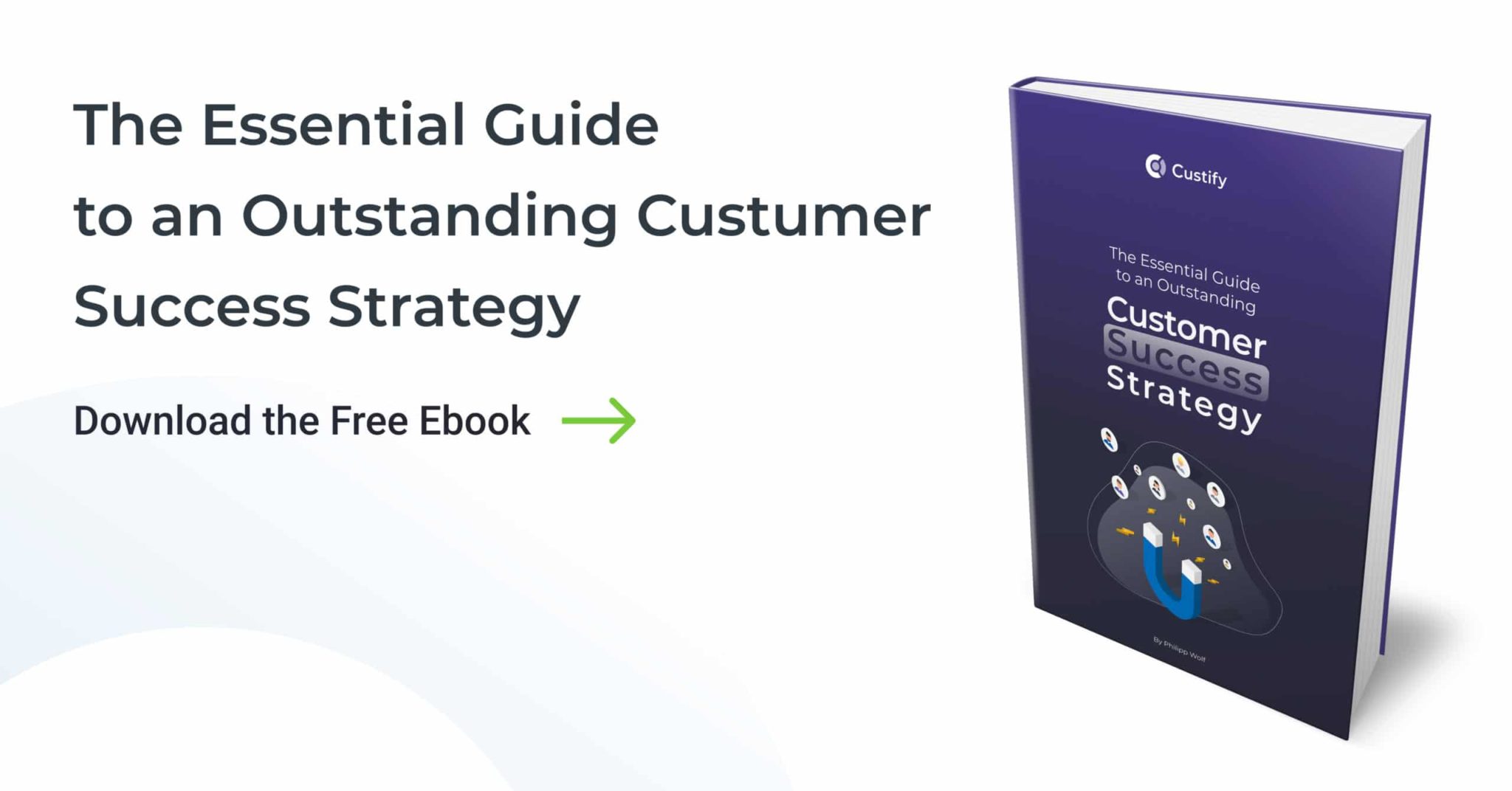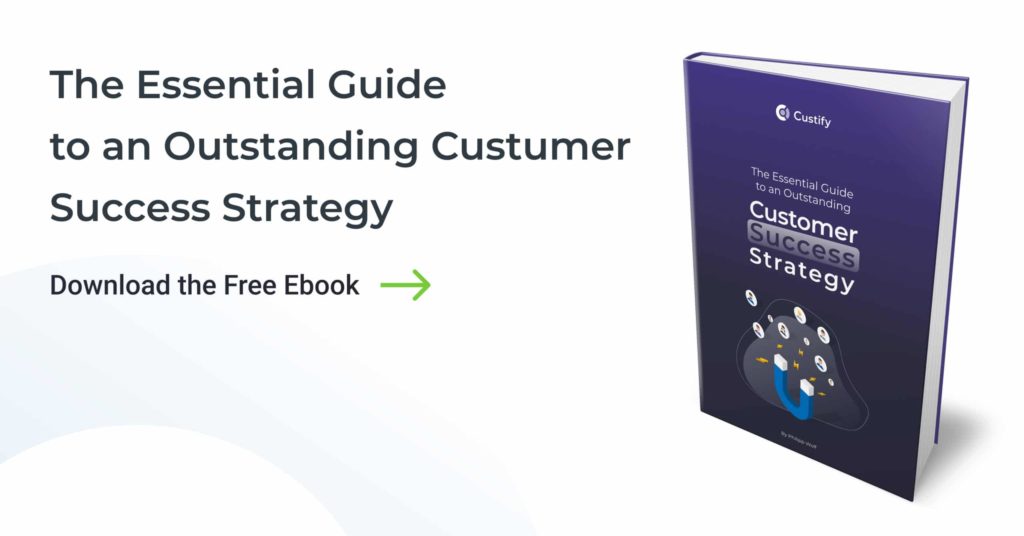 The Problem with Touch Points and the Customer Journey
Even though ensuring your customers are happy every time they interact with your product, Customer Service, sales staff, or marketing materials is important, this siloed focus on individual touch points makes you miss the bigger picture – the customer's end-to-end experience. Only by looking at customers' experiences along their entire journey will you be able to understand and improve them.
That's because Customer Journeys include many things that happen before, during, and after the experience of a product; they are long and stretch across multiple channels and touch points. Organizations that fail to consider the context of customer interaction can face negative consequences such as customer defection, dramatically higher call volumes, lost sales, or lower employee morale.
On the other hand, organizations that manage to offer a great experience through the entire Customer Journey, from start to finish, register higher customer satisfaction scores and manage to improve sales and retention, reduce end-to-end service costs, and strengthen employee satisfaction.
Learn more about how you can offer consistency of service and experience across channels, as well as what can happen if you fail to achieve that (with a real-life example) by downloading the ebook.
Starting your Customer Success Strategy
Segmentation
When it comes to meeting customers' requests, there's no one-size-fits-all approach. That's because every customer is different. And because they're all different, they all use your product in different ways.
In most cases, a SaaS product will have different plans with different features and only the most expensive plan gives users access to all the features. If this applies to you, you should segment your customer base and apply Health Scores per each segment. That's because it's not helpful to assign a Health Score to a feature your customers don't even have access to – the Health Score tied to that feature will always be 0, which will negatively impact the Global Health Score (the Global Health Score is an average of all the Individual Health Scores).
In fact, you should consider always applying health scoring on specific segments instead of your entire customer base – this will allow you to have a different strategy for each segment (you'll be more specific in addressing customer needs), which will bring in better results.
The better you manage to segment your customers, the more insights you'll be able to extract, which will help you make predictions about value realization and renewal likelihood.
Here are a few segmentation strategies you can employ:
profile-driven (customer high-level characteristics)
value-driven ($)
journey-driven
a mix of the three above.
Onboarding
This is the first step in the customer lifecycle and, in my opinion, the stage where you should focus most of your energy. That's because, for most SaaS businesses, the bulk of their churn happens in the first 90 days after signing up, usually because the customer doesn't get early value out of the product. And this is why I always stress that you should help your customers reach the "Aha!" moment as fast as possible, so they won't have a reason to churn.
In a B2B SaaS, features and use cases can be very complex. There are many aspects related to onboarding that need to be considered:
What should you discuss with customers during introduction calls?
What should you teach them during training calls?
What is the purpose of your interactions with the customers, and what are the deliverables and KPIs?
What is the first feature they need to use in order to gain early value?
How long should the onboarding period last? Is it a matter of hours or months?
How long does the implementation process last? Do they need technical consultation? Can you track their implementation steps?
How much of the onboarding process can be automated, and how much will it be human interaction?
After answering these questions, you can choose between these 3 onboarding models:
A customer success tool can help a lot during this process. If you have everything planned on the dot and know exactly what should happen when you can get notified when a customer doesn't complete a task in time so you can reach out to them and nudge them onto the right way. Still, automation shouldn't entirely replace human interaction.
Customer Account Overview
Having a bird's eye view over an account is important, and at Custify, we have our Customer 360 View feature for this. Most platforms have something similar.
These are questions any customer account dashboard needs to answer:
How long have they been a customer?
How long until their next renewal?
What's their current contract value?
What's their account history?

Transactions
Surveys
Product Usage

Can you set and view multiple health scores?
Have they recently interacted with us?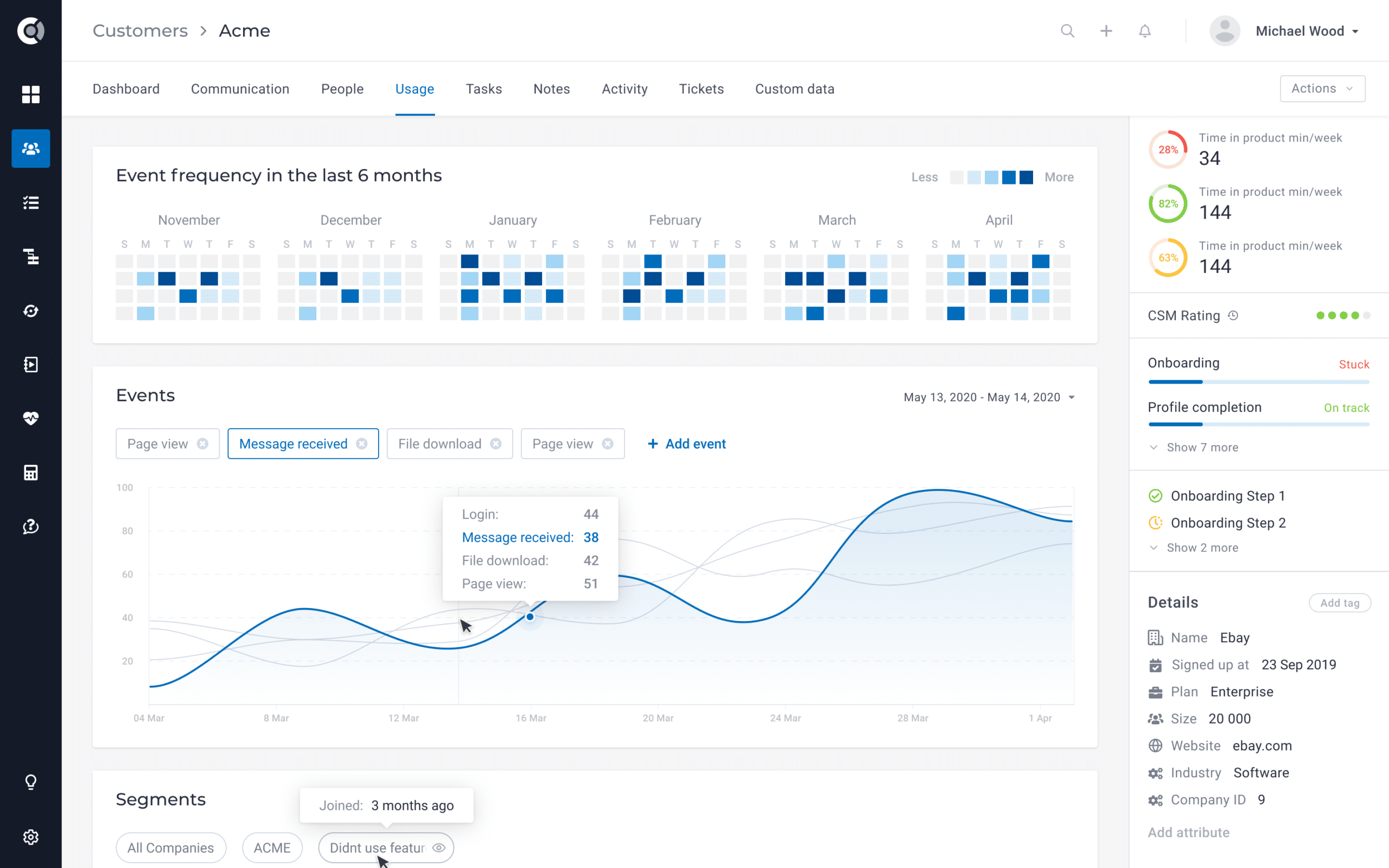 At Custify, we have expanded the health scoring part of the Account Overview to have an even clearer picture of how customers are using your product so you can assess your relationship with them – whether they're in danger of churning or, on the contrary, ready to upgrade to a higher plan.
Churn
While in their growth stage, most SaaS companies focus on new customer acquisition – signing up as many clients as possible to gain traction. But without an effective retention strategy, you turn into a sifter – no matter how many new customers you acquire, if they don't stay with you, you can't grow. Or worse, you can't even stay afloat.
So what is churn, really? It's a metric that measures how much business you've lost, and this loss can be either in:
percent of customers (customer churn) – how many customers you've lost in a given period
or revenue (revenue churn) – how much money you've lost not only by customers leaving you but also by remaining customers downgrading their subscriptions.
Based on these 2 types of losses, churn can be classified in several ways:
customer churn and revenue churn
voluntary (customers voluntarily decide to leave you) and involuntary churn (customers are not aware they have churned, for example, the renewal payment could have failed)
negative churn (this only applies to revenue churn and it's an ideal situation where the revenue generated through upselling and cross-selling existing customers exceeds the one lost through other customers leaving you).
To fight churn, you must first determine your current churn rate, and that can prove quite difficult to determine because, for any given period, you have customers who have been with you previously, as well as new customers you've acquired. Because of this, there's no one-size-fits-all approach to calculating your churn rate.
In fact, retention rates have gotten so difficult that, according to Profitwell, at one count, there were 43 different ways public SaaS companies were accounting for the metric.
Once you find out how many customers are leaving you and why, it's time to fix things. Depending on the cause of churn, there are multiple strategies you can use:
fix onboarding problems
revise your marketing strategy so you don't attract bad-fit customers
improve product quality
improve Customer Support
use an account updater
set up dunning emails
conduct exit interviews and let your customers tell you why they choose to leave and what you could have done to prevent it.
Now, there's definitely a lot to say and do about churn. That's why we wrote a book specifically on how to track and fight it. See advanced and practical methods on measuring churn and how you can fix your retention problems in our dedicated Customer Churn guide. If this is an issue for you, I promise that guide will be invaluable.
Renewals
Now, for those customers who haven't left (yet), you need to think about your strategies for retention and loyalty. Retaining customers comes with its own challenges, and to effectively improve retention, you need to define a process to manage renewals. This way, your team will be more efficient in their day-to-day activities, and you ensure nothing slips through the cracks.
Here are 3 steps to follow to put an effective renewal process in place for your business:
define what 'at-risk' means for you and monitor for it
define a standardized plan of action to mitigate risks
properly scale this process.
Can you automate renewals? When to do outreach? Who owns each activity?
Download the CS Strategy guide
Proactive Outreach
The only way you can ensure customers stay successful is by continuously engaging them, and this includes monitoring Customer Satisfaction through:
Net Promoter Score (NPS) surveys
customer health / happiness indices
customer advisory boards
customer outreach initiatives.
For an effective customer engagement strategy, take advantage of the combined power of automation and human interaction. Technology can help you identify opportunities, while the human touch will ensure you continue to provide value.
Upsells and Cross-sells
Upselling and cross-selling is the last step in the Customer Lifecycle. Upselling refers to the practice of selling higher plans, while cross-selling refers to selling additional related products and services. But don't think about upselling and cross-selling opportunities as a means of getting more money from your customers; instead, think of them as opportunities to provide more value. Otherwise, customers will pick up on it, and you'll lose their trust (and possibly their contract too).
In modern organizations, retention, upsells, and cross-sells are also the responsibility of the customer success team, not the Sales team, or, at most, it's a joint effort of the two departments. The CS team is responsible for identifying upsell and cross-sell opportunities during conversations with customers or by analyzing product usage metrics; then, depending on the complexity of the task, Sales can also jump in.
When and how to upsell effectively? What are the best tactics to do this?
Download the CS Strategy guide
Playbooks and Customer Success Automation
Playbooks are useful additions that help you improve your customer's loyalty, adoption, conversion, and churn rates while they move through their lifecycle stages. A playbook is basically a set of tactics that helps you drive customer success by pinpointing these exact moments for your customers.
To start setting up a playbook for your company, you need to make sure you're tracking the right KPIs first.
Then, you'll have to segment your customers so you can use custom outreach tactics and other means of engaging them effectively throughout the Customer Journey.
Once you segment your customer base, you'll be able to prioritize outreach and address each segment individually. Thus, by fostering communication, tracking interactions, setting up notifications, and integrating as much software as possible, your customer success team will get the most out of your tools.
Let's take an example to see how we go about our playbooks here at Custify: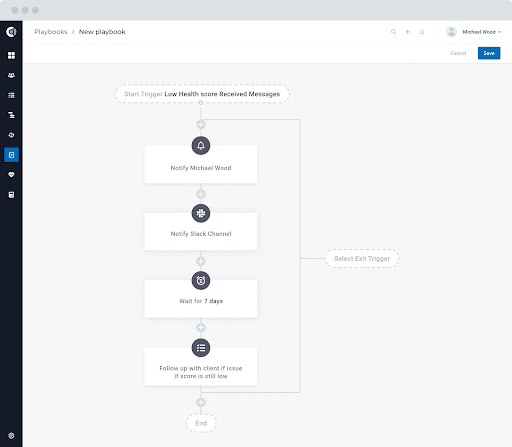 Let's first assume 2 things:
That your SaaS product has a functionality that allows your customers to receive messages. Obviously, this functionality is a main product feature, but not a key one. If it were a key feature, you wouldn't wait for 7 days before sending out this notification, you'd probably move along way faster than that.
That you've set up a customer health score that measures that exact functionality.
In the example above, the CSM Michael Wood is notified when the health score "Received Messages" is turning "bad" and the customer success team's Slack channel also receives a notification to ensure the information doesn't get lost along the way.
So, as this "Received Message" functionality is not a key feature, the customer success team decides to first wait a week and see if things improve. This waiting time is important because you need to take into account that, sometimes, customers are on vacation or sick leave. However, if their health score still remains bad after one week, a CSM (Michael Wood) will get a notification to reach out. Most often, the customer will feel taken care of, because the CSM reached out before they even considered opening a support ticket.
These notifications are therefore crucial in providing great customer experience. Having a customer playbook not only prepared but also visible to your CS team is a great way to make sure your customers are set up for success.
Further, based on Customer Health Scores, you're able to automate playbooks and:
assign accounts to team members (for example problematic customers to more experienced CSMs)
send messages to customers with low engagement
receive notifications if certain Health Scores drop under a defined value
create tasks for CSMs to proactively get in touch
identify upsell and cross-sell opportunities
filter for very healthy customers that are good candidates for referrals / case studies / testimonials
and much more – you can actually enjoy nearly endless automation possibilities.
One of the biggest advantages of automating your playbooks is that this will allow you to have a clearer and standardized path to approaching your customers exactly when they need you the most. It basically takes away the ambiguity and leaves more room for creating a consistent customer experience.
Another benefit of using automation is that CSMs can provide the same level of engagement to each client and still be able to take care of more and more customers with the same resources, by switching from a high-touch approach to a tech-touch approach.
Keep in mind that high-touch is about the level of engagement, not the number of emails, calls, and reminders your customer success employees send customers, and helping clients achieve their goals can be done when your CSMs offer the right advice for each customer, not when they address basic support issues. Because of this, depending on the unique situation of your business, for best results, you should mix and match high-touch and mid-touch approaches.
Find out more about the benefits of high-touch, mid-touch, low-touch, and tech-touch and when you should be using each in the ebook.
Offboarding
In my experience, I've seen many SaaS businesses focus most of their efforts on their onboarding strategy. Don't get me wrong, onboarding is extremely important, as I've already pointed out before, but that doesn't mean offboarding should be an afterthought.
If you start from the presumption that churned customers are gone for good, they will be. However, if you are willing to put in the effort to win them back, you'll be surprised by the results! This was the case for one of our clients, Referrizer, which put together an offboarding strategy that recovered 25% of their churned customers.
So how should you approach your offboarding strategy? Well, you can't fix what you don't know, so first, you need to determine the main reasons for churn. Although offboarding doesn't necessarily require an exit interview, I think that's one of the best methods to find out why your customers are leaving. (why make guesses when you can go directly to the source?)
If you need inspiration for your offboarding calls and forms, here are some examples of questions (you can find an extensive list in the ebook):
Why do you want to cancel your subscription?
What were you using our product for?
What is the biggest benefit of our product?
How could we improve our product?
Did the team communicate with you effectively?
Are you switching to a competitor, and which one?
Once you know the reason a client has decided to leave, you can prepare a counteroffer. For example, if they're struggling financially, you can extend their payment deadline or offer a few months of usage for free. On the other hand, if they don't understand your product and they don't see the desired results, you can offer consulting sessions and teach them how to best use your product.
"You'd be surprised how much great feedback and customer insight you can get from exit interviews."
Shawn Klajic, Part Owner, VP, Customer Success at Referrizer
How Do You Measure Customer Success?
Does customer success Bring ROI?
Quantifying the exact customer success ROI value can be quite a mind-boggling task. In my 20+ years of experience, these are the questions I was asked time and time again:
How valuable are CS departments?
How much should you invest in them?
What's the ROI of CSMs?
How many CSMs are enough for your business?
To find an explicit formula, I've reached out to many Chief Customer Officers, CSMs, and CS team leaders in the industry and asked them about their best practices.
Spoiler alert, David Apple (Notion) was right in his article: "nobody in SaaS today knows the actual ROI of their CSMs, and nobody truly knows what ratio of CSM to customers is optimal for their business".
However, here's how industry thought leaders approach this issue with their teams:
They assess word-of-mouth marketing results
They track how interaction with CSMs influences customers' behavior – for example, how many customers the CSMs save and the revenue that comes from the saved customers, the additional revenue gained by CSMs offering support, etc. and compare that amount to the budget allocated for the CS department.
They correlate NPS to LTV (or other business metrics).
They measure metrics that directly affect the customer, such as Average Initial Response Time and Average Resolution Time, and they carry regular Customer Satisfaction surveys.
Still, this wasn't enough for me, so I've come up with my own method for measuring customer success ROI.
In order to calculate the actual ROI of Customer Success, I believe it's important that you understand the status quo and measure its impact on the baseline:
The "baseline" status represents the measured revenue from the CSMs' account portfolio prior to them actually engaging with those customers.
And the measurable impact is the revenue generated by actively engaging with the accounts CSMs manage, making sure they onboard successfully, and keeping them interested in further expansion, renewal, and cross-sell opportunities.
Keep in mind that quantifying these 2 variables is not easy since there are other factors responsible for the visible growth of your customers.
At first glance, there doesn't seem to be a designated metric to help calculate the full customer lifecycle phases outside of the baseline status, besides the metrics we generally use. So I found a workaround. A possible solution to this issue may be looking at customers' lifecycles to determine the overall Customer Success ROI. That works because, if a customer's lifetime increases while being under the evaluation and management of CS departments, then their profitability also increases.