One of the biggest mistakes a B2B SaaS company makes when it comes to speaking with potential customers: expecting the clients to possess the same knowledge as they do.
In some cases, customers can be very knowledgeable about your niche and competing products.
However, in this blog, we focus on marketing and selling SaaS to small businesses.
Small businesses don't necessarily have separate marketing, customer success, HR, or other teams. Everything is managed by the owner or owners.
Those business owners have a lot on their plate, and can't be expected to know a lot about different software solutions.
This article will dig into how marketers and salespeople can fix this mistake without making customers feel dumb.
You will learn
what the key differences between you and your customers are.
how to be mindful of these differences.
how to improve communication with your potential customers.
how to keep the conversation going.
The Gaps Between A SaaS Company and Its Customers
There are many different ways to do SaaS. There are various products for different target markets.
It is difficult to define the differences between SaaS companies and their clients unless we narrow down our case.
Let's focus on a B2B SaaS startup that markets its software for small businesses.
The target market is not limited to a certain niche. Rather, they offer a universal marketing tool for all types of businesses.
The SaaS firm uses many outbound marketing strategies, as potential clients are too busy to search for software tools themselves.
Now that we have set the scene, we can get down to business.
What are some differences between the SaaS company and its potential clients?
The Age Gap
Over 60% of small and medium-sized businesses in the U.S. are owned by people over the age of 40. The average age of a working business owner is 44 years.
At the same time, the majority of people working in tech are millennials or Gen Z – meaning they are under 40.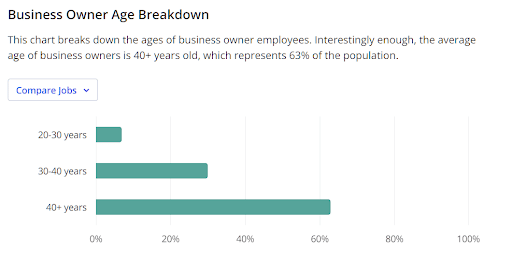 There are bound to be some generational differences between those who make the product and those who buy it.
The Education and Vocabulary Gap
Out of business owners, around 60% have a Bachelor's or Master's degree.
Out of small business owners, only 44% have a BA or post-graduate degree.
Most tech companies require a college degree from their employees, even though that is slowly changing.
Based on this information, there is a significant difference between the education level of entrepreneurs and tech workers.
More than the education level, the field of study affects the disparity.
While tech workers and SaaS startup founders might have education in the field of Business, Engineering, ICT, and so on, entrepreneurs might come from vastly different backgrounds.
This leads to a situation where you and your customers might be using different words to describe the same things.
You might speak about CRO, ICP, ROI, PLG, and other fancy acronyms. At the same time, your potential client speaks about getting more customers and making money.
The Tech Gap
The Tech gap has more to do with time and resources than any other factor.
When you think about a construction company or a hair salon, the average SMB, how much do you think they spend time on things like marketing software, project management flows, customer success software, and other "extra" gadgets?
Those are probably seen as a waste of time more than anything else.
However, a SaaS company is used to different digital tools and knows that the product would make the customer's life easier.
Summarizing the Issues
What should we think about all these gaps?
For starters, we all know that older people are more likely to do things "as they have always been done". Additionally, they might not take 20-somethings as seriously as they would take someone older.
Secondly, you might be speaking different languages. While you are very tech-oriented and used to the industry jargon, the customer might not be familiar with the concepts that you talk about.
Thirdly, your potential client is focusing on practicality. They don't have time for silly new gadgets!
And finally, you are talking about how cool and great your product is when all your potential customers care about is getting through their daily routine.
The Mistake You Make
So, what is the mistake you make when speaking to your potential customers?
Thinking that they are exactly like you. You expect them to understand your product and its benefits when in reality, they might be very confused.
This is especially problematic for top and middle-of-the-funnel marketing.
When you get to talk to the customer personally, you can easier assess their tech-savviness and how to speak to them.
But when it comes to your website, email marketing, or advertising, you must make sure that anyone can understand what you are offering.
Even if you have detailed descriptions of all the features, pricing, and benefits, your prospective customer might think:
"What are the key features of this tool that help me specifically?"
"How can I benefit from this product in practice?"
"What does all this even mean?"
Not understanding something can be off-putting and make people feel stupid. That's not what you want.
Furthermore, I know that you are excited about your product. You could talk about its features all day long.
However, the business owner you are targeting does not care.
They care about how your product can help them.
You need to switch your mindset from selling a product to selling a solution to someone's problem.
How to Improve Communication with Potential Customers
First things first: what do we mean by "talking to your potential customers"?
It is not just talking or speaking in the literal meaning of the word. It encompasses all communication that happens through text, video, images, or actual personal conversations.
It means marketing materials, sales meetings, and every action that you take to convince the potential customer to make a purchase.
There are several things you can do to improve your communication with potential customers.
1. Get Rid of The Jargon
You love the industry jargon. But your prospective customers do not. Aim for simplicity.
Let's see an example of what I mean.
If you were a marketing software company aimed at other marketers, the following website copy might be extremely effective:
"Collect social proof and optimize your website to increase conversion rate."
Anyone with marketing experience will know what a conversion rate is and what is the meaning of optimizing one's website.
However, the plumber, hairdresser, pest control professional, or daycare provider might not know any of it. They will take one look at your website and think "this is clearly not for me".
You could say the exact same thing with simpler words:
"Collect stories from happy customers and get more new customers through your website."
Test your message by asking for feedback from someone outside the field. Someone like your mom, assuming your mom is not an expert in SaaS.
If she can understand what you offer, your potential customers likely will.
2. Converse, Do Not Sell
Your goal is to sell your product. Sure.
Your client's goal is to solve an issue that they have in their everyday life.
Get to the bottom of your potential client's needs and pain points by talking to them. After the conversation, you can offer to solve their problem.
But how do you talk to your potential client?
My suggestion is to make cold calls. You might hate them, but it is one of the only opportunities for you to capture the attention of someone who is not particularly interested in your product at first.
By calling people, you get an idea of whether your target customers even know what you are talking about.
You get very direct feedback and might learn something new.
The truth is very few people will open your cold email and reply to you, much less give feedback on the email.
3. Teach Your Target Audience
We could call this step "demand generation", but in the spirit of this article, I call it teaching your potential customers.
Maybe your customers don't even know that they have a problem. Much less do they know that you have a solution.
It's your job to educate them.
Remember the example of website copy that I mentioned earlier?
We can render it further to lay out the problem and solution for your target customers:
"Potential new customers don't know if they can trust your business. You can fix it by letting your happy customers recommend your business. Our tool makes the process smooth and easy."
4. Let Other Customers Explain Your Product
Customer stories help your prospective customers learn more about you.
Other customers are likely to describe your product and its benefits in a way that appeals to your prospects.
Make case studies and film customer testimonials.
Ensure that the stories include the following aspects:
More information about the customer's business
Why they chose your product
What issues or problems they had before
How your product helped them overcome the problems
What tangible results were achieved
How they use your product
In addition to more comprehensive stories, shorter reviews and customer testimonials are a good addition to your website.
They give you a competitive advantage against your numerous competitors.
See these examples:

5. Use Video
Video is more likely to catch the attention of your prospective customers than text. It also helps you explain concepts more clearly in less time.
When creating videos about your tool, focus on the client's perspective.
How can they use the tool? In which situations? How does it affect their everyday life and business results?
6. Create FAQ with Actual Customer Questions
Many businesses have a frequently asked questions section somewhere on their website.
I am a big fan of FAQs, as they are straightforward. Instead of having to browse through multiple pages to learn more about the tool, the client can just see the FAQs and find short and sweet answers to their questions.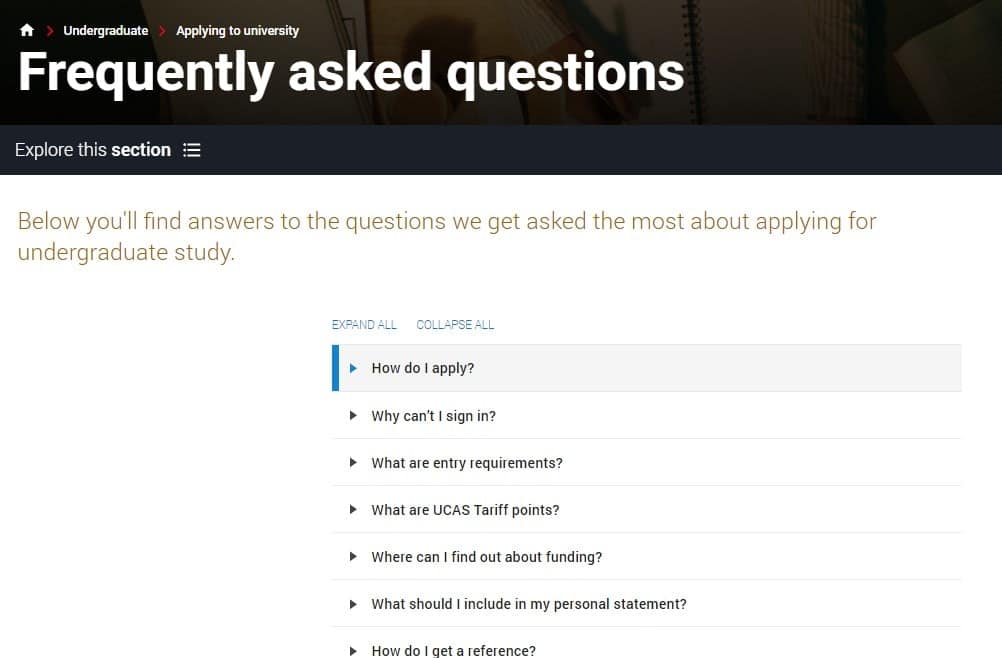 Like in this example from UCAS, when crafting your FAQ section, use actual questions that your customers have asked you.
The website visitors will likely be wondering the same things.
Continue the Talk After Conversion
You have done it! The potential customer turns into a paying customer.
Now what?
Keep the conversation going!
Talking to your customers is the best growth hack a SaaS business can have.
Provide chances to give feedback.
Offer personal help with the onboarding process.
Have an active Customer Support team.
Assign a Customer Success Specialist for the client.
When you keep speaking with your customers, you allow yourself to develop the product in a way that truly benefits the end-user.
After a while, it is time to collect customer testimonials that will help new prospects.
Concluding Words
One of the biggest mistakes B2B SaaS companies that target small businesses make is assume the clients are as tech-savvy and knowledgeable about software as they are.
In small businesses, all decisions fall to the business owner or owners. It's not realistic to expect that they are interested in researching software tools and understand tech lingo.
Additionally, the tech field is very competitive, and you can easily lose your potential clients to your competitors.
The problem is, how can you speak to your potential customers so that they understand your product and don't feel dumb?
Here's a short checklist of actions you can take:
Simplify your language. Avoid industry jargon. If your mom understands your message, you are good to go.
Do not forcibly sell your product. Listen to the customer's problems and offer a solution for them. Instead of focusing on the product, focus on the customer.
Teach your customers about their pain points and development targets. Maybe they haven't realized that they could do something more effectively.
Let other customers explain your product. Make case studies and collect testimonials, so your potential clients see that their peers have benefited from your product.
Use video to explain your product. Again, focus on the customer's perspective rather than just introducing the product.
Create FAQ pages with actual questions your customers have asked you previously.
Don't forget to keep talking to your customers after you have established a relationship. It is extremely important to keep up with your customers' opinions and feedback.