Obtaining positive coverage from media outlets can be extremely challenging. Unless your pitch is good enough, you'll hardly be getting the attention of the journalist you're interested in. Plus, there's an insane competition among marketing professionals begging for the attention of top influencers and journalists.
It's really challenging, but not impossible. In this article, I'm going to share seven strategies SaaS startups can use to capture the attention of top media outlets. So, here's how to take your SaaS PR efforts to the next level.
1. Media Relations
Building relationships with the media is crucial in any public relations campaign strategy. And to do that, you have to understand the media landscape — who covers your industry and what kind of stories they're after. This is a super important step that all top crisis management PR firms understand too well.
You must find the publications and journalists that matter to your industry. Get to know their beat, their interests, and the type of stories they usually cover.
Now, here's the thing — for your pitch to be successful, it has to align with the interest of the journalist. When trying to get coverage, tailor your pitch to the specific journalist or publication you're contacting.
And here's a pro-tip: An average journalist's inbox is overflowing. You must keep your PR pitch short and sweet. You should keep your pitch to 150 words or fewer, so they can easily read and understand it.
Coming up with a newsworthy story for your SaaS startup can be tough.
Take the time to come up with a great idea.
You can make your pitch stand out by creating a unique angle, highlighting industry trends, and showing the impact your solution has on your target audience.
For example, Spoke AI, a German SaaS startup, highlights the impact of their tool, which uses generative AI to minimize the noise product managers deal with in their daily lives. The tool uses AI to aggregate, prioritize, and summarize the data and information coming from different tools.
Their story has captured the attention of major tech media outlets like TechCrunch and CrunchBase.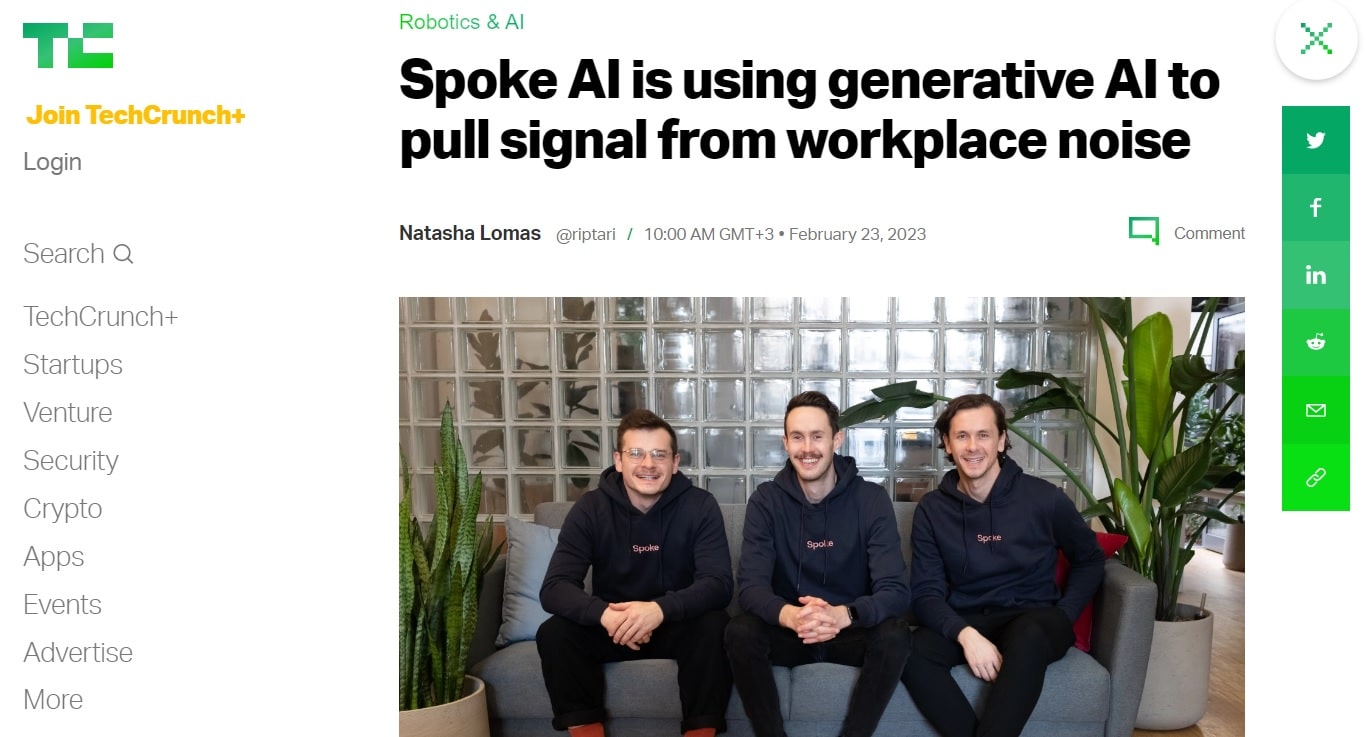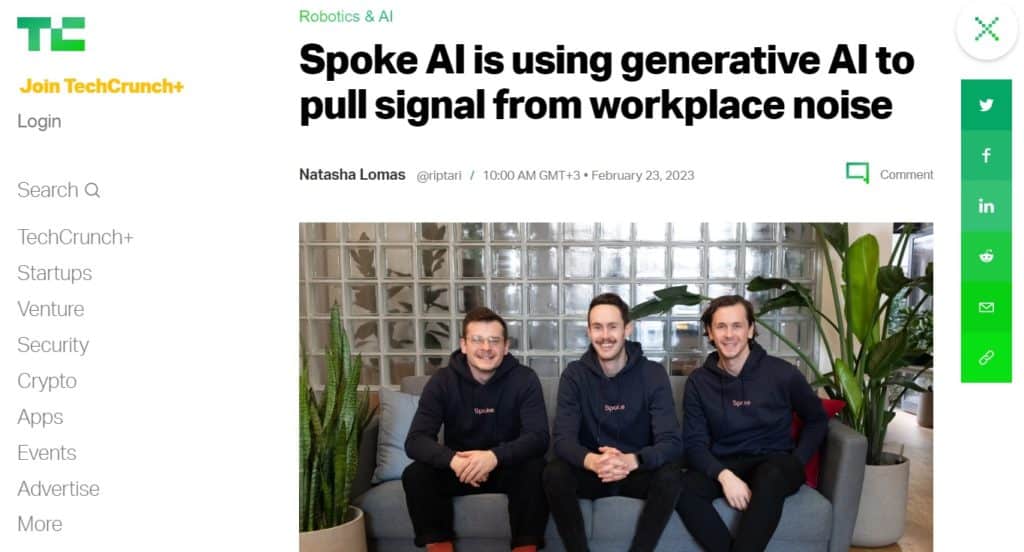 One trick I found to be super effective when pitching to journalists is offering something exclusive. Most journalists will pay attention to you if they know they'll be the only ones covering the story.
Therefore, if you have a big hitter, identify a media outlet and journalist that can get you the best results. Then, mention in your pitch that the story will be exclusive to them. This public relations tactic has always worked for our agency.
Also, if you're pitching directly, it's good practice to follow up with the journalist after sending the initial pitch. Be mindful of not being too pushy or persistent.
Alternatively, HARO (Help A Reporter Out) is a great tool for SaaS startups to gain media coverage. Other alternatives, such as SourceBottle and ProfNet, also provide opportunities to connect with journalists.
2. Event Planning
Hosting events is a no-brainer for any SaaS startup looking to gain exposure in the media. A successful event pulls excellent media coverage, especially if you do the preparations correctly. Plus, it delivers additional benefits like lead generation, and it can set you as a thought leader in your niche.
Now, these things only happen if your event is a success. That requires a strong event marketing strategy.
The key to success is starting early, building excitement, and increasing attendance. You have to get out there and publicize your event extensively.
For example, Adobe tends to release details about its Adobe Summit events gradually. This helps build the hype in the weeks leading to the event. It also earns them lots of media coverage from major news outlets like Yahoo and tech publications like Lifewire.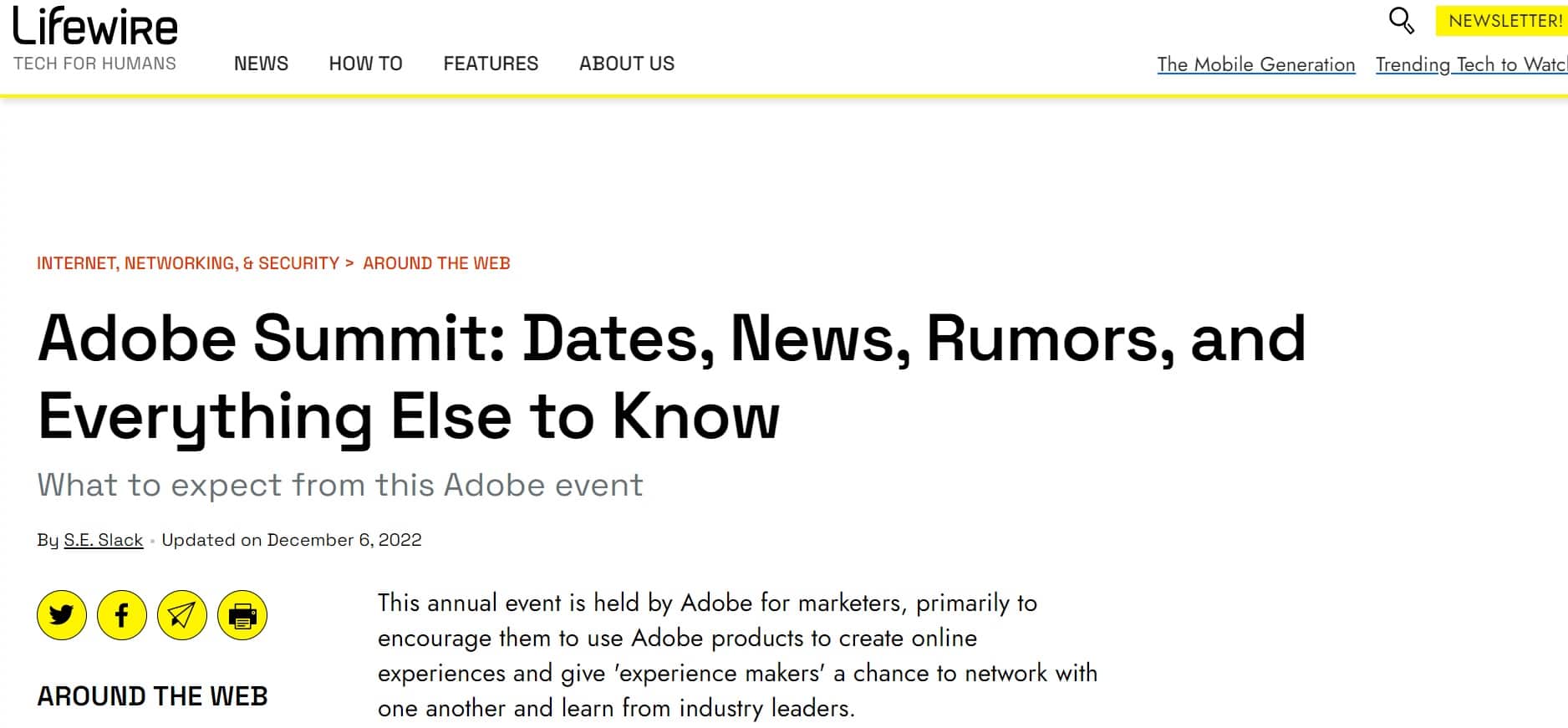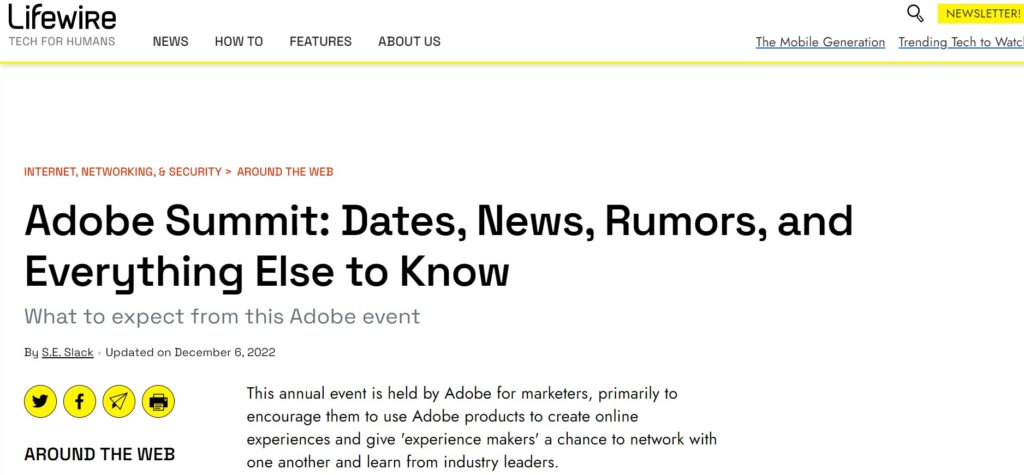 Now, of course, you're not the size of Adobe. You run a startup, so you may not have the resources to set up an entire event by yourself. What you can do instead is partner with other complementary brands to host these events.
You can also sponsor existing events. Just search for popular events, e.g., "SaaS conferences in 2023." Visit those events' websites, and you'll typically see an option for partners or sponsors.
If you decide to set up a small budget-friendly event by yourself, use social media, email marketing, and press releases to spread the word about your event. You can also conduct targeted outreach to relevant industry publications and influencers. And don't forget about event listings on popular websites and paid advertising to reach a wider audience.
You can also include the event details as a banner or popup on your own website.
Conferences, meetups, and webinars are all opportunities to connect with potential customers, partners, and industry professionals. You also get to showcase your company culture and personality while sharing your insights and expertise. You don't want to miss out on these opportunities. Go out there and make it happen.
3. Crisis Management
Things are going to go wrong in business more often than you expect. Luckily, it's not the crisis that defines you. It's how you handle it.
A solid crisis management plan will help you deal with problems when they arise.
Here are a few things to keep in mind when creating your plan:
Establish a clear chain of command: Identify key individuals responsible for managing the crisis and ensure that everyone knows who to report to in the event of an emergency.
Develop a plan of action: Create a detailed plan outlining the steps to be taken in the event of a crisis. This should include procedures for communication, evacuation, and recovery.
Monitor and identify potential crises: Monitoring for potential crises can help you respond quickly and effectively before the situation escalates.
Communicate effectively: Have a plan in place for communicating with employees, customers, and the public during a crisis. This should include designated spokespersons, messaging guidelines, and a strategy for addressing rumors and misinformation.
For example, when Cloudflare suffered a major outage in June 2022, the brand was swift in keeping their users updated. Social media was one of the several channels they used to explain what had happened and what they were doing about the whole situation. They issued real-time updates throughout the issue.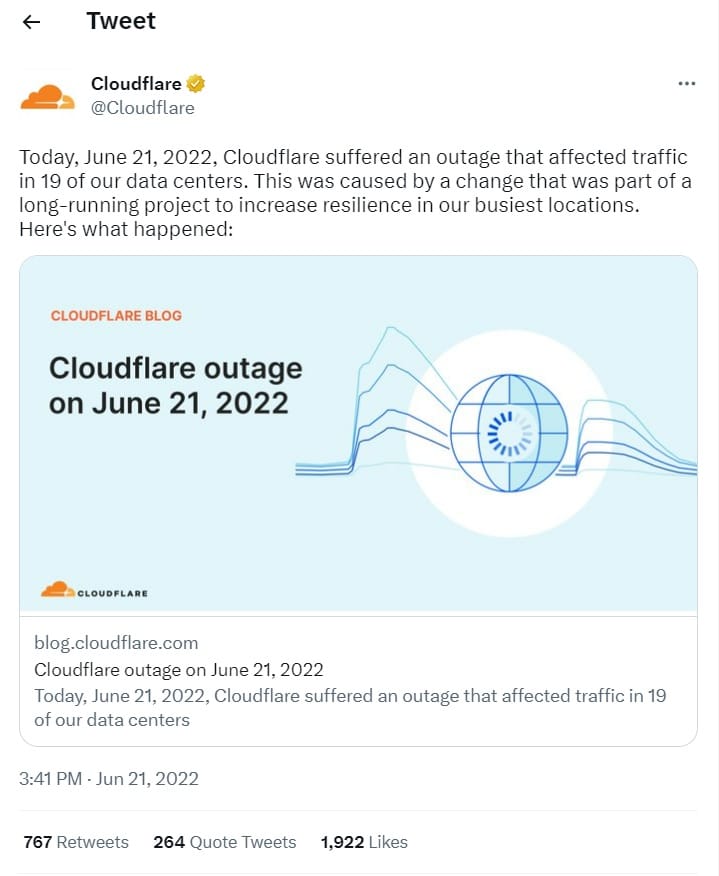 This is not the only brand that has had to deal with such an issue. Slack, too, had a minor PR crisis in early 2022. They issued timely press releases and updates. They even employed some humor when delivering the final update after the issue was resolved.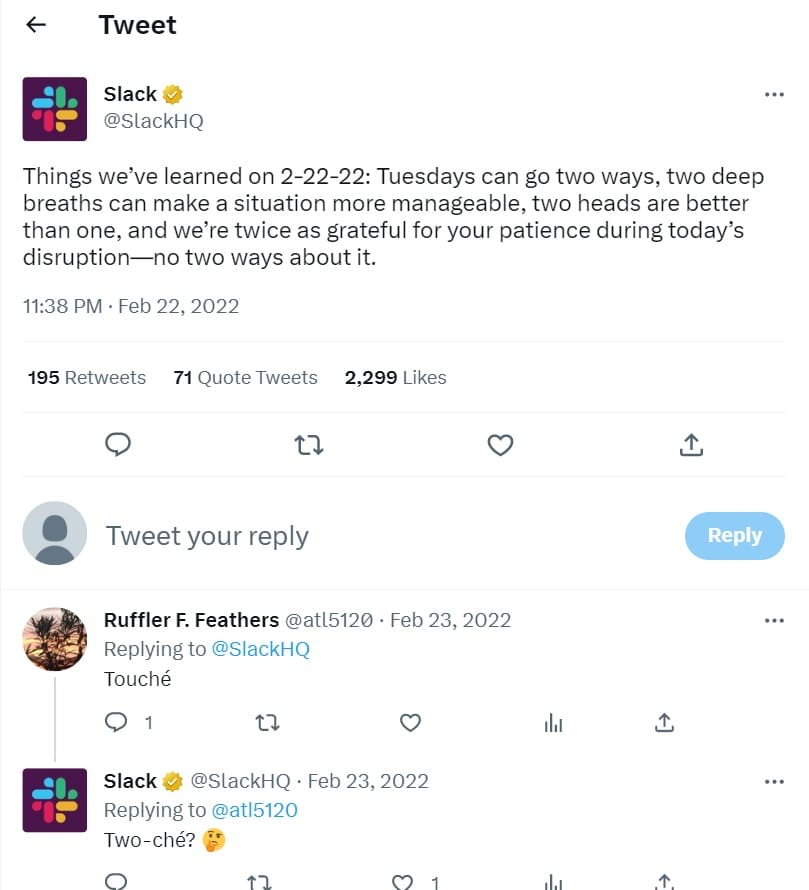 The bottom line is that a crisis plan is essential for any SaaS startup. It helps ensure that the company is prepared to handle any emergency situation that may arise.
Creating this plan beforehand allows you to set up protocols without any pressure. This is instrumental because you don't want to find yourself trying to come up with a response strategy when the media and the public are all over your brand.
4. Content Creation
To establish your brand and generate leads, creating valuable and engaging content is key. The first step in effective SaaS content marketing is defining your target audience.
You'll need to know your audience's pain points, desires, and needs. You can do this by conducting interviews, gathering data from your CRM, and more.
Once you've understood your audience, create content that speaks directly to them. That content needs to align with your business goals too.
Finally, track and measure the performance of your content using data. That way, you'll know what's working and what's not, and you can adjust your strategy accordingly.
HubSpot is a great example of a company that embraces content marketing. They use a variety of formats like blog posts, eBooks, free courses, and webinars to educate and inform their audience about inbound marketing best practices.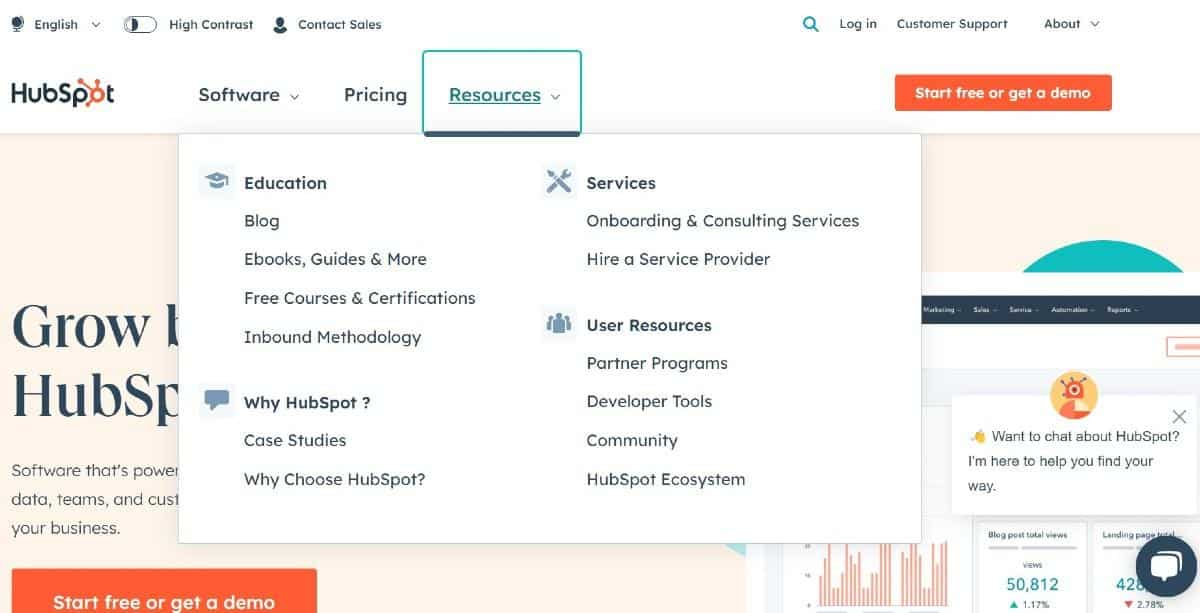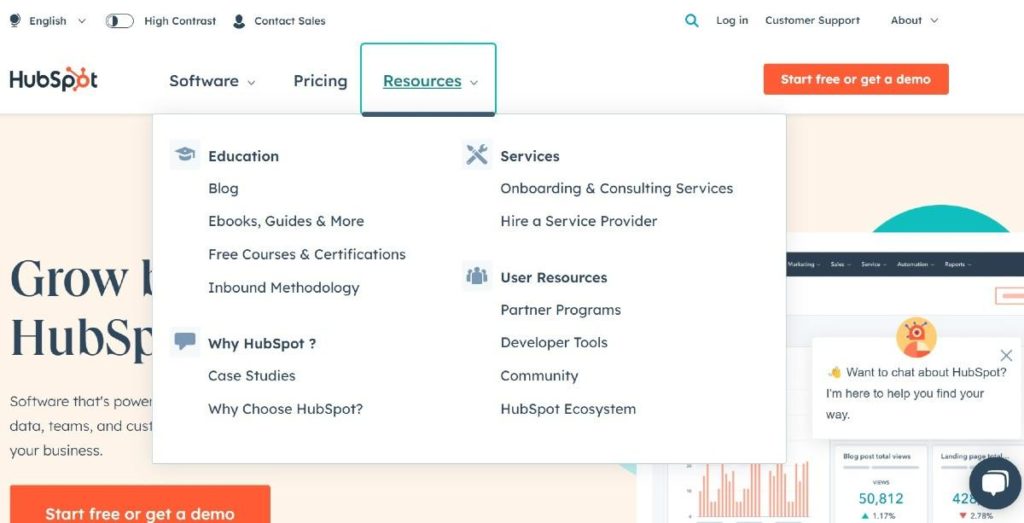 By consistently producing high-quality content, they position themselves as a thought leader in the industry and establish their brand as a reliable source of information for their audience.
You should invest in content marketing, too. Use different types of content formats like video, audio, and images to engage your audience. Give them what they want and build that trust.
Remember, it's all about providing value and creating a connection with your audience. And that's what will make you stand out from your competition.
5. Develop Strategic Partnerships
Developing strategic partnerships can be an effective way for SaaS startups to generate PR. By partnering with another company, SaaS startups can tap into their existing audience and gain access to new customers. Additionally, strategic partnerships can increase the visibility and credibility of your brand.
Strategic partnerships can also help to establish your brand as a thought leader in your industry. Partnering with another reputable company can signal to the market that your brand is reputable and trustworthy. This can help to increase the trust and confidence customers have in your brand, which can lead to increased PR opportunities.
To develop a successful strategic partnership for PR, it's important to identify the right partner. Look for companies that have a complementary product or service and a similar target market. Also, it's important to establish clear goals and objectives for the partnership and define the roles and responsibilities of each partner.
Co-marketing webinars are a great way to expand reach. For example, May Habib, CEO of Writer, is currently doing many webinars with companies that provide complementary services. These webinars help position her as a thought leader in the AI niche.
The webinar she ran with Mark Huber, Head of Brand and Product Marketing at Metadata, is a nice example.

By collaborating, these companies can share their expertise and insights, providing valuable information to their audience and increasing brand awareness.
You should seek strategic partnerships to generate PR for your business.
6. Partner With Niche Influencers
Partnering with influencers can be a powerful public relations strategy for SaaS startups. Influencers are trusted and respected figures in their industry and can help increase the visibility and credibility of your brand.
One of the key benefits of influencer marketing is that it can help you reach a larger and more diverse audience. Influencers typically have a large following, which means your brand will be exposed to a wider range of people. Another benefit of partnering with influencers is that they can help you build trust and credibility with your target audience.
The partnership between Guy Kawasaki and Canva is a great example of how influencer partnerships can support the growth goals of a SaaS company. Kawasaki is a well-known and respected figure in the marketing industry. He was one of the first employees at Apple.
Kawasaki used Canva's freemium tool to make his own graphics, which caught the attention of Canva. Canva reached out to Kawasaki and ended up hiring him as their brand evangelist.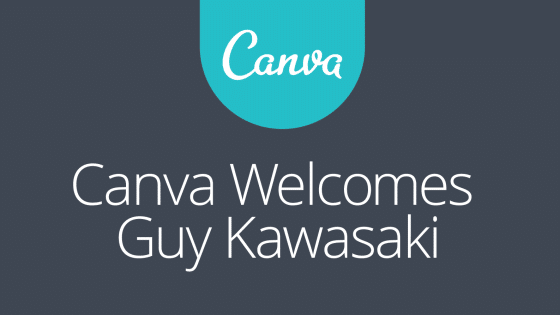 This partnership has enhanced Canva's visibility and credibility within the industry. Kawasaki's endorsement and use of the tool are seen as a stamp of approval by other marketers and business owners.
Additionally, Kawasaki's large following and reputation as a thought leader in the industry helped Canva reach a larger and more diverse audience. That supported the goal of establishing themselves as a trusted and reliable source of information for creating graphics.
7. Thought Leadership
Establishing yourself as a thought leader in the SaaS space is one of the best PR tactics to increase your reach. Higher brand visibility and credibility generally lead to more media coverage and PR opportunities. After all, you become a trusted source of information about trends in your sector.
There are plenty of examples of thought leaders in the SaaS space. One prominent example is Neil Patel.
Neil built a strong personal brand as a thought leader in the field of online marketing. He shares his knowledge and insights through his blog, social media, and books. All the content he's released helped establish Neil as a reliable source of information. That, in turn, has resulted in media recognition and opportunities to be a speaker at events.
A nice example of media attention was his nomination as a top 100 entrepreneur under the age of 30 by President Obama a few years back. These types of accolades result in the media paying attention to you.
He's translated that recognition into generating exposure and leads for his various SaaS companies.
Summing Up
This comprehensive guide covered some PR tactics you can use to increase your visibility and credibility in the SaaS industry. From building relationships with the media to crisis management, event planning, and content creation, this post provides insights you can use to grow your brand, become a thought leader, and attract more customers.
Take the time to read and apply the strategies in this article and make them your own.