As part of our study on quiet quitting in customer success, we have already discovered that companies are struggling to retain their CSMs.
Naturally, we wanted to know why — and we may have found a possible reason while surveying industry professionals. 48% of CSMs we surveyed said they have more than 10 major job activities. Meanwhile, 56.3% and 57% said that they are responsible for customer support and expansion revenue respectively in addition to their CS responsibilities.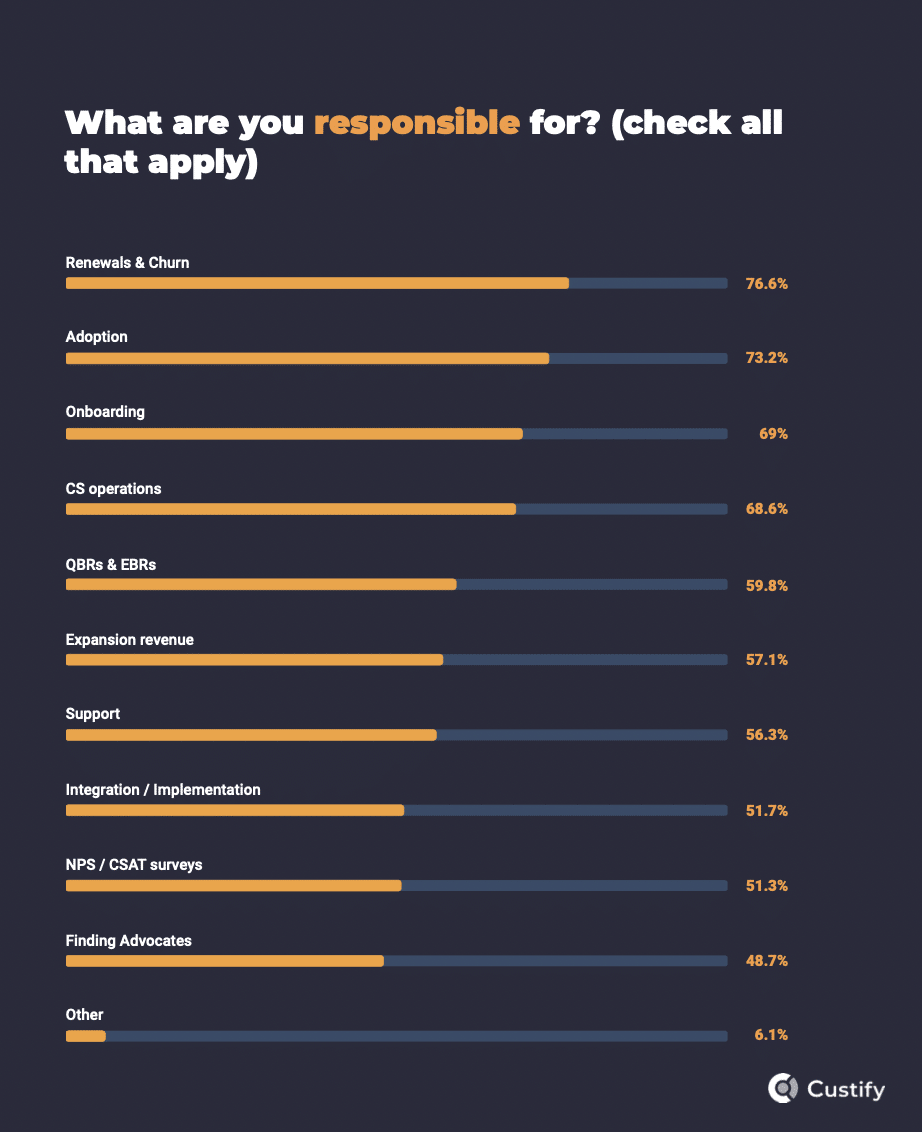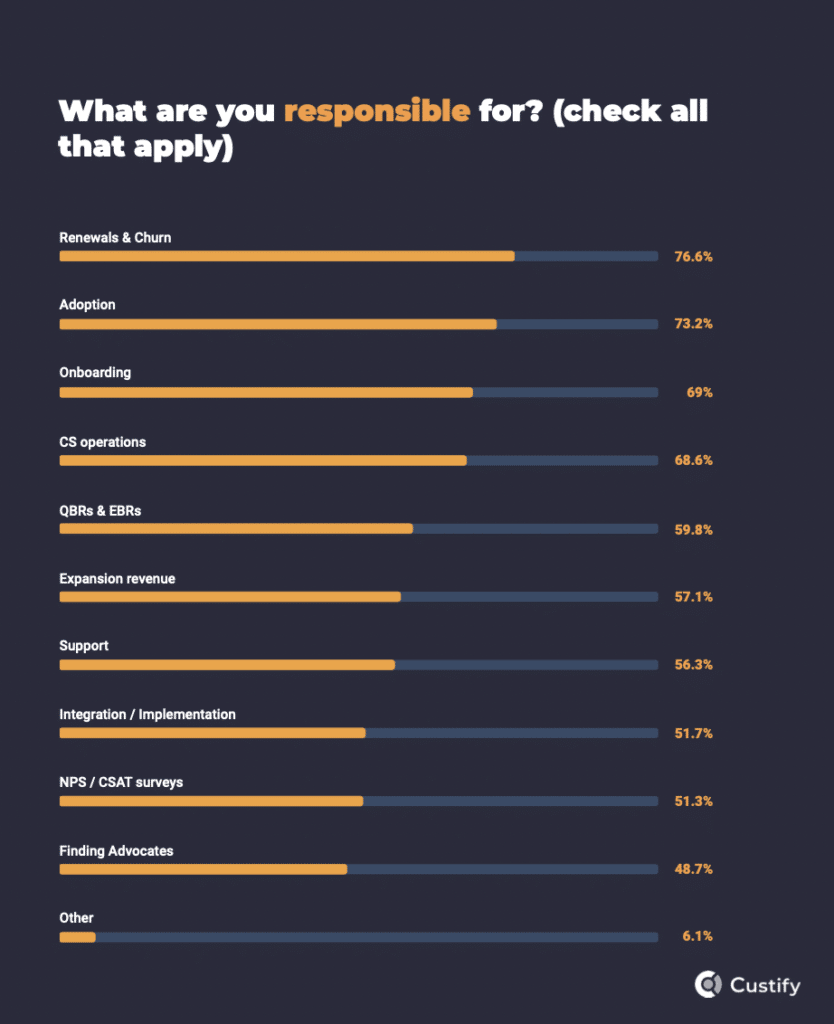 Considering these numbers, the main reason for quiet quitting and retention challenges in CS seems to be the fact that CSMs are incredibly overworked.
To get a better understanding of this issue and how to resolve it, we reached out to a few experts — here's what they had to say!
1. "When the menial tasks are automated, CSMs are able to focus on the larger picture"
"The simple answer to this question is yes, customer success managers are often overworked. Common complaints we hear from CSMs is that they have too much on their plate and need to automate their work in a way that is accurate, efficient, and customizable.

When the menial tasks are automated, CSMs are able to focus on the larger picture. They are then able to identify areas for improvement for the company or product as a whole as opposed to putting out fires left, right, and center."

Chris Martinez — Founder, Idiomatic
Chris is absolutely correct here — workflow automation can do wonders in making your CSMs' lives easier. With automation, they can eliminate minute tasks like sending check-in emails to customers with a poor health score or sending invoice reminders.
Activities like this offer little added value to your customers, your organization, and, most importantly, your CSMs. Essentially, they're just chores that pile up on your CSMs' plates and contribute to them feeling overwhelmed.
Embracing automation for menial tasks like this is the first step towards giving your CSMs more physical and mental bandwidth for work that brings value.
2. "The sheer number of responsibilities can become difficult to juggle simultaneously"
"I believe that the workload is justified. Customer success requires a deep understanding of multiple disciplines, and it makes sense for one individual to be equipped with this knowledge as opposed to delegating responsibilities across multiple departments. This allows customers to benefit from higher-quality service that is tailored to their individual needs.

I do think CSMs often feel overworked due to the amount of tasks they need to manage. The sheer number of responsibilities can become difficult to juggle simultaneously, leading them to feel overwhelmed and undervalued. Even though the workload can be challenging at times, I still feel that this distribution of responsibilities ultimately serves customers better than alternative methods would."

Omer Usanmaz — CEO & Co-Founder, Qooper
Omer is our first (but not last) featured expert with a rather contrarian opinion that CSMs' high workload is justifiable.
According to him, this issue is not a bug, but a feature that stems from the nature of the CSM job and its demand for a holistic skill set. At the same time, he admits that the sheer number of tasks an average CMS needs to handle can get too overwhelming.
The key here is a healthy balance. Yes, CSM can and should use all the skills and resources at their disposal to guide customers to success, but not at the expense of being overworked.
3. "To be effective, CSMs need to operate as if they were Big Four consultants"
"Most CSMs have an absurd amount of responsibilities on their plates, especially at startups and scaleups. To be effective, CSMs need to operate as if they were Big Four consultants, solving complex business problems that would ordinarily be within the scope of five-, six-, or even seven-figure consulting engagements.

And CSMs are expected to be incredibly resourceful when it comes to bridging short-term product shortcomings and smoothing over sales team overpromising.

To compound problems, while CSMs typically have some tech stack and processes at their disposal, CSMs at startups and scaleups rarely have any customer marketing resources doing any of the heavy lifting. Why?

Because most startups and scaleups still staff the marketing hires like it's the 2010s when marketing was glorified order-takers for sales teams. So, there needs to be more thought given to using content and martech to improve objectives and key results (OKRs) beyond immediate sales activation.

At most B2B SaaS startups and scaleups, marketing teams' hands are tied when it comes to supporting product, channel, HR, and yes, chronically under budgeted and severely overworked customer success teams."

Joshua Feinberg — CEO, SP Home Run
Joshua makes a very interesting and fair point here — the symbiosis and alignment between CS, marketing, sales, and other customer-facing teams is extremely important. Marketing in particular is among CS' strongest allies.
Whether it's helping identify and target good-fit prospects or creating self-service content, there are many things marketing teams can do to support their CSMs. Unfortunately, as Joshua points out, marketing teams themselves often suffer from understaffing and underbudgeting, especially at scaleups and startups.
4. "It's no secret that pressure is an intimidating factor for many CSMs"
"I can confidently say that CSMs are often overworked and under-appreciated. CSMs have the difficult task of managing customer relationships, understanding complex client needs and delivering solutions to challenges quickly. They're expected to be both patient listeners and problem solvers, all while keeping up with dynamic changes in the industry.

When taking on more responsibility than they should have to, CSMs often find themselves shouldering an insurmountable workload which leads them feeling overwhelmed. This can manifest itself in a variety of ways such as decreased productivity levels or high anxiety that impacts their ability to deliver results effectively.

It's no secret that pressure is an intimidating factor for many customer success managers. However, with proper support from team leaders, these vital roles will keep on thriving regardless of how demanding the job becomes!"

Richard Nolan — Chief People Officer, Epos Now
Richard offers a simple, yet infinitely relevant insight here — leadership is important, and good leadership is very powerful. When CSMs are overworked, it is up to CS ladder to engage with them, discover the exact causes of this issue in their organization, and work towards resolving it.
Moreover, cultivating a healthy company culture where effort and commitment are recognized and rewarded will make your CSMs feel valued. In turn, this will alleviate some of the pressure that comes with a demanding workload.
5. "Our job as CS leaders is to hire "A" players and help them ruthlessly prioritize their workloads"
Lauren Locke-Paddon, VP of Customer Success at Vocal Video, mentioned: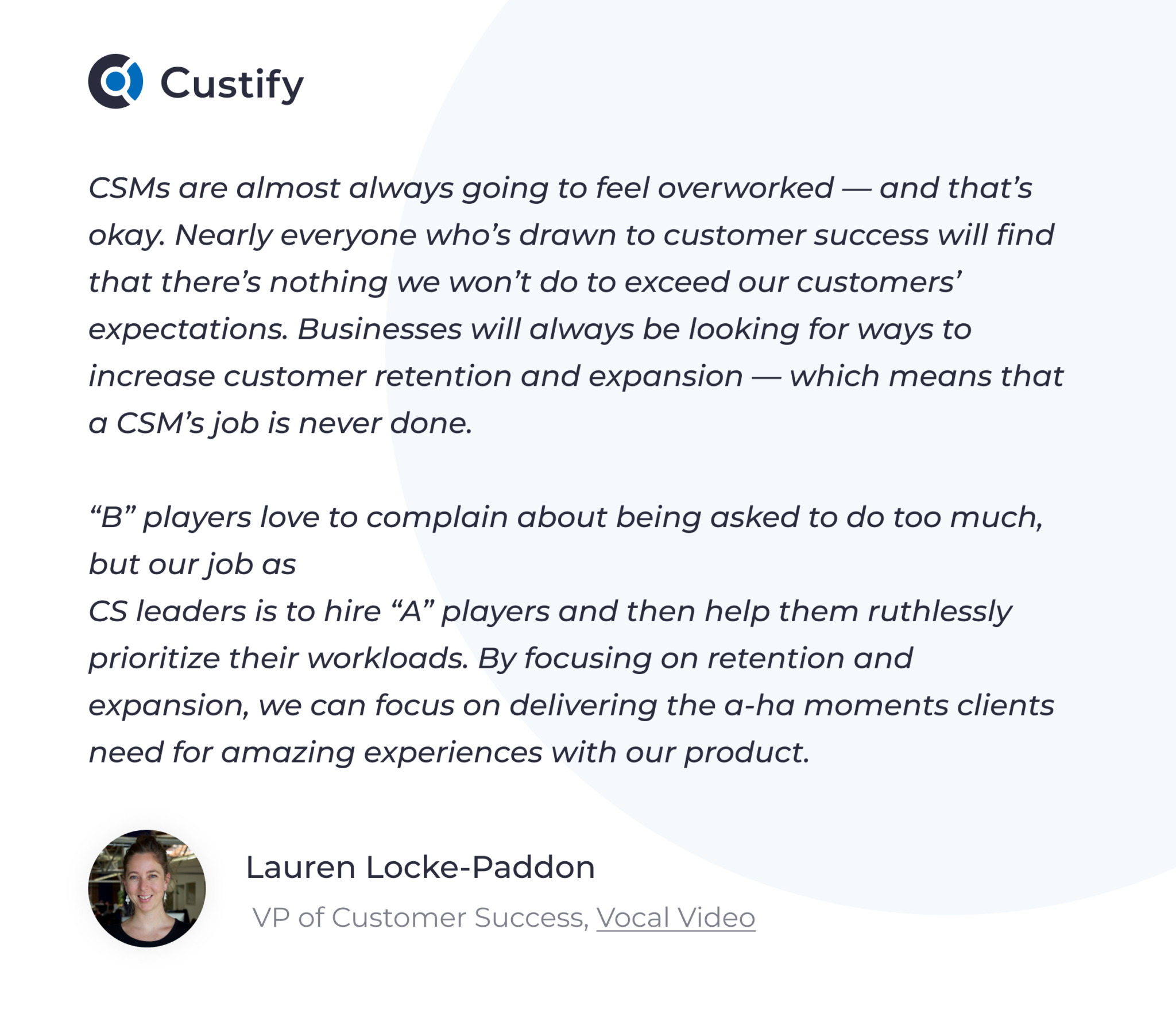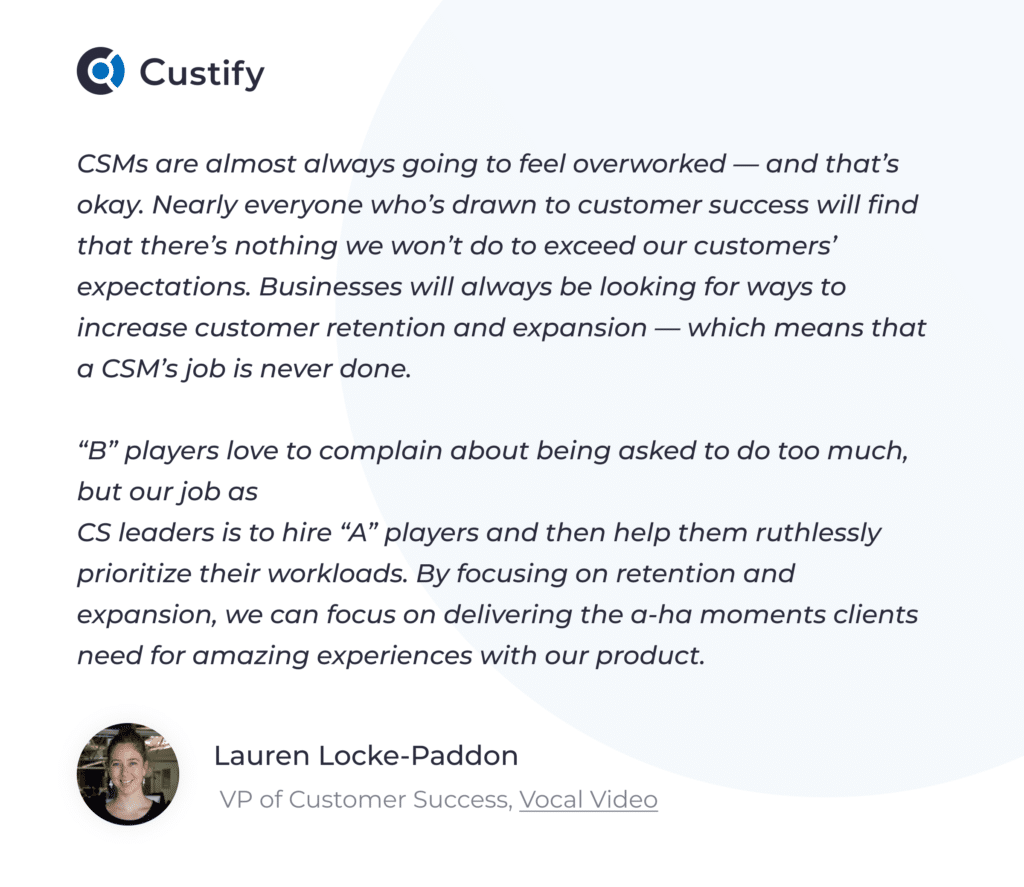 Just like Omer earlier, Lauren presents a contrarian, even controversial take on the subject. However, there are several things she is absolutely correct about.
A CSM's job is, indeed, never really done, as there are always ways to fine-tune and improve the customer experience further. Now, that doesn't necessarily have to translate into an overbearing workload for CSMs. But if it does, prioritization and delegation can definitely help them remain successful.
6. "A high workload can impact job satisfaction and lead to turnover."
"It is common for customer success managers (CSMs) to have a large workload with many responsibilities. It is a complex role, and having a wide range of responsibilities can be challenging, leading to feeling overwhelmed and overworked.

However, the workload of a CSM can also depend on the size and maturity of the company, as well as the specific goals and priorities of the CS team. Some organizations may have more resources and support for their CSMs, while others may rely on their CSMs to handle a broader range of tasks.

It is important for organizations to consider the workload and workload distribution of their CS team to ensure they have the resources and support they need to succeed in their role and meet their goals. A high workload can impact job satisfaction and lead to turnover. So, it's important to strike a balance that allows CSMs to perform their duties effectively while avoiding burnout."

Yasin Arafat — Founder & CEO, DOPPCALL
Yasin offers two very valuable insights here. Just like Joshua, he is correct in saying that the size and maturity of the organization have a big impact on the CS team's workload.
On the one hand, smaller, younger organizations may have fewer and less demanding customers. But on the other, they might not have the necessary resources to effectively support their CSMs. Ultimately, as Yasin points out, it's all about a healthy balance between the organization's CS capabilities and CS needs.
7. "An overworked CSM is not an effective CSM."
"Being a CSM requires a unique skill set and a vast understanding of not just the product, but also the customer. The workload may seem overwhelming, but it's a testament to the importance of this role in driving success for both the company and the customer.

A well-rounded CSM is essential to maximizing the value of customer relationships. But it's important to ensure that their workload is manageable, and the responsibilities are clearly defined. Overloading CSMs with too many tasks can lead to burnout and negatively impact their ability to effectively serve customers.

It's common for CSMs to wear multiple hats. At the same time, it's crucial for organizations to strike a balance between expectations and resources. Overworking CSMs can lead to decreased productivity and negatively impact the customer experience. An overworked CSM is not an effective CSM."

Shri Ganeshram — CEO & Founder, Awning
There isn't much to say about Shri's take on the topic because he presents a very accurate, relevant, and comprehensive perspective. The CSM role is crucial in any SaaS organization, but it's not worth pushing your CSMs to their limits.
If anything, overworked and overwhelmed CSMs are a symptom of a resource management issue in the organization. Chances are that taking a closer look at your organization's capabilities and aligning them with your needs will greatly improve your CSMs' day-to-day lives.
8. "CSMs need resources and support in order to succeed in their roles"
Irina Vatafu, Head of Customer Success at Custify, stated: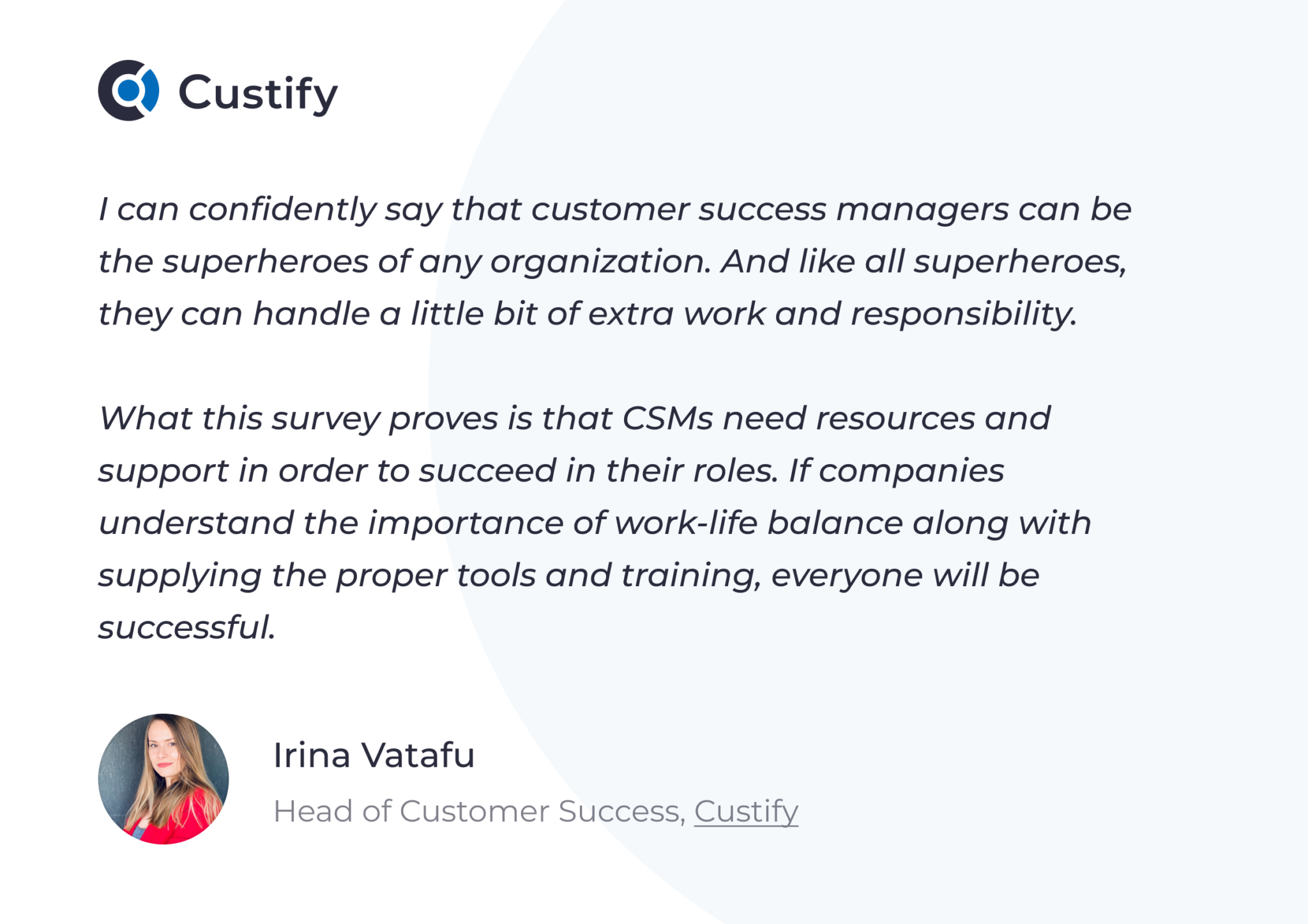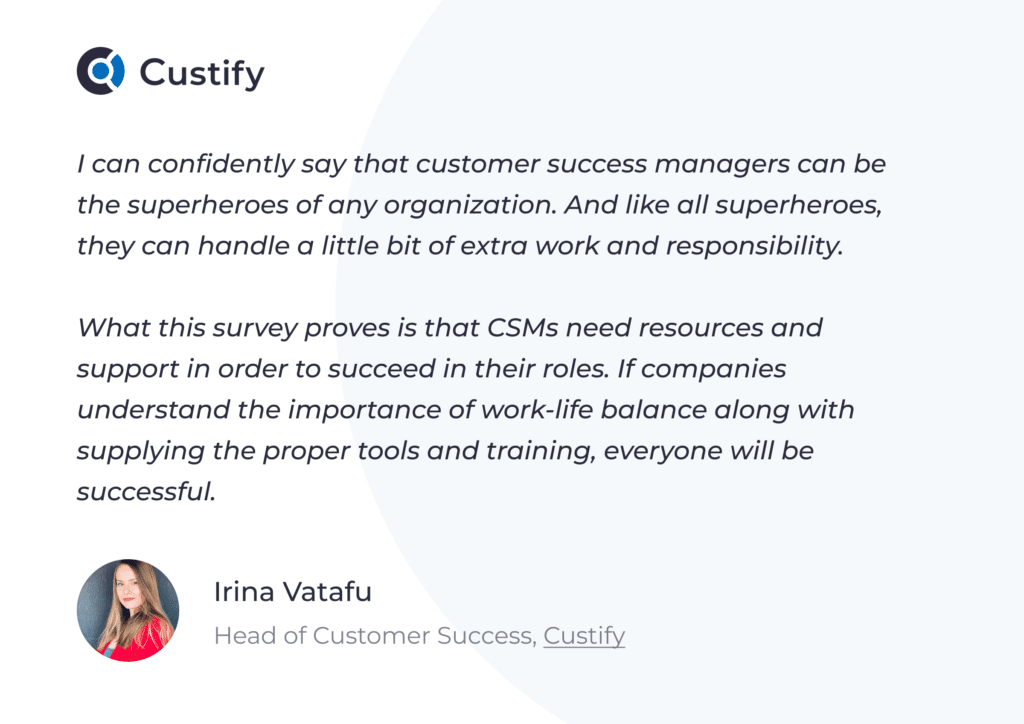 There is hardly a better way to wrap up this discussion than this insight from Irina. As she points out, CSMs do tend to get overwhelmed by their responsibilities. However, with proper resources and support from their organization, they can be successful in the face of any challenge.
Conclusion
There seems to be a consensus among the experts we surveyed: CSMs are, indeed, overworked. Where opinions were somewhat divided, however, is whether it's normal for CSMs to be overwhelmed.
Sure, this issue may speak to just how essential and multifunctional CSMs are. But at the same time, does anyone really benefit from your CSMs burning out and quitting? Such an environment is not sustainable, and CS leaders should ensure that their teams' capabilities meet the business goals and expectations.