SaaS sales cycles are long and frustrating for companies like yours. But you're on the right page to solve that problem.
This guide shows you:
How to identify why your company's SaaS sales cycle is long
14 unique solutions for every step of the sales funnel
Excellent tools you can use
We will also discuss plenty of hands-on examples, so keep reading below.
Why Are SaaS Sales Cycles Long?
According to Hubspot, SaaS sales cycles vary between 40 and 170 days, averaging 84 days.
That's because buying software as a service is a complex decision, whether you're in B2B or B2C. Your target audience typically invests more time, money, and resources into making that purchase decision at every sales funnel stage.
Here's a quick visual to help you understand better: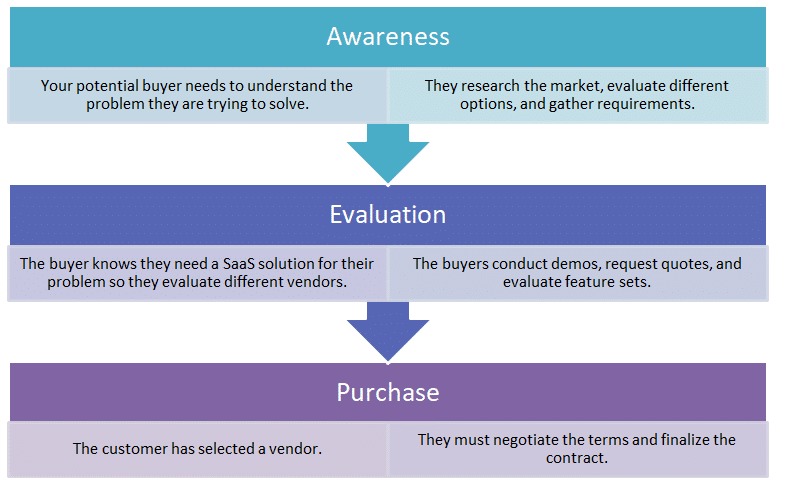 As you can see, there are no rash decisions. Each point in the sales funnel takes a long time, with your prospects doing thorough research.
There's good news:
You can shorten the sales cycle for your SaaS product by helping prospects make up their minds faster.
That brings us to the next point:
How to Shorten Your SaaS Sales Cycle at Each Stage
Before browsing the solutions below, evaluate your current SaaS sales cycle.
Your goal is to identify the potential blockages and opportunities along the sales funnel. This allows you to implement more personalized solutions to your needs.
Now, let's look at those solutions.
I. Awareness
During the awareness stage, your potential customers know they have an issue, so they conduct in-depth market research to find possible options.
The best channels for the awareness stage include:
Blogging
Search Engine Marketing
Social Media Marketing
Here's a mistake some SaaS companies make:
They only focus on their website as a main entry point to the sales funnel. And often, this website is not optimized for the awareness stage.
Solutions include:
1. Build a Research-Backed SEO Strategy
Your first goal at this stage is to make your software more visible and increase organic website traffic.
That means you'll need to invest in SEO services to:
Audit your website and identify potential issues that affect your rankings.
Conduct a competitor analysis to evaluate the solutions that work for them. For example, you can find their most linked-to resources and highest-traffic keywords. Chances are the same strategies that paid off for them will pay off for you.
Choose high-volume keywords with little competition to rank for. Understand your customers' search intent and choose your topics accordingly.
Let's pretend we're Grammarly.
First, a site audit identifies a few problems: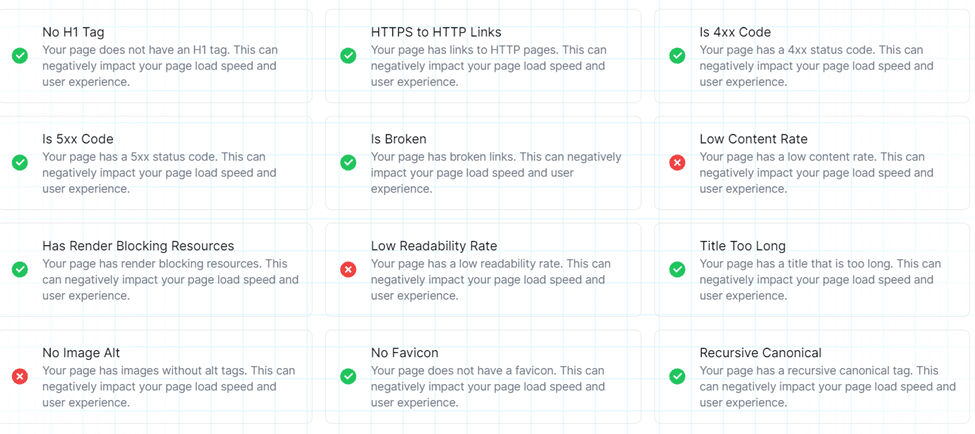 We need to improve our content and readability rate.
Let's use SEMrush to peek at our competition: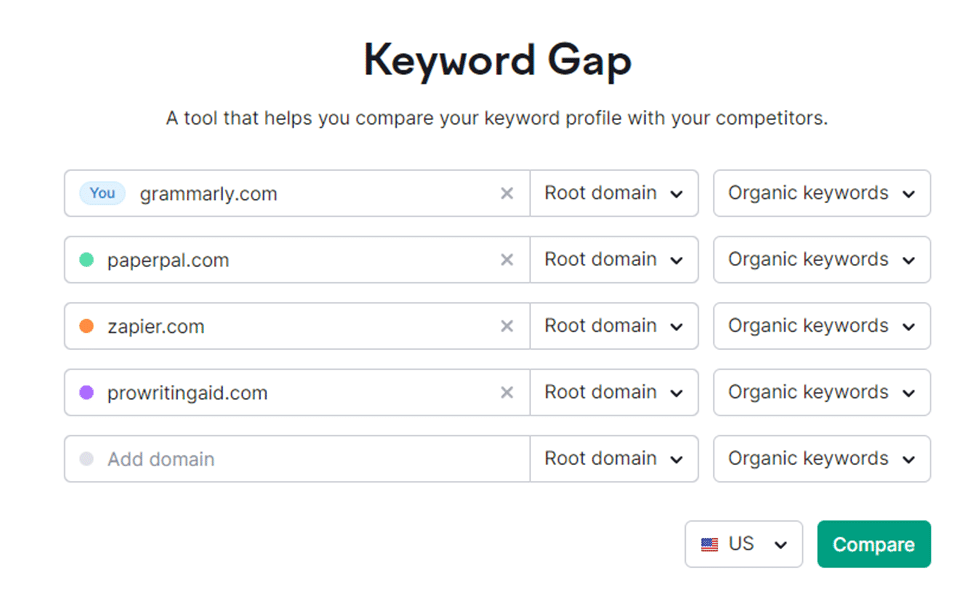 And you immediately see top keyword opportunities that Grammarly can consider:
However, chances are most people already know about Grammarly. That tells you good brand reputation management increases awareness considerably.
2. Create a Customer Value Proposition (and Ditch Your Buyer Persona)
Building a buyer persona may not always be a helpful strategy.
Buyer or user personas typically include several demographic and psychographic factors that may be useless when retailing SaaS.
Take Grammarly, for example.
Grammarly addresses:
Students
Advertising agencies
Freelance editors
Researchers
And more
We're talking B2B and B2C buyers of different backgrounds, ages, genders, hobbies, and locations.
Building a common buyer persona for all these customers is impossible.
Building a buyer persona for each potential audience segment would take too long.
That's why focusing on the customer value proposition (CVP) is much easier.
The CVP defines:
Your potential customers' most poignant issue
How your software can solve the issue
Grammarly's prospects need efficient and correct edits to improve their writing. That's why Grammarly posts this CVP at the forefront of their homepage: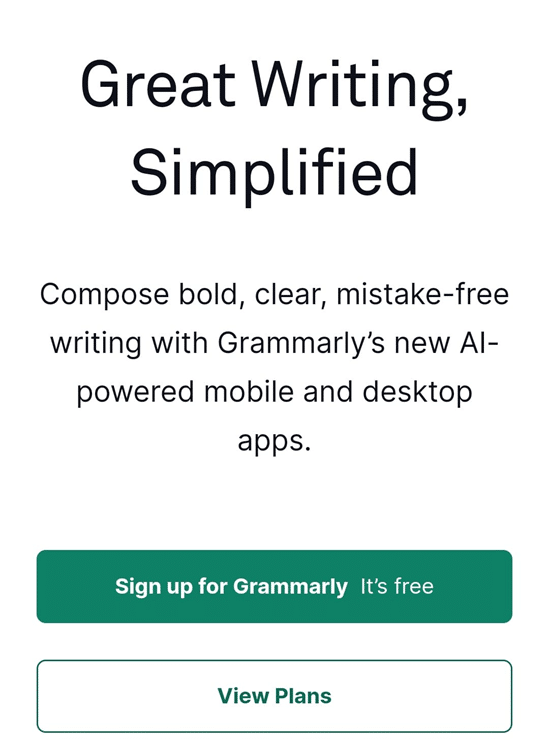 Remember: Analyze your competitors and market before building this CVP. You need thorough information on your prospects for this.
3. Map Your User Journey
Understand how your prospects move through the sales funnel.
That's how you can attract their interest and offer compelling reasons to purchase your software.
Mapping your user journey also helps you identify:
Potential blockages in the sales funnel
Unique selling points along the way
Opportunities that your competitors have missed
In the awareness stage:
Understand how your potential customers become aware of your products.
Use Google Search Console or other tools to see which channels bring you traffic and which ones you can leverage.
Create actionable and valuable content based on SEO, disseminating it on the right media.
Let's get back to our friend Grammarly.
People can become aware of Grammarly through:
Advertising
Word of mouth from friends, family, or colleagues
Online research
Social media platforms, including Twitter, Facebook, and LinkedIn
Blog-reading because Grammarly is often mentioned in blog posts about writing and grammar
That brings us to the next point:
4. Create Quality Content
SaaS companies need to educate their audiences extensively in the research stage. The more expensive your product, the more resources, and social proof you must offer your audience.
That can be done through:
Quality blog posts and videos: Think of tutorials, step-by-step guides, and ebooks. Some SaaS companies offer extensive free courses and tools that attract massive attention from specialized content creators in their niche.
Influencer marketing: This tactic increases your visibility and builds trust. A niche influencer can explain why your software is a good solution in a more credible, persuasive way than you can.
A quick analysis shows us that Grammarly could be more active on YouTube because the software has few views: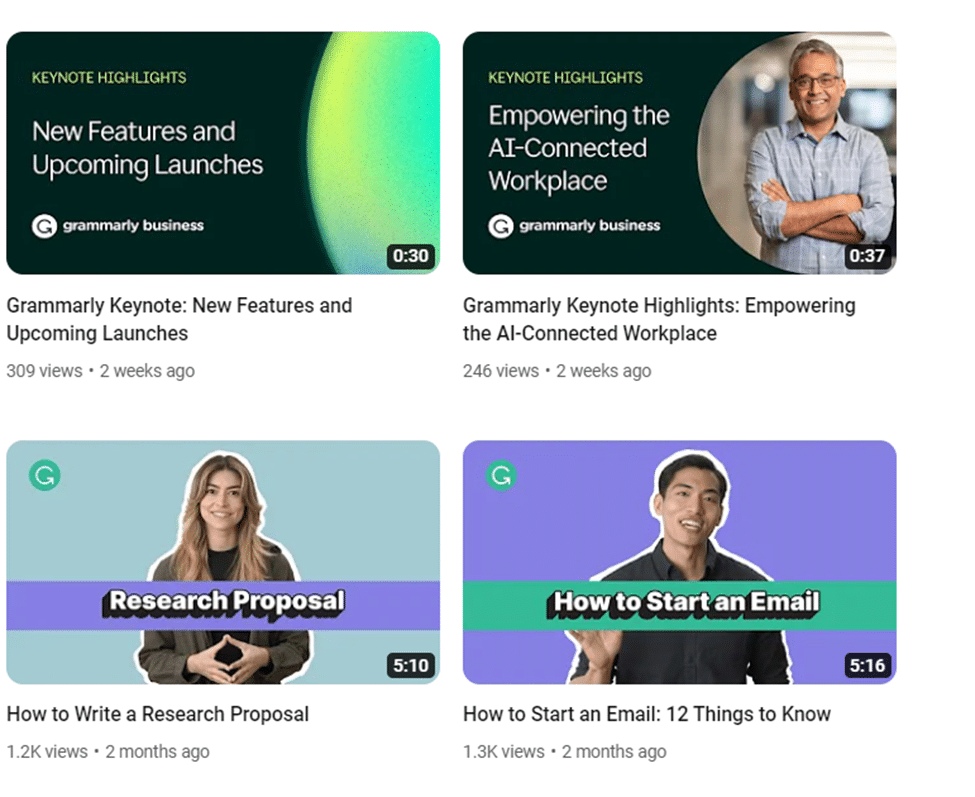 YouTube has 2.5 billion active users per month, and 51% of those users are there for education.
That's a massive untapped market that Grammarly can use to increase awareness of its software.
Besides, our initial audit for this software showed that Grammarly needs more quality content on its website.
And Grammarly can also increase its awareness on social media through influencer marketing.
II. Evaluation
In the evaluation stage, your company probably monitors marketing qualified leads (MQLs) through a customer relationship or data management tool.
But instead of sending cold emails to all these people, try first to understand how these people:
Express interest in your software.
Engage with your website, social media, and online communities that discuss your brand. For example, Reddit and other forums can be important for your software.
Once your research is done, try the solutions below:
5. Qualify Your Leads
Building a correct customer value proposition ensures you're addressing the right target audience.
Qualifying your leads ensures you're targeting the people ready to buy.
That means your sales team must use the following criteria:
Check if your prospects fit your CVP.
Ensure the leads have shown purchase intent because they've expressed valid interest, asked questions, or requested a demo.
Check if your prospects have the budget and authority to buy.
Only target the leads who are ready to buy soon.
For example, SEMrush qualifies its leads by offering a free trial followed by a monthly fee of $129.95.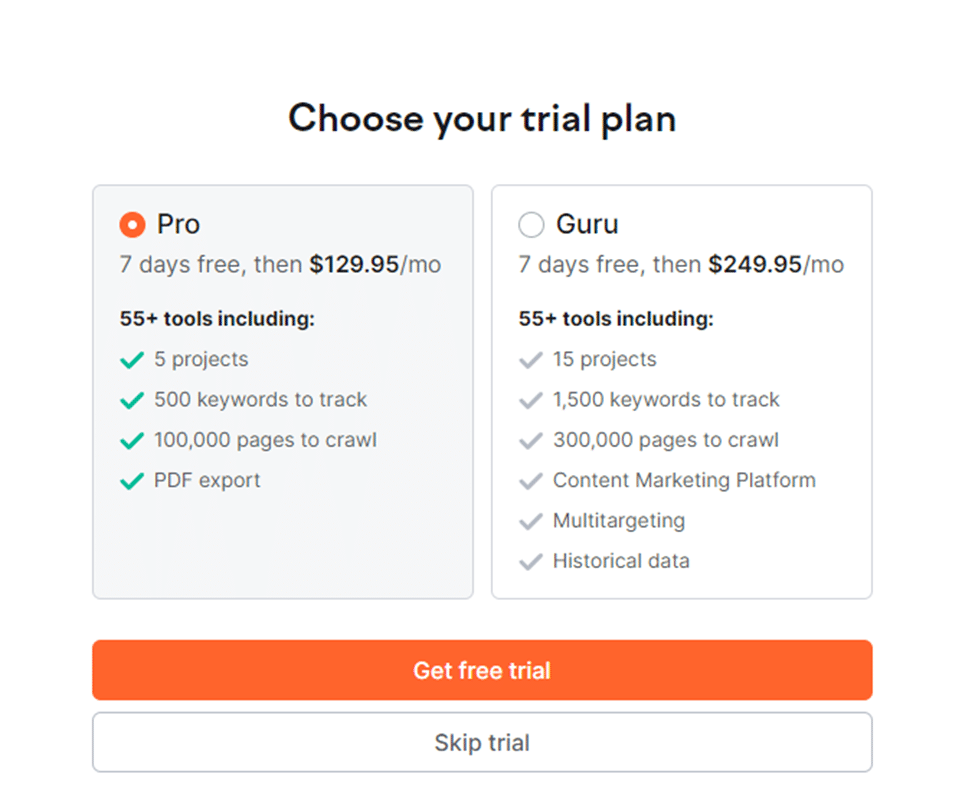 This strategy ensures that people who get the free trial have the resources and the authority to become buying customers. Of course, specific tactics lead to a higher free trial conversion rate, such as:
Picking the right type of free trial
Simplifying your user journey
Not asking for a credit card
6. Train Your Potential Customers
This tactic works especially well when you want to shorten your SaaS sales cycle for costly software solutions.
If your product costs north of $100/month, you should consider this strategy because:
SaaS buyers do a lot of research: They will compare your software with the competitors, read reviews, and browse forums.
SaaS buyers spend their funds carefully: You must dispel their pre-purchase fears. SaaS customers often worry about your software not being good enough or having a steep learning curve.
SEMrush offers a good example, with their extensive Academy that offers free courses with certifications.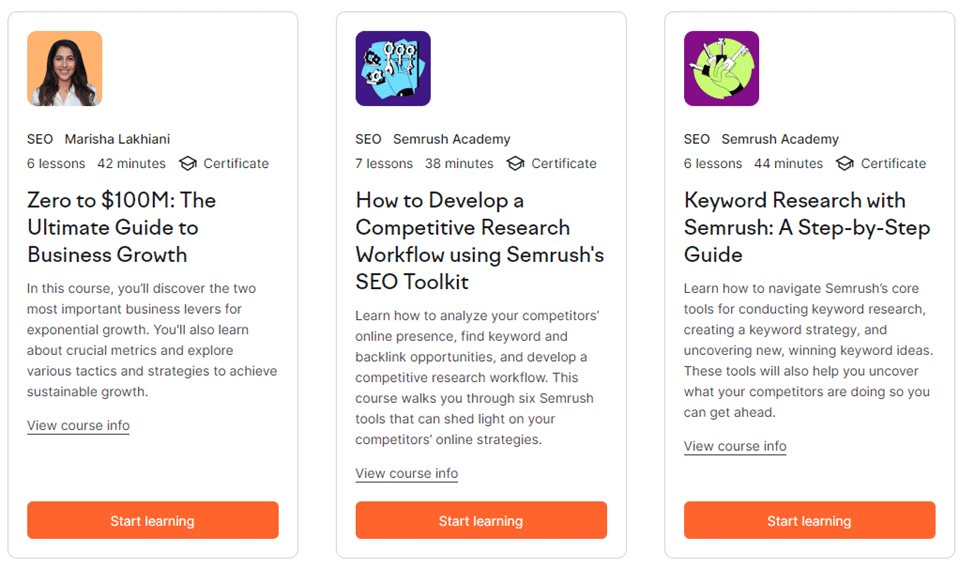 The marketers undergoing these courses are likely to purchase SEMrush to solve their needs because they already learned how to use the software.
Pro tip: Use niche influencers or content creators to build your credibility.
SEMrush is also doing it; the mentors teaching their courses are prominent business owners or marketers. As such, their credibility is transferred to the SEMrush tools.
7. Offer Free Tools and Trials
Free tools and trials help your MQLs become purchasing buyers.
That's also because they can see in real-time how your software works to solve their needs quickly and painlessly.
Besides, these free tools can easily be picked up by other specialized websites that want to offer value to their clients.
Pro tip: You should also try to build links towards those tools.
For example, trading software XTB has developed a market calendar. This free tool has 2.600 do-follow backlinks but only 11 linking websites.
And most don't even have a high domain ranking: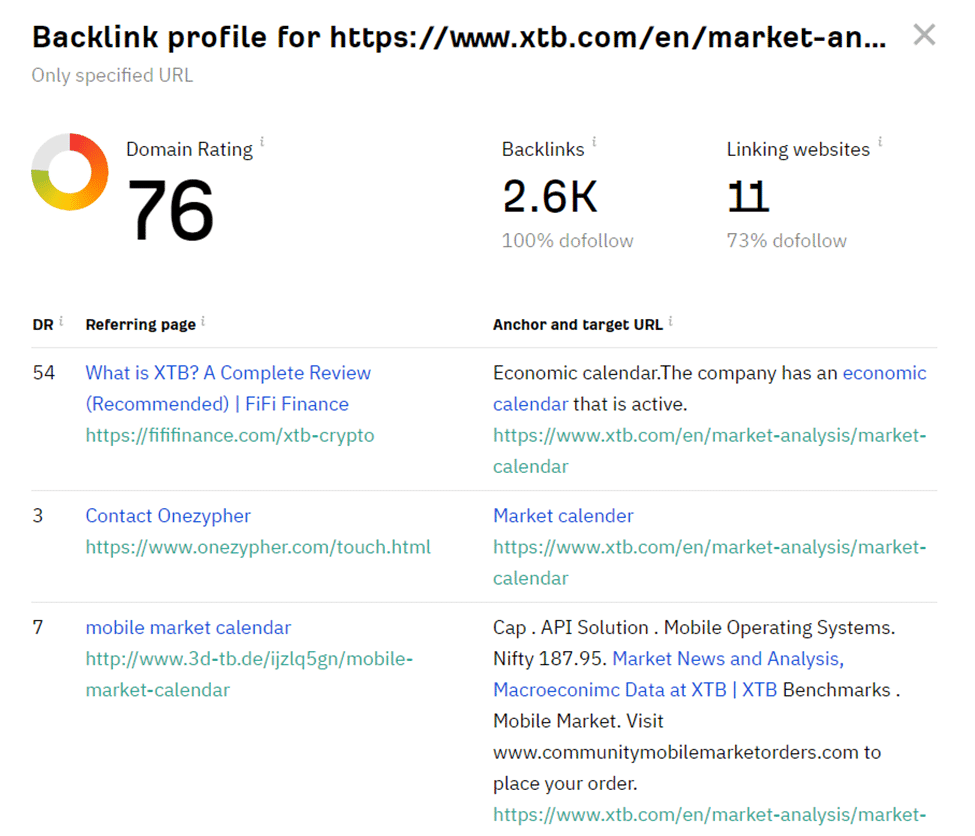 XTB could definitely strive to build more links to this tool.
8. Partner with Influencers
Influencers are more persuasive because they can find customized arguments to convince their audiences. You can manage your influencer campaigns with the help of the influencer agency in LA or any other location.
The best influencers already know how to use your software, so they'll have unique insights about its functionality.
For example, an Ivy League student can explain how Chat GPT can help other students learn more efficiently: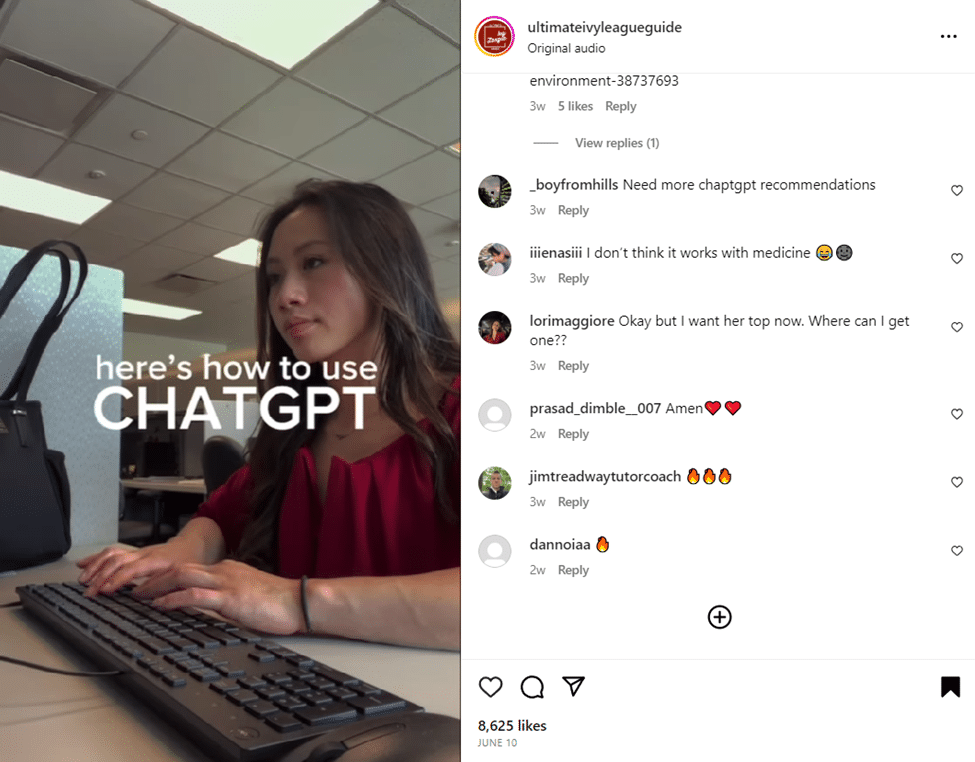 9. Engage with Your Prospects
Use social media and email marketing to engage with your qualified leads.
Send them personalized offers, respond to their queries, and support them even when they're not asking for your help.
Pro tip: You will need solid software to streamline these interactions.
Think of chatbots, callback software, and CRM to start.
Besides, these tools will help you understand your leads better to improve your future messages and services.
The post below is a good example because Monday.com takes its customers' feedback into account and responds promptly: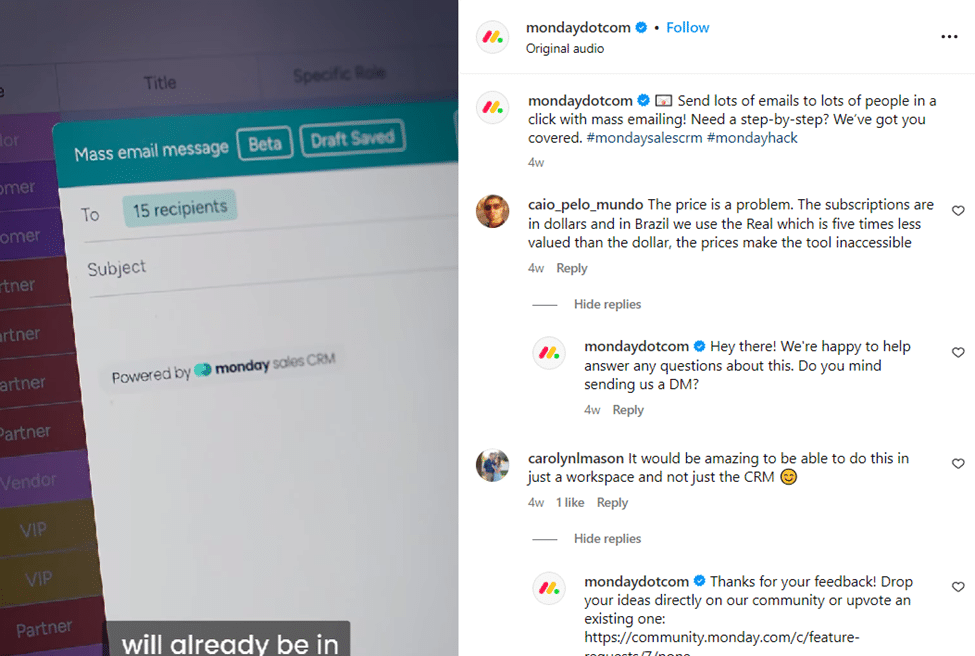 Maid service software ZenMaid offers a good example of a personalized email: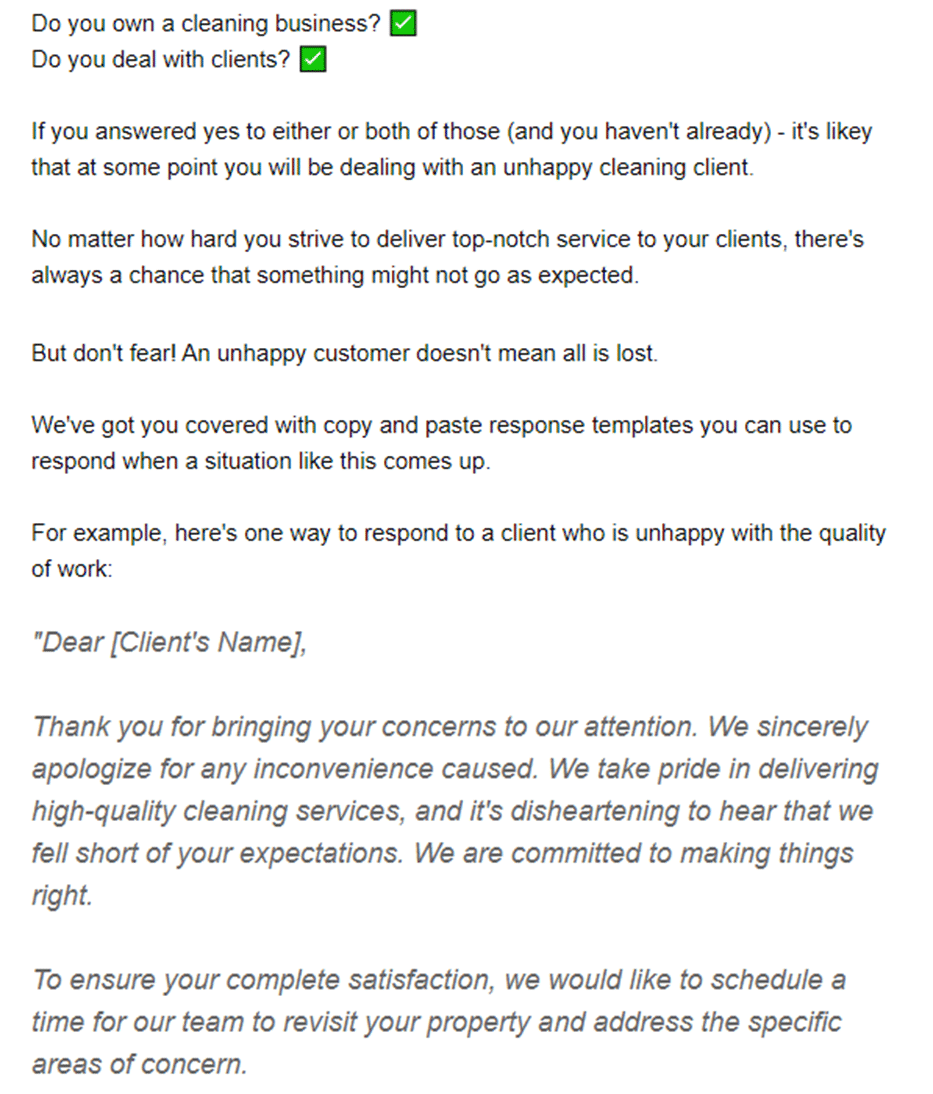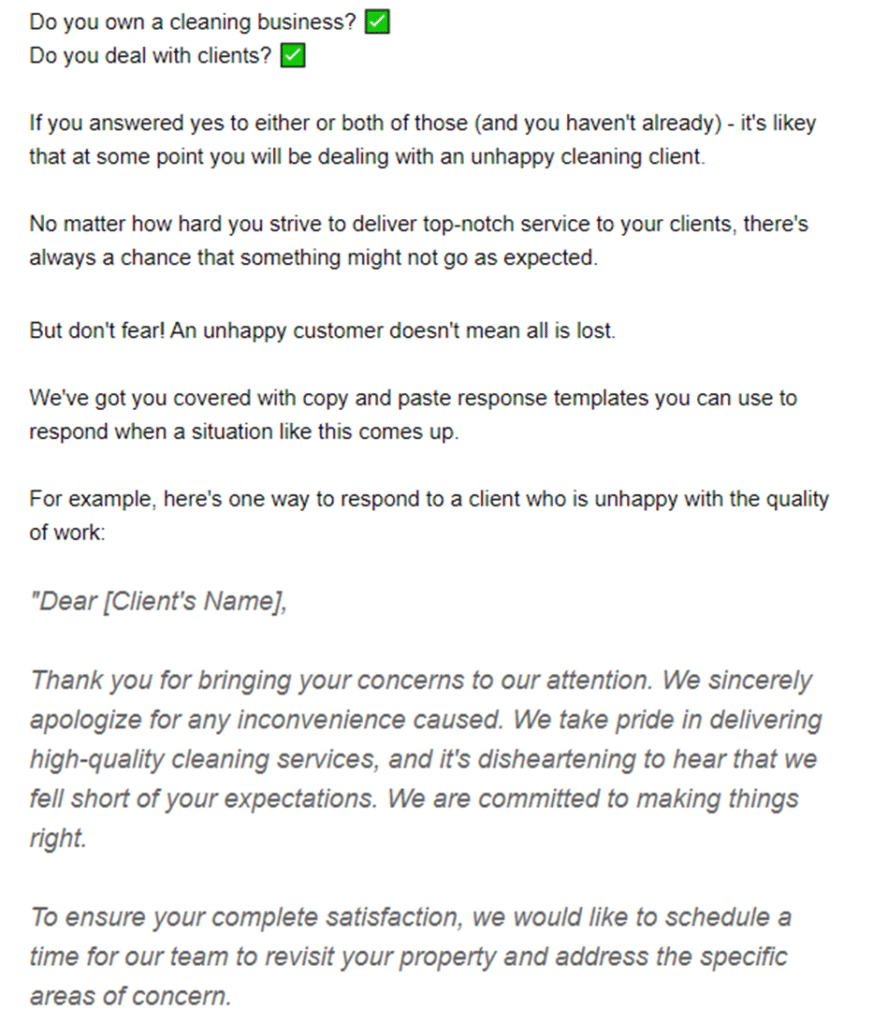 Source: Personal Email
The software helps its prospects proactively by sending them an email template to deal with their unhappy customers.
Emails like these personify ZenMaid and help it become top of its customers' minds.
III. Purchase
The next stage in the SaaS sales cycle is purchase.
This is when you want to give your customers a final push to buy your software. And you have plenty of solutions here too:
10. Offer a Free Trial
If you don't offer a free trial on your website yet, have your sales manager contact sales-qualified leads (SQLs) directly with this offer.
You can also consider a product demo if your software addresses enterprise customers.
In this case, the learning curve is probably steep as well.
Remember: Reach out to your customers directly through personalized messages or direct calls.
11. Bring Extra Proof
Publish extensive case studies showcasing how your product benefits other existing customers.
You can also use user-generated content from your loyal customers through quotes or videos.
Pro tip: If you're using written reviews, use your customers' photos to give these reviews more credibility. Of course, you'll need to ask for their permission first.
Monday.com offers a great example again by showcasing how one of its customers uses the software to fight against waste: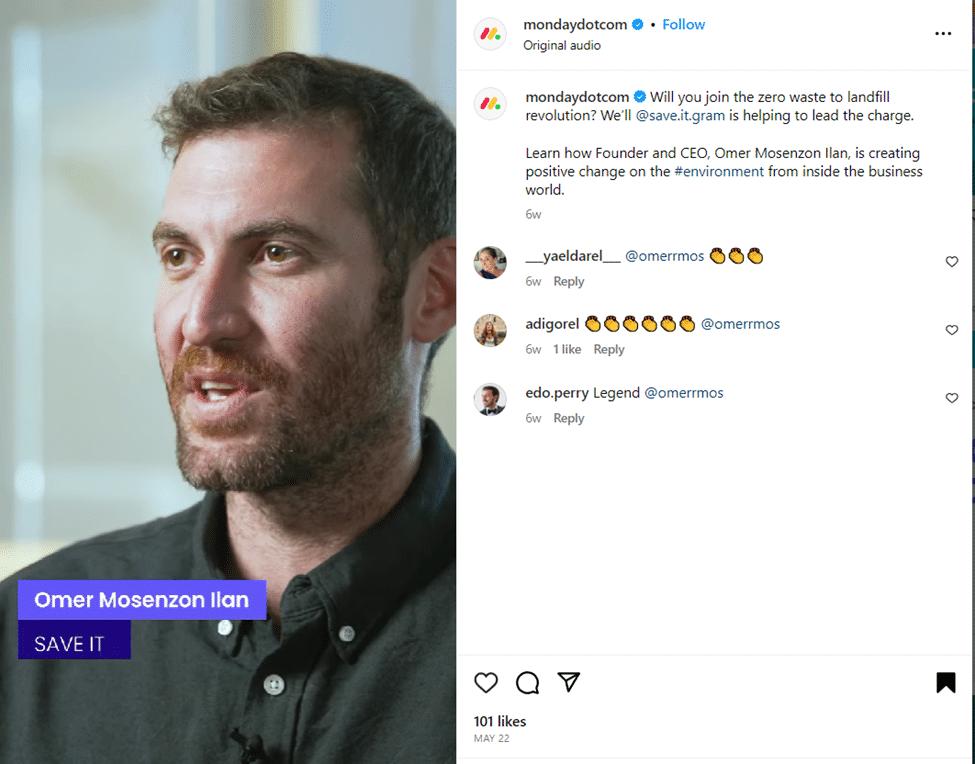 IV. Post-Purchase
Even if you technically want to shorten your SaaS sales cycle before purchase, the post-purchase stage is equally important.
Nurturing your customers after they buy your software ensures they will:
Buy more products from you in the future.
Recommend your software services to their friends and colleagues.
And both these things shorten your future sales cycles even more.
12. Upsell
Upselling means selling additional products or services to your existing customers. This boosts your revenue massively.
Let's say you have fitness software.
You can have a free and a few premium versions that include advanced analytics, personalized coaching, or meal plans.
Basically, you want to create tiers that your existing customers can subscribe to.
Fitnessblender offers a neat example here. The company started as a husband-and-wife team that created free workout tutorials.
Now, the website has multiple trainers and services, such as:
Annual subscriptions
Limited passes
Gift cards
Merchandise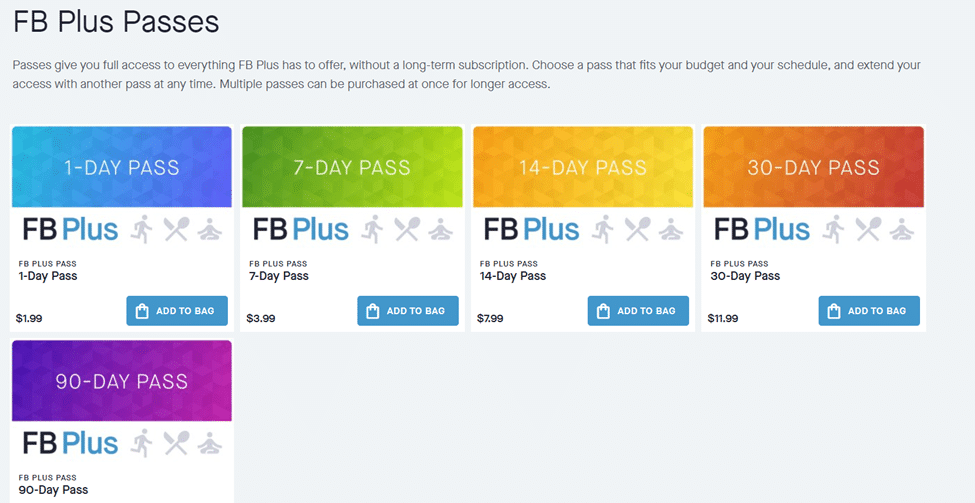 13. Cross-Sell
Cross-selling means promoting other services in your tool stack to existing customers because these tools complement the services they bought.
Let's say you have a CRM software company.
This SaaS company could use cross-selling when:
Selling additional tools: For example, offer a marketing automation tool that could integrate with the CRM software, thus improving your existing customers' marketing efforts.
Selling additional services: Consider consultation or training as cross-sells to your existing customers. That way, your buyers can learn to use your tool more effectively and, ultimately, get more out of it.
The point is your company already has these extra tools and services.
But promoting them as stand-alone services brings you back to the 84-day sales cycle.
To shorten this period, present them to your existing customers as complementary offers.
14. Build a Referral Program
Building a referral program helps shorten the SaaS sales cycle considerably because people trust their circle of friends and colleagues. That's true for B2B decision-makers as well as B2C buyers.
Here are the steps you should follow:
1. Identify your target audience: Not all your existing customers will want to participate in the referral program. That means you'll have to research prospects all over again and target them with personalized messages.
2. Choose incentives: Consider what motivates your existing customers to refer their friends and colleagues to your brand. Sometimes it can be a massive discount. Other times, it can be as easy as an excellent service.
3. Define your referral process: Set up a referral link, code, or form – whichever works best for your audience.
Dropbox, a cloud storage and file-sharing service, successfully uses referrals. Its incentives are personalized depending on the storage plan the new referral chooses.
Besides, the referral program is seamless, making it easy for more customers to use it.

Which Solution Will You Choose?
This article showed you 14 ways to shorten your SaaS sales cycle. However, you must first understand why your sales funnel is longer than expected.
Identify those blockages and missed opportunities.
And then, you can choose the right solution for your needs.
Still unsure what to pick? Follow a results-driven, customer-centric approach, and you'll get your answer.