Money can't buy a good reputation – one has to earn it. The same goes for businesses and their brand reputation which is often considered to be one of the most precious assets of any business.
The good news is that there are proactive steps businesses can take to control how their brand is perceived by the outside world, commonly known as brand reputation management. In this post, we will explore these steps and best practices SaaS companies can employ to make their brands shine.
What is brand reputation management?
Brand reputation management is a combination of how a company portrays itself and how it is actually perceived. Gartner brilliantly depicts this in the image below: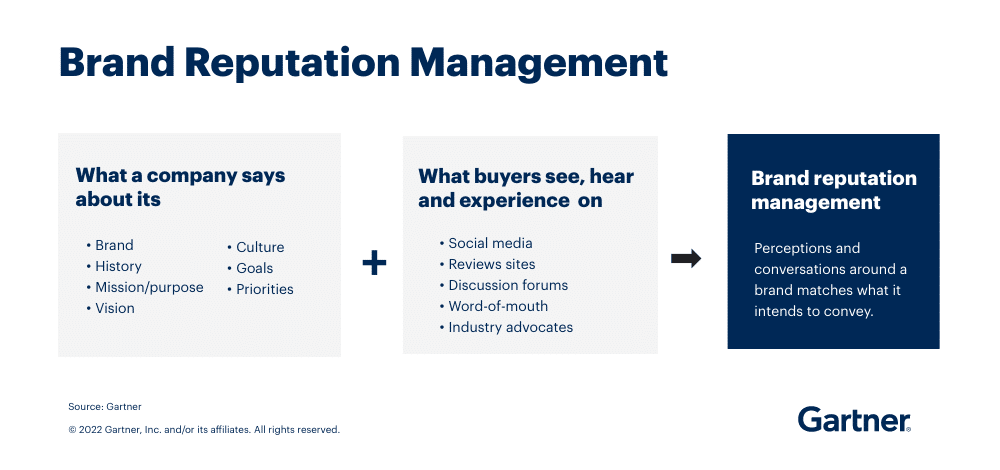 It's a crucial part of business operations that requires consistent monitoring to identify reputation-boosting opportunities and mitigate any potential reputation damage.
This gets even trickier for SaaS companies that have their entire brand reputation generated online. With numerous SaaS options for every business solution, buyers may narrow down the finalists based on their features and prices, but it is the perceived confidence in the brand that will often determine the winner.
Why it's important to manage your brand reputation
As mentioned earlier, a strong brand reputation is important because it creates trust and credibility that comes along with it. Customers will be more likely to purchase your product, other businesses — to partner with you, investors — to invest, and so on.
And if that's not enough, here are some extra benefits of brand reputation management:
Increased revenue due to more sales. The better your brand reputation, the more customers will purchase your product, becoming your best brand ambassadors through reviews, social media, and word-of-mouth, and helping you attract more customers.
Customer loyalty grows as a result of their experience matching or exceeding the promised expectations. It's no secret that retained, long-term customers create the greatest chunk of business revenue streams — more good news for the balance sheets.
Top talents will desire to join your business, and existing employees will be more inclined to stay for the long run. Without a strong brand reputation, businesses will simply not attract or retain the most in-demand workers, even with an enticing salary.
As you can see, the importance of managing your brand reputation cannot be overlooked. Shockingly, recent studies have shown that over 90% of consumers have turned down a business due to a negative review.
It's imperative for businesses to realize that every move and decision they make will eventually be scrutinized by all stakeholders, especially for SaaS companies that solely operate in the online world where most of these discussions take place.
10 ways SaaS companies manage their brand reputation
Let's dive into the 10 most effective ways SaaS businesses can manage and perfect their brand reputation.
1. Monitor key metrics
The first step in managing your brand reputation is making it a habit to frequently track and measure it. While brand reputation is somewhat abstract, numerous metrics can paint a pretty vivid picture of how the brand is perceived online.
A great starting point in assessing your SaaS brand reputation is leaning back on the four main indicators of your brand health (an umbrella term for how well your brand is doing overall):
Brand exposure shows how well your brand is expanding its audience reach; could be measured by social media mentions/discussions and content interaction.
Brand experience refers to customer (and employee) satisfaction and willingness to advocate for your brand; could be measured by reviews and testimonials.
Brand image indicates the overall impression your brand has on the outside world; could be assessed through surveys and focus groups as a part of the brand audit.
Financial indicators directly related to your brand reputation, for instance, revenue from recurring buyers.
The most important thing to remember is to only use the most relevant metrics to your specific niche and unique business model.
Certain dedicated reputation management tools can gather, analyze, and visualize these metrics in simple infographics (and even calculate your overall reputation score, as illustrated below).


2. Keep it real
It's always good to aim big, but what no SaaS firm should ever do is set high expectations before being 100% capable of delivering on them. Doing so will hinder their credibility and could permanently damage their brand reputation.
Instead, businesses can build their credibility through unambiguous and realistic product marketing that fully matches the true customer experiences, and following through on all set promises.
Believe it or not, even RedBull paid a $13 million settlement for promising its consumers that it 'gives them wings':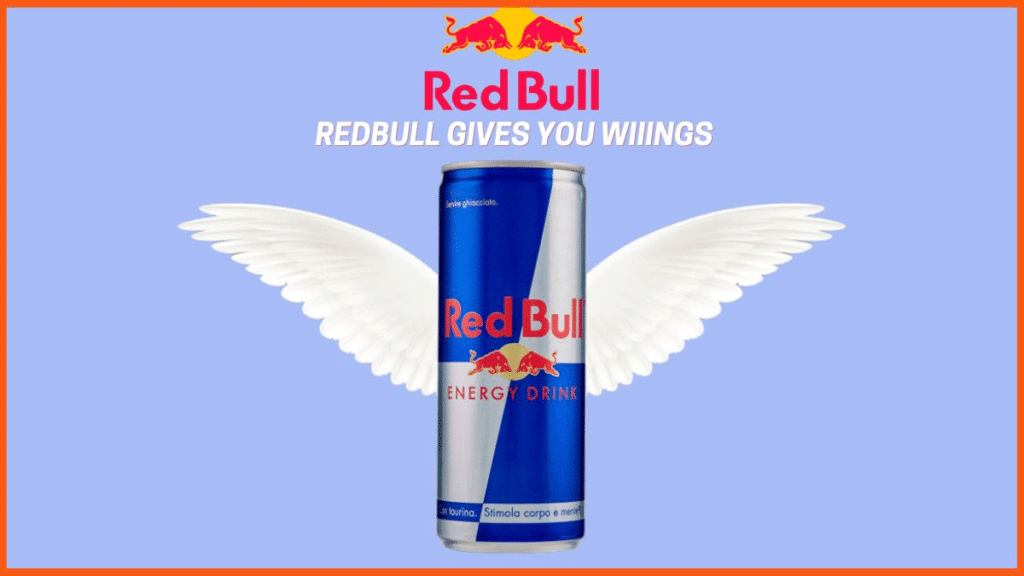 All jokes aside, it's virtually never good for businesses to overpromise, but even more so for SaaS firms that have to show complete objectivity regarding their product's exact features and capabilities from a technological point of view.
Plus, it's always better to over-deliver and crush expectations than the other way around.
3. Leverage feedback and reviews
For all SaaS firms, user feedback in the form of reviews and testimonials is the best social proof to showcase their credibility to all potential customers.
Leveraging the most reputable software directories and marketplaces allows businesses to expand their brand exposure and stay on top of all new product reviews: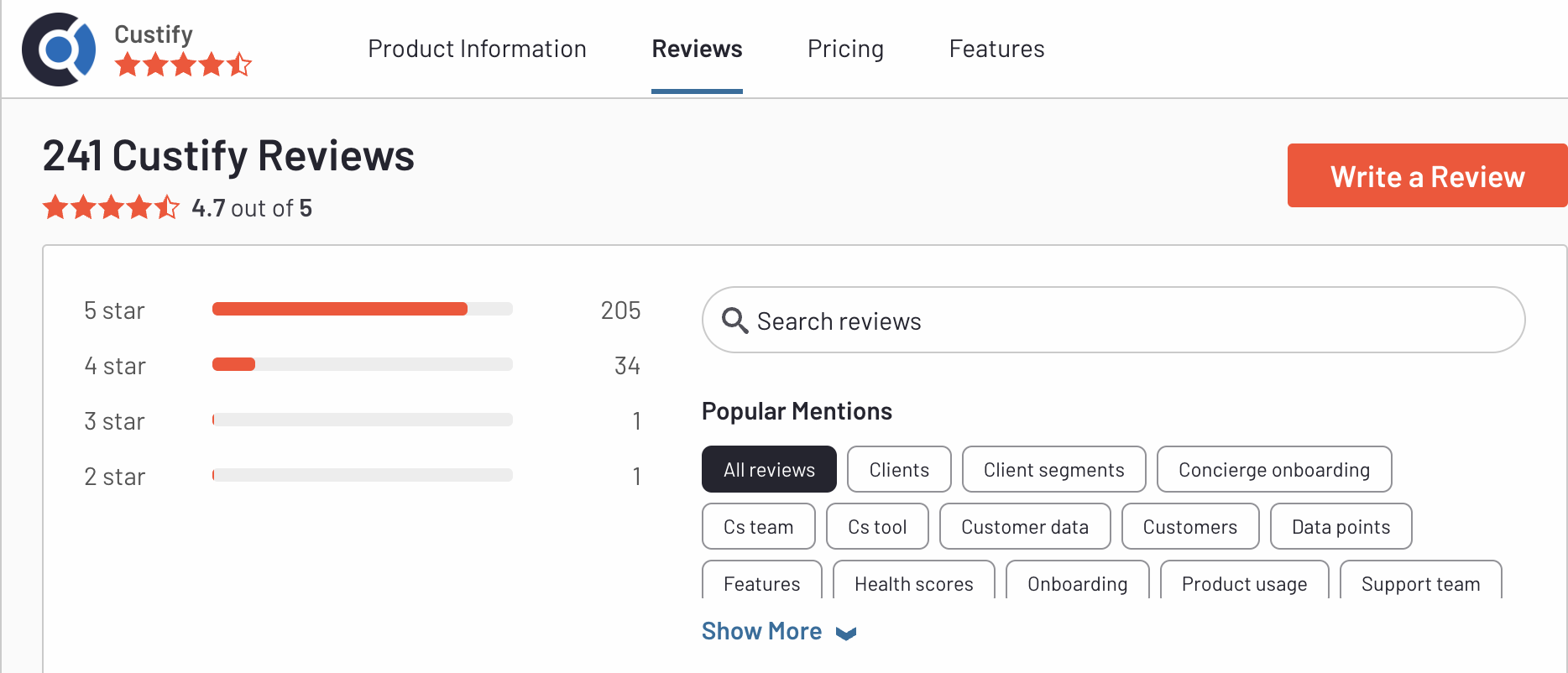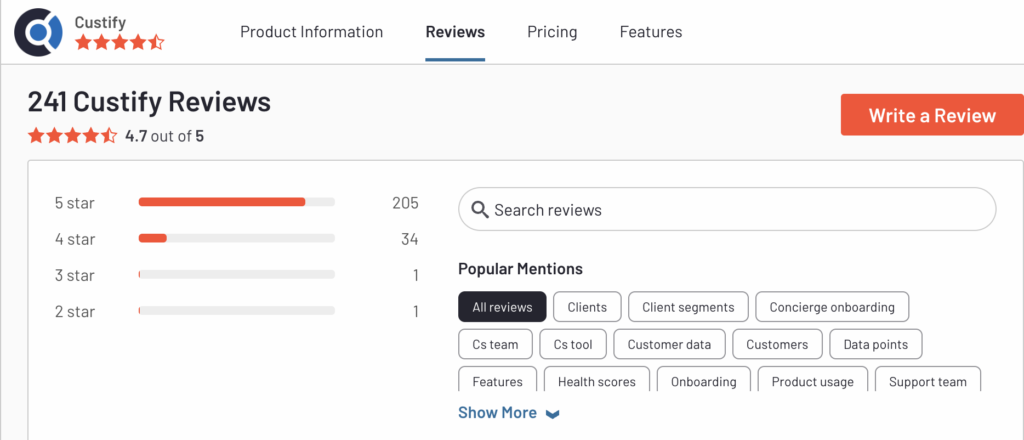 All highly-rated reviews that best advocate your brand should be carefully stored and utilized when appropriate, for example, in case studies or customer stories on your website.
And as painful as bad reviews are, they provide a clear idea of what isn't cutting it for the customers, which can then easily turn into a clear plan of action for further improving your product. This can help you remove the guesswork and align the priorities for your future updates.
While certain negative reviews may be beyond your control, it's crucial to respond to them in a timely and tactful manner. This demonstrates to your customers that you truly value their opinions and are listening to their feedback.
SaaS businesses should proactively encourage reviews from their users, be it through newsletter or social media review requests. Gartner recently found a correlation between collecting 10+ reviews and a 127% boost in traffic.
4. Be genuine & accessible in communication
The way businesses engage and communicate with customers is another powerful force in sculpting the brand reputation.
Throughout the common SaaS buyer journey, businesses initiate and maintain communication with their potential customers. SaaS firms must ensure that their sales team upholds their brand values through every interaction.
Pushy, impersonal, or deceiving tone and messaging will eventually come to light and harm your reputation. SaaS firms are centered around their product – that should be the main selling point, explaining to prospects how they would specifically benefit from it.
In the SaaS world, once a prospect becomes a customer, communication is often passed from the sales team to customer success. Now that customers invested their money in a product, their expectations for personalized, top-class communication grow even further.
The only solution is a solid customer support team that will always be accessible and motivated to find solutions, no matter the issue or query. Even if they need a few days to resolve it – they should keep the customer in the loop.
We also practice reaching out to each and every customer regularly to ensure everything is smooth and asking what can be improved for their personal experience.
5. Spread the word with outside help
You could have the best brand reputation in the world, but without the appropriate exposure – it will all be for nothing, as your product won't even make it to the list. Spreading the word and getting across to new audiences is never easy for a newly-established SaaS firm, especially without some outside help.
This is where businesses should knock on the doors of reputable third-party sources that are trusted and visited when making a purchase decision in your niche. These may include highly-rated listings, directories, catalogs, research reports, and so on.
Similarly, it's common practice for SaaS firms to collaborate with industry thought leaders and other brands in their own or adjacent niche. This is a fantastic way to promote each other to new audiences and expand your brand awareness.
For our recent Sales AI Summit, we were thrilled to bring together some of the leading industry leaders from all over the world to share their expert knowledge and ideas: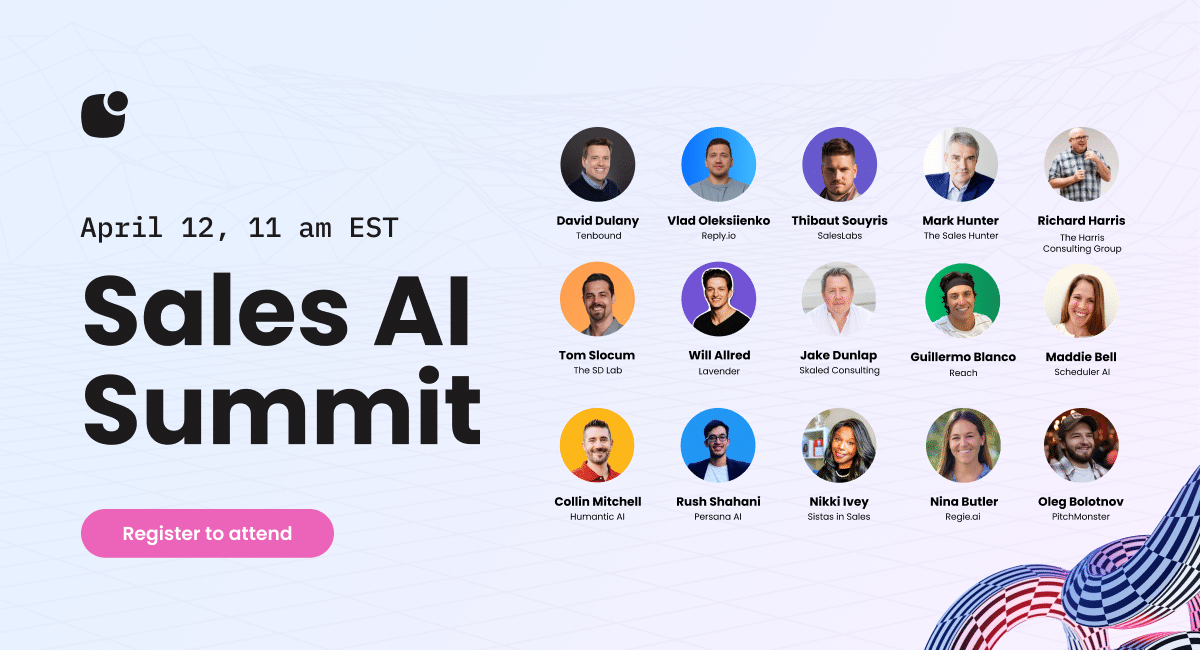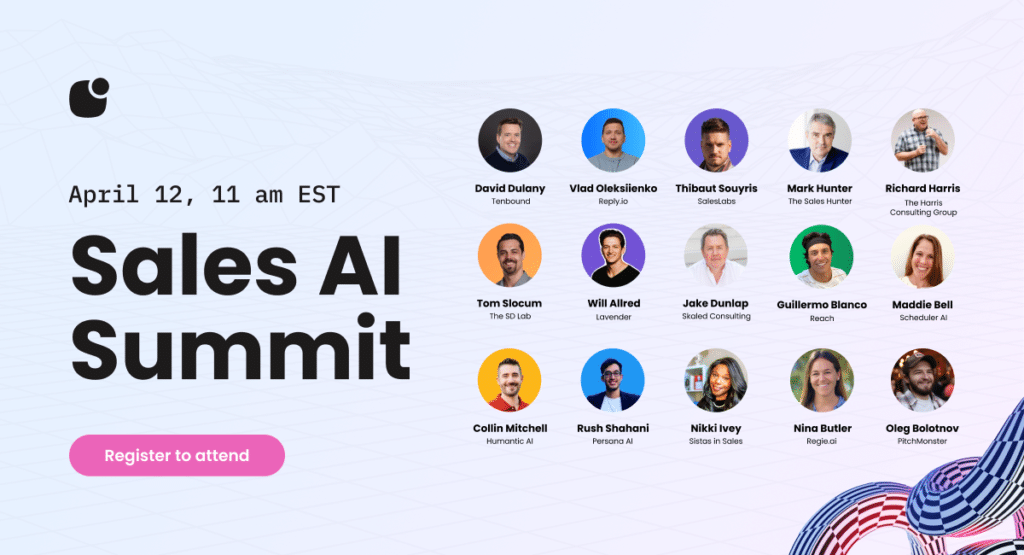 Once you manage to get your brand across to a big enough audience, given your product is top-quality, your brand reputation will grow exponentially from hereon.
6. Get on social media
Social media is the place where most conversations about brands and products are happening. For B2B – LinkedIn takes the throne.
However, it's best to set your roots in multiple social platforms to connect and engage with a wider audience. When executed correctly, staying active on social channels will polish up your brand reputation, even if it won't generate crazy conversion rates.
Staying on top of social media mentions also allows businesses to swiftly deal with any unexpected issues and potentially prevent a PR nightmare. Quite frankly, a SaaS business without a strong social media presence will definitely be seen as a red flag nowadays.
Besides, there's no better place for SaaS firms to stay on top of industry trends, express their brand identity, corporate culture, milestones, and anything else worth sharing with the outside world.
HubSpot does a great job at this by regularly connecting with their audience off-topic on Twitter: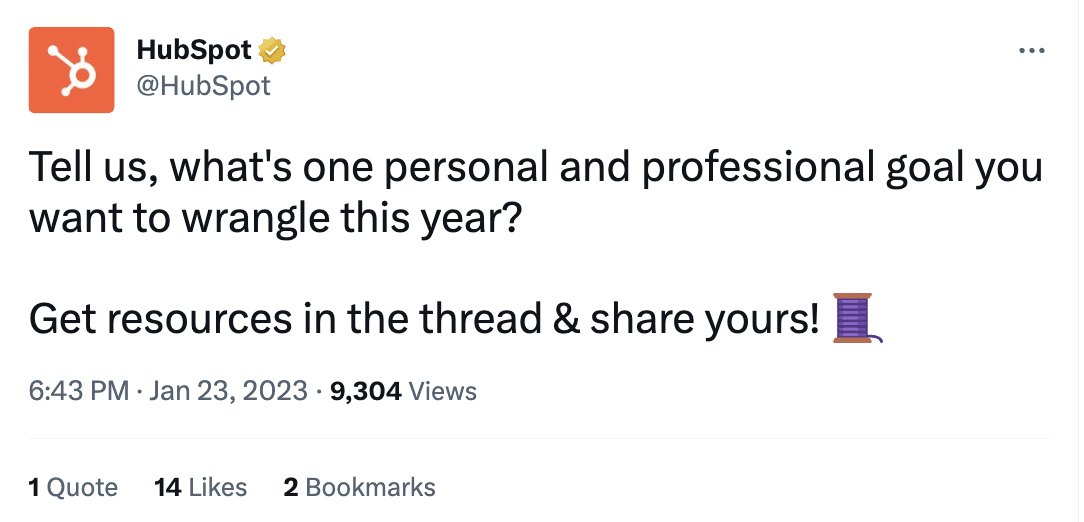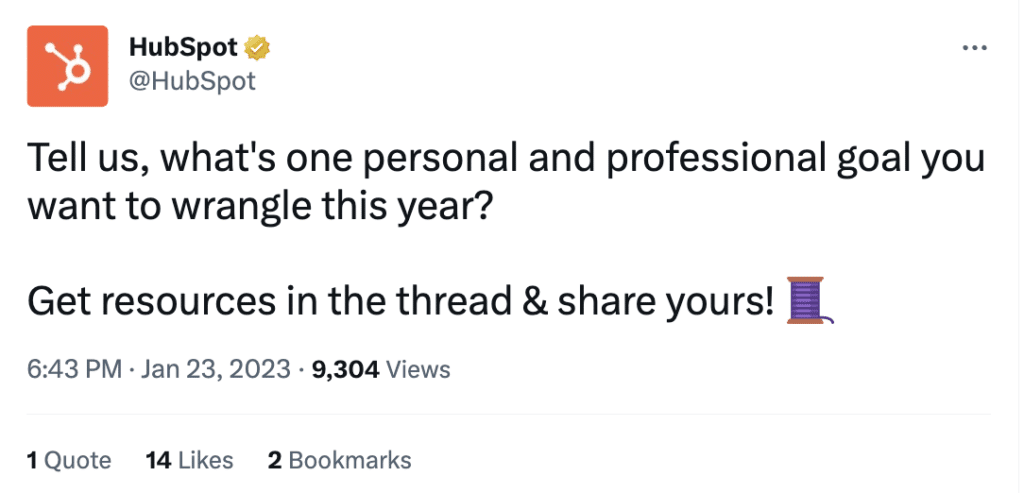 7. Gear up with the right tools
As a SaaS firm yourself, you know better than anyone how vital software tools are to every aspect of business operations, and brand reputation management is no exception:
Social listening tools analyze all brand mentions, discussions, and interactions on all your social channels to showcase your audience's main pain points and what posts boosted or harmed your public perception.
Online reputation management tools take things a step further by covering the entire web for any brand mentions and interactions and alerting you the moment they do come up for a quick response.
Sentiment analysis tools are becoming increasingly popular with the rapid rise of AI and deep learning which teach this type of software to evaluate all brand reviews based on their tone and emotions.
Feedback analytics tools, as the name suggests, bring together all customer feedback from the web, and streamline them into an easy-to-digest dashboard that businesses use to find common product dissatisfaction.
8. Establish niche expertise
In the SaaS world, credibility and expert knowledge are highly correlated. For instance, no business looking to buy sales automation software will even bother considering a firm that doesn't show its expertise in sales. And why would they?
The top SaaS firms undoubtedly have industry experts on their teams, so it becomes a matter of getting their knowledge and expertise out there.
Creating a comprehensive, valuable, and highly pertinent content strategy is a crucial initial move towards establishing your company's expertise in the industry. This can entail generating an array of content, such as blog articles, industry reports, brief eBooks, or a combination of all three. As your SaaS business grows, it's worthwhile to begin including events in the mix, such as webinars and conferences.
This is also where social selling comes into play. C-suite and managerial-position employees will significantly enhance their firm's brand reputation by growing their personal social presence through thought leadership.
For reference, our VP of Growth is regularly sharing PLG and growth-related tips and curated resources on his LinkedIn profile: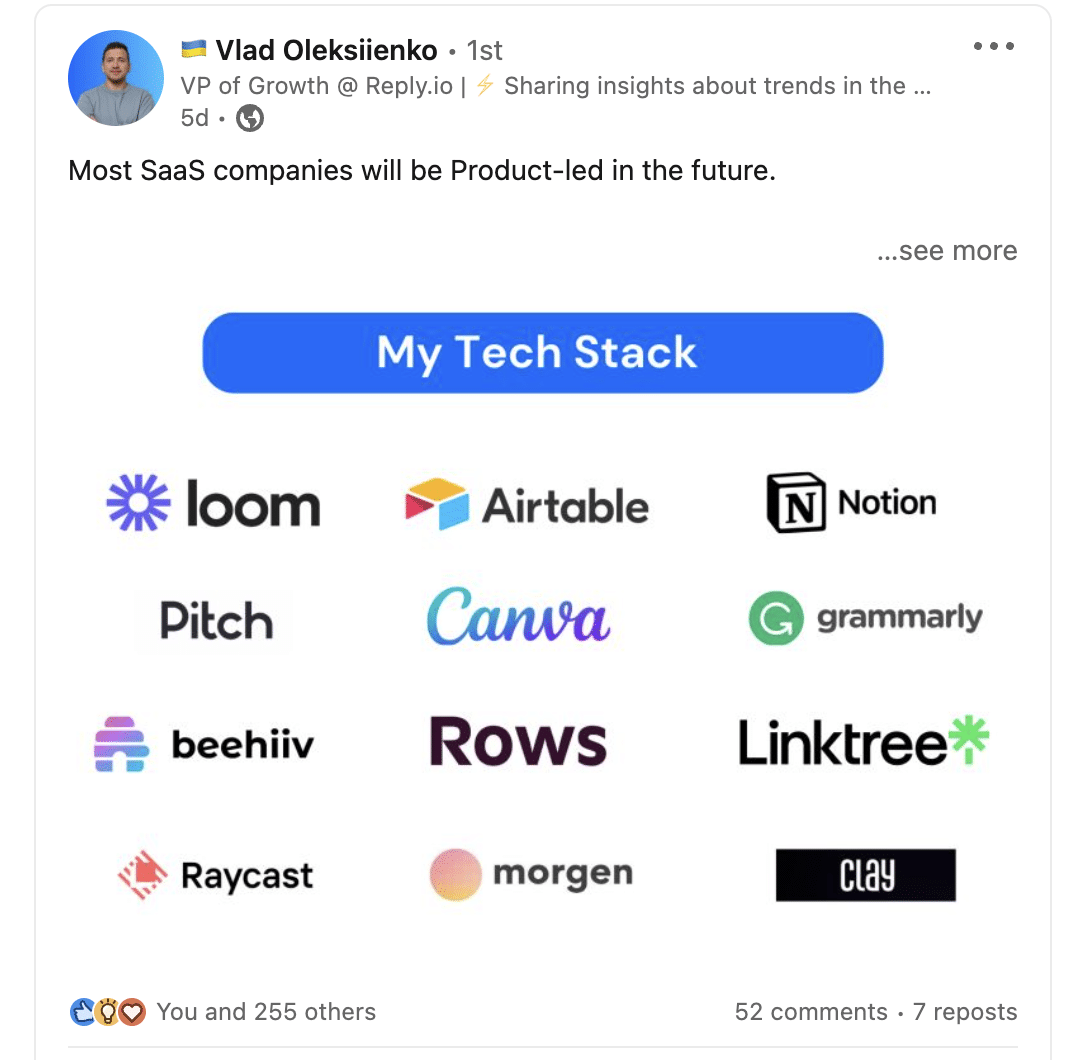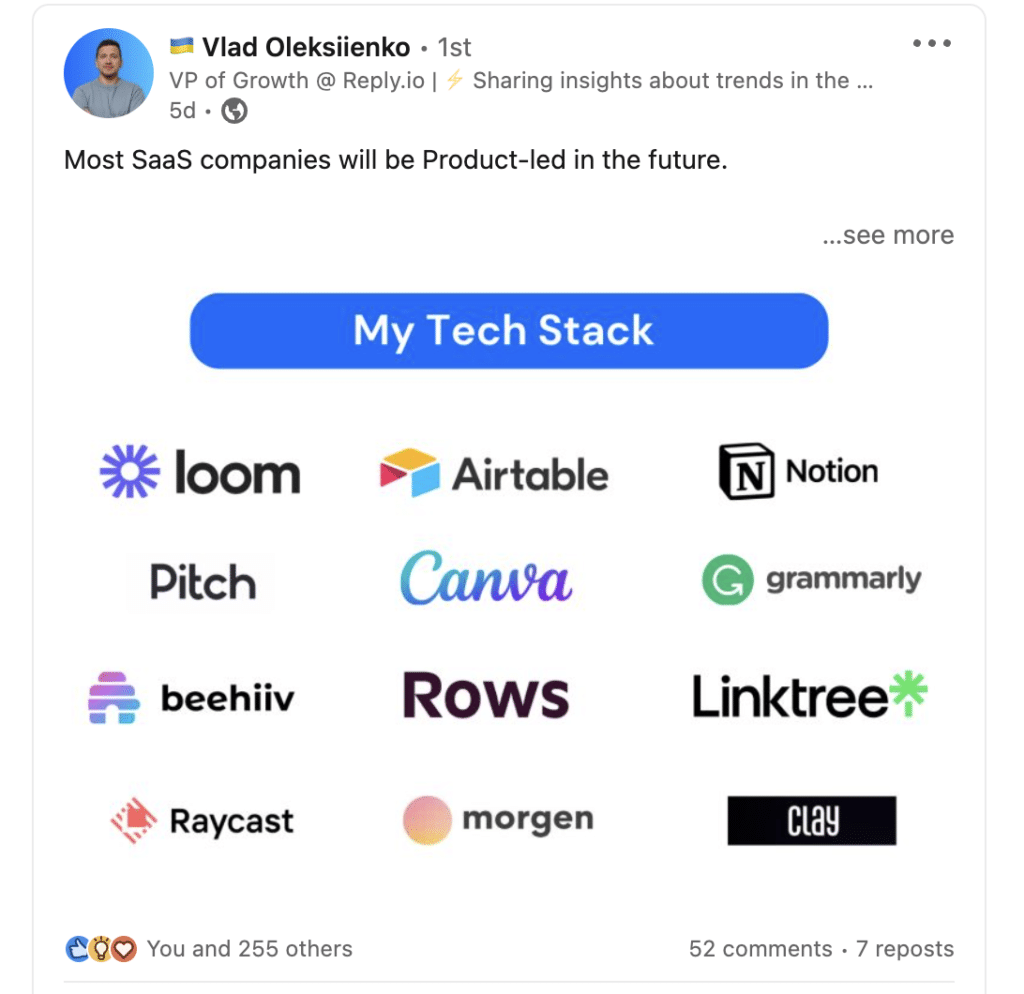 It includes links to his lists of hand-picked tools, SaaS directories, and job boards, and a bunch of other really helpful stuff that further boosts his social presence in this niche.
9. Showcase your corporate social responsibility
Nowadays, companies are evaluated on more than merely the product itself. At the end of the day, we're all human beings on the same planet during the same period of time, and there are many things more important than business and consumerism.
Don't be shy to demonstrate your brand's values and commitments, be it an environmental or social cause. You will never be able to connect with everyone, but those customers that do share your cause will appreciate and wish to be associated with your brand even more.
Having many great talented people from war-torn Ukraine, we keep it as no secret that we are completely invested in helping them out as much as we can, showcasing our support and raising awareness: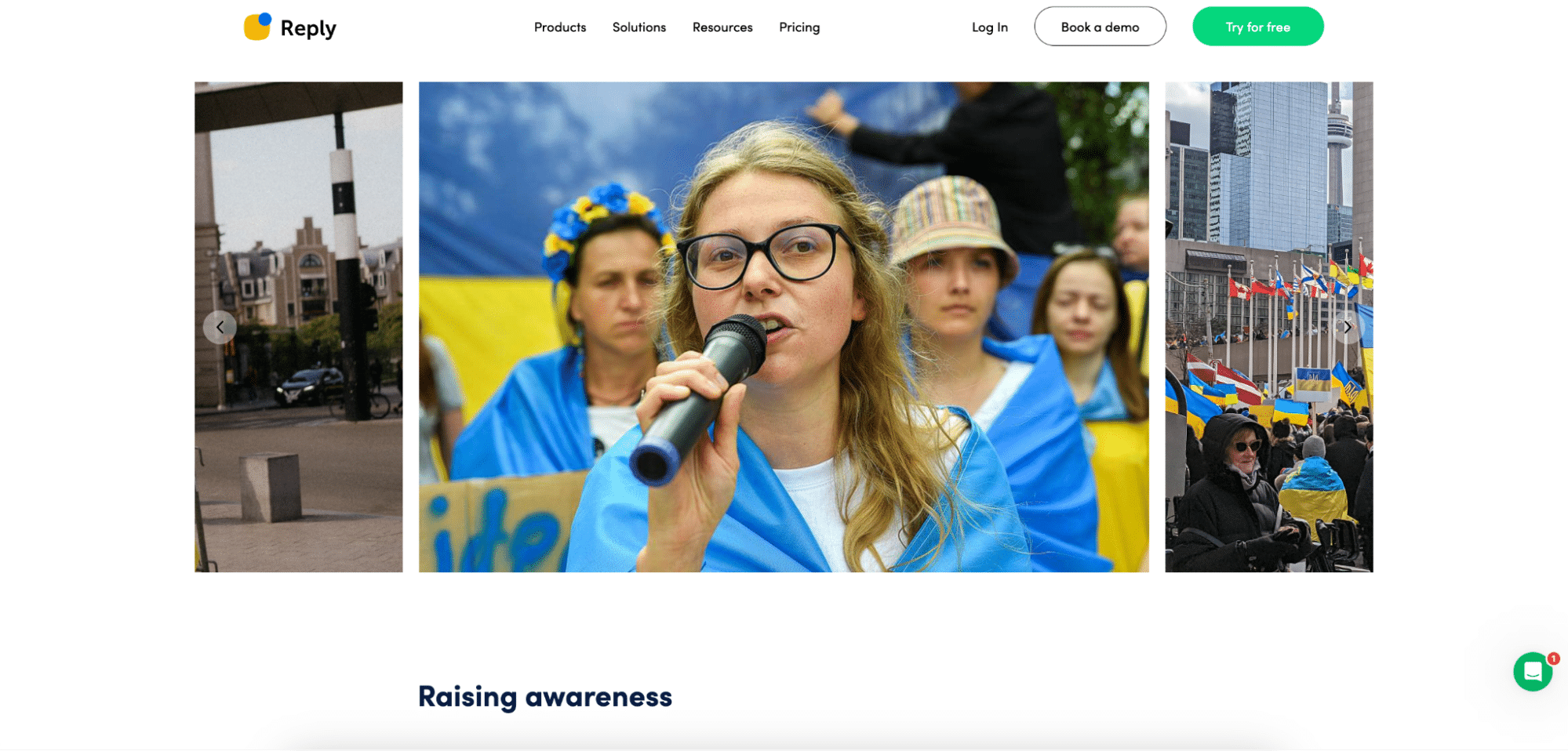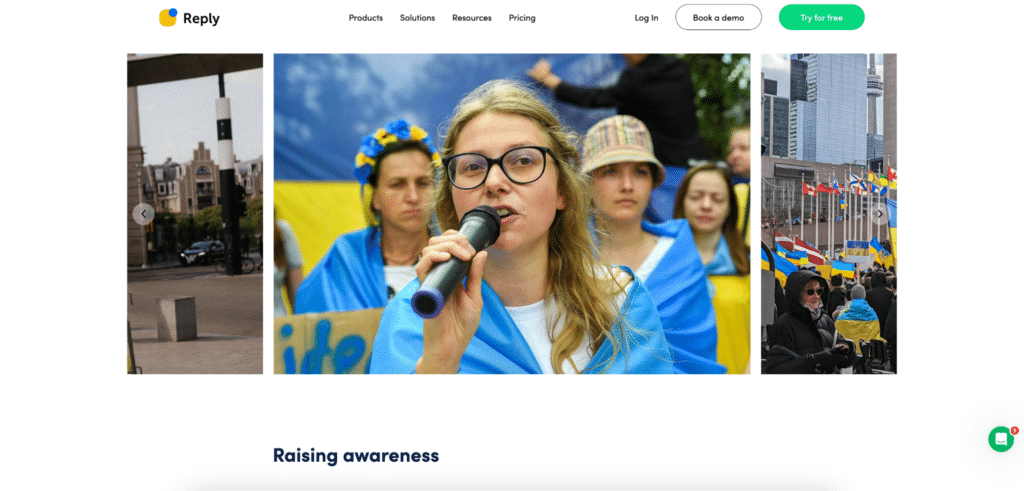 Recent research indicates that a brand that takes a stand on issues such as human rights and systemic racism has a significantly greater chance of attracting and retaining customers. In fact, customers are four times more likely to do business with a company that is socially responsible and committed to tackling pressing societal issues.
10. Stay on brand
With so many SaaS firms out there, how can yours be memorable?
Staying consistent with your unique brand image will get the ball rolling, and eventually customers will know your brand just from the logo. Consistent visual identity, consistent tone, language, and content style, across all channels, at all times will strengthen your brand image.
Your business will appear more coherent, firm, and professional with a united identity, and so will your public perception and brand reputation.
Final thoughts
A strong reputation takes many years to build, and just a few minutes to completely tarnish.
SaaS businesses understand this better than anyone, which is why brand reputation management is an integral part of their daily operations.
Your brand reputation will be based on your business actions, but assigned by society as a whole, mainly your customers.
These 10 tips will help you manage your brand reputation and ensure that your business is perceived as credible and trustworthy – one that customers will love to advocate and be associated with.