More and more businesses are realizing the importance of quality over quantity when it comes to customers. That's because loyal customers are less likely to leave you for a competitor and more likely to recommend you. This translates into more business for you, at a lower cost.
Now, all this sounds nice, but the reality is loyal customers are not easy to earn. Research shows that one way you can make your customers come back to you is by providing excellent customer support.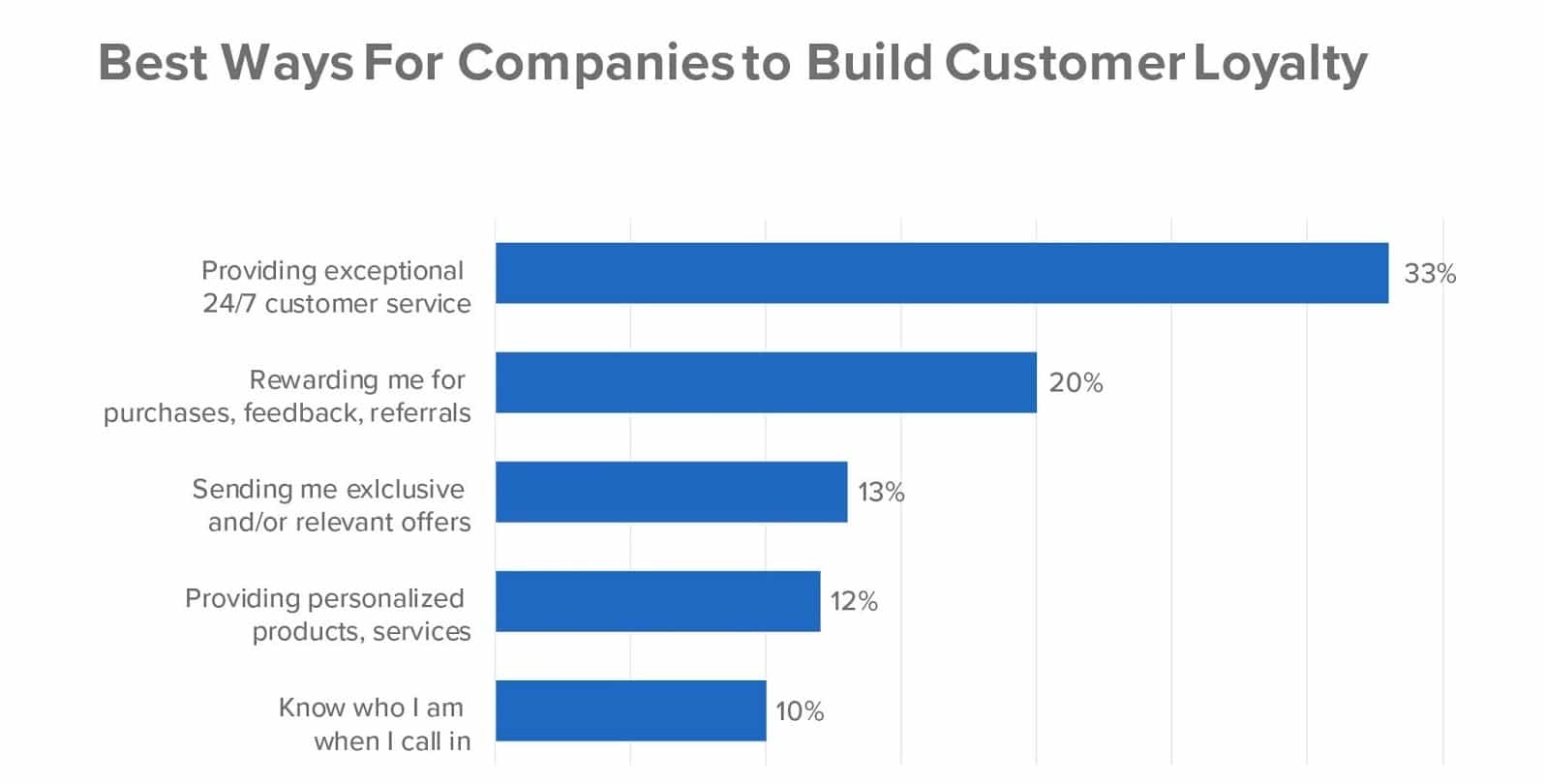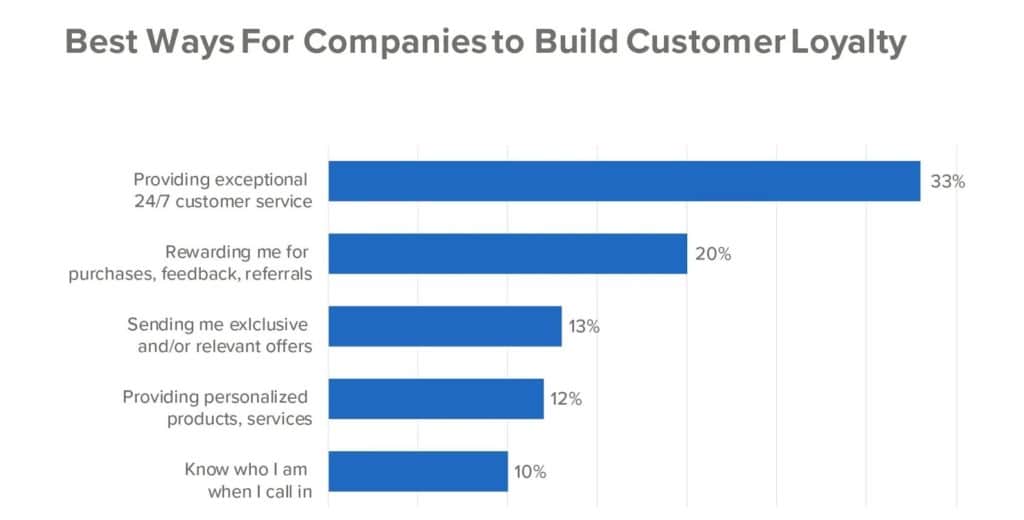 However, if your idea of support is just responding to emails and keeping a record of your communication with customers, that's going to be hard to achieve.
That's why we've put together this list of 10 of the best customer support software solutions. We talked to Customer Support reps from companies all around the world, we've analyzed features and prices, and only selected the tools with the most reviews and highest scores.
For each solution, we'll highlight the features that put them on our radar and helped them make the list. These can range from one-of-a-kind, innovative features, to those that have proven most useful for Customer Support reps overall.
Here are our recommendations, in no particular order:
16 best customer support software solutions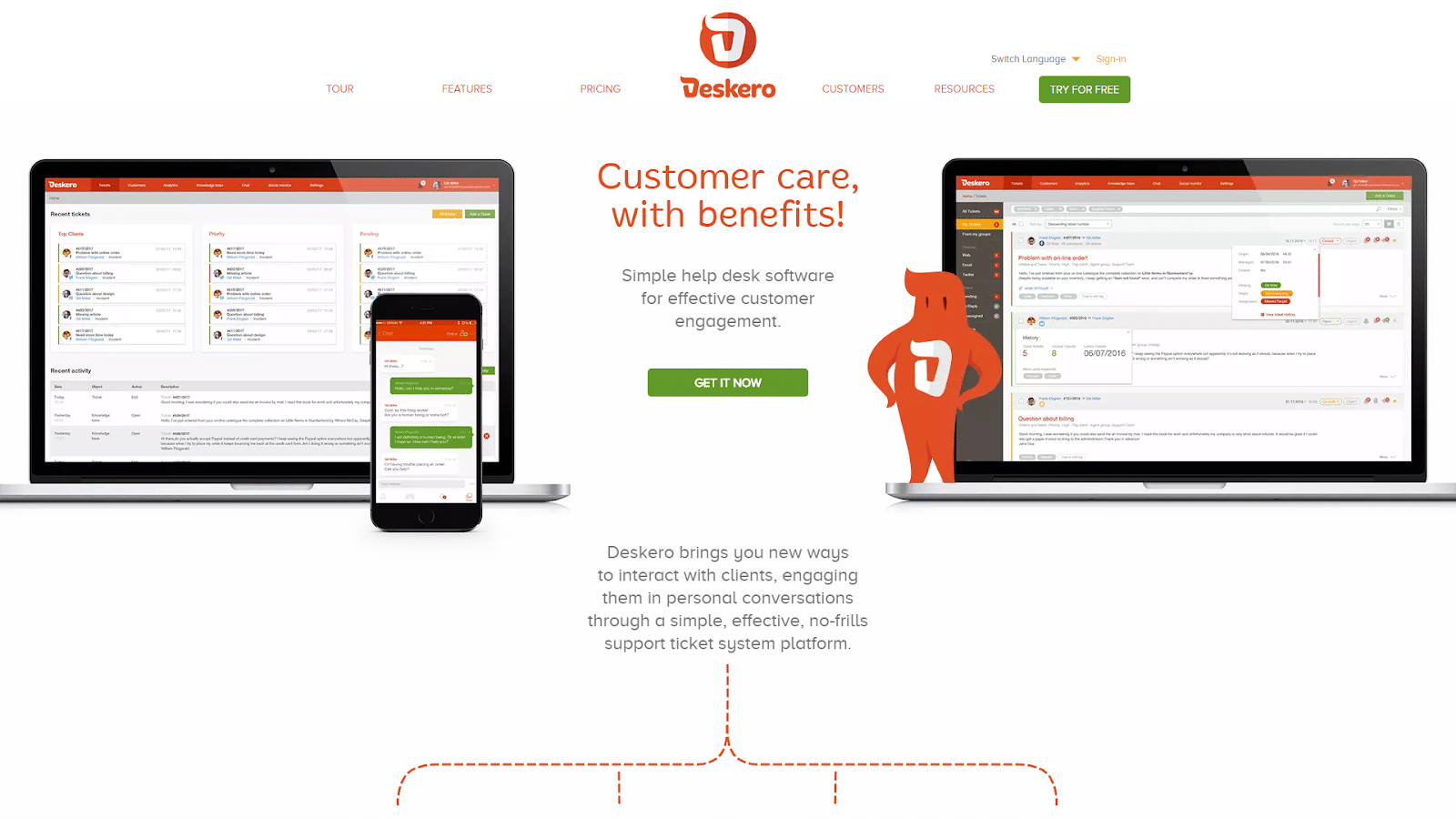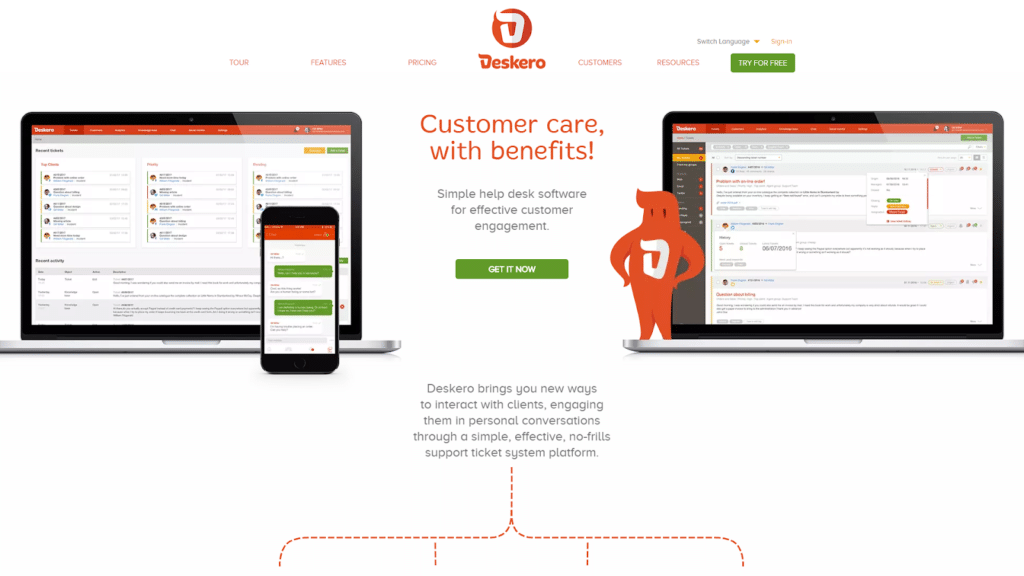 Highlight feature: multichannel support – you can gather help requests / tickets from everywhere (emails, phone calls, chats, web, social networks, APIs)
Starting Price: $9 / agent / month
Deskero is perfect for businesses that want to create meaningful personal relationships with their customers.
The platform aims to integrate social engagement into customer care, with features like multi-channel support, knowledge base, social network integration, integrated live chat, canned answers, and preferred client management.
Pros
Intuitive, very easy to use interface
You can easily connect with social networks
Helps reduce wasted time
Both the interface and the database can be easily customized
Has good knowledge base features
Has great user experience and customer service
Great price
Cons
Notes get lost in notifications
Sometimes, the admin area gets a bit crowded
The chat feature isn't great compared to other parts of the product
Some users might find it hard to navigate
Verdict: you get great value for money, and most reps who have used Deskero would recommend it to their peers. However, if you're looking for a product that has a great knowledge base feature specifically, you might want to try Zendesk.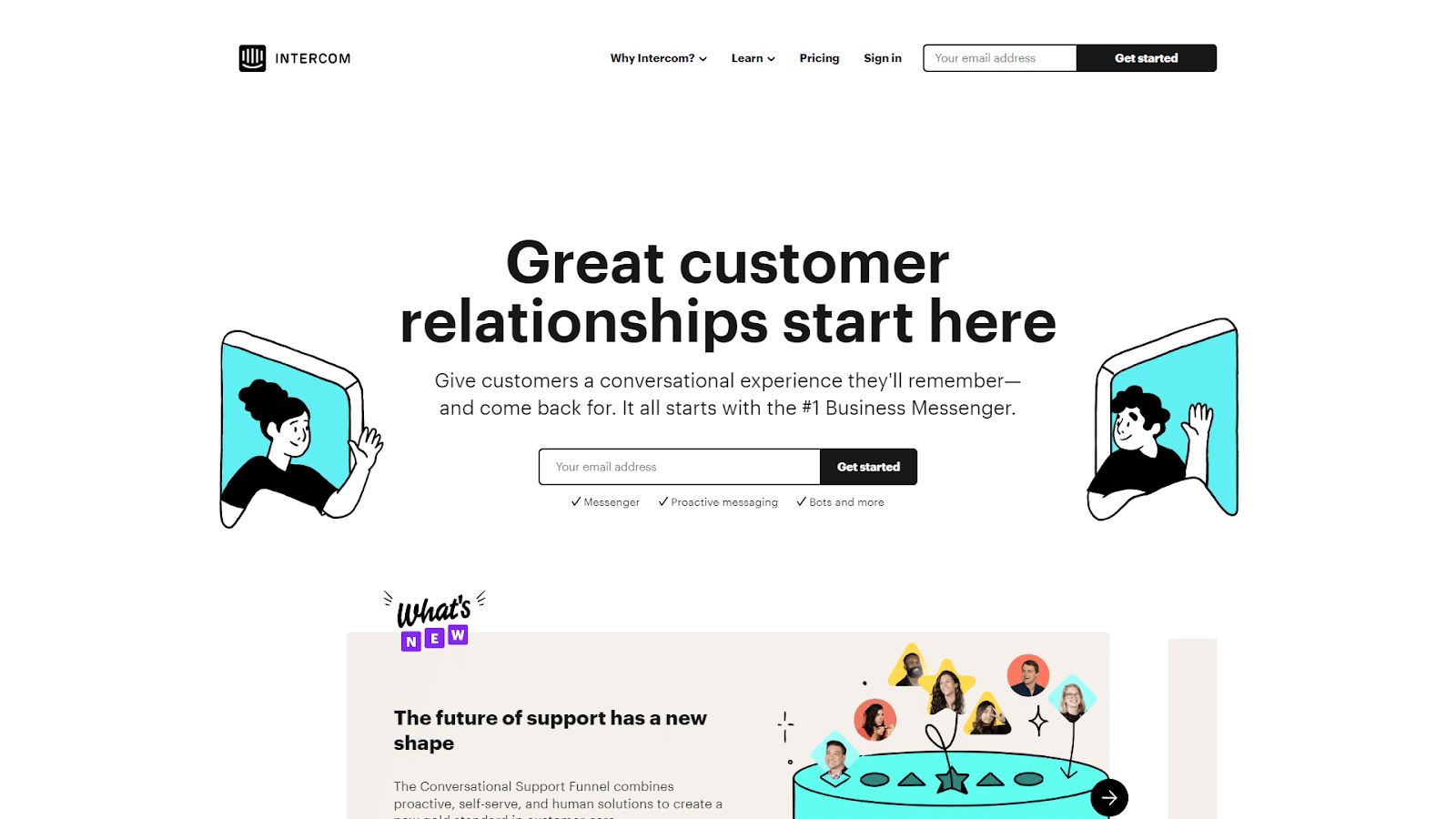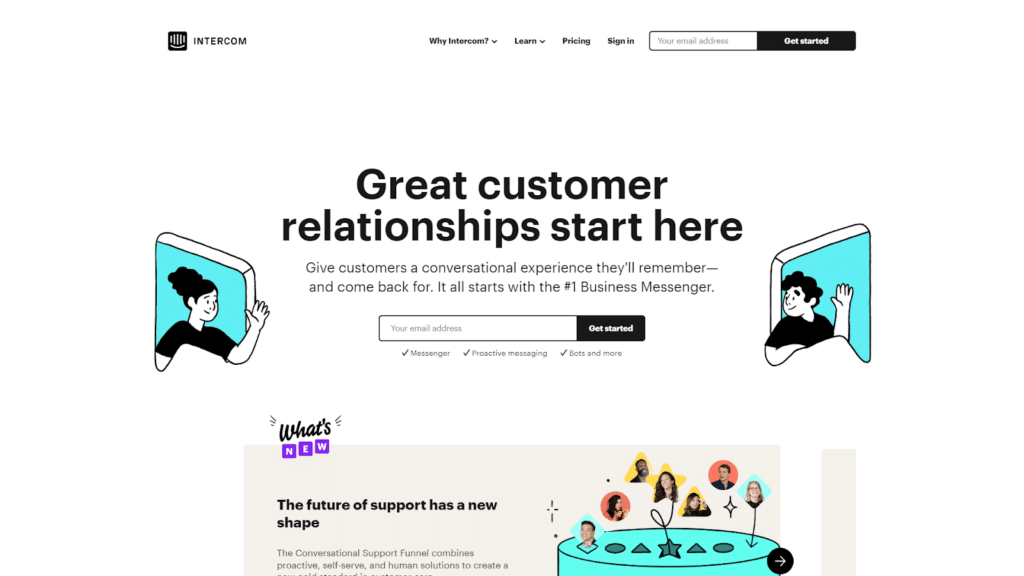 Highlight feature: live chat widgets
Starting price: $87 / month
Intercom enables you to install chat widgets on your website, mobile app, and product. Their latest bot, Fin, can even crawl your own help and documentation to answer queries. This way, your customers no longer have to navigate to your site to receive chat support – they can get help right where they need it.
And the best part? Intercom integrates with Custify! This means that you'll be able to:
– import all the customer data that you've stored in Intercom and keep it in sync
– import and synchronize all the attributes you've stored, in real-time
– import statistics related to your conversations, such as the last contact date and the number of open, snoozed, and closed conversations
– export your customer success KPIs into Intercom.
Pros
Quick and easy setup
User-friendly chat interface
Great knowledge base functionalities
Reporting and saved responses and answers help you streamline communication with customers
Cons
Custom bots are poorly implemented
Minimal support
Can't customize inboxes as needed
Verdict: Intercom is one of the best Customer Support software solutions out there – it doesn't really have much competition. It offers most functionalities you could think off for a reasonable starting price.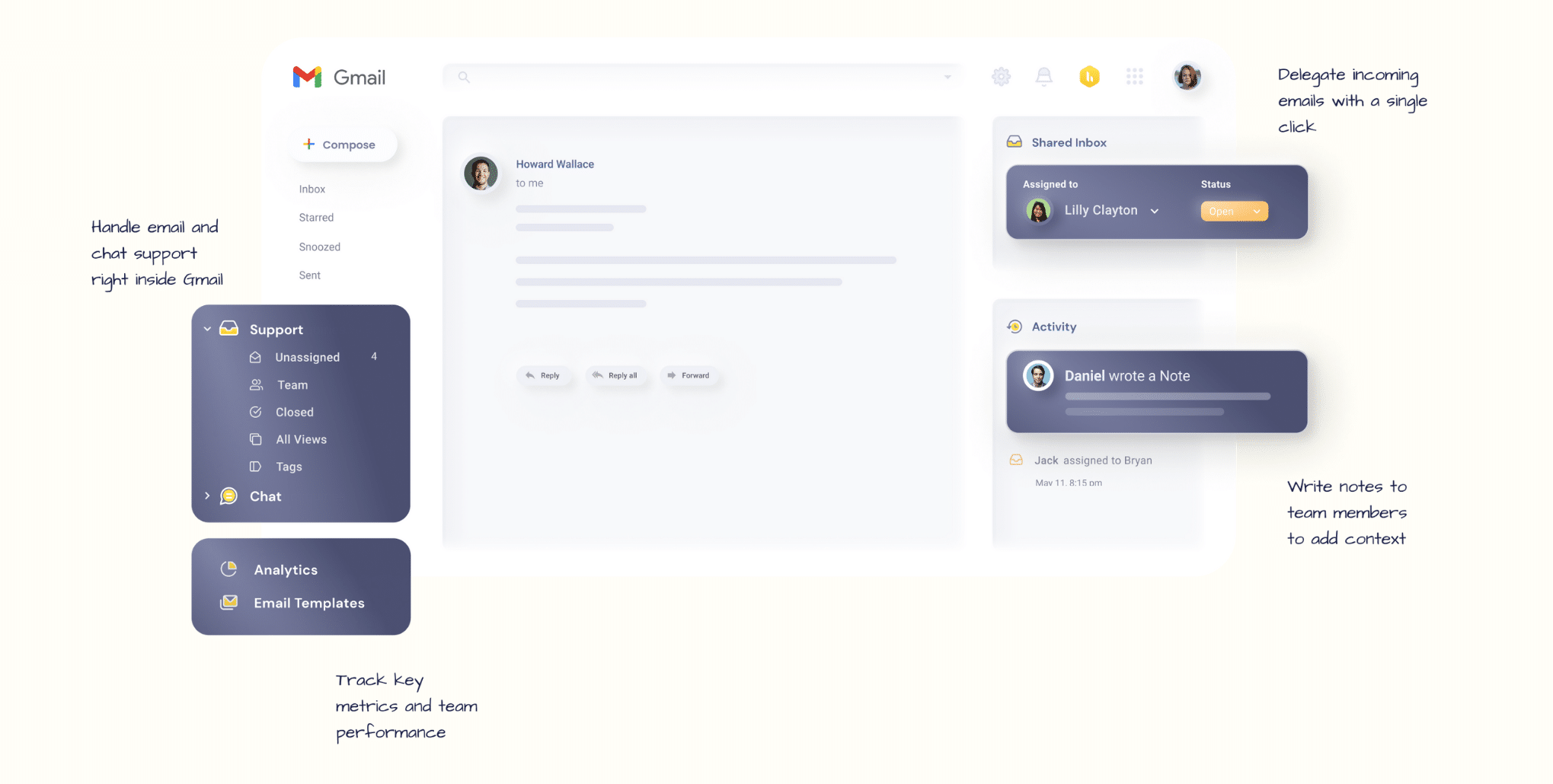 Highlight feature: Hiver works within Gmail's interface. Easy to learn and use.
Starting price: $15.00 / agent / month
If delivering a stellar customer experience is a priority, try out Hiver – a helpdesk that works within Gmail. With Hiver, support teams can streamline customer queries and get complete visibility into what's happening across the team. Delegate customer queries to agents, collaborate with colleagues using notes (instead of sending more emails), and track agent performance in detail.
Hiver fits intuitively within Gmail's interface which makes it extremely easy to learn and use.
Pros
Fits intuitively within Gmail's native UI;
Offers both live chat and email support;
Automate manual support-related tasks to save time and effort;
Track key metrics such as first response time, average resolution time, and more.
Cons
Only compatible with businesses that use Google Workspace.
Verdict: Hiver is feature-packed, yet simple and intuitive – perfect for startups, as long as they're using Google Workspace.
4. Hesk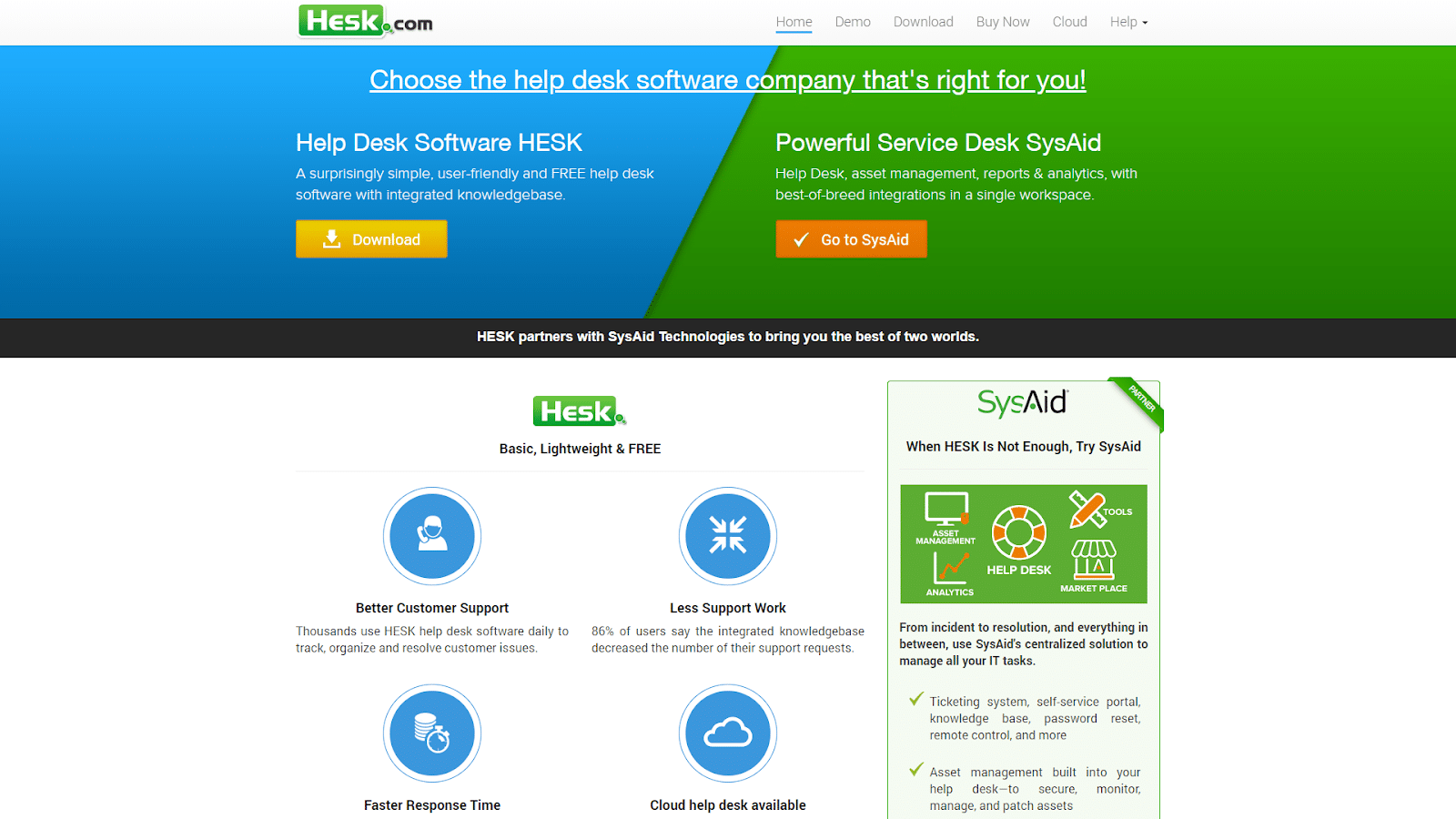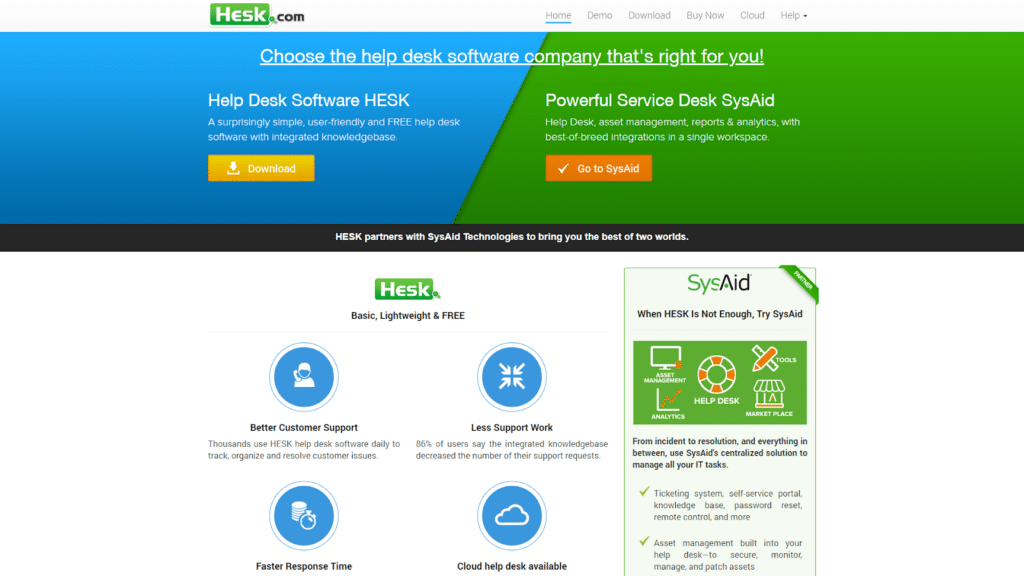 Highlight feature: integrated knowledge base
Starting price: $39.95
Hesk is a cloud-based ticketing system. What makes it different from other help desk software is that it has a ticket submission tool where customers can create web-based tickets and assign them directly to an available agent.
Pros
Easy to set up
Multilingual
Cons
Prominent features are paid
Verdict: Hesk is free and open-source, so if you're on a shoestring budget, this is one of your best choices. However, as you grow and need more features, you might want to also consider other options.
5. Zingtree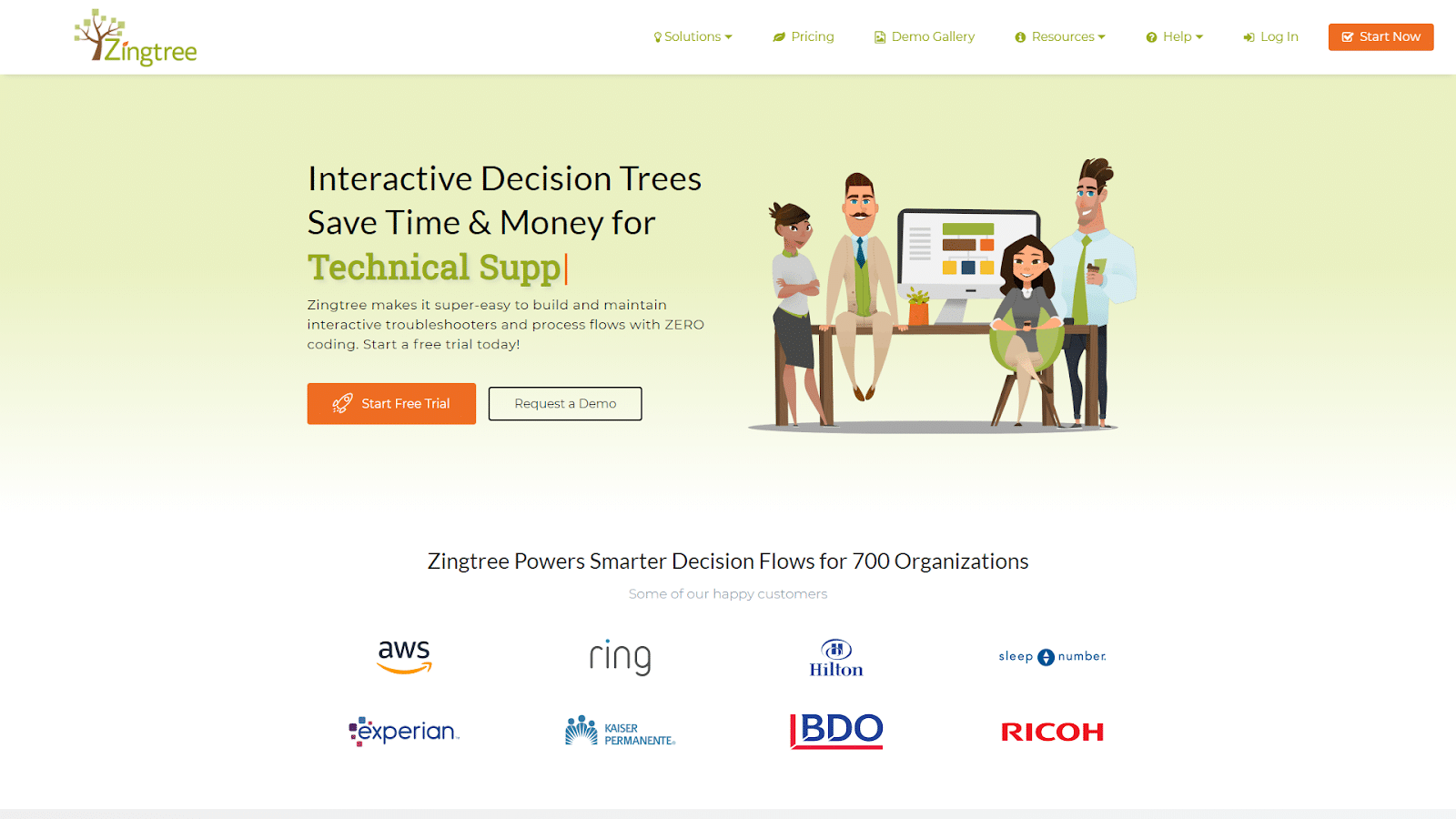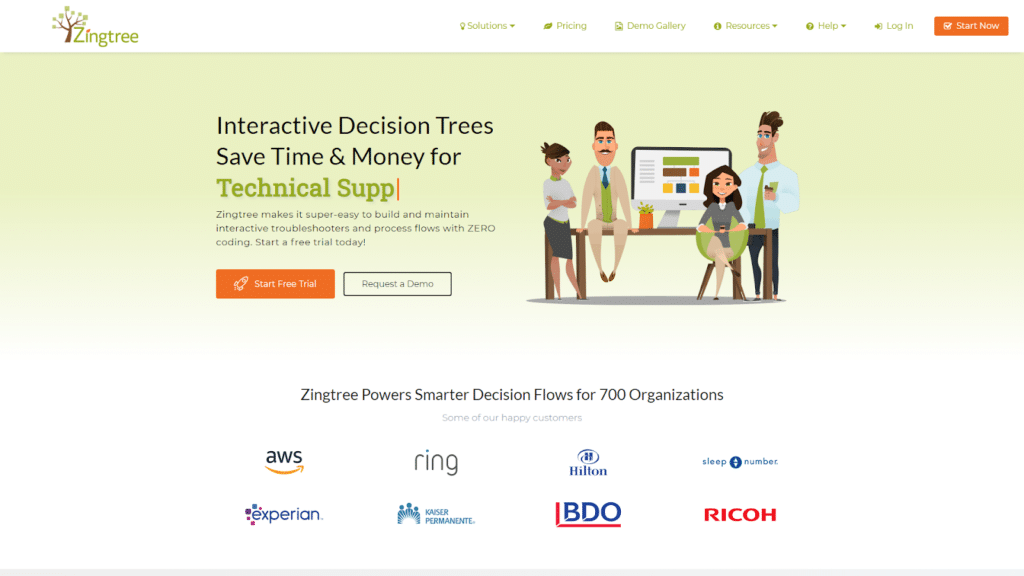 Highlight feature: interactive troubleshooters
Starting price: $15 / agent / month
Zingtree is best suited for businesses looking to streamline redundant processes with the help of interactive decision trees.
The software makes it easy to create, customize, and deploy interactive agent scripts for call centers and can be easily integrated with Zendesk, Salesforce, Freshdesk, or other CRM / Help Desk systems.
Pros
Flexible implementation techniques
Help you improve productivity
Easy to scale
Can be integrated with Zendesk
Nice, clean design
Great for new hire training as well as existing employees scripting
Cons
The software takes a while to learn
Enabling agents to quickly personalize their scripts is a bit challenging
The back-end is difficult to navigate when trying to integrate it with other platforms
The pricing for customer-facing decision is very high
Verdict: Zingtree is a powerful decision tree tool with a slight learning curve and many advanced functionalities.
6. FocalScope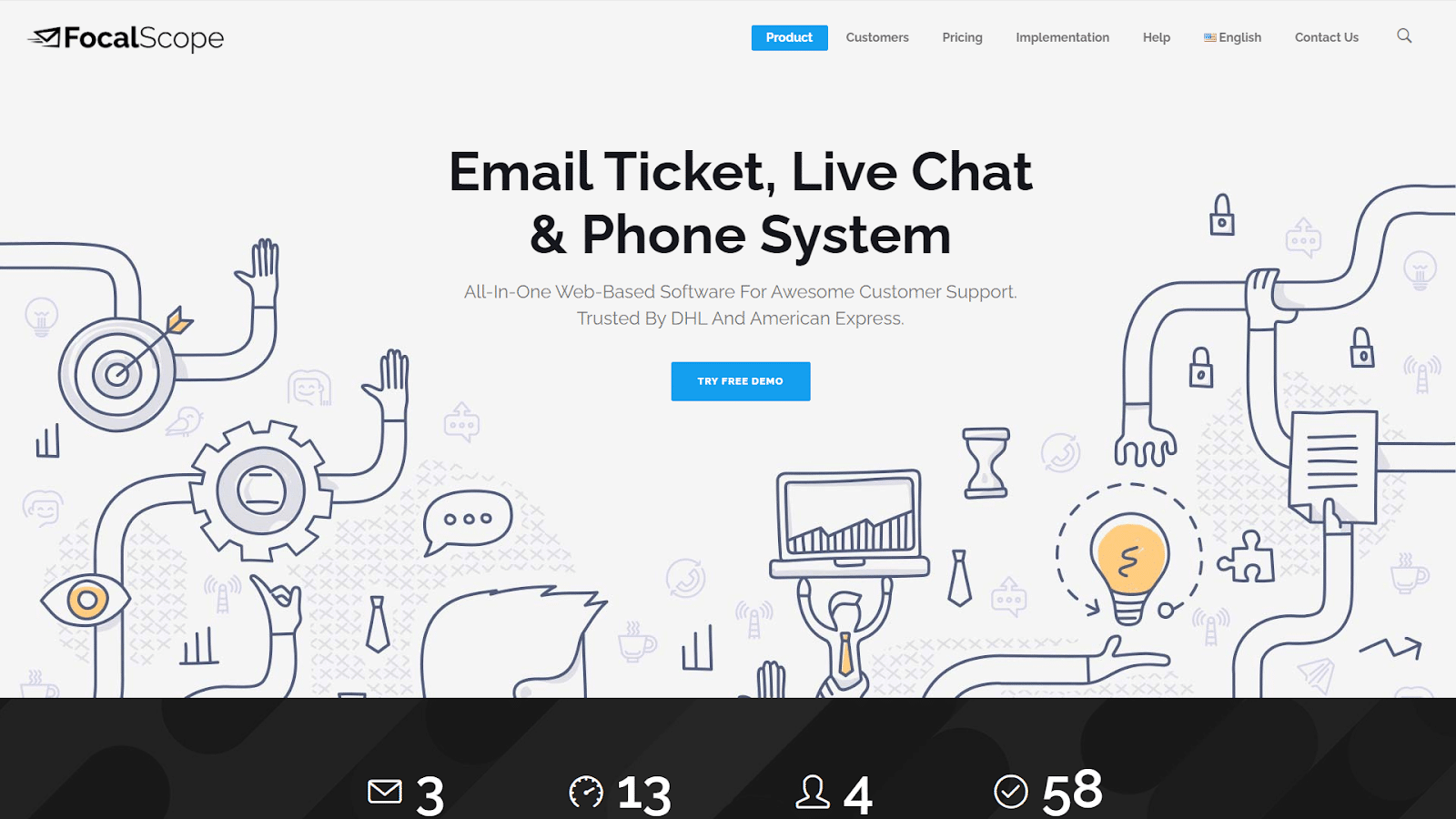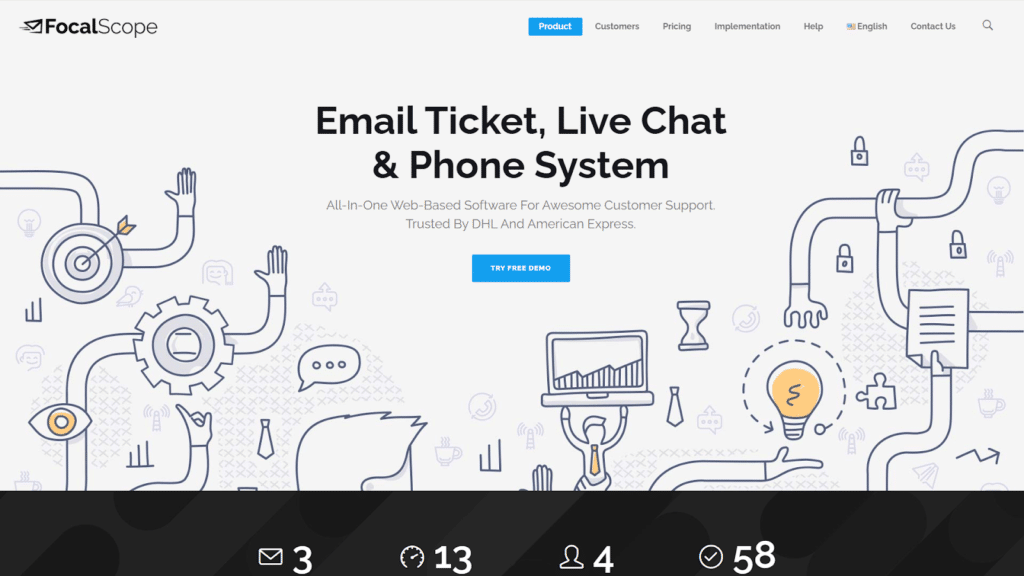 Highlight features: omnichannel customer support, live chat
Starting price: $9 / agent / month
This is a powerful but user-friendly email ticket management and live-chat solution based on Microsoft SQL. It's best suited for large companies and enterprises that need to manage considerable amounts of emails.
It offers companies the option to deploy as an in-house server and features multi-channel support with SLA, dashboards, reporting, and 24/7 global support.
Pros
The ability to create virtual folders
Easy to implement and use
The software can be deployed on your in-house server or hosted in a colocation data center
Great call center and ticket system
A weekly traffic and performance report is sent to your inbox automatically
Cons
Small glitches in the system, but the team usually solves bugs quickly
Verdict: FocalScope is the best-reviewed customer support platform out there. Whether it's functionalities or support, no one seems to have something bad to say about this tool.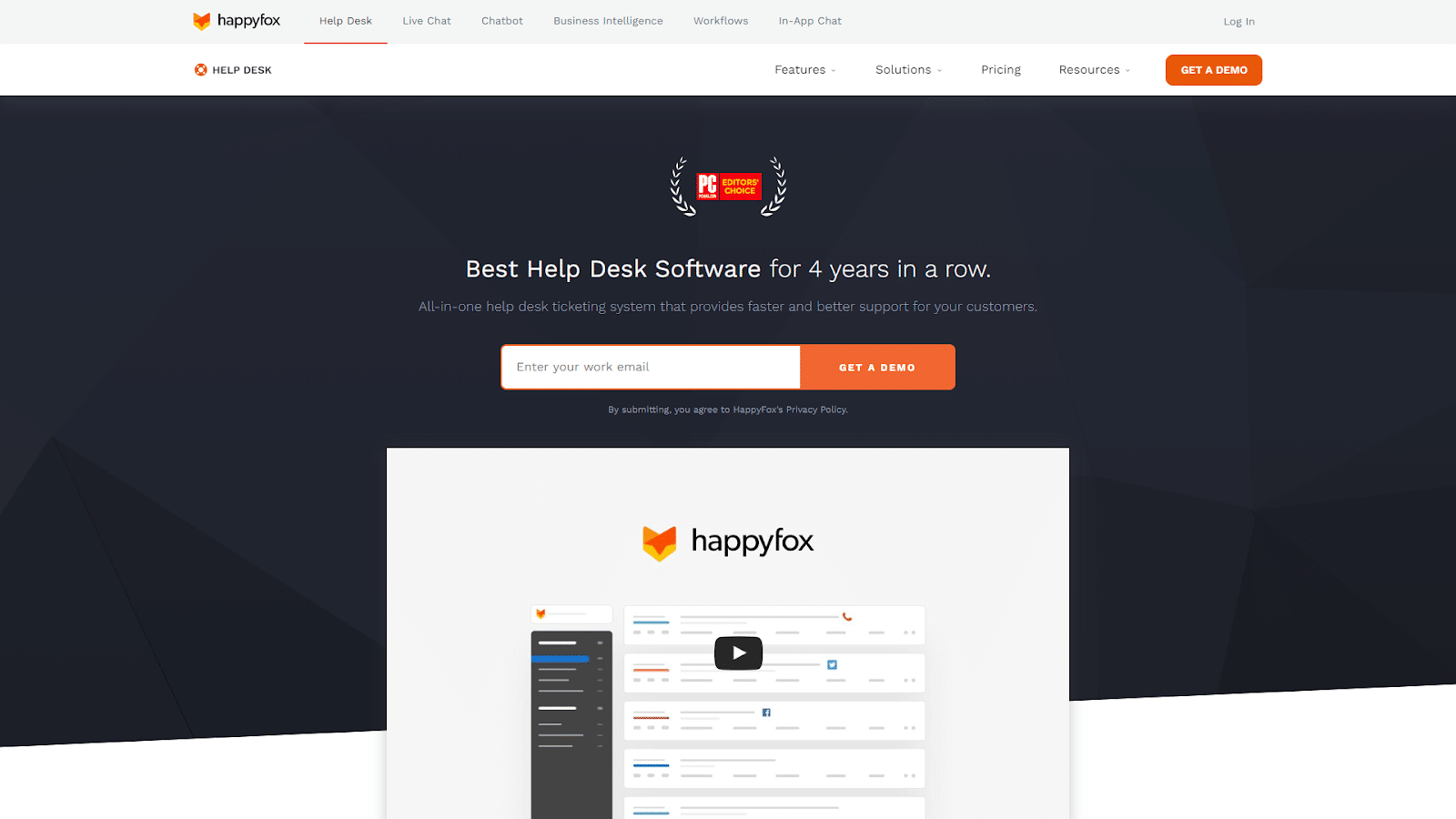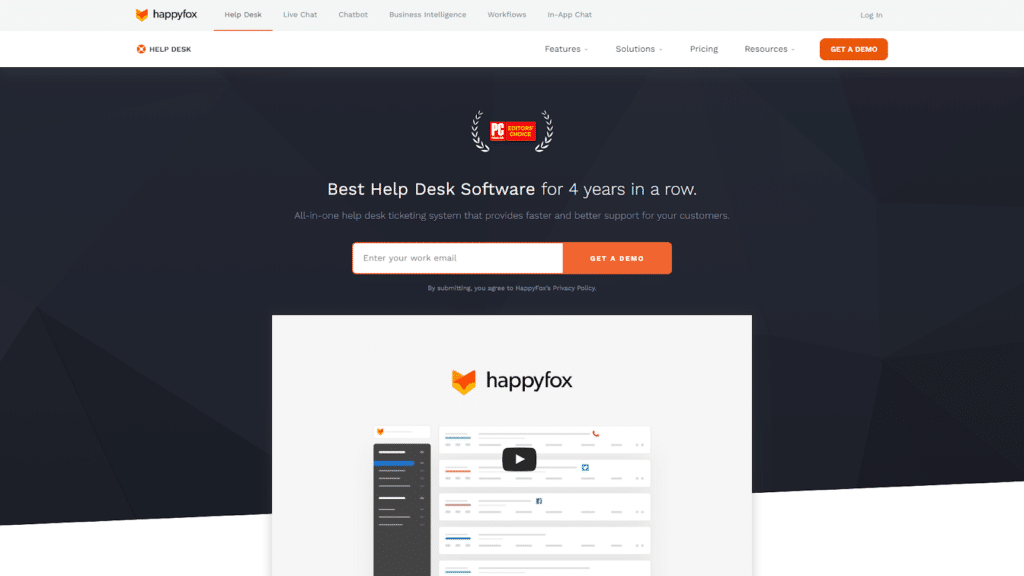 Highlight features: customer reporting, chatbot
Starting price: custom
HappyFox is one of the most complex customer support software out there and can take care of a large variety of tasks.
What makes it unique is its custom reporting feature that enables managers to review advanced reporting metrics like NPS and CSAT, and determine which agents are performing best.
Pros
Very good at tracking customer support tickets
Automatically filters tickets and places them into the appropriate category / assigns them to the appropriate support rep
Intuitive interface
Cons
Sometimes, the chat website shows you Javascript errors
The app logs you out randomly and prevents you from logging back in
Verdict: HappyFox is not the most complex platform out there, it doesn't come with a ton of features, but manages to accomplish what it promises.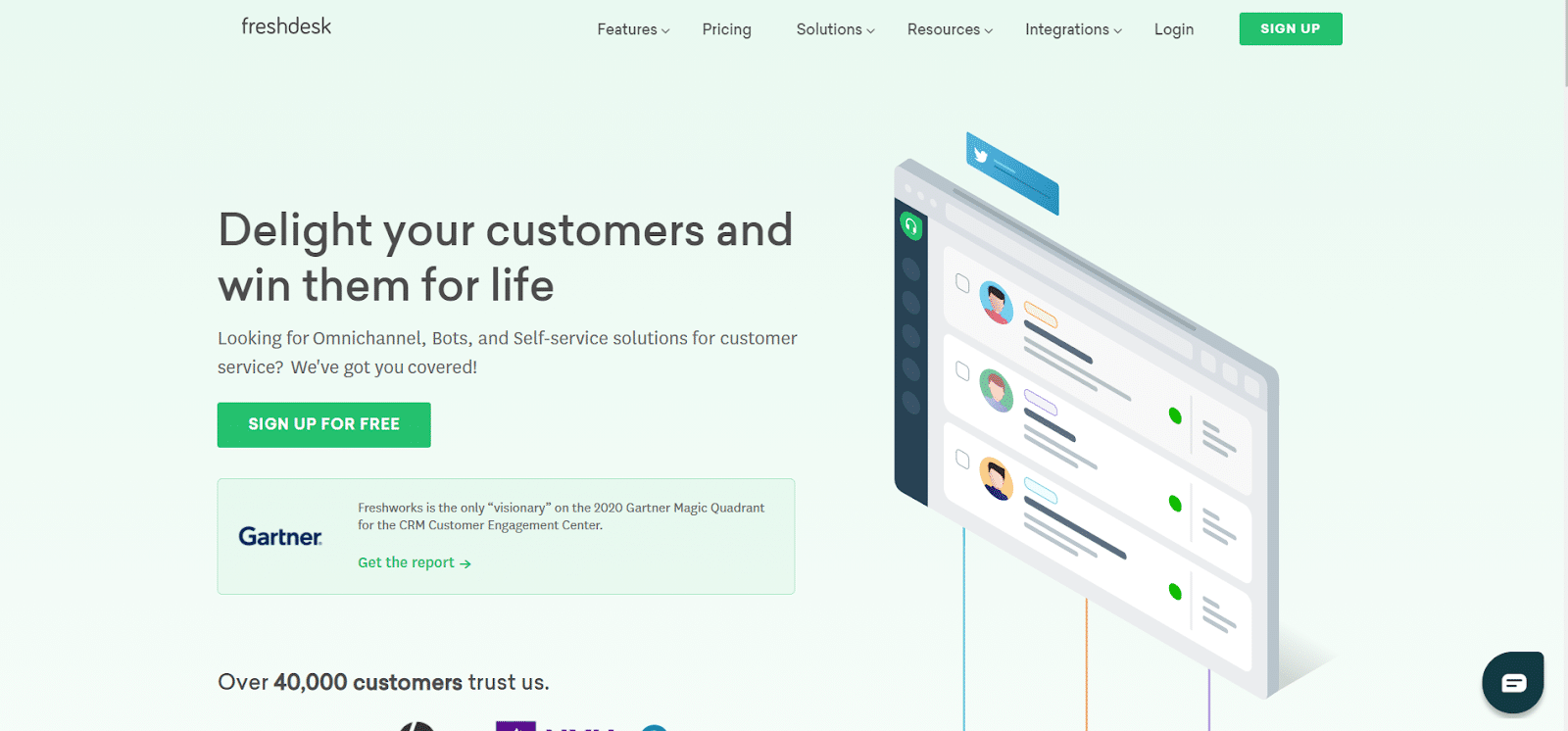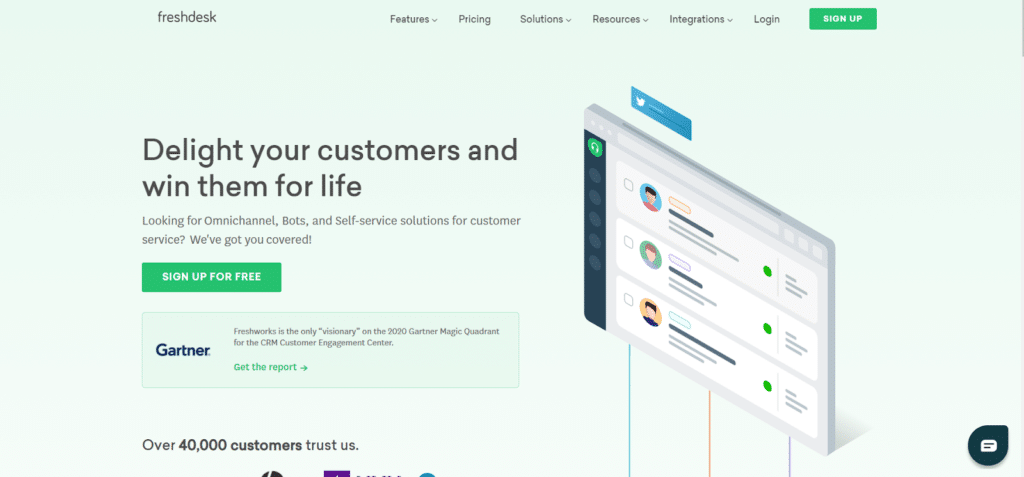 Highlight feature: cloud-based service desk solution
Starting price: $15 / agent / month
FreshDesk is suitable for businesses of all types and sizes. Its simple UI and straightforward features make it a popular choice with startups. The platform enables you to provide customer service across all social platforms with built-in AI and self-service capabilities.
Pros
AI, Omnichannel, self service, cloud-based remote customer service
Easy to gather tickets, generate reports, and manage assets
Easy to set up and use
Cons
Difficult to use for some, poor support staff
The free plan is not actually free as you're very restricted in the number of features you can use and your interaction with customer support
Verdict: it's a great Zendesk alternative. With FreshService, whenever you need a new feature, you can just install an add-on instead of paying extra.
9. ProProfs Help Desk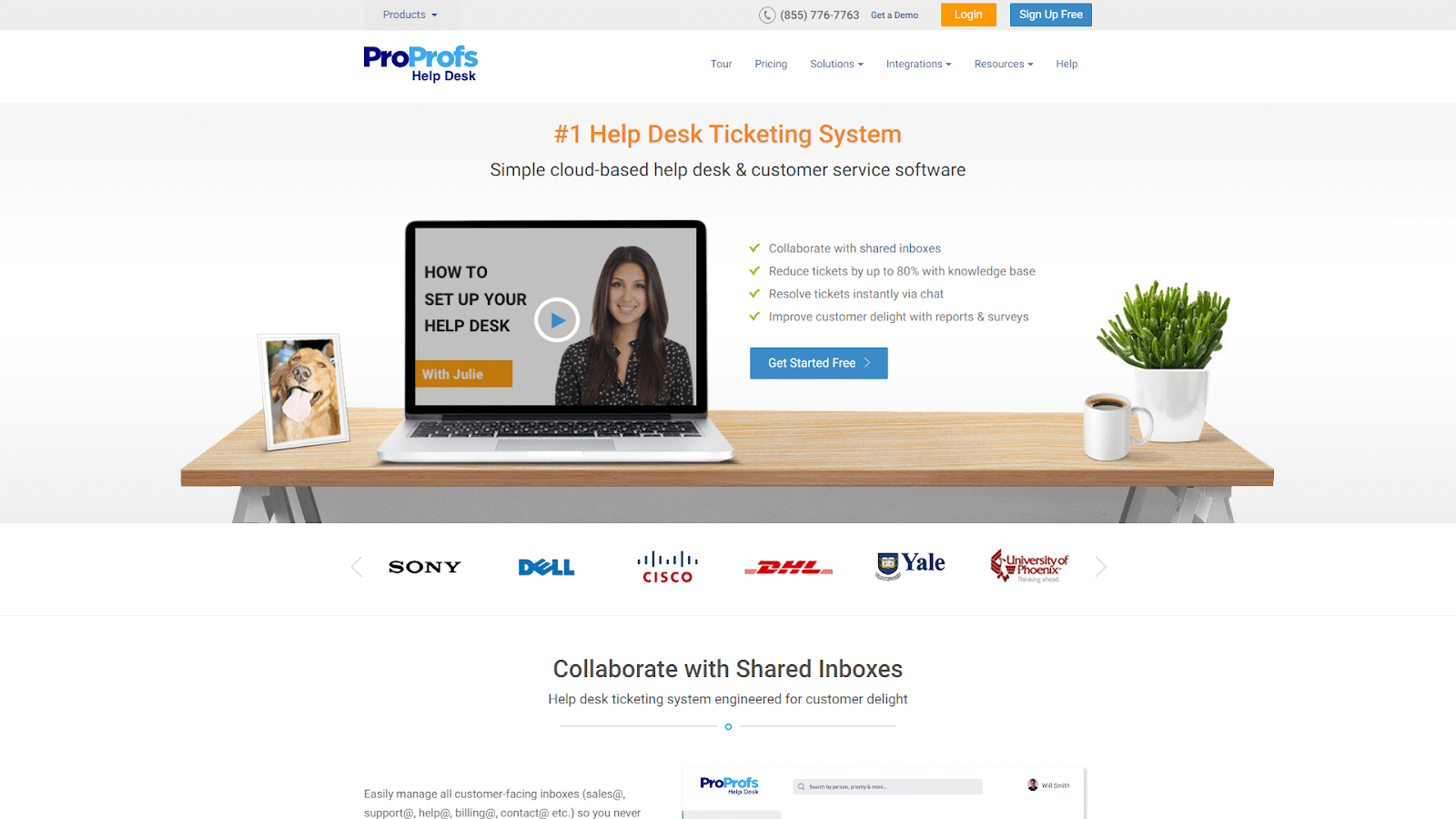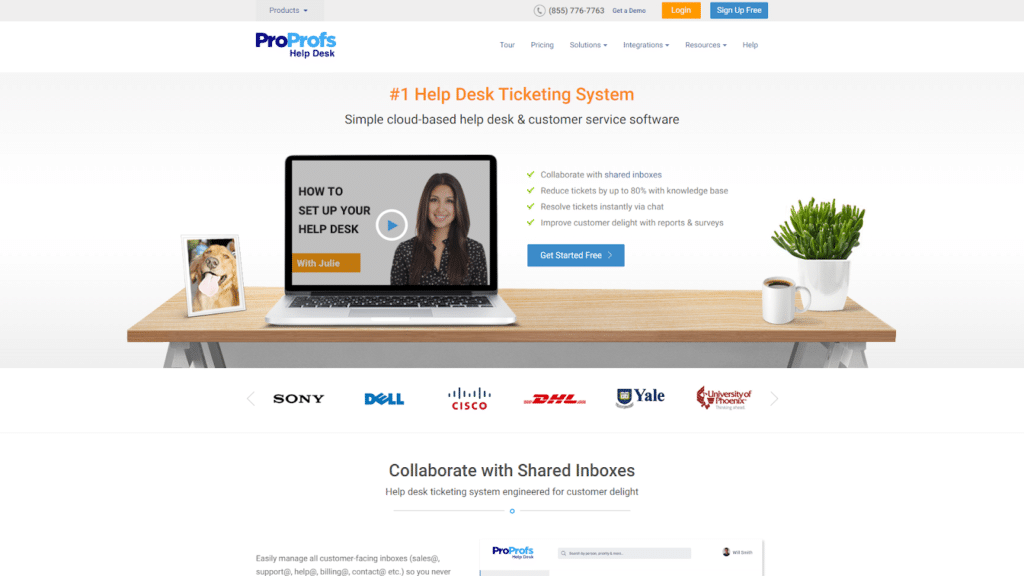 Highlight feature: free cloud-based customer support software
Starting price: free
If you're looking for the best free customer support software, you have to try ProProfs Help Desk. The platform streamlines customer support with robust tools and encourages team collaboration with its shared inbox feature.
All tickets are automatically generated, thus keeping your team productive and focused. Last but not least, the chat feature enables your reps to attend to customer queries directly from their mobile devices, which helps reduce response time.
Pros
Intuitive interface that boosts productivity
A Child Ticket feature that allows you to identify bottlenecks
A notes feature that allows agents to leave updates for one another
Great pricing
Cons
No social media integrations
Tickets aren't assigned to a specialized agent, they're assigned to any available
Verdict: ProProfs is a simple and fast help desk software with great functionalities and a Gmail like interface.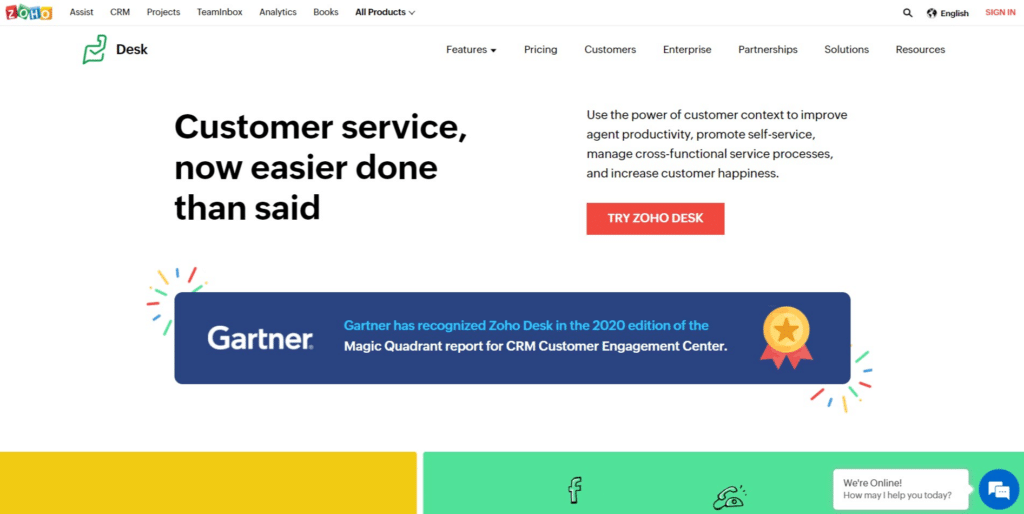 Highlight feature: automation features
Starting price: free / standard @ $12 / professional @ 20 / enterprise @ $35 (all per agent per month)
Zoho Desk is a phenomenal tool for anyone just starting out their support team. For small to medium businesses that need inexpensive SaaS tools, Zoho provides a wide spectrum. And Zoho Desk seamlessly integrates with all the other tools provided by Zoho – albeit somewhat frustratingly so as some of their services are too separate & disparate.
Pros
Solid automation features that allow you to standardize & optimize your support process
Comprehensive & highly customizable reporting solutions
Correct & precise time tracking features to gauge agent performance accurately and in real-time
Cons
Telephony options are separate and somewhat difficult to integrate
Integrations with other products, especially Zoho products, can be confusing and frustrating
Verdict: Zoho Desk is the perfect tool for those who want an affordable support solution or those that already use other Zoho services. Its integrations can be frustrating, but it gets the job done for a fraction of the cost of others.
11. Help Scout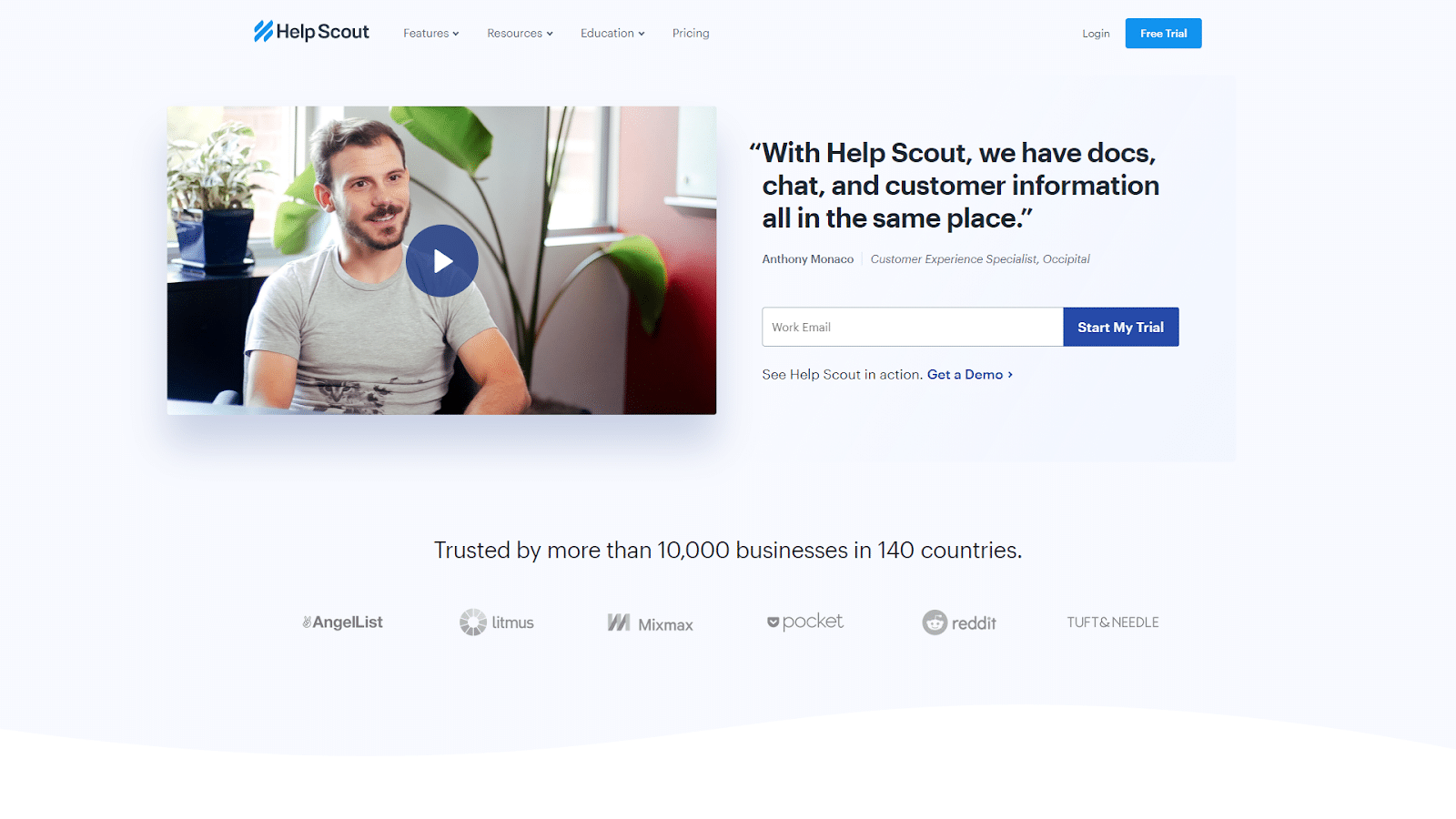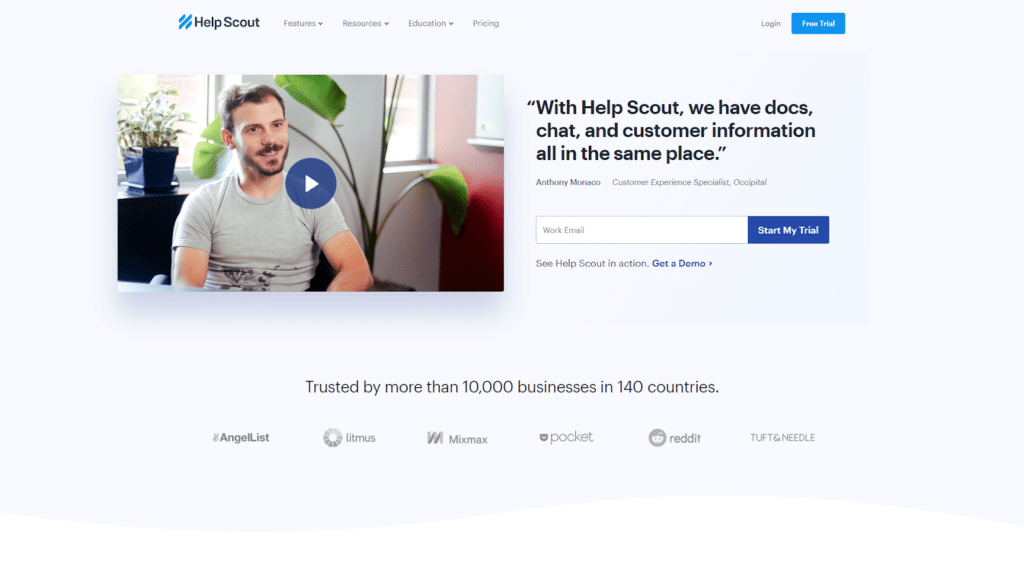 Highlight features: mobile app for on-the-go customer support
Starting price: $20 / agent / month
Help Scout enables you to organize and respond to all communication with your current and future customers. The platform comes with a reporting feature, integrated knowledge base, robust API with many integrations, and an iPhone app to support customers on the go.
Not to mention that you can also integrate Help Scout with Custify!
Pros
Multiple agents have access to the same group and can work on the load of emails – great for tackling large inboxes
Great support – extremely responsive and accurate
Cons
Android app is buggy
When adding a new email to an existing chain, attachments need to be reattached
The the automated change of tickets is confusing and you can end up responding to closed ones
Verdict: Help Scout is very well designed and easy and natural to use. Integrations are integration easy to set up and increase the value you get from the software.
12. Atera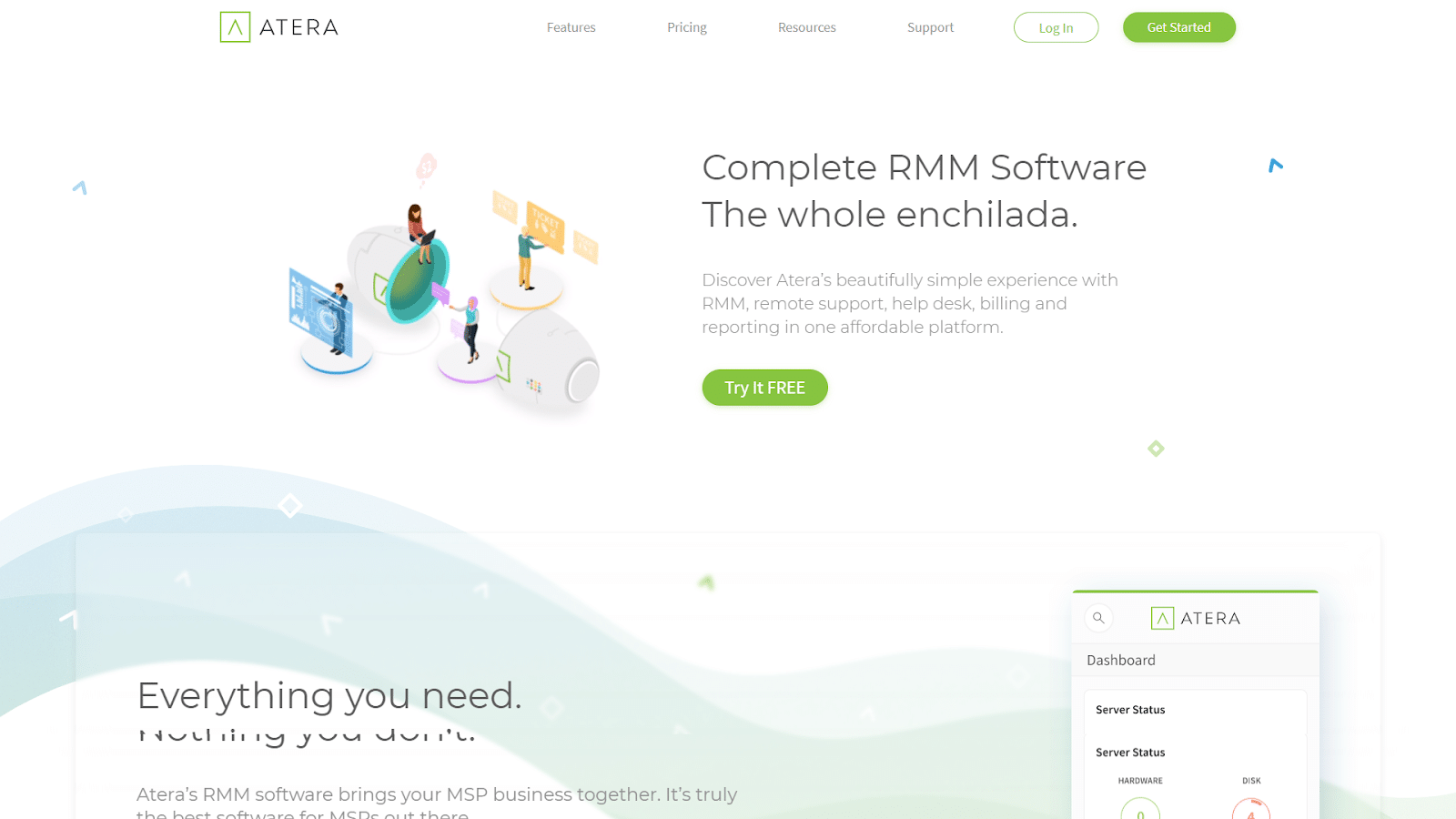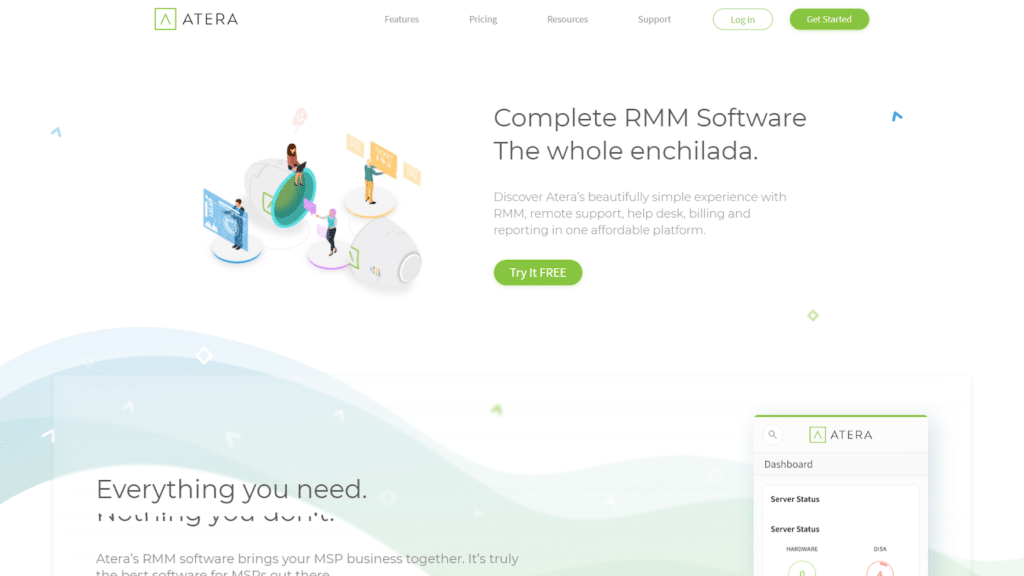 Highlight feature: complete remote IT monitoring and management (RMM)
Starting price: $79 / agent / month
Atera is a fully integrated solution designed for MSPs and IT Pros. Among its most useful features are remote access, patch management, PSA, help desk, ticketing, AV, billing, and network discovery.
Pros
Great customer support
Easy to use interface
Cons
Minimal advanced features and integrations
No mobile app
Verdict: for IT companies, Atera is a great choice because technicians can easily connect remotely to computers and solve issues. The reports feature is also handy because your customers know exactly what they're paying you for.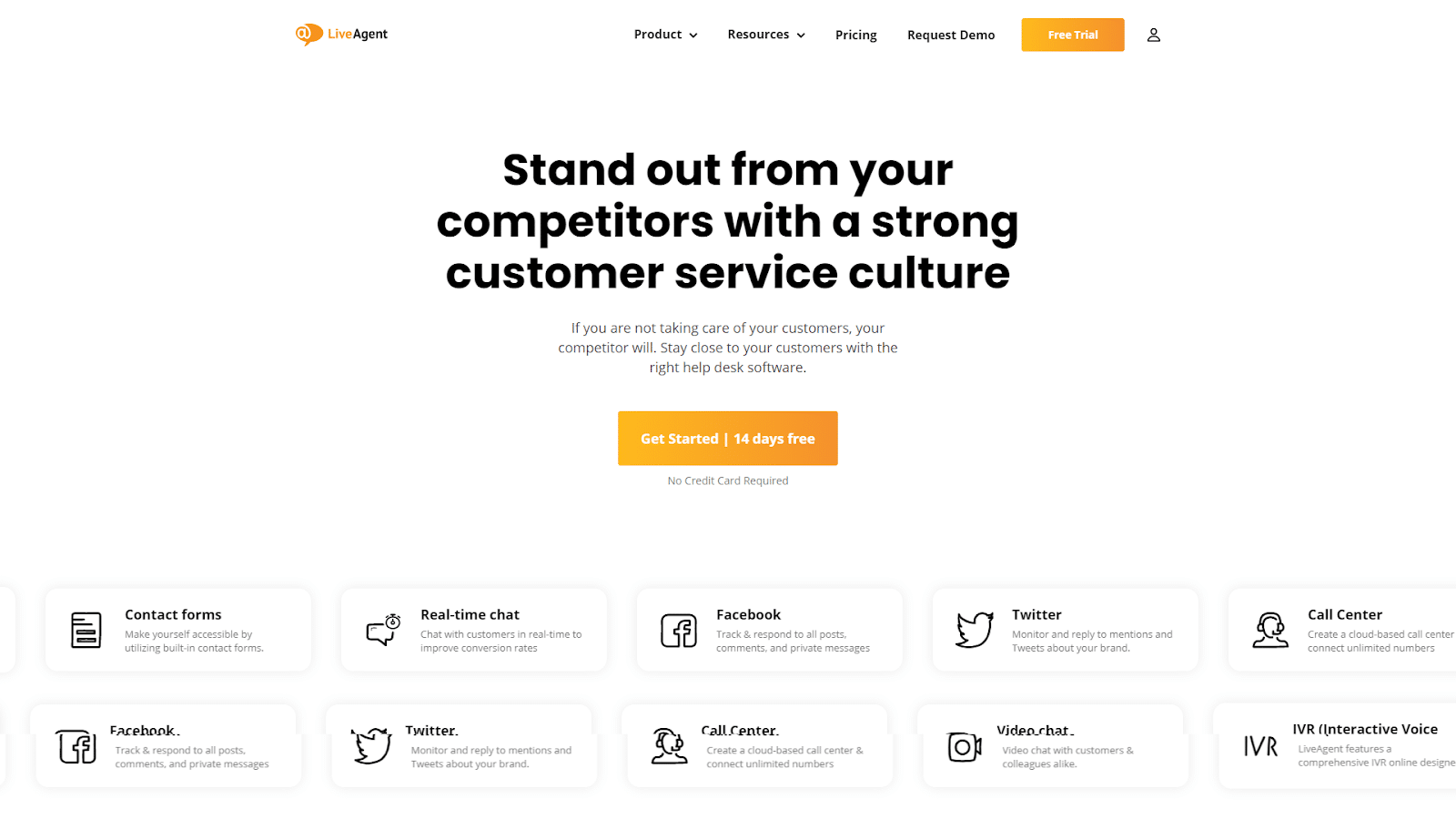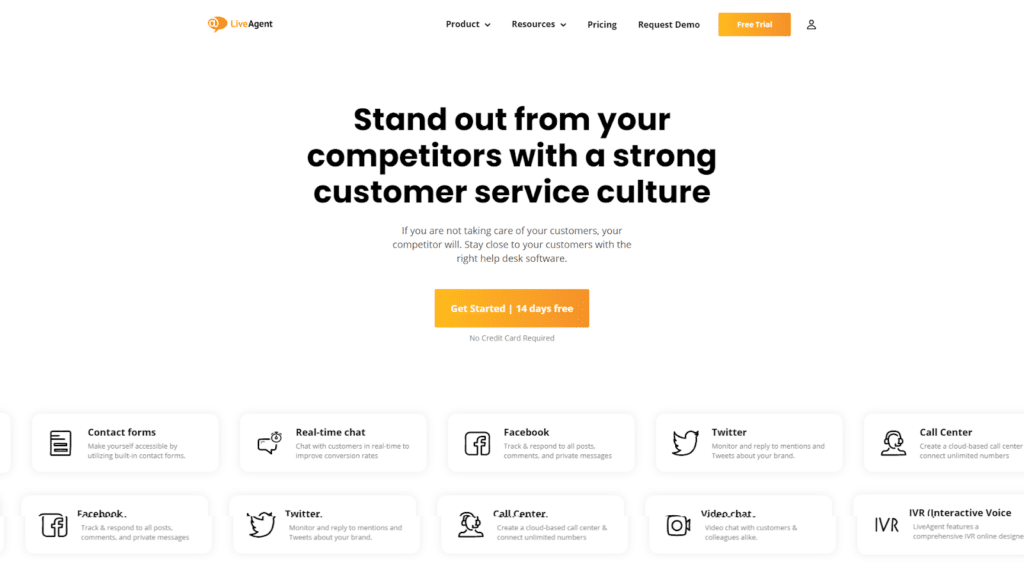 Highlight features: real-time chat and social media integrations
Starting price: free
LiveAgent is a great Hubspot Service Hub alternative for small and medium-sized e-commerce, telecom, and SaaS businesses that want to offer great customer service on a budget. This fully-featured help desk software helps you bring personalization to your customer interactions.
The best part about this tool is that it lets you combine all your communication channels like email, live chat, calls, and social media into a shared company inbox.
Pros
Perfect for managing both support issues and sales prospecting
Great support – responds very fast
Cons
The Spam filter doesn't work very well
Setup can take a while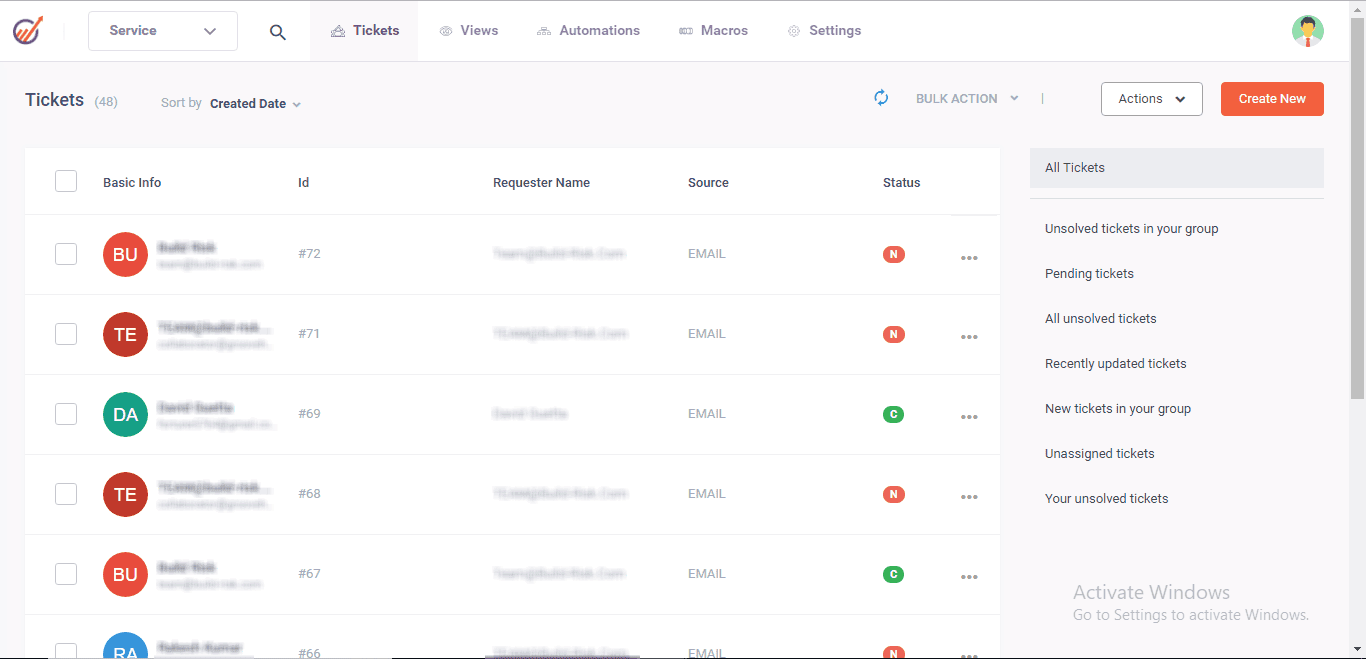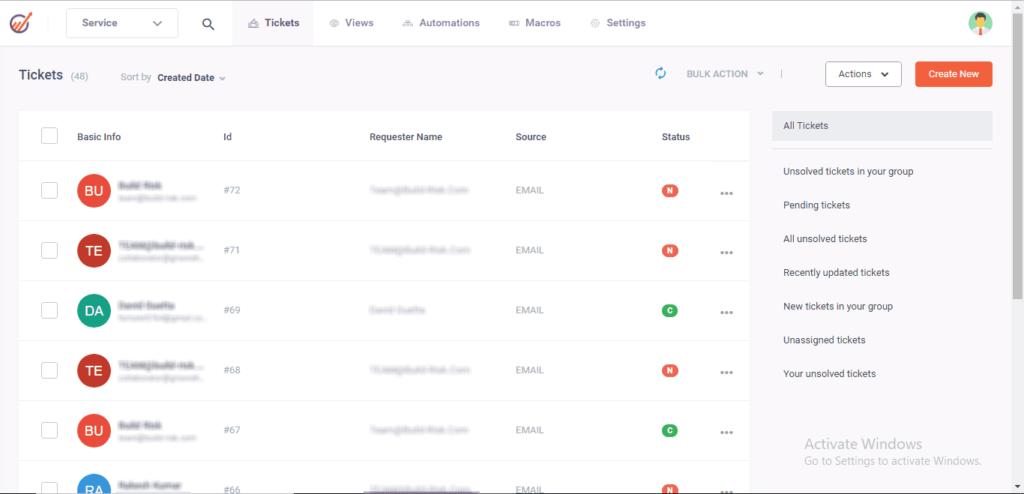 Highlight feature: all-in-one suite
Starting price: $47.99 / user / month
EngageBay has an innovative customer support solution within its all-in-one suite that acts as a customer service center, CRM, and sales & marketing suite. Most customers appreciate these features & how they're interconnected and consider it a big upgrade over other similar solutions like Hubspot, especially since EngageBay also offers a support center called the "Service Bay".
Pros
Great customer support

All in one suite with CRM, marketing, sales

Very affordable for what it offers
Cons
Customer support center only available in the most expensive plan
Difficult learning curve
Verdict: EngageBay is a great all-in-one customer engagement suite with excellent support features – perfect for businesses that are just starting out because of its many features wrapped into a decently-priced package.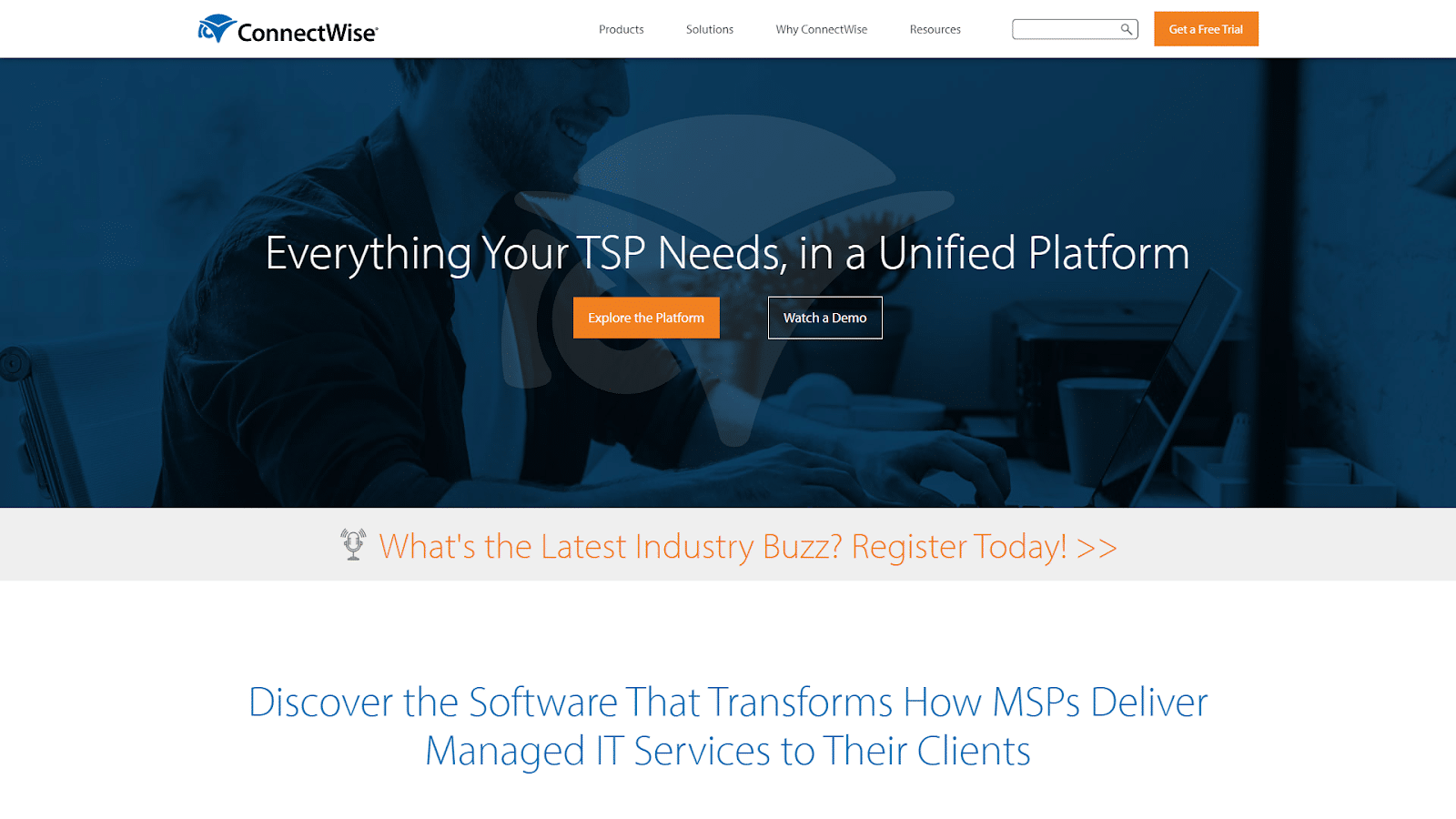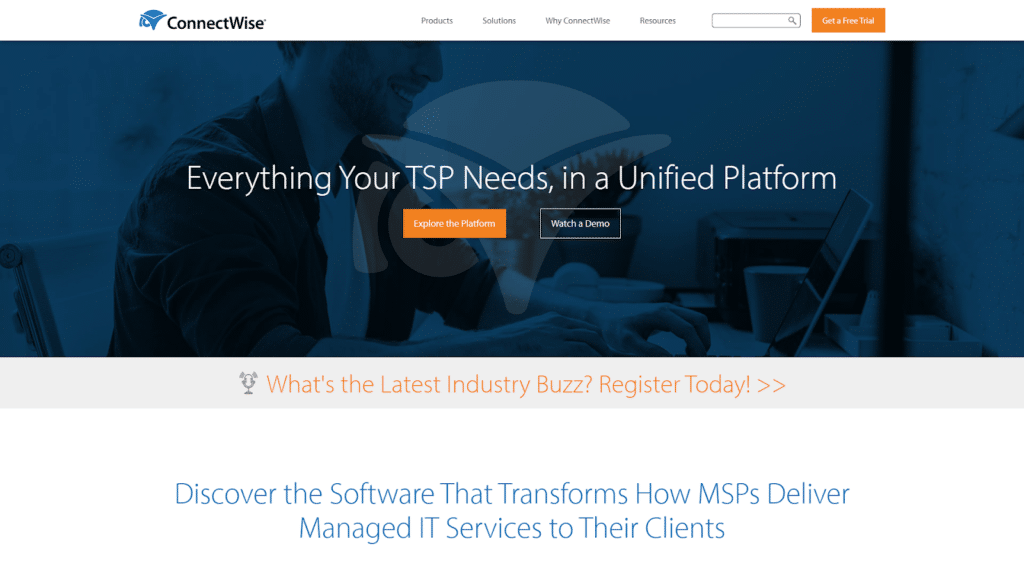 Highlight feature: a unified platform that connects sales, marketing, finance, HR, account managers, and engineering
Starting price: custom
This enterprise software helps managers set clear expectations for customer support quality. They can program benchmarks for response times and resolution rates, and let the platform monitor every ticket against these standards. If a ticket doesn't meet the benchmark, the management automatically receives a notification to address the issue. It even has remote control capabilities.
Pros
You can host the product yourself OR use a hosted solution
Has great customer support
The product is constantly improved
Cons
The mobile app isn't great
Slightly misleading integrations
The learning curve is steep
Price is a bit high
Verdict: this platform has a great reputation and is the best remote management software on the market, so if you can afford it, we recommend you try it out.
16. Knowmax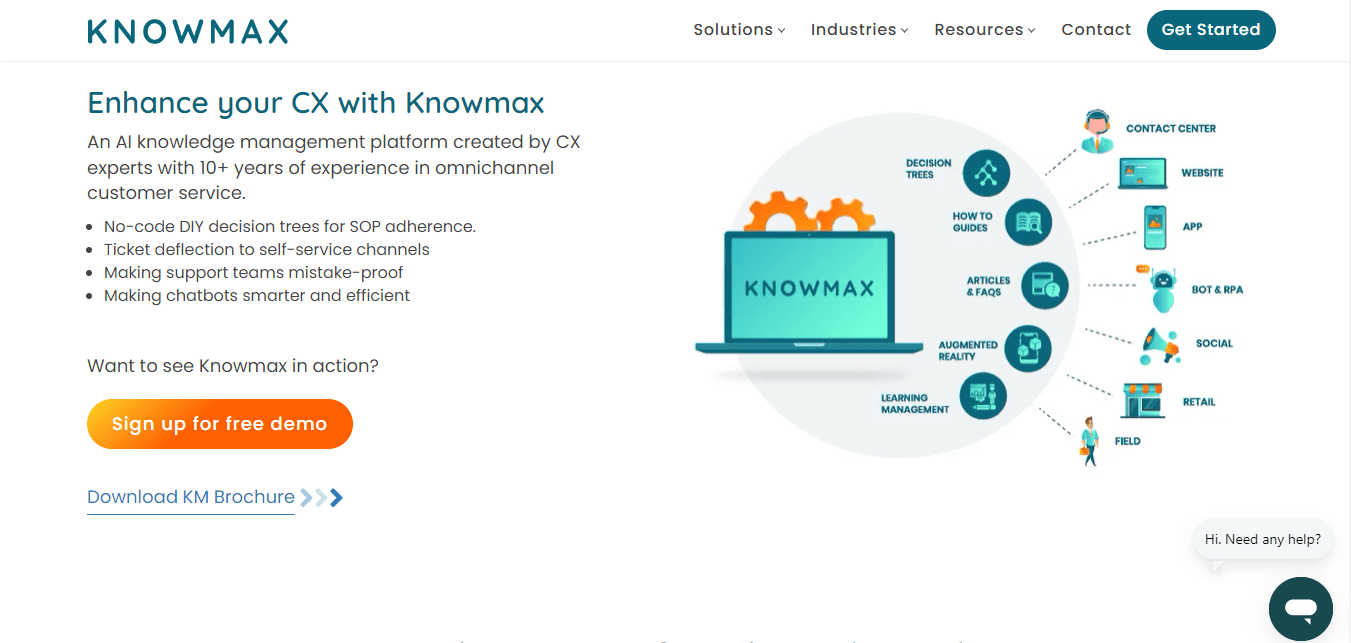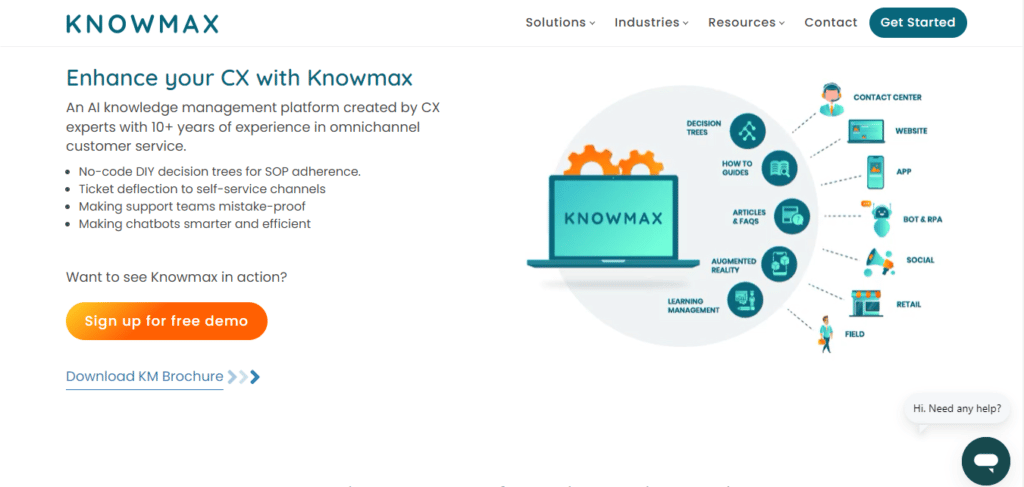 Knowmax is a full-suite enterprise-grade knowledge base management platform designed by CX experts with more than 10 years of experience. This single-sign-on access platform is completely DIY and no-code, requiring no coding knowledge. The platform can be used to create, curate, disseminate, and update internal and external organizational knowledge. The knowledge management platform's function is to provide the right information to all users through a single source of truth.
With Knowmax you can:
1. Promote self-service through omnichannel content distribution
2. Improve Average Handle Time (AHT) and minimize First Call Resolution (FCR)
3. Reduce customer support tickets through ticket deflection
4. Improve knowledge sharing and eliminate data silos
Starting price:
Pricing details are provided on request by the Sales team at sales@knowmax.ai
Pros:
Powers self-service with articles, FAQs, and chatbot knowledge
Streamline the SOP processes with no-code DIY decision trees
Single repository to manage customer service documents, policies & more
Cons:
No co-editing for content available
No SEO functionality
No ticketing management system
Verdict:
While Knowmax's prices are fairly reasonable when compared to other service providers, the features it offers are nonetheless robust. The Knowmax user interface is also very simple to use and intuitive. Overall, Knowmax is a great KM product for anyone looking to automate routine customer service tasks and free up their team to handle more difficult issues.
Are there any other customer support software solutions you use that should make it to this list? Let us know!