Having a good kit of UX tools at hand is essential for any modern SaaS team in order to provide seamless UX to your users. This article will help you find the right ones and learn how to use them within a user-centric UX design strategy.
Your product's user experience needs to be in sync with how your users' actual use your product, and UX tools can help you achieve that. Product-oriented teams can benefit from finding the right UX tools throughout all areas of development, from ideation to prototyping to testing and iteration.
Whether you want to improve existing digital products or create new ones, you have come to the right place. We will list the 10 best tools to help you provide great user experiences and decrease customer effort, and explain how to use them successfully (or in combination).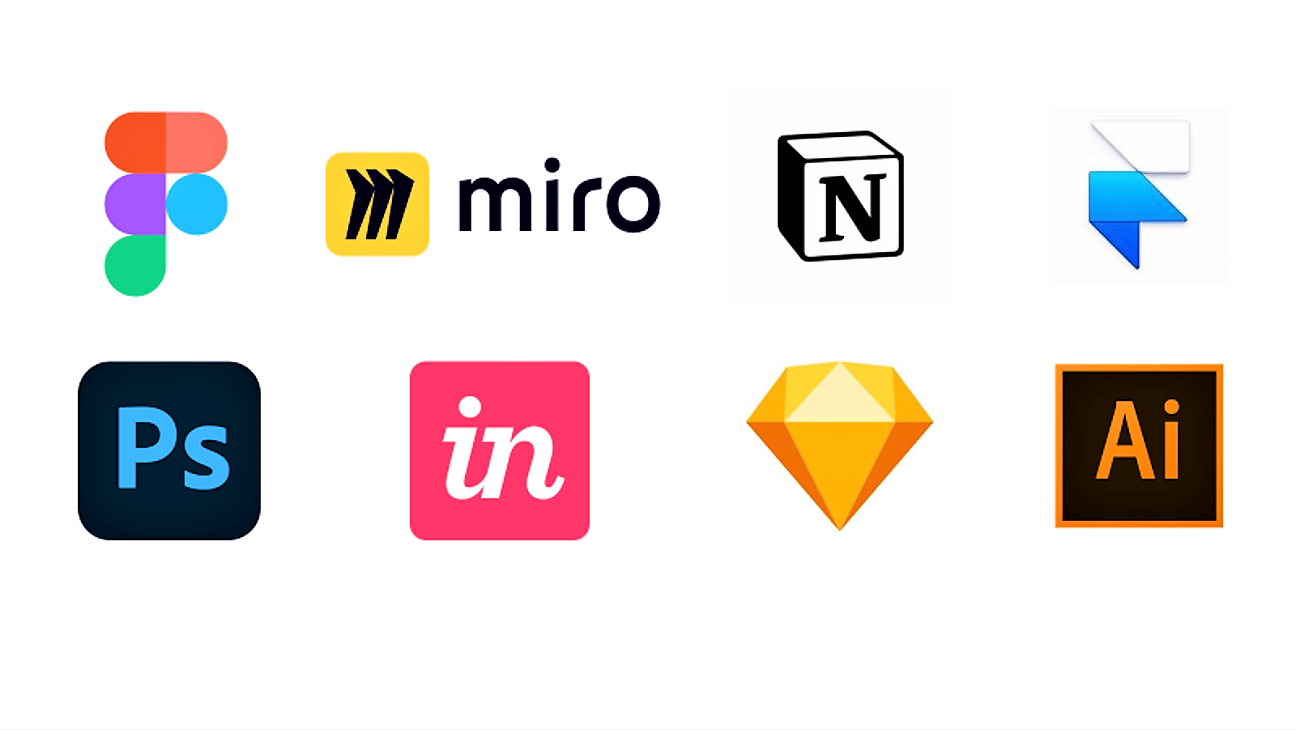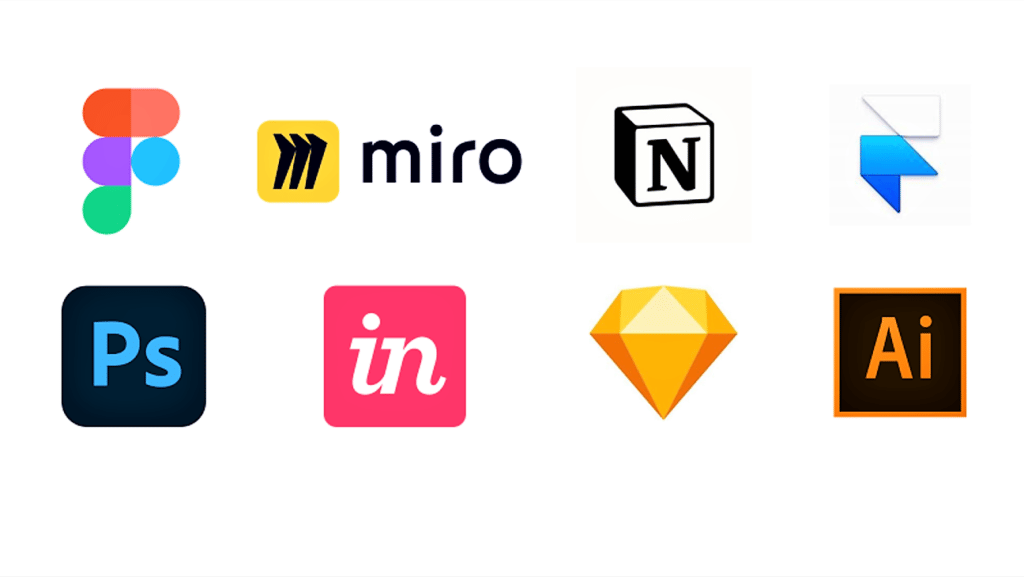 What are UX Tools?
UX tools are software programs and online services designers use to create, test, or research digital or physical representations of their work throughout the product development process. UX tools are used for usability testing, wireframing, prototyping, designing interfaces, building interactive prototypes, data collection and analysis, and more.
UX Tools help designers organize the work required to create a product. They allow you to share designs with your teammates in order to comment, ask questions, or contribute ideas. They may assist in gathering user feedback at any stage of an app's development and make collecting data on user behavior easier.
How to Pick the Right UX Tool for You
Depending on your project's goals and vision, there are several aspects to consider when choosing the right UX tool for your SaaS team. You should take into account the available budget, the features you're looking for in a tool as well as how it can help to satisfy your future users' needs.
Here are a couple of details you'll need to think through:
What kind of user experience do you need?
Do you need to design a mobile app or build an e-commerce site? Do you need to make a website or create a Chrome extension? The answer will determine what UX tool is right for your business.
What are the requirements for each tool?
Each tool has different features and options to help you achieve your goals. Some tools have more robust features than others, so look at the features before making a purchase decision.
Does it suit your needs?
It is essential to ask yourself whether or not a tool is right for you. Is the tool going to help you with your current project, or are you looking to build an entirely new one in the future?
If you want to develop a new app, then you must select a UX tool that will allow you to design the entire app from start to finish. However, some tools offer this option if you only need help with one app feature and don't want to manage all aspects of UI design.
How much does it cost?
Another factor that must be considered when choosing a tool is its cost. Some tools may have more features than others, but they may also be more expensive. If budget is an issue, consider looking for free or low-cost options before investing any money into them. Try out the free trials and free versions of specific tools before committing to complete payment.
Importance of SaaS UX design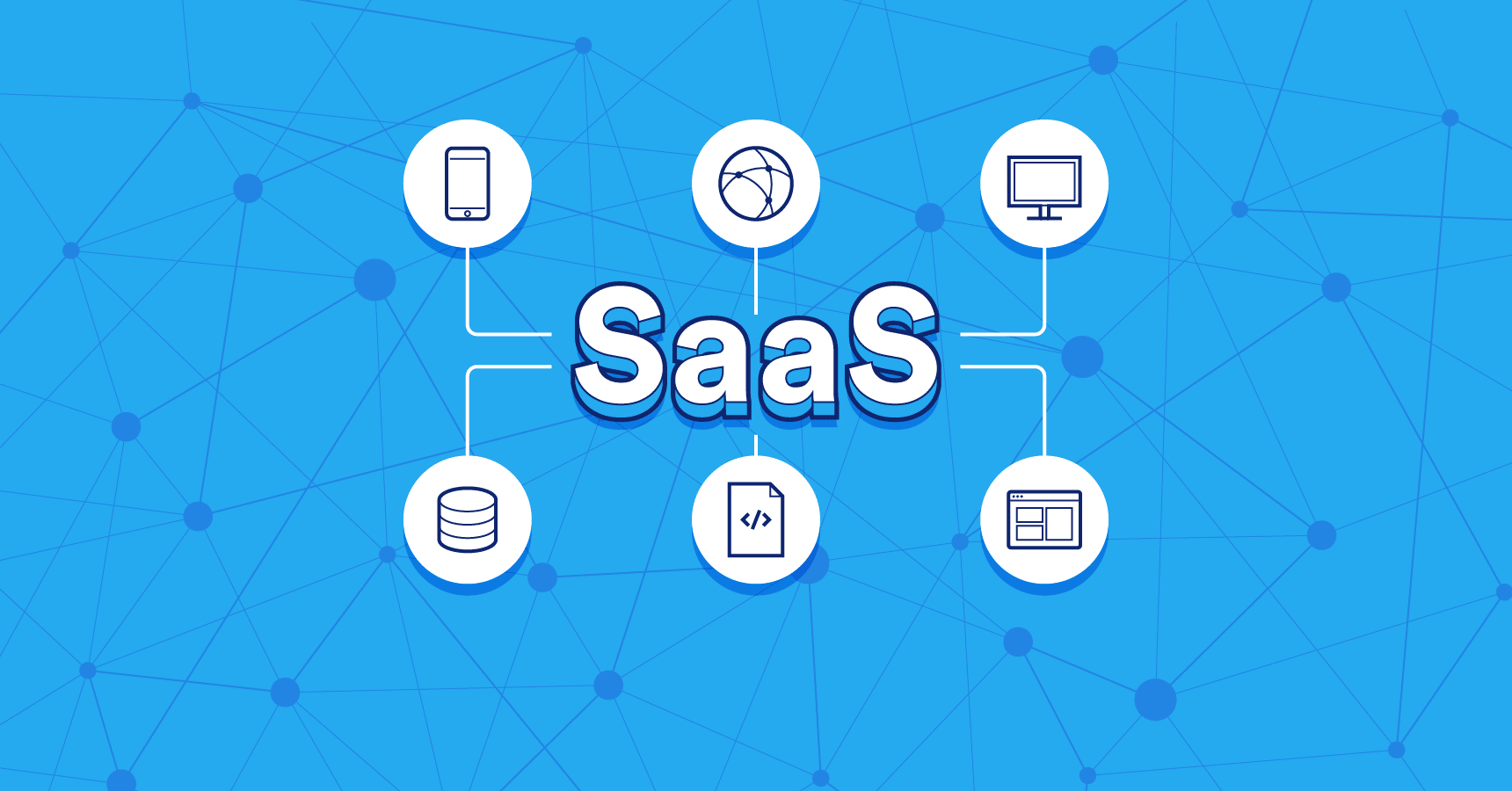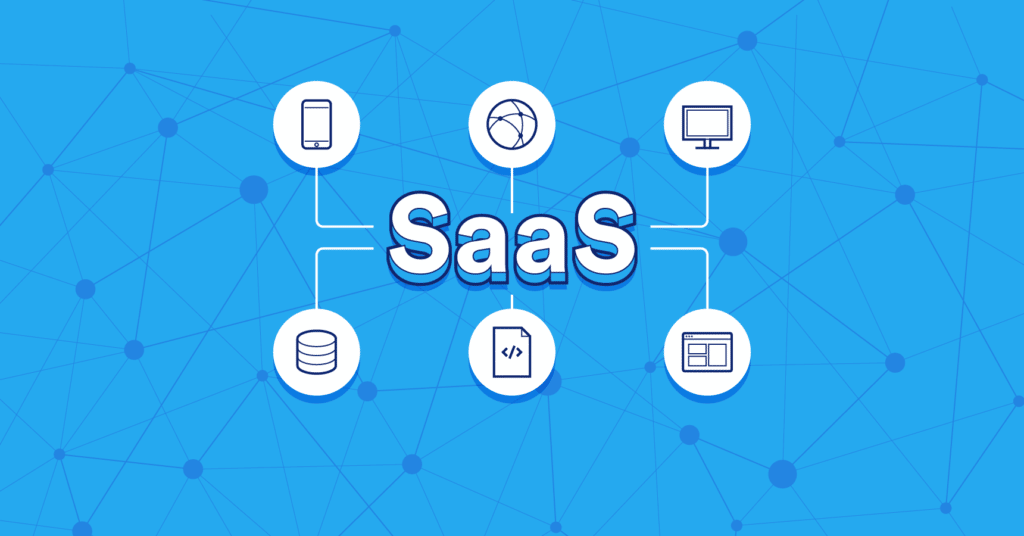 There is quite a bit of complexity involved in developing a SaaS app or website. Some products don't appeal to their audience and don't succeed over time. The effectiveness of UI/UX design can make or break a product. SaaS UX and UI can make a massive difference to the user experience — that's why it's so important to have a bunch of right UX tools at hand.
Let's take a look at a few important things to keep in mind when designing and developing a SaaS product:
Simple registration process
First impressions matter and registration is typically a user's first interaction with a SaaS platform. Only request the necessary information upfront when designing the registration procedure. A customer's email address is frequently sufficient to enter the application.
Remember to consider calls to action when perfecting the registration procedure. Potential users are attracted to the system by a clear call to action.
Reduced churn of customers
For any SaaS business, it's crucial to retain users and show them how valuable they are for the company. In a digital world, it's essential to make sure that your client's experience with your platform is as smooth as possible, without any needless confusion and overcomplications.
Dealing with good user experience will not only leave your clients happy with your services but also make them want to come back or even recommend you to a friend. That's an ultimate way to successfully reduce the loss of potential customers, not to mention the bounce rates of your company's website.
An improved user experience
SaaS products that are well-designed allow clients to have a simple yet comprehensive experience when using them. Several features have been implemented to reach as many people as possible.
For example, an ecommerce platform must satisfy the requirements of all potential clients, from top management to a specific employee. UX designers determine the best method to reach each using prototyping, customer journey mapping, and user testing throughout the early design phases.
Top 11 UX tools to improve your SaaS
The more satisfied your users are, the more likely they'll try out your service and recommend it to others. Let's move on to a list of the top 10 UX tools to help improve your SaaS, as well as information on the benefits, drawbacks, and features of each one.
Adobe XD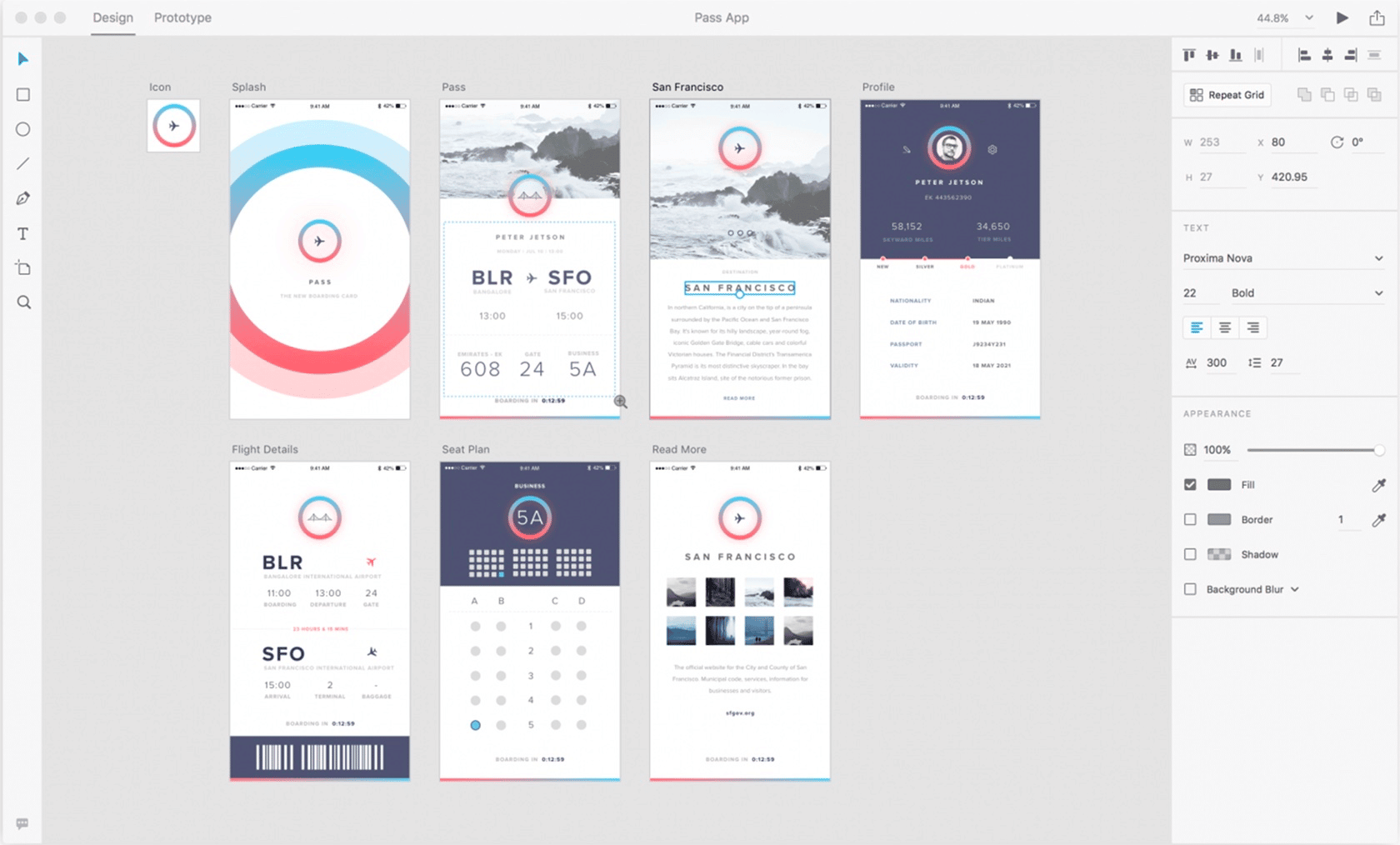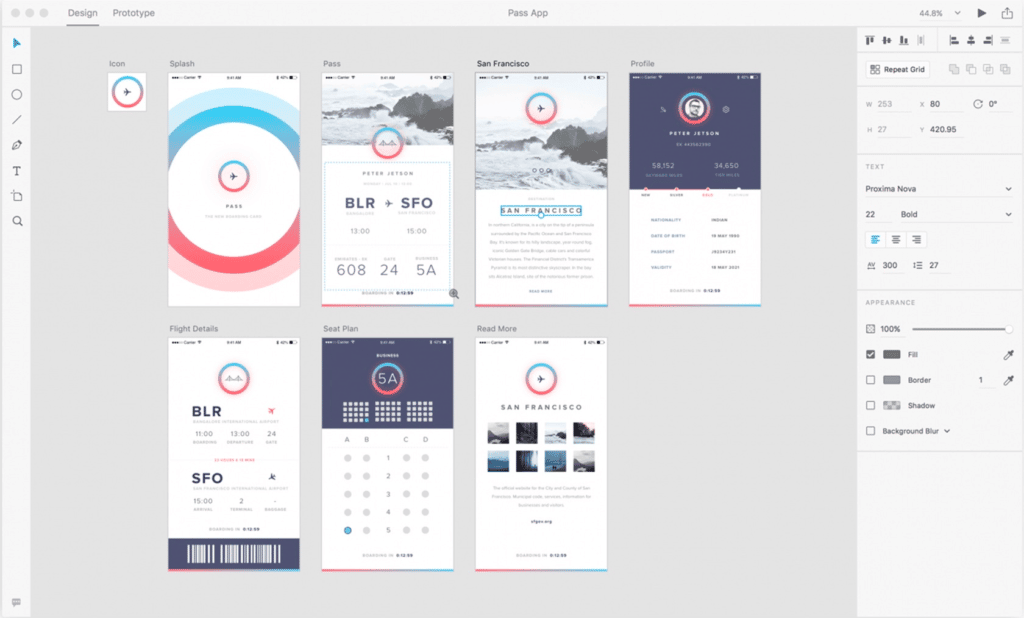 Adobe XD is a vector-based design tool that makes wireframing and flowcharting a breeze. The product is well integrated into the Adobe ecosystem, so if you've used Adobe products before, it'll be even easier to use.
Adobe XD aims to simplify designing, prototyping, sharing, and collaborating. A master element with customized properties can be created using its asset management library and third-party design kits compatible with Adobe XD.
Features
Prototyping
Tutorials
User interfaces with minimal clutter
Grid's Repeat function
Advantages
Outstanding and effortless teamwork
Great responsive design assistance
Dependable guides and a user base
Windows and macOS-compatible
Disadvantage
Pricing
Paid plan begins at $9.99 Per month.
UXtweak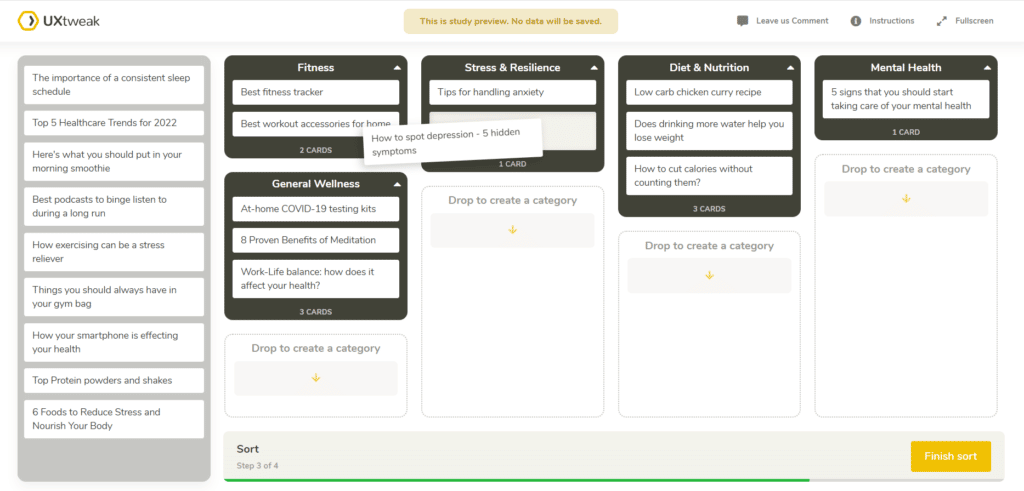 UXtweak is a go-to UX tool for user research and usability testing, from prototypes to production. They have all of the tools you need to conduct comprehensive UX research in one place.
With their wide range of features you're able to fine-tune your product's UX, make sure it's appealing to your target users and gather their feedback in a fast and efficient way.
Features
Session Recording
Tree Testing
Card Sorting
Preference Test
5 Second Test
First Click Test
Surveys
Competitive Usability Testing
Advantages
Intuitive UI
All the tools you need in one place
Transparent pricing list
Advanced analytics
PDF reports
155M+ User Panel to recruit participants from
Disadvantage
Pricing
Free forever plan available. A company plan costs $144 per month, and a single plan is available for $80 per month.
Figma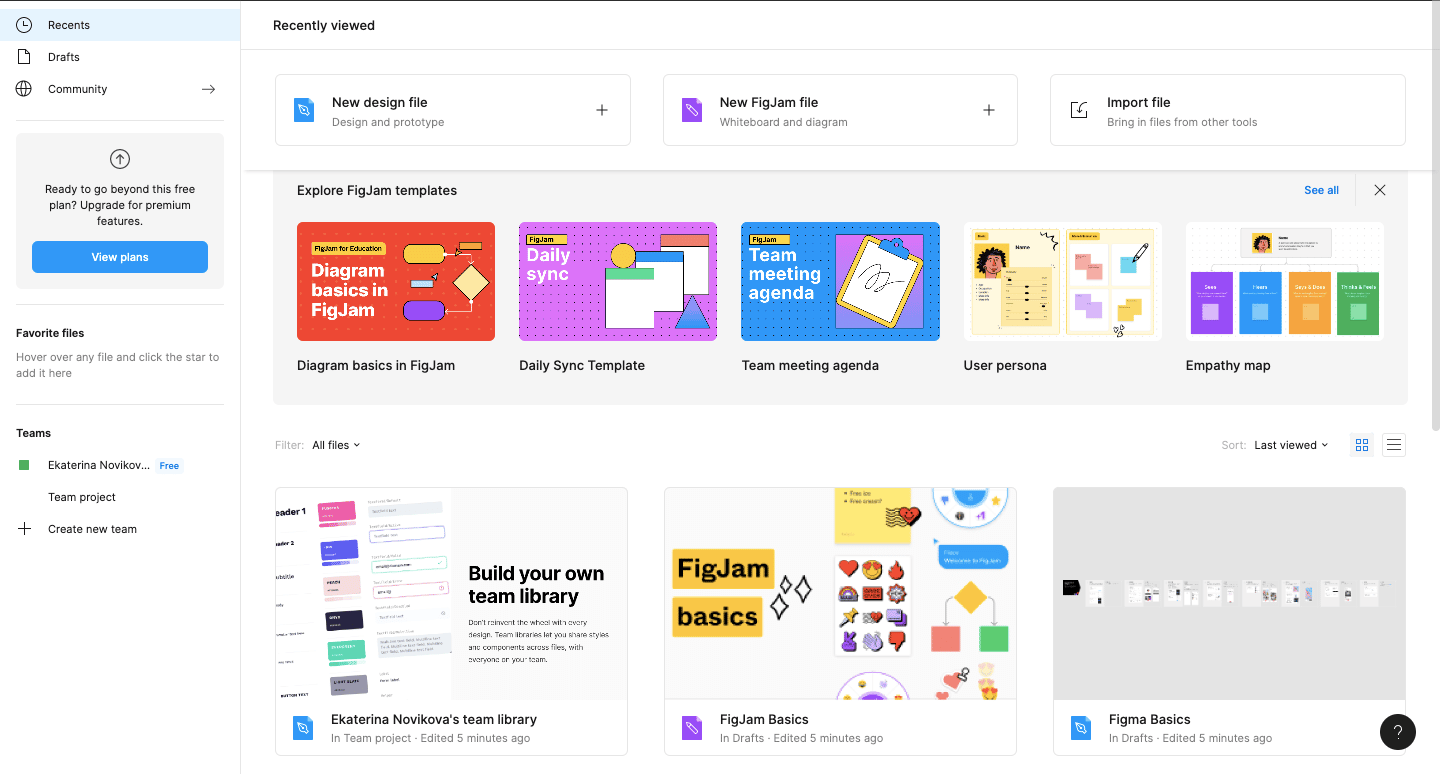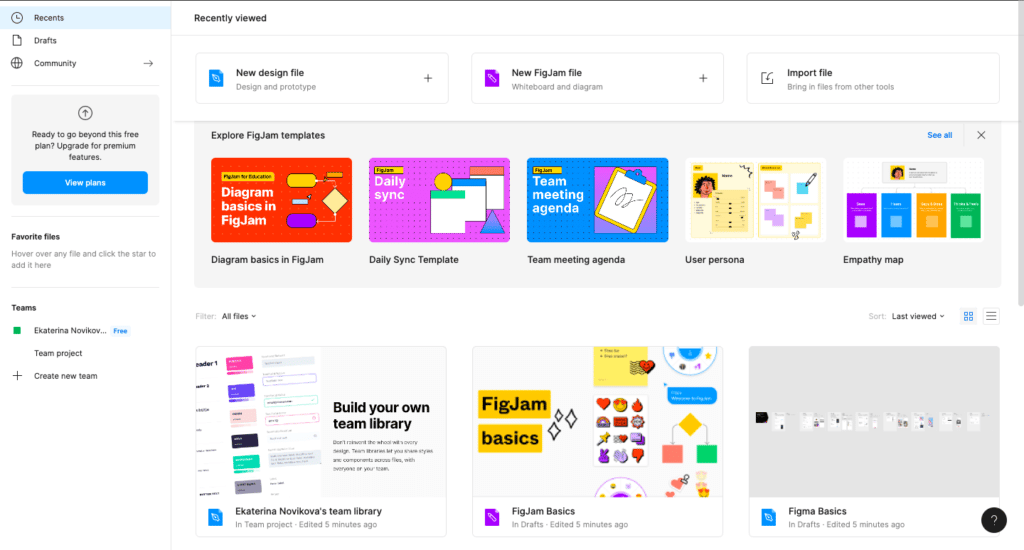 Figma is a user interface design tool with one of the most diversified toolkits and features on the market. The tool is specifically designed for seamless rapid collaboration among team members which makes the design process faster, more efficient and simplified.
Figma's functionality ranges from prototype creation and website/app wireframe to feedback collection and easy developer handoff, which allows the product to support the design process on any stage.
Features
Web/App design
Prototyping
Wireframing
Team collaboration
Feedback collection
Developer handoff
Templates
Vector networks
Advantages
Website-based, compatible with MacOS, Windows, Linux and ChromeOS
Great number of integrations (Slack, Microsoft Teams, Dropbox, etc.)
Effortless file import / export
Immense team collaboration possibilities
Disadvantages
Limited offline usage capability
Pricing
Paid plans start at $12 per editor/month. Free plan is available.
UserGuiding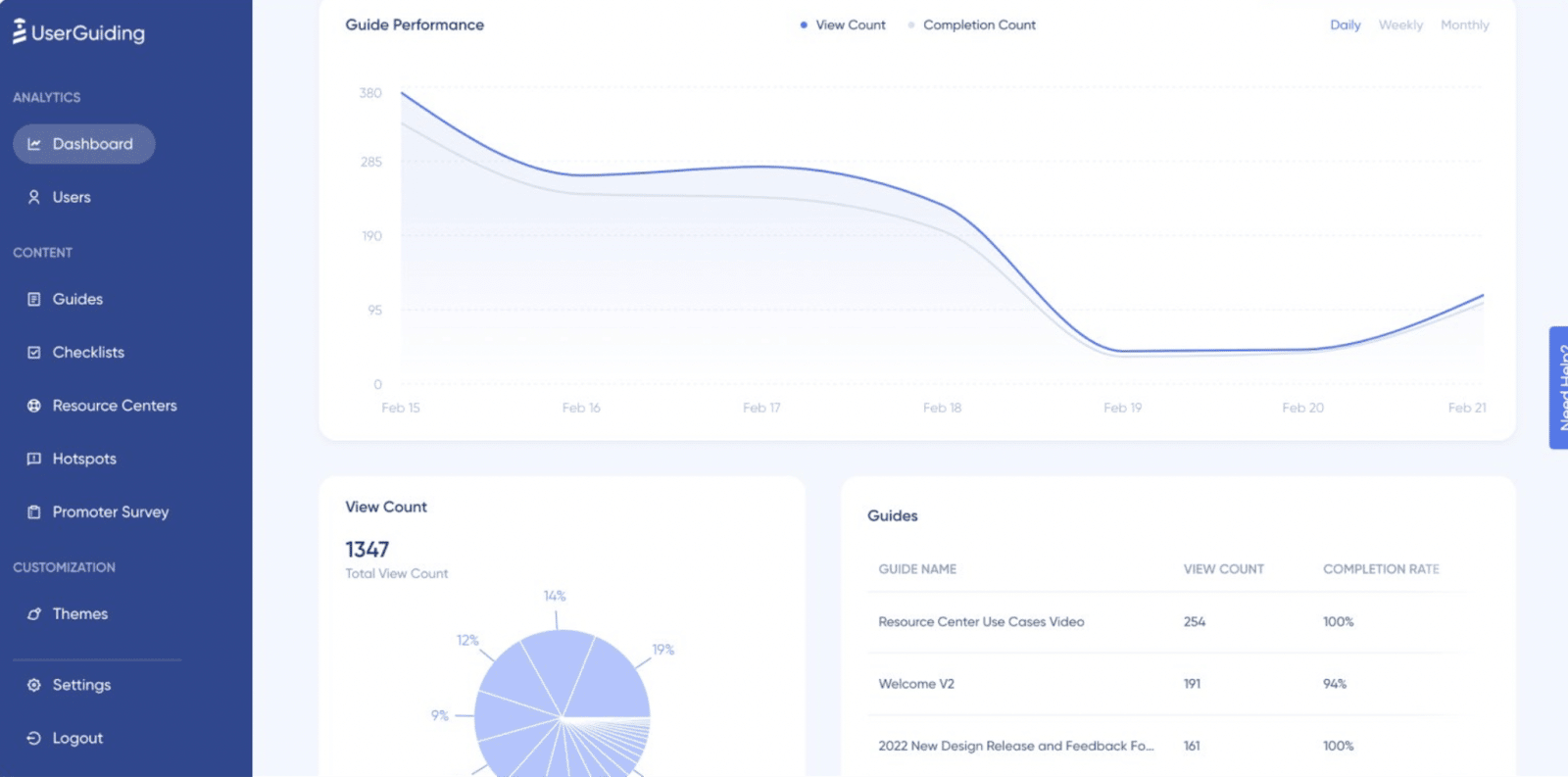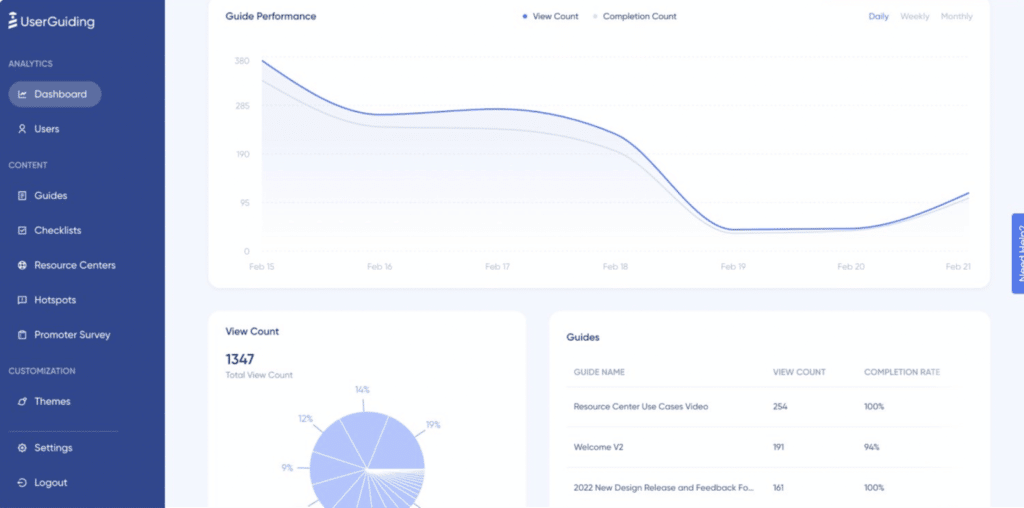 UserGuiding is an all-in-one product adoption solution that helps websites and web products improve their user onboarding experience.
With its interactive UX elements, UserGuiding helps you scale your digital adoption rate and boost conversion rates, without writing a single line of code.
Features
Product tours
Tooltips
Checklists
Resource centers
NPS surveys
Advantages
Easy setup
User friendly UI
Excellent customer support
Easy-to-make customizations
Multiple onboarding flows
Airtable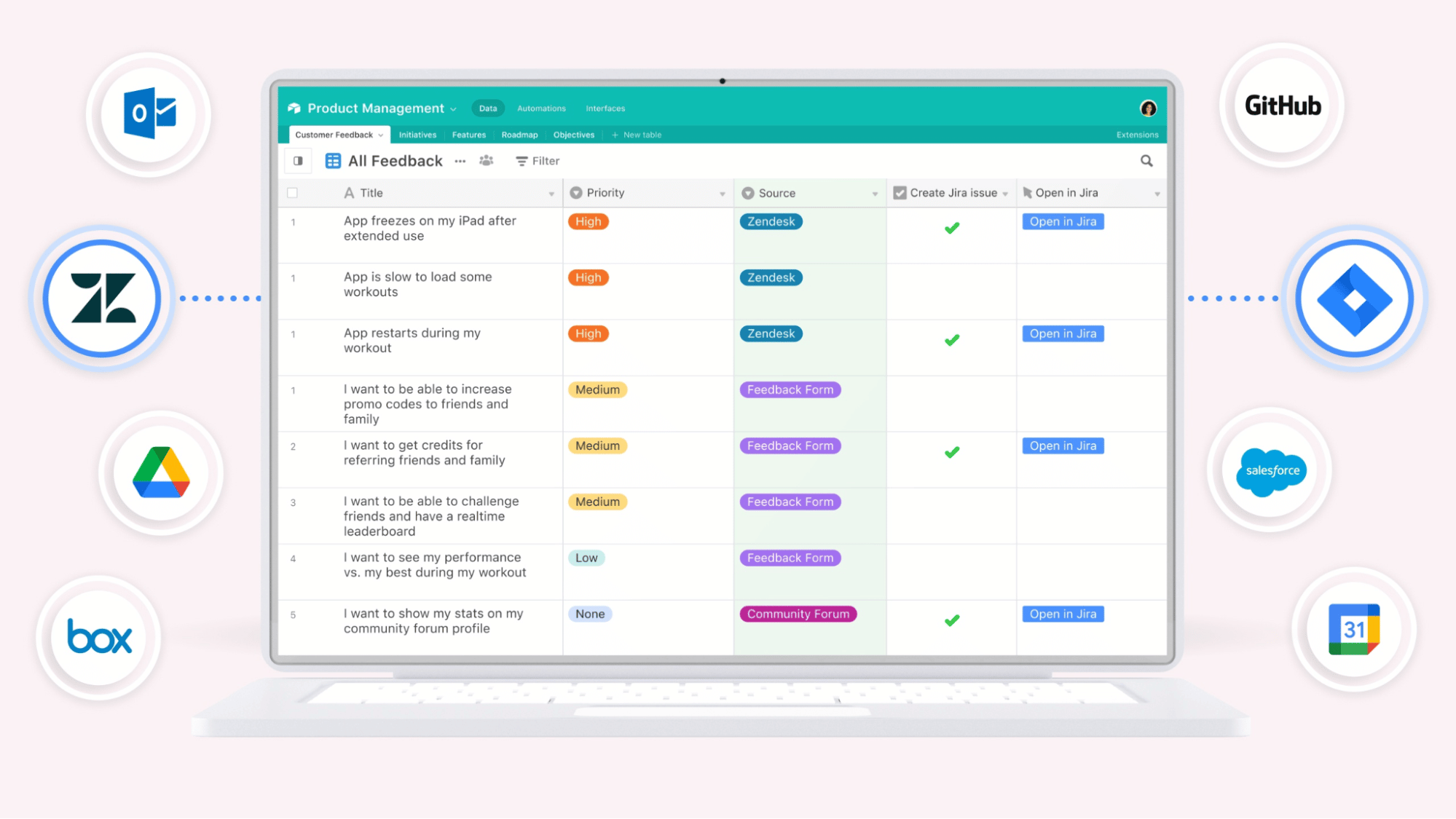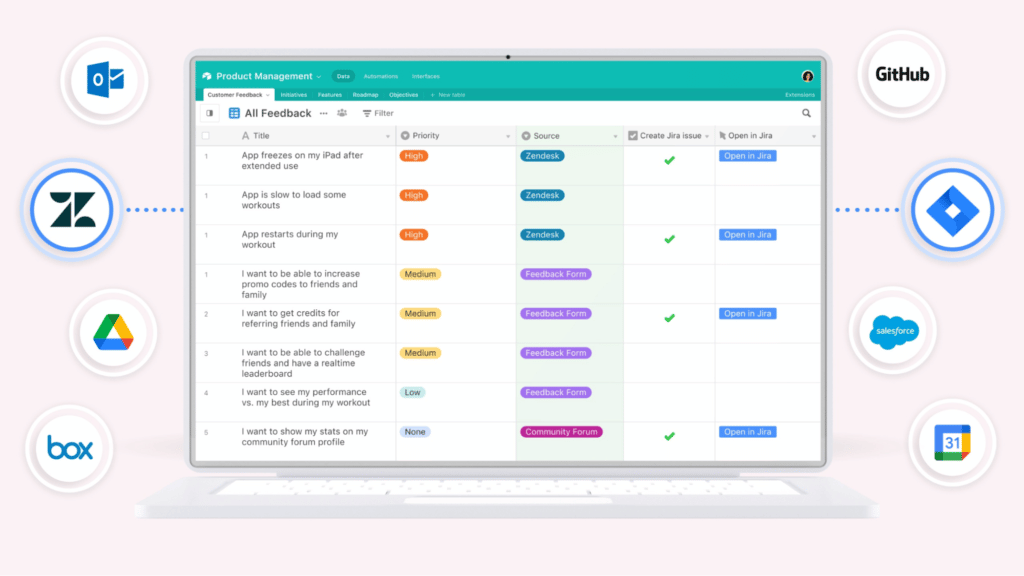 Airtable is the go-to collaboration tool that allows you to connect data and workflows across different teams while maintaining seamless UX.
This tool is a must-have for big teams that work with a lot of data, which is true for basically all SaaS teams. Their biggest advantage is a huge template library with templates for many possible use cases, ranging from user research to content planning.
Features
Interface Designer
Explore different ways to view data
Simplify and streamline workflows
Sync data across teams and tables
Advantages
Templates
Integrations with popular apps
Disadvantages
The onboarding process may seem complicated
Pricing
Free plan available for small teams. Plus Plan is $10/seat, billed annually.
Dovetail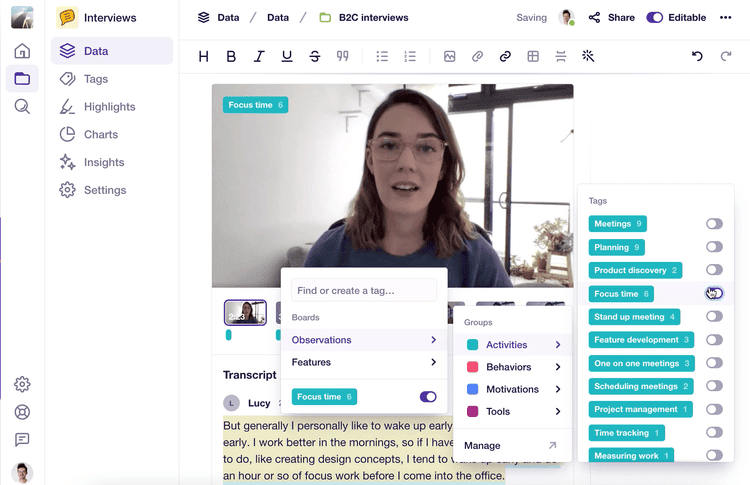 Using Dovetail, you can discover patterns across surveys, usability tests, and interview results. Drag and drop tags into a hierarchy, extend your project with global tags, and organize them into a hierarchy with intuitive controls. With various beautiful charts, you can transform qualitative data into quantitative data.
Features
Transcribing, highlighting, and tagging video recordings.
Finding themes in unstructured data in collaboration with your team.
Tracking how, when, and why your research is used.
Team collaborative feature
Advantages
Flexible for structuring individual research projects.
Drag and drop images inline to pages.
Tag video call transcripts.
Disadvantage
The insights and data pages offer limited formatting and layout options.
Pricing
The pricing begins from $125 per month, but you can always use their free trial.
Google Forms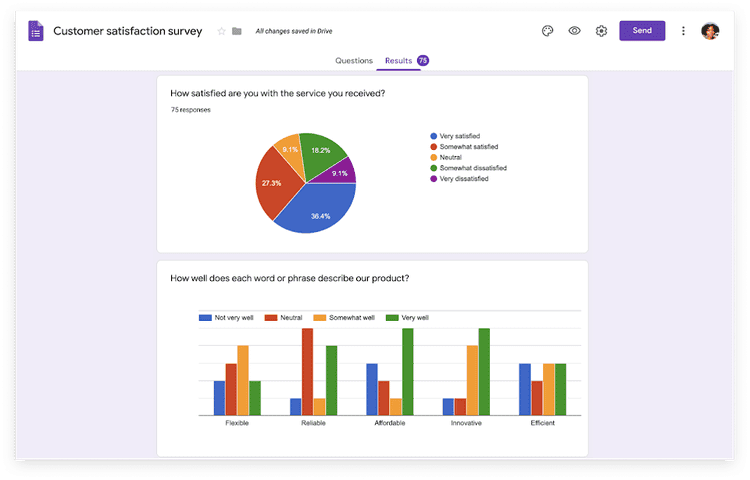 With Google Forms, businesses can collect and organize information online through surveys and questionnaires. White-label solutions enable organizations to create customized surveys with logos, images or predefined themes.
Features
Toolkits for collaboration
An easy-to-customize branding system
The ability to customize fields
Advantages
Seamless cloud autosave
Compatible with multiple devices
Forms can be created and designed easily
Disadvantage
Customization may be limiting
Pricing
With G Suite, Google Forms is available for free.
UXPressia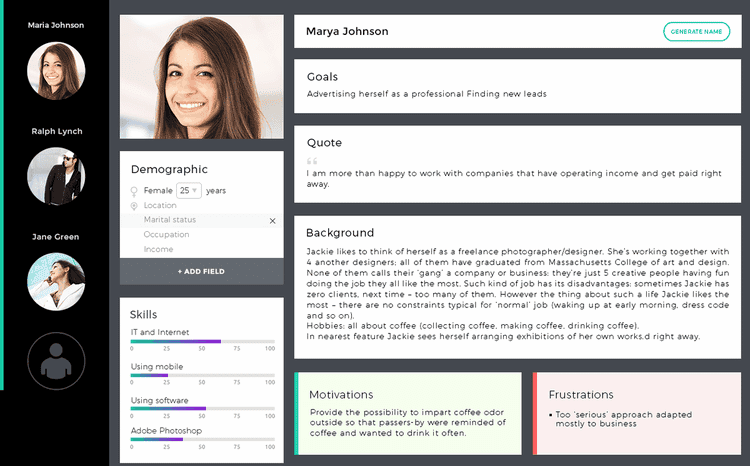 Customers can create customer journey maps, personas, and impact maps online with UXPressia. An enhanced visualization capability is available in the online tool for customer journey mapping, which provides exceptional customer experiences. With an intuitive drag-and-drop interface, the solution offers an optimal balance between sticker-based and table-based solutions.
Features
Management of the customer experience
Profile management
Custom branding tools
Advantages
Responsive customer service
Professional map layout
Easy to use
Intuitive journey mapping experience
Disadvantage
It may be a little overwhelming for beginners
Pricing
Free membership at zero cost. There is a STARTER plan for $16/per month peruse and a PRO plan for $36/per month per user.
Lucidchart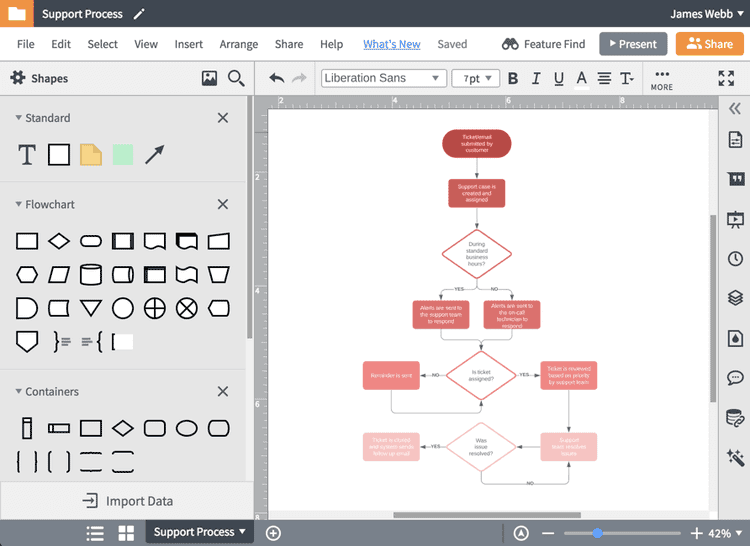 Lucidchart is a drawing tool that can help you build user interfaces, wireframes and prototypes. You can create diagrams in the form of flowcharts, UML diagrams, mind maps and more.
Lucidchart's free version is limited to three users but has some valuable features.
Features
Ability to add comments
Assign roles to team members
Unlimited users
Advanced collaboration tools
Advantages
An enjoyable user experience
The learning process is simple
A variety of object libraries and templates are available
Effortless collaboration
Disadvantage
The desktop application is not available
Pricing
Payment is as low as 9.95 Per month, but you can pay a yearly fee of $95.40.
OmniGraffle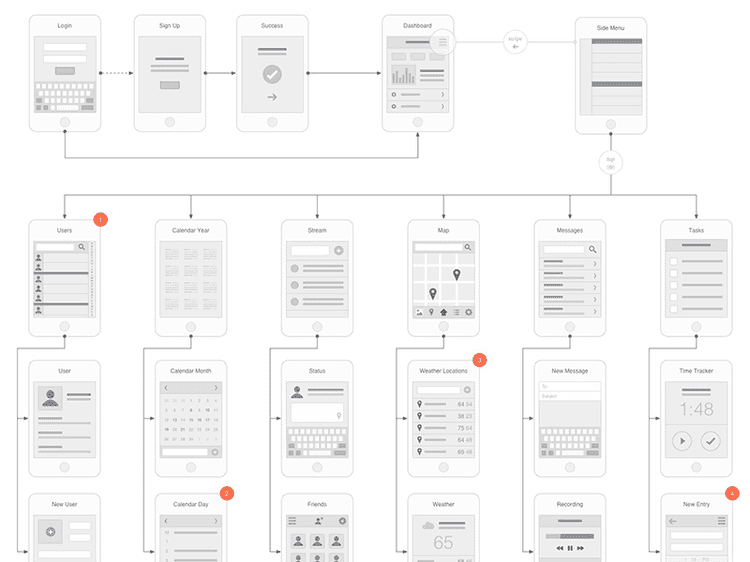 With OmniGraffle, designers can create wireframes of website pages, electrical systems, family trees, and software class maps. You can easily share small elements or mockups with a friend or export finished assets in the format you need. Compared to other complex diagram software, it is much simpler.
Features
Wireframing
Templates
Collaborative tool for data imports and exports
Advantages
Slick interface
A go-to tool for non-trivial wireframe
Helpful import/export features
Disadvantage
Both the macOS and iPad apps are expensive
Pricing
Price starts from $12.49, and there is also an OmniGraffle plan for $99.99 (Individual License) and $149.99 (Family License).
Balsamiq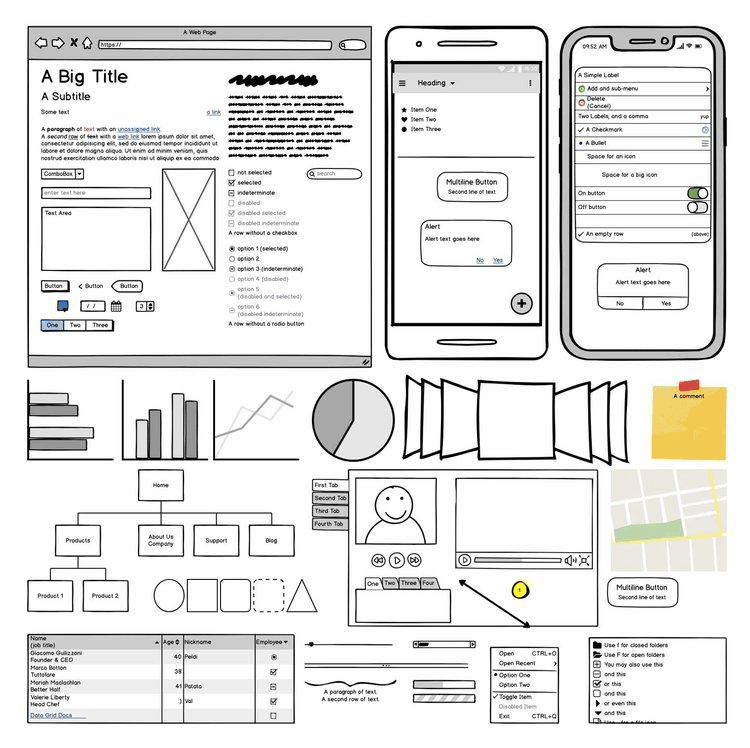 The Balsamiq Wireframes software blends the simplicity and comfort of paper sketching with the power of digital tools, making your work easier to share, modify, and get honest feedback on. Wireframes resemble sketches, so stakeholders cannot get distracted by details and concentrate on what's important.
Features
Brainstorming
Commenting/Notes
Customizable Templates
Data Linking
Advantages
Iteration options are endless.
A good quantity of functionalities.
Drag and drop feature
Ease of use
Disadvantages
Pricing
Starts at $9/month
Final Thoughts
It is important to consider all factors when choosing UX tools. To maintain seamless workflows, we need to consider costs, collaboration requirements, the platform, and any other tools that might need to be integrated. Sign up for their free trials after you've reduced your options and decide if it's to your liking.