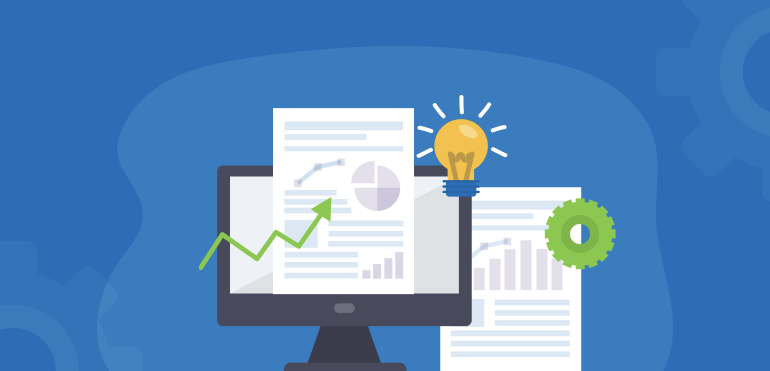 Have you ever read a piece of professional documentation and thought, "Wow, that was very helpful and well laid out!"
No?
That's not surprising. Both internal and external documentation has a tendency to be boring, outdated, and unhelpful. There's a reason why people don't like digging into support docs or FAQs to find answers.
But good documentation can boost your company's efficiency. Especially in a field as multifaceted and quickly changing as customer success.
Effective customer success documentation helps your customer success managers (CSMs) work faster, better, and with less confusion.
There are many types of documentation you could use in your CS team. But five of them stand out as the most useful. Start with these five resources, in this order, to improve your customer success process:
1. The Journey Map
We're big on customer success journey maps here.
Why?
Because they sum up the entire customer success process in one document. They show which parties in your company are responsible for different tasks throughout the customer lifecycle. They might include useful information about tools, metrics, and handoffs, too.
This means customer success journey maps answer a lot of questions that your CSMs will have during the course of their relationship with customers.
For example, you might have two different onboarding processes: one for small businesses and one for enterprise clients. Without good documentation, your CSMs might make mistakes in starting these processes. But if you have a detailed journey map, a CSM can look at the journey map, find the type of customer they're working with, and make the right decision.
Taking a higher viewpoint, the journey map also helps CSMs stay focused on customer success. What do your customers really want? How can your CSMs help them achieve their goals?
Keeping these things in mind will be a big help to your CS team. Managers can also use the analytics and measures specified in the journey map to make sure their teams are functioning efficiently.
There's no more important piece of customer success documentation than the journey map. It's absolutely crucial and should be the first document you create when you're starting a customer success team.
If you're not sure how to get started, be sure to read our guide on how to create a customer success journey map. It walks you through the whole process.
2. Personas
To be most effective, your team needs to know a lot about your customers. That's where personas come in.
A complete customer success persona tells your team what they need to know about your customers. Not necessarily any specific customer, but about your client base in general.
The most important things to include here are general ideas about how your customers define success. Each customer is going to have a different definition. But a general understanding of what your clients are looking for is invaluable in driving the general direction of your CS program.
It's worth noting that customer success personas differ from buyer personas in a few ways. There's less emphasis on items like where the persona gets their information or their sales objections.
Instead, it's all about their goals and desires. What do they want from your product? What would make them consider using it a success?
Customer success and buyer personas are certainly related. And in many cases, they'll be very similar. But don't make the mistake of using the personas created by your marketing department for your CS team. Start from scratch and you'll get better insights into your customers.
3. Scripts
Just like salespeople, some customer success managers like to use scripts for calls. Others prefer to manage the conversation on the fly. That's fine—every CSM can do what works best for them.
But you should still have scripts available.
No matter how many of your CSMs use scripts during their calls, they're fantastic training tools. They help new CSMs see the types of things they should say and ask, as well as assist in roleplay training. And, of course, there's a good chance that at least some of your customer support team will want to have them on hand when they're on the phone.
Call scripts have traditionally been a tool for call-center-based customer support. And while customer success teams aren't the same as customer support, they do serve many similar functions. And if a customer gets in touch with your customer success team for a support issue, scripts can help them handle it.
How you use scripts is up to you. But having them around is a must.
It's also worth creating email templates for your CS team. Think of them as email scripts. Like calling scripts, some people will use them, and some won't. Others will tweak them to fit their style. But they're a great tool for your team, both in training and after.
4. Contact Cadence Schedules
Like with scripts, some CSMs will want to tailor their contact schedules. It makes sense. They know their clients best, and they know when they should email or call.
And that's fine. But you should have a standard contact schedule for new employees and those who aren't ready to customize their own.
These schedules tell CSMs when to contact customers for various purposes.
For example, if a CSM is just staying in touch with one of their accounts, they might call once every month. If that account is nearing the end of their subscription period, that could increase to once a week.
You might also suggest specific cadences for customers who are having problems. If someone isn't meeting their success goals, an email every few days could help your CSM get a handle on the problem. An open customer support ticket might warrant an email every day. And so on.
It takes a while to learn what works best for your customers. But when you do, it's important to document that system. That way, new CSMs don't have to start from scratch. They'll already have a headstart on the right contact cadence.
5. Support Docs
Customer success and customer support are different. They have different goals, approaches, methods, systems, and staff. But in the end, they both serve the customer. Which means your success team should have access to customer support documentation as well.
CSMs are often the first people a company will turn to if they're having problems. And "Sorry, I can't help you with this; you should open a support ticket" doesn't provide a great customer experience.
If your CSMs have access to support documentation—and know how to reference it—they can serve as the first line of problem-solving. They won't be able to solve detailed problems that require input from developers. But they can keep your customer support team from getting bogged down with simple issues.
Customer success isn't customer support. But giving them the documentation they need to supplement your support team can be a huge help.
Make Sure Documentation Is Accessible
Here's where lots of companies go wrong: they have this documentation, but no one uses it. It's hidden away in a Google Drive folder somewhere that no one has seen for months (or years).
Documentation that no one reads doesn't help. So you need to make sure that your CSMs can find the information they need quickly.
Your best bet is to use customer success software that not only tracks important CS metrics but also provides access to documentation. Something that keeps it organized and easy to find.
Using a customer success platform is your best bet here. You can, of course, get away with using Google Drive, Dropbox, or another cloud storage system. But those systems tend to get out of control fast. And that makes your documentation less useful.
Check to make sure that your documentation is accessible on a regular basis. Ask your CSMs if they have the resources they need—and if they don't, create more documentation that they can use.
Start Small
You don't need to create your entire set of customer success documentation at once. If your company has been around for a while, you've probably created some of it already.
So build on that. Use your buyer personas to create customer success personas. Use workflows and flowcharts to build a customer success journey map. Update and share your customer support documentation.
The important thing is to get started. Every piece of documentation will help. Don't worry about creating an entire library of it. Just start with one piece (and, if you can, start with the customer success journey map).