Investing in employee onboarding, training, and education early on is one of the most important things you need to do for your company.
It will help you narrow the global skills gap by allowing you to develop the right talent in-house. It will help you boost productivity and performance, improve employee morale, and even strengthen company culture.
The only question is – how to organize employee onboarding and training now when most employees are working remotely? Well, all you need is the right employee onboarding software.
Even before remote work became the norm, the global corporate e-learning market has been on the rise and is expected to be worth over $50 billion by 2026.
Many companies have already seen the value and benefit of online employee onboarding for both their in-house and remote workers.
If you want your company to experience the benefits too, you need the best employee onboarding software. Find it in the list below.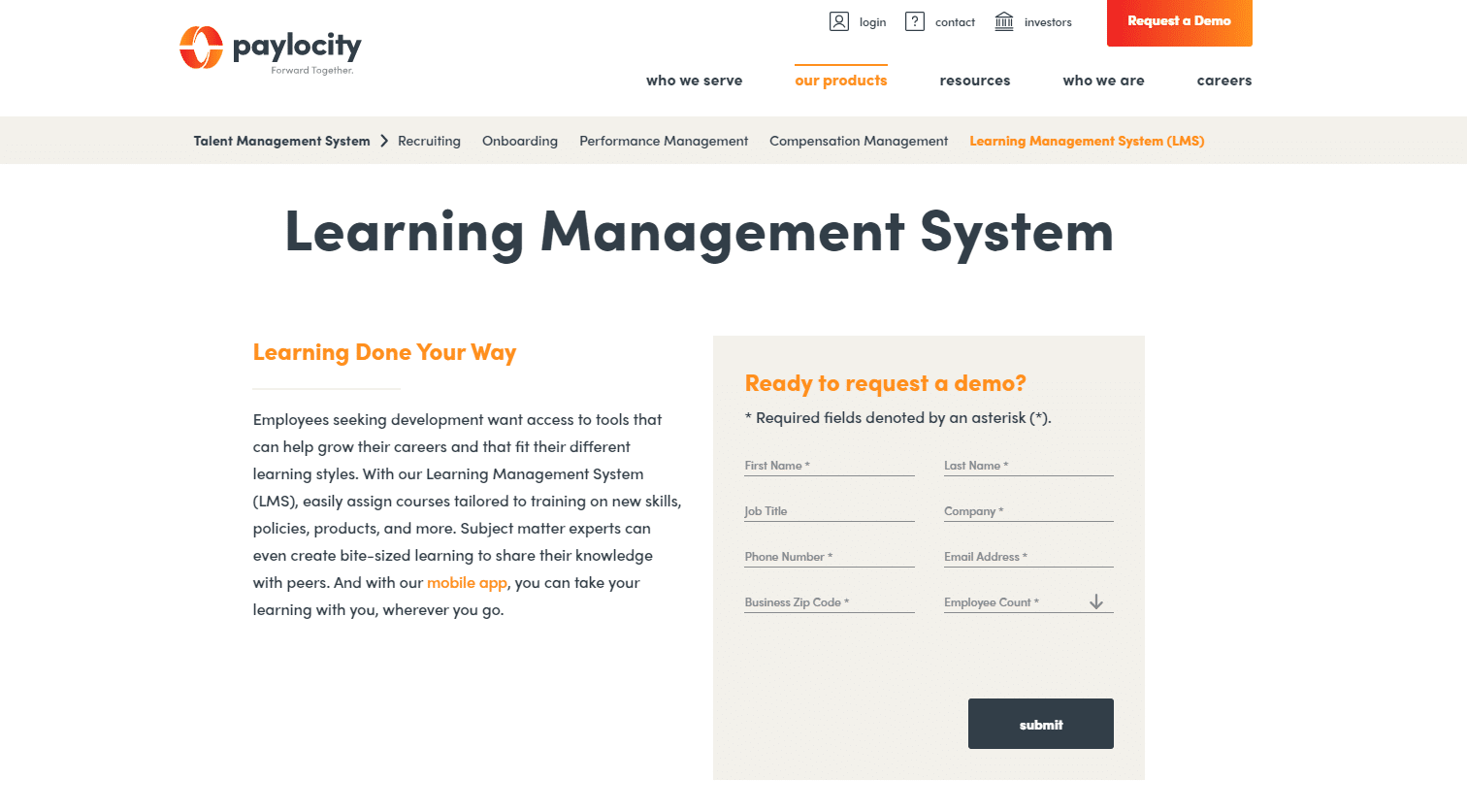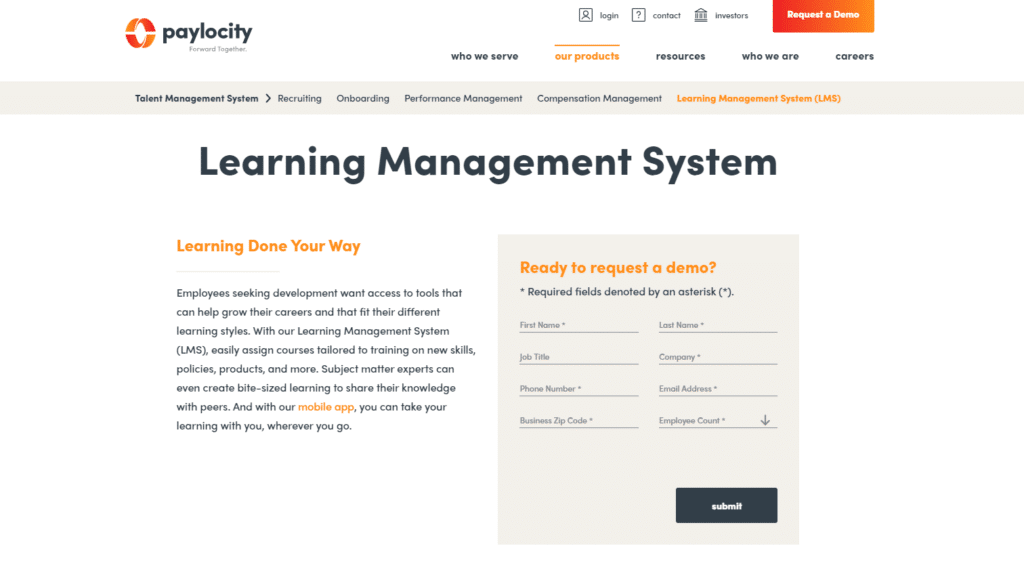 Paylocity is a cloud-based solution that can help you streamline employee onboarding and many administrative tasks as well.
It's suitable for small, medium, and big businesses alike as it's easily scalable to meet their growing needs.
Its pre-made courses are ready to use as soon as you've signed up. They're well-designed, comprehensive, and cover their bases, providing you with easy employee training on the go.
Of course, you can add your own materials as well, such as audio files, and record screen-shares, and build interactive quizzes.
You can monitor employee progress, send reminders and announcements, track completion rates, set time limits and due dates, and more.
What makes Paylocity unique is that it enables you to track attendance, process payroll, and manage your budget without wasting your time. You can add new employees to the system automatically and enjoy all the benefits of this solution.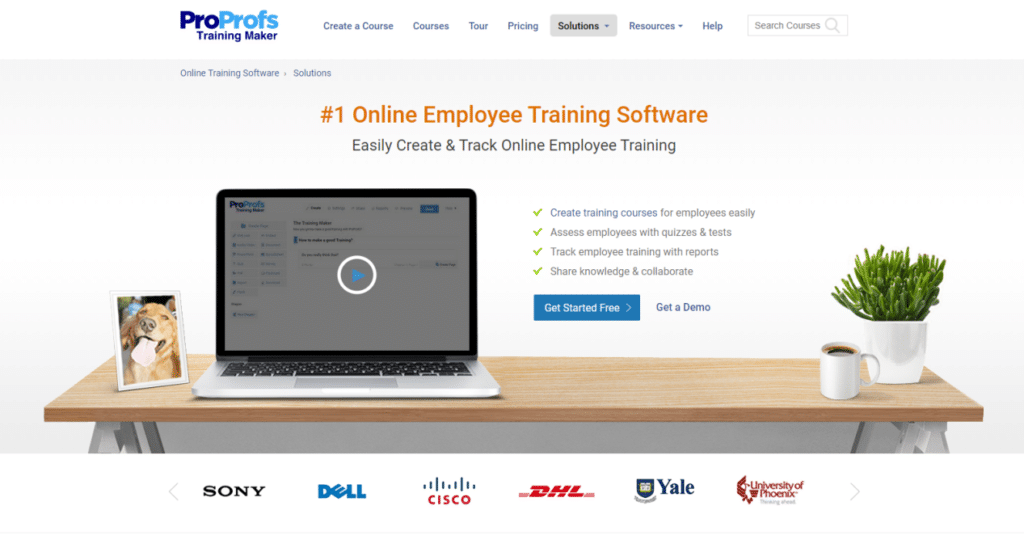 ProProfs employee training software is the top choice for companies across industries and niches. It's even useful to educational institutions as it lets them create immersive virtual classrooms.
It has everything you need for high-quality employee education. You get a massive library of thousands of pre-made courses covering topics such as HR onboarding, workplace communication barriers, workplace ethics, and more. All of them are freely available for use.
Instructors can also quickly develop their own custom courses from scratch since ProProfs has an intuitive interface that virtually eliminates the learning curve that comes with most similar solutions.
You can upload any file and media type to make the training more engaging, develop unique learning paths, create knowledge bases, launch assessments and quizzes, and completely optimize all courses.
One of ProProfs' strongest features is its detailed reporting and analytics that provide insights into individual and group progress and performance.
The employee training software solution is compatible with all operating systems, browsers, and devices. It is fully customizable, available in 70+ languages, and low-cost.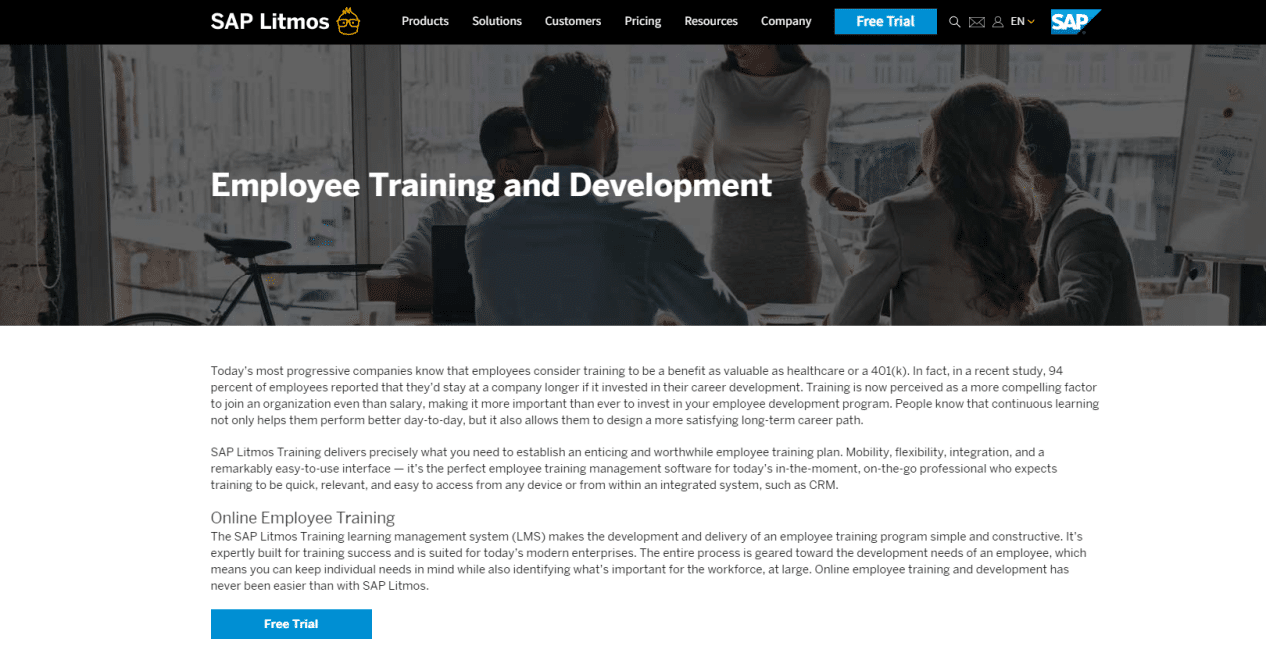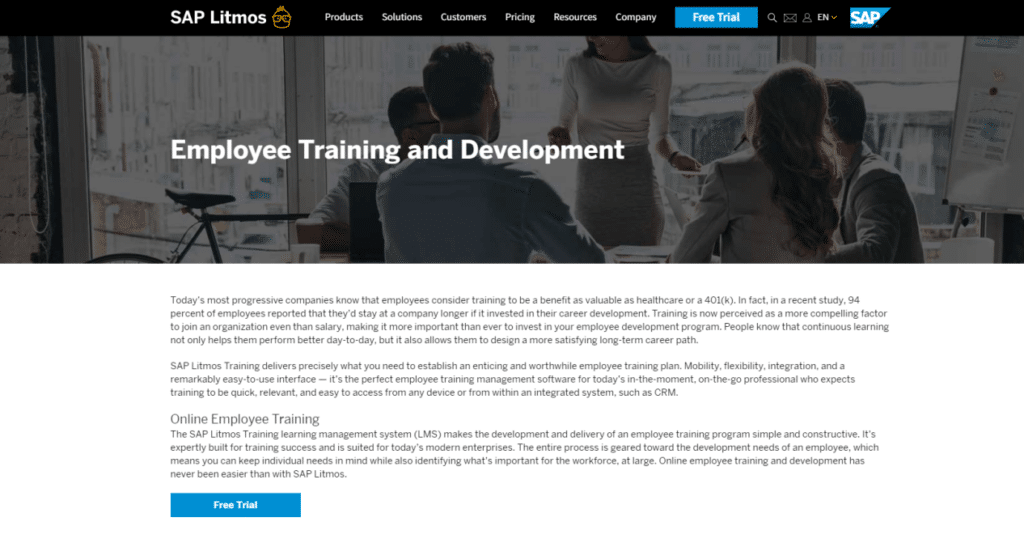 SAP Litmos is a comprehensive learning management system (LMS) that enables users to seamlessly deliver online employee onboarding.
It boasts a vast content library that you can leverage, regardless of your specific niche. Whether you need compliance training, employee training, customer training, or anything in between, SAP Litmos will have you covered.
Thanks to the software's unique templates, you can also build your courses from scratch and customize every aspect.
The tool features wonderful gamification elements that will make learning a bit more fun and immersive for your remote workers. Points, badges, and leaderboards work wonders by boosting morale and improving performance.
SAP Litmos has all the necessary integrations that you can deploy within minutes. It's scalable, flexible, and versatile, making it a fine choice for your employee onboarding needs.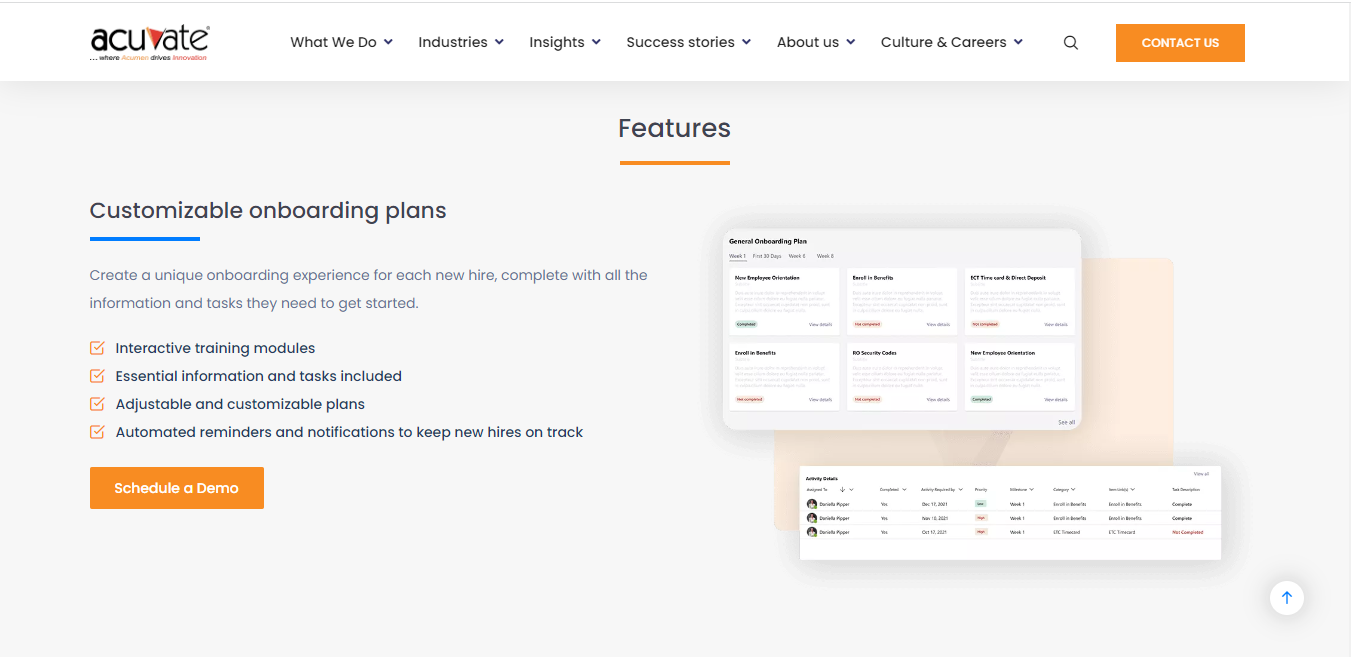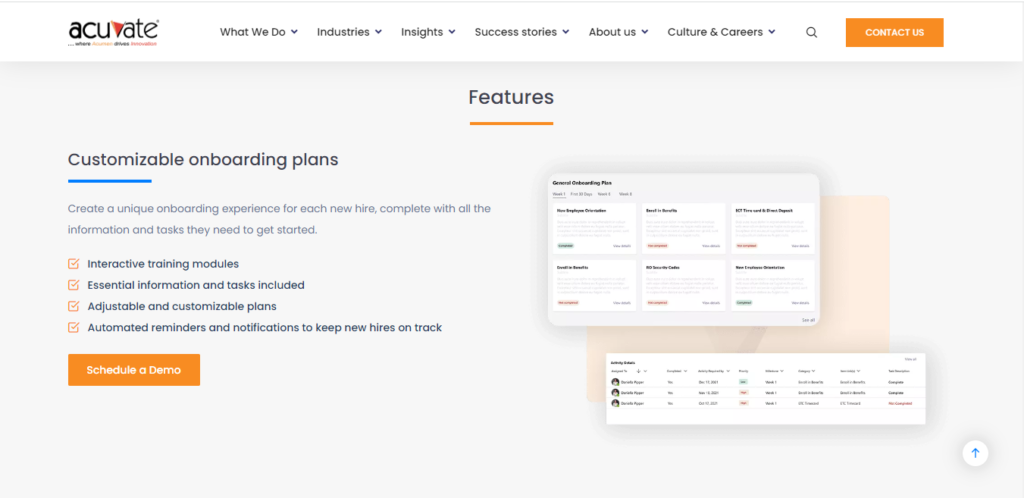 Acuvate, Employee Onboarding App is the perfect solution for streamlining your onboarding process and making new hires feel welcomed.
Customizable onboarding plans allow you to create a unique experience for each new hire, complete with essential information and tasks, automated reminders, and interactive training modules.
The real-time Q&A and collaboration platform also provides a secure space for new hires to ask questions and connect with HR and team members.
The app's robust tracking and reporting features provide valuable insights into the onboarding process, helping you identify areas for improvement and set goals for success.
The seamless integration with existing HR systems and robust security measures makes the Employee Onboarding App the ultimate tool for hassle-free employee onboarding.
Also, with its integration into Microsoft Teams and Microsoft Dynamics 365, the app is easy to use and manage from anywhere.
Building an app on Power Apps provides a user-friendly, customizable platform with built-in security measures for data privacy and industry compliance.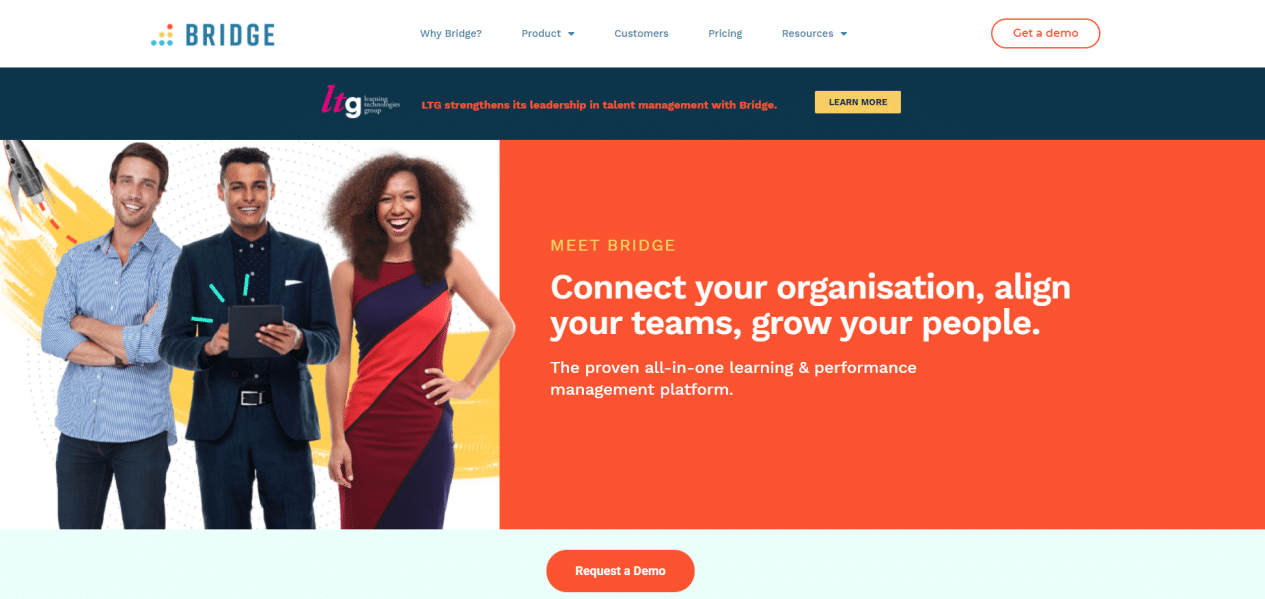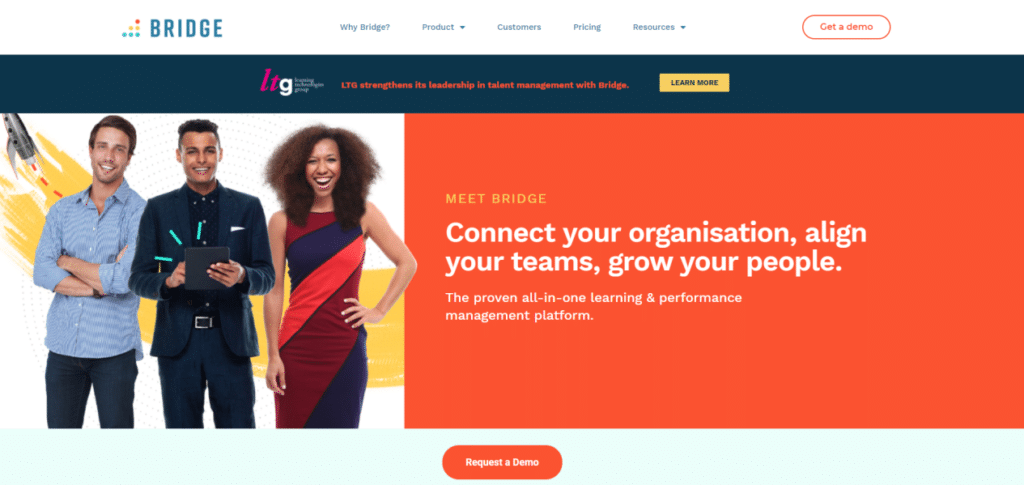 Learning management becomes a breeze with Bridge. It's a solution that keeps the management and the employees organized, connected, and engaged.
You can fully customize your employee onboarding, deliver compliance training, and provide career development assessments for individual teams and departments.
You can connect directly with your employees by offering one-on-one training and consultations, and create team-building opportunities by connecting coworkers, and more.
One of the more interesting aspects of Bridge is its skill development solution that enables you to pinpoint what drives your employees and determine their goals and plans.
You can use this employee training software to map out employee career vision and provide personal development opportunities that help drive your company forward.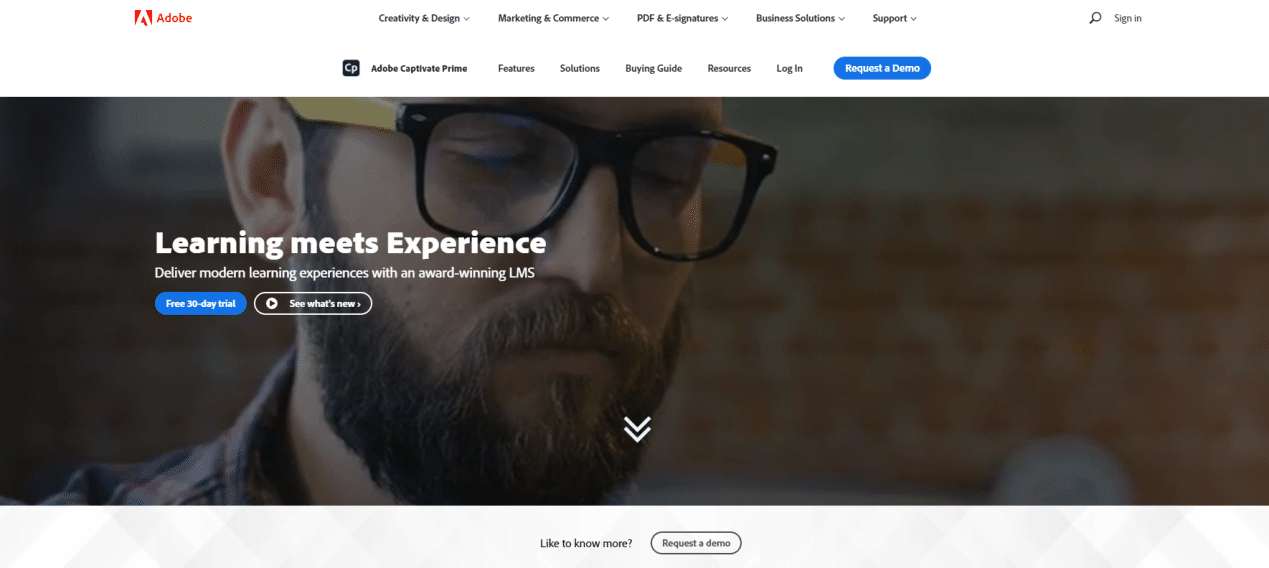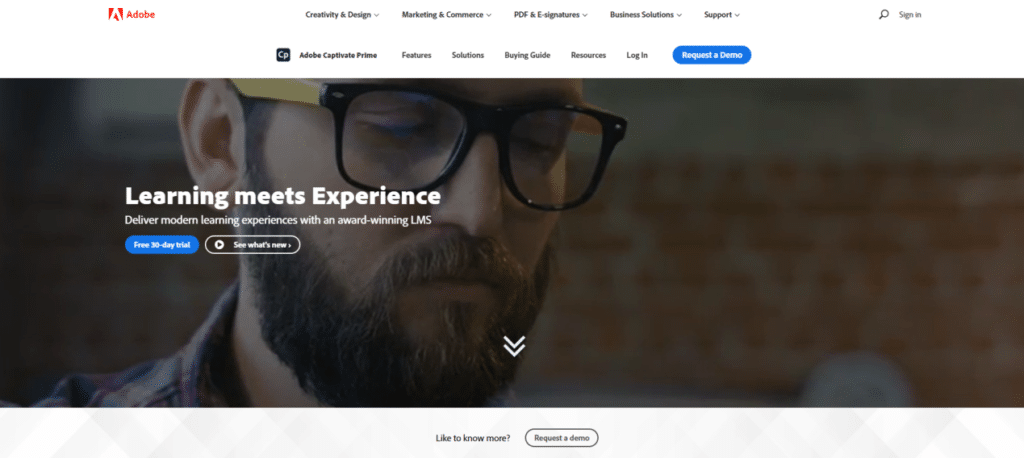 Adobe solutions require no introduction. The company is a top vendor for virtually any kind of computer software, and its LMS solutions are some of the most highly praised.
Adobe Captivate Prime LMS is truly a next-gen piece of software that empowers users to educate employees, partners, and even customers with ease and efficiency.
Using the platform, you can create courses that suit you and your company culture to perfection. Whether you prefer delivering traditional, formal training or engaging in informal, social learning, you'll have a solution that meets your needs.
Add gamification elements like badges to keep new and old employees engaged. Use the AI-powered recommendation engine for learning programs. Develop individual learning paths.
Adobe Captivate Prime LMS is an all-encompassing solution that's made to accommodate unique needs, but as with most Adobe software, it entails some learning curve.
If you have no prior experience with Adobe software, it'll take a while to grow accustomed to the Captivate Prime LMS. But once you've gotten familiar with it, there are no limitations to what you can do.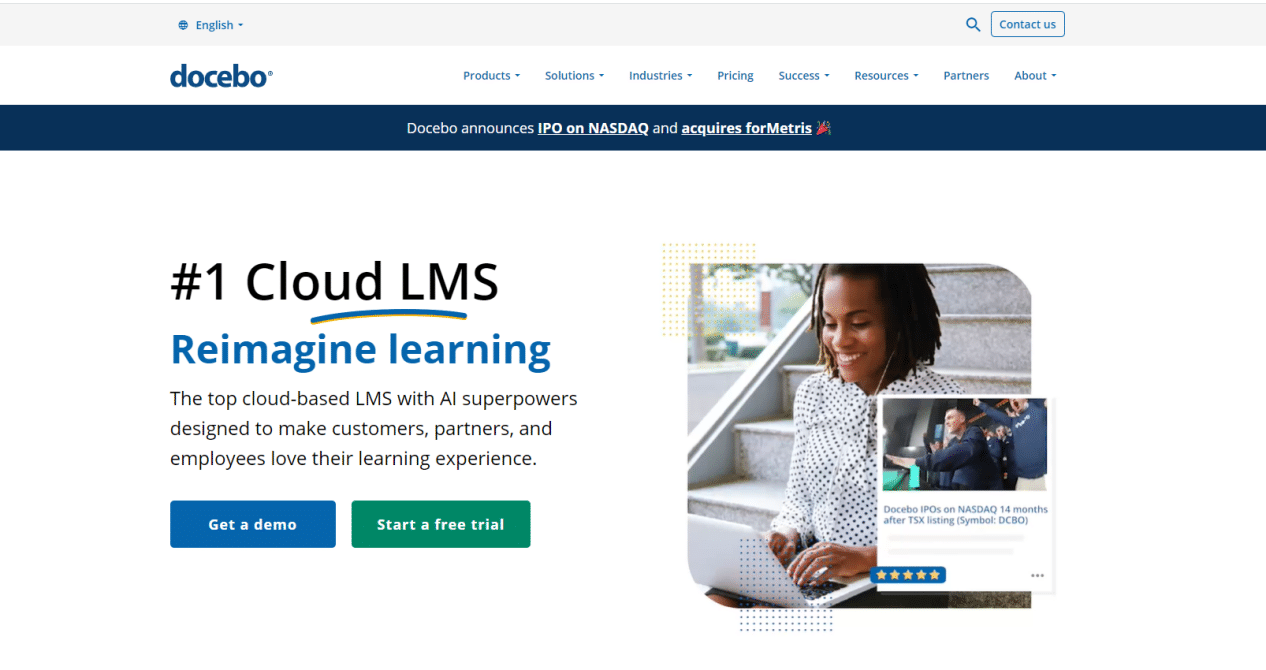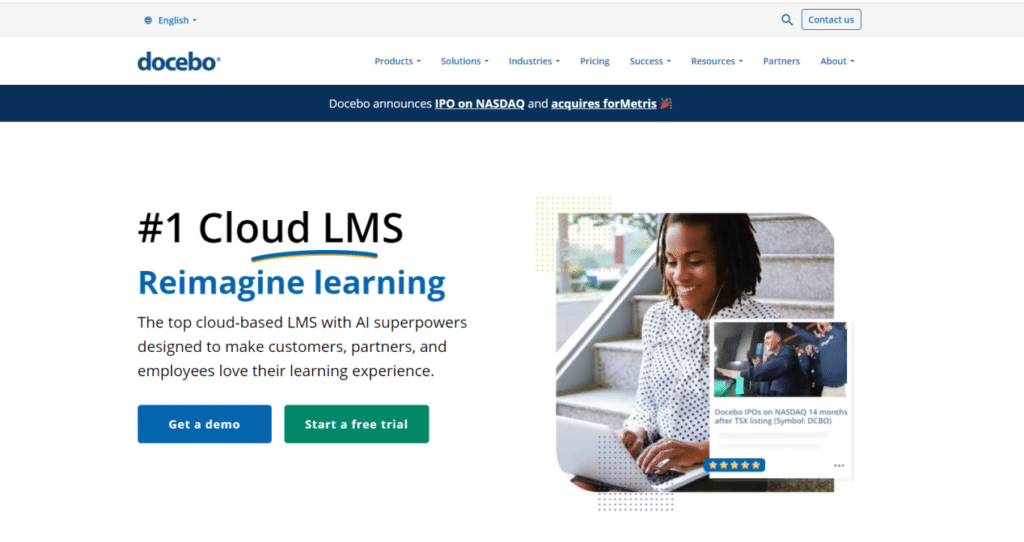 Docebo is an increasingly popular solution for employee onboarding. It features an intuitive course maker, powerful tools, dozens of useful widgets, and more.
It does everything that employee training software is supposed to do, enabling you to deliver high-quality onboarding and training without a hitch.
What sets it apart from other solutions is its focus on social learning.
Just because most of your employees are currently separated while working from home doesn't mean that they should feel isolated from their coworkers.
You can use Docebo to enable team learning that brings your company together and helps you establish a strong company culture that doesn't diminish during remote work.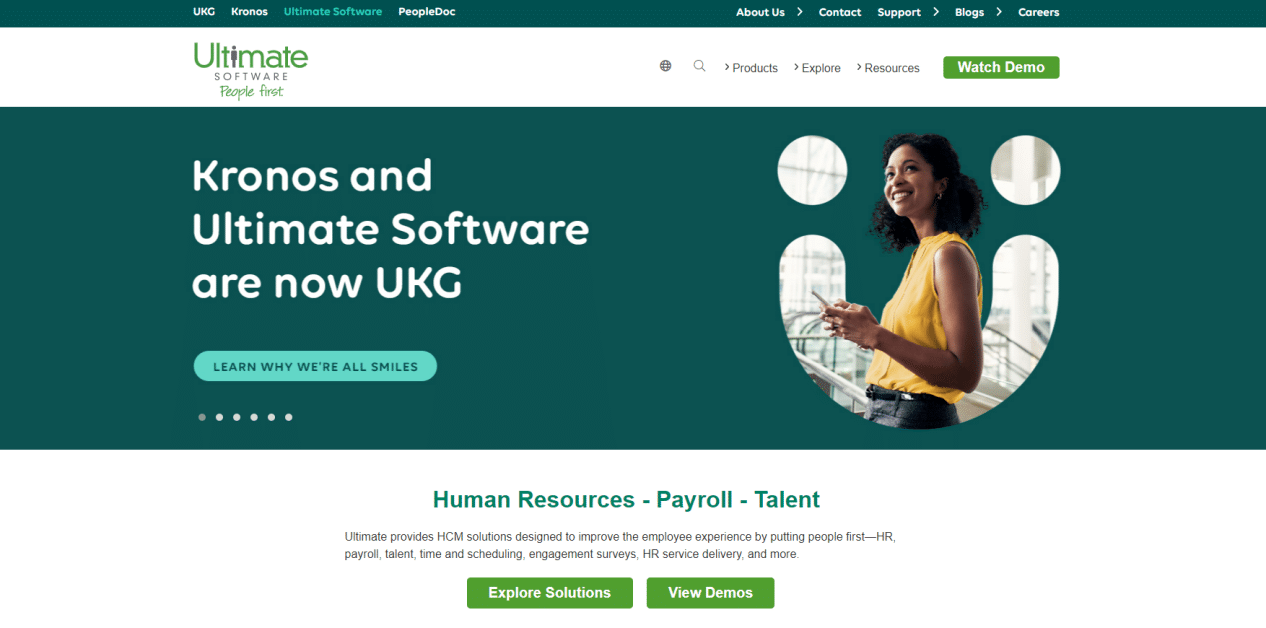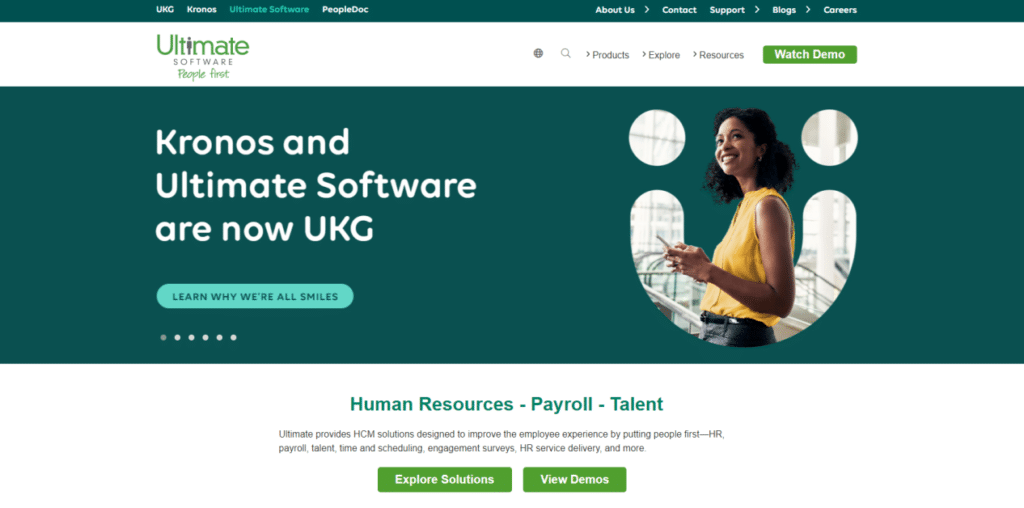 UltiPro is a human capital management (HCM) solution that can help you stay on top of everything from employee training and onboarding to payroll and taxes, benefits, and recruitment.
You can develop online courses from scratch with ease. You can also customize every aspect of your classes, upload all the necessary files and media, enable collaboration and facilitate learning in the workplace.
Its peer-to-peer monitoring features, progress and performance reports, analytics, and automation tools can help improve training efforts and develop top talent in-house or remotely.
UltiPro is well-designed and optimized to suit the needs of any company. It takes a while to master every tool and feature, but it proves to be most useful once you've gotten accustomed to it.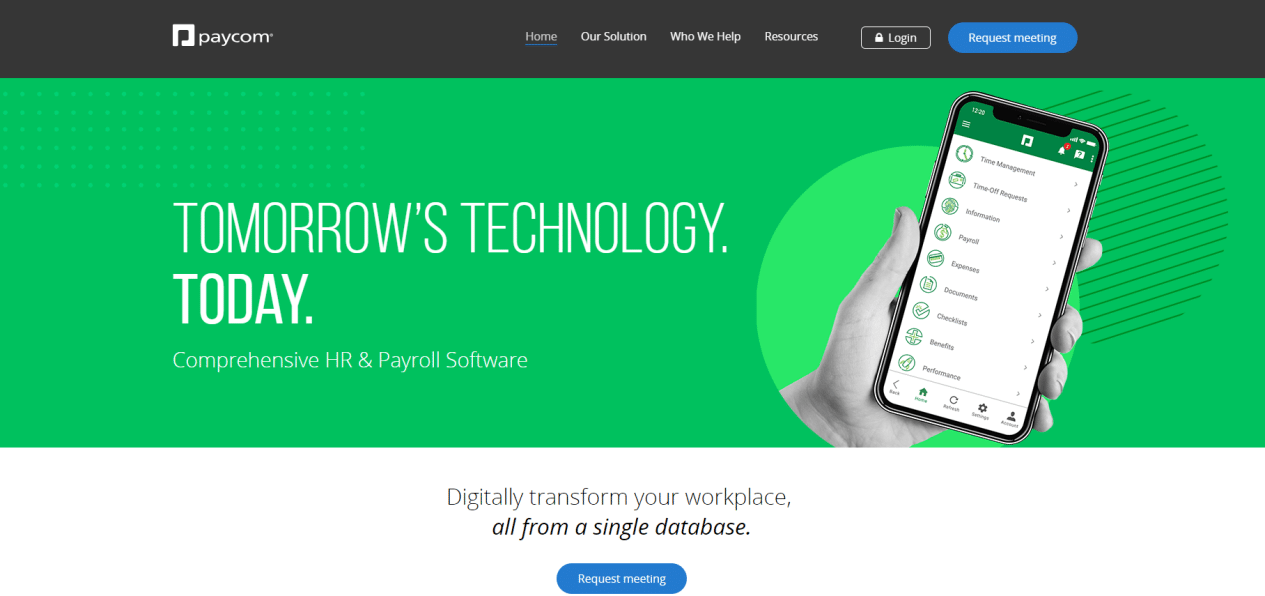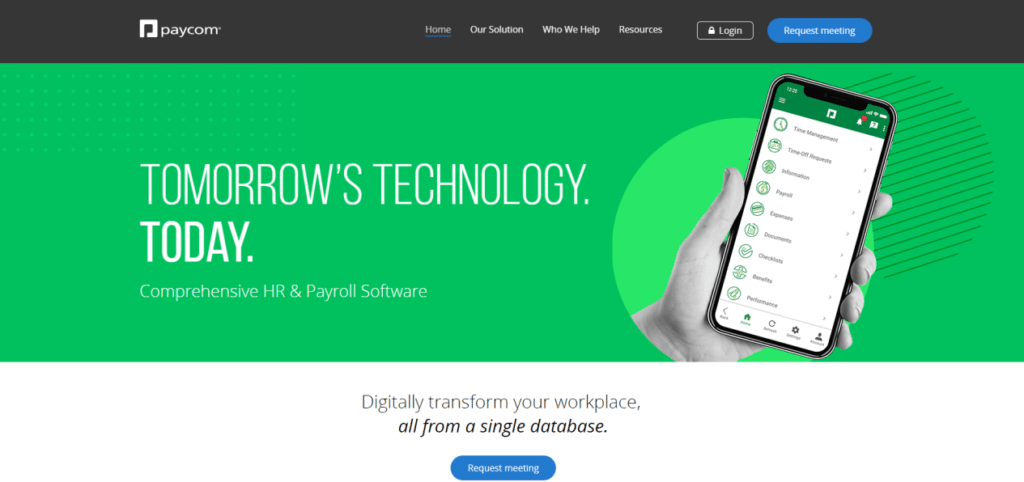 As its name would imply, Paycom isn't just an employee onboarding software. It's also a payroll management solution that helps you manage employees from the moment they're hired to when they retire.
It has a feature-packed self-service app that enables easy clock-ins and clock-outs, seamless time-off requests, and provides learning on the go.
You can easily assign courses to individuals or groups, develop training materials and instructions, create video-based content, assign quizzes and assessments, and more.
Paycom focuses heavily on microlearning to enhance knowledge retention and enable your remote workers to learn whenever they have free time – whether during their 15-minute lunch breaks or 2-hour scheduled courses.
The tool boasts powerful performance monitoring systems that provide detailed feedback and reports on everyone's progress.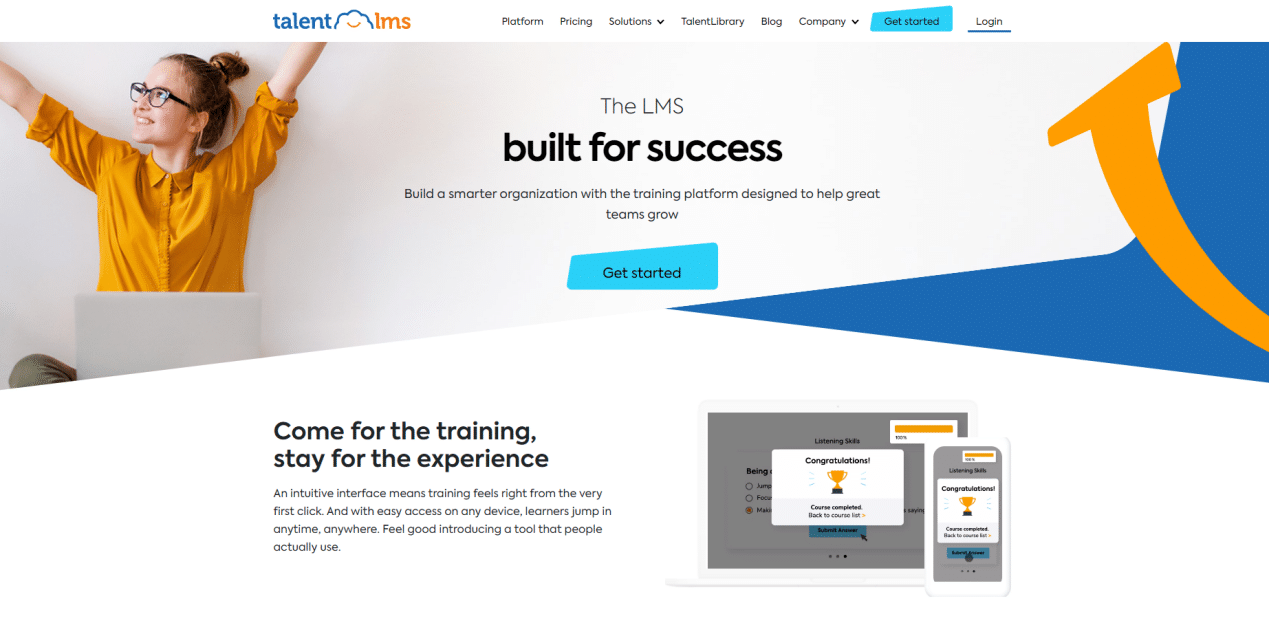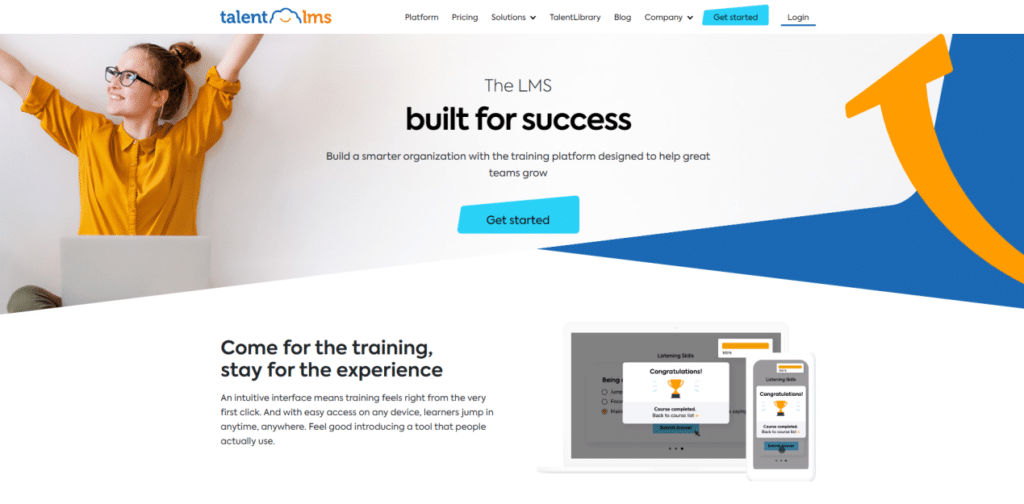 TalentLMS is a renowned software solution that delivers excellent corporate training opportunities for a company of any size.
Its library features hundreds of comprehensive and insightful pre-made courses that are immediately ready for use. If none of them meet your needs, you can develop your own courses with just a few clicks.
You can use this employee onboarding software to create custom learning paths, add gamification elements to make learning more fun, and enable seamless communication and collaboration.
TalentLMS has exceptional monitoring and reporting features that ensure you're always up to date on what your employees are doing and how they're progressing.
It has a free version suitable for small teams, but if you want to get the most out of it and have the freedom to scale up, you'll need to upgrade to one of its paid plans.


If you're looking for a simple employee onboarding software that doesn't take weeks to get accustomed to, Auzmor Learn is what you need. It's simple, streamlined, and powerful.
It boasts a user-friendly interface that gives you a clear overview of every tool and feature within this employee training software.
Online course creation takes no more than a few minutes, especially if you choose to use one of the ready-made courses from its library.
You can rely on its reporting and analytics to find out how individuals and teams are performing and identify any knowledge gaps that need to be addressed.
Auzmor Learn is perhaps one of the most streamlined solutions you'll ever come across.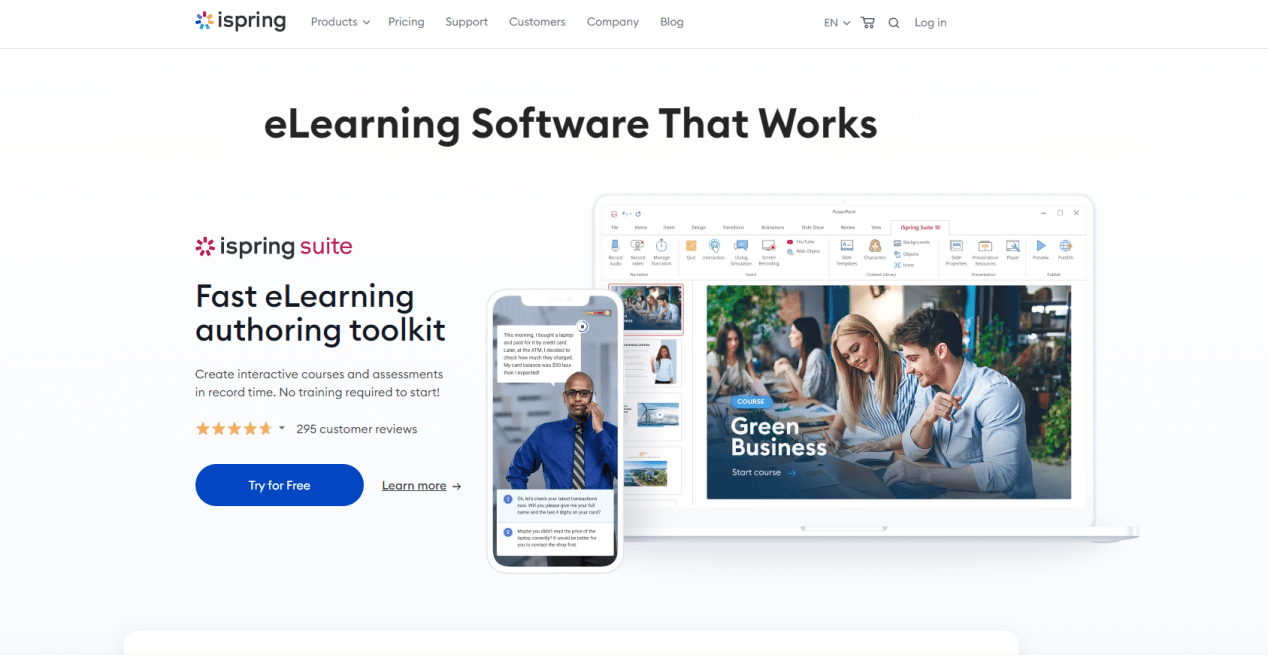 iSpring Solutions is a powerful LMS, suitable for both corporate and educational institutions alike. While it boasts a slight learning curve, it doesn't take long to get accustomed to it.
As with any employee training software, you can use iSpring to develop custom courses from scratch. You can embed PowerPoint Presentations and use them as easy learning material in any of your courses.
You get access to unlimited storage, so you won't have to be constantly deleting your old courses as you make new ones. Use and reuse old courses as much as you like and for as long as you need.
Every course is editable, so you can always make a few tweaks before providing your employees with learning opportunities.
Use the narration editor to add audio and videos that are synchronized with the individual slides. Rely on the drag-and-drop option to create quizzes easily, and provide immersive training with ease.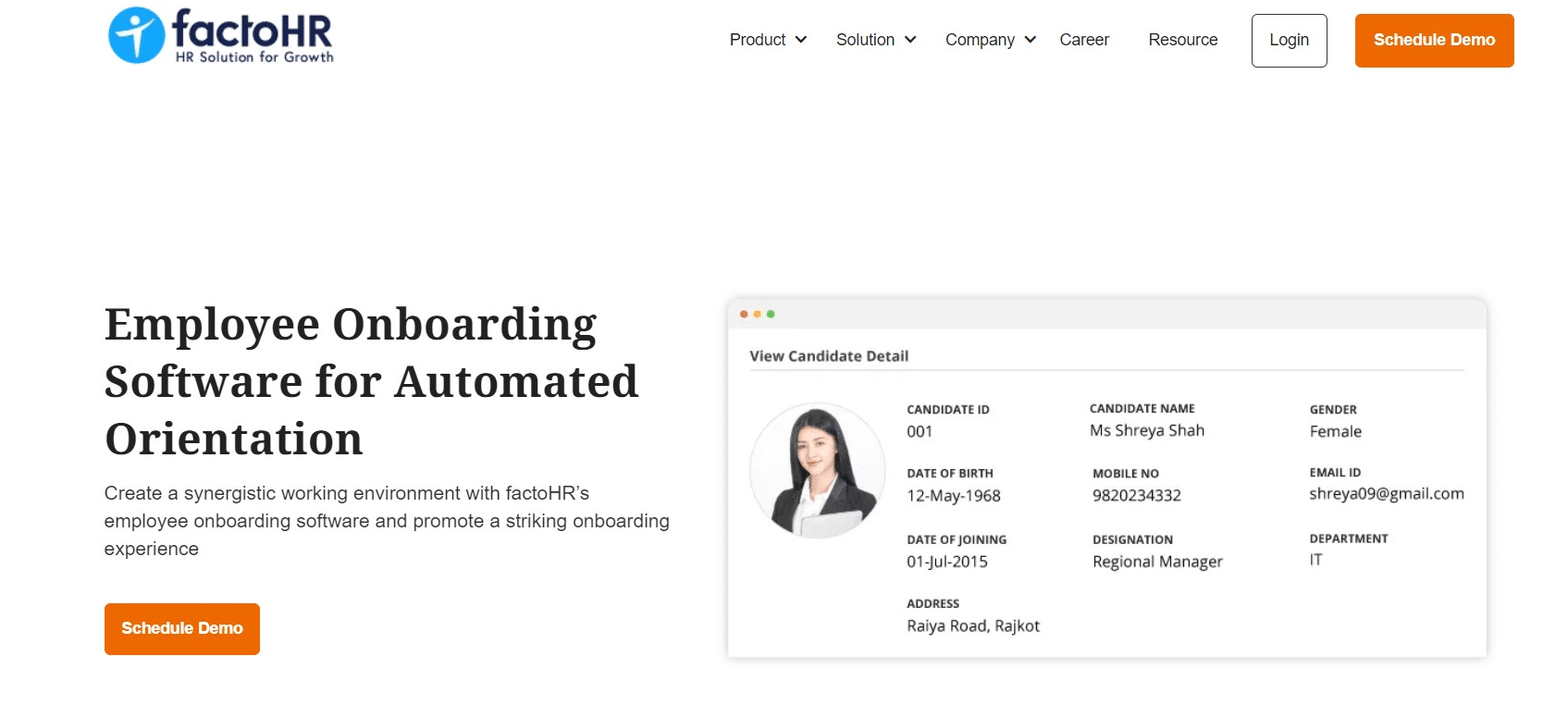 FactoHR is a full human capital management solution that automates employee onboarding, providing a smooth process that also integrates with other HR solutions.
One of the biggest advantages of factoHR is that you can configure a simple, collaborative onboarding process for all new hires, automatically creating a sense of community even among remote workers.
The first day on the job can have a tremendous impact on employee performance and outlook, therefore a tool like factoHR can become more and more vital as your business grows.
FactoHR integrates your employee onboarding with tools for:
Recruitment
Payroll & compliance
Time & attendance
Expense management
Retirement benefits
Plus it also comes with a smartphone app that everyone can use, regardless of their position in the company.
Still, it's not all sunshine & roses – factoHR users have reported occasional freezes and optimization issues that stem from the huge scope of the app & its many integrations.
Take Employee Onboarding and Training to the Next Level
With the right employee training software, you can ensure that your company always has the talent it needs to keep going forward. Onboarding is an essential part of customer success, so making sure CS reps get the same quality onboarding you're asking them to offer promotes trust and strengthens company culture.
Whether you're looking for powerful solutions like ProProfs, streamlined software like Auzmor Learn, or all-in-one HCM software like UltiPro, you'll set your team on a path to exceeding their success metrics and KPIs with ease.
Test out a few different employee onboarding software solutions, and choose the one that ticks all the boxes.