This article is a list of the best product tour software designed to help you guide users through your digital product. You will find some popular tools like Intercom and Whatfix, as well as lesser-known ones like Chameleon. Read on to discover what they can do for your business.
How Important Are Product Tour Apps?
Any SaaS business runs the risk of losing potential customers because they can't figure out how to use the product from the get-go. This is where product tour software comes into play. They introduce users to your product and help them navigate its features to discover its value.
Effective product tours can increase product activation, adoption, and user retention rates and loyalty. Product tour software can also be used to record and analyze customer feedback. If you're on the hunt for a good product tour tool, check out our suggestions:
Cost: from $249/month
Best Features:
Growth Insights
Engagement Layer
User Sentiment
Reporting, Targeting & Customization
Integrations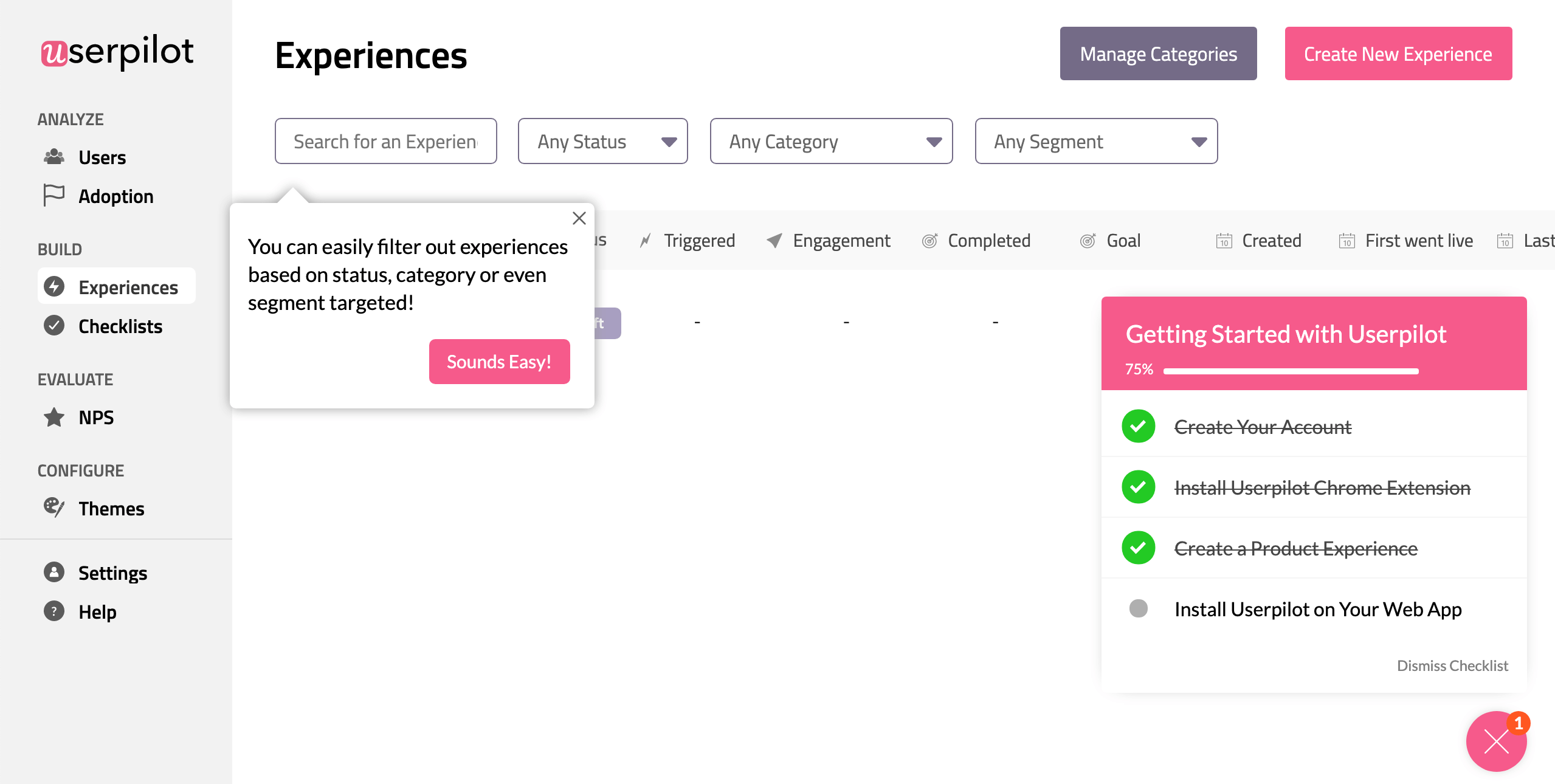 With Userpilot you can create fully interactive product walkthroughs and tours. It offers many segmentation and personalization options, as well as advanced analytics. It is easy to use and install (by downloading a Chrome extension and adding a JavaScript snippet).
Userpilot is Custify's primary choice in product tour software and we often recommend it our customers. We also have an active partnership so, as a customer of Custify, you can benefit from a significative discount.
Cost: from $69/month, billed yearly
Best Features:
Onboarding Checklist
Hotspots
Segmentation
Resource Centers
Analytics
NPS surveys
Goal Tracking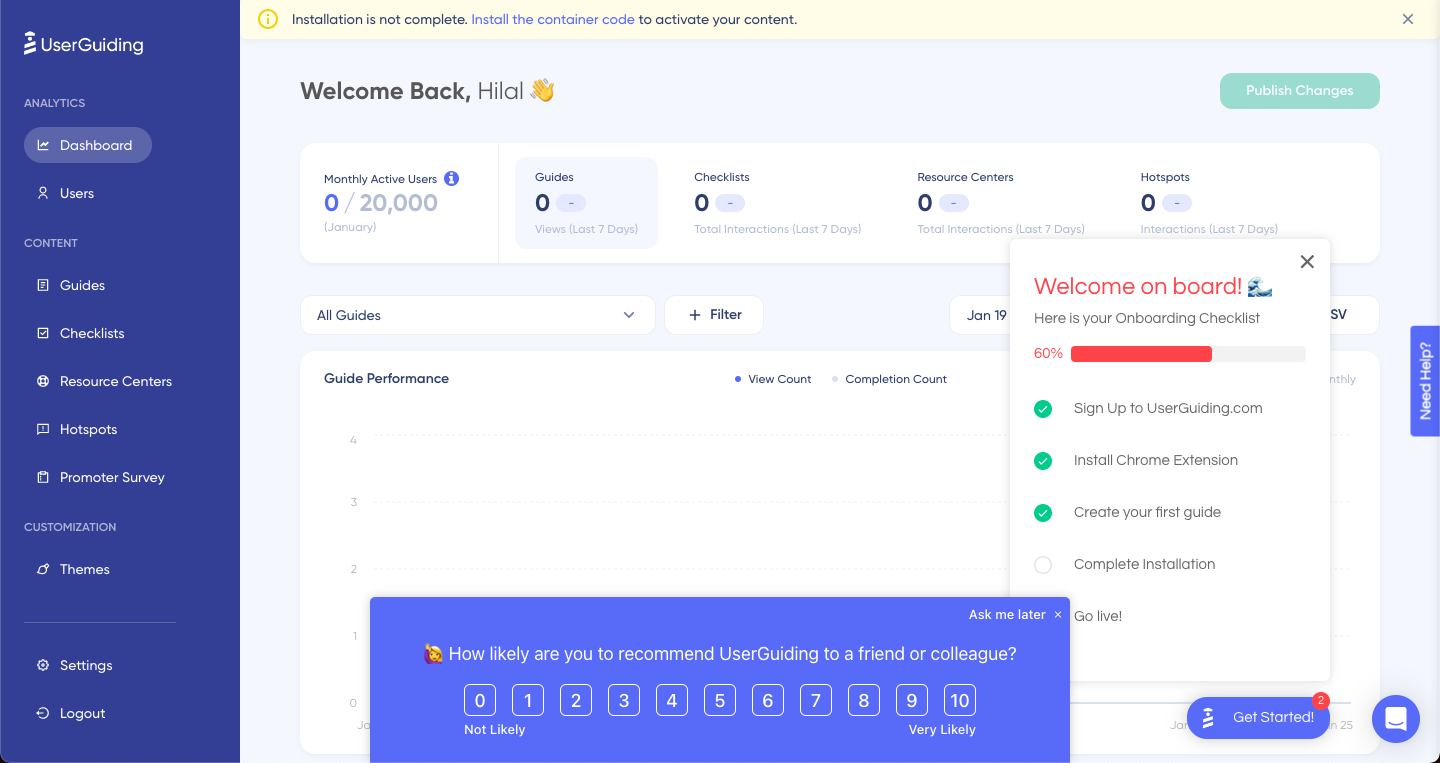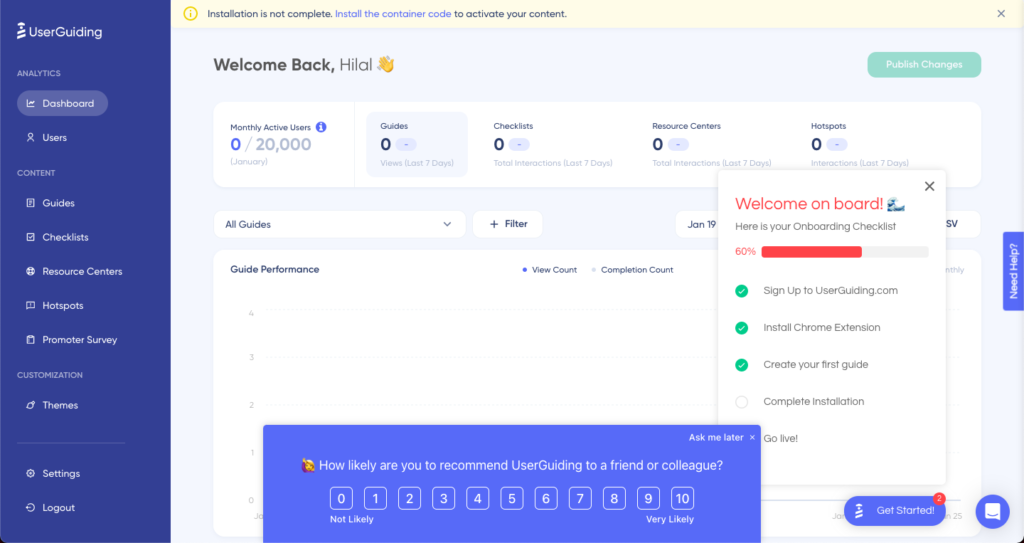 UserGuiding is a product tour and digital adoption platform that you can use to create fully customizable in-product experiences easily without any coding. You can also set up sophisticated onboarding flows, checklists for additional help, and resource centers to maximize efficiency and engagement. UserGuiding's NPS surveys feature helps you gather customer input to measure customer satisfaction and improve customer experience. Keep in mind that, at the moment, UserGuiding elements show on mobile devices but can't be used for mobile apps.
3. Intercom
Cost: from $59/month
Best Features:
Code-free builder
Audience targeting
Templates
Multipage tours
Click-to-advance
Reporting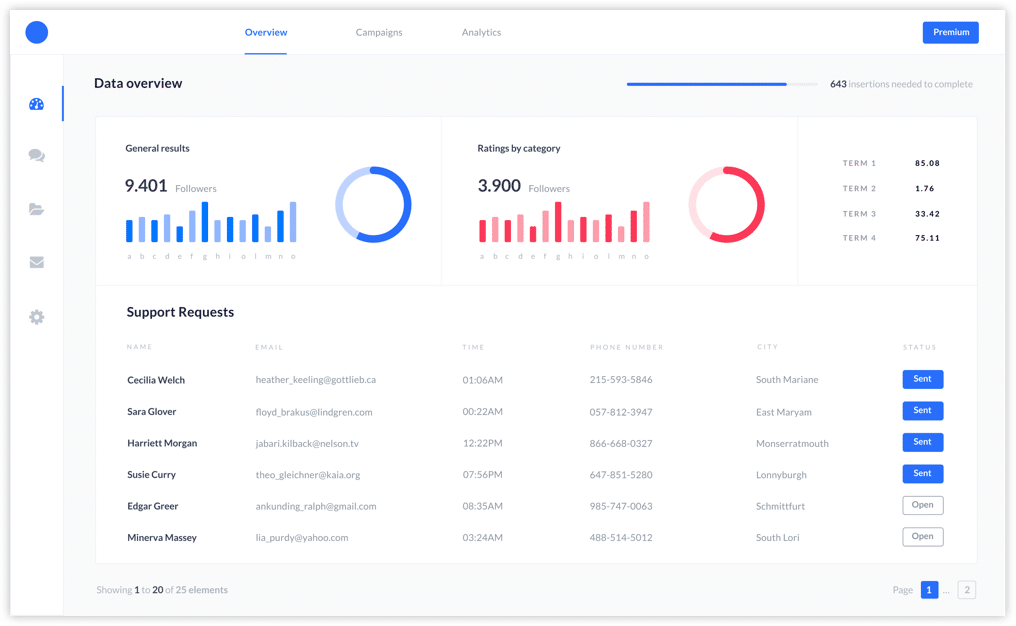 Intercom is a conversational relationship platform that has a product tour add-on. You can use it to create product tours for your customers and drive onboarding and adoption. With Intercom you can also create frameless video tours to make your customer feel closer to you. However, Intercom tours are linear, with no real interactivity.
4. Pendo
Cost: free version, price quote for other plans
Best Features:
Web guides
Mobile guides
Guide consumption analytics
Themes and styling
Pre-built layout library
Guide scheduling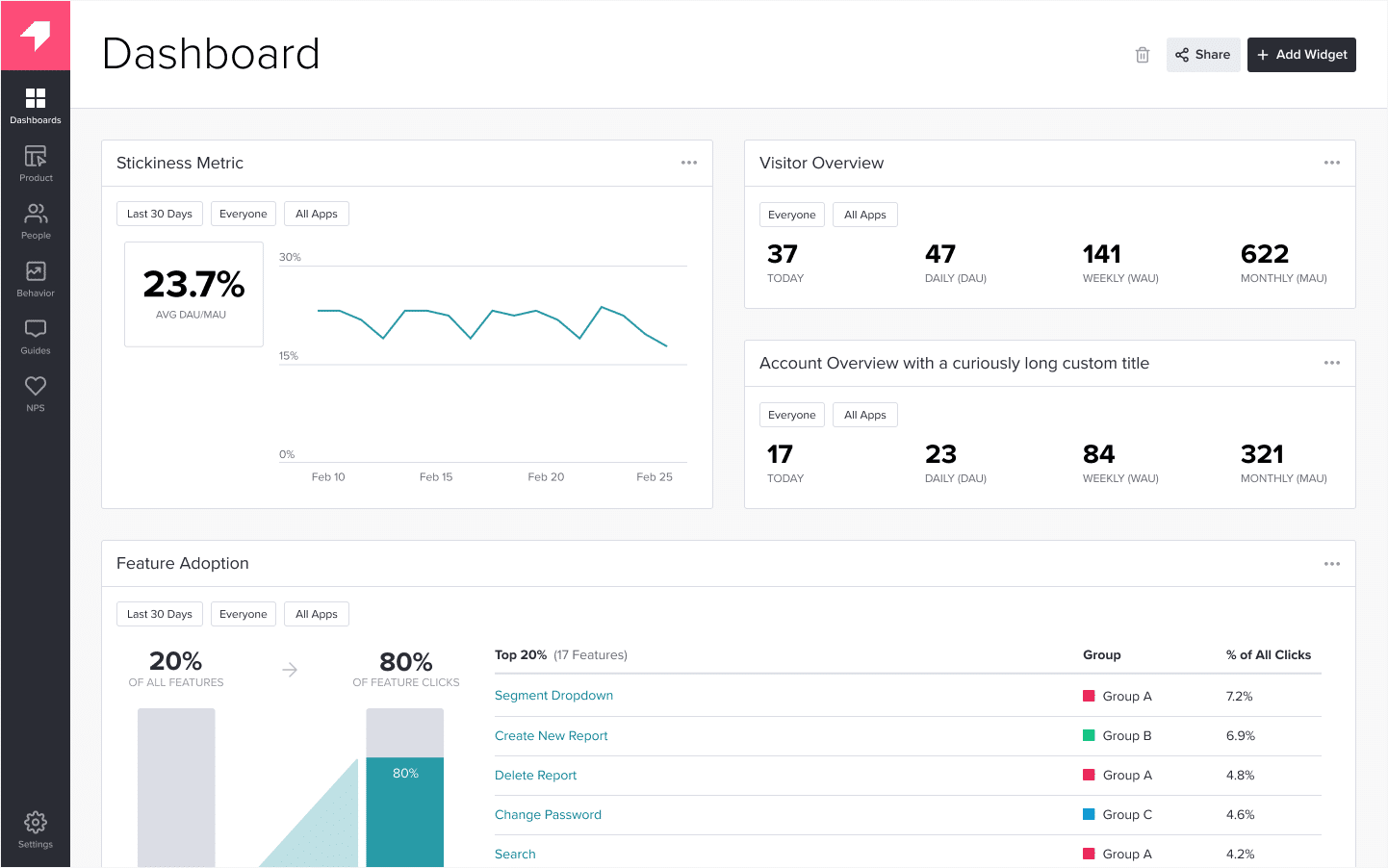 Pendo helps you interact with customers by designing personalized onboarding and tutorials, and by sending in-app messages. You can tailor your messages for specific customer segments to make sure they all know how to use the features they need. In-app messages can also result in reduced customer support calls due to increased customer satisfaction. However, keep in mind Pendo's interface is not friendly to inexperienced users.
5. Whatfix
Cost: custom price quote
Best Features:
Automatic, Precise Targeting
Condition-Based walkthroughs
Analytics
Zero-Coding Content Creation
Multilingual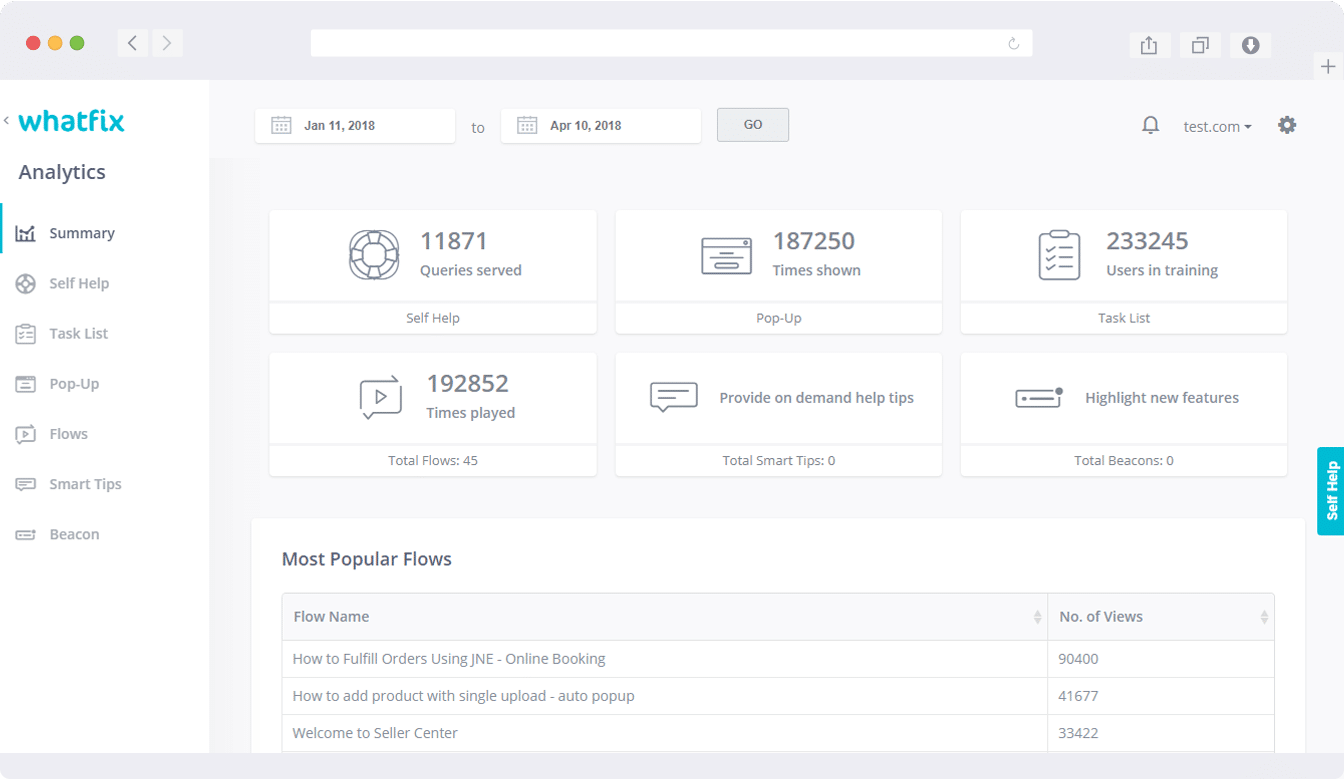 Whatfix offers interactive product tours and smart content creation. Like Userpilot, it can be installed via Chrome extension and JavaScript snippet. You can use it to easily create content, no coding skills required, and display it in various formats (video, PDF, etc). Whatfix's installation process is a bit difficult and its customization options are limited.
Cost: from $249/month billed yearly or $299/month billed monthly
Best Features:
Onboarding tours
Tooltips
In-app surveys
In-app messaging
Launchpad
NPS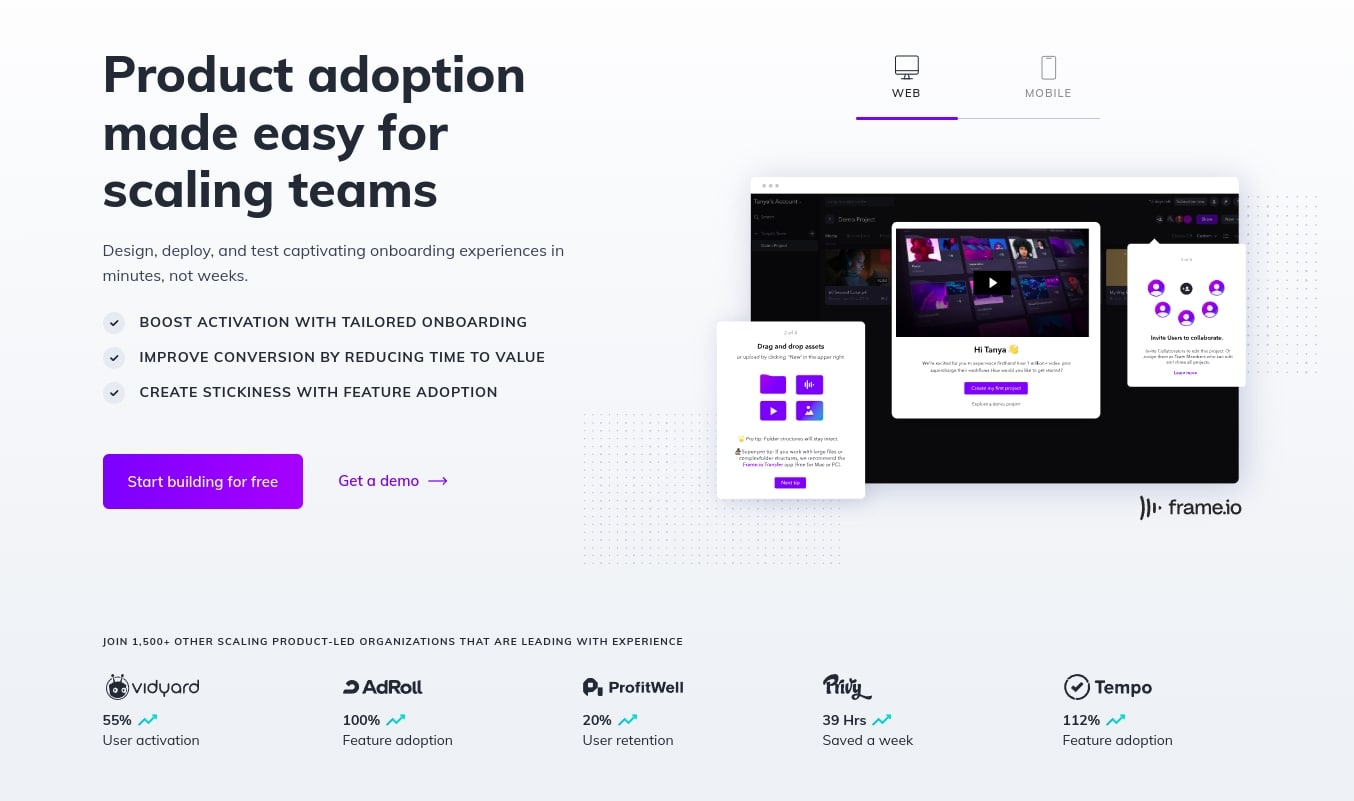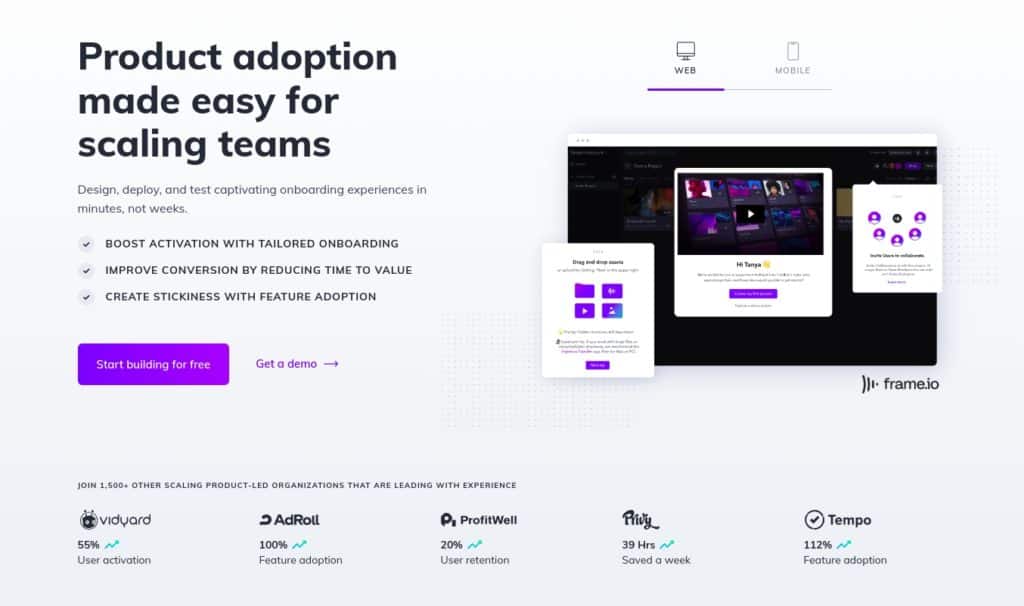 Appcues is an easy-to-use product tour software that comes with a no-code design-builder and many design options. Its tracking features require no coding skills as well, so you don't need any help from developers or analysts. Appcues also comes with custom dashboards for reporting and analysis. Nonetheless, its price range is very high compared to that of other software from this list.
Cost: free version, from $249/month for other plans
Best Features:
Universal search
Product tours
Onboarding checklists
In-app surveys
Help hub/resource center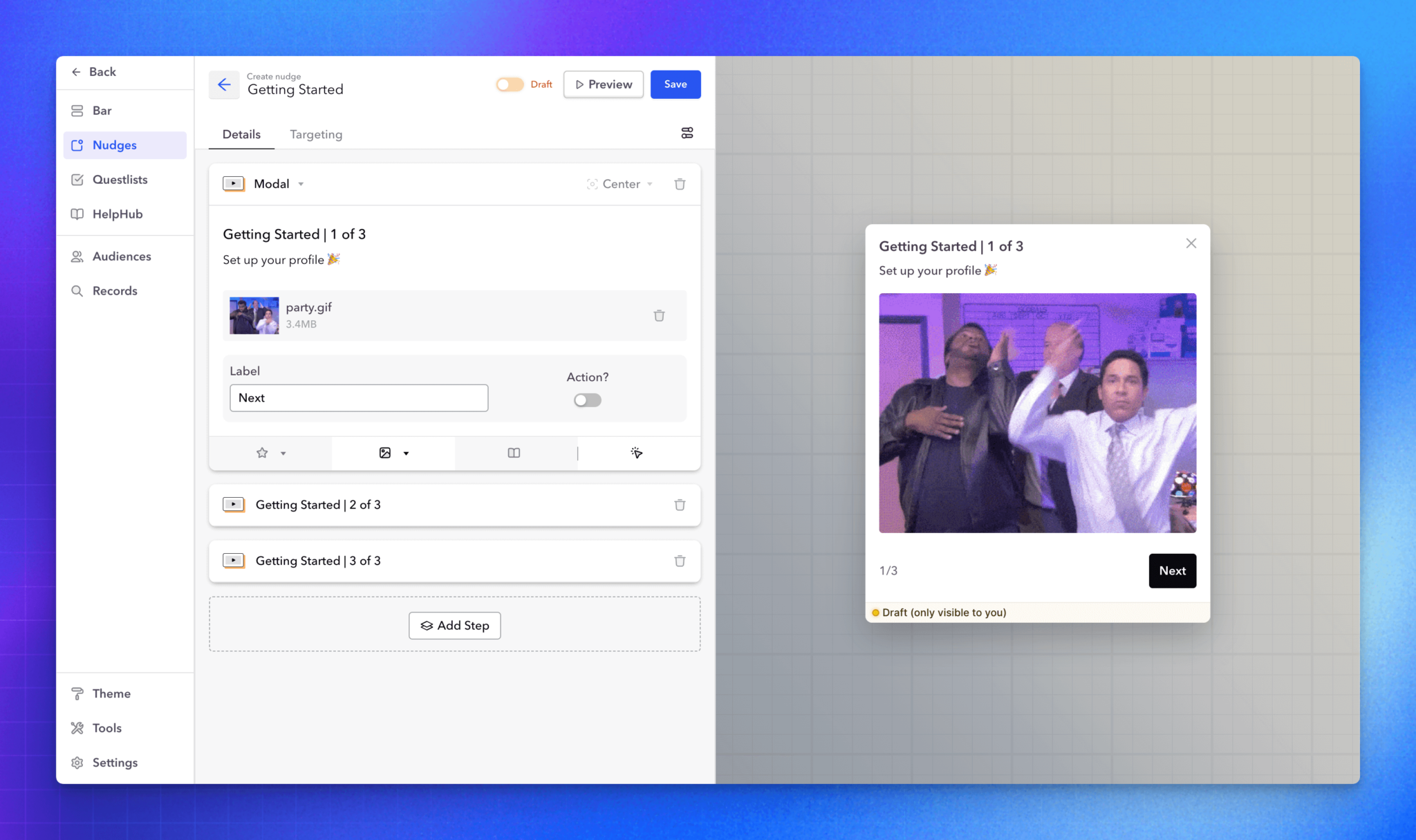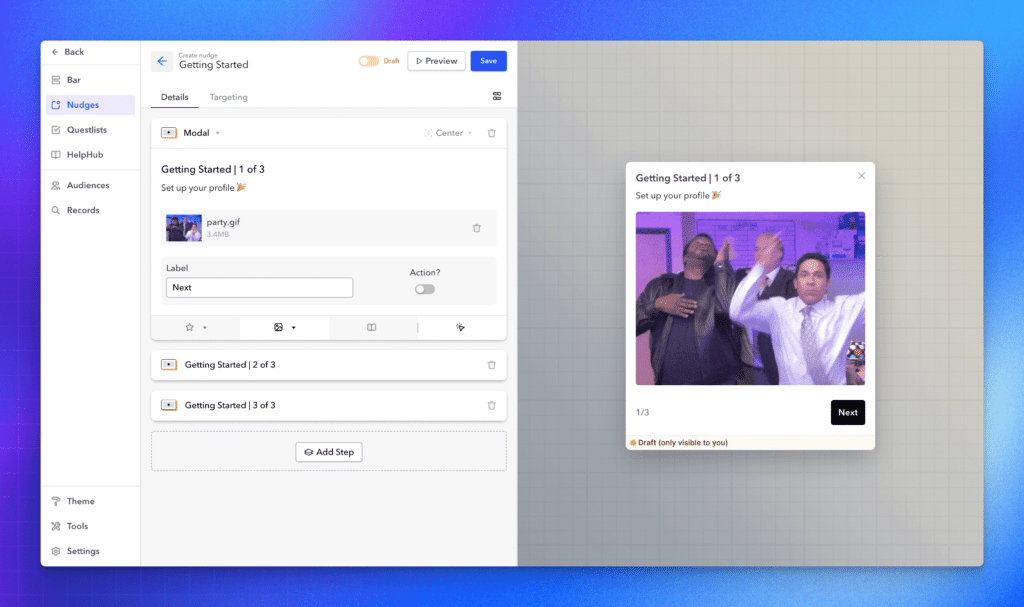 CommandBar is an AI-powered User Assistance platform that makes your product easier to use – so you can activate, retain, and grow faster. CommandBar's "Nudges" and "Questlists" widgets let you create product tours, onboarding checklists, feature announcements, tooltips, and more. You can keep them simple or pursue deep customizations with no-code and code options. CommandBar also offers embedded widgets for magic universal search and in-app help. Used by world-class PLG teams like Netlify, Gusto, and Freshworks.
8. WalkMe
Cost: price quote
Best Features:
Walk-Thrus
Full Interface Control
Advanced API Support
Multi-language
Analytics
Segmentation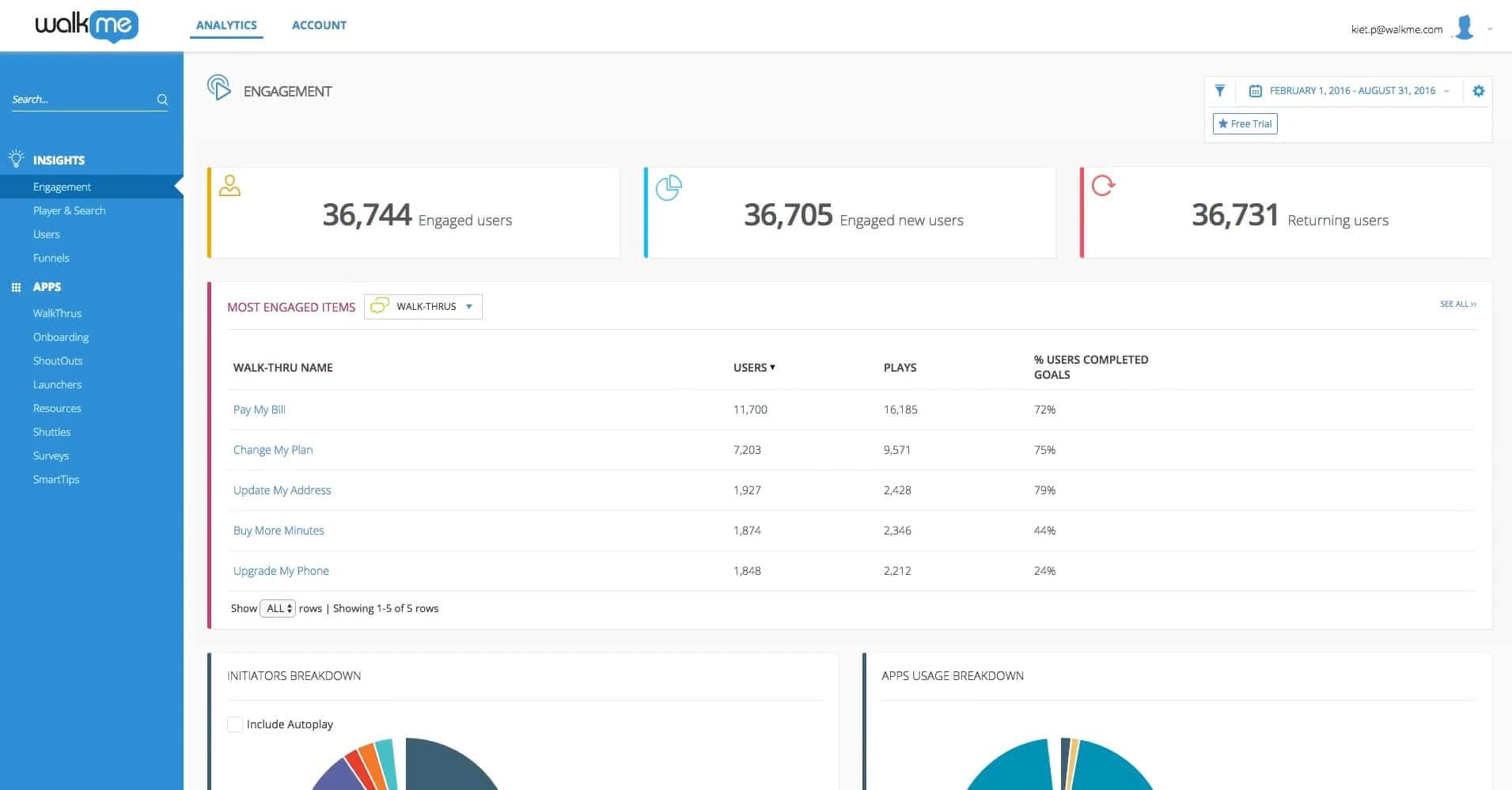 WalkMe is one of the most popular product tour software on this list. You can use it to quickly build, test, and launch non-linear product walkthroughs. It has a wide variety of features like analytics, A/B testing, and task automation, which may seem overwhelming at first. Based on reviews, it's price quotes are quite steep, and it's more suitable for large businesses.
9. Chameleon
Cost: from $279/month
Best Features:
Tours
Tooltips
Microsurveys (including NPS)
Event Triggering
Audience Segments
A/B Testing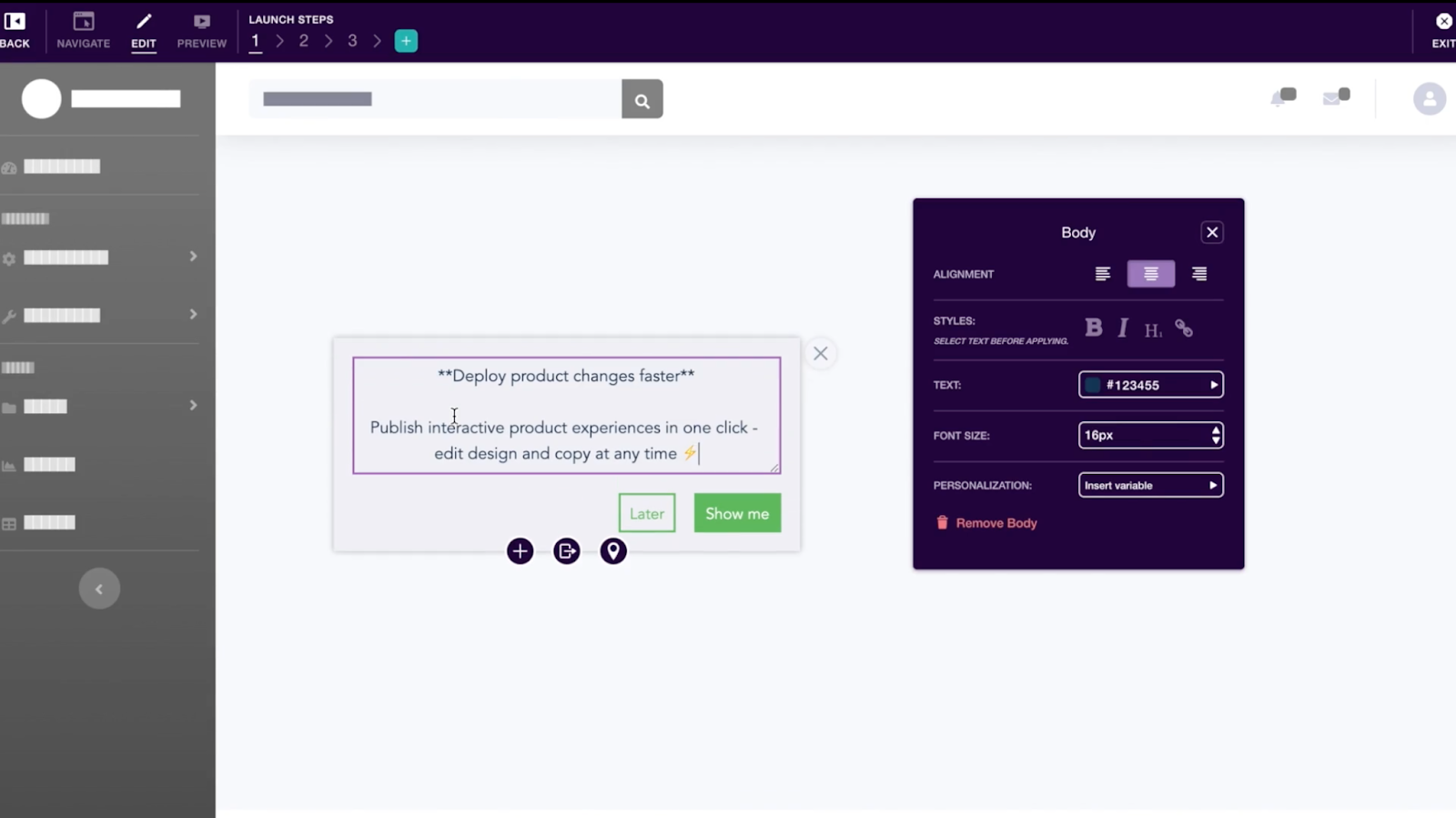 Chameleon is an onboarding and product tour software that you can use to record and analyze customer feedback. Although not as well-known as other tools such as Appcues or WalkMe, Chameleon provides many UX elements to use in product tours. It also offers custom CSS, allowing you to set specific styling or themes for your product walkthroughs. However, custom coding means Chameleon will take longer to deploy.
10. Userlane
Cost: price quote
Best Features:
Audience Targeting
Multi-Language
Reporting/Analytics
Surveys & Feedback
Customer Segmentation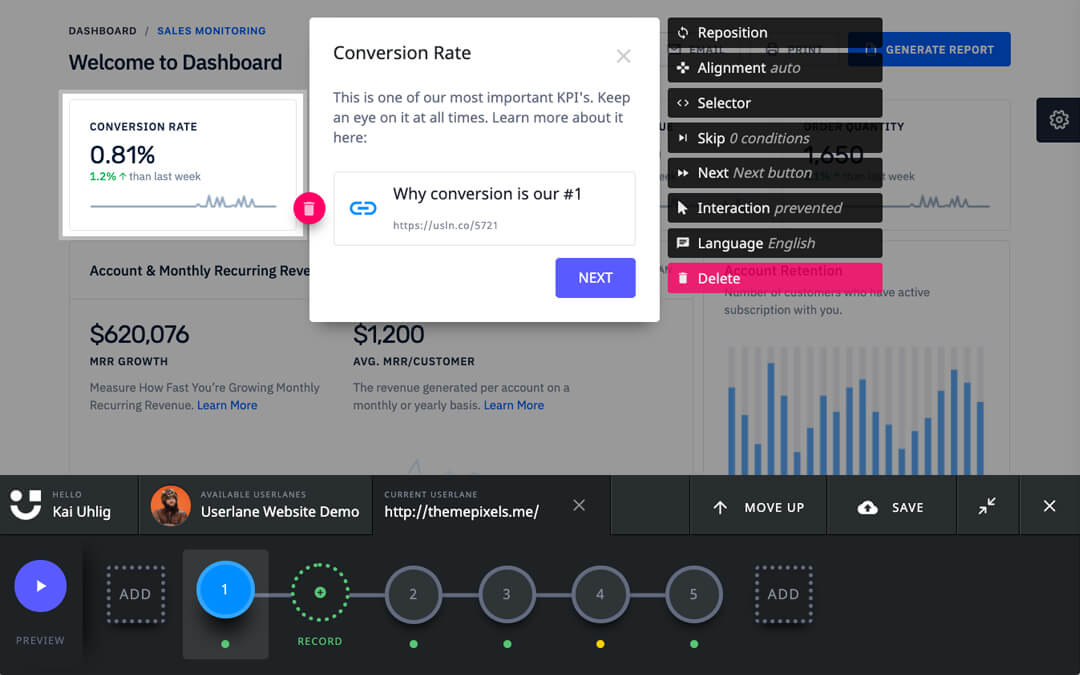 Userlane is a no-code product tour tool that allows you to offer tailored guidance and support to users. With Userlane you can collaborate with your team members to build step-by-step, on-screen interactive guides. It is easy to use and customize and it gets regular releases of new features. Based on online reviews, one of the downsides is that Userlanes's analytics feature could use improvement.
11. Userflow
Cost: from $200/month, billed yearly
Best Features:
Flows
Launchers/Hotspots
Checklists
Surveys/NPS
Flow/checklist views
Automatic, segmented flow triggering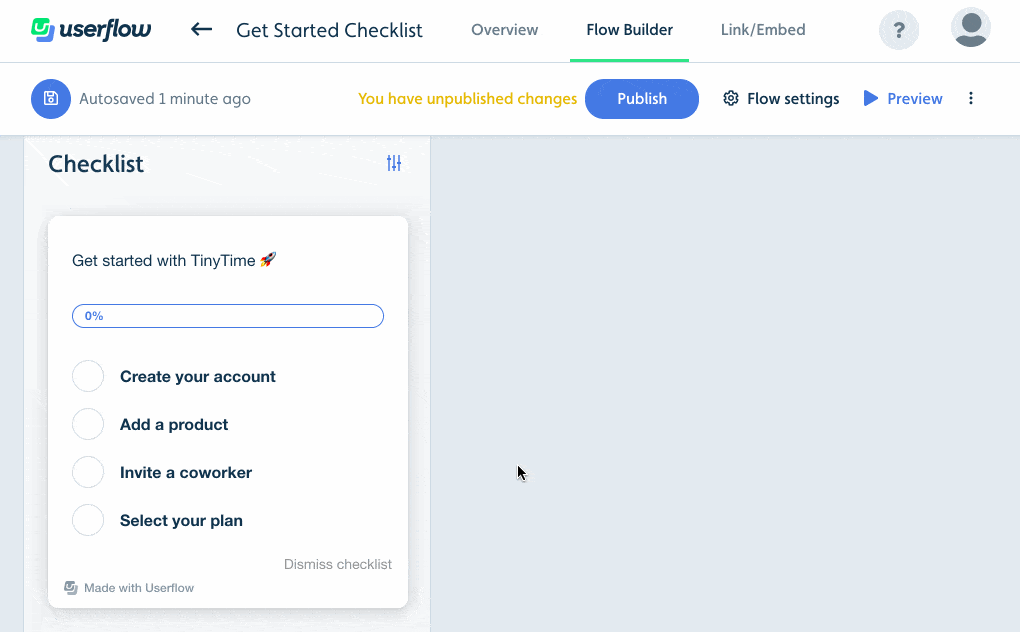 With Userflow you can build in-app, highly customized, and dynamic flows with no code. Its drag and drop builder is visual and intuitive and it allows you to easily preview flows, directly in your own app. It is also a customer input software that you can use to collect user feedback via NPS, CSAT, and free-form text surveys. However, access to many of its features is restricted on the lower pricing plans.
Cost: price quote
Best Features:
Intelligent Analytics
Complex Flow Creation
Multi-language
Multiple Domains
Custom Validations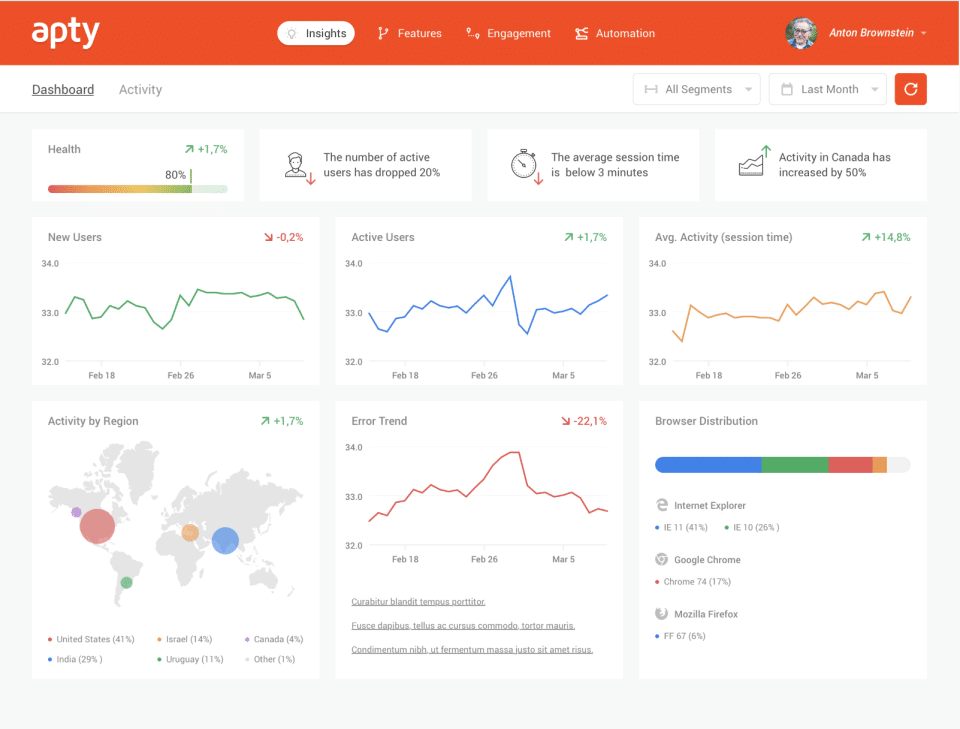 With Apty you can simplify the learning curve for users and help them get familiarized with your product. You can use walkthroughs and in-app messaging to onboard users or highlight newly launched features. Apty's analytics tool analyzes user behavior and helps you create customized flows for various user groups. One possible drawback is that Apty's deployment and integration can take some time.
13. Nickelled
Cost: from $99/month
Best Features:
Unlimited users and views
Easy page embedding
User flows
User Segmentation
Embed video or audio in guides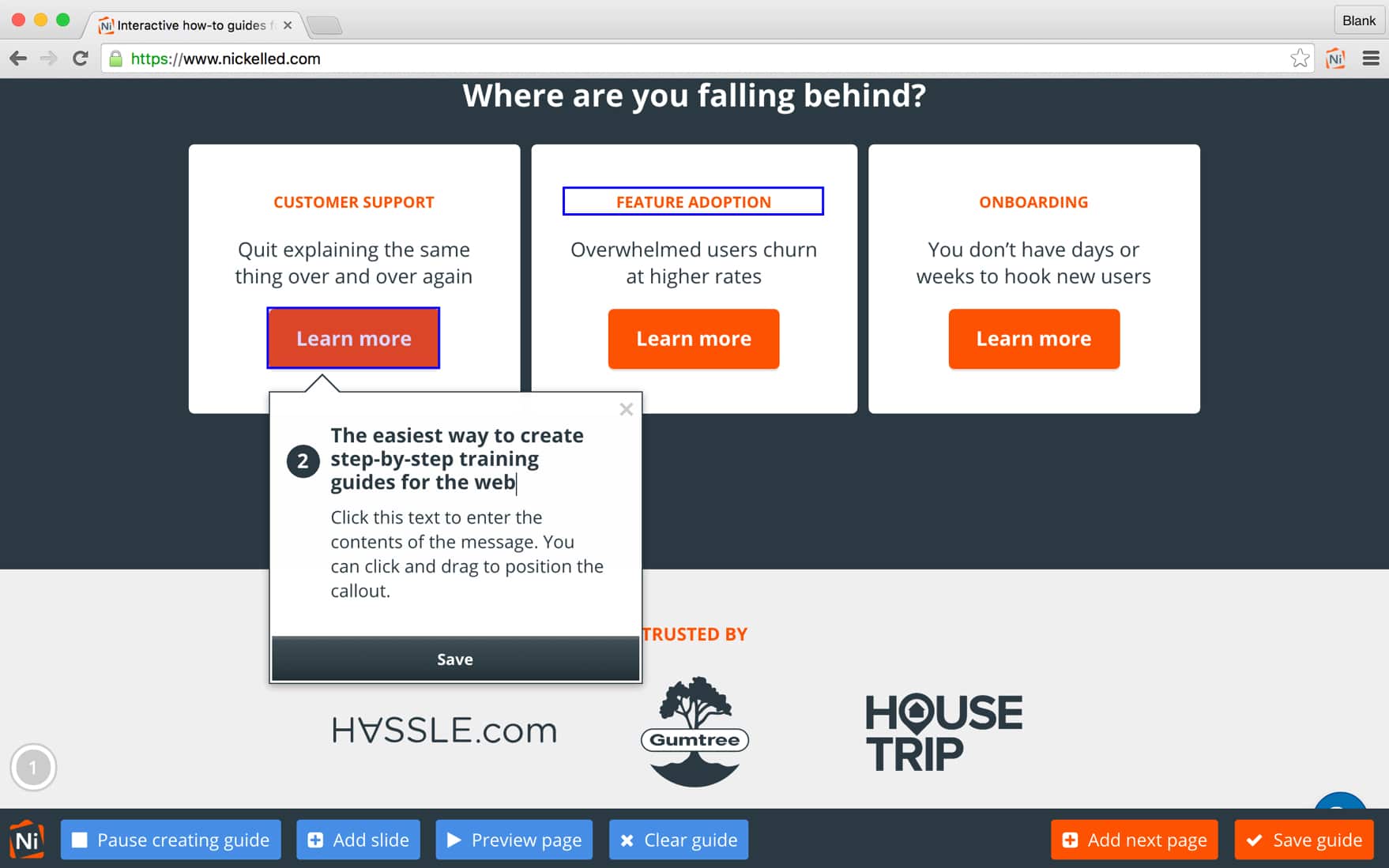 Nickelled is a 100% code-free product tour software. You can use it to drive product adoption with guided tours, website banners, and onsite widgets. Nickelled is cross-platform so it works on mobile, desktop, and tablet. It doesn't require software downloads or browser extensions, and Javascript is optional. It is one of the less pricey options on this list, but note that it offers no customer segmentation at the moment.
14. Usetiful
Cost: free version, from €29.90/month for other plans
Best Features:
Product tour
Smart tips
Onboarding Checklist
Customizable themes for native look
Usage analytics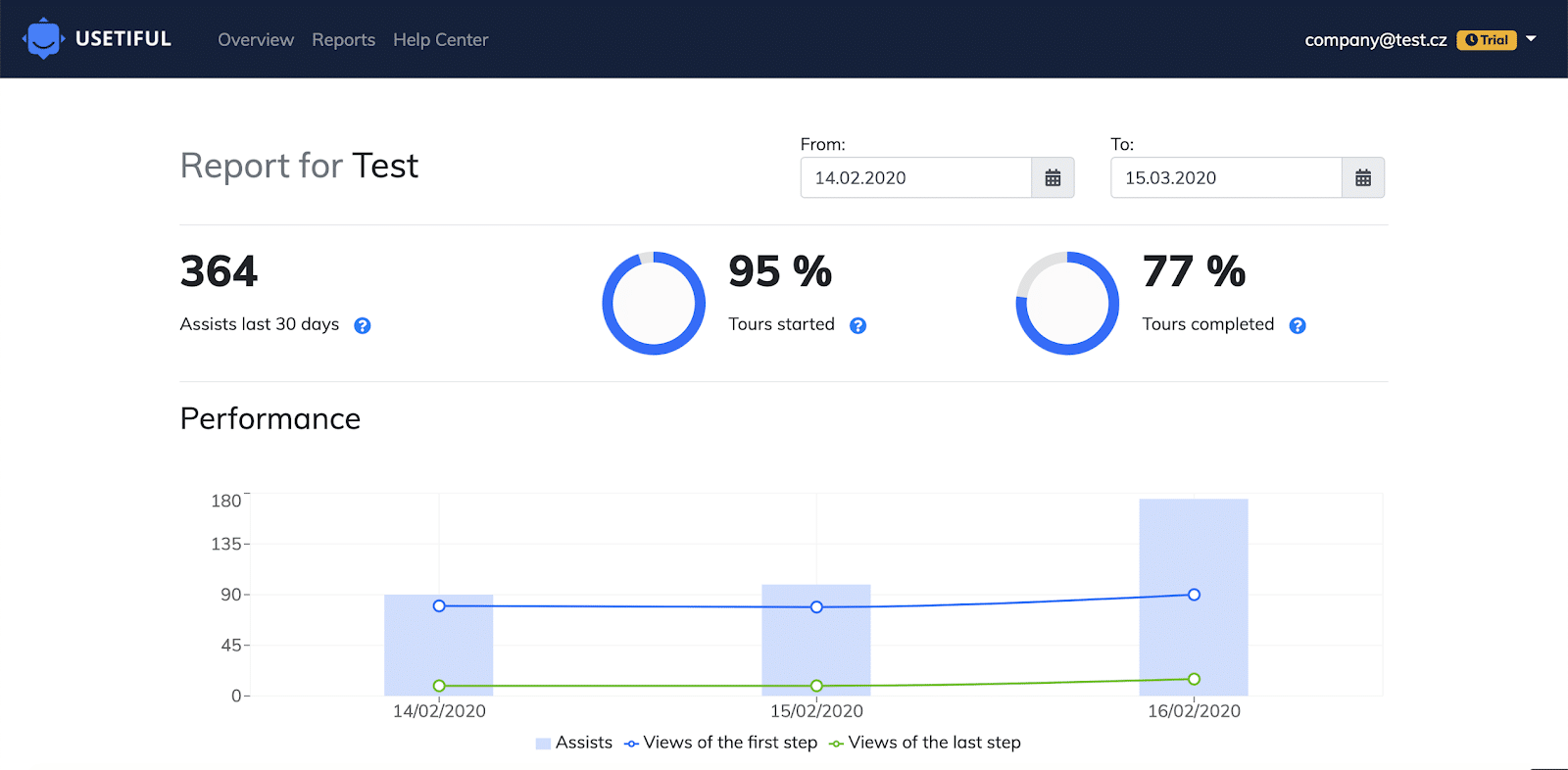 Usetiful markets itself as an "affordable premium solution for digital adoption" which seems to be accurate. You can use it by pasting a snippet of code into your product, or by adding their browser extension. Their product tours and smart tips were designed to look native in your software product for good user experience. As is often the case, lower pricing plans don't include access to many features.
Cost: Free for Basic Plan, $29 per user/month for Pro Plan, and customizable charge for Enterprise packages.
Best Features
Automatic guide creation for training employees and assisting customers
Instant documentation of best practices across teams
Document consistency and easy update
Automatically updated documents
Screenshot redaction
Embedded guides in any CMS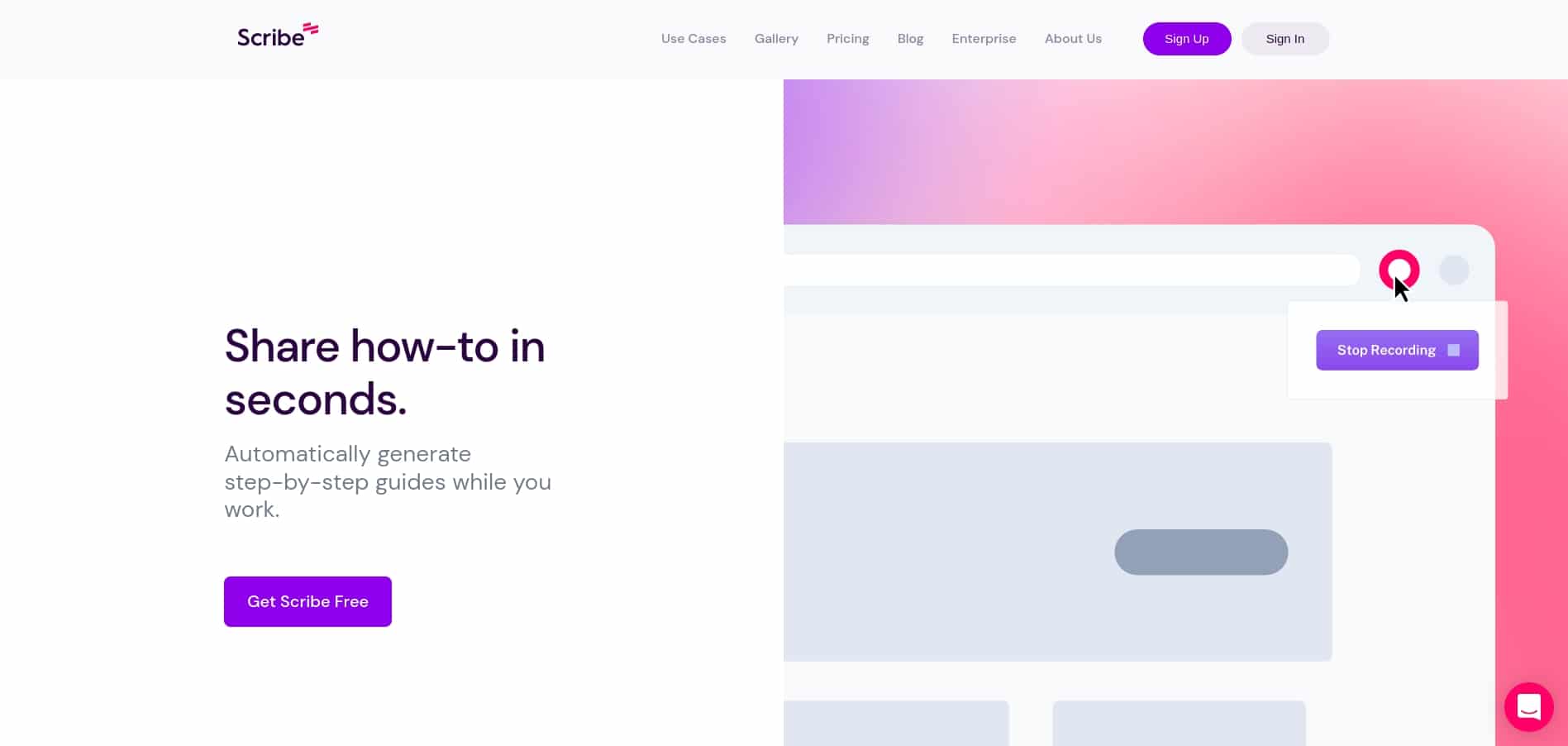 Scribe is the first process documentation tool of its kind. It's a browser extension or desktop app that automatically creates how-to guides.
Simply click "Record" and capture your process. Scribe will instantly create a step-by-step document, complete with written instructions and screenshots. Additional features enable you to edit and update your Scribe, effectively making those changes wherever it's shared or embedded.
16. Intro.js
Cost: free open-source, lifetime commercial license starts at $9.99
Best Features:
Simple, lightweight API
Completely customizable
Free open-source
Easy install
24/7 Priority support option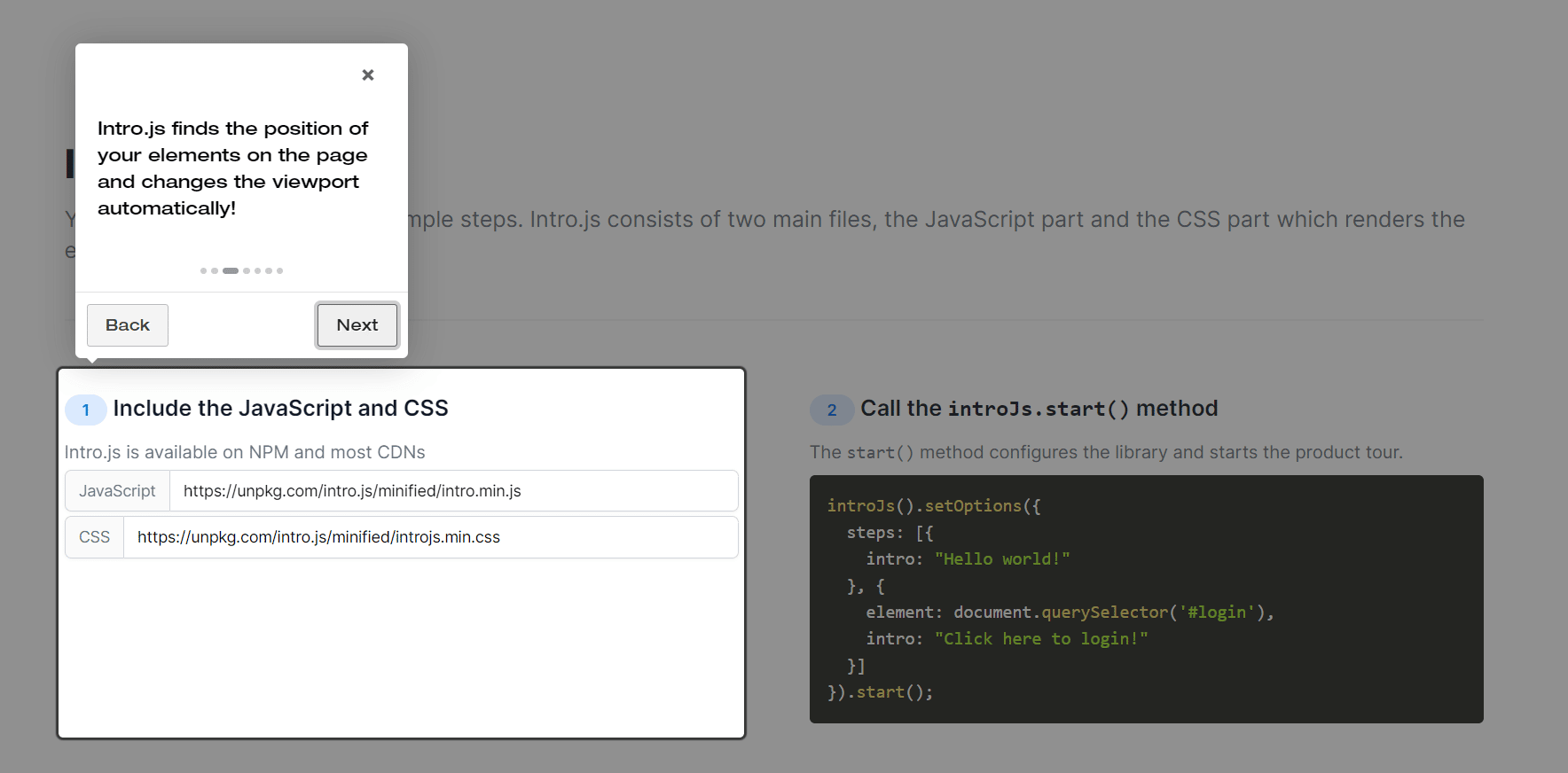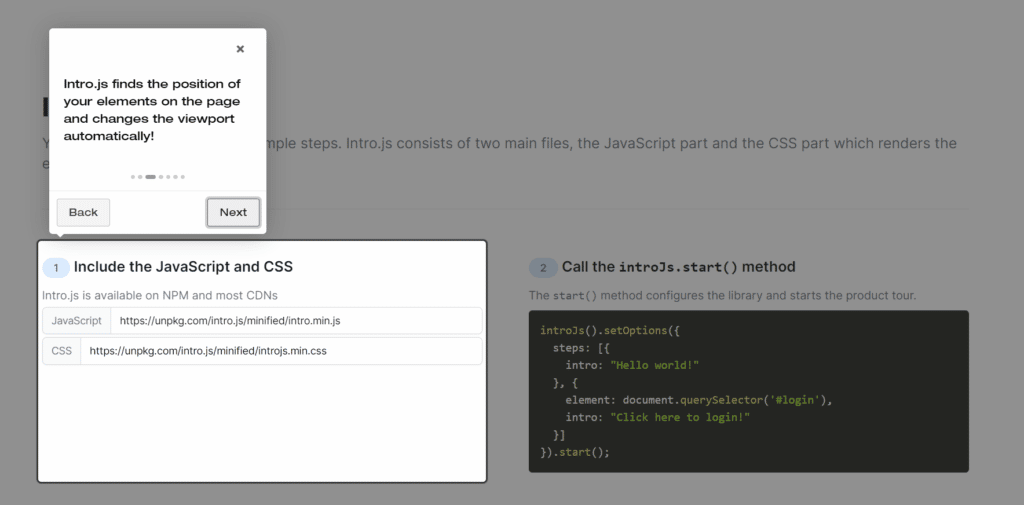 Intro.js is a very smart tool that can be just what you need if you're starting out in the SaaS world. While it doesn't have all the flashy features of its competitors, Intro.js makes up for it through a highly customizable, 10kB API.
The API is free and open-source for personal use. Commercial lifetime licenses start at $9.99 and can go up to $299 for 24/7 priority support, and unlimited projects.
The biggest downside of Intro.js is that you need some knowledge of CSS and JavaScript to integrate it. However, that can also be a plus since it allows you to tailor everything to your needs.
Final Thoughts
It might seem difficult to decide – maybe one tool has a feature you like, but is missing another. Or maybe they're all good. We recommend the following process:
Find out what you need from the product tour software (be as precise as possible)
Settle on a budget
Shortlist a few of the best options for you on this list
Do extensive research for each of them
Message them with any concerns or questions
Consider your needs and budget and do extensive research before deciding on one. Based on the high review count on websites like G2 or Capterra, Intercom, Pendo, and Whatfix seem to be the go-to product tour tools. Judging by what they offer, however, Appcues and WalkMe are very good choices as well. So here you have it, the next part is on you – good luck!