Undoubtedly, new customers play a crucial role in the growth of a business. But this doesn't mean you should turn a blind eye to your existing customers. Even if the product or service that you're offering is top-notch and decently priced, you can't always prevent customers from switching to one of your competitors. That's where customer retention and loyalty come into play.
In this article, we'll go over the difference between a retained and a loyal customer, and we'll also explain why you should focus more on customer loyalty in order to drive overall business growth.
The Difference between Customer Loyalty and Customer Retention
Customer Retention Explained
Customer Retention is the process of continually keeping your existing customers engaged with your product or service, in order to provide them with the right opportunity to renew their subscription, if they so wish. It means transforming your customers from one-time buyers into long-term users. It's one of the most crucial and cost-effective business strategies especially for SaaS businesses, as it results in increased customer LTV (lifetime value) over time.
Customer Loyalty Explained
Customer Loyalty, on the other hand, can be defined as the process through which your customers become ambassadors of your product. Not only do they keep using your product or service, but they also encourage others to do so – mostly, but not entirely, through word-of-mouth referrals. They see the value that you bring them, they vouch for you, and eventually, they'll serve as great advocates for your business. Customer loyalty is a crucial part of retaining and further expanding your customer relationships. Loyal clients spend 67% more when sticking with a business rather than new customers.
Main Differences
While the two concepts share some similarities, they are completely different and can't be used in the same way when describing your customers' behaviors. But the main difference is that customer retention is more volatile than customer loyalty.
A retained customer thinks that your product is good and they perceive the value it brings them. They will choose to stick with you but there's always going to be a risk that if a better offer comes, they will take it. This is where brand loyalty comes into play.
On the other hand, a loyal customer will keep coming back to your product, time and time again. Not only that, but they will also refer your product to their acquaintances and will become powerful ambassadors for your brand. Simply put, loyalty transitions the financial aspect of the spending power of your customers. It's more about increasing your company's growth and less about just avoiding churn.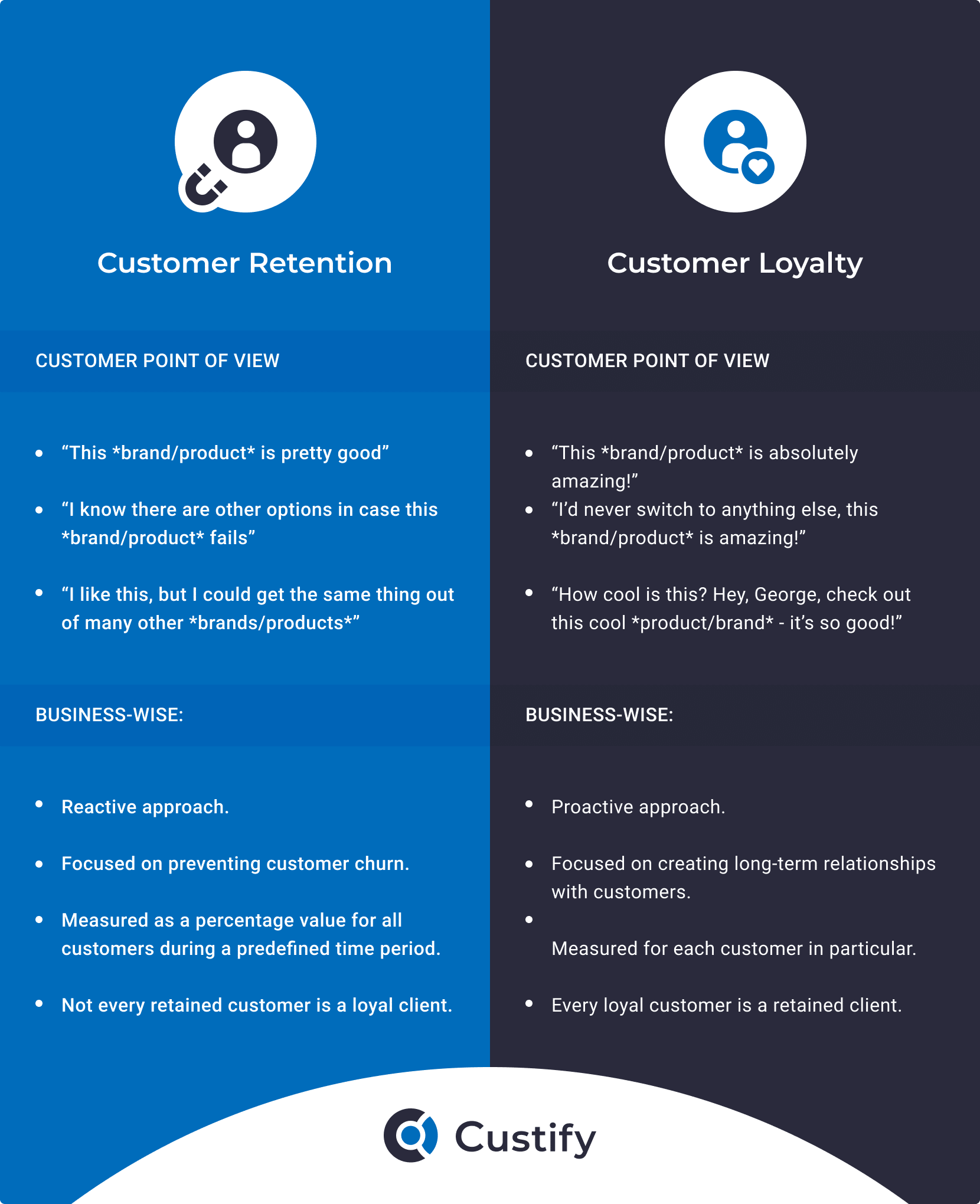 How to Measure Customer Retention
Churn and customer retention are pretty much two sides of the same coin: they are both easily measurable metrics, based on the total number of customers at the start and at the end of a selected period.
So in order to measure your Customer Retention Rate (CRR) you need to use the following formula:
CRR = (number of customers at end of a selected period – number of customers acquired during that period) / total number of customers at the start of that period * 100
For both, you need to look at your lost clients. The only small difference would be that in the case of customer retention, you need to calculate the amount of retained customers, while in the case of churn, you focus on the amount of lost customers. Here's our Customer Churn Guide if you want to find out more about it.
How to Measure Customer Loyalty
Now, things get a bit more complicated when measuring loyalty, compared to customer retention. You'll first need to look at different aspects:
How likely is it that your customers will refer your product to their friends or family;
How likely they're to keep buying from you as long as they'll need;
If they're or not actively looking for other offers on the market;
If they're open to checking out other products or services that you offer;
How much they trust you and give you the time you need for any fixes or updates;
How likely they're to give you feedback about how you could improve your product or service.
To accurately find out which of these behaviors best define loyalty for your company, you must turn to some tried-and-trusted methods of measuring customer loyalty. Let's go over them below.
Method 1. Use NPS® Surveys
A Net Promoter Score, or NPS®, is a type of survey that helps you see how customers perceive your business and how willing they are to spread the word about you to their close ones. While NPS scores have their flaws, when taken on mass they can give good insight.
You just need to ask your customers one simple question: "On a scale of 1 to 10, how likely are you to recommend this product or service?". Then, it's also recommended you ask the participants to explain that given score. Here's how to differentiate your customers' scores:
Customers that gave a score of 9 or 10 are known as "Promoters" – They are enthusiastic customers who are happy with their experience.
Scores 7 to 8 are called "Passives" – They are satisfied, but could potentially choose one of your competitors.
Scores 0 through 6 are called "Detractors" – These customers are not happy with their experience and most probably wouldn't purchase again.
You can then calculate your NPS using the following formula:
NPS = Percentage of Promoters – Percentage of Detractors
Depending on whether customers give low or high scores when asked if they would recommend a brand, the NPS® score can range from -100 to 100.
Method 2. Use Customer Success Data
Another way to help you gauge the loyalty of your customers would be to look at their data. And probably the best way to do so is by using customer success data from CS software solutions such as Custify. Using the data from your CS tool provides you with valuable insights into your customers' interests and behaviors.
Customer success data will bring forward how often your customers use your product, what type of product features they use the most, how quickly their concerns (if any) are answered, and many other metrics. This, in turn, will help you grow your business.
Your customer success teams will be able to become proactive rather than reactive to potential churn situations. This increases customer loyalty overall and drives business growth.
Method 3. Use Both
Obviously, these two methods do not exclude each other. It's in fact the ideal scenario when you get the perfect blend of customer success data from your software solution and customers' direct feedback from running the NPS survey. You can then combine all the information to help your team become more efficient, more informed, and better equipped to deal with your customers.
Who Is Responsible for Customer Loyalty & Retention?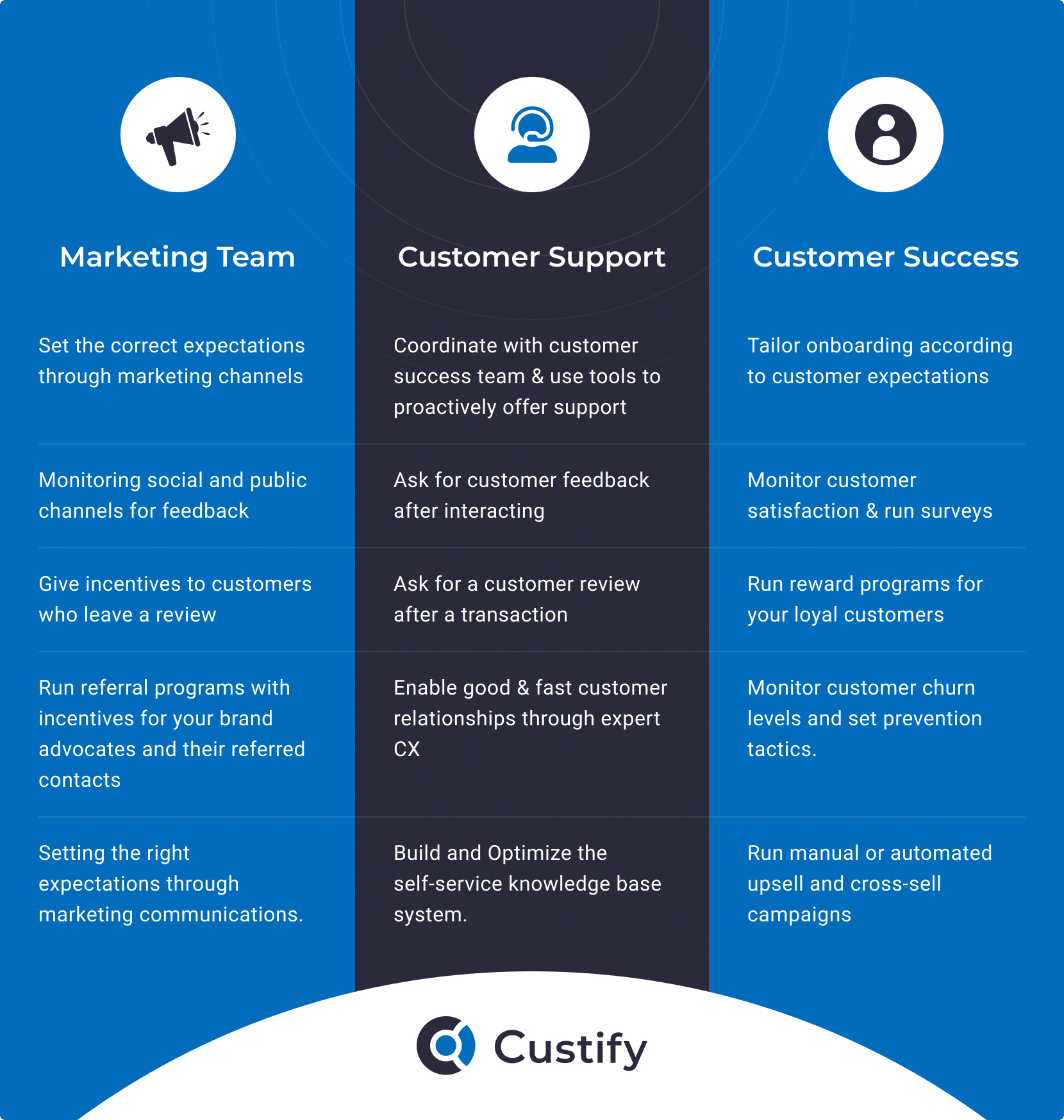 Growth vs Stagnation: Why Customer Loyalty Should Be Your Goal
Customer retention should never be your ultimate business goal. It basically means just fighting decline and avoiding churn. Simply put, your business will stagnate. Real growth comes from customer loyalty. Your aim should be to gain the loyalty of a customer that is aware of your competitors but still chooses you time and time again, based on their customer experience.
There's also the case of shorter customer lifecycles that make more sense for some businesses. Maybe a customer can do everything they want in 3 months and then leave – this doesn't mean they're bad customers. They loved your product but didn't renew their subscription. So instead of focusing on keeping that customer, focus on making their experience so good they'll want to promote your business before or after they leave.
Conclusion: Why Are Customer Retention and Loyalty Important?
All in all, customer retention, although challenging, is a really rewarding business strategy in the long term. In addition to increasing your overall revenue, loyalty is the go-to option, as your customers vouch for your brand to their friends and become powerful ambassadors for your business. Effective communication and customer support are both key tactics of any successful company's strategy for improving retention and loyalty.
Want to start on your customer loyalty program today? Request a demo now and let Custify do the work for you.
__
Net Promoter, Net Promoter System, Net Promoter Score, NPS and the NPS-related emoticons are registered trademarks of Bain & Company, Inc., Fred Reichheld and Satmetrix Systems, Inc