You already understand the importance of customer behavior and how it helps you draw new users to your SaaS product.
But now there's something even more powerful – buyer intent data – which helps you 'know your customers even better than before.' This data is more specific than segmentation or figuring out user personas. It provides you with accurate and fresh insights about your customers' online search activity.
That's where it gets fun.
Once you learn which potential leads are most likely to convert, you can invest your user acquisition resources in those 'hot' prospects, while cutting off leads that will never convert.
When you think about the customer's role in the marketing process, it makes sense that their needs should be the focus of your efforts. Marketing to business or B2B customers can present a different set of challenges than marketing to consumers or B2C.
Customers come from all walks of life, have different objectives, and make buying decisions in different ways. You'll want to make sure you know what motivates your customers so that you can create content that is relevant for them and drives them towards conversion.
Decoding the Shift to Customer-Centered Marketing
The modern software buyer's decision journey is long. It crosses sales, marketing, and finance before a purchase is made.
In the past, buyers would browse a list of software titles and prices, talk to a couple of salespeople, and make a purchasing decision.
Today's buyer is much more informed. They have better access to resources, like social media benchmarks, third-party review sites, comparison with competitors, etc. that greatly influence their decisions. This can lead to many unqualified demos for your sales engineers.
In today's rapidly changing business environment, companies must move beyond their products and services when analyzing their competitive advantage. In the eyes of consumers, product and service details aren't as highly prioritized as the customer's overall experience with the brand.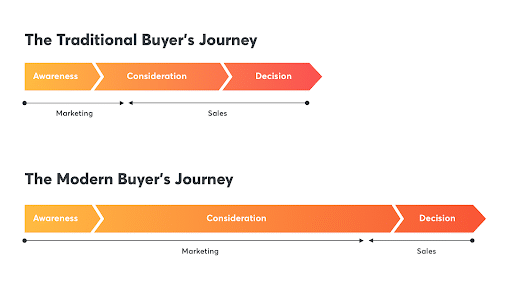 Image Source: BuzzBuzzHome
This shift in the buyer's journey has forced companies to develop customer success approaches that merge with sales and analytics. Understanding what is a CRM will help companies go a long way.
Why is tracking buyer intent important?
1. To acquire more insights about potential prospects
Intent data allows you to understand your prospect's behavior as it relates to your SaaS product or brand. Take advantage of this information by creating campaigns with highly relevant ads and show them to the right people to ensure a successful conversion process.
2. To optimize content generation
Intent data helps you reach the people who are looking for what you have to offer. And that is why content marketers are constantly trying to get to the bottom of this data.
For instance, if your goal is lead generation, you can use intent data to figure out keywords that your target buyers are using to find information about similar offers. You can then generate content based on the new findings and increase the possibility for more effective conversions and sales.
3. To enhance customer retention
There is a possibility that a customer dissatisfied with your product offerings might look for alternatives. They could post on social media, read reviews, and attend product demos on your competitor's website.
By using behavioral intent data, you'll be able to predict when a customer is about to churn. Then, your sales and marketing teams can reach out to them and identify the core reason for leaving. You can also open up opportunities for upselling and cross-selling.
What type of intent data should you track?
1. Internal Buyer Intent Data
Internal buyer intent data comes from your website or your automated systems. As you own this data, it is also known as first-party data. It is divided into two categories: manually recorded data and data that your CRM generates.
Some examples include:
Data from website visits like pricing pages, repeated visits within a timeframe, and more.
Data from job titles. Employees at the entry level rarely have purchasing power. Employees in management positions are more likely to do so.
Data about lead submitted. By providing a phone number, the customer is acknowledging that they are willing to be contacted, which could imply purchasing intent.
Data from bottom-of-funnel pages like product comparison and "what people think about us" pages.
Data about the time on page. More time spent on a page often indicates interest.
Data about webinar registration as it demonstrates further interest.
Data about their engagement with emails, social posts, or ads.
Whitepapers, case studies, and other bottom-of-funnel content downloads.
2. External Buyer Intent Data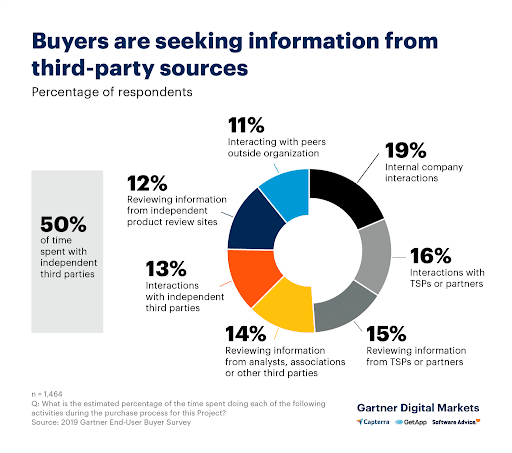 Image Source: Incredo
You're already doing everything possible on your site to convert your visitors into leads, but are you tracking them across the web? Unfortunately, many marketers stop tracking at their own websites.
You could be missing out on bringing in a much larger audience if you didn't also monitor their activity elsewhere as well. You can start out by asking questions like:
Are they visiting a competitor's website?
Are they searching for the solutions to your target keywords elsewhere?
Are they scouring the internet for reviews?
Understanding the Different Kinds of Buyer Intent Keyword
Buyer intent keywords are search terms that indicate a person is actively looking to buy something. For example, "[competitor] alternative" (for example: GitHub Alternative), or "[competitor] review." (Example: Jira Review).
There are four types of such keywords:
1. "Buy Now" keywords
The keyword "buy now" is pretty straightforward. If a searcher is looking for an immediate purchase, you know they're not interested in reading detailed reviews or lengthy blog posts about the topic. They want to find a vendor who would sell them the product.
2. "Product Search" keywords
When people know they have a problem that calls for a potential solution, they search for keywords that will help them find the product they need. An example of such a keyword is "best content syndication website".
3. "Informational" keywords
When buyers search for these keywords, they're looking for information about a problem that's troubling them, or for information about the pros and cons of a solution. For example, "does X offer HubSpot integration".
4. Low purchase intent keywords
"Free" is an example of a low purchase intent keyword. Someone searching for "free" probably isn't going to spend on your product. But, if you have a freemium business model (a mix of free and paid users) you may still want to go after such low-end purchase intent keywords. Later, by upgrading certain features, you can convert free users into paying customers.
Understanding your buyer's mindset, and matching your content to their stage of the buying funnel is an important part of keyword research. It can allow you to craft a more user-friendly experience for your customer, meaning fewer bounces and higher conversion rates.
Ultimately, that means securing more sales and building stronger relationships with your customers in the long run.
How to Benefit from Buyer's Intent for Your SaaS Product?
If you don't get in touch with customers at the right moment, competitors can always beat you to the sale. That's why it's so essential to have a clear understanding of customer intent data and make decisions instantly.
Your marketing team needs to create content that entices customers onto the buyer's journey, and also guide them through to a close.
Your sales team should be engaging with customers at the best possible time, with a nice reply and the most relevant information.
Your customer success and retention teams need to watch your current customers. They must be proactive about reaching out when there is an indication of dissatisfaction, a problem with the value of the product, or there is an intention to switch to your competitor.
Using Buyer Intent Data in Marketing
Intent data can help you determine where your ideal customers are looking for information and what they're hoping to find there. All you need to do is create content accordingly.
Most keyword research marketing tools such as Moz, Ahrefs, and SEMrush can be helpful if you use them correctly. However, by incorporating user intent data behind each search term, you will have an additional layer of information to help you more.
Now that you have created amazing pieces of content, you also need to promote and syndicate them for better reach. You can use intent data to identify companies searching for content relevant to your SaaS product. You can also reach out and send your content to leads, or potentially run ads to meet your marketing goals.
Optimize your title in a way that clearly shows your intent.
You can experiment with the tone of the title to fit the pain point.
When generating leads, request information that will help you better grasp the buyer's goal. A person's job title, for example, can be a significant indicator.
Using Buyer Intent Data in Sales
As the world today is moving toward data-driven strategies, all eyes are on the sales teams, and what does it take to close a deal. The sales teams can count their efforts on the kind of information they get out of the buyer intent data. They can look closely at each big lead and decide who can benefit from their product or services the most.
And since this data comes from the buying patterns along with other details like what research they're doing, you can bet your bottom dollar that this would be close to 100% accurate.
What more? Let's review some tricks on how to figure out buyer intent in SaaS sales.
Look out for omnichannel engagement: How are your lead prospects finding and reaching out to you? Answering this question can help you determine whether prospective customers are ready to act. Prospects who try to reach you by multiple means (for example, email, contact us, book a demo, etc.) are more likely to be seriously interested in buying from you than those who use only one channel.
The amount of information provided: Consider how much information prospects are providing to help determine whether or not they are serious about making a purchase.
Evaluate the company profile: How does this inbound company compare to your existing customers? Is this company likely to be interested in your product? Is it experiencing similar pain points and business challenges?
Look out for user engagement: By viewing metrics such as the number of pages viewed, the number of links shared, and the number of times a user leaves a page prematurely, you can gain insight into user engagement with your content.
Follow-up interest: Did the prospect respond to a follow-up call or email or was the prospect a one-time visitor?
Using Buyer Intent Data for Customer Success
Chances are you have a pretty solid understanding of your customers already. From their age to their location to how often they buy from you, you understand who they are and why they do what they do.
Customer success is key to customer retention, and a big part of it is staying in sync with what your customers need. Sharing buyer intent data from relevant sources like your website can help customer success specialists stay on top of changing buyer needs.
With Intent data, you don't just reflect prospects' activities during the customer journey. You can also continually update your customer database, and create a more complete and accurate picture of each buyer in it.
For example, when one of your prospects gets a promotion, you can reach out. Or if someone has just onboarded a decision-maker, you can instantly make a connection.
And that's how you make customer success more proactive with intent data.
Generating SaaS Prospects With Buyer Intent Data
Have you been struggling to generate prospects for your SaaS products? Well, generating SaaS buyers doesn't have to be hard. You just need the right tools and a strategy that takes you where your target audience hangs out.
As discussed above, by adding in buyer intent to your marketing strategy, you get access to a whole new pool of prospects at little-to-no cost. And it's easy to integrate since you can simply plug buyer Intent into your existing ad campaigns.