More often than not, startups tend to place more importance on the top and bottom of the customer funnels than on the mid-funnel (lead nurturing). And who can blame them? The two account for most of the valuable metrics & financial resources. But the mid-funnel has the most potential to use data accurately to further personalize messages, interactions and, ultimately, drive engaging relationships with your customers.
In this article, you'll learn more about nurturing your leads effectively for your SaaS and how to do it right with a set of foolproof best practices.
The Psychology behind Lead Nurturing
Lead nurturing is about adding value to your relationships. It's a process of addressing the questions, fears, and uncertainties that prevent the user from completing a purchase.
Think of it more like taking your chance at a date with the perfect catch: they're not going to commit just based on first impressions; they'll want to consider all their options before saying "yes."
Not to mention the whole psychology behind it – just exposing your leads to nuggets of information will make them more willing to engage with your product or service. The law of reciprocity plays a major role in your campaigns too: if you provide your leads with value, they're more likely to reciprocate.
Lead nurturing helps shorten the sales cycle and it also boosts your current customers to recommend your products further. Nurtured leads bring in a 20% increase in sales than just non-nurtured ones.
1. Use Segmentation & Buyer Personas
A good campaign will educate and stay in touch with leads on a consistent schedule while providing the right content, at the right time, without being too pushy.
But how do you decide on the right timing and the right recipients for your lead nurturing campaigns? Well, this is where segmentation & buyer personas come into play.
You probably already have an idea about segmentation and how it aids you in your SaaS lead nurturing efforts. The main benefits are that it helps you:
Define specific topics & break your audience into groups of like people;
Plan & deploy the right pieces of content within your marketing strategy;
Refine & tone the messages across your platforms.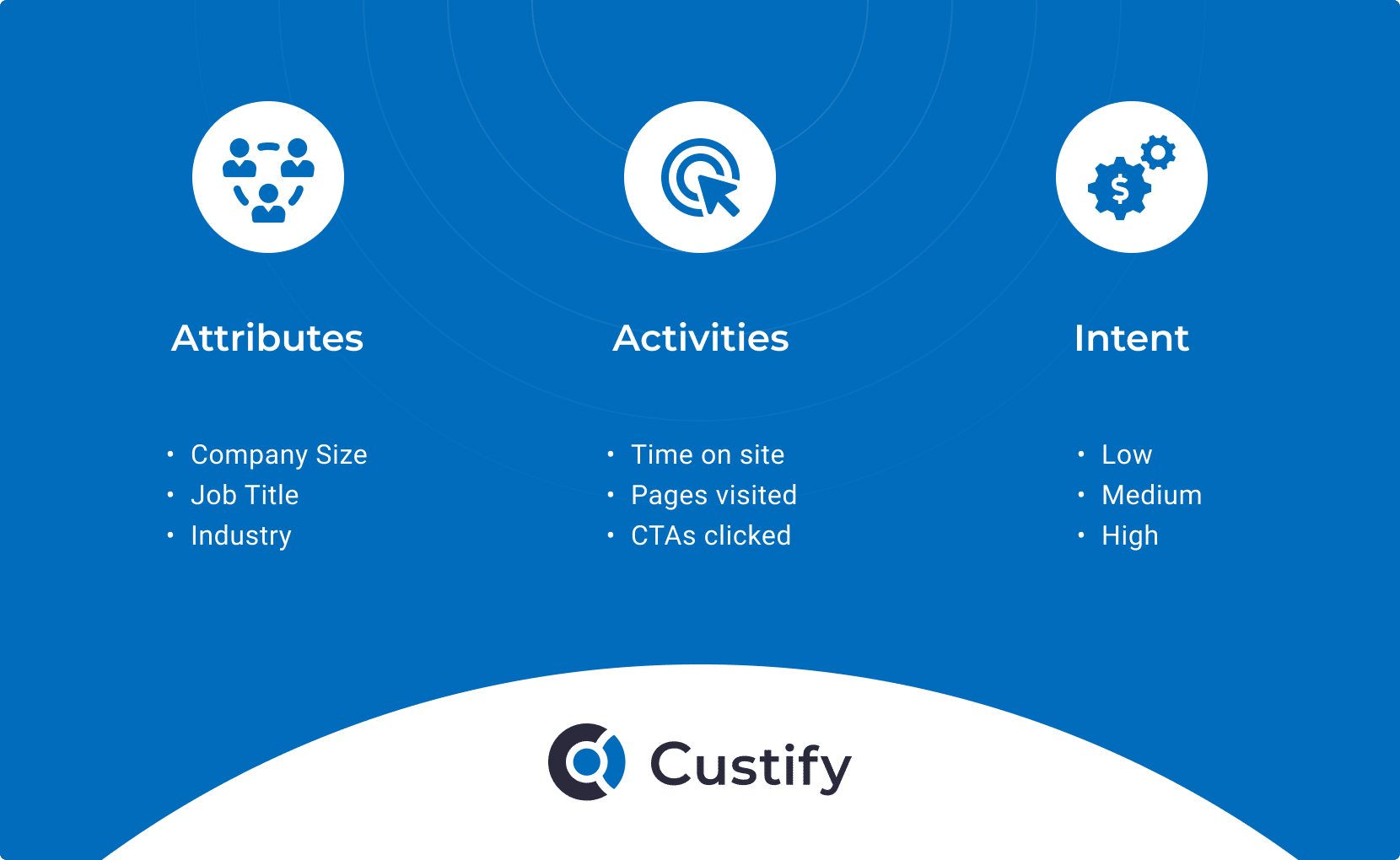 At the same time, the buyer personas you define for your audience prove to be an essential part of improving the efficacy of your lead scoring & nurturing efforts. Your most successful lead nurturing campaigns should deploy content that is specifically tailored to the needs of different buyer personas.
Your customer success tool you might have in place should also help you identify, segment, and target your unique buyer personas as you scale your lead nurturing strategy.
Take each of the buyer personas you've identified and think about their specific needs, problems, and interests. Then, ask yourself: "Is there an issue they might be interested in or need a solution for? Am I offering that solution? Am I promoting it?
Take the time to find these types of concepts and work them into your targeted content. This is a crucial process, as it helps you understand your user base and make your interactions with them even more warm and personal.
2. Create Impossible-to-resist Content that People Can Relate to
At the end of the day, people are still people, even if, from a business point of view, we tend to see leads as a means to an end. And to effectively execute a lead nurturing marketing strategy, you need to build content that reaches people on a human level, so they can easily relate to it, find your advice valuable, and want to put it into action.
At the same time, you can't exactly have any deficiency in the content you deploy. To keep your emails interesting and relevant at every stage of the funnel.
Think about small nuggets of information that you can offer your leads through your email campaigns, like quick application tactics or 'hacks' which they can implement & see results right away. In time, this will translate into consistent open rates throughout your campaigns, as your leads will stay engaged with your content.
Micro wins, or actionable tokens, provide quick value to your users. They don't take much time to be put into action, and they solve targeted problems. Every email you send out should contain such a micro win for the user.
A campaign focused on providing value to your email database will increase your chances of them engaging with your product and even becoming your customers. The right personalized content will generate up to 6 times higher revenue per email than the regular generic emails.
Debate What Content to Create and Settle on All the Content
In order to create a deeper, more personal brand experience for your leads, you should create the necessary mid-funnel content that matches your leads, and not the other way around.
Defining your customer journey and mapping the right content for each stage of the funnel will help you deliver tailored messages to your individual leads right when they need it the most.
You can debate internally, decide the best type of content you'll deploy for each buyer persona, and then, based on your time & budget, create all of it or as much content as possible.
And to accurately map your content for lead nurturing, you first need to understand the buying cycle, which can be summed up in 3 essential stages:
Awareness: your leads have are aware of your product or service, or they're aware that they have a need you might cover;
Consideration: they're aware that your product or service could fulfill their need, and they're evaluating if you're a perfect fit for them;
Decision to Buy: they've decided and are ready to make a purchase.
It's been proven that strategically nurturing your leads with targeted content improves sales results. It's not a "one size fits all" kind of thing.
3. Design Your Strategy to Reach Leads In the Correct Spaces with the Correct Messaging
For SaaS lead nurturing, it's best first to hone your inbound channels and deploy the right content that will convert your customers in time. The goal is to attract, engage and delight prospects and then turn them into customers, then into advocates for your product or service.
Your website is an ideal place to start off your inbound marketing strategy for nurturing your SaaS leads. You should first focus on determining where you can talk to your leads within your website and which types of messages are most likely to bring value & which messages are more likely to succeed in pushing that lead down the funnel.
Think about the moment when a visitor on your website signs up for your newsletter, takes a quiz, or downloads a resource. How do you thank them? How does your Thank You page look like? What CTAs have you included? As a rule of thumb, you shouldn't let your visitors go when they are engaged the most with the content on your website. Instead, "strike the iron while it's hot."
Find all the correct spaces within your website or email and social media platforms that can help you reach leads with the right messaging and then refine your strategy.
Timing Is Also Important
As specified before, timing is key. The precise moment when you reach out to your leads is crucial. Every space or channel for outreach needs specific messaging and time.
And obviously, sending messages and emails throughout the day quickly becomes spam, and it will defeat the purpose you've set out for your lead nurturing campaigns. At the same time, only establishing contact with your leads after a month or once per week isn't an efficient strategy either.
You need to have consistent contact, and your nurturing should not feel like a constant nudge on your leads' shoulders. Interacting with them every 2-3 days is usually the preferred timing, either by showing ads, writing an email, or another form of contact.
4. Make All Your SaaS Lead Nurturing Efforts Omnichannel
Nurturing your leads across multiple channels is not enough anymore. Omnichannel is already everywhere, and if you're not on it, you're missing out. You have to maximize engagement without lead burnout. And you have to be smart about it.
Email drip campaigns don't work as well as they did before, as recently, open and click rates continue to decrease. People are hungry for information, and they are also impatient. You have to consider some alternatives to emails, such as retargeting paid advertising campaigns, SMS campaigns, push notifications, etc., depending on your product or service.
Data-driven marketers implement coordinated strategies across multiple channels that can communicate with one another, supplementing personal email campaigns with other scalable channels, such as social media posts, blog posts, whitepapers, guides, etc.
Ideal Marketing Channels for SaaS Lead Nurturing
When deciding the right marketing channels for your SaaS lead nurturing strategy, you mind yourself coming across a range of paid, earned, or already-owned channels that you can choose to focus on. Let's go over them:
Paid Advertising (Search Engines & Social Media)
From the plethora of options you have with paid advertising, the top 4 platforms for a B2B SaaS would be Google/YouTube, Facebook, Twitter, and LinkedIn. Paid Advertising helps you accurately prospect your leads, deliver the right targeted content, and placing your users in the correct stage of your customer journey. Besides, the results are generally immediate, so there's no second-guessing.
Regular Social Channels & Groups
Content marketing is undoubtedly an integral part of your lead nurturing strategy. Think about which buyers hang out in which online spaces – Facebook, LinkedIn, Twitter should all be part of your regular list of channels. But how you communicate on each of them depends on which people hang out in which spaces. Generic, TOFU content tends to not work anymore in 2021.
Email Marketing Campaigns
Emails still work. They allow you to build a direct & close relationship with your leads. It's important though how you implement your campaigns and how they'll help you reach your goals in the long run. Make sure you're sending emails that add value and that are finely personalized.
Highlight Your SaaS with Channel-Specific Materials
You'll also need to make sure you use the best types of content on each platform to showcase your product or service on a regular basis and to the right audience.
In the long term, content marketing helps you drive organic traffic to your website while also lowering your customer acquisition costs. Ideally, the content you publish on your website should be the most detailed compared to the other channels.
So, for your website, you might want to publish your full product/service guides, but keep the information a bit more condensed for a PDF document that you'll upload to your brand's LinkedIn page. The same goes for video content: keep the detailed footage for your YouTube channel while also sending some snippets to your leads by email.
5. Save Time on all Lead Nurturing Efforts with Automation
Once you start working on your strategy, the goal is to provide valuable materials that will help you turn some leads into long-term loyal customers. But that's only the beginning – lead nurturing needs to be a constant effort in order to get the necessary snowball effect for each of your leads.
But obviously, engaging with every one of your leads can be rather exhausting. This is precisely where automated lead nurturing comes in handy, as your prospects will receive a sequence of messages with content relevant to them.
Automated lead nurturing helps you to effectively track your leads' engagement history with your content. It's basically allowing you to feed them the right information exactly when they need it the most.
Once you start sending targeted information at the right moment, you'll see a conclusive increase in your conversion rates. You won't miss any opportunities.
Here are some key benefits:
Your teams don't spend time educating your leads on your product or service;
Although it is time-consuming to set up, an automated campaign, with all the right contact frequencies and lead scoring in place, will do the work for you;
Automation also brings along automated reports and analytics – so it'll be much easier for you and your team to identify any bottlenecks.
But you'll also need to be careful with implementing automated campaigns such as email drip campaigns. It can easily become a nightmare, getting worse the more emails you add.
Will This Get Me More Sales or More Leads?
In a crowded market segment, it's crucial to stand out. When building your targeted lead nurturing content strategy, there are a lot of things to take into consideration.
As time-consuming as it may be, complicated, or absolutely tedious, lead nurturing is definitely worth the investment when you close the deals one by one. Keeping up with your leads, engaging with them at the right time with the right content, and building lasting relationships with them will help your brand become top of mind.
Need help with managing all these new customers you're scoring now that you've started on your SaaS lead nurturing strategy? Try Custify and see how your customer success improves.