Most organizations, particularly startups, are more concerned with making the sale rather than creating a positive post-sale user experience leading to customer success. So don't follow in their footsteps.
A memorable user experience goes beyond fast-loading sites with smooth navigation. Of course, providing this goes without saying, especially if you implement something like a headless commerce solution or similar technical developments. But that's not why users remember your company.
People utilize your service because of the value it offers. They leave if they don't receive it. So what should be one of your company's key goals? Ensure that your consumer obtains the full value of your service quickly or continuously (depending on your SaaS type). And that's where customer success comes into play.
The Basis of Customer Success and Customer Marketing
Customer success is about helping your customers both with the product and more generally. It means providing the utmost value from your product as fast as possible and gaining benefits through the interaction.
The goal of customer success is to surpass clients' expectations. It entails proactive strategies managed using a dedicated tool in finding the best solution to the problem before it even emerges. It's easier to prevent a fire than to deal with it, isn't it?
Customer success marketing focuses on your current customer base rather than prospects. It's role is retention, customer loyalty, growth, and community participation. As a result, you create a strong network of brand evangelists and maintain their commitment. It's also known as customer marketing or retention marketing, and it aims to provide dedicated content and messaging to support the customer success function.
Customer success marketing employs common channels and methods (such as blog content, social media, and email) to engage customers and ensure their continued success.
How to Increase SaaS Retention with Customer Marketing
There are seven commonly-known customer marketing strategies to save and grow your retention:
Networking. We are social creatures and want to avoid loneliness. It means that businesses can prosper when they make us feel like we're part of a community. Launch networking events (online or offline) with open talks or learning sessions. When planning the event, send a list of questions to your customers to figure out the topic or ask if someone wants to speak during the show.
Webinars. Webinars allow you to liven up your dry and wordy written content. Entertain users with product training, tutorials, and updates. You can leap towards a more engaging discussion by conducting ask me anything (AMA) sessions instead of a monologue of a presenter.
Case studies. Put your customer's problems and victories front and center so that others may relate to them. It's also beneficial to prospects to learn about new or unusual ways to use the product.
Educational content (blogs, resources, and newsletters). Leverage content marketing to build customer trust. For example, suggest signing up for your newsletter to get the latest updates. Include relevant blog content and how-tos in your emails to help customers navigate during the onboarding process.
Word-of-mouth recommendations. Real reviews put us in the shoes of others. It affects whether we buy a product or service or not. As a business owner, create referral and review programs and give some perks to satisfied customers when they recommend your business to a friend.
Awards programs. Recognize your customers' accomplishments and work with an awards or loyalty program. It helps to boost retention and engagement, providing additional gains.
Upsell campaigns. When is it the right time for an upsell or cross-sell? And whom should you suggest expanding their check? Collect customer product usage and sentiment data to answer these questions. Customer marketing can help you sell more related items or features when accompanied by supporting collateral and campaigns.
Why Do You Need Customer Success Marketing?
Let's turn to statistics. Studies prove the correlation between customer success and the company's ability to expand. For example, a Hubspot report reveals that successful firms are 21% more likely to focus on customer success than struggling businesses.
And it's not because struggling businesses are tight on the budget. Instead, forward-thinking business owners recognize that client success can set them apart and increase sales. So any SaaS that's serious about customer needs a good customer marketing approach.
The good news is that putting this into practice isn't difficult. This post aims to inspire and provide you with six SaaS customer marketing examples:
Six SaaS Customer Marketing Use Cases
1. Mailchimp 101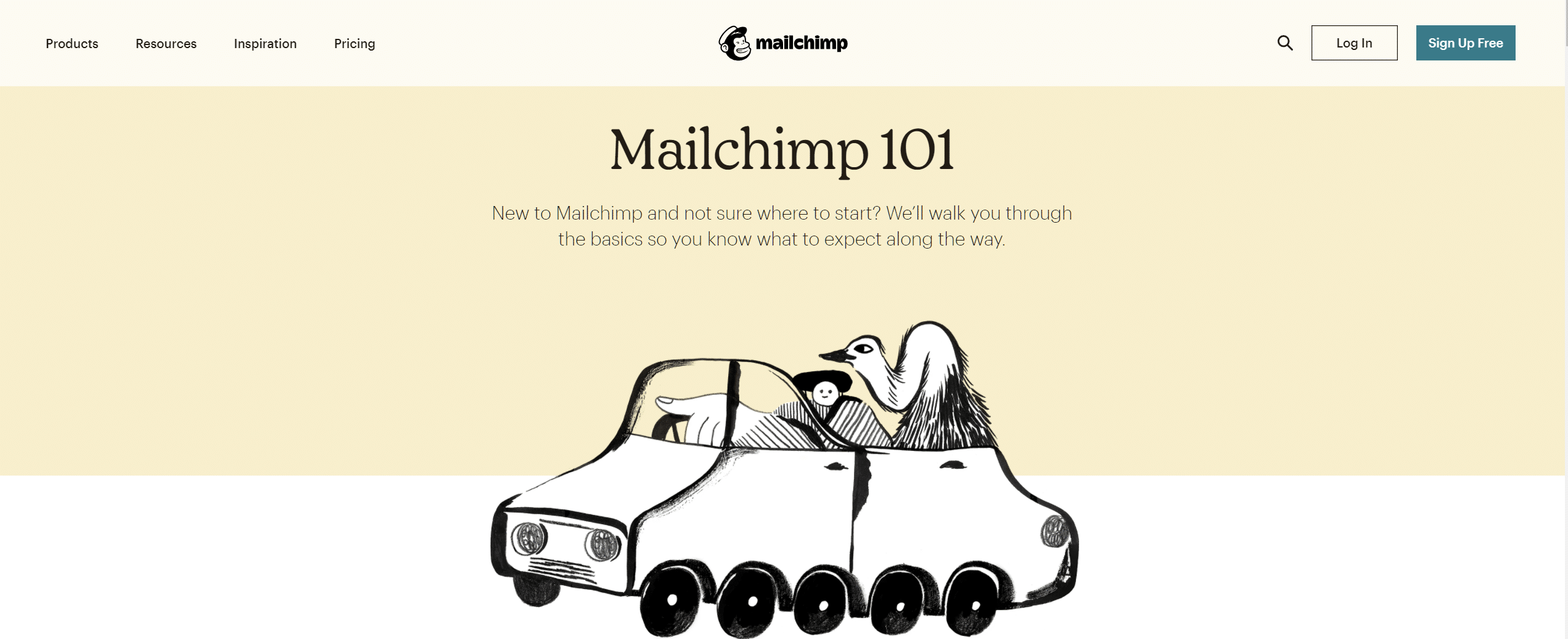 The first example of a SaaS company and how it leverages website content in customer success is Mailchimp. This website assists consumers in learning about all the product possibilities and how to use it to the fullest.
New customers can sign up and start using Mailchimp quickly and easily because it's free. Logically, they'll want to browse through some tips. And this is how Mailchimp 101 helps its customers succeed with the product.
The Mailchimp 101 page guides you through the basics. For example, it breaks down the customer journey from determining the target audience to designing automated campaigns. It's a sort of onboarding that shows the steps new customers take to get up and running with the product.
Where can you spot Mailchimp 101? Open the "Why Mailchimp?" section at the bottom of the page. Then, scroll down to see additional resources. The service is easy to find within the website structure, and that's its principal value.
What if you want to learn more about specific issues? Mailchimp 101 includes links to other help center articles which give you a better insight into email campaigns.
2. Semrush Academy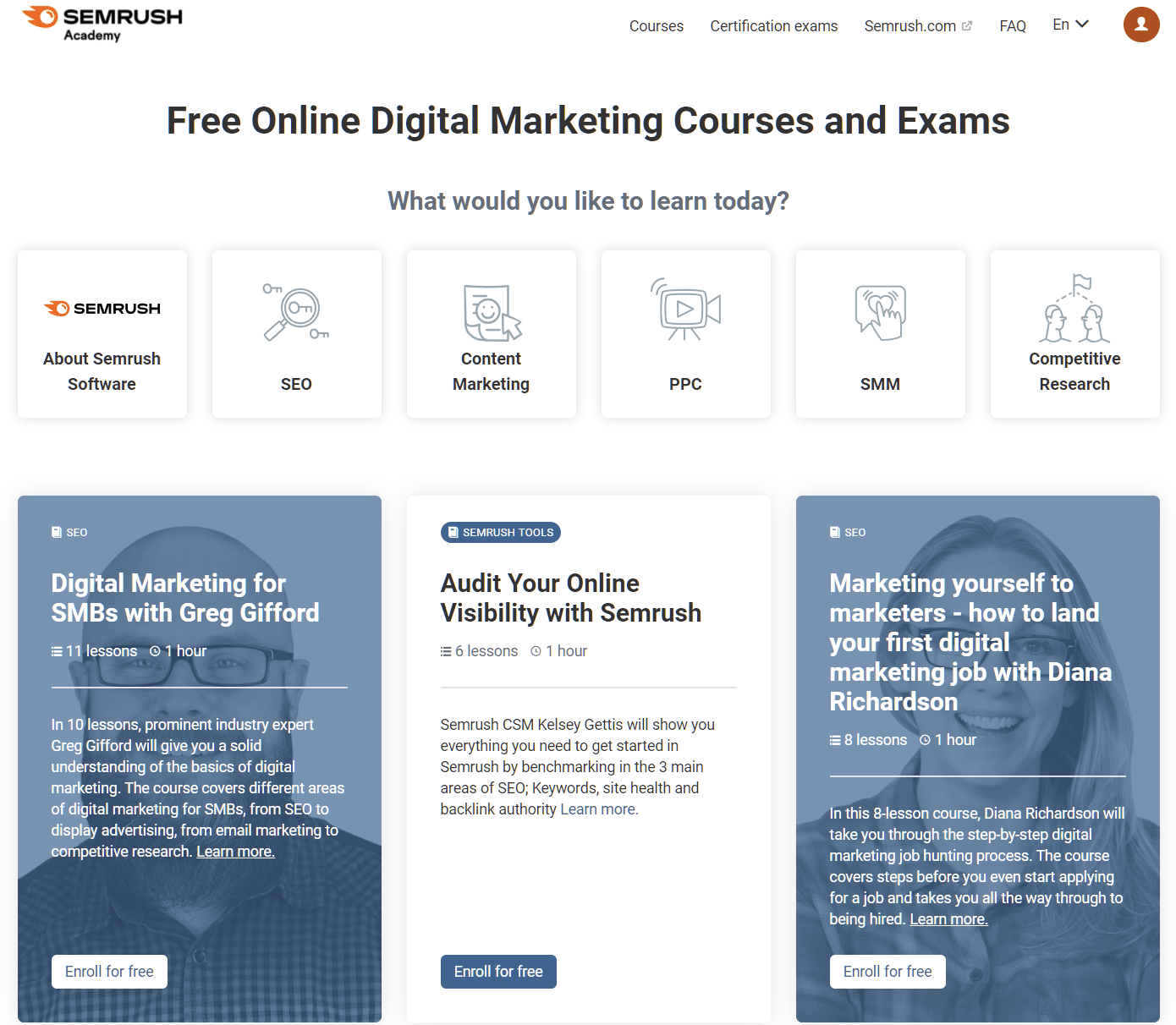 Even if you have a fantastic website, some buyers may doubt your ability to help them. Some prospects may be unaware that your SaaS product can fix their problem.
How can you prove value and gain trust? Educate your potential customers. Give away free helpful information about your sphere, firm, and team. The easiest way is to start with relevant blog posts.
You can add video lessons on how to utilize the product and do interviews with industry experts. They're much better than long blog posts. The issue would be the cost and time to produce it, but it's much worth it in the long run.
Let's look at the SEMrush case. This is a comprehensive platform for marketing. What is Semrush's strategy for customer success marketing? First, it provides dozens of instructional articles and research pieces on its blog.
In addition, this SaaS company features a comprehensive educational platform, SEMrush Academy. A user can choose from various free courses, view video tutorials, and learn how to use Semrush technologies for multiple sorts of SEO, PPC, or SMM campaigns. You can even pass certification exams and receive proof of your dedication and expertise.
Why do I need to educate clients, you ask? Because the service becomes more user-friendly. You remove potential roadblocks consumers may face while utilizing the service. And the result is increased client retention and higher referrals.
3. Emails from Designmodo
Another way a marketing team can help customers succeed is through email marketing. The marketing department may send emails to nurture leads, but do they follow up with clients after signing up for the service? A drip email campaign is an essential nowadays to help you retain users.
This "Back-to-School" email from the Designmodo website and email builder is a splendid example: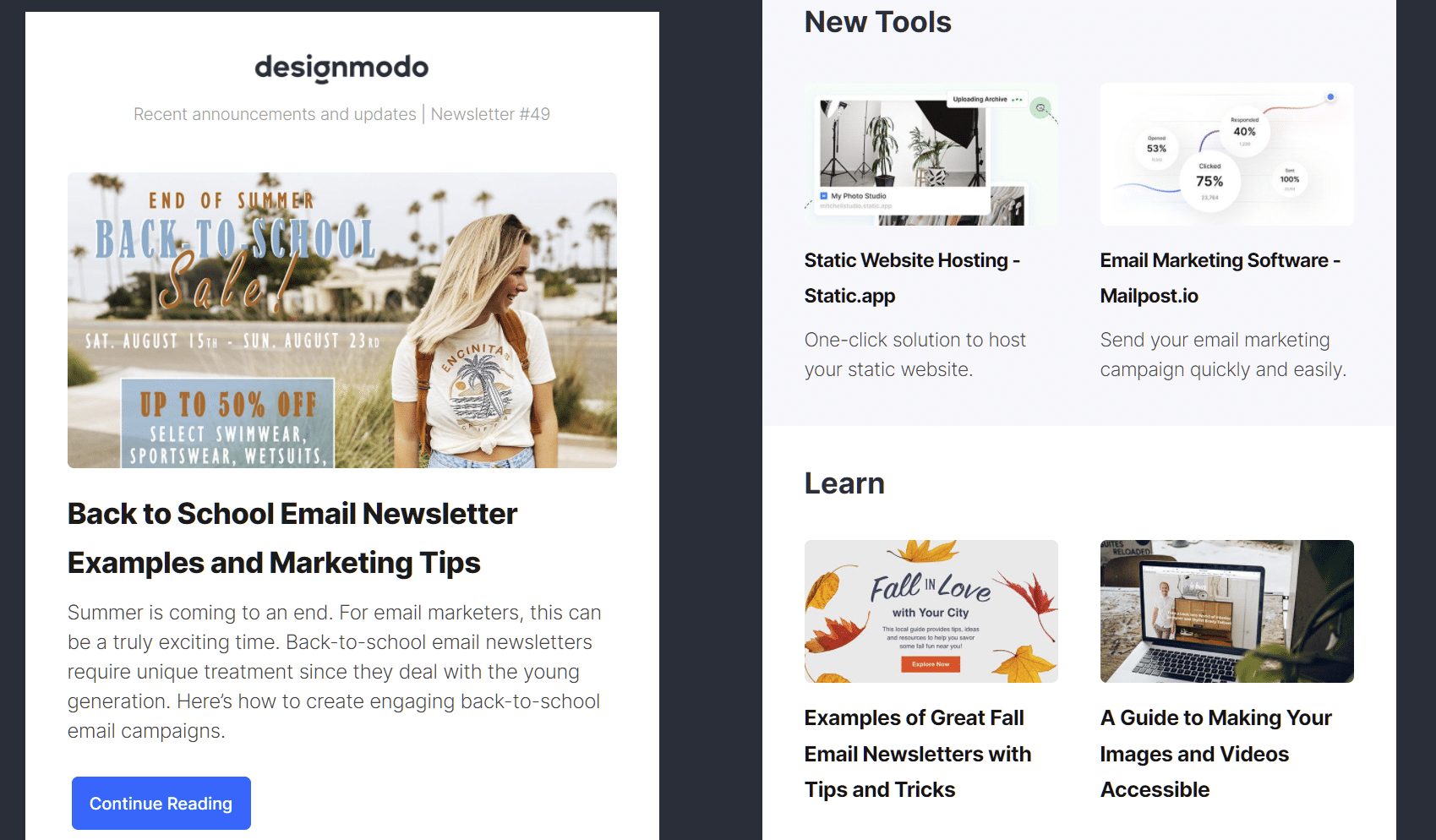 Their newsletter looks like thorough research to me for the following reasons:
Anticipating the end of summer, the company sends a message on creating engaging back-to-school email campaigns aimed at younger generations.
It introduces new tools, such as web hosting and email marketing software. By doing so, Designmodo acts proactively to assist its clients in maximizing the product benefits.
The company links to several blog posts, high-profile customers, and reviews.
The newsletter also tells about specific Designmodo apps, explaining how they can help customers: "animated static website templates," "Bootstrap builder," "create and edit email without any coding skills."
4. Process.st: Team Education
Implementing customer success without employees? Not possible! When forming a CS team, remember that every company employee should follow the chosen path and boost customer satisfaction. A customer service agent or a sales team should provide the same high-quality service in their client interractions.
What can you teach employees? For example, how to be good listeners and establish a connection with clients. Communication with consumers may give you insights into their expectations and the ways to improve the product.
Let's take Process.st, process management software, as an example. The company keeps track of every request about a specific feature or failure coming to the support team. They look at this whole information using a dedicated tool to find and understand the clients' major issues.
It helps Process.st to meet the clients' needs more quickly and effectively. With this knowledge, the product design team can consider various product improvements to their customer success aproach.
While you may think it's obvious, many businesses overlook team education. What does the lack of employee training cause?
staff have no common goal;
lack of a customer-centric mindset;
not enough expertise in the service team to deliver adequate customer service;
customer retention.
5. Airtable Templates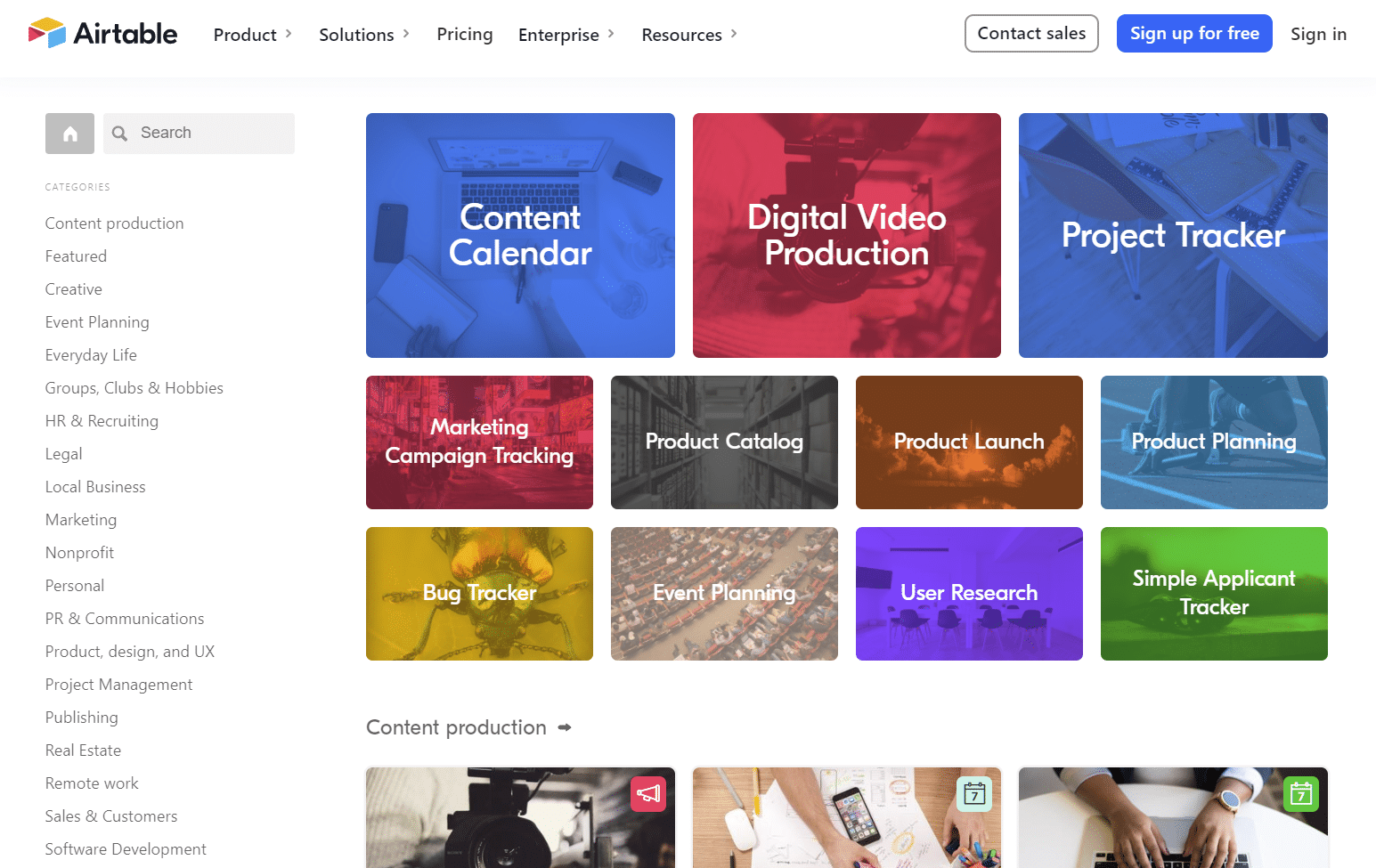 The next point under consideration is Airtable templates.
When you open their page, you see the template categories and a search bar. These groups reflect the most common client needs and use cases, making it simple for customers to identify relevant templates.
Each template has:
a comprehensive description;
an integrated Airtable demo;
instructions on how to use it.
It's a terrific illustration of how website content can tick all the boxes. It benefits both existing customers and prospects. Airtable templates have two distinct advantages:
Customers can easily search the template library and choose templates.
The template subpage is optimized for search. For example, when we type "content calendar template" in the search, this template appears in the SERP. It's effective at attracting new leads and encouraging people to try Airtable.
What conclusions can we draw from this example? It should be made simple for new customers to get started with the service. If you can preset data or get them started with a ready made template, even better. Put example dashboards, templates, or use cases on the website to inspire leads to subscribe.
6. Slack: Upsell and Cross-Sell
Over time, you will develop a devoted customer base. These people contact you frequently and use the services you provide. How can you increase their average subscription check? If you pay attention to such customers and establish a rapport with them, you will most likely understand their demands and needs towards the product.
If you use a dedicated customer success tool, like Custify, you can easily assess how often they utilize your app and whether they're ready to take their engagement to the next level. If yes, there are two options to do it:
Provide a better version of the subscription that will benefit this user.
Show a related product complementing the one your consumer has already purchased.
Here is how Slack offers more functionality when you decide you've outgrown the current version. They specify the most suitable segment for the solution, such as small teams or demanding enterprises.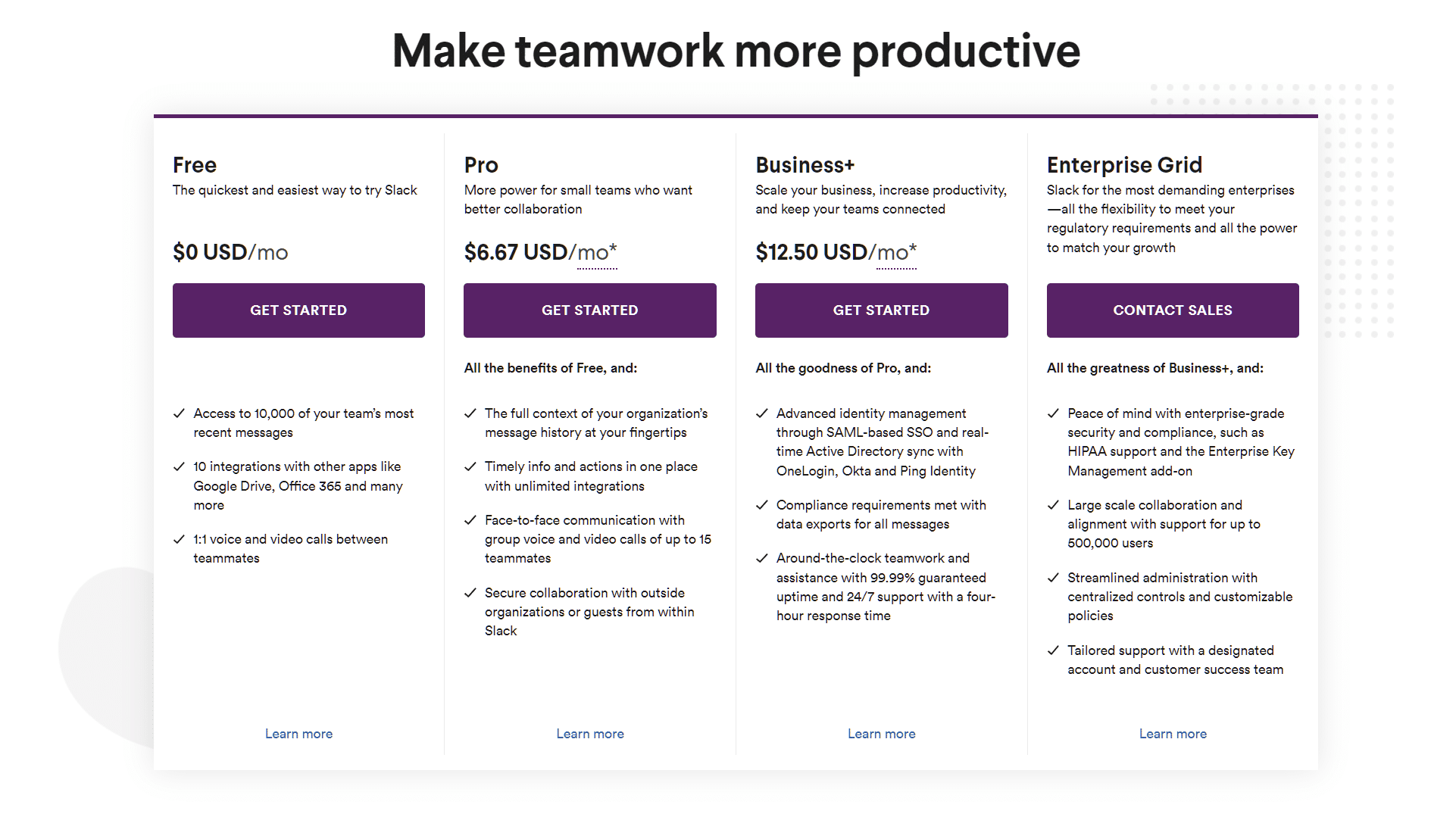 To Sum Up
Why do you need to customer success marketing? Because you need to keep communicating with existing consumers. If you dedicate the entire company to a customer success approach you will:
Maintain client interest in your product and reduce churn.
Assist users to be successful with the product. If clients are satisfied, they're more likely to purchase additional products or recommend you.
Provide an unexpected revenue source. You cut down costs by lowering support requests and by lowering churn. Retaining an existing client is not only five times cheaper than acquiring a new one. You will also be 60-70% more likely to sell a service than a 5-20% chance of selling to an unfamiliar person.
The examples above show that you can leverage website content, team education, and emails as part of your SaaS retention marketing. Do note the methods to cater to your existing consumers are limitless, so it's up to you to find the best fit for your company.