The SaaS industry is booming, and competition is getting fierce. It's predicted that by 2022, SaaS will generate close to $141 billion in revenue. SaaS growth and adoption are increasing at a steady pace as more and more organizations digitalize processes.
Close to 85 percent of small companies have already invested in SaaS products, and small firms of up to 50 employees have seen benefits from using between 25-50 SaaS solutions. Despite the limited IT budget of some startups and SMs, a subscription-based pricing model is a way to satisfy growing IT needs. Then there are enterprises and large corporations as well, despite their size, they're embracing the "Software-as-a-Service" model because it satisfies business needs, providing quick and modern solutions.
As a SaaS owner, one of your goals is to scale your business, which comes from higher expansion, increase in user, and lower churn rate. A marketing automation tool will help you onboard and expand your current client base, as well as let you nurture and convert new ones.
Why Your SaaS Startup Needs Marketing Automation Software
A marketing automation software will help streamline your marketing efforts, making your team more efficient. More and more companies are now investing in marketing automation tools, which means, more companies are going to be working more efficiently, more data-driven in their marketing initiatives, and offer a better SaaS onboarding customer experience – making the competition fiercer.
Here are more benefits you'll get from having a marketing automation software:
Sales and marketing alignment
Accurate data and reporting
Data management
Lead generation
Increased conversion rates
Another benefit is that it boosts your search engine optimization strategy. All-in-one marketing automation software will typically feature SEO alongside CRM, A/B testing, and social media marketing, among others.

What marketing processes can you automate
Email Campaigns. Marketing automation helps you target potential clients in a more personalized manner. A personalized approach increases response rate.
Customer Relationship Management. A feature that will automatically segment clients into more comprehensive segments according to your preference.
Lead Generation. This includes both inbound and outbound initiatives. You can reach out to prospectsor attract them via lead magnets.
Nurturing Leads. You can nurture leads by educating and informing prospects about your product, making them more aware of its value.
Onboarding. You can automate messaging aligned with the user's status. These messages can be welcome messages, tutorials, instructions, and other onboarding related content that will keep clients from churning.
Content Distribution Channel (or Ad Funnel). You can automate the type of content or ad to show the user. For example, if your preferred ad channel is Google, then when a user types a query on Google and they come to your website, their information is automatically added into a retargeting campaign. Then, this retargeting campaign can be an automated ad funnel that can show them different ads. Like for the first five days, you're going to show them a YouTube video, and if they don't engage with that, then a different ad will be shown. It can be seen as a drip campaign for digital ads.
Blog and Social Media Posts. Marketing automation tools can help you schedule months in advance blog and social media posts, which is one of many link building strategies to include in your marketing stack. There are also tools that let you monitor your social media activities in one place, as well as engage with them.
Your process will be faster, easier, and more accurate. Your startup will have a more efficient system of targeting potential customers, capturing leads, nurturing them, assisting trial users, retaining customers, which then reduces churn.
The right marketing automation software makes the whole journey easy and engaging for your users.
Choosing Marketing Automation Software for SaaS Startup
Do you look at pricing models? Do you go with a provider that's open to negotiation? Can the service provide you with reference customers?
Before you think about pricing, consider what the fees and cost of ownership will give you.
1. User Interface (UI)
Next, you have to consider the user interface of the platform. You have to go for an easy-to-use interface so that everyone in the team will have an easy time using it. You can train your employees, but if the platform is too complicated or requires too much time to get used to, it will hinder productivity.
Here are guide questions to help you decide:
Is it easy to navigate?
Are the titles clear? Is it easy to understand from the get-go?
How long did it take you to complete the task? Was the process long and tedious? Or do you think it's easy and doable for all your team members?
2. Features
Every marketing automation software will have their strengths and weaknesses, so be sure to do your research and choose the tool that can give you what you need. List features that are important to you. This way you can easily single out platforms that deliver these tasks in the best way possible.
Features will depend on what marketing tasks you want automated.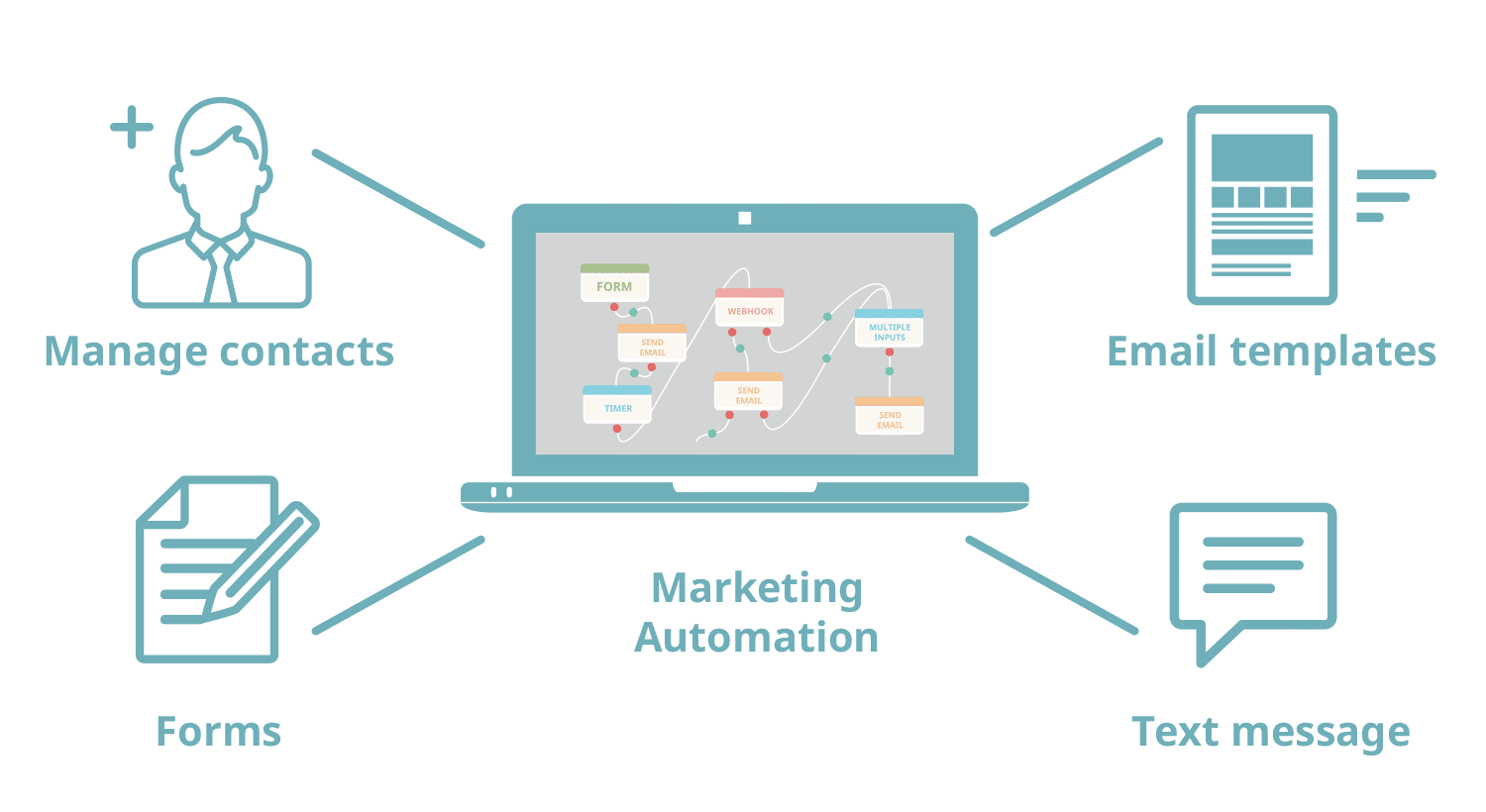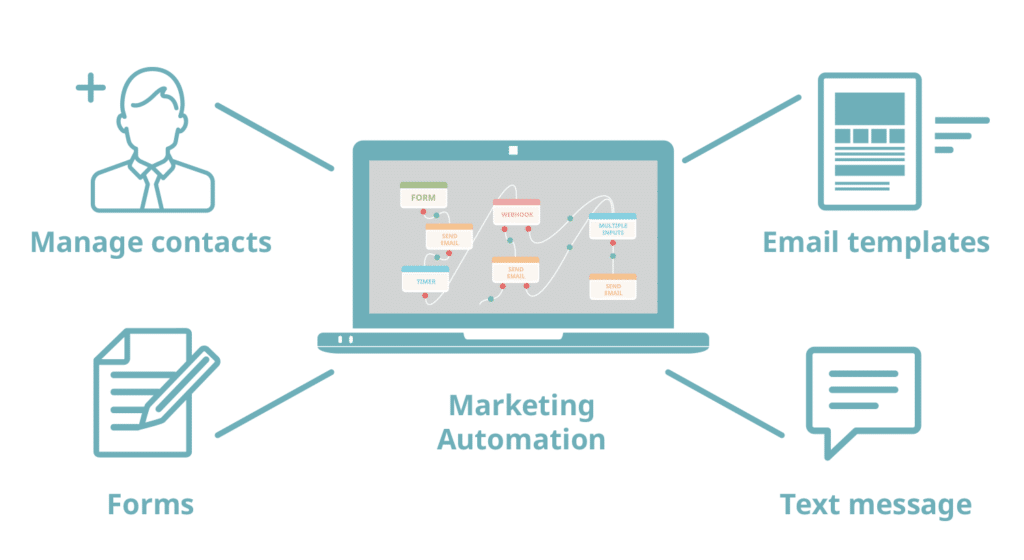 Here are the most popular types of marketing automation features:
Email Automation. This lets you manage email campaigns more efficiently by sending emails based on triggers, cutting a lot of repetitive tasks off your schedule.
An effective email automation software has a well-designed platform with a variety of templates that your team can customize. You can quickly generate creative and dynamic emails with the click of a mouse, no coding skills required. However, if you're into building emails from scratch, these tools also allow you to write the design in HTML.
Email automation tools can automate messages for every part of the journey, from lead generation to on-boarding. Delighting existing customers isn't an exception, as you can automate messages like sending out emails to existing customers' birthdays, to make them remember how much you care. Some email automation tools you can try are Mailchimp and SendGrid.
Landing Page Automation. Landing pages are important to optimize conversion. An automation software helps you build landing pages in minutes without having to code or use HTML.
The tool can also generate a funnel that helps leads in completing a purchase, which will help boost sales. You can track where a user is within the funnel and improve your strategy once you see a better opportunity.
Customer Relationship Management Automation. A CRM is one of the main features most SaaS companies need in their marketing automation software. This will help you collect and aggregate customer information all in one place or dashboard.
You can instantly access needed customer information like phone numbers, addresses, location, and other important data. It can also let you know where a specific lead is in the conversion funnel.
It lets your whole team stay organized as well as stay on top of everything that has to do with your leads and customers. Some recommended tools are HubSpot and Salesforce.
Form Automation Feature. Engaging web forms are important to push visitors to take your intended action. With this feature, your team can generate forms in seconds with a few clicks. Marketers can customize templates that will suit your brand's theme.
There are web form builders that enable third-party program integrations, data analytics, and reporting. This way, you can see how your web forms are doing and apply the necessary adjustments.
Social Media Automation. Social media tends to take a lot of time as you need to spend hours replying to posts, followers, and comments, among other things. A social media automation feature allows you to create more time brainstorming about a better strategy because it frees you from repetitive tasks.
It helps you take care of scheduling and publishing content in all platforms, as well as handle conversation and tracking.
Social media automation feature also includes analytics that tell you how many visitors in your website came from social media.
Marketing Analytics Automation. Analytics and reporting are important aspect of the marketing strategy as it lets you access statistics, data, and results without having to manually sort through resources for them.
This feature lets you monitor all your campaign. This ranges from email marketing, social media, blogs, ads, SEO, and more.
3. Setup and Onboarding
Part of your research is to know how the tool works first hand. You can reach out to a customer support agent, and ask them to walk you through a demo. You can also ask questions like how the setup or onboarding works. Similarly, you can go to sites like YouTube and take a look at reviews or tutorials. If the software is popular enough, there will be user reviews that will show you how to use the platform.
Here are a couple of guide questions to help you decide:
Will someone be there to guide you through the setup and onboarding process, or can you do it by yourself?
Is there a fee? How much is it?
4. Customer Support
Customer support is one of the most important services a software company can provide. You'll want to get the best help in case something goes wrong, or if you have a question. You have to check how well their customer support responds to your queries or issues.
Here are guide questions to help you decide:
What kind of customer support do they offer (email, live chat, or phone)?
How quick do they offer an answer or assistance?
What are their other resources? Do they have a help center or online forum where you can view answers to related issues?
When it comes to customer support, it's nice to have bots that are ready to answer your queries 24/7, however, make sure that you can also have a conversation with an actual human who can help you solve issues in a straightforward manner.
5. Reviews
Looking at reviews will help get an idea of how the software works for different use cases. You'll want to understand how other SaaS businesses use the tool and if it's how you see yourself using it too.
Look for reviews that are outside of the website. You can use YouTube or G2 Marketing Software Comparison to learn more about what people are saying about a particular platform you're interested in.
Here are some things to look for:
What are people saying about the software
Are the reviewers B2B or B2C SaaS companies
How many users or companies are using the platform?
6. Pricing
Pricing differs depending on the software and its features. You'll want to talk to the service provider about their pricing structure. It may even be ideal to go with a service that can provide you with its pricing structure for a certain period since services may differ from your first year to the second year of subscription. This way, you get a better picture of the automation software's cost per year.
Here are some questions to consider:
• What are the features that are influencing the price?
• How many contacts can you save on the platform?
• How fast can your database grow? (This can give you an idea of how much you'll need to pay in the following years)
3 Marketing Automation Tools You May Want to Check Out
For SaaS businesses, you'll want marketing automation tools that are most suited for following-up sign-ups, trials and tracking users' behaviour on your website, and you want them to be easy to setup as well.
Start with the following: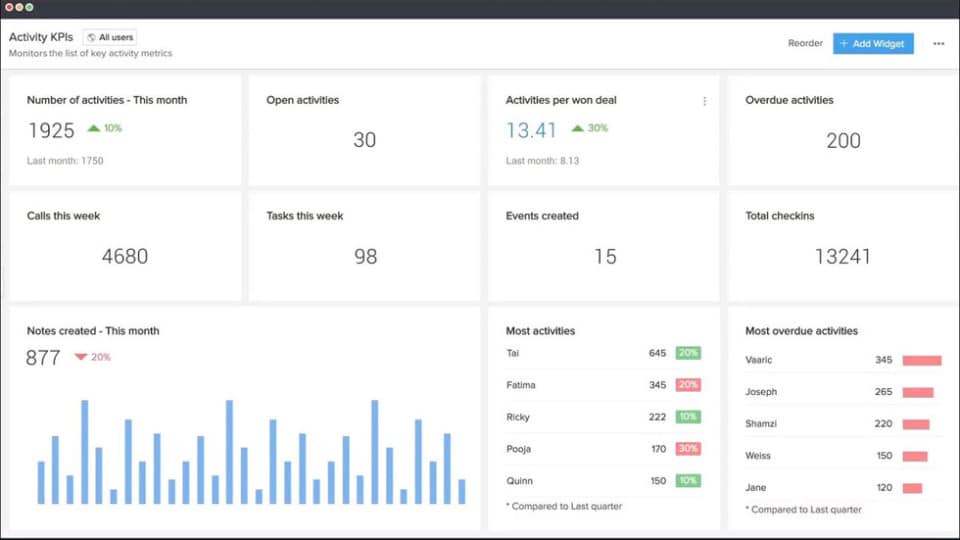 Zoho CRM
Zoho is one of the best marketing automation tools for SaaS businesses because it provides a cloud management platform that can help you manage your clients and keep track of their information. It also has a dedicated place that can update growing business requirements.
Its services highlights lead management, deal management, contact management, and workflow automation. This tool not only makes it easy to capture leads and identify which lead will likely convert, but Zoho also eliminates manual work when it comes to lead scoring and lead follow-ups.
It's easy to understand, so your team can quickly work with it.
Google Analytics
Google analytics is an efficient automation tool for tracking user behaviour and reporting. It gives you accurate data on your website's visitors, where they're from and how they got to a particular page. You can easily identify which marketing channels are working and how users interact with a page once they land there.
Data from Google analytics sharpens and solidifies your B2B SaaS marketing strategy without the need to perform manual and laborious tasks yourself. It can give you all the information you need in just a few clicks, which normally take up to a week to gather.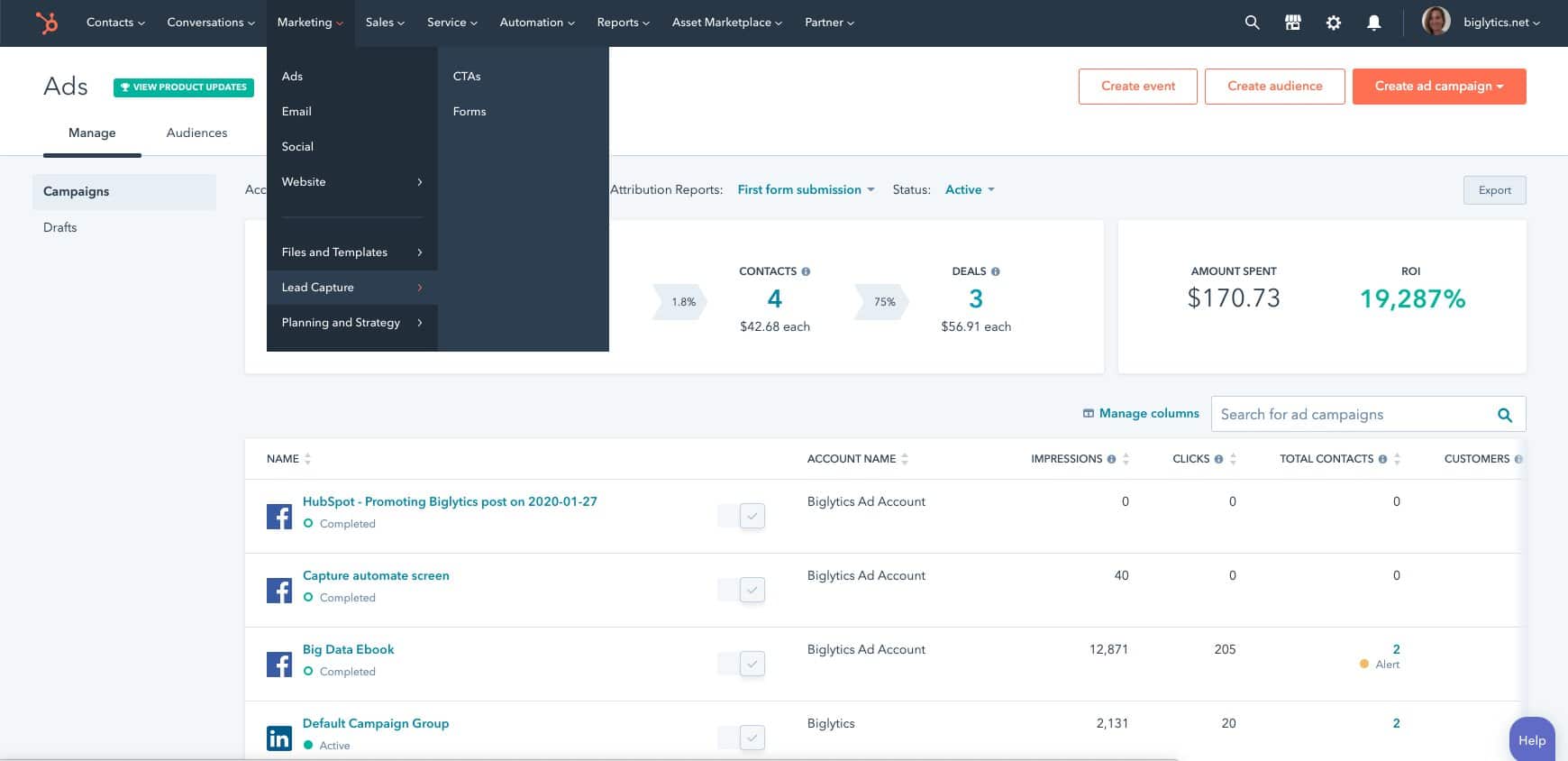 Hubspot
Hubspot is a platform that offers a lot of sales and marketing services. What makes it special is that it already has a plan, which is customizable, for businesses of all sizes.
Tools included in the software are sales and marketing tools, email automation, landing page automation too, ad management, pop-up form automation tool, and more. Although this is a great all-in-one marketing automation tool, be sure about what your specifications are to avoid paying for features you don't need.
Leadsie
Is your SaaS requiring access to your customers' social media, ads or other accounts? Leadsie is an easy-to-use onboarding tool that takes the friction out of getting access to these accounts. Leadsie makes new client onboarding seamless by generating a secure login link for the client, who logs in to the relevant accounts, automatically granting access.
You can use Leadsie to request access to your clients' Facebook pages, Ads, Instagram, Catalogues, and Pixels, Google Analytics, Google Ads, Google Tag Manager, Google Search Console, Google Business (My Business) Profile, TikTok and TikTok Advertising accounts. Clients can also use Leadsie to set up missing assets such as Facebook (Meta) Business Manager.
Leadsie saves thousands of hours for marketing agencies & SaaS each month and has connected over 75k accounts.
Conclusion
Your SaaS startup will encounter far more challenges than a typical startup offering a common product or service. Newer, more creative SaaS products may enter the market and slow down your growth. Customer acquisition rate may be more expensive than you projected. Your support system may not be robust enough to serve customers, increasing churn rate.
Preparation is crucial to getting your startup off to a good start and ready for a competitive but lucrative market. The right marketing automation tool plays a key role in the success of your SaaS business. It's essential to creating your strategy and implementing tactics with ease and to favorable results.
So consider whether it's easy for your marketing team to use; that its features fulfil your goals, from generating and nurturing leads to preventing customer churn; that it's going to put your marketing processes on auto-pilot without the big cost, and help your startup make the most of lucrative opportunities in the SaaS market.