Companies have been implementing Customer Relationship Management strategies to boost product sales for a while now. However, in the case of SaaS businesses, just making sure sales are booming isn't the end of the tale.
Maintaining client interactions and retaining subscribers is the main goal. And using a CRM tool can do wonders for improving your customer success program, especially when you pair it with the right customer success platform for your own business needs.
But let's explore the topic in detail.
The Differences between Customer Relationship Management and Customer Success
Customer Relationship Management Explained
Customer Relationship Management (CRM) combines practices, strategies, and technologies designed to help you manage all your relationships and interactions with your current customers and potential new customers.
A CRM software for agencies compiles all valuable data from customers' lifecycles, such as customers' personal information, purchasing history, buying preferences, and concerns, and documents it all into one single database, for easier reach.
The main goal of CRM software is to drive sales, improve customer relationships, and assist in retention efforts.
Customer Success Explained
Customer Success is a proactive approach focused on helping your customers meet their goals. It consists of developing and building relationships with your customers while assisting them in meeting and surpassing their own business goals by facilitating the successful implementation of your services or products in each customer's case.
The main goal of a customer success tool is to foster positive customer relationships, thus ensuring your customers stick with your service and renew.
Main Differences Between The Two Tools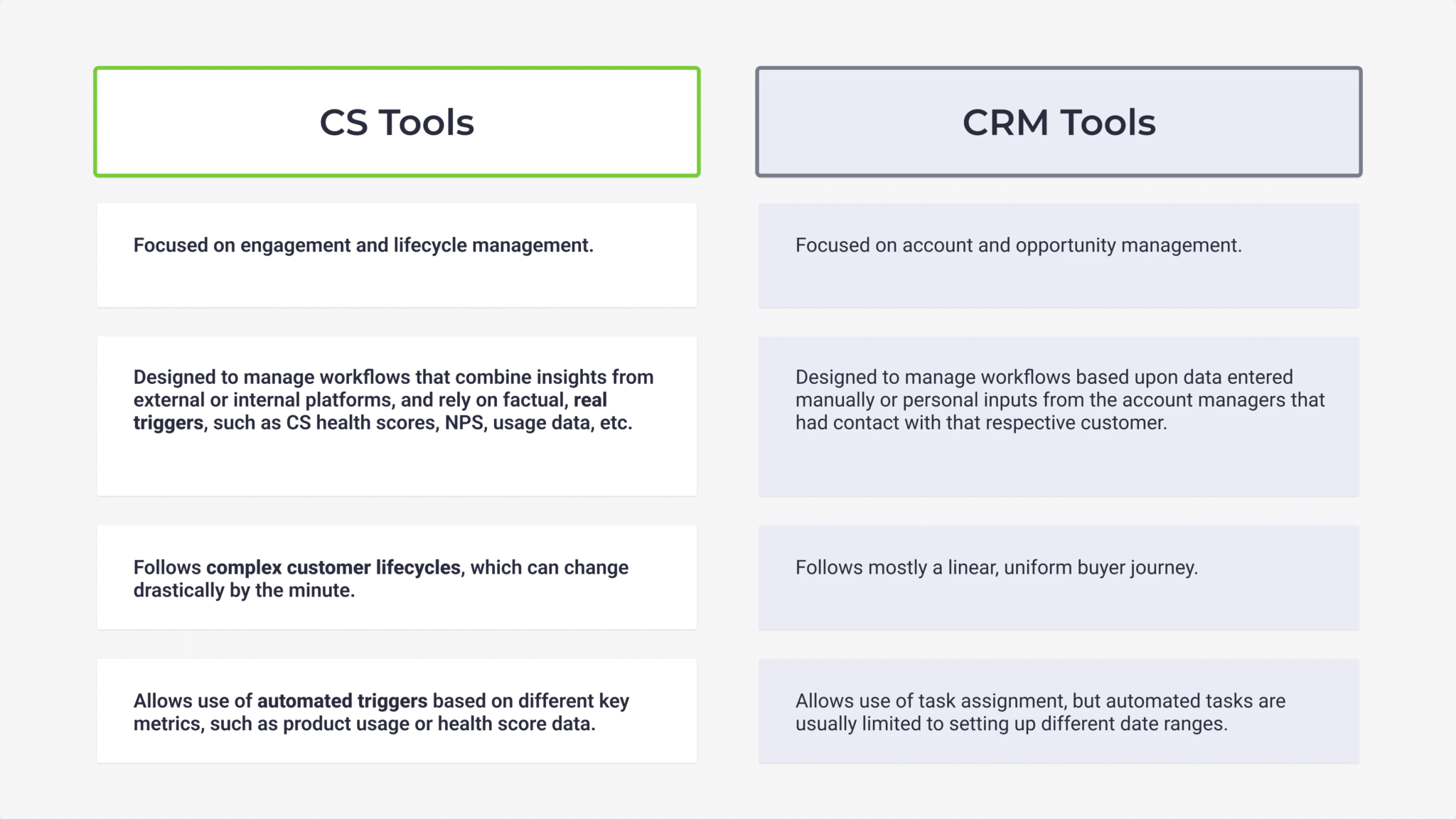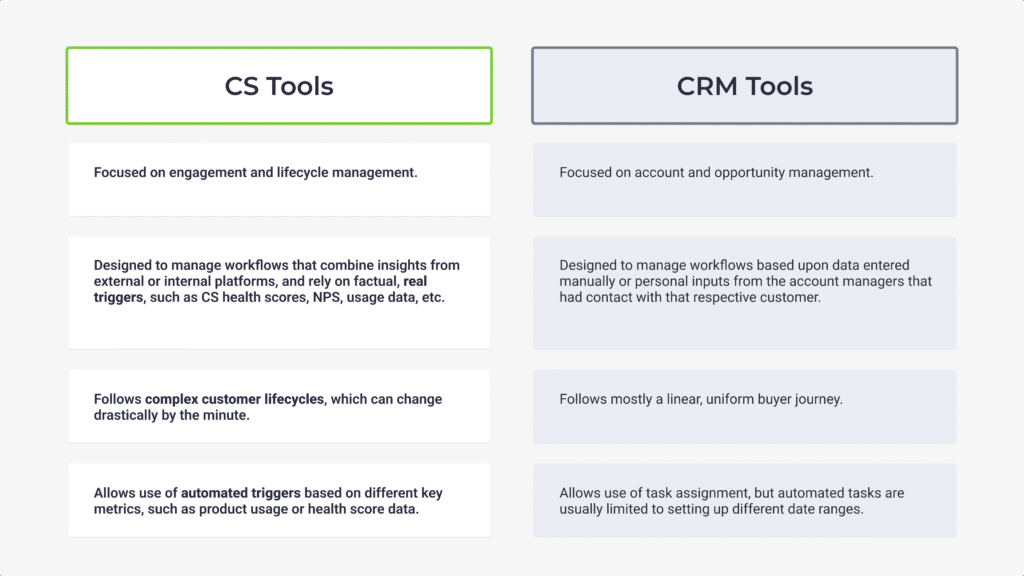 On the one hand, a CRM tool provides a great overview of your sales process, but it doesn't help you view the entire customer relationship. You can't get a complete picture of a customer's health using only a CRM, since you can't observe other key metrics, such as the customer's product usage, login data, or overall product sentiment. A CRM system also doesn't allow you to assign tasks or workflow activity across teams.
On the other hand, customer success software can provide you with a more comprehensive view of your customers, by compiling data from multiple sources, and storing it in one single dashboard. It helps you get a clearer picture of your customer database, understand their objectives and how they interact with your product, and take instant action based on that information.
Given the distinct differences between the two, it's clear that both tools have their own respective benefits to a customer-centric approach to your business.
Combining these two tools, you'll gain the necessary insights to become more proactive when it comes to customer success.
But, seeing how the tools are more effective in combination, you may ask yourself if having both software solutions running at the same time is truly necessary.
Can You Use a CRM as a Customer Success Solution?
Suppose you're running a small or medium-sized company, and you find yourself limited financially to choose between a CRM or CS platform. In that case, you may end up using a CRM instead of a customer success solution.
Sometimes, that may work. Sometimes, not so much.
When Is It Not Mandatory to Use a CS Solution?
When you don't want to have a medium/high touch approach with your customers: you can get away with only a CRM solution if you have a low/tech touch approach with your customers and combine your CRM with marketing automation tools like Customer.io, Intercom, Drift, etc.
When Revenue Retention Growth is not a priority for your business and you are not trying to build meaningful relationships with your customers (for example, if you have a self-serve approach focused on growth coming from new business).
When you don't have a dedicated, proactive CS team, only a reactive support/renewals team that takes care of customers.
When Is It Crucial to Use a CS Solution?
When you want to change the way you approach your customers: you should consider using a CS solution when you want to get more involved and be a real partner for your customers and assist them at every step in their journey.
When you want to focus on customer growth: if you want to transition from a self-serve approach to a custom approach (medium – high touch).
When you're planning to hire a dedicated CS team: CS platforms provide the workflows and automation tools that your customer success team needs in order to succeed, without the need to increase headcount anytime soon.
When you feel like you need to boost your CRM insights: a CS solution can help you make correlations at an account level and combine metrics from different sources.
When you've identified onboarding as an issue but can't, quickly and easily, identify where exactly the problem is within the onboarding process.
Why CRMs Aren't Optimal for Customer Success
1.CRMs are either an immense expense or provide limited quantitative data about logins, feature usage, feature adoption.
CRMs are great at retrieving customer data, but replicating basic processes and workflows becomes a struggle.
Suppose you plan on using CRM software for your customer success efforts. In that case, the tool will require constant custom software development for most CS necessary workflows, easily becoming a huge expense in time.
While CRMs can efficiently display customer information, they lack the data analysis capabilities needed to provide actionable insights for your CS teams, such as product usage, new features adoption rate, etc.
Even if you devise a workaround, you'll need constant software intervention to keep the processes running smoothly. In time, you'll end up becoming dependent on your IT or Operations teams to keep your Customer Success teams on track.
2. A CRM is a sales tool, therefore, within an organization, the CS team will always be competing with Sales for updates or modifications to the tool.
The CRM tool's purpose is to provide high data quality and integrity to drive sales. However, this becomes insufficient in the case of your Customer Success team.
Sales teams depend on their CRMs for valuable customer insights to create efficient sales pipelines.
CS platforms help you manage, automate, and scale your workflows at every stage of the client lifecycle. And automating these operations has a significant impact on overall efficiency.
But when it comes to deciding where to invest next within the organization, CS will most likely lose that internal resource allocation if it competes with Sales for updates or modifications to the CRM tool.
3. Most CRMs lack proactive or measurable onboarding and the necessary data analysis capabilities to provide valuable insights that drive "aha" moments for your customers.
User onboarding is crucial to improve the overall success of your product. It increases activation, conversion, and retention while eliminating churn and it plays a major role in customer success.
Investing in new customers is 5 to 25 times more expensive than retaining existing ones.
Most CRMs lack the necessary data analysis capabilities needed to measure the onboarding process.
While they might include some steps the customers need to follow, CRMs won't provide insights into whether the users actually follow those steps. Or, if they do, it's mostly very limited knowledge, according to the CRM tool capabilities (e.g. the customer ticked a box).
When you use a CRM for your Customer Success team, you increase the need for manual retrieval, updates, and analysis. This prevents your team from focusing on providing an exceptional customer experience for your users.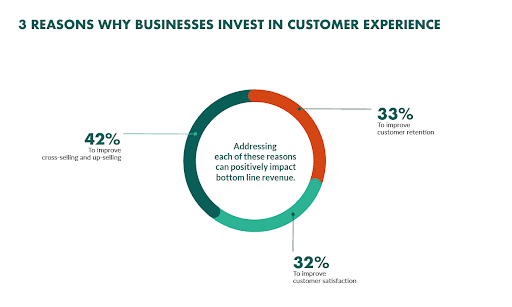 The Argument for a Dedicated Customer Success Solution
A Customer Relationship Management system focuses solely on the transactional stages of your customer relationships. It comes with its visible advantages, but it lacks the functionality that a SaaS company needs to thrive in the long run.
If you want to successfully convince a CS Director that it is time to move from a CRM like Hubspot to a CS solution like Custify, you have to first evaluate the internal customer success processes. Find out how they do customer deep dives, how much time it takes, how long it takes to report on new customer trends, how hard it is to add new tracking for new features within their product.
Based on those findings, you can start building your case:
If they want to build a more proactive customer approach, then they need a tool that proactively alerts them and their team, based on factual triggers.
If they want to move beyond a pure sales-driven approach and become a customer-focused CS team, then a dedicated Customer Success tool might make sense.
Are they up for constant negotiations within the organization's sales or marketing departments whenever a new change in the CRM tool is needed? If not, then maybe it's time to move to a CS platform.
Are they hitting renewals/anti-churn/expansion revenue targets? Then maybe it's the tool that's slowing the team down.
A Customer Success Platform focuses on the complete customer relationship, from pre-sales to post-sales. It gives your users more reasons to return and to stay. This is exactly why a Customer Success Platform makes sense for any SaaS business.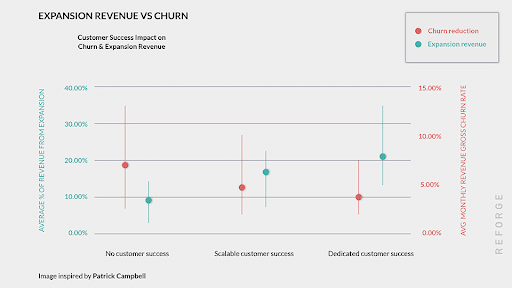 Complete Synergy: Customer Relationship Success
Undoubtedly, the success of a company is tied to the success of its customers.
A customer will only keep coming back to you instead of turning to a competitor if your product/service can help them grow and match their needs and goals.
There are lots of tools readily available on the market that can assist you in capturing, converting, and retaining customers. Customer relationship management software is powerful when it comes to converting leads into sales. But when it comes to retaining those customers and transforming them into loyal advocates, you'll need a more robust solution. A customer success platform is the right solution for efficiently managing the customer lifecycle and building meaningful relationships.
Custify helps you do just that, and much more. Custify integrates with most CRMs either through dedicated integrations or through Zapier. Ready to enhance customer experience and increase the overall success rate of your SaaS business? Let's talk.