If you've arrived here, you probably know how important Customer Success is for B2B SaaS businesses. Well, actually, for any business, really. So there's no need to insist on the benefits of implementing CS into your organization.
Instead, this article will showcase why you need Customer Success software.
You see, when it comes to Customer Success, you're only as good as the tools you use. If you're not using the right tools, then there's definitely room for improvement. Here are 8 reasons why Customer Success software makes a CSMs job easier:
1. You'll Reduce Churn Exponentially
There are 2 types of churn SaaS companies need to address: voluntary churn and involuntary churn.
Voluntary churn is usually caused by onboarding problems, wrong customer fit, poor product quality, poor or no customer support, etc. Involuntary churn is caused by expired cards, hard declines after fraud attempts (if the card details have been stolen before), soft declines after credit limit maxes, out-of-date billing information, charges not flagged as recurring, etc.
No matter what causes your customers to churn, a Customer Success platform can help you reduce that number. In fact, because involuntary churn is completely avoidable, this means you can lower your churn rate by up to 40% without too much effort, just by having the right tools that can notify you.
Another example: most of the churn SaaS businesses experience happens before the "a-ha moment." You can easily fix this by tracking every step in your onboarding process and defining goals your customers should achieve to complete the onboarding successfully. This is something you can easily do with Customer Success software.
Just by addressing these two issues, you'll have eliminated a big chunk of your churn. For more tips, check out our Ultimate Guide to Reducing Churn.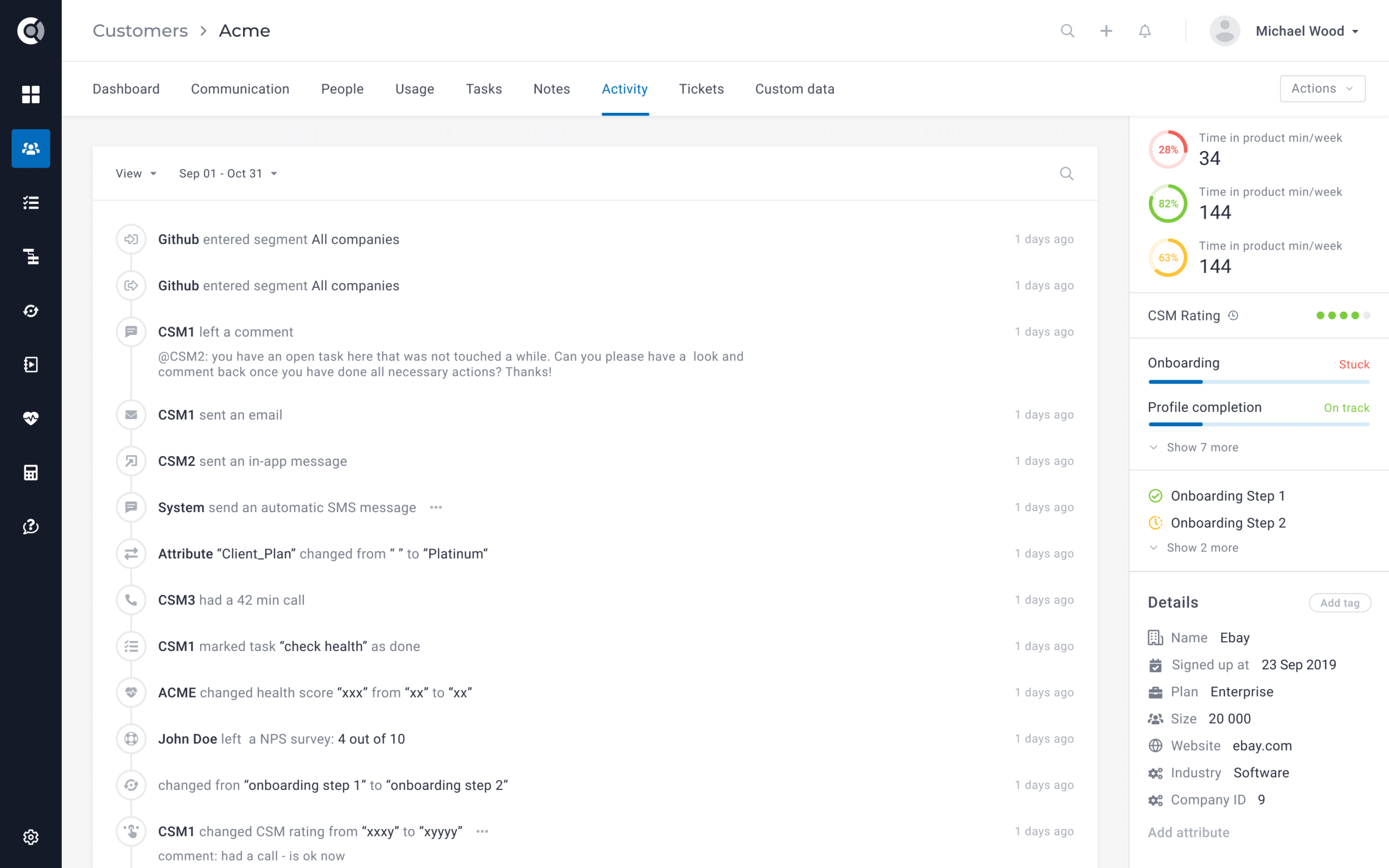 2. You Will Understand Your Customers and How They Use Your App
Customer Success, by definition, is proactive – you're reaching out to your customers to solve a problem they didn't even realize they had yet. But it's hard to do so when you have to look over numerous spreadsheets and dashboards to get an overview of each customer.
Customer Success software can help you with that by unifying all your data sources into one single dashboard. This way, you can stop wasting time gathering data and focus on reaching out and helping your customers instead.
Setting up Health Scores is particularly useful in this case. Because they're tied to the value your product provides, they don't just offer you an overview of each account's health but also provide you with actionable insights on how your customers are using your product. This, in turn, will help you better understand customer lifecycles and ensure product adoption.
3. You Can Simplify Proactive Outreach
Knowing exactly how your customers use your product (thanks to Health Scores), where they get stuck, and when they need your help has a significant positive impact on your outreach efforts; that's because, this way, you can hyper-personalize your messages.
Instead of asking them 'How are things going? Do you like our product?', you can see which features they use and which not and reach out with a solution: 'Hey, I saw that you're not using feature X, and I think you're missing out on something awesome. Here's a tutorial that will help you get set up in just a few minutes.'
Moreover, you can send automated messages based on their in-product behavior. Customer Success software lets you set up custom triggers and alerts and automate some of the CSMs' tasks, so you're always reaching out exactly when your customer needs you.
Proactive outreach goes a long way towards ensuring your customers have a great experience, and this, in turn, helps increase loyalty and long-term value and lower turnover costs.
4. You Find and Act on Upsell & Cross-sell Opportunities
Customer Success software doesn't just help you identify and address behavior that leads to churn; it can also help you identify upsell and cross-sell opportunities.
For example, for customers who are using your free trial, you'll get notified when their trial is about to expire, so you can contact them right away and increase your trial-to-paid conversion rate.
For paying customers, you'll get a notification when they get close to 100% license utilization, and they're ready for an upsell. This way, you don't need to spend a lot of money on marketing and sales – you can grow your revenue just by targeting your existing clients at the right time.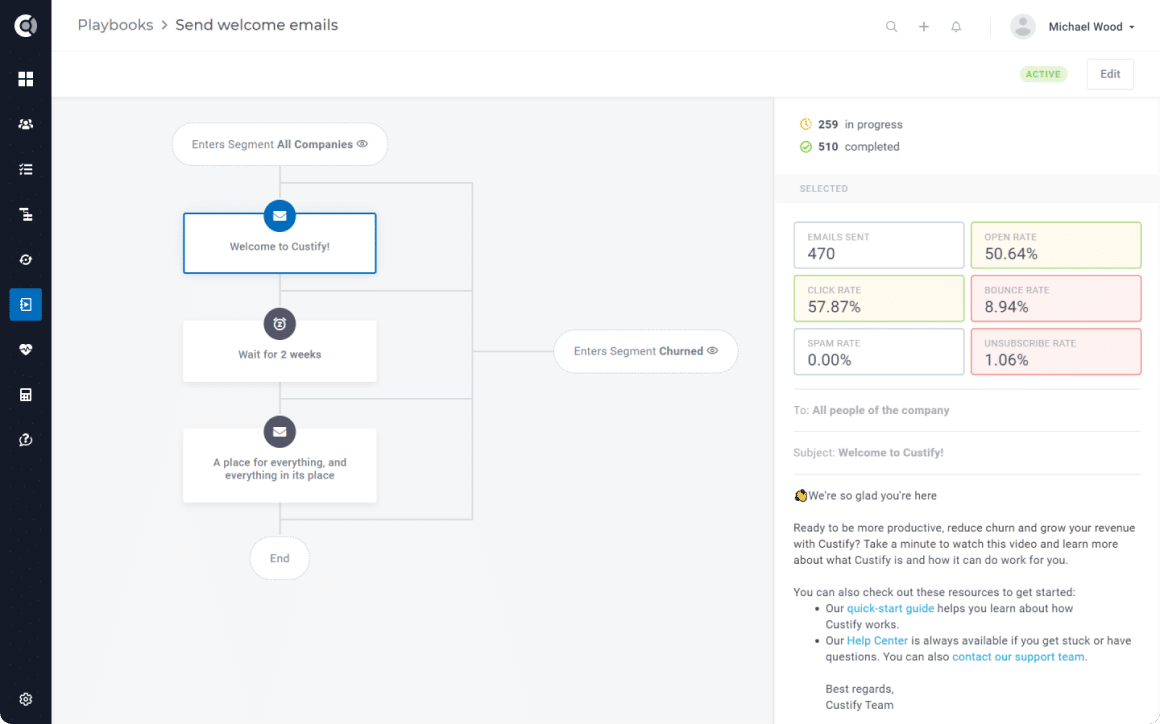 5. You Can Automate Your Tasks for Maximum Efficiency
Automation drives proactive, personalized engagement that leads to a more consistent experience and ultimately increases renewals and reduces costs.
Customer Success tools enable you to automate tasks like:
assigning accounts to team members (for example, problematic customers to more experienced CSMs)
sending messages to customers with low engagement
getting notifications if certain Health Scores drop under a defined value
creating tasks for CSMs to proactively get in touch
identifying upsell and cross-sell opportunities
filtering for very healthy customers that are good candidates for referrals, case studies, or testimonials, etc.
The sky's the limit when it comes to automation possibilities, and you'll definitely see a significant positive impact on how your team operates.
6. Improve User Onboarding and Customer Retention
For most SaaS businesses, the bulk of their churn happens in the first 90 days after signing up, so the onboarding period is crucial, and your main goal should be providing early value. Again, this is an area where Health Scores and automation can help most.
By using a lifecycle setup along with Health Scores and custom alerts to monitor your users' path through your app, you can adapt automated tasks based on bottlenecks, set up alerts when users get stuck so a CSM can intervene, etc. The faster your customers realize the value your product provides, the more unlikely it is for them to churn.
Better understanding your customers' journey will also enable you to grasp your overall portfolio health. You'll see which customer needs you're not satisfying so you can change your product accordingly and improve customer retention and customer acquisition over time.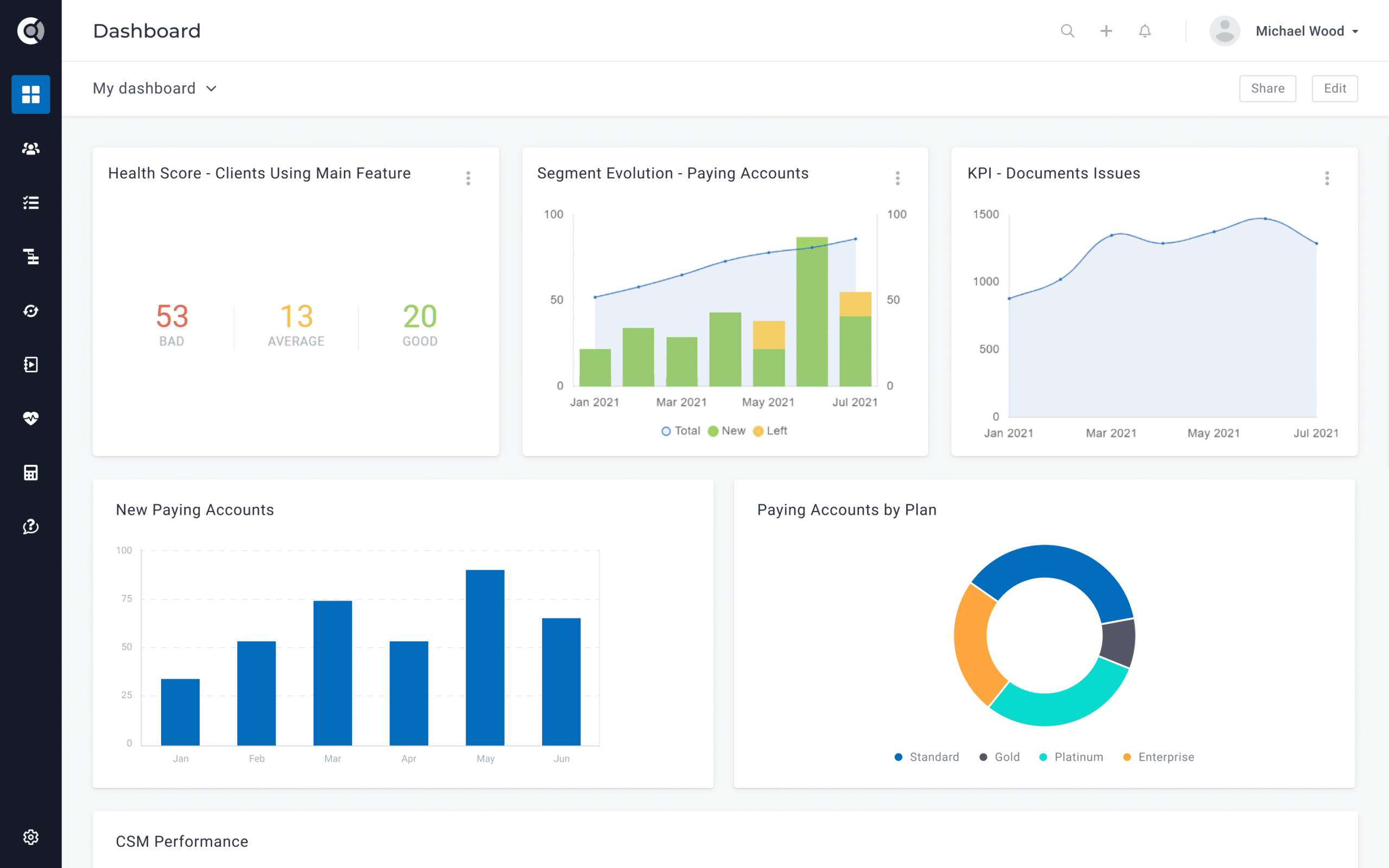 7. You Get Powerful and Customized Reporting Tools
Probably the pinnacle of customer success software, customized dashboards and reports enable you to focus on the KPIs that matter most to your business.
Similar to automation, there's no end to the customization possibilities for reports. For example, you can segment your customers depending on the lifecycle stage they're currently at (acquisition, onboarding, retention, upselling), based on different characteristics (heavy usage, promoters), or by industry and have different reports and track different KPIs for each. This will enable you to also personalize your approach for each type of customer.
8. You Promote a Customer Success Mentality Throughout Your Business
Last but definitely not least, using success software ensures that all your team members are on the same page because they all have access to the same CS data and insights. This promotes a more holistic approach to customer success and ensures everyone has the same goals. As for your customers, you'll help them achieve their goals in a more streamlined and structured manner.
Paving the Road to Success… Together
So now that you have an overview of all the ways Customer Success software can help you, why not start with Custify? Our CS platform is specifically tailored for B2B SaaS businesses and can help you achieve everything we've mentioned.
But wait, there's more! With Custify, you don't just get a CS tool, but also our whole team.
Throughout your first weeks with us, we'll use our years of experience to help you get the most out of our product. We know every customer is different. So we make sure you always see the full picture, whether that means problems with the product, during onboarding, or with your CS team.
Ready to upgrade your Customer Success strategy? Get a quick demo from our team.