Customer experience (CX) and User experience (UX) are two marketing terms often used interchangeably in the business world. While both of them might seem like the same thing, they are actually very different.
And as a business owner or marketing expert looking to scale your ROI, it's very important that you understand what each of them means and how their differences can make or break your brand.
Let's do a quick review of both below.
What Is User Experience?
User experience – preferably called UX – is a term or index that measures how satisfied users are with your product. UX holistically focuses on the interactions between users and your products. Pivotal in honing your brand's objectives and bolstering customer loyalty, UX is the linchpin that boosts conversion rates and is indispensable in software development.
When it comes to measuring UX, Google's HEART Framework is a beacon for product teams, distilling UX into five key metrics: Happiness, Engagement, Adoption, Retention, and Task Success.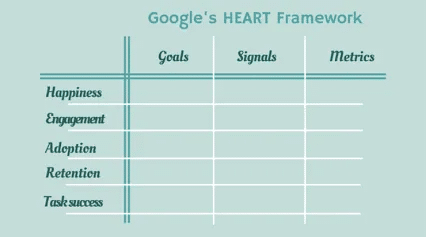 Source: Google Inc.
For instance, your customers come in touch with your website every day. Now imagine if this website has a very long loading time or slow loading speed. That's a red flag almost nobody will tolerate.
Similar scenario is if your e-commerce or SaaS website has an outdated interface. Both situations can affect user experience and ultimately lead to increased bounce rate.
Let's take a look at Hubspot's CRM software. This platform is designed to be easily used, efficient at the task it was created for, and aesthetically appealing to Hubspot's customers. So if users find it rather difficult to use, probably because of too many navigation bars and complex layouts, that can negatively impact their experience with the software.
The result? Increased drop in software subscriptions, less adoption of Hubspot's product, and a nosediving ROI.
When trying to improve your UX, you need to examine every touchpoint of interaction between users and your product. Then analyze what areas could contribute to a bad experience.
What Is Customer Experience (CX)?
While user experience only focuses on a customer's interaction with your product, customer experience actually summarizes all the interactions your customer has with your brand. This includes the UX itself and other brand interactions.
CX embodies a customer's entire journey with a brand, from first impressions to repeat purchases. It's an amalgamation of countless micro-experiences, operating on the simple logic that happy customers equal loyal patrons. CX encapsulates everything contributing to a positive rapport with a brand and revolves around customers' emotions and perceptions of a business.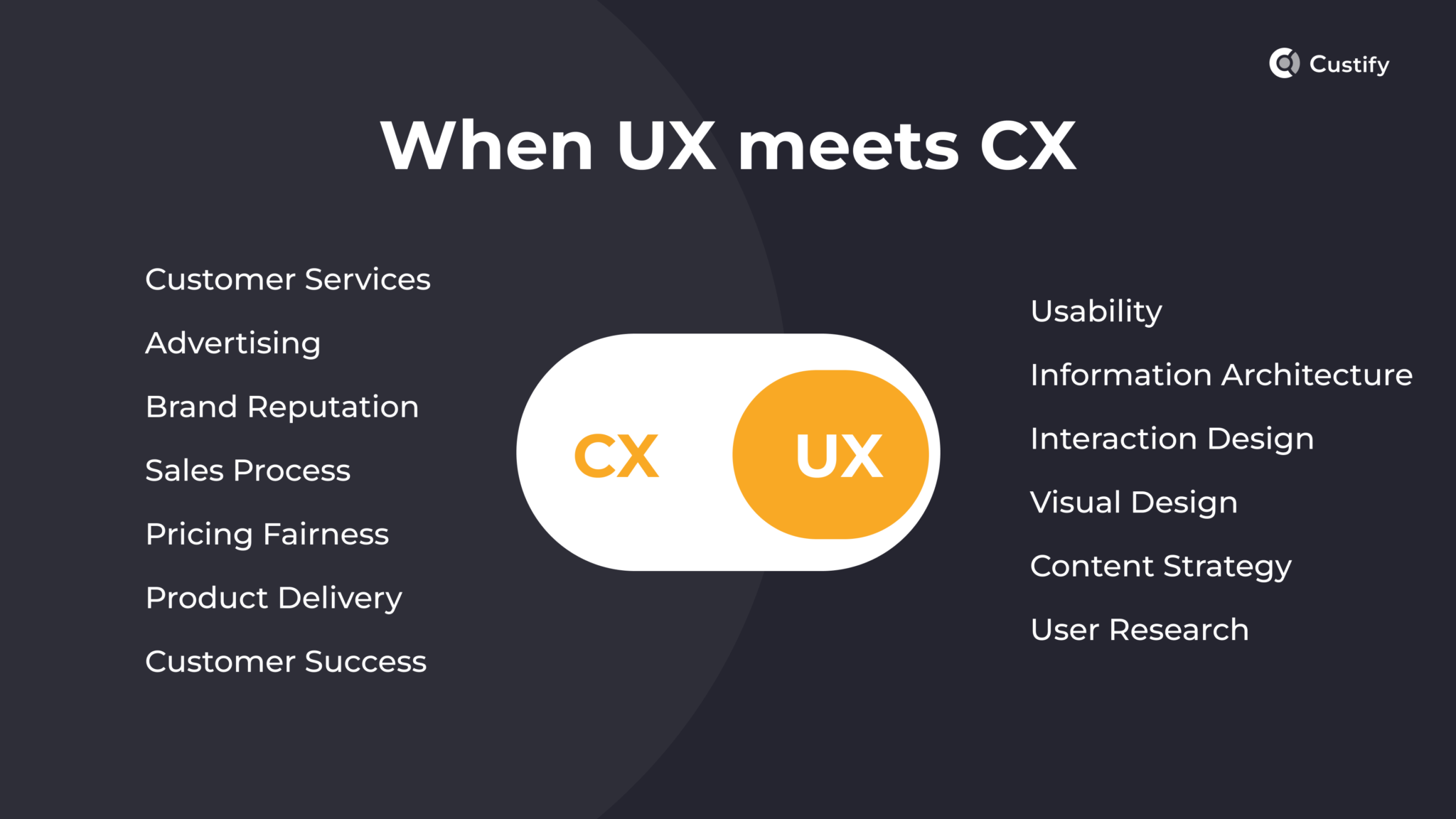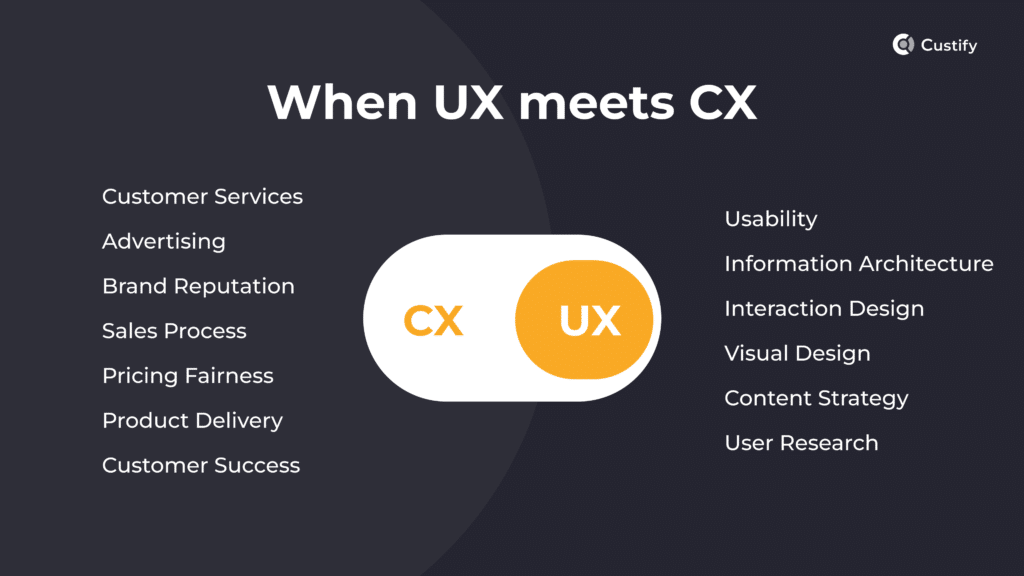 For instance, you decided to visit a reputable coffee shop that's known for serving the best coffee in the city. The moment you walked in, there was virtually no assistant or guide to welcome you.
You got to the Barista's desk, and he only took a glance at you before continuing whatever he was doing before. After that, you made your order only to have the coffee spill on the table when the Barista was trying to decorate it with steamed milk. And while walking out in anger, you received no new coffee or proper apology for the terrible service.
Now that's a very unpleasant customer experience.
While this coffee shop may offer the best coffee in the city, they actually have the worst customer experience. Good UX, bad CX.
Imagine another scenario. You ordered something online from a store only to get the absolute opposite of your order. You dial customer support, and they apologize while also promising to sort the mistake immediately. They kept to their word but also gave you a discount or coupon code as compensation.
What happened there is that mixing up your order has already created a bad customer experience even if they fix the mistake. And that might influence your decision to patronize the same store again. But the compensation was given to nullify your disgruntlement and ensure you come back. Bad UX, good CX.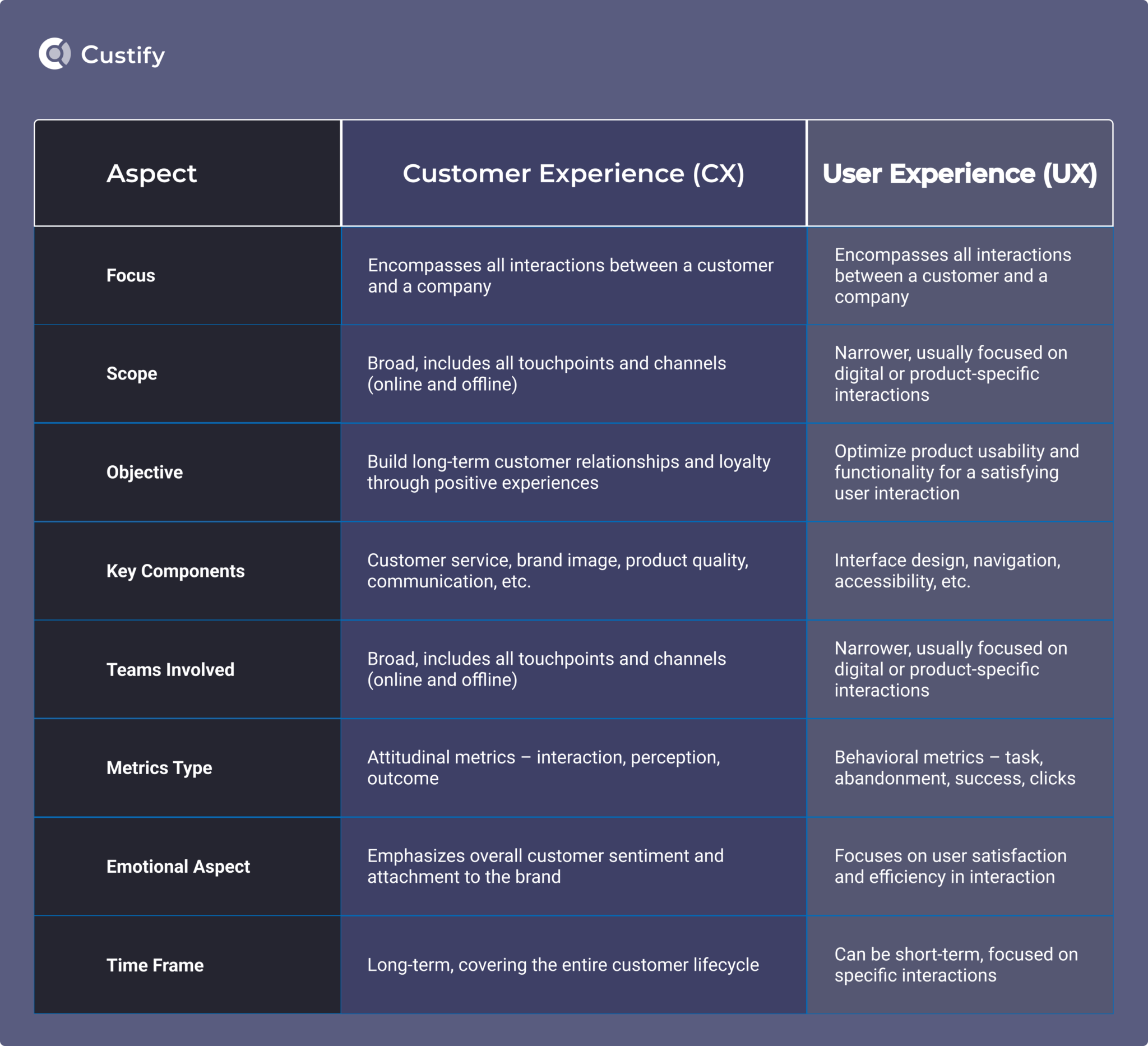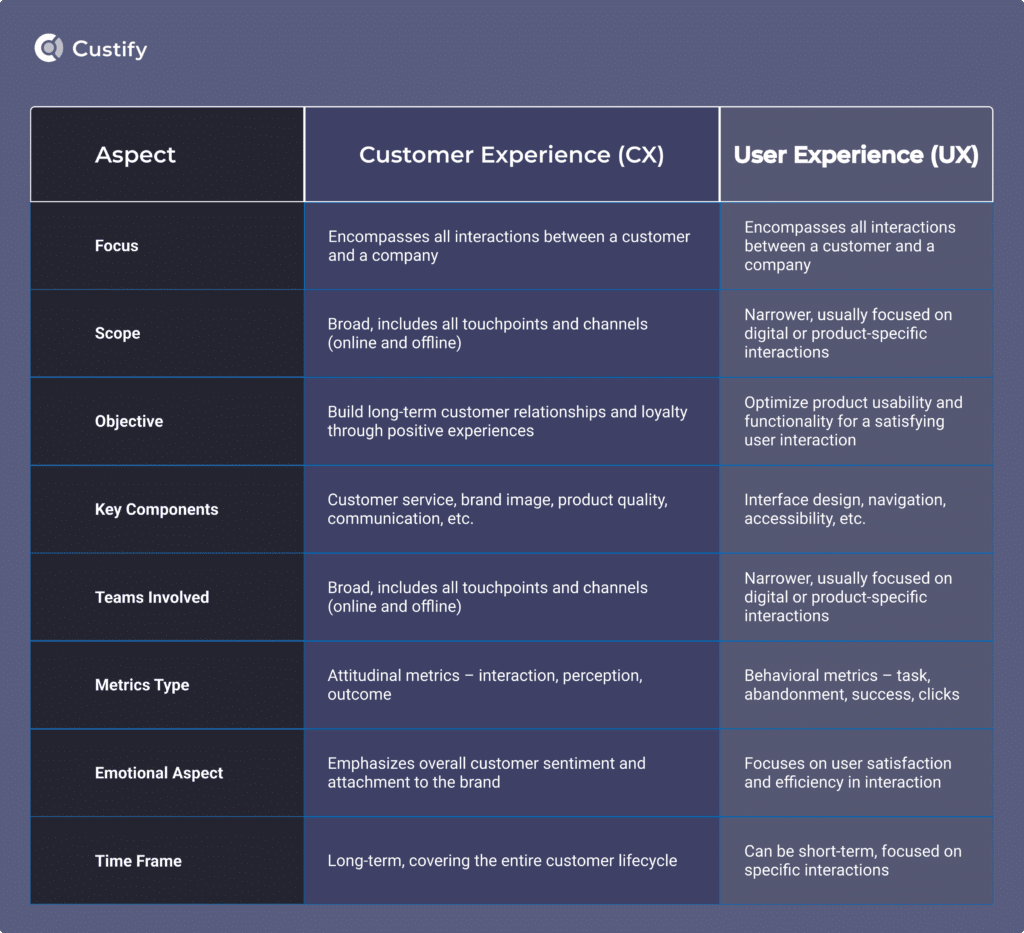 Differences Between CX And UX With Case Studies
These are some of the major differences between customer and user experience:
1. Focus And Objectives
Although both CX and UX aim to improve business revenue and customer base, their focus and objectives are entirely different.
Customer Experience: Brand-Centric
CX holistically focuses on building customer-brand interaction. This makes sense since your customers are not only interested in the product you offer but how you can also assist them when they are using the product to solve their problems. Once you become their trusted go-to option for solutions, you're already one step towards gaining new brand advocates.
A perfect Case study is Zappos, a US online shoe brand currently owned by Amazon. During the early years of operation, Zappos was only able to rake in a few millions. Later on, this shoe brand decided to improve its customer-brand interaction by providing top-notch customer service support and free product returns within 365 days.
To achieve the proposed goals, Zappos created a training model that ensures all employees undergo loyalty and call-center training. This approach worked, and currently, this shoe brand has over 5000 employees, several tens of thousands of loyal customers, and billions in revenue.
Interestingly, while other brands were shifting away from call services to chatbots, Zappos did the exact opposite in order to provide more personalized customer experience. And this strategy has brought in more brand advocates than paid advertising could.
User Experience: Product Or Design-Centric
While CX prioritizes the relationship customers have with brands, UX on the other hand focuses on the interaction customers have with your product. UX prompts you to ask questions like:
What is the usability score of your product without a third-party's help?
How fast does your website load?
Is your web interface aesthetically pleasing enough? Or do you need to brandish your Procreate canvas texture and star brushes to design a new interface?
Are customers able to navigate and locate resources easily?
Are there too many touchpoints or excessive and intrusive pop-ups standing in the way?
Our case study is Airbnb, an online platform that helps travelers book private or shared rooms from property owners right from their devices. Despite their booming business over the years, Airbnb realized some of the challenges faced by customers such as:
Finding it difficult to navigate the website's interface.
Unable to locate relevant resources based on needs.
Inability to book longer stays online.
Language diversity and rigid content structure.
To fix these problems, AirBnB restructured their homepage for easier navigation, a new way to search for homes in locations with categories, and virtual communities to connect hosts and travelers even during the pandemic. The product design team also made booking longer stay online possible, and faster localization to cater for diversity.
As a result, AirBnB customers were able to seamlessly and nimbly book spaces compared to before the upgrade.
2. Metrics And Measurement
Since customer experience and user experience have different focus and objective, the metrics you need to employ in tracking each of them are also different.
Customer Experience Metrics
Customer experience metrics mainly track the impact and results of the strategies you implement to improve customer-brand relationships.

User Experience Metrics
User experience metrics measure the usability of your website or product and help you point out errors that could otherwise impact customer-product relationships.
Click-through Rate – Click-through Rate (CTR) indicates the amount of clicks received per 1000 impressions on your ads, links, and other clickable elements. Less CTR might suggest problems with your user design and navigation especially if you're running an e-commerce site.
User Engagement – User Engagement Rate is used to calculate the percentage of interaction your content gets. Talking about engagements, it could be anything from social shares, comments, and even post-liking. Most businesses believe that a good engagement rate is between 1% to 15%. And the higher you have, the better.
User Error Rate – The User Error Rate (UER) metric measures the number of unsuccessful tries or attempts at completing a task by your website visitors. The UER shows how user-friendly your website is. The higher the UER score, the higher the number of usability problems.
3. Coverage
User experience mainly focuses on the online or digital aspect of customer interaction such as your website and application. This takes into account the usability, speed, ease, degree of intrusions, content clarity, and smooth navigation of your website or app.
On the other hand, customer experience covers the total interactions customers have with your brand including both online and offline. You're interested in building emotional connections, loyal customers, and future brand advocates. So in this case, the focus is most times on customer service quality and available resources.
Similarities Between CX And UX
We've explored a few differences but let's see some of the lines connecting both Customer experience and User experience.
– Consumer-Centric
While customer and user experience have different focus and objectives, they share the same goal – to provide the best overall experience for your consumers. For example, revamping your website or blog design helps to create an appealing aesthetic for your website and improves user interaction. Adding good customer support further adds a cherry to the ice-cream and ensures your prospects have an uninterrupted customer journey.
– CX And UX Increase Retention
Since both CX and UX work to provide a unified purchasing experience, both of them automatically increase customer retention. When a customer is satisfied with your product or service, he or she is more likely to come back again and again. In fact, 73% of customers will stay loyal to a brand after a single good experience.
– Both Help To Create A Memorable Customer Journey
Everyone wants a brand that provides the best and most efficient service. The goal is to walk into your favorite coffee shop and grab a cup without any hitch. You get into a store, buy a lightning fast WIFI device, and receive prompt assistance on how to install it.
When you are able to provide such seamless transitioning from the point of sale to usage, your customers will treasure their journey with you and wish for more.
More Than Entertainment: Netflix's Successful UX Approach
Netflix is an American subscription-based streaming service created in 1997 and owned by Netflix Inc. As you would expect, streaming services are expected to host tons of high-quality movies, series, and TV shows.
But adding more videos to the catalog wouldn't help gain traction in the already saturated streaming industry. And that's why Netflix decided to optimize their UX.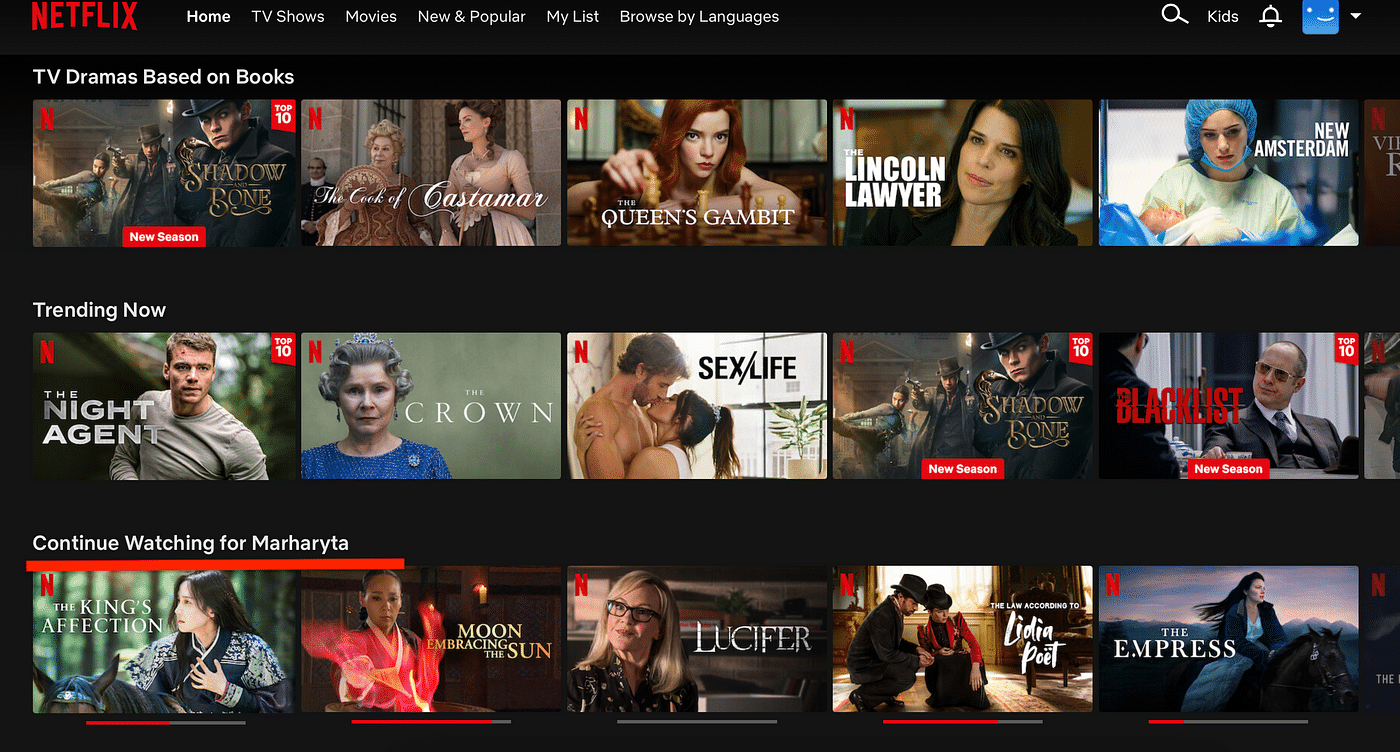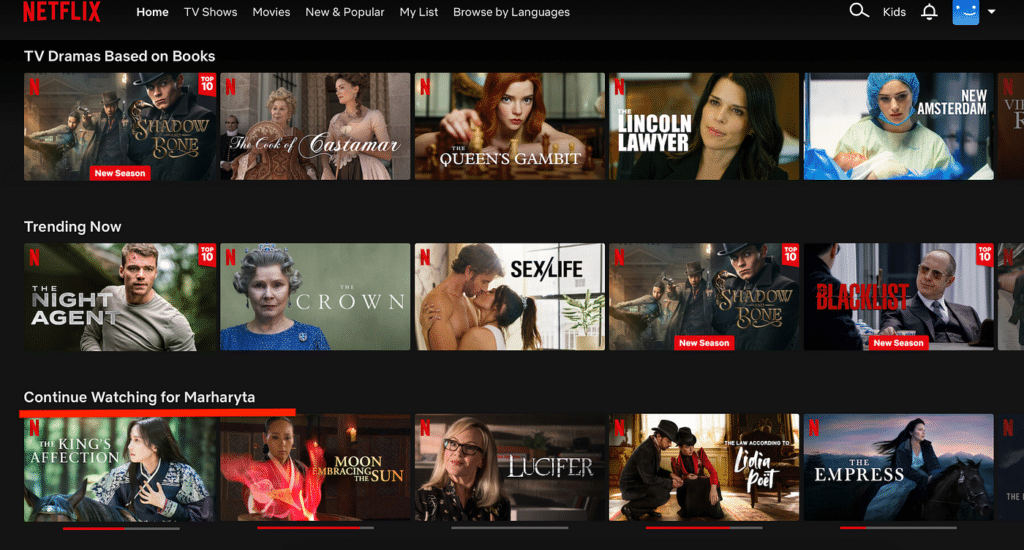 Source: Netflix index page
Some of the UX problems Netflix figured out include:
A cluttered homepage containing too many movie options. This makes decision-making very difficult for users.
Different banner sizes. Has a psychological impact on how users view the movie recommendation dashboard.
Homepage navigation, lack of search button, abstruse categorization, and hidden resources.
Here's what Netflix did:
Reducing movie options per screen size to make decision-making easier.
Added IMDb rating. Saves users the stress of visiting Google to look for one before coming back to watch a movie. The result is total inclusivity and less need to switch apps.
Removed banner size variations. This is a Hit-point that most streaming service apps lack.
Added a search button that moves with scrolling.
Advanced movie categorization.
Overall, Netflix was able to reduce the time users spend on finding a movie to watch.
Simplifying Transportation: Uber's CX Case Study
Uber is a company that provides exceptional transportation services and acts as an alternative to roadside taxis.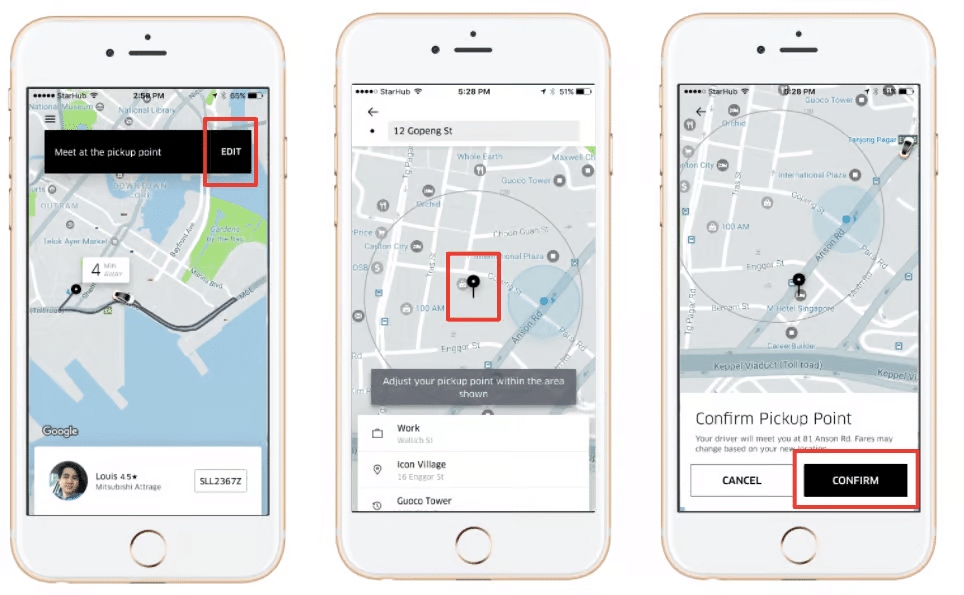 Source: Uber
Uber realized some of the pain points their target audience constantly face such as:
Spending tens of minutes on the roadside to call for a taxi.
Missing meetings and flight due to unpredictable delay in getting a ride.
Unknown variability in transport cost.
Poor reception by taxi drivers.
In some locations, taxi drivers transport more than two strangers at the same time.
Inability to seamlessly comment on the driver's attitude and skills.
All of these points create an unpleasant experience for customers. And in order to solve them, Uber:
Optimized their app to help customers reach out to the closest, available driver right from any device, instead of waving at taxis on the roadside.
Users can find out how much the transport service will cost them before placing an order.
Uber drivers are trained to welcome customers heartily and establish an ambient atmosphere prior and during the ride.
Customers can rate their driver, create a ticket to report subpar services, and quickly get feedback from the customer support team.
This approach has helped Uber rake in more than 131 million active patronage monthly.
Conclusion
Building a memorable customer and user experience is vital to improving your sales and brand reputation. Once you understand the differences between these two, you will find it much easier to pinpoint what areas of your business need improvement.
Moreso, collecting feedback from your customers gives you a firsthand peek into how they really feel. You can then leverage this report and design a seamless cross-platform experience. Don't forget to prioritize your customer support & success teams since they're mostly on the frontlines of communicating with your end users. The more equipped your customer care teams are, the better the experience they can offer.