In the SaaS world, knowing what your customers want isn't just nice to have—it's essential. Want to boost sales by 15-25% and make your customers 20-30% happier? McKinsey says a top-notch customer experience can do just that. But here's the catch: it's not always easy to figure out what your customers really need.
That's where customer-led growth comes in. By talking to your customers, understanding their feedback, and acting on it, you can build a product that's not just good but great. It's all about making what they want, the way they want it. Let's dig into how you can make this happen.
Understanding Customer-Led Growth
Customer-led growth is a business strategy that uses customer insights to help improve customer experience.
Here's how it works:
Talk to your customers and collect insights
Segment insights based on the nature of the conversation
Act upon the feedback and deliver improvements
Without paying attention to customers' needs, you'd never know what your customers struggle with while using your products or services.
In a LinkedIn post, Aditya Kothadiya, the Founder of Avoma, highlights how he cornered some of the advanced features to achieve higher simplicity and customer experience. The company realized this when they received the message from their low-tier subscription customer. This encouraged Avoma to redesign its core functionalities, increasing customer retention and satisfaction in just 12 weeks.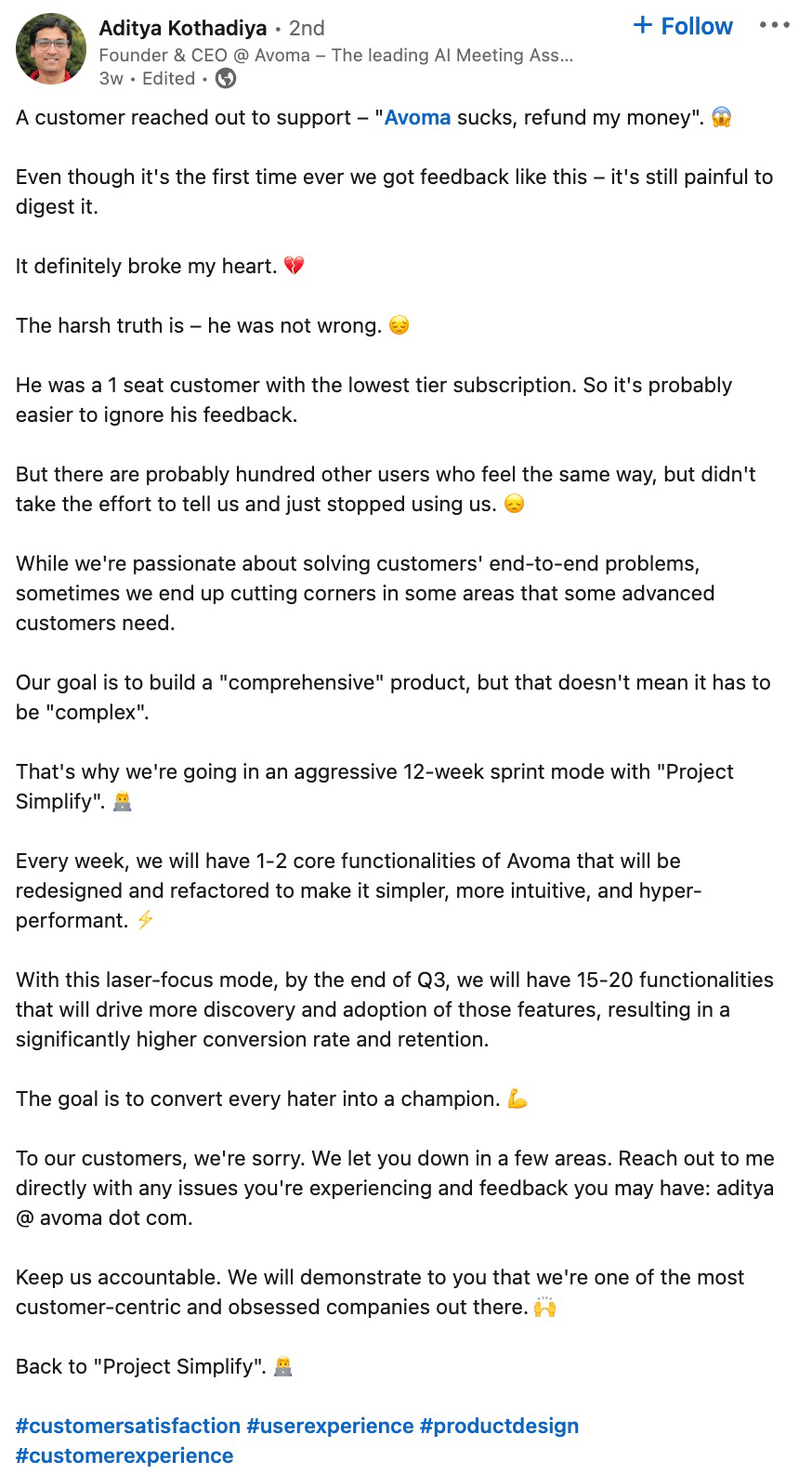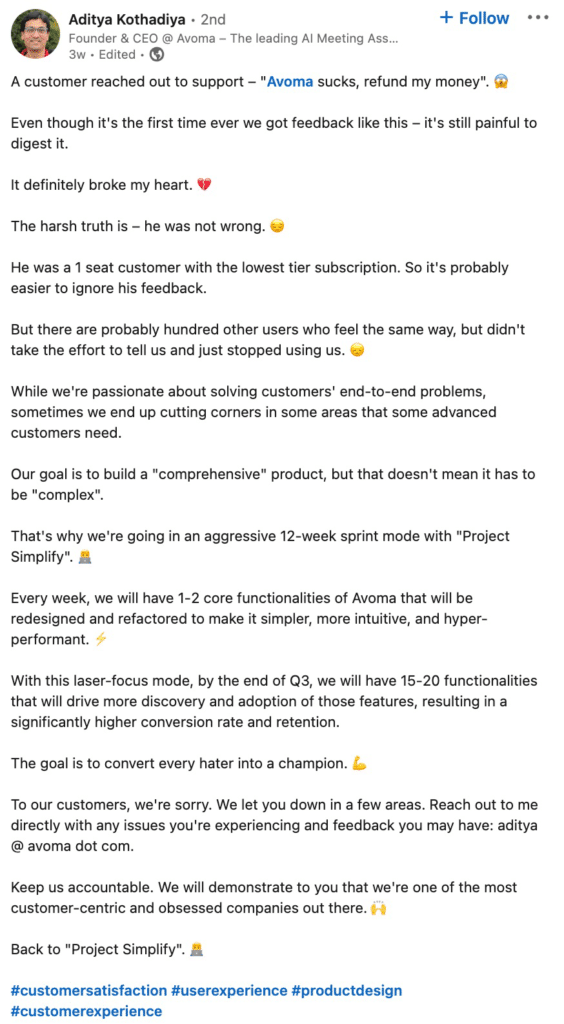 When you collect, analyze, and interpret customer feedback, you'll identify the critical gaps. It could be:
Missing features that solve customers burning problems
Finding how delays of a specific department in delivering their work, will impact overall customer experience
Getting a clearer picture of why customers are churning and opting for an alternative solution
Leveraging qualitative customer feedback and listening to your and your competitors' customers can help you find the gaps in your product or service. It allows you to optimize your current features and processes and build a better product your customers want.
Listening to customer insights helps you:
Understand what customers like and dislike about your products and services, which further influences the decisions of prospective buyers.
Improve your product based on the feedback provided by existing customers.
Motivate your customers and build trust in your brand when you actively use their feedback to improve the product.
The Role of Customer Feedback in Business Growth
Customer feedback is the backbone of customer-led growth. Without extracting feedback from customers, you'll never understand:
The gap between your products and services and customers' needs
The challenges customers face while using a specific feature
The reason behind customer churn
The new improvements customers are expecting
And the list goes on.
For example, xTiles, a note-taking productivity tool, leveraged customer feedback in the early stages to improve their product.
They onboarded beta users to try their product and share feedback. Next, they created a Slack community that included two channels—#feedback-product and #features-request—where beta users can share product feedback and suggest product features they want to see on xTiles.
Some of the product features suggested by beta users include:
Audio integration to interact with their teams
Colored highlights and texts for enhanced formatting
The product team used the Productboard integration on Slack, which helped them save the feedback for implementation.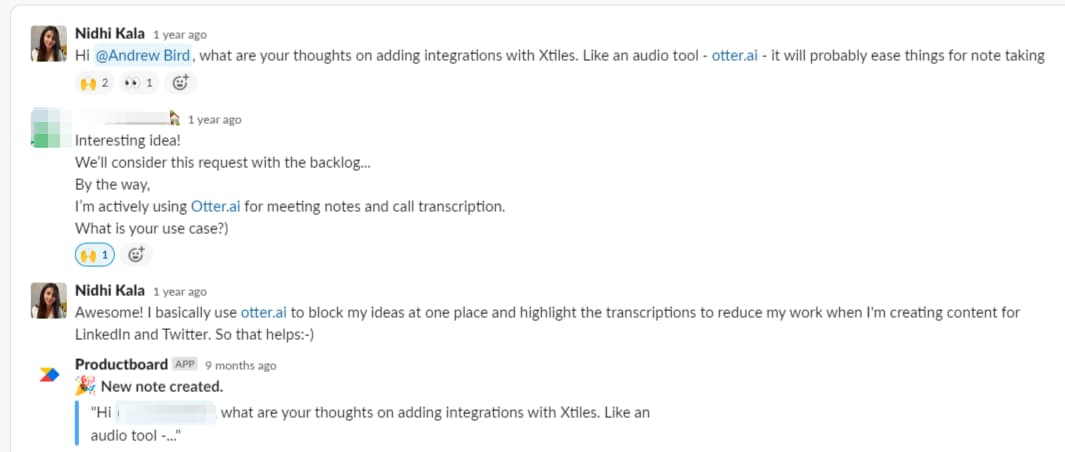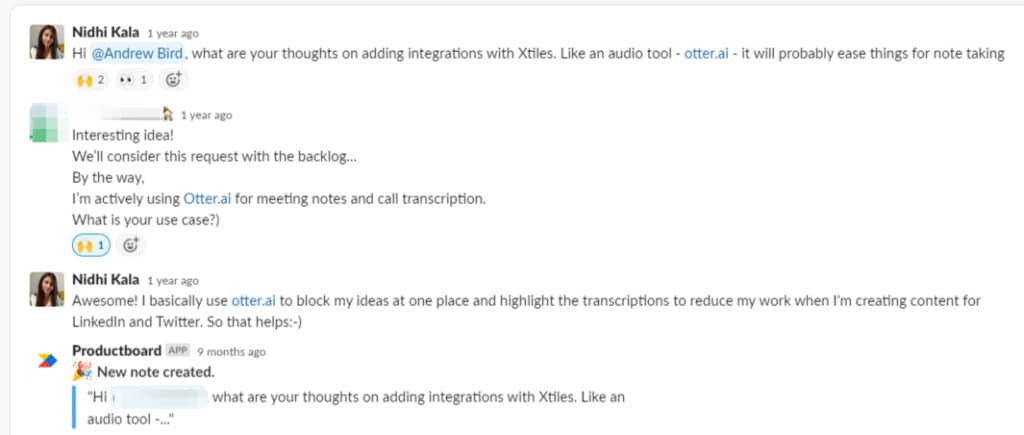 By acting on feedback from beta users, xTiles improved its product and prepared itself for the product launch.
To develop the right customer feedback strategy, you need to follow a 3-step process:
Step 1: Ask your customers for feedback
There are two ways you can ask your customers for feedback:
Active
Passive
Active Feedback
This is a company-level approach where you can directly ask your customers for feedback. With this feedback method, you can ask your customers specific questions that can help you collect data about various aspects of your product.
To collect active feedback, use different evaluations such as net promoter scores and surveys (for example, in-app, customer effort, customer satisfaction, feature feedback, and churn surveys).
Passive Feedback
In this type of feedback, users share their feedback without being directed by the company. This user-initiated feedback is based on the user's preferences and is not intentionally solicited by the company.
To collect passive feedback, use social media (for brand mentions), third-party customer review websites like G2 and Capterra, and feedback forms on your website.
Step 2: Analyze feedback and categorize it in your CRM
Once your customers provide feedback, segment it so you can forward it to the relevant department.
For example, if a customer has given feedback about missing product features, you could categorize them under the product marketing bucket.
Categorizing the feedback by the department will make reviewing and acting on the feedback easier.
Step 3: Act upon the feedback
Just knowing what your customers think is not enough. In this step, relevant teams will re-look at customer feedback, perhaps interacting with customers to understand their reviews on a deeper level so that they can brainstorm improvements and work on them.
Techniques for Encouraging Customer Insights
Leveraging customer insights for your business growth can sound intimidating, but there are effective techniques you can use to encourage customers to share their feedback.
Customer Feedback Surveys
Customer feedback surveys make it easy for companies to gather user insights. Through these surveys, you can understand:
How a specific marketing campaign performed
How customers perceive your product
What challenges are they facing while using your product
Or how satisfied they are with the overall customer experience
Collecting feedback from customers will help you centralize customer information and understand their perspective to improve your products and services.
For example, Gong achieved its customer information goals using customer feedback surveys.
In late 2020, the company wanted to understand the use case of its existing customers. Henceforth, it decided to use feedback surveys to gather customer insights.
They sent out the survey to their customers, including questions about use case data and customer satisfaction information. They used a customer survey tool called TechValidate for execution and auto-generated the customer case studies.
By doing so, they started understanding their customers' changing needs and level of satisfaction.
By analyzing the feedback survey results, they planned to launch a learning management program for their sales professionals. These professionals could access all the customer data in one place, including use cases and other relevant information.
Plus, Gong's senior customer success manager could segment customers based on the use case and understand the business impact of the customers.
Customer Reviews and Testimonials
Positive reviews and testimonials influence prospective buyers to purchase your software. The social credibility customer reviews bring impacts the prospects to think about your product—either positively or negatively.
Imagine the times you read a negative review about software on G2 or Capterra. Did it impact your decision to buy the product? Probably yes.
And if it didn't, it created a sense of doubt in your mind and stopped you from purchasing the product.
For companies, customer reviews are an excellent social listening tool. You can see what customers talk about you on review sites and what they think about the product.
For instance, UpContent, a content curation software, uses G2 to collect customer testimonials and improve customer experience. It automatically asks the customers for quarterly reviews based on their interaction with the product.
UpContent takes its G2 reviews seriously, as reflected in a G2 article featuring Scott Rogerson, the CEO of UpContent.
In the article, Rogerson shares how UpContent uses the reviews to ensure that each department of the company functions better:
The customer success team builds connections with the users and customers who have shared their reviews on G2 to learn more about the review.
The sales team uses these reviews as a substitute for case studies to convey a specific point during the sales demo calls or in written communication with prospective buyers.
Content teams use these reviews to understand the industry terms better and identify unique use cases.
The company uses G2 + Slack integration so that all the teams get an alert whenever a reviewer posts a testimonial on G2.
The product teams can then discuss the customer's concerns and find ways to improve the product based on the review.
Social Media Engagement
By being active on social media channels your customers frequent, you can connect with them and extract insights about how they perceive your products and services and their experience with your brand.
For example, ClickUp is active on almost every social media platform but leverages Twitter to connect with its users and customers.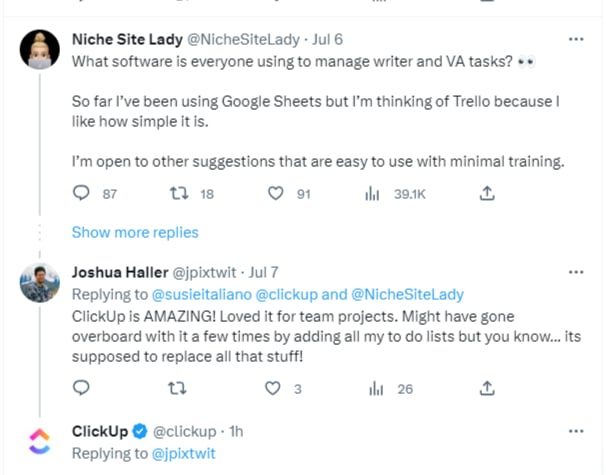 When someone tweeted about a good project management software, some existing ClickUp users and customers jumped into the conversation and talked about their product.
Because these people tagged ClickUp in their tweets, the company could track the brand mentions and enter the conversation.
Through this conversation, ClickUp found out about their happy customers. Plus, they found out what precisely these customers loved about using ClickUp: lots of features in the freemium plan that make it stand out from competitors in several areas.
Thanks to the tweets, ClickUp knows the areas customers believe they excel in. Suppose the company wants more details about what features the customer thinks helped them stand out. In that case, the social media managers can simply message the customer on Twitter and start a conversation to find out.
Personalized Email
Nurturing your email subscribers is an excellent way to establish and grow a relationship with them. Ensure you provide value first before asking for a favor. Depending on your business, you can drip a 7-day email copy course in exchange for genuine feedback.
Yannick Veys, the Co-Founder, and CMO of Hypefurry, sends a personalized email to his subscribers (who subscribed to his Twitter Growth email course) asking them to write a testimonial for Hypefurry.
Before making this request, Yannick built a personal connection with the subscribers through the 30-Day Twitter Growth Email Challenge, where he gave away his knowledge for free. A value-first approach makes the customer more likely to respond with feedback.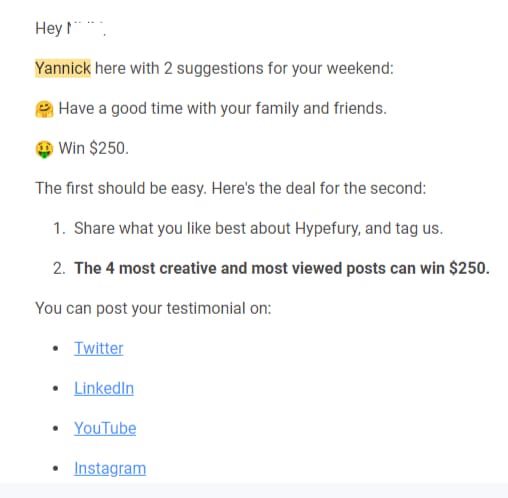 Double Down on Customer Insights
Customer-led growth will win business and improve customer experience if you correctly use customer insights.
Through customer insights, you can nail down your market research, improve your product, and better understand your customer's actions.
While we have shared all the fancy ways to retrieve customer insights, i.e., through customer feedback, customer testimonials, social media engagement, and personalized emails—the crux is to talk to your customers directly.
It's not essential to interview them every time. Just a short conversation will do the work. Before using these strategies, relook into your internal database—dwell in the customer success database and sales team interactions.
Pull out customer insights from these sources, and only then use the different strategies to collect customer insights to improve your product.