According to Forrester Research, more than 72% of companies state that improving customer success is their first priority. Acquiring new customers is more expensive than retaining existing customers, so businesses are increasingly focused on satisfying their current customer base rather than chasing prospects.
This is precisely why customer success analytics and product analytics are so important. They help brands identify the issues that their customers struggle with (sometimes even before these issues arise) and solve them or take preventive measures. In addition to that, they can address the worries, questions, and concerns of their customers proactively.
Read on to learn more about what customer success analytics and product analytics are and how you can use them to improve your business.
What Is Customer Success Analytics?
CS analytics uses insights about customer success (i.e. the questions and issues your customers have that you anticipate and provide solutions to) to ensure customer happiness and increase retention, loyalty, and revenue. Customer success analytics is essential for a strong customer success strategy and goes hand in hand with marketing and sales.
At its core, customer success analytics is about analyzing information and data about your customers and their interactions with your company. Moreover, you should also be collecting data on their feelings of happiness and satisfaction with your products or services and your brand. You then analyze this data and make decisions on how to improve the experiences and success of your customers.
What Is Product Analytics and How Is It Different?
As the name suggests, product analytics is about collecting and analyzing data and information about the way customers perceive your product or service and their interactions and experiences with the said product or service. Based on the results of the analysis of this data, you can make improvements to your product or service to improve the experience of your customers when using that product or service.
Olivia Roth, an expert from the writing services reviews site Rated by Students, says, "In a way, product analytics is a part of customer success analysis, but they are still quite different from each other. The former focuses on improving the product or service and, as a result, improving customer experience. The latter aims to improve the customer experience overall and keep customers satisfied at all times."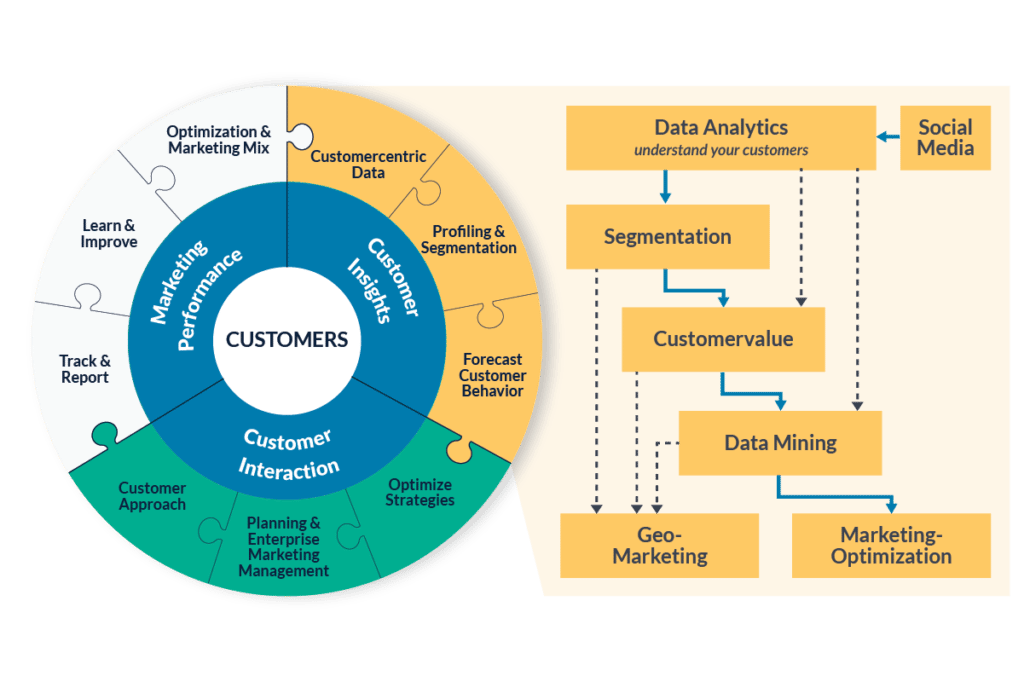 How to Use Customer Success Analytics and Product Analytics?
The best thing you can do is use customer success analytics and product analytics together. Dillon Madden, a professional from the custom writing reviews site Top Writing Reviews, notes, "Product analytics is a part of customer success analytics, so you can't really utilize the latter without the former."
Here's how you can start using such analytics in your own customer success strategy:
1. Determine the Types of Data You Will Be Collecting
First, you will need to decide what kind of data you will be collecting. All the data you collect will primarily be related to your customers and their experiences and views. However, because customer experience and success are so broad, there will be many types of data you will be collecting. Most commonly, customer success analytics uses data such as:
Customer Profiles – This is the data specifically about your customers that allows you to create their profiles. This type of data includes everything from their personal details (e.g. age, gender) to their purchase history (e.g. buying habits, preferences).
Product or Service Usage – This is the data related to the product or service (or your entire product or service line) that is used in product analytics as well as in customer success analytics. This type of data includes the features used, average session time using a service, etc.
Sales Information – This is the data from the sales department about the sales of a particular product or service (or your entire product or service line).
Support Information – This is the data from the customer support department that includes the types of issues customers have when they contact the customer support team, the number of requests, the average time for resolving these, and so on.
Customer Feedback – This is the information you get from customer feedback. Such data can be taken from customer reviews and testimonials as well as from expert reviews and commentary and even customer surveys you organize yourself.
Additional Data – This is any kind of additional data such as financial information. You can also use data such as the life cycle stage of your customers, their contact information, etc. You will also need to consider data on customer engagement and behavior.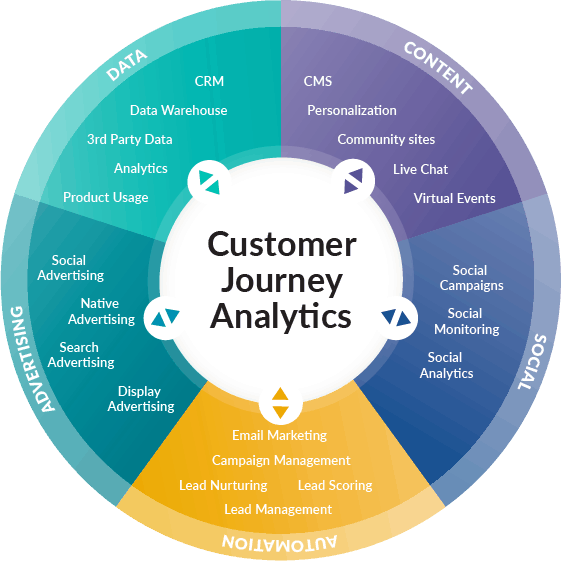 When performing customer success analysis, you don't necessarily need all of these at any specific time, but the more types of data you use, the more accurate and useful the results of your analysis will be. At the same time, which types of data you decide to seek out depends on the scope of your analysis.
2. Decide What the Scope of Your Analysis Will Be
When performing customer success analysis, you don't necessarily need to analyze everything at once. In fact, you can start with a narrow scope and focus on a specific product line or segment of your customers. This way, your analysis can be more precise and focused, and you can then apply changes only to the things you analyzed.
On the other hand, if you decide to have a broader scope of analysis, you will need to use your customer journey maps for different audience segments to analyze the complete experience each customer segment gets from the point they first interact with your brand. This kind of analysis will be more time- and resource-consuming, but it will give you a more complete picture.
3. Utilize Different Types of Analysis
There's a difference between qualitative and quantitative product analytics tools. The focus of qualitative analytics tools is on how users act, while quantitative analytics tools give you almost raw numerical data.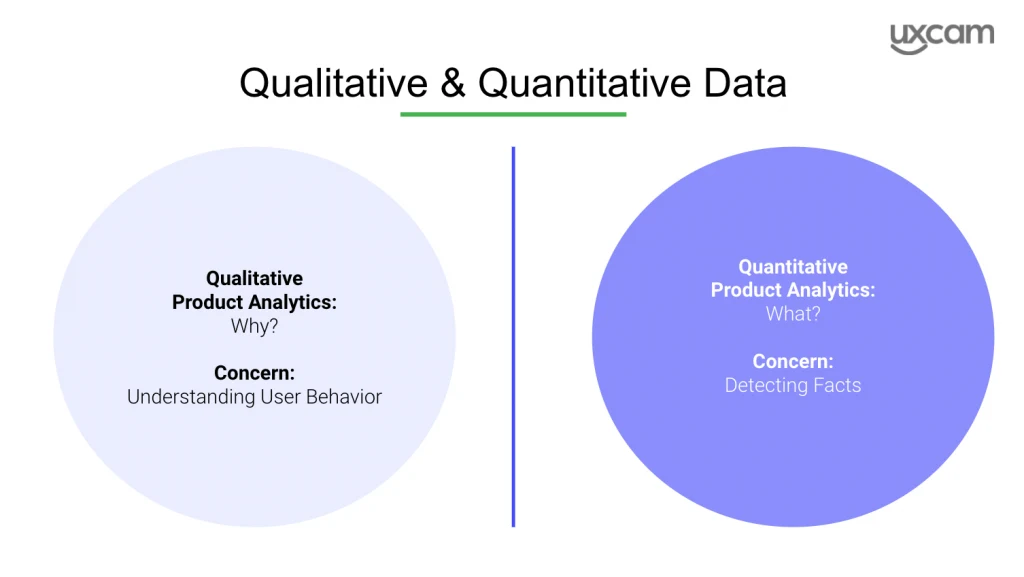 In addition to collecting and analyzing different types of data, you also need to utilize different types of analysis. There are four main types of these, and by using all of them, you will get a complete picture of your customer experience and success:
Descriptive – This type of analysis will tell you what your customers have done already. For example, the kinds of products they purchased, whether they are subscribed to your mailing list, and so on.
Diagnostic – This type of analysis will help you understand why your customers did what they did. For example, the reasons why a specific segment of your customers is buying specific products from you.
Predictive – This type of analysis will allow you to make predictions about your customers' experiences in the future based on their experiences. For example, which products they will buy, what they will think about these products, and what kind of experience they will get when contacting your customer support with questions.
Prescriptive – This type of analysis will help you determine what you need to do to improve your customer experience and success as well as how you can change their actions. For example, which features can be added to your products to make them more valuable and useful to your customers, which changes should be made in your customer support department to increase the request handling speed, etc.
4. Integrate the Analytics into Your Strategy
As mentioned earlier, customer success analytics and product analytics are both essential for a strong customer success strategy. Both of these types of analytics are necessary for you to better understand your customers and improve their experience with your brand on different levels. Consequently, the next step is to integrate them into your strategy (i.e. start using these insights in all your departments to make changes systematically).
You can use your findings to create detailed customer journey maps with all the relevant customer touch points for each segment of your customer base. This will help you guide your customers through the steps you want them to take and even change their past actions if necessary. Likewise, you can better understand their experiences at every stage of their journey and improve any aspect of such experiences for future customers.
In other words, your findings from the customer success analysis you perform will be invaluable for you to improve nearly every part of your business, but most importantly, to improve the experience your customers get and anticipate any problems or challenges that may arise. You will be able to take preventive measures against them but also solve the issues that are already preventing your customers from getting good experiences with your brand.
For instance, by changing the way your customer service department operates, you will not only make that department more efficient, but you will also improve your customer experience. You can also plan ahead and anticipate possible questions that customers may have by using customer success analytics. To handle the matter, you can create a knowledge base on your website with answers to the most common customer questions.
Is analytics actually useful?
The consulting firm McKinsey has found companies that leverage customer analytics are more likely to do better than their competitors when it comes to profit, sales, and ROI. For instance, companies that integrate customer analytics in their daily activities consistently report higher profits than their competitors.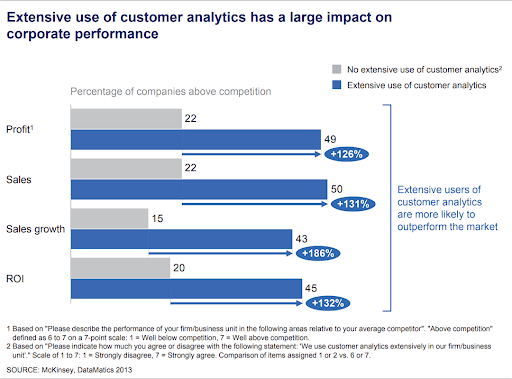 Conclusion
All in all, both customer success analytics and product analytics are necessary for you to be able to improve the experiences of your customers, so you need to integrate them into your strategy. Use the tips in this article to help you set up your own customer success plan and start improving your customer experience and success.