There are a lot of fascinating customer success stories out there that have shown us the importance of CSMs within our businesses. However, quantifying the exact customer success ROI value with conventional metrics can be quite the mind-boggling task.
I've spent 19+ years working on software, with and for customers. These are the questions I get asked over and over again:
How valuable are CS departments?
How much should you invest in them?
What's the ROI of CSMs?
How many CSMs are enough for your business?
While trying to find solutions and an explicit formula, I've networked and reached out to other Chief Customer Officers, CSMs and CS team leaders in the industry. I asked them if it could be done, and how they do it internally, looking for customer success best practices.
In this article, I'll share the customer success stories of industry leaders that are approaching this issue with their own teams. I'll also go over why CSMs are important to your business and why it's so challenging to quantify exactly how much value they bring.
Let's get started.
The importance of CSMs within your business
There's a fine line between what's right for your customers and what's actually going to help your business generate additional revenue. And that's exactly where good CSMs come into play, through renewals, upsells and expansions.
Here are 5 important benefits to having efficient Customer Success Managers:
One of the most relevant results of implementing an efficient customer success solution within your company is higher customer retention, because it brings a significant boost to your recurring revenue, while reducing churn rates.
Using the customer data provided by the CSM solution provides you with valuable insights into customers' interests, thus creating more cross-selling opportunities.
Also, merely communicating and interacting more with your customers will also generate more leads and contribute to additional sales.
Good CSMs will help you build strong relationships and make your customers successful, thus contributing to positive word of mouth.
If your customers are successful, they will also be your most powerful evangelists and advocates. Satisfied customers = satisfied business.
At first, it seems easy to see the broad idea, the bigger picture – CSMs are part of the customer's journey with your brand. It's a FACT. There's no denying that their role in Customer Retention is indeed vital.
Not to mention that the costs of new customer acquisition are almost 7X the costs of customer retention (where CSMs come into play).
But when we want to take a look at the numbers, at the actual results, we usually tend to make the connection with the usual financial metrics, only to be faced with more questions and unreliable values than straightforward answers and data.
It's how David Apple (Notion) put it in this article: "nobody in SaaS today knows the actual ROI of their CSMs, and nobody truly knows what ratio of CSM to customers is optimal for their business".
Since this is a matter that keeps affecting most SaaS businesses, I thought it was important to round up these customer success stories, by reaching out and seeing how other Chief Customer Officers, CSMs and industry thought leaders approach this issue within their own teams. This is what they said.
Customer success stories: how CS leaders measure the ROI of CSMs
Here are 7 of the main ways Customer Success professionals address this ROI challenge.
1. Assess word-of-mouth marketing results
Finn Cardiff, CEO and founder of Beachgoer, an AI-assisted eCommerce startup, points out that one of his most used metrics for calculating ROI of his Customer Success departments is word-of-mouth marketing: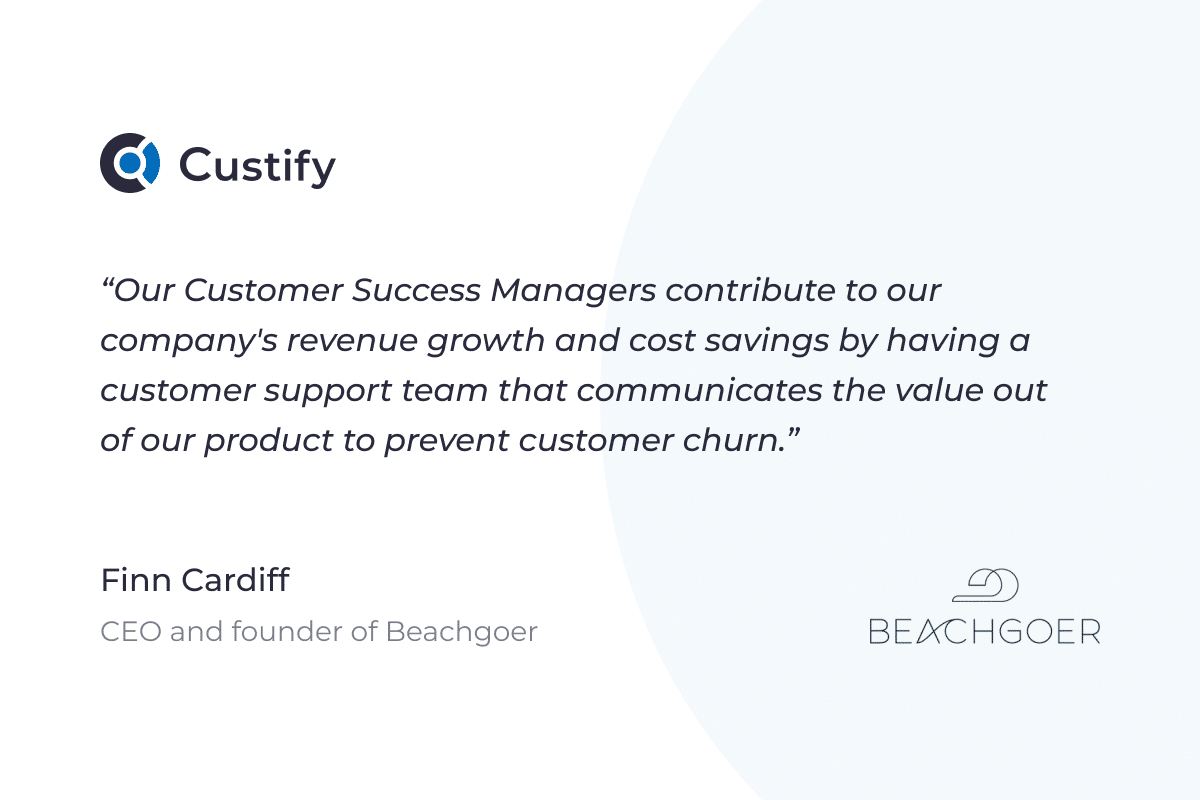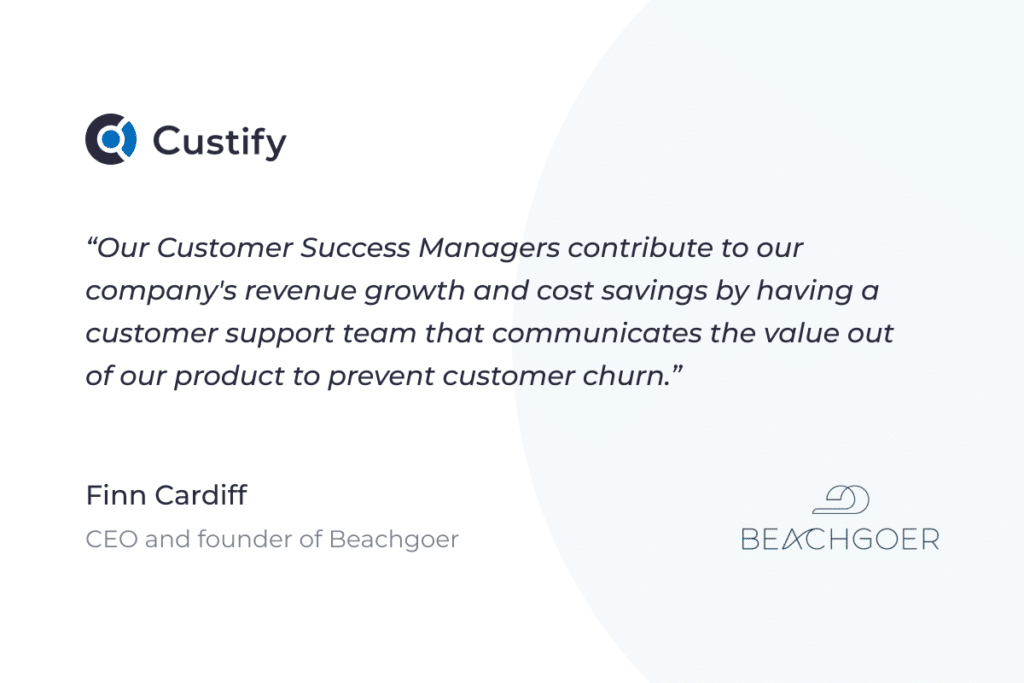 "Our Customer Success Managers contribute to our company's revenue growth and cost savings by having a customer support team that communicates the value out of our product to prevent customer churn. We have customers who have recommended our bodyboards through word-of-mouth marketing, which makes it easier to raise the value of our referral marketing."
2. Track how CSM's interactions affect customers' behavior
Jesse Silkoff, founder of MyRoofingPal, thinks that in order to get an accurate idea of ROI from the customer success department it's important to track how their interactions affect customer behavior:
"Track how many customers the CSM saves and the revenue that comes from not losing that customer, expanded business gained by CSM offering support, revenue from referrals turned customers, and any other way the customer success team is connecting with customers that may result in revenue or savings. Then compare that amount earned and saved to the CSM budget to assess the ROI."
3. Correlate NPS to business metrics such as LTV
Neal Taparia is the founder of Imagine Easy Solutions, a software company which he helped grow to over $20M in revenue and sold, and recently started Solitaired.
He's managed numerous customer services teams and his first advice is to understand ROI through LTV metric and customer service ratings: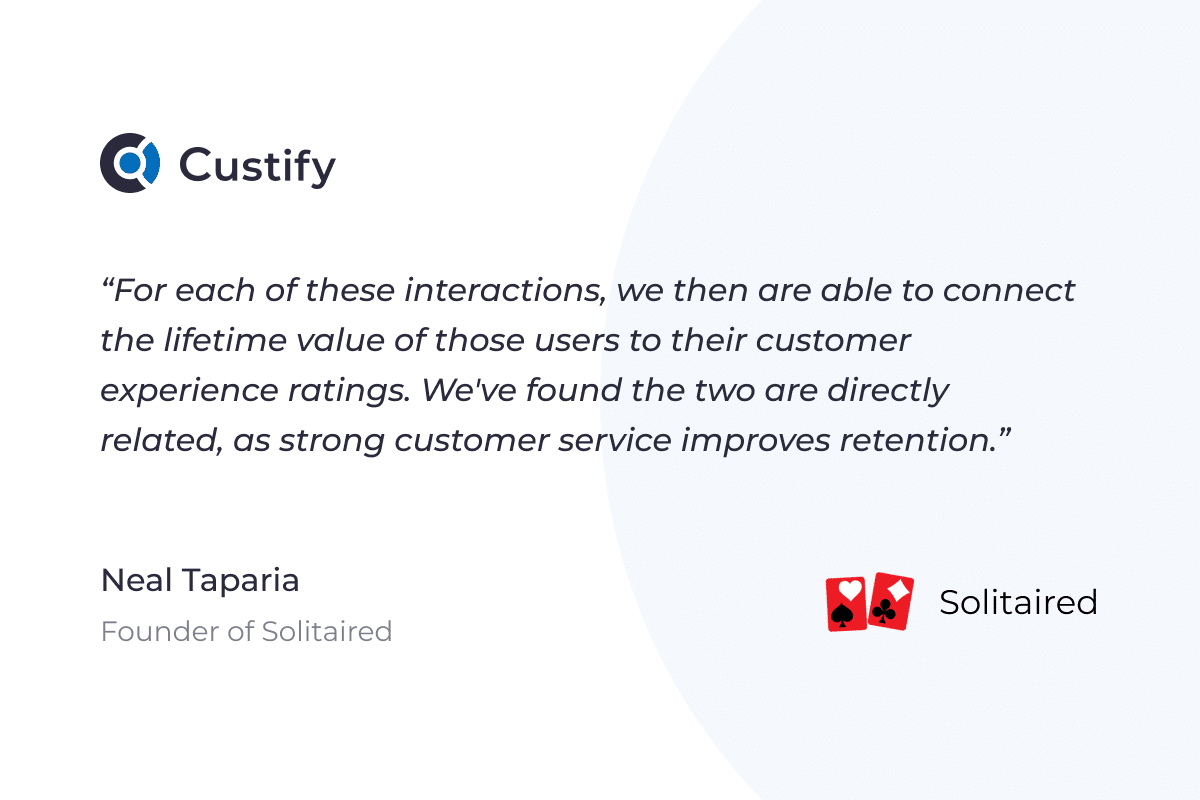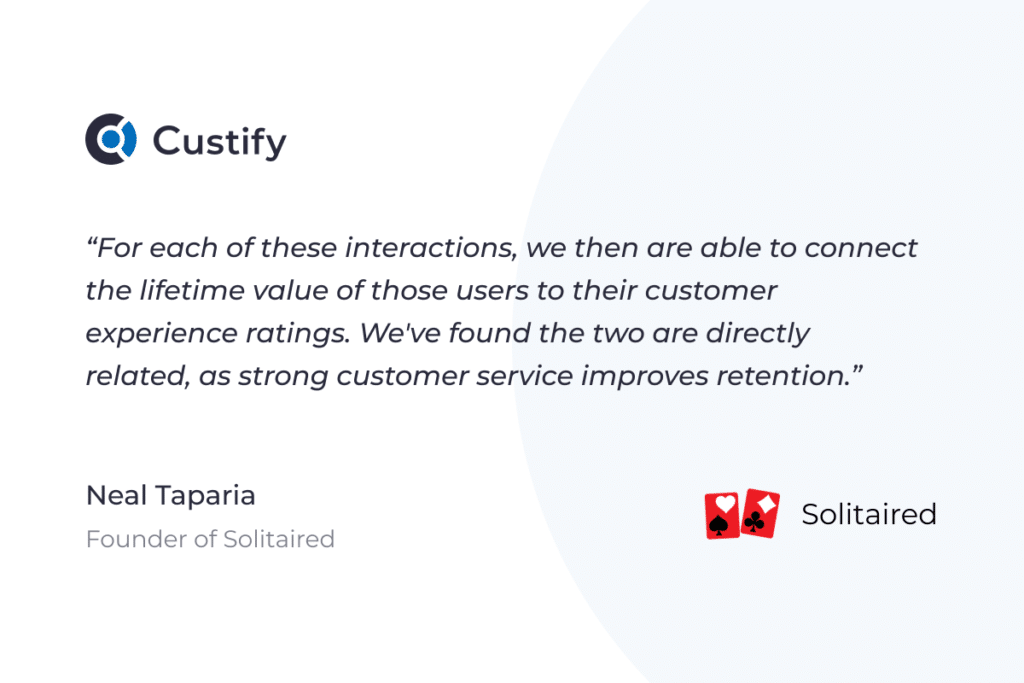 "This allows our customers to rate how each person on our team is doing. For each of these interactions, we then are able to connect the lifetime value of those users to their customer experience ratings. We've found the two are directly related, as strong customer service improves retention."
Then, he says businesses should look at the NPS or Net Promoter Score to measure the ROI of the team as a whole:
"We look at macro data on how improvements in NPS over time move our business metrics, like LTV and retention. We also look at how referrals correlate to custom services ratings too."
Sam Cohen, CEO of Sleepcompare.com, also points to NPS as a helpful tool in calculating the ROI of CS departments and he also gives his input in determining the right formula:
"The formula to calculate NPS is pretty straightforward. For example, you received ten responses to the survey. 50% are 9s or 10s (promoters), 30% are 7s or 8s (passives), and 20% are 0-6 (detractors). So subtract detractors from the promoters, and you will get the NPS score of 30."
4. Measure metrics that directly affect the customer
Ethan Taub has over 20 years of experience in C-level Management, Sales, Marketing and Product Development and is currently CEO of Loanry. He believes that the best way to measure a customer success team's efficiency is by calculating the metrics that affect the customer: average initial response time & average resolution time.
He has also pointed out the importance of carrying regular customer satisfaction surveys:
"Our customers deserve a quick response to their issue and a timely positive outcome. We
also track customer satisfaction scores after every inquiry and ask customers how satisfied they are on a 10-point scale with the option to leave a comment after every contact occasion."
5. Conduct customer satisfaction surveys
Casey Halloran, Co-Founder & CEO of VacationsCostaRica, evaluates their customer success efficiency by reaching out to their clients: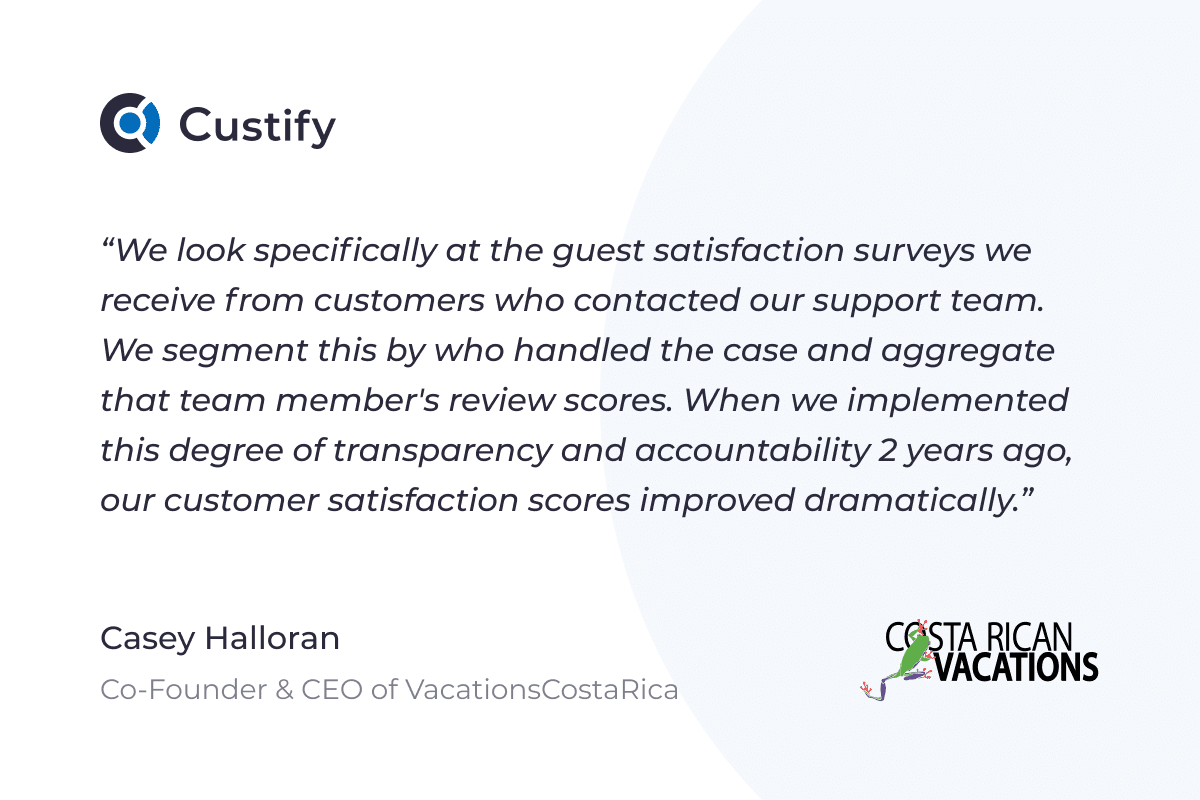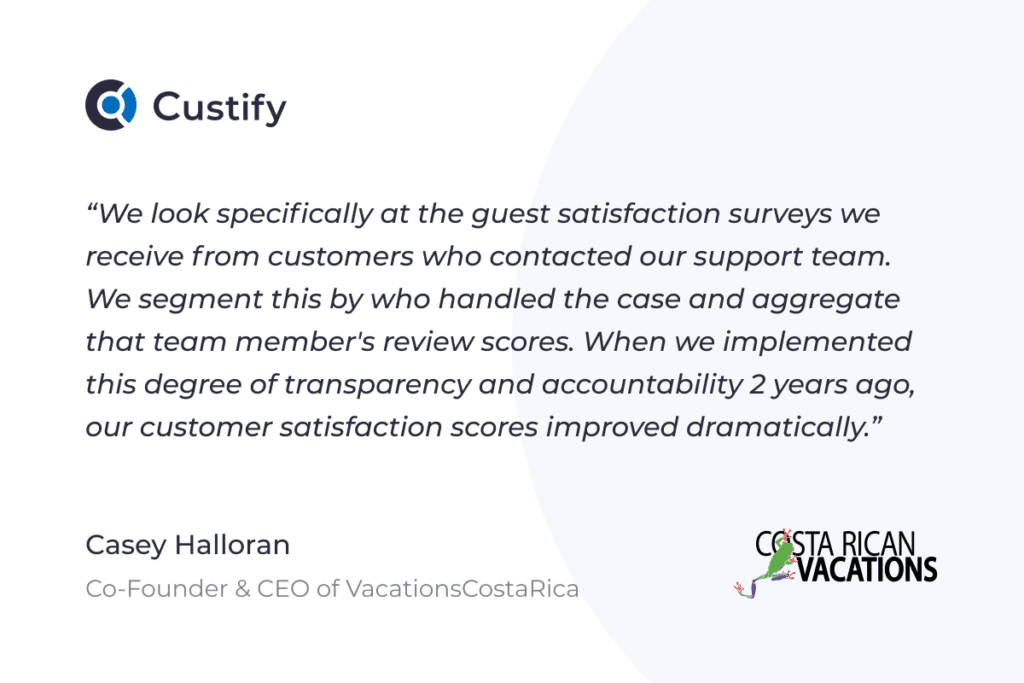 "We look specifically at the guest satisfaction surveys we receive from customers who contacted our support team. We segment this by who handled the case and aggregate that team member's review scores. When we implemented this degree of transparency and accountability 2 years ago, our customer satisfaction scores improved dramatically."
6. Use estimates to track department success
Lauren Mecca, a Customer Success leader-turned advisor to startups, says that ROI of CS headcount is a topic she discussed with some of her clients. Her take on customer success best practices is a different, hands-on approach, using estimates:
"I will use a low-end estimate that having a CSM boosts retention results by just 25% (give another 25% credit to Support, 25% to Onboarding and you see how unlikely in my experience it is that customers stick around with zero support). If that $100k CSM manages a $2M book of business they've kept $500k healthy that the business would have otherwise lost."
She mentioned that this sort of belief is especially useful when managing a SaaS business, with the reason being that every dollar that enters that business would be at risk without the help and oversight that a Customer Success Department provides.
7. Take external factors into account before calculating
All in all, determining the ROI of your CSMs can feel like a daunting task. Rex Freiberger, CEO of Gadget Review, seems to share my point of view that "there are a lot of outside factors here that are beyond the manager's control" that bring difficulties. His straightforward solution is to calculate the ROI in general first:
"What I do is to calculate the amount of money I'm investing directly into customer service. I think measure that against the new leads brought in, customers renewed for another term, positive support surveys, and a few other metrics. Each is assigned a monetary value. This will vary from business to business, and you ultimately have to decide how valuable each is to your overall bottom line."
Then, after all this is measured, he advises to divide the overall investments by the monetary value of those elements above. The result should then generate the ROI of the customer success department.
As I see it, some CS leaders take into account a more general perspective, while others tend to either have a more hands-on approach, focus on different KPIs or analyze satisfaction surveys in order to measure the ROI of their Customer Success Departments. In the end, it's still a challenge.
The challenge of calculating ROI for your CSMs
By this point, it should be clear that while CSMs add visible value to any SaaS business, their impact is largely intangible, as it cannot be adequately quantified using a simple formula.
What I want to stress is that there is a whole range of other factors outside of a CSMs' control that impact retention rates, on a regular basis:
Overall global economy situation;
Competitive landscape changes;
Your own product development & improvement
Some businesses still find it difficult to assess the exact value and revenue input from customer success programs. Here are a few reasons why that might be happening:
Following the natural lifecycle of your business, as it becomes more mature, you can easily see that the net retention rates constantly improve over time; it's not just CSMs' impact;
Your business keeps growing over time, therefore your marketing teams also grow and develop more leads with higher lifetime values & better retention;
As your product develops, you add new features, you fix bugs or downtimes. All these improvements impact the retention curve over time but we cannot attribute them all exclusively to CS.
Like I said, calculating the ROI of your CSMs is no easy task. However, not being able to use a quick formula to calculate customer success ROI is in no way an excuse to give up on CSMs overall, nor to hire too many of them either.
At this point in time, it's mostly about experimenting, and finding what works for you.
In part 2 of this series, I'll share how we've been doing it at Custify, what specific tactics and solutions we've found to be most effective. Stay tuned!