Business decisions, from product ideation to marketing strategy and customer care, are dependent on customer preferences. To understand these preferences and make more informed business decisions, businesses can use a process called customer intelligence (CI).
Customer intelligence reveals insights into who your customers are and what makes them tick. It also reveals more complex data on how your customers interact with you across multiple touchpoints and how you stack up against your competitors.
Using insights from customer intelligence, you can optimize these touchpoints and provide a better customer experience. This will eventually lead to more sales and improved customer loyalty.
Let's see how you can collect and use customer intelligence the right way.
What is customer intelligence?
Customer intelligence (CI) is the process of collecting and analyzing customer data to unlock insights into customer behavior, preferences, and sentiment. CI helps you gain a deeper understanding of your customers so that you can optimize customer experience.
The data gathered through customer intelligence could have various use cases such as:.
Optimizing customer journey: By gathering data from different customer touchpoints, CI helps you have a better understanding of your customers' journey from awareness to purchase. You can then optimize your processes to provide what customers look for at every step of their journey.
Improving conversions and sales: You can gather behavioral data on your website or app and identify the deal-breakers when it comes to conversions and sales. Using this data and with the help of A/B testing, you can improve conversion rates and sales by tweaking various elements on your website or app such as text copies, design and layout, forms, CTAs, etc.
Personalizing communications: Drawing upon data from your various systems, CI helps you figure out the optimal way to communicate with specific customers. Customer support could particularly benefit from personalized communications: your agents can review previous customer interactions and tailor their responses.
Reducing churn: There are various ways to find out why a customer lets go of you. The simplest solution would be gathering customer feedback through a form shown in the final phase of the cancellation process.
Ways to collect customer intelligence data
All businesses have access to customer data flowing in from different channels. You don't have to be a retail behemoth like Amazon or a tech giant like Google to make use of customer data. You just need to merge the data flowing into your systems from across different channels.
1. Using your CRM
Customer Relationship Management (CRM) platforms connect all key customer data in a single accessible dashboard. To do this they typically connect to different sources such as your sales tools, automation platforms, email/texting platforms, customer success platforms, social media tools, etc.
There are three different types of data you could track:
Transactional data: Reveals what, when, and how frequently customers buy from you. You can track customers' purchase history, average order value, favorite products, repeat purchases, and more by looking at transactional data.
Demographic data: Helps you explore common buying patterns of people who belong to an age group, live in the same region, or have similar income levels.
Psychographic data: Helps you segment customers based on what triggers their buying decisions.
With a well-rounded CRM, you can store and analyze all three types of customer data in one place. Most CRM tools offer reporting and visualization features that can help you better interpret the data at hand.
2. Willingness to pay research (WTP)
PWC research found that 96% of consumers intend to adopt cost-saving behaviors over the first half of 2023. This number has been growing steadily since the pandemic, and you have to come up with ways to appeal to this increasingly price-sensitive customer base.
WTP research is a data-based approach to understanding changing willingness to pay (WTP) levels across customer segments. WTP research helps you understand how much and for which reasons people are willing to pay for your products or services.
If you identify a big gap between your prices and their expectations, it can mean several things:
You have to reconsider your target audience and develop new marketing strategies
You have to align your prices with customer expectations by using cost-cutting methods
You have to expand your assortment to appeal to a wider audience with different income levels and purchasing powers
WTP research can be done via post-purchase questionnaires, email surveys, website pop-ups, live chat, and a variety of other channels. The most effective channel actually depends on how a customer wants to be reached out. If they prefer one channel over the other, it's best that you reach out to them via that specific channel.
3. Gathering behavioral data
Looking at behavioral data across channels is a great way to understand the factors that influence your customers' buying behavior. A customer's behavioral data is dispersed over various platforms, but your website data can be a great starting point.
Website metrics and measurement methods can help you find out what triggers your customers to take certain actions:
Website metrics: Unique visitors, page views, average time on site/page, bounce rates, shopping cart, cart abandonment
Zero-party data: Data that customers voluntarily share with you, and which you can acquire via interactive content
Heat maps: A visual representation of how website visitors interact with the elements on your website (tracking cursors)
You can, for instance, look for clues that signal:
What kind of content lures prospects into your website.
Once they land on your website, which design elements and content positively or negatively impact their experience.
How many touch points they have on average before making a buying decision.
Which kind of discounts/promotional campaigns they've previously used.
Email engagement, social media engagement, search data, ad impressions and clicks, and app analytics also count as behavioral data.
Neal Taparia, the founder of Cribbage-Online, suggests using in-app surveys:
"We launch surveys while users play our games and ask them questions about who they are and why they play our games. Because they answer the surveys while playing our games, we find these answers provide some of the best insights on our customers."
4. Social listening
In the past decade, social platforms have become places where the modern day consumers engage with and buy from brands. A 2023 HubSpot research found that 46% of Gen X and 24% of boomers have discovered a new product on social media in the last three months of 2022. 23% of Gen Xers even bought a product on social channels in the same timeframe.
Investing in a solid social presence certainly pays off in several ways. Promoting your products is just one part of your job on social media. Another part is engaging with your audience and learning more about them (social listening). Customers engage with brands for a variety of reasons:
You can learn immensely from what people say about your products/brand on social media. With a little help from social listening tools or by manual work, you can discover customer sentiment toward your brand.
You can also monitor what kind of content best resonates with your audience for future reference. If, for instance, your social audience enjoys humorous content, this knowledge can guide through creating your next content calendar.
Using customer intelligence
In general, you can use customer intelligence to improve customer experience and offer custom-tailored experiences. But you already know that. Let's dive into some unique use cases.
1. Predictive analytics
New customers are great for your business, but we always favor existing ones. That's because in general, acquiring new customers is more costly and difficult than retaining existing ones.
In retail, customers don't have to let you know that they're churning, because they don't have to subscribe in the first place. So it's always difficult to know if they stopped shopping from you altogether, or just don't need your products at the moment.
Using CI to predict customer behavior can actually help you make an educated guess. Even without sophisticated predictive analytics software, you can make predictions about your customers' future behavior.
Combining lots of historical, behavioral, social media engagement, campaign response, customer service, and website data, you can score your customers based on their loyalty levels. And you can prioritize the most loyal tiers—who are less likely to churn—and entice them with special deals.
If you want to identify the highest value customers with the maximum accuracy, you can also combine risk scores with value-based segmentation. Doing this will narrow the group down to who are more likely to stay, and more likely to spend.
In one case, Forsta, an analytics software company, combined over ten external data sources including fast-moving signals like purchasing intent. The data helped the Forsta team identify and prioritize high-value customers, and they were able to drive more revenue through effective cross-selling.
They also provided sales agents with CI that helped significantly during pitches. On top of all, they leveraged predictive analytics in value-based pricing. These strategies collectively contributed to the doubling of the company's valuation in just one year.
2. Aligning your brand with the changing consumer
Marketing literature divides customers into four groups based on their main drivers of buying behavior:
Value-driven consumers: People who want good value in return for their money;
Purpose-driven consumers: People who want to buy products that align with their values and lifestyle;
Brand-driven consumers: People who trust brands and make buying decisions based on brands they trust;
Product-driven consumers: People who are focused on product functionality and value for the price.
IBM's 2022 report found that purpose-driven consumers now represent the largest segment of
global consumers across all major product categories.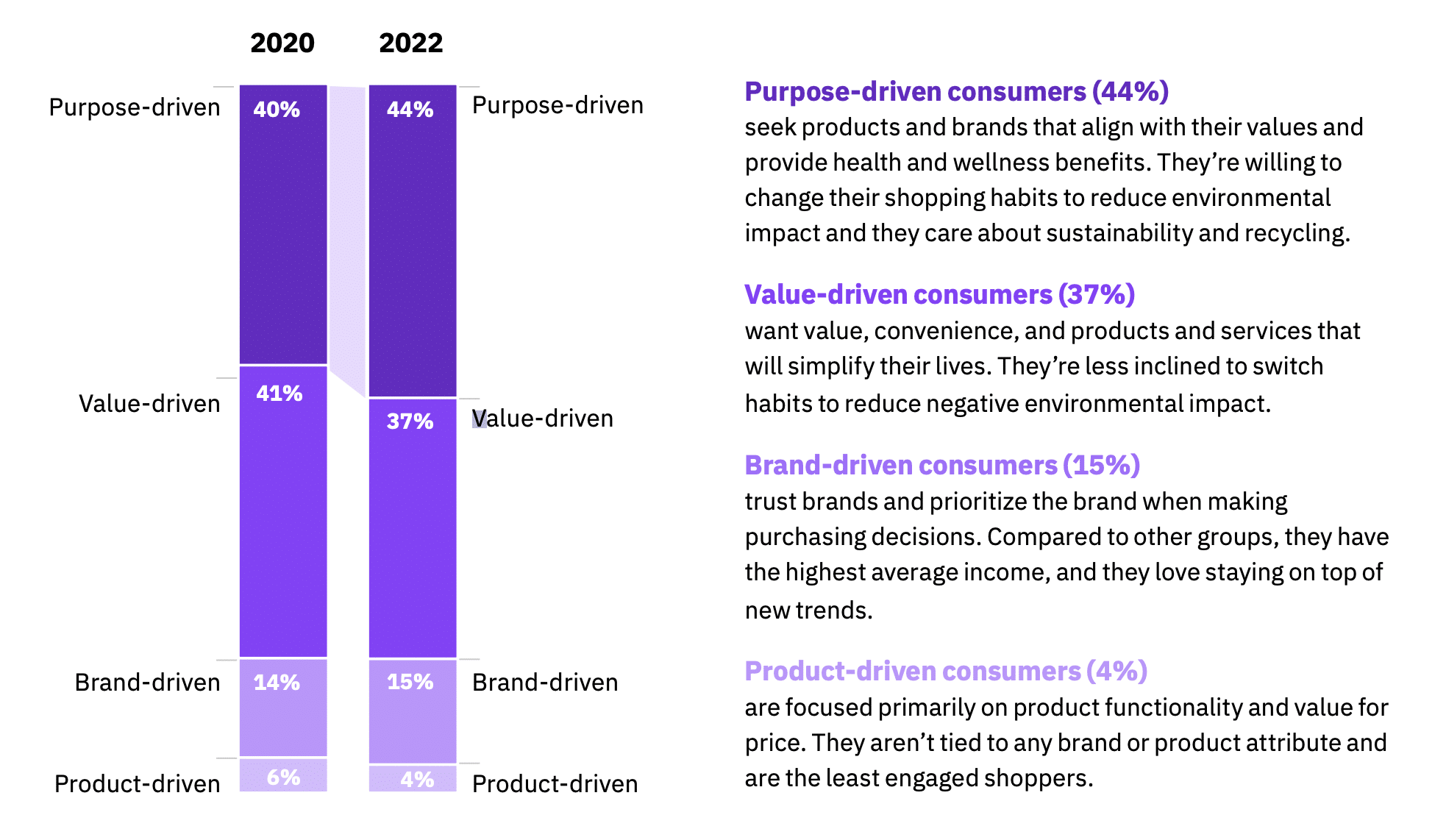 The same report also suggests that purpose-driven consumers are more engaged, and they shop more than value-driven customers. These characteristics make purpose-driven consumers potentially long-term and high-value customers and brand ambassadors.
These findings tell us that in order to attract purpose-driven customers, you first need to align your brand's values and personality with your customers' values. Then you need to optimize your unique selling propositions to make them suitable for purpose-driven consumers.
CI gives you the option to make this all happen based on data. Using zero-party data, willingness-to-pay research, conversational marketing, and all the other CI resources, you can derive invaluable information on your target audience's values.
For example, ten years ago only, a small minority of the global consumer base cared about sustainability and environmental responsibility. But the consumer is changing. And the change is often rapid amid global events like the pandemic. The key to maintaining your brand's relevance is always keeping an eye on your customers' data and the world surrounding all of us.
Customer Intelligence: Highlights
When it comes to collecting customer intelligence, there are four methods that could have the greatest results:
Collecting customer transactional, demographic, and psychographic data through your CRM.
Asking consumers directly through different communication channels.
Willingness-to-pay (WTP) research is especially helpful.
Gathering behavioral data on your website or application.
Listening to conversations on social media