Ever patronized a business that went out of its way to anticipate your needs and just be nice, without expecting anything back?
That's proactive customer engagement – a cornerstone of customer success. When approached in the right way and with the correct tools, it can kick customer loyalty into overdrive and turn your ROI around overnight.
Today, let's go directly into why you should aim for proactivity with customers. For starters, you need to get the principle of proactive customer engagement. After the definition, however, you'll have some concrete steps – no, leaps you can take towards proactivity. Let's dig in!
The Principle of Proactive Customer Engagement
This isn't an article about proactive customer service but rather about proactive customer engagement. You can do proactive service without really having a strategy, but as far as customer success is concerned, everything can be optimized and planned so you never miss an opportunity to be proactive ever again.
That's the principle of proactive customer engagement – to constantly keep in touch with your customers, occasionally solving issues they have before they reach out or even know they have issues.
Proactive customer engagement means having a system in place to engage with customers throughout the customer journey in a proactive manner – before problems, needs, or changes arise. From onboarding to retention – all stages require some level of proactivity and it's customer success' job to do it.
It also involves:
Reaching out before customers become frustrated or tickets are escalated. Associated KPIs: number of customer tickets or complaints, number of escalations
Giving customers the attention they need – with different levels of engagement per customer, journey stage, or a mix of other account-specific factors. Associated KPIs: CSAT, NPS®, engagement
Using proactive outreach opportunities to make customers feel valued, heard, and thus move them towards loyalty. Associated KPIs: churn rate, referrals, customer reviews, upsells, cross-sells
Anticipating specific customer journeys (based on experience) and providing aid or resources to help them achieve their goals quicker, better, and with added value. Associated KPIs: product and feature adoption rates, churn rate, referrals, customer reviews, upsells, cross-sells
Why Proactive and Not Reactive?
Proactive was etymologically formed from reactive. Going by that simple logic, you need to turn your reactive efforts into proactive ones. Engaging proactively with customers is also in tune with current consumer preferences:
By that logic, going proactive means you'll immediately stand out in the SaaS crowd as being customer-centric, offering transparency, and a helping hand for customers on the quest to their goals.
At the very least, by being proactive during onboarding stages, you're already putting your customers well on their way to success and increasing product & feature adoption, loyalty, and retention rates. But how do you ensure you do it well? It's time we found out:
How to Practice Proactive Customer Engagement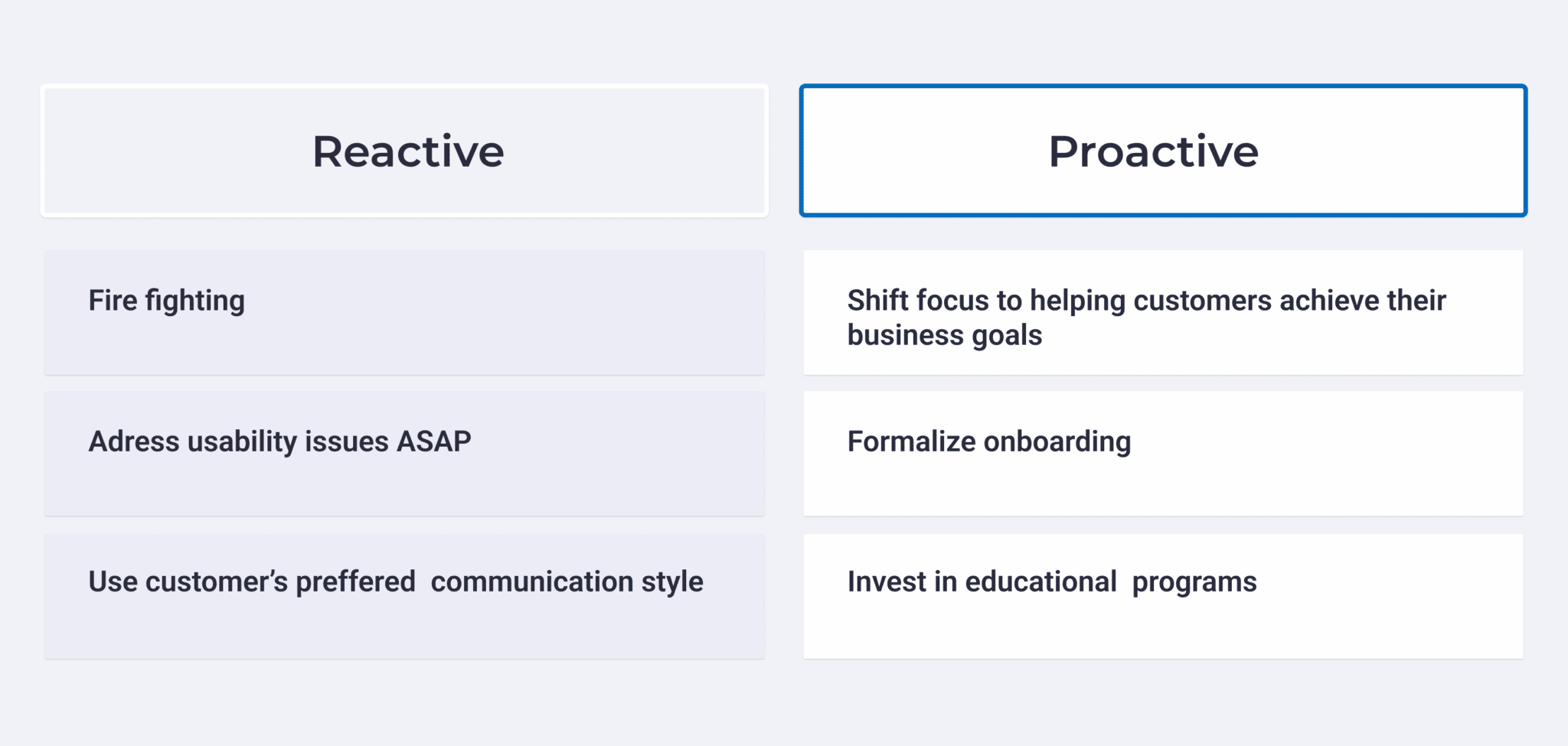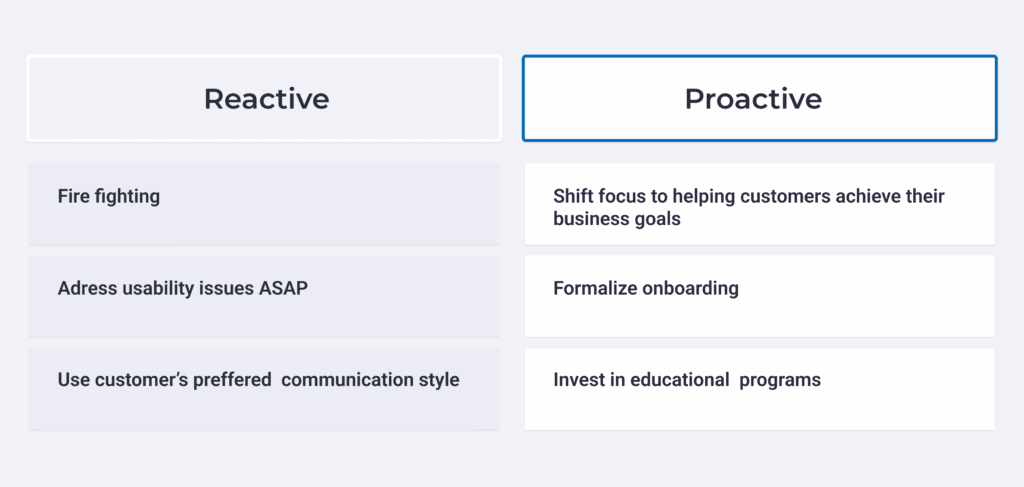 1. Monitor accounts to ensure you have all relevant data when you need it
To begin developing solutions or automating processes, you must thoroughly understand your customer and how they use the product (which features they use and how often).
Furthermore, you can generate targeted campaigns that improve customer loyalty by closely monitoring customers and gathering data and insights from every touchpoint. You can then use these insights to better anticipate customers' needs and wants.
For example:
during onboarding – track customer progress and provide resources ahead of time, such as a recorded demo call paired with written documentation to ensure high product and feature adoption
during adoption – monitor customers' key product feature usage and set notifications for signals that they don't understand the product
during retention – monitor churn precursors and friction points, then automate a playbook with actions and notifications to prevent escalations
for renewals – ensure they're handled on time, reach out beforehand just to check-in, and implement an action plan for accounts showing churn signs. You can use product offboarding data to generate a cheat sheet of responses & counteroffers for those about to churn.
for upsells – monitor account activity and determine the ideal type of upsell and moment for it.
Fortunately, all of the above can be handled easily with a good customer success solution that has an account overview with relevant and diverse Health Scores, and the ability to automate customer playbooks according to your needs.
2. Chat with your customers on their preferred channels and educate them
A simple low-effort, high-return change can make a big difference. Using the data you've been monitoring, find the channel where your customer engages the most & meet them there – it's an often-overlooked step that can increase customer engagement.
Once you've got that down, it's time to chat:
Check-in with customers frequently just to make sure everything is fine.
Send them industry articles, trends, or videos, things that you both care about
Repurpose your content – new blog posts, webinars, and case studies make great conversation starters
Find methods to educate the customer on things they can do (preferably with your product) to reach their goals
I try to communicate regularly with clients. I may send an interesting article/white paper/video with the subject line 'made me think of our discussion' or 'food for thought, let's discuss' to set up a call. It keeps us on their radar and shows we always have our antennas up, so it's a great conversation starter.
Paige Arnof-Fenn, Founder and CEO of Mavens and Moguls
Pro Tip: Ensure you're using a friendly and conversational tone in all your customer communications. A safe bet is to follow basic rules for support reps but without the limits of a support interaction.
3. Automate campaigns that address customer problems, needs, or changes
Automation enables the modern CSM to be as efficient as possible while also keeping in touch with everything on a personal level. By creating playbooks that serve some proactive function, you're freeing up precious time that can be used monitoring accounts, chatting up customers, or joining sales demos.
Some examples of great proactive playbooks:
Set an automated trigger for frequent friction points or support ticket precursors. Then you can proactively point customers to a resource presenting a solution. If you have all your support documentation neatly organized in one place, you're also teaching them to solve their own issues.
Set playbooks that present advanced features to customers before they need them. If a customer completes their onboarding orientation within the anticipated timeframe, you can congratulate them and then start the playbook that slowly teaches them more advanced features and use cases.
Set a playbook that notifies you when you need to intervene manually – for example, when there are signs your customer has completely misunderstood how your product works. Left alone, these kinds of misunderstandings will escalate, and you'll end up spending a lot more time solving them.
Upsells, cross-sells, renewals – almost anything can be automated. Just make certain you're not losing yourself in flows and can manage them all efficiently.
Here's what Josh Snead, CEO of Rainwalk Technology, had to say:

4. Ensure proper communication for new features, delays, updated documentation
Say you solve a frequent pain in your product. Wouldn't it be great if all customers that ever encountered that issue would see your effort to solve it?
Enter: customer success. Through proactive customer engagement and automation, you can guarantee your customers hear about:
When a bug or issue is fixed
Before new features are about to launch
Before planned product delays
Before a big update is coming up
When you've revamped your documentation
When you launch new, helpful resources like eBooks
Or, worst-case scenario, when you're having problems with the product or there's an outage that might impact them.
Taylor Murchison, SEO Growth Director at On the Map Marketing, mentioned:

5. Create standardized processes and role descriptions for your customer-facing teams
Once you master proactive customer engagement yourself, it's time to optimize your processes and role descriptions to fit in a bit of proactivity throughout your organization.
When every team works together to practice proactive outreach, the end result is your customer has a better experience. That should be the goal of any SaaS, right?
Some concrete steps you can take with this:
Enable your CS and product teams to work together. Find common ground, settle on procedures, and make sure both teams listen to one another & know their priorities.
Make sure your CS reps and support people don't overlap in their proactivity. Everyone must know their role so you don't accidentally start two chats with a customer.
Set clear, distinct scenarios for when each of your customer-facing teams needs to reach out. Example: customer success chats & engages, customer support solves issues proactively, and product steps in when the product needs to be fixed.
Most of the specifics here rely heavily on your business, but the principle of proactive customer engagement remains the same.
Is Proactivity the Future of Customer Communication?
Customer engagement is changing. By 2025, Gartner predicts that proactive interactions will outnumber reactive ones. According to Forrester, of the companies that implement proactive communication:
45% do so because it increases customer satisfaction, anticipates their needs, and solves their issues proactively
41% do so because it maximizes the effectiveness of sales and marketing campaigns
40% do so because it maximizes resource utilization
By these metrics, optimizing proactive customer engagement efforts should be a top priority for any CSM.
Proactive or Reactive?
Sometimes the line between reactivity and proactivity is difficult to determine – especially when it comes to customer issues. When a customer has an issue and you reach out to solve it – it's clearly reactive. However, the fact that you decide to send a message prior to that issue becoming a ticket can be viewed as proactive by CSMs, it's even part of their regular workflow.
The difference is very subtle and subjective. However, we like to settle the debate by looking at it from the customer's perspective:
Does the customer expect me to act?
If the answer to that is "no", then the entire endeavor is proactive.
In the end, customer success people need to act whenever they see a reason to act. It's better to be proactive, but in the end, trying to see if something is proactive or reactive is beside the point. What matters most is that you're doing your best to help customers towards their goals.
Follow the advice in this article and make your customers part of the top 13% select group who receive any sort of proactive engagement. Need a helping hand? Book a call with us today.