Whether you're working in customer support, service, or success, most of your career is dedicated to helping your customers have the best experience with your company.
But sometimes, things may not go as initially intended, and mistakes can happen. But the sure-fire way to turn around any bad situation is taking responsibility and apologizing for your mistakes.
Although it may not be fun, direct communication, responsibility, and strategic solutions will help you make amends without losing an important customer. Even though it's not rocket science, it's a gracious art that must be mastered, especially for SaaS businesses.
How to Properly Apologize to Customers when You Made a Mistake
The most effective and least expensive approach to improving a negative customer experience is to apologize genuinely. Being so powerful, knowing how to apologize properly is an essential skill for any business professional out there.
Although it's uncomfortable, and you might momentarily be tempted to sweep things under the rug, a genuine and empathetic apology goes a long way towards keeping your customers loyal for longer.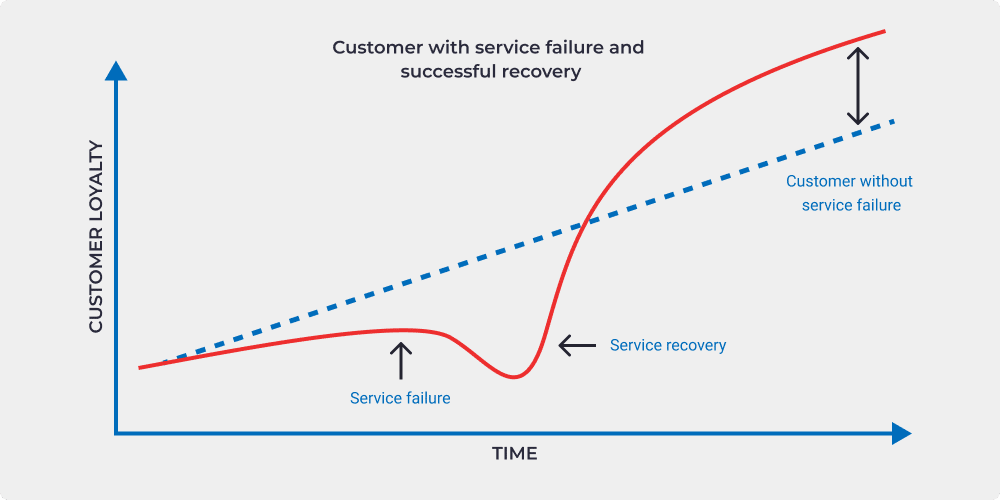 Source: Corporate vision
Apologizing is a human behavior that involves acknowledging and resolving a problem. In business, it's more than learned behavior – it's actually a crucial aspect of any growth strategy. This is especially true for SaaS companies and other businesses where the main focus is on building deep customer relationships and reducing churn.
Detect Your Mistakes as Early as Possible
Before making any kind of apology, it's critical to figure out exactly what the consumer is upset about. The error might be general, or it could be specific to that customer's use case.
Explaining what went wrong and what you've done (or will do) to prevent the issue from arising again is the simplest approach to incorporate the three key components of an apology: acknowledgment, remorse, and resolution.
A quick fix to keeping yourself and your team on top of any occurring problems with your product or service is to set up automated alerts in your customer success tool. With Custify, you're able to know precisely when you need to reach out and apologize with automation.
Acknowledge Your Mistake Outright, No Sugarcoating or Shifting the Blame
As a rule of thumb, it's always better to simply express your regret for what occurred without sugarcoating what happened. Never play the blame game. This is one of the most crucial components of drafting successful apology emails.
Take responsibility for your mistakes, no matter how minor they were. Everyone makes errors, and your customers will value your sincerity.
A simple, straightforward apology can go a long way, and what truly counts is mending the relationship while putting your best foot forward on behalf of your company.
Be Brief and Sincere, Don't Offer 5 Explanations and 4 Apologies
Most customers are eager to learn why anything even went wrong in the first place. Offering an explanation helps to alleviate the fear that it might happen again. But make sure to be brief and genuine; this isn't the time to list excuses or linger on the subject.
It's critical that your customer support, service, or success team reply with care, concern, and awareness when customers reach out with issues. Create your apology in a way that directly answers the customer's specific question. Remember to be open and honest about your service or product's capabilities to set the correct expectations.
Use Some of These Empathy-filled Phrases
Showing empathy is how you let your customer know that you care about them, that you're there to provide a helping hand. Empathy is just putting yourself in the shoes of the dissatisfied consumer.
When sketching your apology, it's also important to let the customer know that you fully realize the amount of disruption the issue might have caused to their everyday business workflow. This way, they'll be more likely to understand they're not being taken lightly. Here are some examples of empathy-filled phrases you can use:
"I can definitely see how frustrating this problem might be."
"I understand how much this problem will affect your existing workflow."
"I'd also be really annoyed in the same situation."
"This is unacceptable, and we realize we have disappointed you."
"We are taking this situation very seriously and will do our best to correct this issue."
Avoid these Phrases and Words Completely
Customer support reps may sometimes reuse some apology phrases to save time while sending out personalized responses. But this can easily backfire. When a customer displays obvious discontent with your product or service, clichéd replies that do not directly answer or address the issue at hand will just add to their rage. Here are some phrases you'll certainly want to avoid:
"We're very sorry for the inconvenience."
"Apologies for the trouble; our team is looking into it."
"We regret the inconvenience."
"Sorry for the bad experience."
Solve the Issue, If Possible, Before Apologizing
All in all, there is just one action that's more important than apologizing and owning up to your mistakes: it's offering your customer a resolution for their issue.
Customer service apologies are useless unless a solution to the problem accompanies them. If the issue has already been resolved, inform the customer and explain what you did to correct the error. If you believe clients can accomplish it on their own, walk them through the steps of the process or direct them to an FAQ page.
Amend the Situation with a Form of Compensation
In most negative customer care circumstances, it helps if you can go one step further and offer some type of compensation. This way, you're more likely to repair that relationship and make up for the inconvenience and stress. Here's what you could consider as forms of compensation for the trouble:
Offer them a discount code or voucher
Provide free goodies or extra product features/services
If applicable, offer a full refund.
Always Follow Up with Them
After you've sent your apologies, you should consider following up with the customer in the future. Contact them again to see if there is anything you can do to further help or assist them in using your product/service.
Also, mention if you've implemented any changes or software updates after their issue has been solved. Customers will appreciate your care, and they'll remember that you are looking out for their best interests.
Examples of Effective Apology Letters to Customers
Apology Letter from Amazon
Here's an apology letter example from the largest e-commerce website, Amazon. Not only do they provide a great understanding of the issue at hand, but they also offer compensation for the trouble they've caused their customer.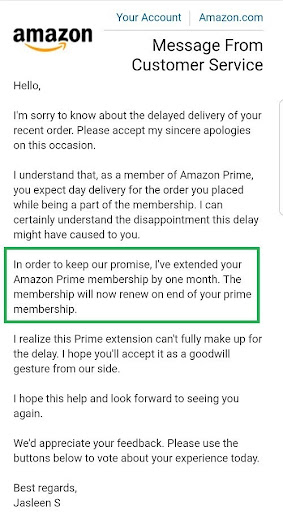 Apology Letter from ZocDoc
After an appointment was unexpectedly canceled, ZocDoc apologized to their customer. They've personalized their email and also provided an incentive to keep using their service.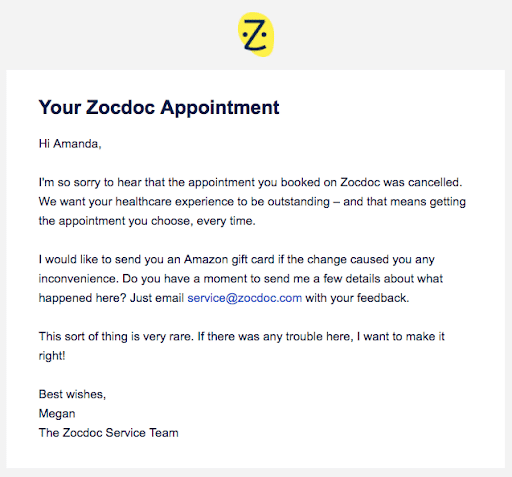 Apology Letter from Kohl's
Sometimes, delays are inevitable due to weather conditions, inventory issues, or just slow workers. Kohl's handled a shipment delay in a very empathetic manner, sending their apology along with the reason, solution, and compensation.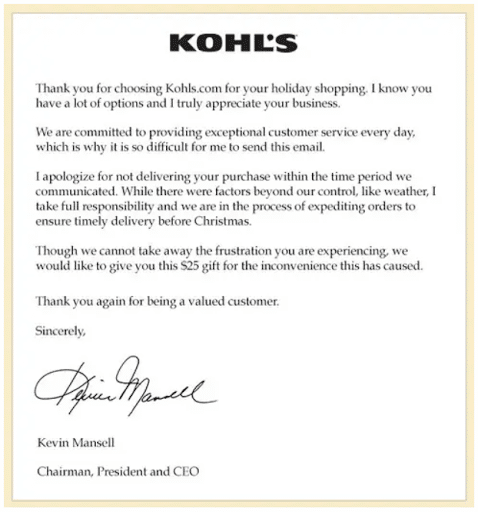 Apology Letter from Airbnb
Sometimes, the issues we might need to apologize for go beyond a simple typo or a software bug. That's where the art of apologizing really shines through. Here's how Airbnb handled this when they were accused of discrimination – not only did they own up to their mistake, but they also explained what they'd do to prevent it from happening again.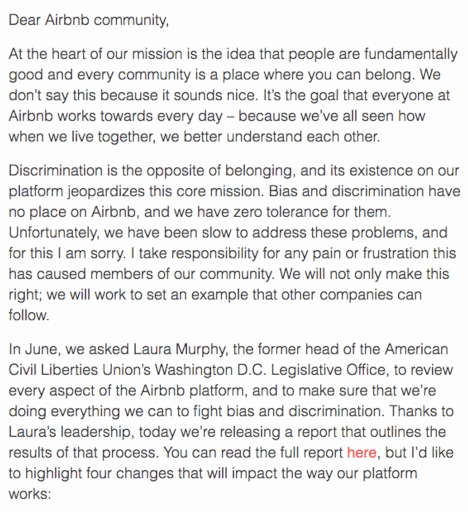 Let's Learn! A Roundup of Opinions about Apologizing to Customers:
1. Make Sure To Listen First, Before Saying Sorry
"Being quick to give an apology creates the notion that you're simply doing it as a formality. Customers appreciate it when businesses listen to their concerns. Don't cut a customer off or offer platitudes to appease them. If anything, listening to the rant is a good way to earn some much-needed customer feedback."
Alina Clark, Co-Founder and Marketing Director, Cocodoc
2. Get A Complete View Of The Issue
"When a customer explains their problem to you, make sure you grasp everything that went wrong. The problem may be universal or customized to the customer's use case. Gather all the information you can from them, and don't be afraid to ask more questions to better understand the problem. The last thing you want to do is irritate clients even more by responding without fully understanding their issue."
Tanner Arnold, President and CEO, RevelationMachinery.com
3. Describe What Went Wrong In Detail
"The details of what happened can be discussed after you've apologized, taken responsibility, and reflected the feelings of your audience.

This is the easy part because you can now explain why the mistake occurred, whether it was due to an accident, a lapse in judgment, or a rogue employee. This is your chance to explain yourself, whatever the issue may be. But be careful not to come across as defensive. The explanation will be easier to understand if you set the tone correctly in your introduction.

[…] If you feel like you're just making things worse, you may want to stop with a brief, sincere apology."
David Janssen, CEO and Founder, VPNoverview
4. Explain What You'll Do To Avoid The Issue
"Assuage your customer's fears by assuring them that the problem is under control. Outline the steps you'll take to prevent this from happening again. What have you learned as a business from this experience? Don't strive to present a more rosy view than is necessary, but a positive tone is beneficial. It isn't the end of the world as we know it. You're not going to let this get you down, and you're going to do better in the future!

"I'm sorry" isn't going to solve all of your problems. However, a full apology delivered in the appropriate tone will go a long way toward preserving a positive connection with your customers."
Eric Carrell|, Marketing Advisor, SurfShark
5. Use The "Feel, Felt, Found" Technique
"One of the best ways to apologize to a customer is to use a technique called feel, felt, found. Using this technique, you will let the customer understand that you know how they feel. Then you will discuss that other customers have unfortunately felt the same way and what you have found is that by offering this solution to fix the problem, customers were left happy and satisfied with the results. This way, you are apologizing, but also providing a solution for the customer."
John Wu, Co-Founder and CEO, Gryphon Connect
6. Acknowledge, Explain And Propose Solutions
"I use a simple framework for apologizing to customers that starts with acknowledgment, then goes on to explain and propose solutions.

For example, last December, we had a few customer service mishaps related to client events. Our team was facing numerous logistical challenges, and demand had suddenly spiked — so we were doing everything we could to keep up. A few clients reached out to express frustration with the challenges. I took these calls and started with a strong acknowledgment of the issue. "I'm so sorry. This is 100% on us. We aren't meeting expectations."

This acknowledgment can go a long way to helping people feel heard and is very different than a defensive response or generic one that many organizations give. Next, I explained why the issues occurred and proposed solutions. I believe that your explanation should include a little more transparency than you feel comfortable with. Your clients are real people and will understand. Your solutions should go above and beyond the baseline. I'm happy to say that in almost all cases, we were able to make amends and deliver high-quality experiences to our clients."
Michael Alexis, CEO, TeamBuilding
7. Remember to Be Sincere
"A lot of businesses think that apologizing to a customer, if they are in the wrong, is just a formality and a mere email or perfunctory note will do the trick. This is a very insincere and callous way to treat your customers who are already disgruntled and dissatisfied with your service. At SnorkelMart, we encourage all our CSR's to actually call the customer back and talk to them, sending their deepest apologies with a sincere tone. Adding a personal touch to the conversation, rather than sounding like you're reading the apology from a paper, is crucial to convince the customer!"
David Morgan, CEO, Snorkel Mart
8. Follow up with Customers
"You've resolved their issue, apologized, and retained their business. However, the cycle does not come to an end there. Additionally, it is critical to do a complete root cause investigation of the problem with all affected internal teams and ensure that it does not recur. Additionally, you must follow up with consumers on a regular basis to ensure that such concerns have been resolved and that customers are receiving the ideal experience they deserve. This way, you can convert a dissatisfied consumer into a devoted user of your product."
Daniel Foley, CMO, Scooter Guide
Never Be Sorry for Saying Sorry
Unfortunately, every Saas business has to deal with mistakes in their business processes – it so happens with anything that requires human contact.
What's crucial is saying sorry and owning up to it. Remember to take responsibility, acknowledge your customer's discomfort, be empathetic, explain what went wrong, and, finally, offer a timely solution. No matter the reception, you should never feel bad or unprofessional for saying sorry. If customers don't reply in kind, it's their own problem.