In today's business landscape, customers are more informed and demanding than ever before due to the rise in technology and social media. As a result, businesses must manage customer expectations efficiently to succeed. 86% of consumers are willing to pay more for a positive customer experience, emphasizing the importance of exceeding expectations.
Managing customer expectations is crucial to establish long-term client relationships and can make a difference in securing a satisfied, loyal customer. Effective communication that includes setting realistic expectations, providing accurate information, and addressing concerns or issues is crucial. In this post, we'll cover top strategies to manage customer expectations successfully.
8 Strategies To Manage Customer Expectations
1. Set Realistic Expectations
Exceeding customer expectations is crucial for businesses to succeed. While reasonable expectation levels help businesses hit targets and provide exceptional customer experiences, failing to meet customer expectations can result in negative reviews.
Therefore, businesses must go above and beyond in meeting customer needs to ensure satisfaction and prevent negative feedback.
Here's a quick example of how setting realistic expectations can create transparency between you and your customers:
The product will arrive within 5-7 business working days
Refunds will take 3-5 business days to process
Customer service will respond within 24 hours
Our product is not compatible with older operating systems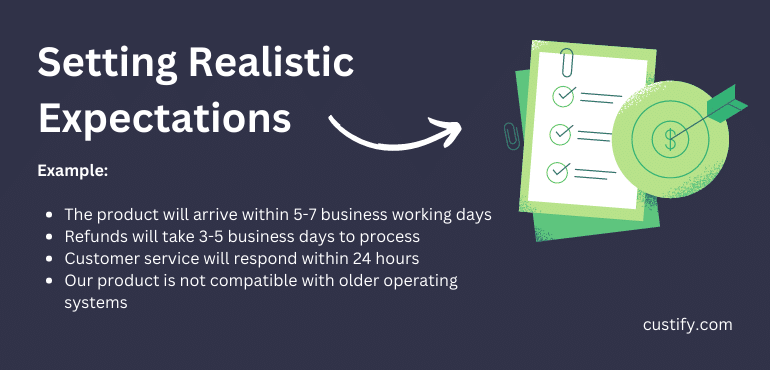 By providing such information upfront, your customers now have a clear understanding of what they can expect from your company. This not only helps avoid negative reviews or complaints but also builds trust and loyalty among your customer base.
2. Collect Feedback
As a customer service representative, clear communication is vital when interacting with customers — not just for the sake of clarity but also for building a relationship and fostering trust.
Communicating means conveying your thoughts and ideas succinctly and effectively, without leaving any room for misunderstanding or confusion.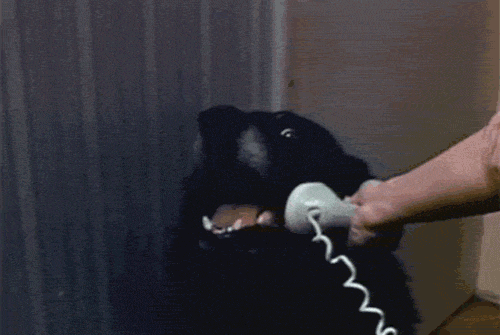 One of the biggest benefits of clear communication is the feedback it generates from customers. By speaking clearly, you provide customers with an opportunity to relay their thoughts and feelings about a product or service, which can give valuable insight into areas that require attention from a business.
But why feedback is important when it comes to the management of customer expectations:
Feedback helps businesses better understand their customers' needs and preferences.
Feedback provides businesses with valuable info about what customers think about their products and services.
Customer feedback can help businesses anticipate and address issues quickly.
Feedback allows businesses to adjust their strategies to better meet customer expectations and improve overall satisfaction.
Collecting feedback allows businesses to recognize areas of potential improvement and create new initiatives or processes that target those areas.
Customer feedback shows that their opinions matter, increasing customer loyalty.
Therefore, proper communication is not only important for customer satisfaction but for the growth and development of a business too.
In an ever-evolving and competitive business environment, communicating is non-negotiable for any customer service representative.
3. Listen Carefully
Listening carefully is an incredibly effective strategy for managing the expectations of customers. This is because customers expect companies to listen to them when they voice their concerns or provide feedback.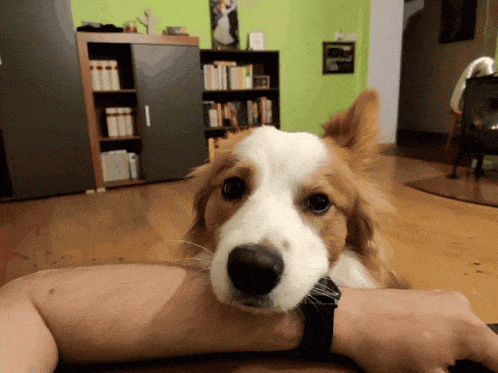 Active listening by customer service teams builds trust and a positive customer relationship by demonstrating an understanding of their needs.
This practice ensures customers feel valued, and clear communication allows for managing expectations.
Here are some tips for listening carefully:
Be open and receptive when listening to customers.
Show interest in what the customer is saying by asking questions and clarifying points.
Pay attention to body language and facial expressions.
Take notes of customer feedback for future reference.
Acknowledge customer feedback before responding and try to provide constructive solutions.
All in all, listening carefully is a crucial component of managing customer expectations and creating positive relationships between customers and companies.
4. Omnichannel Support
By allowing customers to connect with your business through various channels, like phone, social media, email, and live chat, you're providing them with the convenience and flexibility they need to solve their issues or get their questions answered.
But it's not just about being available on multiple platforms — it's also about ensuring consistency in your responses and follow-ups across all of them. And this is where team task management comes into play.
A centralized system for managing customer inquiries and complaints will help you streamline your support process and provide a seamless experience for your customers.
Remember, your tone of voice matters too — be conversational, empathetic, and to-the-point, and your customers will appreciate and trust your support team even more.
5. Follow Up Regularly
In the world of business, customer expectations can make or break an organization's success. One excellent strategy to manage these expectations is through regular follow-ups with customers.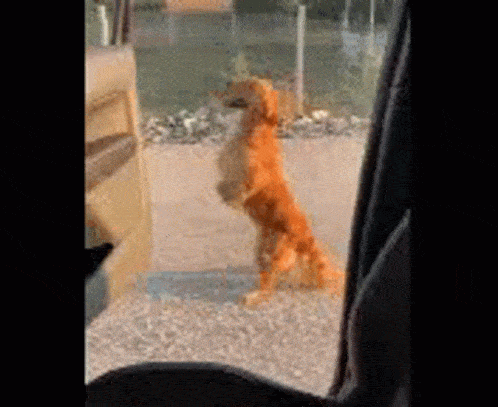 Customer support teams can utilize this strategy to keep customers informed and engaged in their satisfaction. By following up regularly, a sense of connection is built between the customer and the business.
This connection leads to increased customer loyalty and satisfaction, putting businesses ahead of the competition.
Reasons Following Up is Crucial:
Following up with customers after their purchase lets them know that their feedback is appreciated and valued.
Making sure to provide timely replies to any customer inquiries can show them that the business cares about their concerns.
Sending periodic updates about new products or services shows customers that the business is striving to meet their needs.
Periodically asking for feedback from customers after every interaction allows businesses to stay in tune with what customers like and dislike.
6. Show Appreciation And Reward Loyalty
Showing appreciation to customers builds a deeper connection and understanding of their needs. This increases engagement, loyalty, and positive word-of-mouth.
Appreciation sets a standard of excellence for teams and results in customers who are more forgiving of any mistakes or delays. Incorporating appreciation leads to loyal customers who feel respected and valued.
Creating a strong business relationship through rewarding loyalty is an effective way to manage customer expectations. This practice increases customer satisfaction and provides a competitive advantage over rivals.
Customers who feel valued and appreciated are more likely to stick with you, resulting in a consistent revenue stream. Loyal customers are also inclined to recommend the brand to friends and family, expanding the reach and increasing clientele.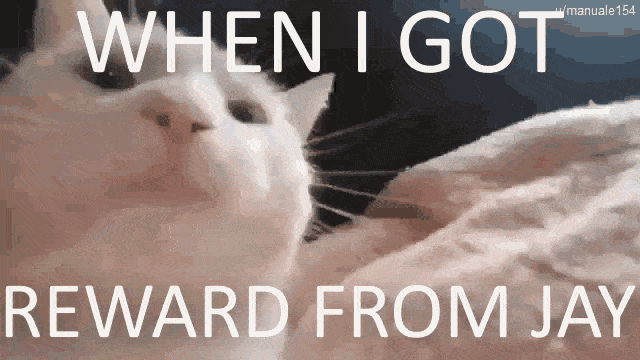 Thus, businesses that prioritize customer loyalty see significant benefits and long-term growth.
Here are some examples of loyalty rewards:
Discounts on upgrades or add-ons.
Priority customer support.
Access to exclusive webinars and tutorials.
Exclusive discounts on partner products.
Early access to beta versions of new products.
Rewarding customer loyalty builds trust and loyalty toward the brand while demonstrating the benefits of staying with the company.
It's a win-win situation that strengthens your business relationship and creates a stable customer base that drives growth and success.
8. Be Flexible
Being flexible is a fantastic way to effectively manage customer expectations. Customers place a lot of weight on their expectations. As a result, businesses need to be adaptable in their approach to meet the rising demands of their customers.
Communication channels play an integral role in this dynamic process, as businesses need to stay connected with their customers and address their needs on time.
Flexibility in meeting customer needs and expectations is crucial for businesses to leave a positive impression on customers.
It's important to note that this process isn't one-sided, organizations need to manage their expectations as well. Being transparent and honest about their limitations helps organizations avoid promising something they can't deliver.
Being flexible in managing expectations is a thoughtful approach and will help businesses build healthy relationships with their customers in the long run.
Wrap Up
Effective management of customer expectations is crucial for achieving business growth and success. Eight strategies, including clear communication, setting realistic expectations, and monitoring customer needs, can guide companies.
By exceeding customer expectations through exceptional service, loyalty and satisfaction can be increased, leading to higher revenue and profitability. Implementation requires a customer-centric effort from everyone in the organization. Prioritizing and managing customer expectations is vital for success in today's competitive market.