Since the outbreak, many businesses realized very quickly that they were going to have a tough time keeping their customers engaged. As a result, businesses keep coming up with new solutions to get new customers and retain old ones in order to stay afloat.
But you don't have to reinvent the wheel when a possible solution to your customer engagement challenges might be right in front of you. For instance, why not try conversational text messaging?
You might be thinking right now – nobody reads texts. Or that consumers hate texts from brands and consider them spam.
Here's why you're wrong to think that way. According to SMS marketing statistics:
SMS open rates are about 98%
45% of people usually reply to texts from brands
61% of marketers still use SMS texting as a marketing strategy
So, no, using texting to engage your customers is not an obsolete technique. But I'm not exactly talking about SMS texting, but rather about conversational text messaging.
What is it?
Let's answer this question and take a look at how you can use conversational texting to keep your customers engaged.
A Deeper Look into Conversational Texting
First of all, let's define conversational texting and its goals.
Conversational text messaging or texting is a technique of engaging with a contact one-on-one after they replied to a brand's message or when they initiated the conversation themselves.
Companies usually employ conversational texting when they need a method to document the interaction with each user. The goal is to create an immediate experience with a brand to drive customer engagement.
The most common way is to optimize a chatbot for conversational text messaging. An NLP-based chatbot follows a conversation and builds it based on keywords and other textual clues.
Benefits of Conversational Text Messaging
As you might have guessed, the main benefit of conversational texting is the immediate engagement it delivers. But it's not the only perk you can get from it.
Here are some more benefits of conversational text messaging:
Your text is more likely to get an answer. In conversational texting, the dialogs are built in a specific way to make the interaction natural and value-oriented. Consumer's needs are addressed directly, making them more interested in this conversation.
Texts help collect valuable data about your customers. Usually, consumers share their needs in their own words, which makes conversational texting a unique way to collect valuable consumer data.
You get a chance to build long-lasting relationships. Conversational texting is about meaningful interactions with your customers. Harvard Business Review found that continuous communication through messaging apps helps businesses make their offers not as forced but based on real value, which also helps form meaningful relationships with customers.
Conversational text messaging can be an awesome addition to your content marketing strategy. You can involve it in generating new leads as well as retaining your existing customers. And it won't cost you too much: for instance, setting up a Tidio chatbot will only cost you around $18 a month.
Difference between Conversational Texting and Two-Way Texting
In business texting, there are three main types of messages:
One-way messages – you send a message to your customers.
Two-way messages – customers can send back limited replies.
Conversational texting – the interaction between a business and a customer is ongoing.
While the concept of one-way messaging is more or less clear, the difference between two-way messaging and conversational texting is not very obvious. Both types involve a two-way interaction, and both of them imply a customer's response.
So what's the difference?
When it comes to two-way texting, a customer usually sends a reply in the form of a number to confirm the following action. For instance, they can press "1" to talk to a customer support representative.
Two-way texting works great if you need your customers to confirm appointments, respond to special offers, join the waiting lists, etc. But the customer's response options are limited.
In its turn, conversational messaging is more complex. Brands and customers can have long conversations via text. If we're talking about chatbots, these conversations are usually scripted, but these scripts are based on natural language programming to replicate natural speech.
But, if we're talking about conversational SMS messages, then you need to assign each customer a phone number, just like in two-way texting, as the customer verification method.
5 Characteristic Features of Conversational Content
Since we started talking about scripts in conversational text messaging, it's important to highlight the main features of the content that will go into these messages.
Conversational content differs from all other content types you're producing for your marketing strategy. Here are its main five characteristic features:
Short and simple sentences. Interactions in conversational text messaging usually take place in a limited space, like a smartphone screen or a chatbot window.
Straightforward questions. Even though conversational texting implies longer conversations, the questions you ask your customer should not take them too much time to answer.
No passive voice. Passive voice inverts the structure of the sentence and makes it confusing who is performing an action and why. So, use active voice to make your replies more straight-to-the-point.
Personal pronouns. The goal of conversational texting is to make your interaction resemble a real-life conversation. The use of pronouns can make your interaction more personalized.
Natural language. We can't highlight it enough – natural, everyday language is what differentiates conversational text messaging from other business texting types. So, pay attention to the flow of your conversational texting script.
All in all, your goal is to generate conversations that improve customer experience. So, the more natural your interaction is, the easier it will be for the customer to engage.
5 Conversational Texting Tips to Boost Customer Engagement
Now, as we've covered all the basics of conversational text messaging, let's take a look at how to use it right for better engagement and stronger relationships with your customers.
1. Ask for Consent First
Before we go into writing scripts and writing engaging questions and replies, I need to cover one important thing – user consent.
According to the General Data Protection Regulation (GDPR), companies that use text messaging for marketing purposes need to ask for customers' consent to receive messages from a brand.
Essentially, asking for consent means getting permission for handling a customer's personal data and record conversations. Along with this consent, GDPR also requires companies to:
provide an opt-out option for all customers engaged in text messaging
make all the collected data anonymous
create an automated data breach notification
So, before you start building a system for conversational text messaging, consider if all your actions comply with all government regulations regarding collecting and storing consumer data.
At this point, think about any other disclaimers you need to share with your customers before you start the conversation. For instance, Florence, an online health assistant, sends a disclaimer that users shouldn't rely on its help in medical emergencies: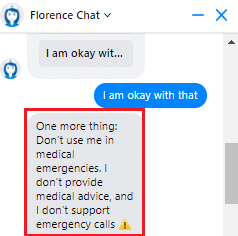 Of course, whether to use a disclaimer or not depends on the type of business you run as well as your product or service. But consider any situations in which interaction with a customer would require a warning or a notice.
2. Call Your Customers by Name
Now, let's talk about engaging your customers.
If you want to build a rapport right from the start, think about how you usually start the conversations. The optimal way would be to introduce yourself and address your customer by name.
Of course, you might think that mentioning a customer's name is hardly a good way of personalization. However, it still works quite well. It's true that addressing a customer by name doesn't offer them any direct value. But it's still a good way to build a rapport and start a natural conversation.
So, once a customer sends a trigger word, address them by their name right away: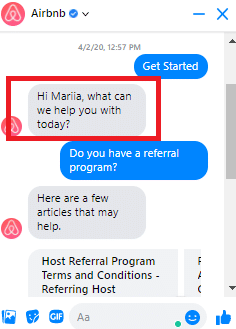 The goal is to make your customers feel comfortable and create an atmosphere of trust and support.
3. Ask Personalized Questions
We already mentioned that all interactions in conversational text messaging should have a natural flow. It means that you should ask the right series of questions, which should be consistent and personalized.
Consider Forksy, a digital food diary service. To personalize its functions, the service interacts with customers to find out their weight, height, age, gender, and activity level through a series of questions: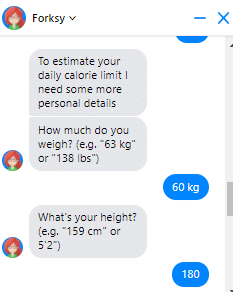 As a result, a customer gets the exact number of calories they need to support a healthy weight: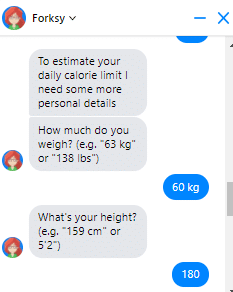 So, think about how you can personalize your offer and, based on your findings, create a script for conversational text messaging with a set of consistent and personalized questions. This way, you'll have your customers stick around for longer.
4. Be Helpful
Another great idea for engaging your customers during a conversational texting interaction is to provide additional resources. These resources should be relevant to the topic you're discussing.
For instance, Snaptravel, a traveling and booking service, adds personalized links to hotel deals at the location in which a customer is interested in: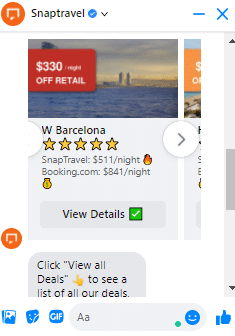 Including additional content makes your interaction helpful to the customer. This is also a great idea to attract more visitors to certain content types on your website – a blog post, a commercial page, etc.
5. Conclude with a Strong CTA
The end of the conversation with a customer is as important as its start. Once your interaction with a customer is over, end your conversation with a CTA.
A good call-to-action should:
be compelling and visible
be concise and clear
create a sense of urgency
provide value
push a customer to action
Sometimes, an interaction in conversational text messaging has several CTAs depending on the goal. For instance, Florence, a health assistant service we mentioned a bit earlier, adds CTAs in the middle of the conversation to help a customer choose between different response options: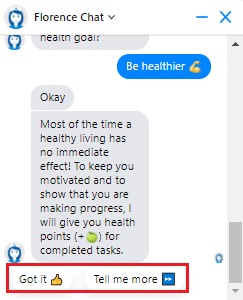 This is also a great way to control the flow of your interaction with a customer. Such CTAs help you make sure that the customer only gets relevant information from you and that your conversation won't jump the track.
Wrapping Up
Despite popular misconceptions about business texting, conversational text messaging is a viable way to engage your customers. Moreover, in some cases it may the essential because it provides a high level of personalization and value.
If you decide to incorporate conversational text messaging in your marketing strategy, keep in mind that its goal is to build a relationship with each customer through natural interaction. Even though you are going to create scripts for these conversations, all your questions should be aimed at personalized responses.
Whatever your feelings about conversational texting are right now, I encourage you to give this strategy a try. It's a great way to engage new and retain old customers through meaningful conversations.