Zapier is an automation tool that does a lot of heavy lifting for business owners. The software allows users to connect apps and automate several tasks from their platform. This can be done without coding or employing the help of a technician. So if you use a wide range of business and productivity apps, and you want a way to connect them all.
Business owners and developers use Zapier to achieve a more streamlined workflow. For instance, you can combine Trello and Google calendar together on this software. The best feature the software provides is that it allows so many products to interact even though they don't have a native integration. Among its more popular integrations are MailChimp, Slack, Gmail or Trello.
What Can I Do With Custify and Zapier?
The possibilities are almost endless. Zapier lets you connect almost any established software to Custify, from Trello and Asana to Google Sheets or Outlook. Here are a few example Zaps: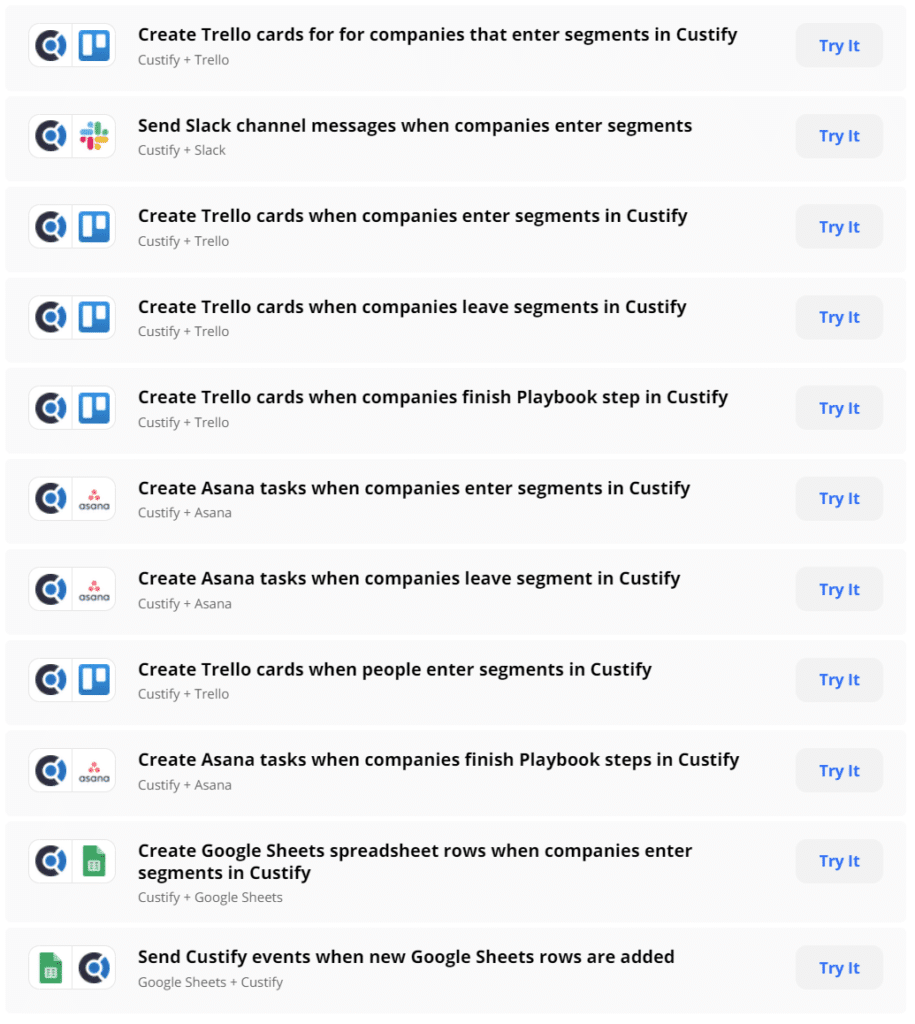 How Does Zapier Work With Custify?
Every Zap has two parts: Triggers and Actions. You can also use Searches in your Zaps. Here are the pieces you can use in your workflows:
Triggers
Company Enters Segment: Triggers when a company enters a defined segment.
Company Leaves Segment: Triggers when company leaves a defined segment.
Person Enters Segment: Triggers when a person enters a defined segment.
Person Leaves Segment: Triggers when a person leaves a defined segment.
Playbook Step: Triggers when a company enters the selected playbook step.
Actions
Create Company: Create a company in Custify.
Update Company: Update a company based on the Company ID.
Create Person: Create a person in Custify.
Update Person: Update a person based on the person's E-Mail.
Send Event: Send a new event for an existing person based on their Custify user ID or email address.
Searches
Find Company: Finds a company by searching by company name.
Find Person: Finds a person by searching for their email address.
FAQ
Do I need a Zapier account and will this cost extra?
Yes, you will need a Zapier account. Every account gets five free Zaps that are updated every 15 minutes. Paid tiers include more Zaps that run more often. Check out the Zapier pricing page for more info.
Can I limit the number of zaps?
Yes, this can be done in Zapier.
How Do I Activate This Integration?
1. Sign in to your Custify account and navigate to the Integrations section.
2. Click "Connect to Zapier" and grant Zapier access to your Custify account.
3. Build your own Zaps or use the pre-built Zaps from Custify.