Zoho is one of the most popular software providers for small to midsize businesses. The company offers around 45 SaaS products designed to help companies in their daily activities like invoicing, project management, note-taking, presenting, word processing, and database management.
The most popular Zoho products include Zoho Office Suite, Zoho Invoice, Zoho CRM, and Zoho Desk. All of these products are designed to work well individually or as part of a suite.
Zoho CRM is focused on revenue growth through lead generation and customer engagement. It's a fast and intuitive cloud CRM solution at an affordable price with very competitive features. Zoho CRM can be a great choice for a variety of business sizes, but its flexible pricing and many features position it as a first-line choice for small to midsize companies.
What can I do with Custify and Zoho CRM?
Segment your customers based on revenue data from your Zoho CRM (e.g., by value of annual revenue).
Define lifecycle stages based on account types and make sure customers stay on track with tasks and alerts assigned to CSMs.
Build customer success playbooks based on deal stages. For example, you can target specific leads with an educational email campaign.
Create health scores based on data like annual revenue and potential deal value.
How does Zoho CRM work with Custify?
There are two different options to import your data: "full" or "enhance." These determine if Custify will treat Zoho CRM as the primary source of truth for your data or just enhance the data with attributes, notes, calls, and so on. Our team will work with you to find the setup that best suits your use-case.
At this time, the following data points can be imported:
Contacts: Enhance or add contacts from Zoho CRM as People in Custify.
Accounts: Enhance or add companies from Zoho CRM into Custify.
Notes: Show your Zoho CRM notes activity in Custify.
Calls: Show your call history from Zoho CRM as notes with a "Phone Call" tag in Custify.
Custify can also export the following data:
Notes: Show the notes written in Custify in Zoho CRM.
FAQ
Can I push data to Zoho CRM?
Yes, you can push notes from Custify.
Can I get notifications when new leads sign up?
Yes, this can be done through a simple playbook setup.
How Do I Activate This Integration?
Sign in to your Custify account and navigate to the Integrations section.
Select "Zoho CRM" and press "Connect to Zoho CRM."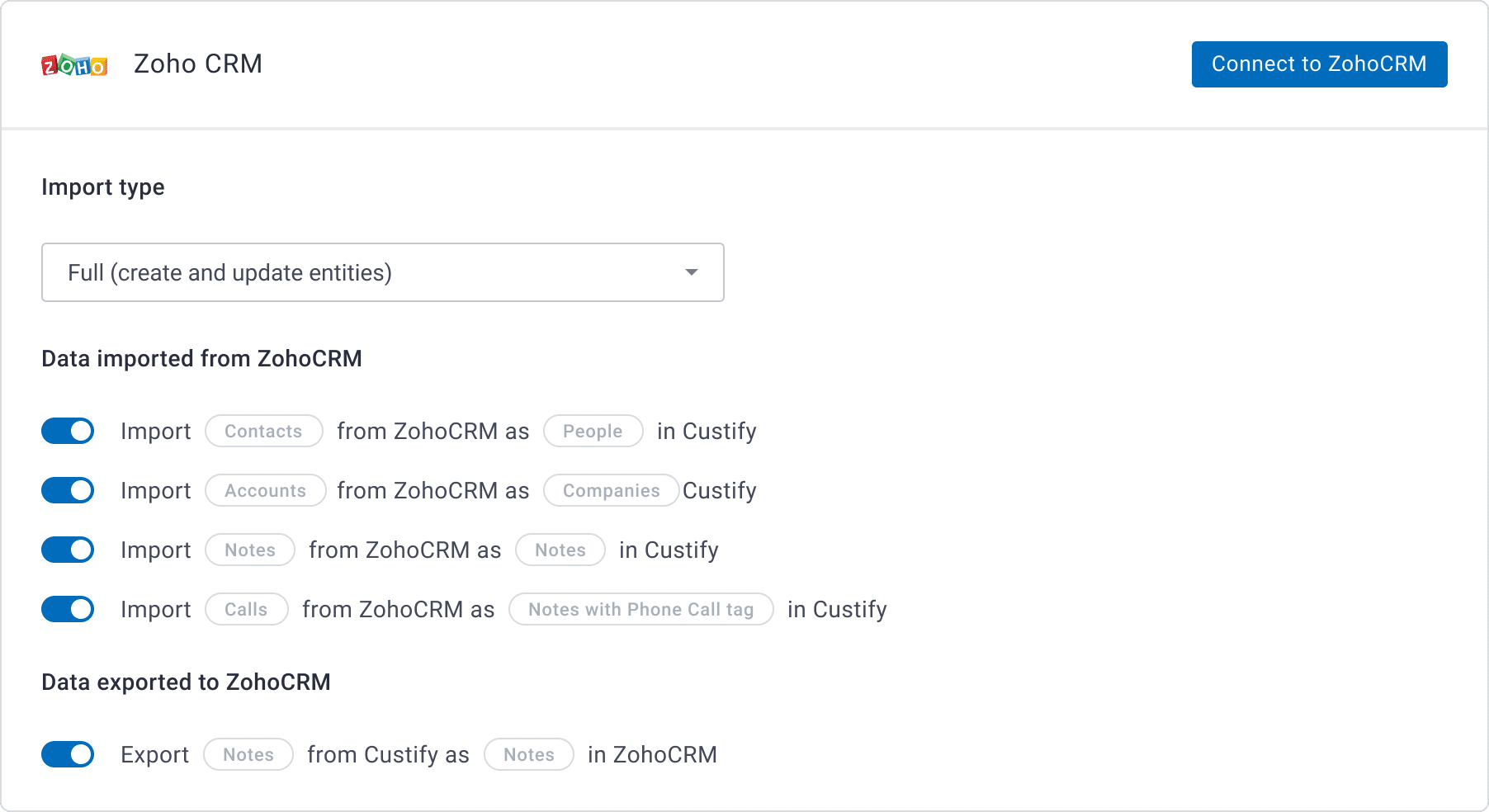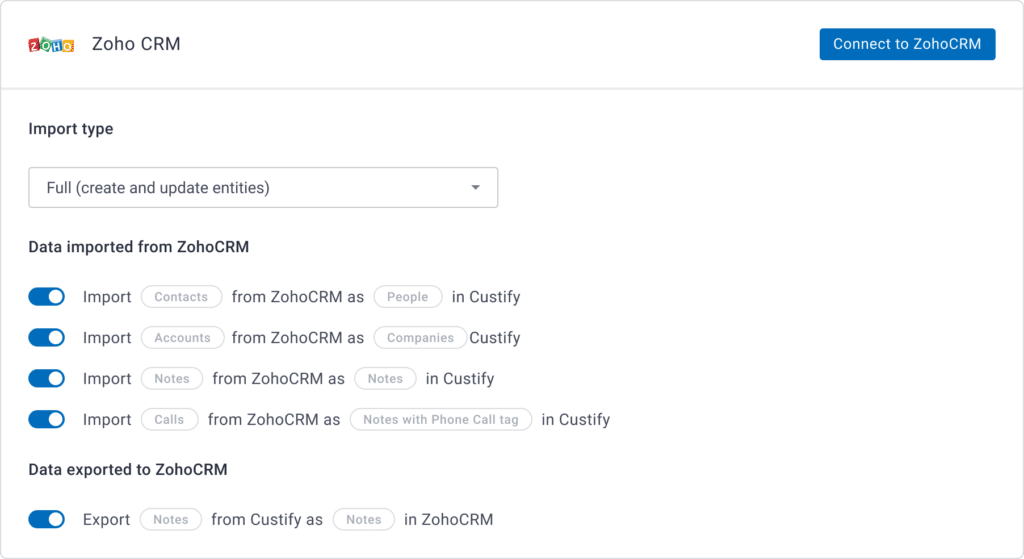 3. Allow Custify to access your data within Zoho.
4. Press "Accept" to start the initial import.