Providing a great customer onboarding experience is crucial in the SaaS industry. If your customers have their a-ha moment and understand how your product can help them achieve their goals, you benefit from a higher retention rate and customer lifetime value.
In this article, we've curated 54 customer onboarding and retention statistics for SaaS businesses. Let's get started!
Customer onboarding statistics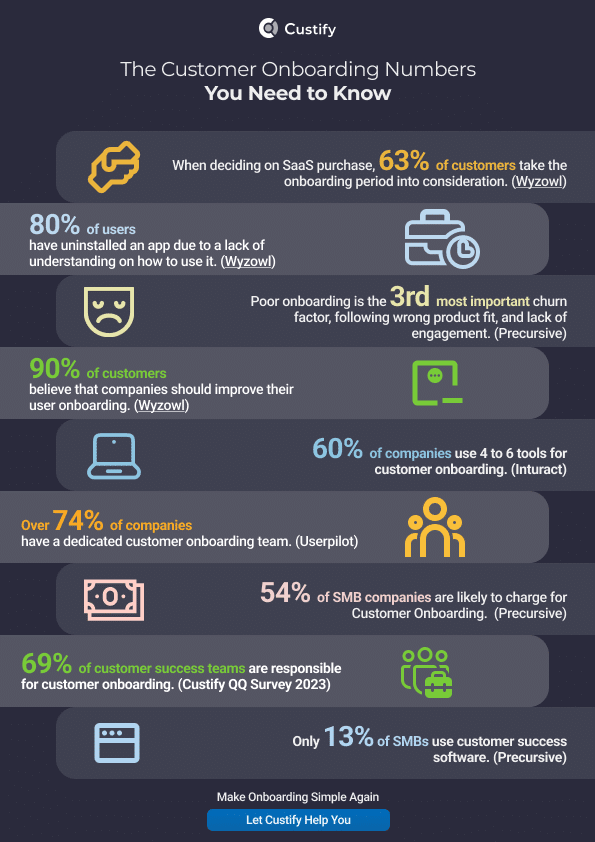 The power of customer onboarding
1. When deciding to subscribe to a service or purchase a product, 63% of customers take the onboarding period into consideration. (Source)
2. The majority of customers, 87%, believe that companies should put more effort into delivering a consistent experience. (Source)
3. A significant 77% of B2B clients state that technology has greatly influenced their expectations of how companies should interact with them. (Source)
4. Highly engaged customers exhibit certain behaviors that benefit companies: they tend to make purchases 90% more frequently, spend 60% more per transaction and have three times the annual value compared to other customers. (Source)
5. If the purchasing process is too difficult, 74% of individuals indicate that they are more likely to take their business elsewhere. (Source)
6. According to Wyzowl, 55% of people have returned a product because they did not understand how to use it.
7. A notable 68% of customers are willing to pay a higher price to work with a company that has a good reputation for customer service. (Source)
8. According to Forrester, customers primarily utilize help desk articles and knowledge libraries for self-service assistance.
9. Wyzowl reports that 90% of customers believe that companies can improve when it comes to user onboarding.
10. A report highlights that highly engaged customers make purchases 90% more frequently, spend 60% more per transaction and generate three times the annual revenue compared to unengaged customers. (Source)
11. 80% of users have uninstalled an app due to their lack of understanding of how to use it. (Source)
12. 86% of customers mentioned that they are more is more likely to be loyal to a business if they have access to educational and welcoming onboarding content after making a purchase. (Source)
13. 97% of companies consider that a good user onboarding process is necessary for effective product growth. (Source)
14. Poor onboarding ranks as the third most important factor leading to customer churn, following wrong product fit, and lack of engagement. (Source)
15. Understanding how customers use products and services is deemed very important by 70% of customers in terms of winning their business. (Source)
16. Companies that use customer journey maps and other similar solutions saw a decrease in the cost of service by 15-20%. (Source)
17. Businesses lose over $75 billion every year due to poor customer service. (Source)
Customer onboarding best practices and trends
1. In a study conducted by Wyzowl, it was uncovered that 74% of people have relied on video content to learn how to use a new app or website.
2. 54% of SMB companies are likely to charge for Customer Onboarding and many need Professional Services to enable product adoption. (Source)
3. 90% of the companies use welcome screens to greet new customers (Source)
4. 47% of companies provide interactive walkthroughs to help guide users (Source)
5. According to Userpilot, 38% of the companies prefer product tours to interactive walkthroughs
6. 65% of users mentioned that video is their preferred method for understanding how to use a product or service. (Source)
7. When it comes to onboarding, 68% of people are willing to watch a video that is one minute or less in length. (Source)
8. The mobile customer experience is a key priority for 84% of CIOs. (Source)
9. According to McKinsey & Company, 75% of individuals who started using digital tools for the first time during the pandemic, have expressed their intent to continue using them.
10. 76% of customers expect a consistent interaction across all departments. (Source)
11. Over 60% of consumers in the United States state that their preferred channels for simple inquiries are digital tools such as websites, mobile apps, and live chat. (Source)
12. 97% of users believe that video is an effective tool for welcoming and educating new customers. (Source)
13. 64% of the companies include in-app videos in their onboarding flow (Source)
Customer onboarding tools and teams
1. More than 74% of companies have a dedicated customer onboarding team. (Source)
2. According to our study on Quiet Quitting in Customer Success, 69% of customer success teams are responsible for customer onboarding.
3. Only 13% of SMBs use customer success software. (Source)
4. 60% of companies use 4 to 6 tools for customer onboarding. (Source)
Customer retention statistics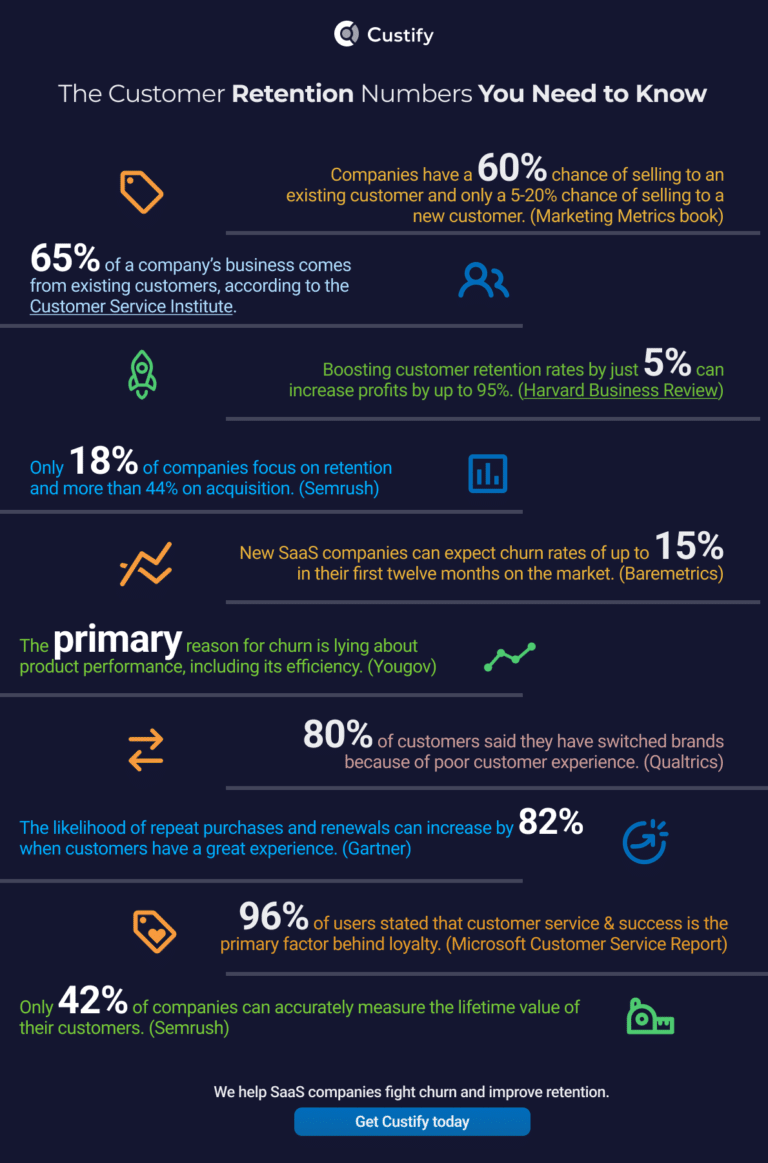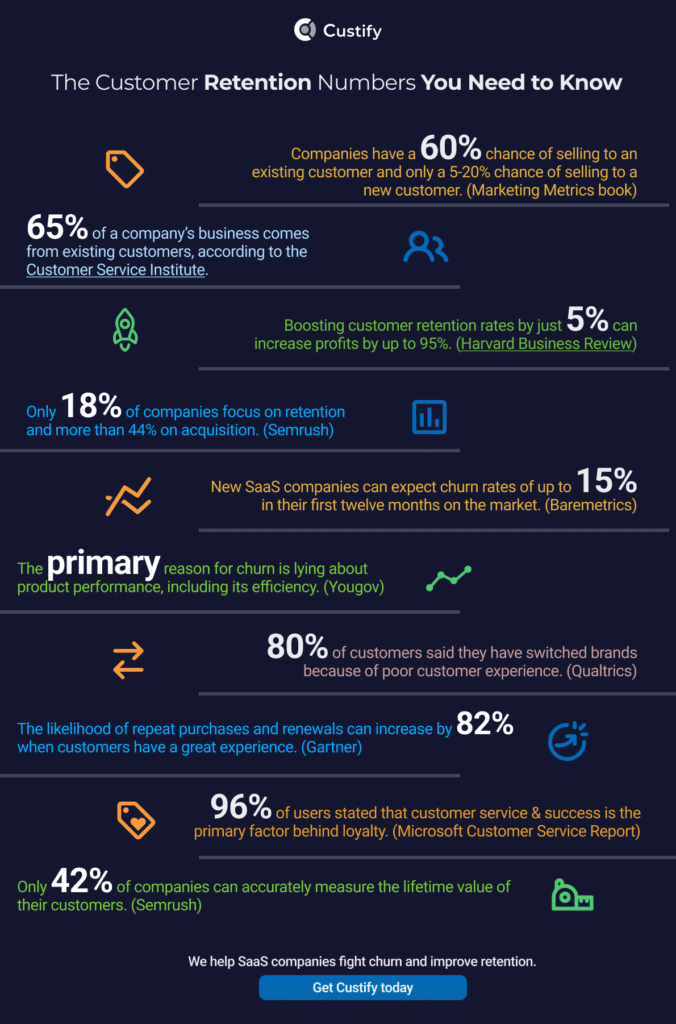 The importance of customer retention
1. Acquiring new customers is significantly more expensive, ranging between 5 and 25 times the cost of retaining existing ones. (Source)
2. Companies have around a 60% chance of selling to an existing customer and only a 5-20% chance of selling to a new customer. (Marketing Metrics book)
3. According to SaaS Capital, across all SaaS companies, the 2023 median net retention is 102%, also the median gross retention is 91%.
4. 65% of a company's business comes from existing customers, according to the Customer Service Institute
5. According to Harvard Business Review, by boosting customer retention rates by just 5%, companies can increase their profits by up to 95%.
6. 80% of customers said they have switched brands because of poor customer experience. (Source)
7. On average, a company loses 10-25% of its customers each year. (Source)
8. The average annual customer retention rate for the SaaS industry is 50-68%. (Source)
9. The average customer retention rate across all industries is 75.5%. (Source)
10. Only 42% of companies can accurately measure the lifetime value of their customers. (Source)
Customer retention trends and best practices
1. Brands use two main methods for customer retention — 44% use mobile apps and 52% rely on email marketing (Source)
2. 74% of customers mention product quality as the main factor that keeps them loyal to a brand, followed by value for money. (Source)
3. 96% of users stated that customer service is the primary factor behind loyalty. (Source)
4. Users spend between 20-40% more on companies that quickly resolve their requests on social media. (Source)
5. Businesses that ignore social media have a 15% higher churn rate than their competitors. (Source)
6. The primary reason for churn is lying about product performance, including its efficiency. (Source)
7. SaaS companies that focus on SMBs should expect a 3-5% monthly churn rate. Those that work with enterprises can expect a rate of just 1%. (Source)
8. According to Baremetrics, new SaaS companies can expect churn rates of up to 15% in their first twelve months on the market.
9. A great customer service experience increases the chances of repurchases and renewals by 82%. (Source)
10. Apologizing to customers can make a difference. 96% of customers mentioned that if a company they regularly bought from made a mistake, they would continue purchasing from them if they apologized. (Source)
11. Only 18% of companies focus on retention and more than 44% on acquisition. (Source)
Better customer onboarding = higher retention rates
While numbers and stats might change from one year to another, one thing's for sure: Proving a great customer experience is key for retention. Guide your clients during the onboarding process and make it as simple as possible if you want to have happy and loyal customers.