Are you aiming at closing more sales and increasing your SaaS customer base? This is what following up is about. It is an excellent strategy to build relationships with your leads and turn them into customers.
Figures are stunning – just 2% of deals are closed at the first contact with a prospect. What if your deal doesn't fall within this tiny portion? The answer is: Master your follow-up.
Follow-up is an essential part of closing the deal. It can be a time to check-in, refine your pitch, and address any questions or concerns your leads might have. But this can be done without annoying anyone or coming off as overbearing.
Taking proper follow-up methods into consideration before you start following up with SaaS leads will increase your chance of success and keep you from the risk of alienating some potential clients.
In this article, you will understand the importance of following up, the most common mistakes sales reps do, and how to overcome them.
First thing first.
Why is following up important
Effective follow-up is an indispensable part of your lead generation and leads nurturing efforts. Here are some reasons why following up is important:
You gain a competitive advantage: 48% of salespeople never follow up. Putting your effort into it allows you to stand out from the most salespeople and increase your chances of closing sales.
It allows your leads to speak their pain points and objections: This is where you can handle their objections and help them achieve success.
Increases your company revenue: When following up is done right, your prospects turn into satisfied customers, thus boosting your company's profits.
These are just a few of the benefits of following up properly. It's not all roses, though. Let's go over the most common mistakes salespeople do and how to overcome them.
1. Waiting too long to follow up
Did you know that following up within the first 5 hours is more effective than contacting your leads after 24 hours? Your leads may go cold, lose the context, or may not feel motivated to respond if you postpone your follow-up for too long. So, what is the ideal timeframe for following up?
Make sure to follow up in the next 5 to 23 hours
This is a reasonable time to wait before following up.
Note that you have to extend the waiting period by a couple of days for each consecutive email or call after your first follow-up attempt. Keep in mind that there will be situations where your prospects will ask for 3 or more days to come up with an answer. In such cases, if you contact them the next day, you risk losing them.
2. Contacting your leads at the wrong time
Following up at the wrong time significantly decreases your chances of getting your message across. It's been found that the worst time of day to call leads is between 01:00 PM and 02:00 PM in their local time zone. Whether you use email, a phone call, a text message, or any other means of communication, you're most likely to be ignored.
Contact your leads timely
The most promising days for reaching out to your prospects are Tuesday and Thursday. The best option to schedule your follow-ups is between 8:00 and 10:00 AM, local time. This is when people are just arriving at work and are more open to talking. The second most successful time is between 4:00 and 5:00 PM. They're about to complete their workday and are likely to opt for something different from their job (plus, you'll find them still at their desks).
3. Writing general subject lines
Sending generic subject lines with no value may lead your emails to the trash or spam folder. For example, take a look at the "Quick follow-up" subject line. It sounds too general and it's less likely to trigger any interest and response.
What is the right move?
Personalize your subject lines
This will generate a 22.2% higher open rate compared with non-personalized subject lines. Consider including the name of the receiver in your subject line. This is a powerful way to break the ice and forges a personalized connection.
Try to clearly identify the potential benefit that reading your email offers while making sure to avoid any words that may result in ending in the spam box.
Also, think of ways to emphasize mutual interests. You can find relevant information on social media. This approach will definitely pique the recipient's interest.
4. Getting too defensive
During the following up process, your potential clients may have a lot of questions for you to answer. You may feel obliged to do your best by providing them with all the details about all their inquiries at once.
This, however, means that you overload them with information that may be untimely and irrelevant to their position along the customer journey. Doing so, you miss the opportunity to focus their attention on what's essential at the current step.
Avoid the trap by addressing the most relevant questions only
Try not to over-explain everything and take control over the communication by turning the objections and the questions of your lead back. So, don't start explaining your price policy as an answer to the question "Why do you charge so much for the basic plan?" Simply ask your prospect what their expectations, reservations, and budget parameters are.
5. Writing long and hard to understand emails
Keep in mind that your prospects are busy people and they do not have time to read long emails trying to figure out what you want to say. Your main message can easily be lost in a too-long follow-up email and your leads are not going to have much patience with you.
Keep your message brief and straightforward
A good rule of thumb is using words and phrases that are easy to read and understand. This allows the receiver to read the email quickly and understand your message without sifting through unnecessary information. Remember, you only have a short amount of time to get a potential customer's attention and make them take action.
6. Using email and phone only
You've sent several follow-up emails to your potential clients and didn't get a word back. So, what do you do? You pick up the phone and keep calling them. The chances are your prospects are either too busy to talk with you or not interested in your product. If this continues for too long, it's time to take a different approach to make sure that you don't lose track of your prospect.
It's important to note that before you start making all of those calls and sending those emails that you generate a privacy policy that clearly explains how you'll use your visitor data. Otherwise, you could end up in legal troubles which is likely the last thing you want to deal with while building your SaaS.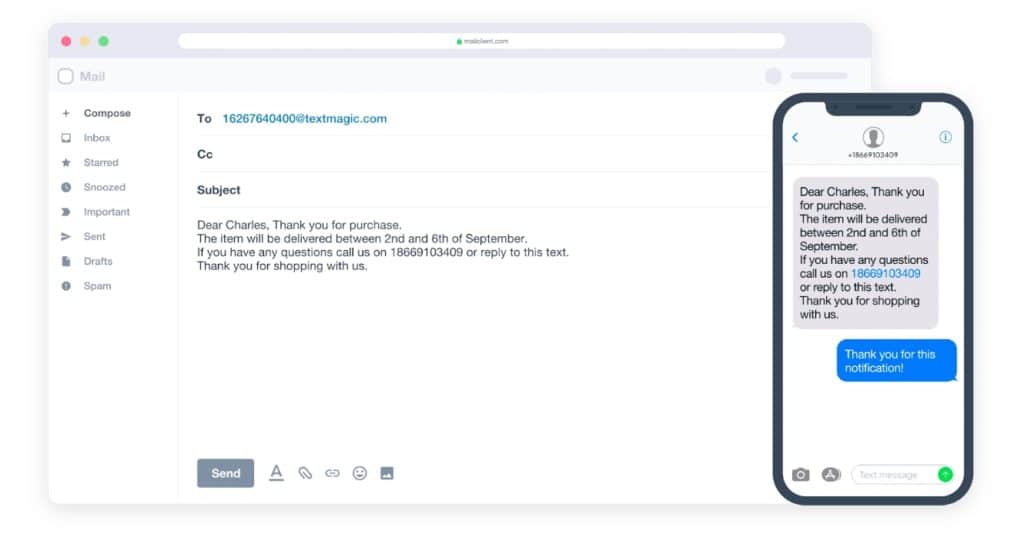 Image source: TextMagic
Diversify your follow-up channels
Incorporate an email to SMS integration into your follow-up strategy. It will allow you to send personalized text messages to your leads using email. You can simply type your follow-up as an email, which is then converted into a text message and delivered to your recipient. This approach is effective as it will get your prospect's attention in an unobtrusive and yet direct way, which can prompt them to complete the purchase.
But don't just stop there.
If you are unsure what channels the prospect prefers, try different platforms like LinkedIn, WhatsApp, Viber, etc. You can always ask your leads which one they favor.
7. Giving up after just one follow up
Did you know that 44% of salespeople stop following up after the first attempt? Perhaps, they're trying to avoid irritating the potential customers or being considered spammers, which could impair the brand image and result in losing these leads for good. But shying away from following up means you risk losing almost 80% of your revenue.
Continue following-up
It's estimated that closing a sale requires five follow-ups on average. So, make sure to follow up after your first attempt. Remember, the purchasing decision takes time. So, give your prospects more than a day to think about it. If they don't reply, shoot again.
8. Not clearly defining the next steps
You finally received a reply from your prospect. You have to specify the next steps in the sales process like setting the next meeting time. Many salespeople go wrong settling vague details.
Here's a bad example: "Let me call you next week." This is how you fail to engage with your prospect as you sound undetermined and non-specific. You miss the opportunity to build definite expectations and thus you leave your lead in a state of feeling open and free to search for other options meanwhile.
Be as specific as possible
Always close the communication by arranging a new call as soon as possible so you can keep your prospect warm. "I'll call you on Thursday. Does 08:30 AM work for you?" is specific and sounds much better. It signals your serious attitude to your lead and engages them to take the next step of their journey with you.
9. Forgetting relevant info and not adding value
When speaking with prospects, how many times do you check if they are in a demo account? Are they having any difficulties familiarizing themselves with your SaaS product and its features?
The main goal during your follow-up is to listen to your lead's problems and offer solutions. Common mistakes salespeople often do is talking too much about the product and ignoring the prospect's requirements and pain points. In the long run, this mistake will prevent you from building relationships with your clients.
Do your homework in advance
Your primary goal is to show your potential customers that you understand their problems and care for their success. This should be the focus of the content you include in your follow-up. How can you make sure you're tuned in properly?
Before following up with your prospect, study their industry landscape. Also, ask them to conduct a survey. This will help you understand their needs better. Then, take notes on their pain points and the issues they are struggling to solve. As a good rule of thumb, make sure to focus the conversation on the problems your prospects have. This will help you sell the solution your product offers.
10. Lack of knowledge
This leads to difficulties in the selling process affecting the company's image. A situation where a salesperson fails to answer the questions your prospect has about the product is extremely embarrassing and makes your staff look unprofessional. Your prospective customer may lose interest and reconsider buying the product.
Master your SaaS solution
Begin from the basic features to the most sophisticated. Then, test the product by yourself and see if there are still any misunderstandings you need to clarify. If so, ask your team or other departments so you can be sure you know the nuts and bolts of your SaaS product.
This will allow you to speak confidently, creating a better customer experience and turning your prospects into customers. Keep in mind that it is essential to communicate the product knowledge in a way that is relevant to your prospective customers' needs. Combine an understanding of the prospect's pain points with deep product knowledge and focus on the features that make it a lifesaver for your lead.
11. Not using automation
It's easy to fall into the pit of relying on memories. It's beyond human potential to keep all appointments and arrangements in mind, particularly when running on a busy schedule and juggling between meetings and conversations.
The chances are you miss some of the follow-ups you've scheduled and make your leads feel neglected. And this is an ultimate deal-breaker that erodes the trust of your potential customers.
Implement a dedicated solution
Utilizing a system that is specifically designed to automate your workflows will take the burden off your shoulders.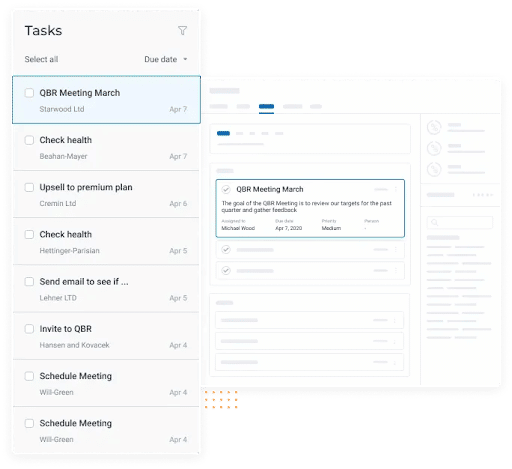 A specialized solution lets you know who to talk to and when and automates task management
Automating your customer workflows will help you never miss a follow-up. With a task management solution, you get notifications and alerts for upcoming appointments so you can focus on your current activities without the risk of forgetting or neglecting any of your leads.
12. Relying too much on automation or preset templates
Automation is a great tool to help you manage your communication with customers. If you overdo it, however, your follow-ups will lose the personal and human touch that often makes the difference between a sale and no sale. This holds particularly true for B2B SaaS companies.
The dominant use of preset templates makes it impossible to get essential details about your lead's context and pain points. This will deprive you of the opportunity to position your product as the best solution matching your prospect's needs.
Strike a balance
Schedule calls for a time convenient for both you and your leads. This will provide you with the opportunity to discuss the challenges they face and get many valuable details. Based on the information you collect in this way, you can automate your next follow–up activities.
13. Following up forever
This is your third or fourth attempt to follow up and again, you don't get any response (the only thing you hear is silence). If you press your leads too much and too long, there's a chance to cross the line and become annoying. How many follow-ups should you attempt after not receiving an answer?
5 follow-ups with a breakup email are your baseline
As a good rule of thumb, include a breakup email to provoke a reply. This is the final message you send to prospects confirming that you won't move forward with them. According to statistics, a breakup email can boost your response rate to up to 33%. So, craft your final message wisely and give your best shot for the last time.
Takeaway
Lead follow-up is a critical aspect of sales and salespeople will sometimes make mistakes in the follow-up process. Whether it's an overzealous follow-up email or an overly aggressive phone call, there are plenty of ways to ruin the chances of closing a new client. These mistakes are easy to avoid with just a little bit of preparation and patience.
Use the tips we discussed to master your follow-up, engage with more SaaS leads, and turn them into loyal customers.