It's a well-known fact that SaaS renewal is one of the best ways to grow revenue. It may seem like common sense, but among the many difficulties of running and growing a business, ensuring you're maximizing renewal rates can be easy to forget about.
However, it does take some effort on your part to keep customers sufficiently happy and engaged, so they remain subscribed.
Here are 10 best practices for successfully renewing your SaaS subscriptions this year:
1. Start with Advanced Customer Research
To keep your customers, you need to know your customers. And this goes beyond the typical understanding you might think of.
In order to help yourself secure your SaaS renewals, make sure you understand:
How your customer uses your product.
Your customer' pain points.
What makes your customer unique.
Notice I used "customer" and not "customers"— because focusing on individuals is the winning approach when your goal is to increase or maintain SaaS renewals. Nobody likes to be herded into a group with others and that includes your customers.
To successfully gather the info you need, you'll have to:
Analyze the account in your customer success solution.
Review the account in all your other internal tools (CRM, support, billing and accounting)
Review client social media accounts to gather any extra information you can.
Use data storytelling to build a narrative about the customer that anyone in your SaaS can understand.
Reach out proactively and frequently – either directly or through surveys.
The last one there is by far the most important. You're not only promoting a positive customer experience and relationship, but you're also gathering invaluable data to aid you in improving your SaaS renewal rate.
By leveraging your time and energy in these ways, you can increase consumer satisfaction and provide rewards that will help boost retention efforts.
2. Determine Friction Points and Act Proactively
Friction points are moments where customers' needs aren't met. Companies have to be careful with these friction points because they could lead to customer churn or complete disaster if they're not addressed in time.
Here's how you can improve CX and act on those friction points to optimize SaaS renewals:
Gap analysis – A well-executed service gap analysis can help provide a CX roadmap design for achieving success by compiling information about the customer that was lost or couldn't be seen.
Organizing your KPIs – Business KPIs help determine what's working in your company. These customer success metrics will allow you to measure performance and progress towards achieving business goals accurately. This action creates less friction because, from a direction standpoint, you know what's expected.
Develop a Quality Framework for Inspection – When it comes to product quality, you need a framework that will allow you to monitor and identify issues. Your customers appreciate a great product, so having the ability to manage and monitor the process throughout is essential to creating a viable solution.
3. Implement Credit Card Expiration Date Notifications
It's predicted that people will have even more subscription services instead of owning goods in the future. Research from Zuora found that 71% of adults across 12 countries subscribe to at least one service, and 74% believe the trend will continue.
These are some of the best tools that stand to help your billing automation:
Recurly
Chargebee
Chargify
Stripe
SaaSOptics
Sage Intacct
Zuora.
Integrating a tool like this with your CS software (like Custify) and sending an automated notification for subscribers to update their credit card information is a great way to ensure that your customers won't churn involuntarily.
4. Consider Account Updaters, Dunning Emails, and Direct Debit Payments
SaaS companies that use card-updating services have about 5x more of their accounts renewed than those without such a service. This is thanks to the account updater's automatic checking for expired or compromised cards before each renewal process begins.
A dunning email strategy reduces involuntary churn through pre-notification by asking customers beforehand about updates on payments. There is less need for notification during business hours, leading to poor customer experiences with frozen accounts/card issuers.
Beyond that, one of the smartest ways to ensure SaaS renewals continue without unexpected interruption is setting up direct debit payments. This practice uses the customer's bank account number instead of their debit card details, establishing a direct relationship between their bank and your bank. This is a new and efficient way to root out involuntary churn causes.
5. Understand Product Usage and How You Can Improve It
To optimize your SaaS renewal rate, it's essential to be proactive and identify any opportunity for improvement in your product. You want to make sure you're providing the best possible service, so your customers always know you're improving the product and that it's useful for them.
That way, there's no doubt on your customer's minds when they have to decide if they continue with you.
How to Find Potential Product Improvements?
Thankfully, you can use your customer success software together with all your other product analytics tools.
Feature Performance Analysis: You can easily identify which features are the most and least profitable. Powerful tools will allow for segmenting users by specific attributes to help discover trends that may have gone unnoticed otherwise.
Analyze Churn Causes: whenever you review customer lifecycles & health scores, you'll always have some potential churn indicators. That kind of information is like gold: not only can you use it to reach out proactively, but you can also take the following CX-forward approach:
Tell the customer you've noticed their issues (without them having to make a support request)
Get the support team onto solving those issues immediately
Tell the customer you're working on product improvements so those issues don't become recurring ones (only if you are, indeed, doing that)
Patch your SaaS and solve the problems
Reach out again thanking the customer for their patience and informing them you've patched the issue
Customer Lifecycle Analysis: Analyzing your customer's journey or lifecycle is a great way to better understand how they use your product, their problems, and where their interest lies.
6. Reward Loyalty & Say Thank You
SaaS companies are constantly looking for new ways to reward customer loyalty and say thank you. There's an overwhelming amount of information out there regarding how to create a rewards program, but most of it is geared towards traditional brick-and-mortar businesses.
3 Correct Ways To Show Client Appreciation
Personal messages: When it comes to making your business feel appreciated, there is no better way than by contacting them on a personal level. Be sure to reach out for help with difficult or mundane tasks.
Private sales: Many business owners are opting for private sales to say thank you to loyal customers. Private sales can be a great way to engage with your audience and provide them with exclusive offers, discounts.
Client appreciation events: Holding a customer appreciation event can be the best way to thank your customers for their business and loyalty. It's an opportunity to show clients that they are appreciated, engage them in conversation, and help build a stronger bond between you and the client.
As Stefan Batory, Co-founder & CEO at Booksy.com, says:
"Saas renewal is about so much more than tech – it's about seizing every upselling opportunity, creating customer loyalty and prioritising customer success. This means setting realistic expectations, getting to know your customer and following up consistently for the best results."
7. Automate Customer Lifecycles and Optimize Them
By using automation and lifecycles, you can significantly increase the value of the CX you provide. Think about it: you're removing time-consuming tasks that can be done by a tool. This allows you to refocus that time towards better serving your customers.
Furthermore, adding automated steps directly related to your renewal strategy can make all the difference in how much time you spend on renewals and billing and accounting issues.
How to Automate Lifecycles & SaaS Renewal
Have Clearly Defined Lifecycles
The first step should come right after you do your customer research. Establish the lifecycles for different types of customers or even specific customers.
Make sure you're spending the appropriate amount of time on research and remember: you will always come across unique customers that don't fit the plan.
Upgrade Customer Lifecycles with Automation
Once you have clearly defined your customer lifecycles, it's time to turn them into automations. Custify allows you to easily do this. You can set tasks and alerts for each step in the lifecycle.
Once you have a basic setup for the automation & lifecycles, don't leave it like that. Research, learn, and optimize as the relationship with your customers evolves.
SaaS Renewal at Scale
How can you keep your customers longer? Scaling is key. Automated customer lifecycles are great, but make sure to add specific things directly related to SaaS renewal such as automated dunning emails, automated account updaters, and automated notifications for any payment issues or (even especially) friction points.
Here's an interesting point from Michal Suski, Co-founder at Surferseo.com, about optimizing your renewal process by focusing on the added value: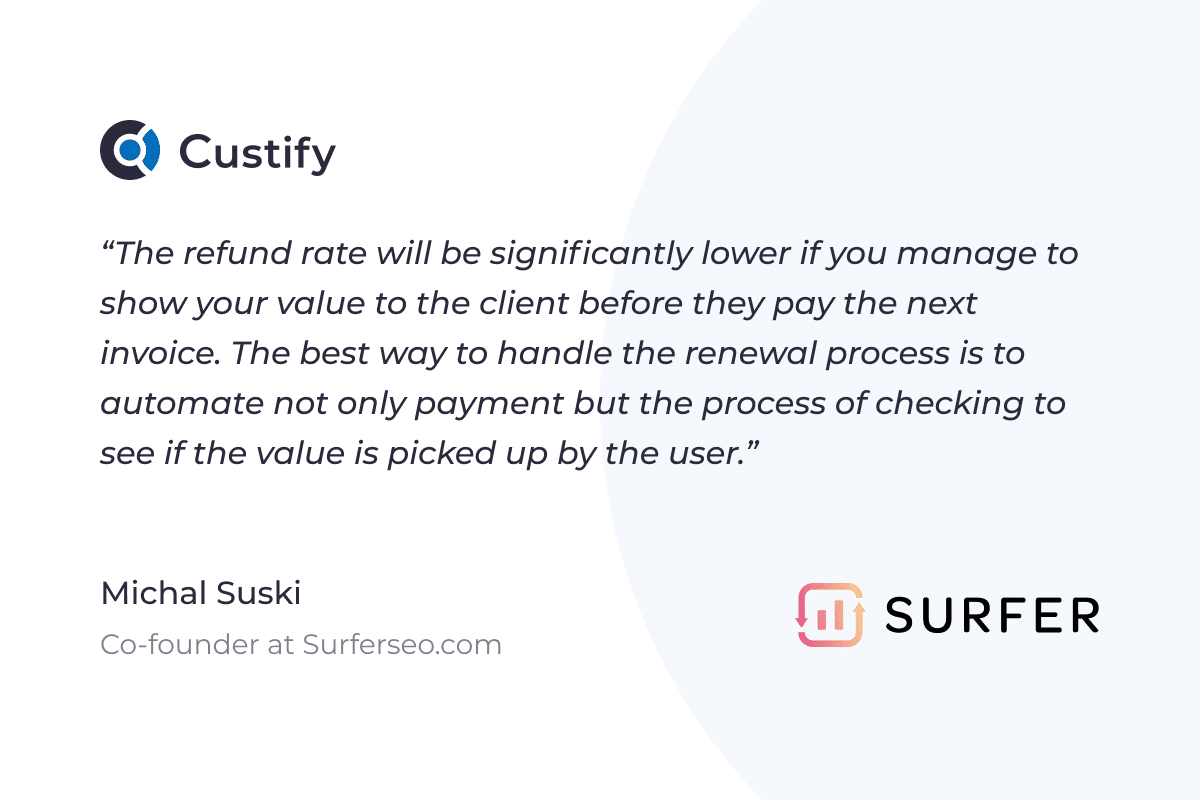 8. Implement an Offboarding Focused on Listening & Learning
A customer offboarding program is an essential strategy for your business to help retain customers and reduce churn. You should use the process as a way to gather feedback from your departing customers, show them that you care about their experience with your company, and learn what they found valuable and not so much in their time working with you.
Offboarding call
A simple survey is well measured for a first approximation, but the real gold of offboarding comes from phone interviews. Speaking with someone on the phone allows you to listen and learn about how they think and what improvements can be made.
If you find the call approach doesn't work, try:
Sending them an offboarding survey after a downgrade or leave
You may not hear back from customers after they leave you as a customer, and that's understandable. After all, the incentive for them to invest in giving you feedback has disappeared now that they have decided to end your business relationship.
But you should still attempt to reach out at least via a survey. Their response may give you the potential to fix issues in the future with other customers. Just keep in mind not to expect high conversion.
Make it easy to leave
When it comes down to the wire, companies often think about retaining users at any cost and will even discourage people who want to cancel. The problem with this is, if they don't like your product enough, then, no matter how many hoops you make them jump through or punishments you give out, it won't matter.
Making the process easy
The last thing you want to do for your customer is make the performance of the product difficult to access and sustain. The best tactic to find this information is to ask your customers directly. Even if you think your solution is working just fine, you want to always continue to make customers' experience better, even if it's the smallest detail.
9. Expand Your Customer Success Efforts
With the rise of digital technology, customers have more power and are more demanding than ever before. SaaS companies need to anticipate their needs and provide them with exceptional service at every point of contact if they want to keep up with this fast-paced world.
That's why having more than one Customer success person on your team is important. Yes, having a CSM is a good start, but that's just one individual. Having multiple people participate in your customer success strategy will also show the benefit of not having to invest a large amount into sales and cold outreach (happy customers are loyal customers, and they can also bring in more clients through referrals).
Here are some thoughts from Mike Sadowski, CEO at Brand24.com about prioritizing customer success:

3 Advantages of Investing in Customer Success
Customer retention & loyalty
Enhancing customer experience is the key to maintaining a long-lasting relationship with your customers. The more value they find in what you offer, the better chance to renew or continue their commitment to future services.
Expansion
The value of our customers is so important that you go out of your way to maximize their lifetime success. In turn, this allows both parties to expand. By focusing on customer success for your SaaS, you're promoting a synergistic relationship that will lead to exponential business growth.
Customer Acquisition
An effective customer success strategy turns customers into brand advocates who are willing to promote your product, refer new prospects, and provide dynamic reviews of your product.
10. Set the Goal of Perfect Customer Support
Many business owners think that they need to offer perfect customer support. But the truth is, no one has a perfect customer service strategy. There are too many variables for this goal to be reachable.
The key is identifying your weaknesses and making adjustments accordingly so you can provide an exceptional experience for your customers without trying too hard or becoming discouraged by imperfections in the system.
However, perfect customer support should always be a goal.
4 sure-fire ways to improve your customer support:
Provide Omnichannel Support
Develop Customer Service Communities
Demonstrate Product Knowledge
Turn Customer Survey Data into Action.
The Work Doesn't Stop Here
I hope you could peel a little bit of the knowledge from this article and implement it in your customer success strategies. There is a ton of competition out there, and while you are naturally using methods to get more customers, the focus should be on retaining the ones you have.
Today, 59% of SaaS businesses use renewal as a growth strategy. It's time to ask yourself whether you're part of that group and if you're not – why?
I think we could agree that recurring revenue in SaaS is the holy grail of sales.