Measuring customer outcomes is now essential for business success.
In the era of customer success, those unbothered to check how their customers are doing on the path to success will be the ones left behind.
Picture your future: in an ideal world, you'd have dashboards that can effectively gauge customer outcomes and your shared progress toward them. You would have periodic check-ins with customers preplanned to offer snapshots at key moments during the customer journey. You could then combine all your data, workflows, and tools to create an evergreen process for all current and future customers.
That's what we're here for today:
To define the concept of customer outcomes
To understand how to best measure them
To present some concrete steps for capturing customer outcomes
To highlight that tools and best practices already exist for optimized CS Ops today, allowing CS teams to measure and work towards customer outcomes.
Last but not least, we'll look into some of the benefits of measuring customer outcomes – items you can present to your executive branch and CFO during your next business review.
Explaining Customer Outcomes
Customer outcomes are desirable goals set by clients in relation to another business that offers a product, products, or services to those clients. These goals represent needs and milestones relating to their customers and business evolution.
Oftentimes, these outcomes are not written down or set in stone. In that case, it's the responsibility of a customer success manager to listen, analyze, identify, and set measurable customer outcomes.
Researching and setting customer outcomes requires:
Customer Communication. First and foremost, ask your customers about their desired outcomes to determine what they most care about both for their company's evolution and with regard to your business relationship.
Quantitative Research. Second, analyze existing customer data and set up your customer success software to monitor their activity through health scoring and generate new datasets that will help you fine tune customer outcomes down the line.
Qualitative Research. CSMs must go further than number-crunching and get down to the root of a customer's hopes and goals. This type of research requires experience and an eye for detail. It usually implies going through customer feedback, matching that with your clients' desired outcomes, then setting calls to calibrate expectations.
Keep in mind: the quickest way to set efficient customer outcomes is by talking directly to your customers, going through a demo of their product, and reviewing their pricing page, if they have one. That way, you know:
✔ what your clients promise
✔ what your clients offer
✔ what your clients expect
You'll then be able to make informed choices and also know exactly what to track as customer health scores.
Customer Outcomes vs CX Outcomes vs CX Outputs
Sometimes in customer success, definitions tend to become blurry and muddled. This also happens with customer outcomes, which often get mixed up with CX outcomes and CX outputs, since all three terms have similar scopes and definitions.
To make things easier, let's list some facts about all three side by side: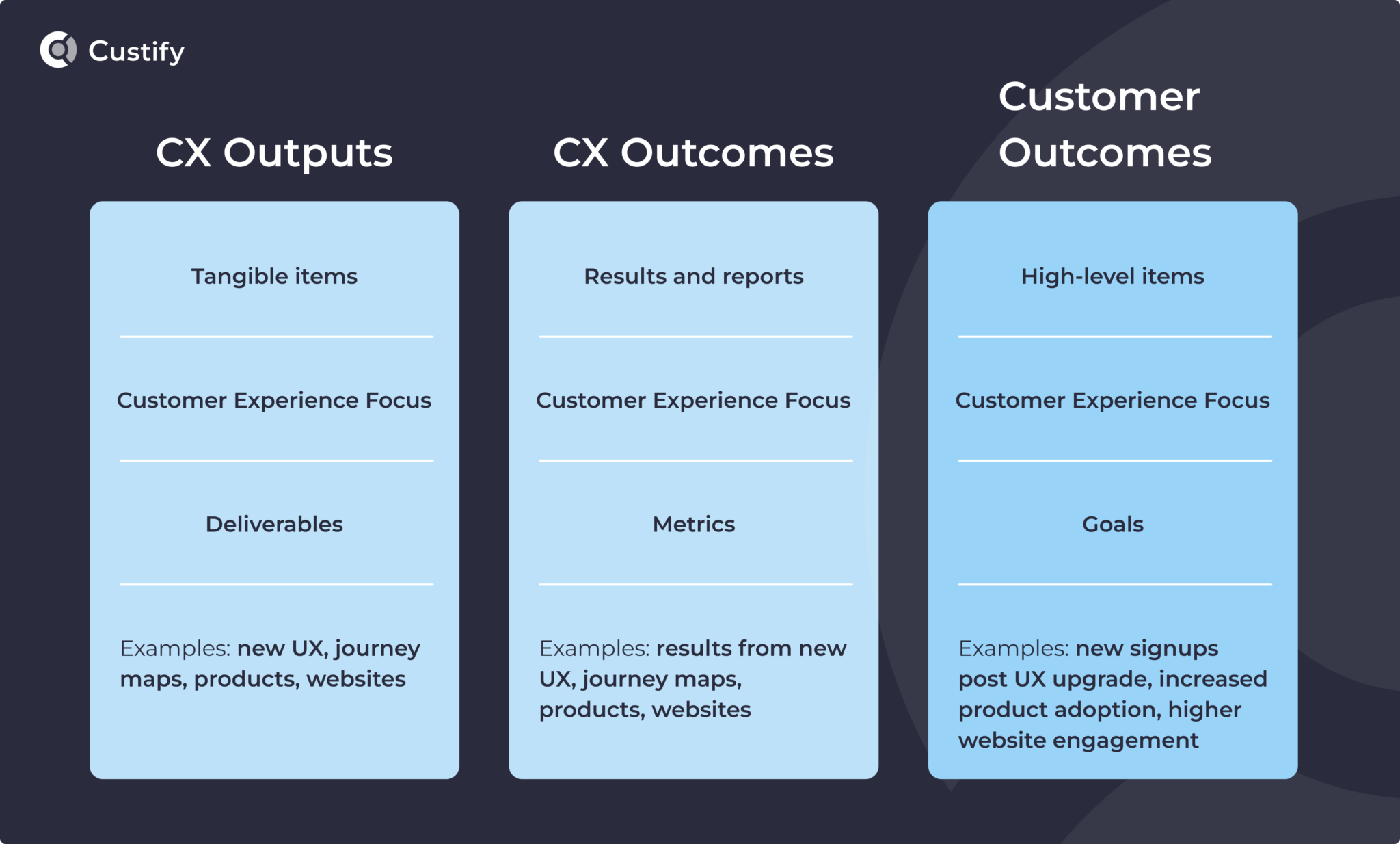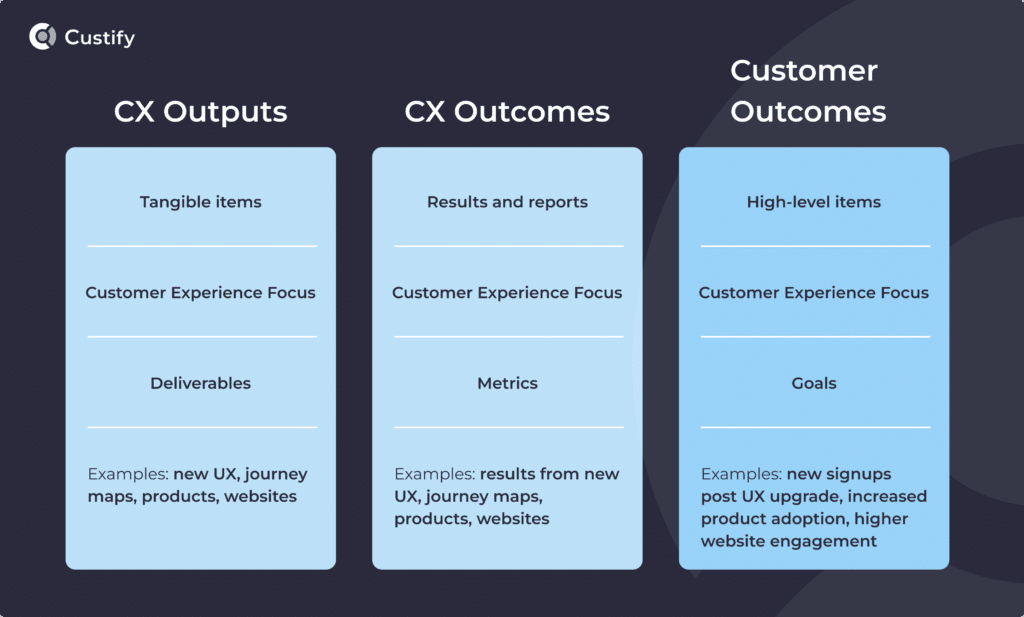 '"Customer outcomes' means understanding the customers' needs and then finding ways to assess whether that need is met."
– John Buckley, Design Strategy Director at Public Policy Lab
Why Should We Care? How Does This Affect Us?
The philosophy behind measuring outcomes couldn't be simpler: your clients come to you for a specific thing, and they have clear (sometimes less-clear) goals in mind. If you deliver on their desired outcomes in a quantifiable, measurable, and demonstrable way, your relationship will be productive, it will thrive, and it will lead to renewed business opportunities.
– Markus Rentsch, CEO at Remark-able, stated in a post in the Customer Success Group: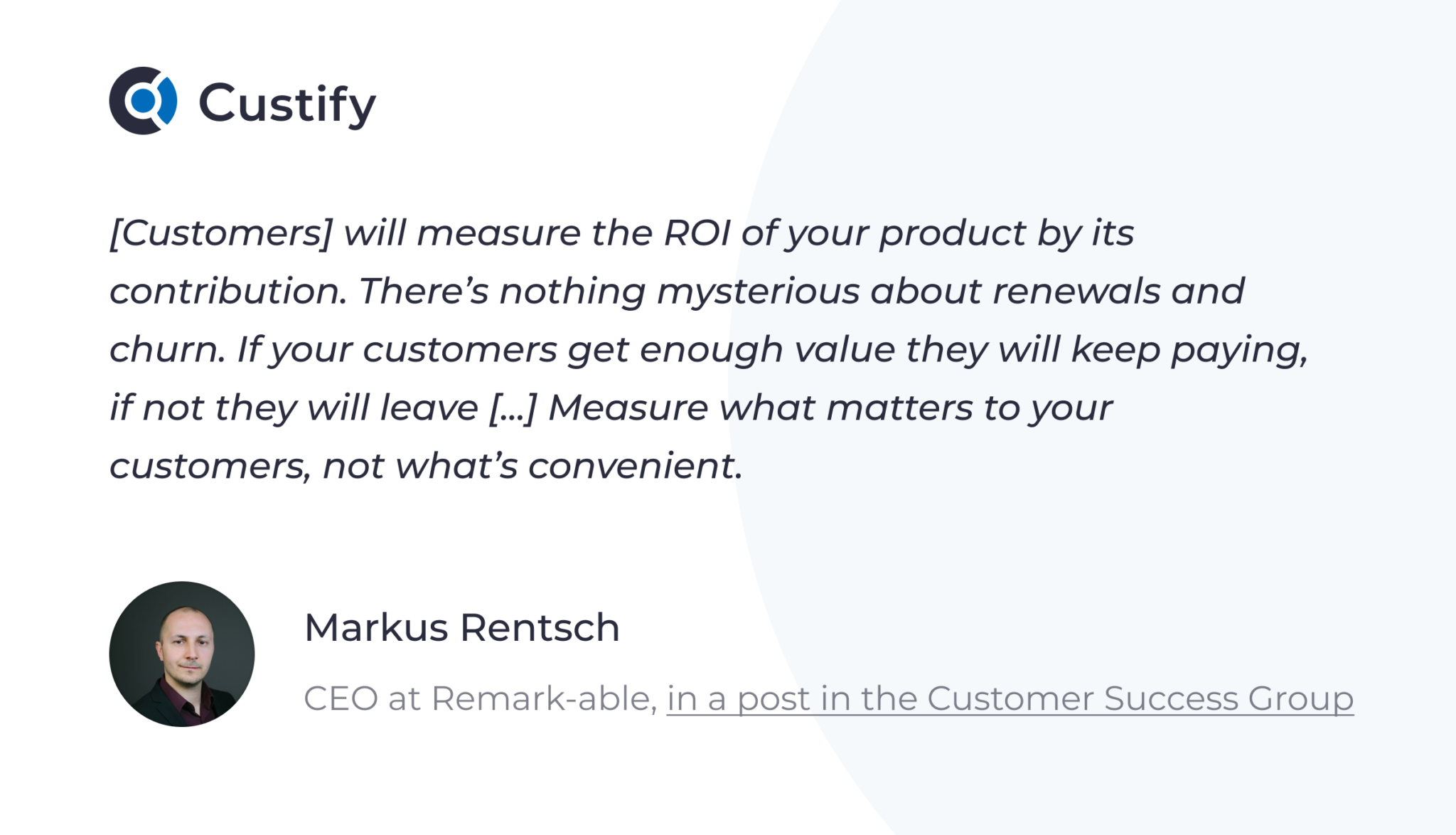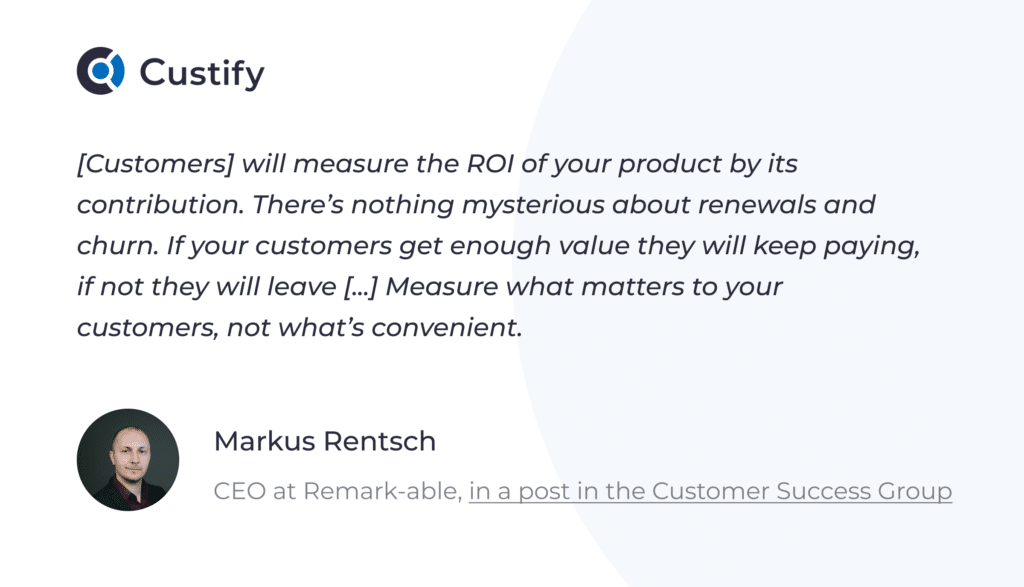 How to Measure Customer Outcomes in Customer Success
1. Understand Customer Outcomes
The first clear step is understanding your customer's outcomes. This goes beyond simply asking them what they want and implies actually researching that on your own as the CSM assigned to that customer.
There's a simple process we've already detailed above: ask the clients what they offer, research their product to see if it matches their USP, understand what their customers, in turn, expect, and then see if their customer feedback matches up with what they purportedly deliver (a very important step similar to a Voice of the Customer approach).
Once you go through your due diligence, you should have a clear picture of what your clients want and what you can do to assist them.
2. Assign KPIs and Metrics to Each Customer Outcome
Then you set upon the task of measuring your clients outcomes. Here, the first obvious task is to ask your customers whether they have assigned KPIs and metrics to their outcomes.
If they do, great – you have a good start to your efforts and can align with the customer on whether those metrics still make sense for their business and on what new metrics you can track together moving forward.
If they don't, then you need to obtain them. Look at each outcome under a microscope and see the numbers that make sense for it out of the ones you have available. Analyze them to see which are the most relevant and then confirm with your clients that you'll begin measuring performance toward their outcomes based on that set of metrics.
3. Make Sure You Can Track those Metrics
Call it step 2b if you like, but ensuring the metrics are trackable, and you have access to them is an action point a lot of people forget about. So we thought it's best to make it a separate item on this list.
To ensure that you can track customer outcomes:
Set up your customer success software to monitor the correct health scores and metrics.
Ask customers for access to their datasets, wherever they may be (CRM, CS, Payment tools, etc.)
Make sure your tools are as integrated and interconnected as possible – this might not be immediately possible in the initial stages of a SaaS, but it's good to constantly plan and work towards this kind of efficiency.
Always keep the tools you get your data from up to date – data hygiene is essential in customer success!

4. Confirm that You've Understood their Goals Correctly
There is a big difference between two people's perceptions. Humans can argue about anything, so before you move forward, make sure customers agree with the outcomes you've reached and the respective metrics you've selected.
A bit more back and forth during the initial stages can save you from a world of hurt down the customer's journey.
5. Determine the Ideal Scenario for Customer Outcomes
Last but definitely not least, after you've selected all the metrics, health scores, and KPIs, you need to set some limits for them.
So to work more efficiently towards these desired outcomes, try to:
See how those metrics would look in an ideal scenario for each customer outcome.
Come up with an upper and lower limit for each metric to indicate success.
Figure out the signs that mean you're heading in the right direction.
Understand churn precursors – signs that customers aren't doing so well and need some extra attention.
Then the next step is to simply use the insights you gain after the entire process to capture customer outcomes and ensure the success of your clients through your contributions.
From Data to Action: Using CS Metrics to Capture Customer Outcomes
In this section, we'll go over some best practices for goal-driven customer success.
1. Correlating Numbers to Tactics
When you're tracking customer outcomes, the outpouring of data can become very confusing for the average CSM. So you need to correlate the numbers to actual insights and then train your CS team on turning those insights into tactics and action items.
2. Understanding the Customer Journey
Once you nail down the desirable outcomes for a customer or group of customers, try to make a process out of proactively moving towards those outcomes.
What does that mean?
It means looking at your customer journey and finding points where you can intervene to nudge customers and their KPIs toward their goals. That proactive action might be:
a simple notification (chat or in-app)
a concrete piece of advice on what they can do
an email containing a how-to
an offer to set up a call
a video tutorial sent via their preferred channel
The possibilities are endless and depend largely on your type of business, customers, support model, and the number of accounts per CSM. Lastly, remind your customers that you're available to continue the discussion and see if you can help them further.
3. Selecting Internal and External Stakeholders
It's customer success' who's who!
Selecting stakeholders per customer account and tasks is a key step in delivering their outcomes. The main stakeholders you need to be concerned about are your teammates. So for each customer outcome you have written down, ask yourself and your CS team (to enforce a participative model):
Whose skill set and management capabilities are the best fit for delivering this outcome?
Who has the best relationship with this customer and can take advantage of that to work more efficiently?
Who do we assign to each specific task that needs to be completed for us to achieve this outcome? (this point should have several subpoints based on your product, services, customers, etc.)
And finally, which member of the CS team should have final ownership of this outcome?
Other teams might need to be brought into the loop, so CSMs need to foster an atmosphere of collaboration with product, account, and customer support, and ensure alignment with sales.

Once you get internal stakeholders out of the way, then it's time to figure out if the customer or their customers in turn need to take some actions in order for you to achieve success together. This is a vital step because it takes care of potential blockers.
Note: If you already have an inkling as to what you need from your external stakeholders, it's best to make those requests as early as possible to avoid time lost waiting. However, be mindful that your requests might change once you align on customer outcomes with the rest of your team.
4. Enabling the Team's Success
Customer success management should then go even further and enable their team's success with delivering customer outcomes by:
Looking for any tools that could help make the process more efficient.
Finding talent to fill gaps in the team's skillset if it makes financial sense
Enforcing better operational models and practices
Overall encouraging an outcomes-based culture
5. Constantly Adjusting Outdated Processes
CS teams often overlook updates that need to be implemented across their dashboards, workflows, operations, or tools. The business landscape is in a constant state of flux, so it should be common sense to update your metrics, KPIs, and health scores on a recurring basis.
As time goes on, you'll definitely benefit from a periodic check-up and calibration of relevant systems. This will undoubtedly help you and your team better capture desired customer outcomes.
Remember – if obsolete data is great for anything, it's wasting time on misleading insights, reports, and analyses.
"I would highly recommend that Customer Success own sentiment data and things of that realm — our call recordings, our emails, our posts, our social media feedback. Your sentiment data is the data that you're getting back from your customers outside those formal, very static metric-based responses and feedback methods, feedback loops.

Jeff Heckler, Director of Customer Success at MarketSource on Custify's webinar
Summing Up
To reiterate: measuring and driving customer outcomes isn't hard to achieve.
There are tools, such as Custify, that can enable any CS team to do it efficiently. There are best practices, shown above, that underscore the importance of this practice. And there are plenty of CS teams who are already doing this successfully.
So then the question is: what's stopping you from adopting an outcome-based approach?
Customer outcomes are likely to become essential parts of an optimized CS workflow, and a process that measures and drives them correctly has a big chance of optimizing CS operations and workflows for the years to come.