SaaS sales leaders may employ a specialized sales model to train and scale their team in some circumstances. And perhaps it is effective for them.
However, forcing your staff to follow a sales methodology not designed for SaaS will reduce your productivity. Worse, it may cause you to close the wrong agreements, resulting in losing more lucrative prospects.
At different levels of maturity, your organization will require different sales strategies. A sales technique that is effective at one stage of your company's development may be detrimental at a later level. Even if your previous sales methods were successful, you might need to reverse them.
The question that arises here is why SaaS marketing is so unique and essential? How can you improve your sales process and choose the right sales approach for your SaaS marketing agency? This article will walk you through a detailed guide about Saas Methodology, the best sales methodology for Saas, and who can best use these methodologies.
What Is a Sales Methodology?
SaaS is a one-of-a-kind creation. You must do more than just convince consumers to buy your product; you must also ensure that they use it. Using a solid sales methodology allows your company to tackle each aspect of the sales process practically & make it scalable.
A sales technique is a strategy that lays out how your sellers should handle each marketing funnel stage. A sales methodology promotes discipline through a framework of principles and best practices translated into seller activities, whereas a sales process sketches out a sequence of steps essential for success.
Whether planning for a sales call, assessing a prospect, or upselling a significant customer, sales technique outlines the "how" and "what" behind the process. It links the approach to the demands of your consumers and gives a roadmap for navigating each stage.
At its core, each sales methodology enables salespeople to perform at their best by utilizing tried-and-true methods for identifying and resolving issues. These sales methodologies are based on scientifically validated psychological principles as well as field-tested strategies carried out by the specialists who created them.
Simply defined, the most straightforward response to the question "What is a methodology?" is that sales methodologies are the practical, how-to "guides" that underpin a sales process. These actions serve as a bridge between each step of the sales cycle by keeping buyer and prospect demands in mind.
Why Do You Need a Sales Methodology?
The importance of Sales Methodology in Saas marketing goes deeper than the surface level. The backbone of any effective sales organization is the right sales methodology. It gives salespeople and management a repeatable, sustainable, and predictable style of working, which determines the company's capacity to reach process maturity and increase win rates.
The sales methodology is a tool that aids in the selling process. As a result, all of the procedures listed in the method should be centered on the consumer. Having the necessary infrastructure to support the required habits and behaviors is crucial for the sales technique.
To strengthen their sales capabilities, all sales organizations need a technique. It's impossible to win constantly and predictably without a proven approach, especially in today's continuously changing global industry.
7 Best Sales Methodologies for Saas That Bring Revenue
1. SPIN Selling
SPIN stands for the four kinds of questions successful salespeople ask their customers: Situation, Problem, Implication, and Need-payoff. Neil Rackham first proposed the idea in 1988, founded on 12 years of scientific research and more than 35,000 sales pitches.
According to Rackham and his team, top salespeople rarely promote their products or services. Instead, they asked strategic, high-value questions to gather important information and guide the dialogue.
The method of establishing a link with a prospect in analyzing their needs before offering your service as the solution is comparable to consultative selling. The primary foundation of SPIN selling is sales reps raising pointed questions early in the deal.
The SPIN approach, when utilized effectively, can reveal common themes and difficulties that customers are experiencing, allowing your salespeople to pitch your product as a feasible solution. With this assistance, the client realizes that your product will help them, making it easier for your sales representative to complete the purchase.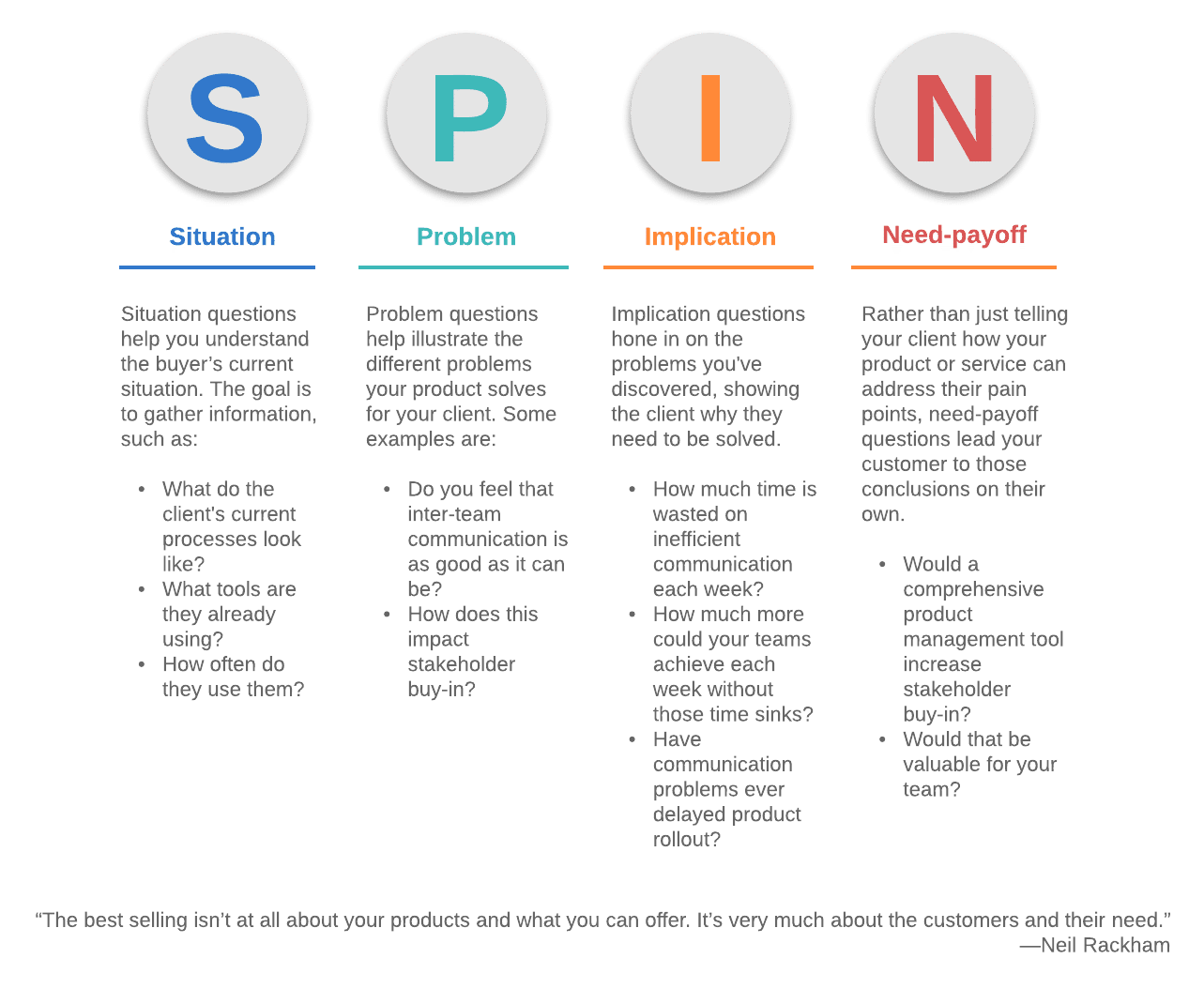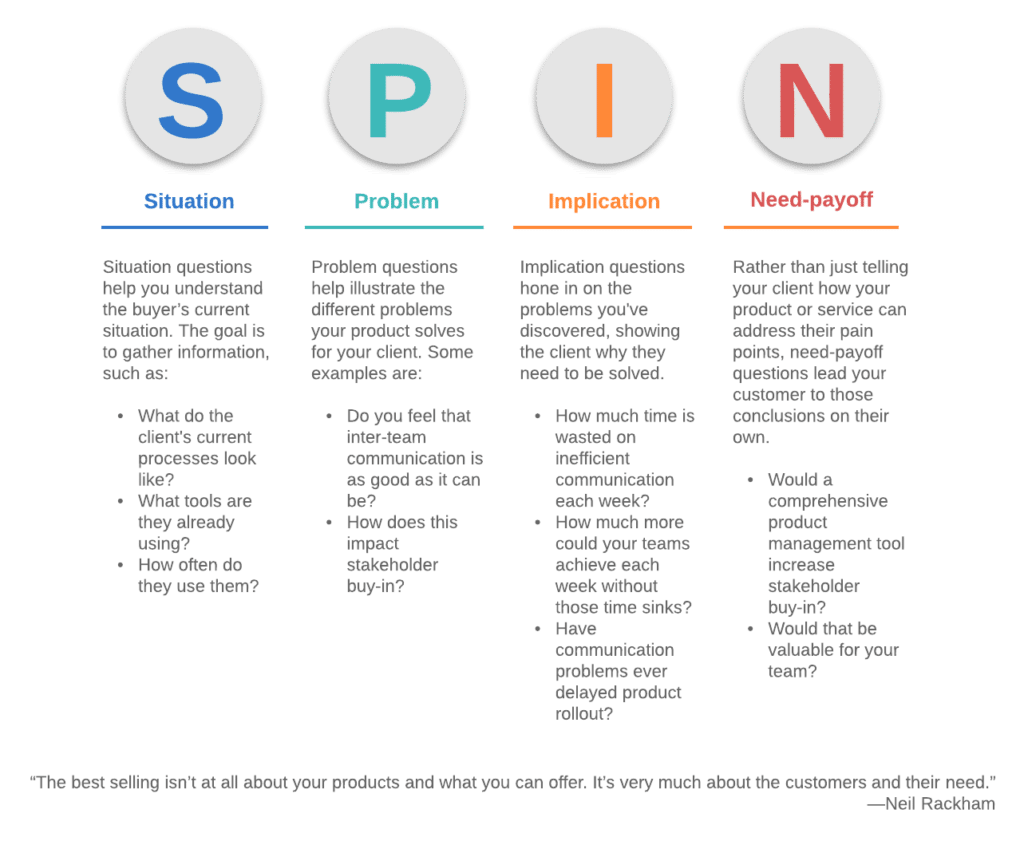 Who needs Spin Selling?
All those organizations where the prospect may not have identified their issue(s) or completely comprehended its ramifications need spin selling.
2. MEDDIC
The MEDDIC sales program was established in the 1990s as a B2B sales approach. This method focuses on improving client qualification or deciding whether or not you should invest time and effort into bringing a customer towards your sales funnel.
Proponents of the MEDDIC sales technique say that selling to better-qualified customers leads to a higher close rate and thus increases sales success.
With each of their accounts, sales agents go through 6 processes of discovery using the MEDDIC sales methodology: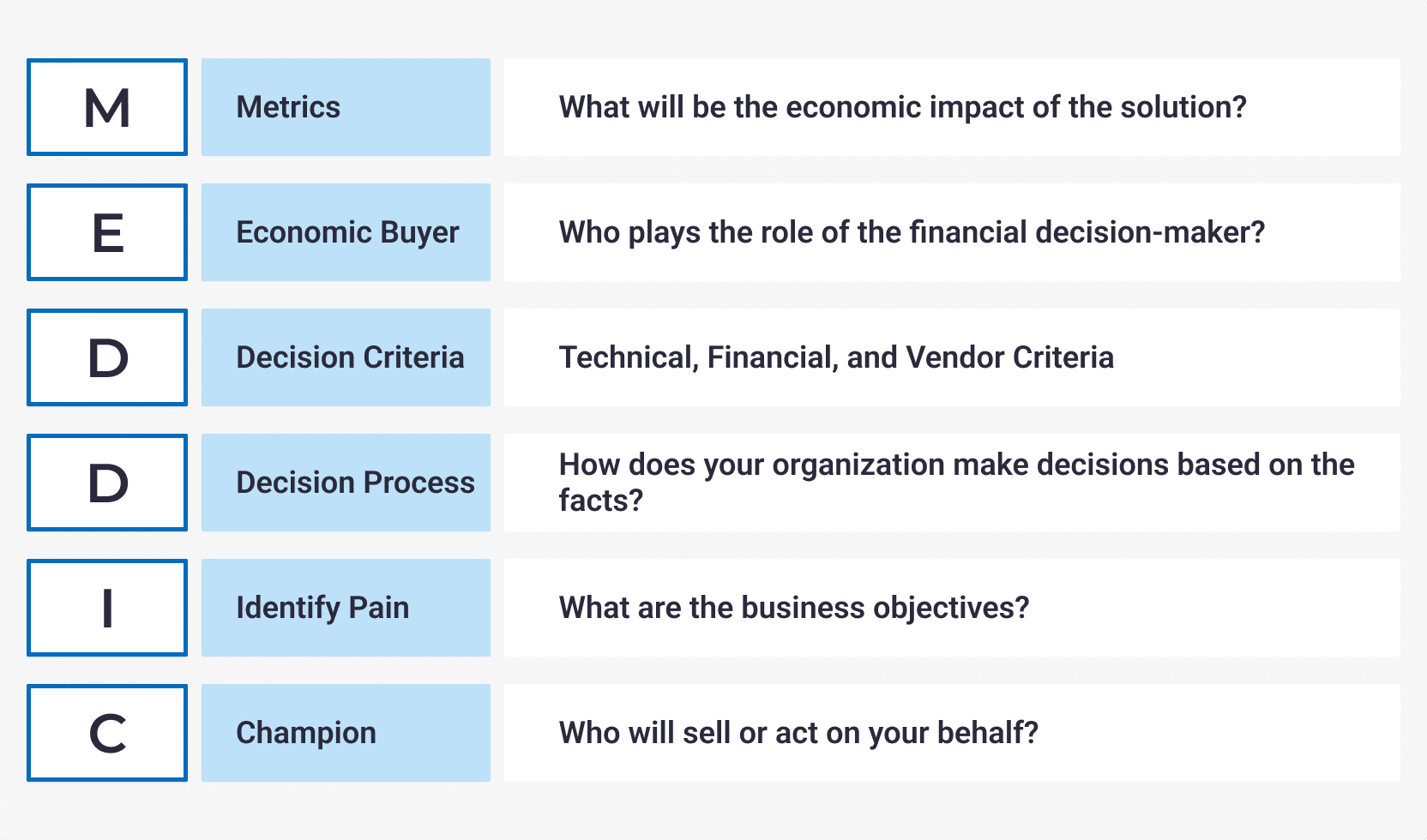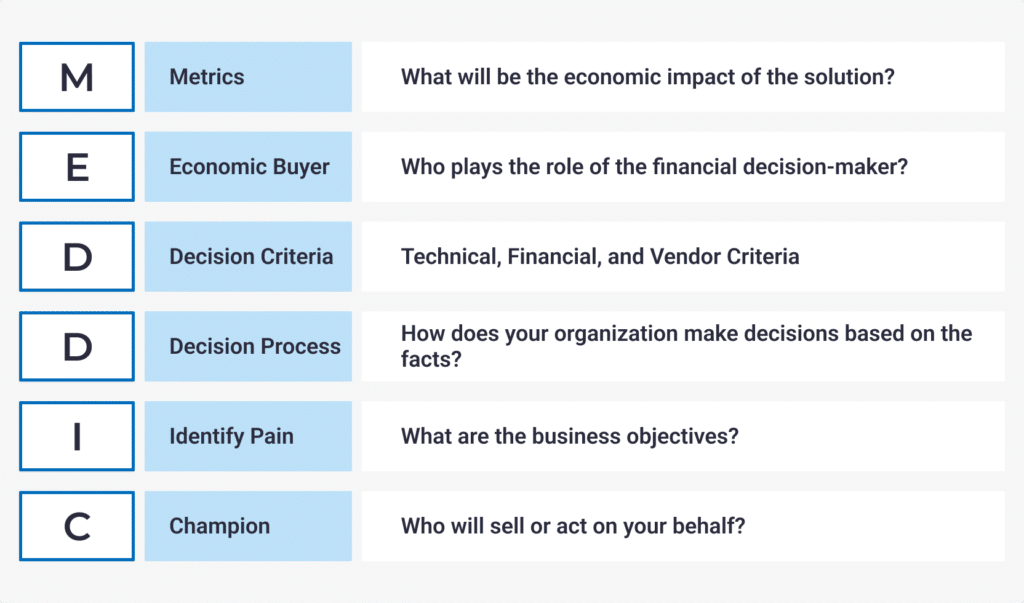 You can use metrics to describe the financial benefits of your product. For example, you can demonstrate how your solution gives a decent return on investment if you know what measures the consumer cares about (ROI).
Identifying the economic buyer and their thinking will assist you in closing sales, as the buyer's veto authority makes them the one person who must be persuaded at all costs.
Companies are frequently confronted with various solutions from many sources, prompting them to evaluate and choose. You can better adapt your messaging if you know how consumers make this decision. Companies make selections based on various variables, including ease of use, compatibility, budget limits, and possible ROI.
Who needs the MEDDIC Sales Methodology in SaaS Marketing?
MEDDIC is beneficial for all those Saas marketing agents working in B2B complex environments where they need to be highly knowledgeable of the right people who can help them drive sales.
3. Challenger Sale
The Challenger approach is all about providing the necessary knowledge to prospects and challenging the status quo with thoughts and ideas, about the world they work in, that they don't (but should) know. Challenger sellers don't do well in their prospects' worlds; instead, they challenge them to live outside it.
The SaaS industry is all about cutting-edge technology and pushing the boundaries of what's possible. That's why Challenger works so well with SaaS: it's all about making your prospects think outside the box and obtain a fresh view of their business and demands.
A Challenger sales rep becomes a counselor and mentor while selling SaaS models to other startups, challenging prospects to question their prejudices and try something new. The Challenger Sales methodology represents a shift from pitch-based selling to educational selling. Rather than proposing a specific product, a Challenger will listen to the customer's demands, analyze them, and present a solution that the client may not have considered.
Who needs the Challenger Sale Methodology?
In a dynamic B2B sales environment, this is especially beneficial when sales representatives need to take charge of the discussion by bringing out their unique selling features.
4. Solution Selling
Solution Selling emerged as a sales methodology in the 1980s. It was founded by Mike Bosworth based on his experiences at Xerox Corporation (the Huthwaite International SPIN selling pilot project).
Solution selling is a difficult skill to master, and it involves a lot of questioning. Many purchasers lack the patience to respond to so many inquiries. Those that do are usually working on tackling complex problems with sophisticated solutions. As a result, Solution Selling is the best fit for complex deals in which discovery calls are the exclusive focus of your sales process.
Solution selling is not a good fit for transactional management and business with a standardized, basic solution. In these cases, the inquiry sequence is usually excessive. In addition, Solution selling is unlikely to be a good fit for a sales team that primarily sells over the phone. While Solution Selling does not have to be done in person, it is more likely to succeed if you sell over the internet or via video conferencing.
Instead of pushing products on customers, solution selling identifies their specific needs and presents them with customized services.
The focus of solution selling swings away from product specs and the value that such solutions provide to the customer. You may portray yourself as a counselor rather than a forceful seller by concentrating less on what your service does and more about how it solves their problem.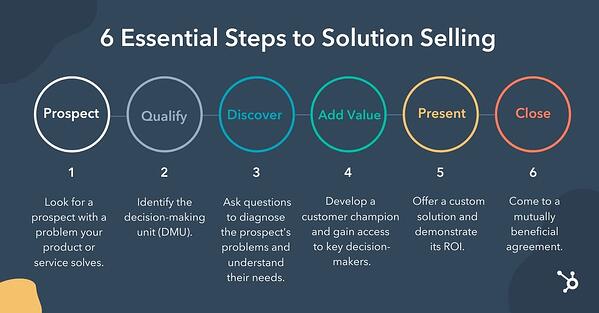 Who needs Solution Selling?
This sales methodology applies when working in companies or organizations with highly personalized products or services.
5. Sandler Methodology
The Sandler Selling System, created by David Sandler in 1967, emphasizes sales representatives acting as consultants rather than pushy salespeople. Instead of forcing a service on those that don't need it, this method focuses on asking the correct questions during the qualification process.
In essence, the Sandler sales strategy is unusual because it emphasizes mutual trust between sellers and customers.
Sandler Training has a 4.6 out of 5-star rating based on more than 60 anonymous employee evaluations. Seventy-six percent of employees would suggest Sandler Training to a friend, and seventy-five percent have a favorable outlook on the company. Over the previous 12 months, this ranking has improved by 1%.
This is an excellent choice for companies that offer more large-scale and high-end SaaS products. Though time-consuming, it builds the confidence necessary for customers to commit to new, less evident, or less clear solutions.


Who needs the Sandler Methodology in SaaS Marketing?
This sales tactic is particularly good at building strong customer ties. However, there are no drawbacks to employing this process because it works in various sales situations.
6. SNAP Selling
Jill Konrath, a sales strategist, speaker, and author created the SNAP Selling methodology from the perspective of a busy buyer.
SNAP Selling Methodology of SaaS marketing involves four essential components:
a. Keep it Simple
The web is the place to go for any information a modern customer needs to decide. With so much information available, many purchasers avoid anything too tricky to comprehend. Salespeople must keep this in mind and assist prospects in changing their present routines. They will only be capable of attracting these prospects if they do so.
Make your answer appear more straightforward.
Keep your message brief and to the point.
Persuade the prospect to give you a chance to speak.
b. Be invaluable
The plethora of information available to modern buyers might be overwhelming. Therefore, your sales personnel must become experts in their field, demonstrate the value of your product, and stand out from the competition. Showcase the product's value to gain consumer trust. To get the sale, you need to stand out.
c. Always Align
You must match business aims with fundamental convictions to sell your goods to the modern buyer. Your prospect, not the competition, must be willing to collaborate with you. Your messaging must demonstrate how your product will assist them in achieving their objectives more quickly.
Make sure you're on the same page as your customers.
Recognize their requirements.
Learn about their issues.
Align your offering with their company's objectives.
d. Raise Priorities
Your solution must be:
First, concentrate on the priorities of the prospect.
Next, align your service with what they're looking for.
Finally, consider your solution as a tool for attaining the goals.
Busy people do not appreciate being stopped by information or items they believe are of little use. Your sales staff will get into the client's head by using the four necessary aspects of SNAP selling that we discussed earlier. Using SNAP Selling, you can cope with their current patterns and make them more responsive to your approach.
Who needs SNAP Selling?
This is useful when your clients have a busy work schedule, and you will need to communicate with them to make the buying process go smoothly.
7. Gap Selling Methodology
Gap Selling can help you close more deals, build stronger, longer-lasting client relationships, and streamline your sales process.
Understanding both the existing and intended states, and presenting your service or product as the gateway to bring them from point A to point B, is what gap selling is all about.
So, what makes gap selling so effective? To clarify this, consider how it differs from typical, product-centric selling.
Product-centric selling focuses on the product and what it can do. So the firm and the product are the emphases of the product-centric salesperson. They're motivated by the prospect of hitting their target. They want the deal done and the product implemented as soon as possible.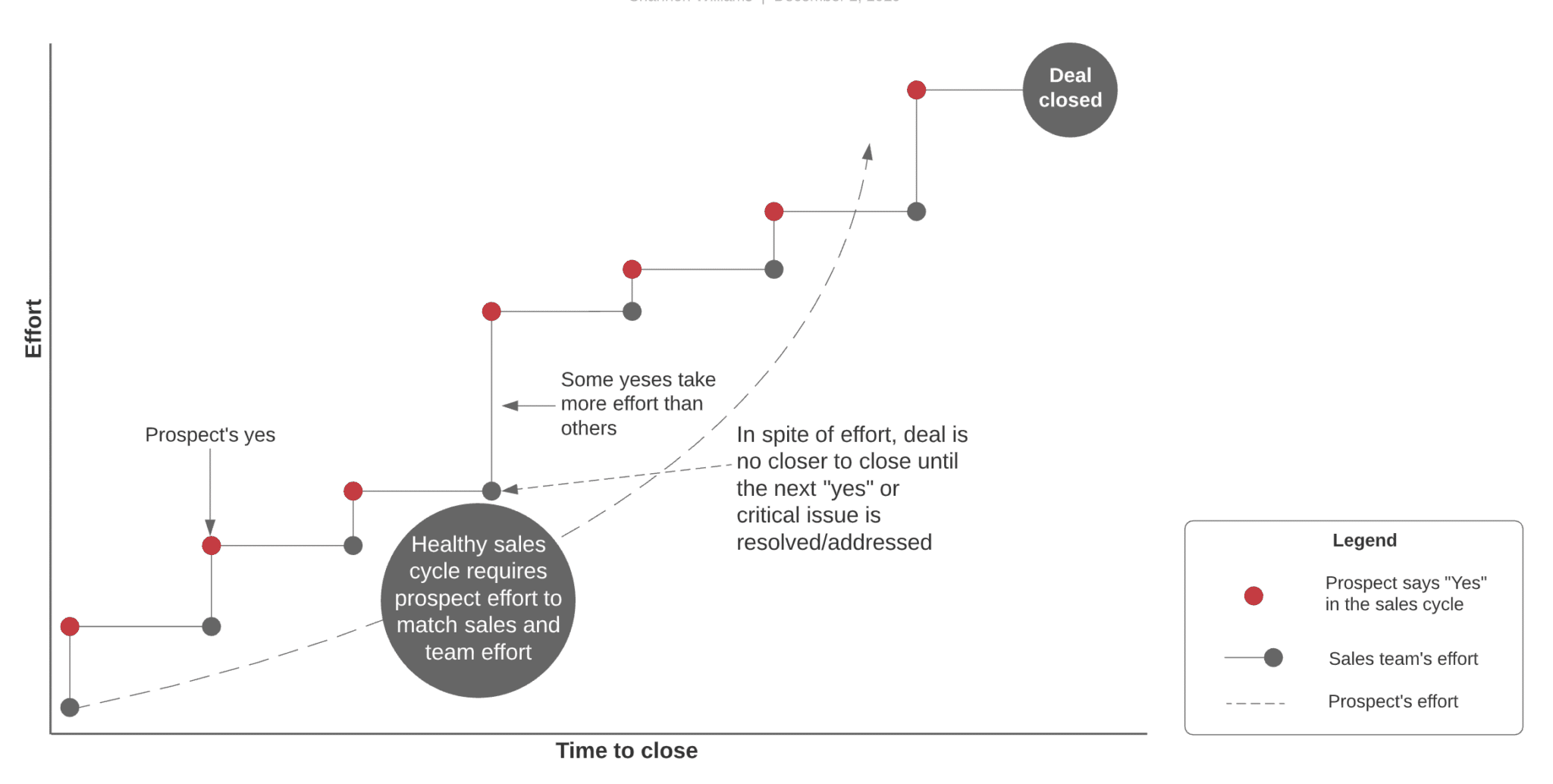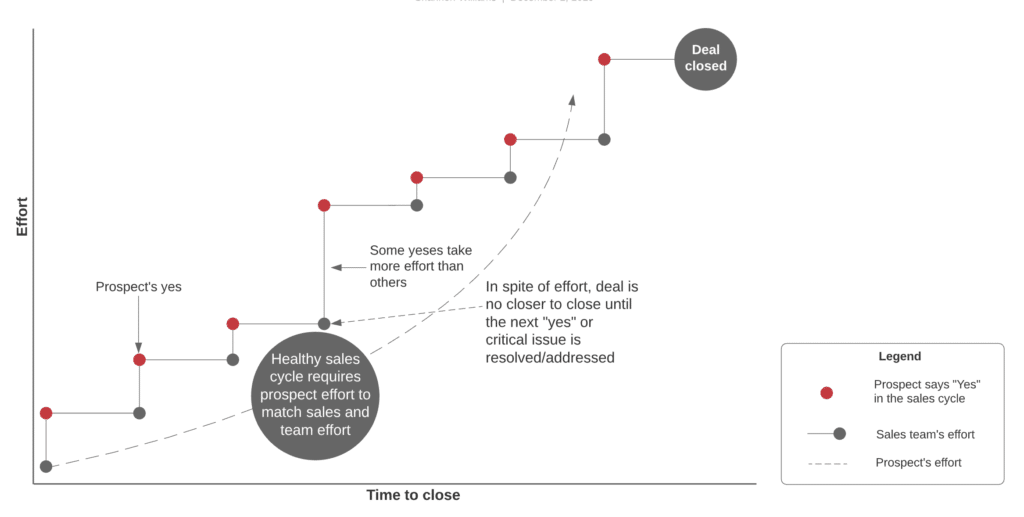 Who needs the Gap Selling Methodology?
Sales teams can devote the time necessary to delve deeply into a prospect's condition and have someone available to answer the numerous questions necessary to get to the base of the issue.
Which Sales Methodology is the best for you?
It's critical to consider three crucial aspects of your business when choosing the best sales methodology: Strategy, Product, Customers.
Your strategy will determine the type of sales tactic you require. Varying approaches enable varying lengths of sales cycles and necessitate various levels of customer contact. Therefore, choosing a SaaS marketing technique requires understanding how you market.
Your product will also influence how your clients make purchasing decisions. Some products are simple to use and purchase via a self-service portal. Others will want more extensive upfront training from your SaaS sales team to persuade clients to buy.
The easiest way to figure out which methodology is ideal for your company is to figure out what you need. For example;
Suppose your company has trouble determining your prospects' problems and thus can't explain why your product is feasible. In that case, you might want to use a process that aims at identifying difficulties early on.
However, if your service is simple to grasp and converting a lead into a client doesn't take much effort, it is advisable to use a methodology that makes it easier for your clients to acquire your products during their busy day.
Too many people select a sales strategy based on what appears to be novel, compelling, or flashy. That is the wrong approach. Using a sales methodology that is too easy for your solution will lose sales because your customers will expect a little more assistance during their purchasing experience.
If you use an excessively complicated approach, you will raise the cost of acquisition by overspending on lower-value consumers. Profits are no longer an option.
It might be challenging to strike the right balance between being too basic and complicated. Still, you can begin by keeping track of your average transaction size, marketing cycle, and volume of deals per representative each month. Hence, always calculate your average customer acquisition cost and use a technique that protects your profit margins.
Bottom Line
To summarize the above discussion, we have seen SPIN Selling, MEDDIC, Sandler Selling System, SNAP Selling, Solution Selling, Gap Selling, and Challenger Sale as the seven most popular sales approaches.
Each of these approaches is beneficial in uniting the sales force around a single procedure and increasing sales. And once the sales are closed, try and get your hands on a great customer success software like Custify to always have a complete view of your customer data.