The SaaS market is currently growing by 18% each year and 99% of businesses use at least one SaaS solution. This means that there are a lot of competing SaaS solutions and your customers won't hesitate to take their businesses elsewhere if you are not able to provide the support they need.
The main reason why customers choose SaaS is scalability. However, while they want to scale up and down whenever they need, they expect your customer success team to be as engaging as ever. But how can your CSMs provide the same level of engagement and still be able to take care of more and more customers with the same resources? Switching from a high-touch approach to a tech-touch approach, without leaving out the human touch.
In this article, we are going to focus on how a tech-touch approach can actually offer the same benefits as a high-touch approach without the same overhead.
High-touch, mid-touch, low-touch, tech-touch
When choosing the engagement model for each of your clients, every SaaS business needs to take a few things into consideration. One of them, and maybe the most important, is that your customer success team is not going to grow as fast as your business requires. Maybe you will have 50 new clients and only 1 new hire in the customer success department. That's why we should have a short refresher regarding these engagement models.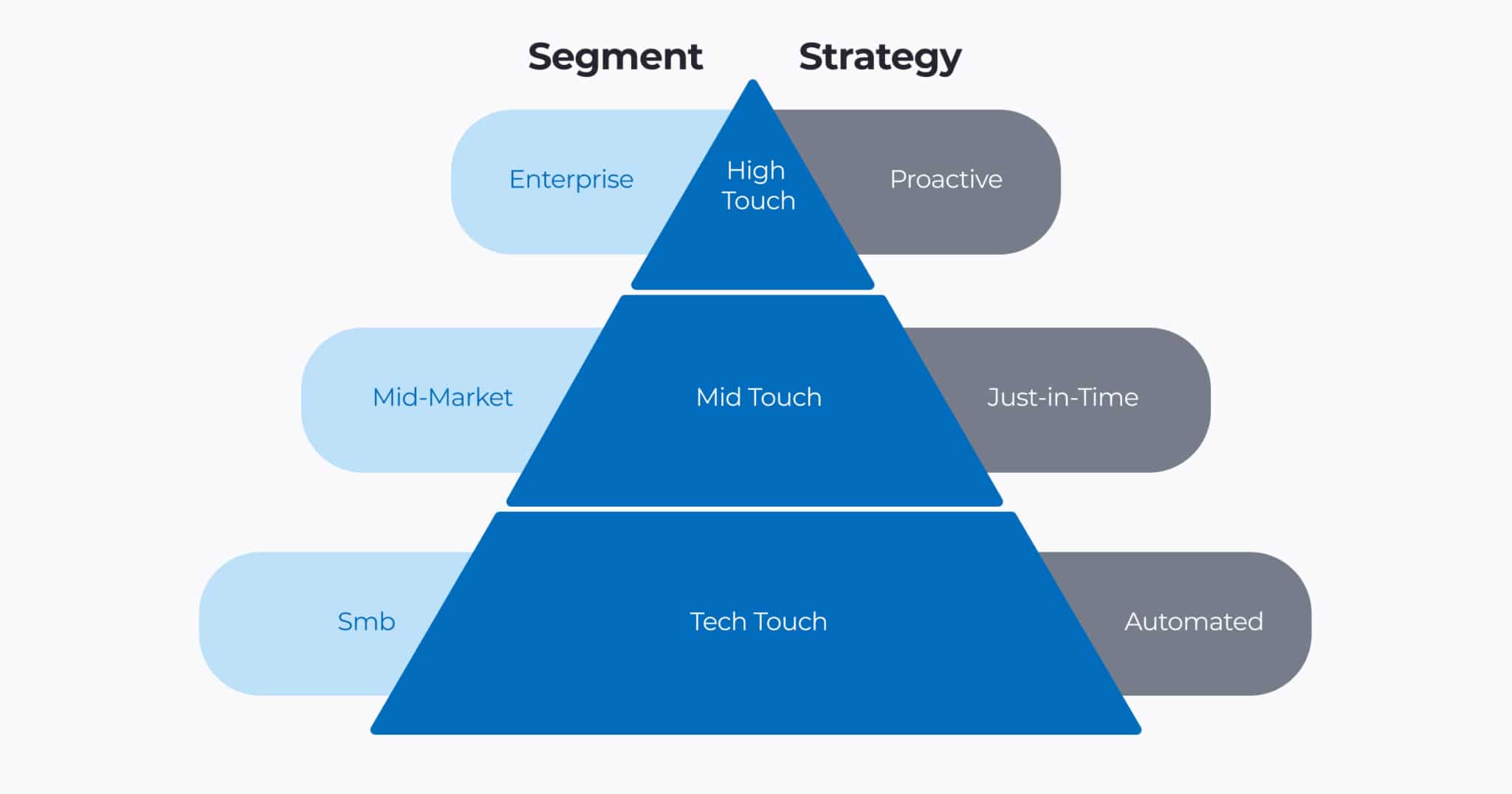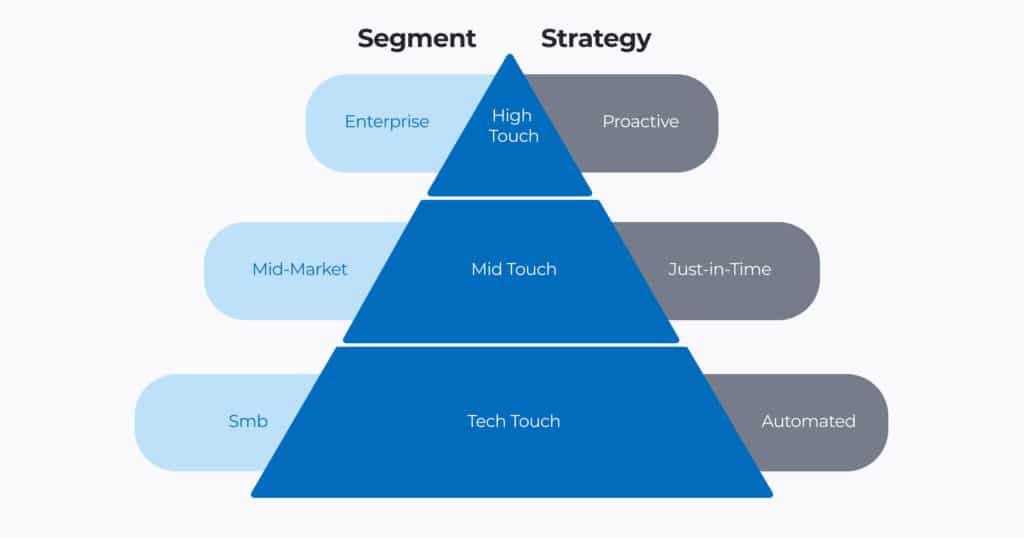 High-touch
From customer onboarding to weekly reminders, a high-touch approach involves a lot of contact between your customer success managers and your customers. While all customers would like their SaaS providers to have a high-touch approach, it is not always possible. In general, this type of approach is seen at the enterprise level.
Being high-touch means being extra responsive, having engaging discussions with customers, and offering a one-on-one onboarding experience. As you might expect, this type of approach demands a lot of resources. Also, high-touch means proactive. Your CSMs will have to contact the customers and find out what they need, even before they know they need it.
Mid-touch
This is a more moderate engagement model for CS teams. Most companies choose to opt for high-touch onboarding and switch to tech-touch playbooks after trials. Also, the customer success team will switch to high-touch when priority cases, like the risk of churn, appear. Customers are contacted by the customer success right on time, without engaging a lot in the conversation. The customer success team doesn't proactively engage with customers, but they don't expect until the client contacts them for help.
A mid-touch approach is used traditionally for mid-market businesses. Those are the businesses that don't need a personalized one-on-one onboarding process and don't need a special subscription. These businesses are steady, employees know how to navigate your product, and don't require a lot of support.
Low-touch
Low-touch is the type of approach that is mostly used for SMB. Customer success managers rarely contact these customers, because they don't need to. Small to medium businesses don't have as many requirements as enterprises. The customer success team is there just to make sure that everything runs smoothly and to answer any questions these customers might have.
Tech-touch
It's a common misconception that low-touch and tech-touch are one and the same. However, it depends on how you implement the tech-touch approach. For some SaaS businesses, the one-to-many approach seems really impersonal and low-touch, while other businesses find a way to keep clients engaged and happy.
A tech-touch engagement model is a perfect option for SaaS businesses that are scaling up. The more customers you have, the harder it is for your customer success team to build engaging relationships with them. Instead of hiring one customer success representative for each client, let's see how the tech-touch engagement model can help you.
Tech-touch can mean high-touch
Tech-touch doesn't necessarily mean no-touch. When it's implemented right, this engagement model can help you handle all types of clients, from SMBs to enterprises. Yes, you can adopt an almost complete tech-touch model even with your enterprise customers without risking losing them. Everything depends on how well you know your customers and the resources available to implement this tech-powered engagement strategy.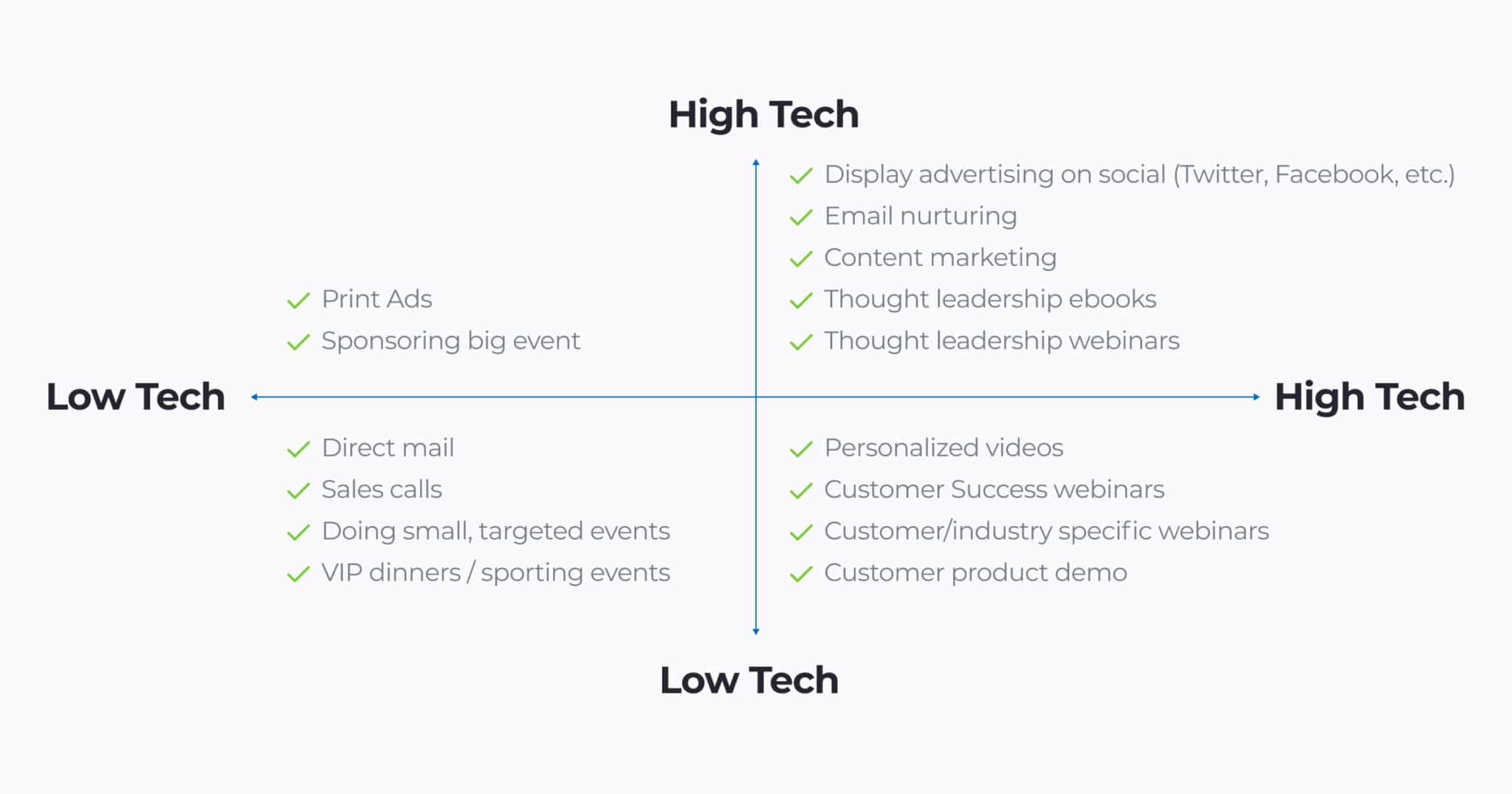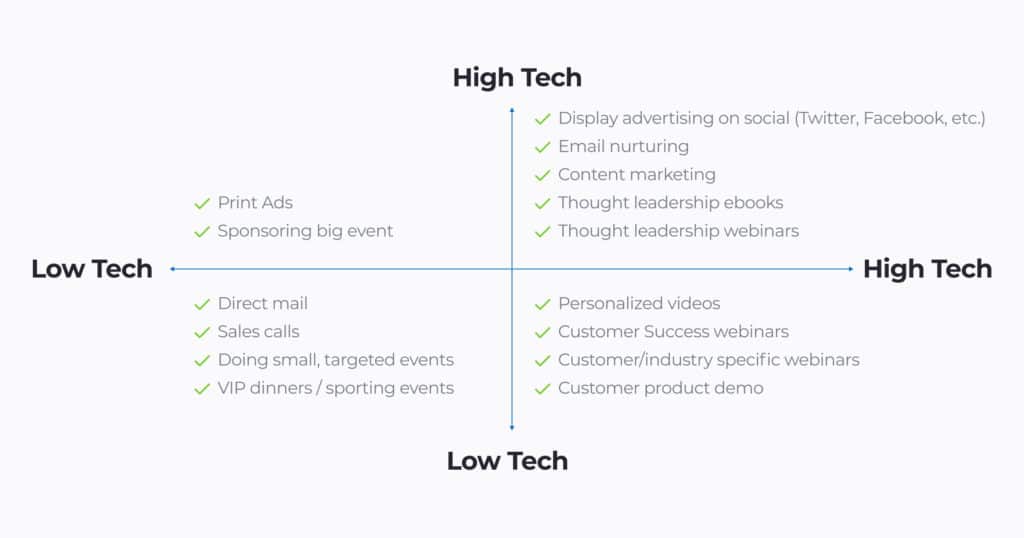 Think about the to-do list of your customer success managers. They have many responsibilities, but not all of them are of real value to your customers. Some are just repetitive, dull tasks that fill their schedule with little to no impact.
This is where the tech-touch approach comes in and becomes high-touch. Apart from offering support when the CSMs are outside working hours, technology can fill in for the dull tasks, leaving out engaging conversations to the customer success representatives.
All customers demand the same level of engagement and support. However, your employees might not be able to offer it. When it comes to answering common questions, a tech-powered alternative is best than making your employees answer the same thing again and again.
Initial responses can be automated and your customer success managers should only intervene when they can offer personalized support and advice. This is how they can create meaningful relationships with customers and increase retention.
High-touch is about the level of engagement, not the number of emails, calls, and reminders your customer success employees have with customers. Helping customers achieve their goals can be done when your CSMs offer the right advice for each customer, not when they address basic support issues.
Advantages of the tech-touch approach
Now that we've established that tech-touch doesn't mean low-touch, let's see what are the main advantages of a tech-touch approach.
1. Simple answers for common questions
Each SaaS solution has common issues that most customers stumble upon. Creating the perfect product is impossible, but you can continuously improve your product by implementing customer feedback.
If you know there are a few touchpoints in which your customers might get stuck or experience errors, then you should rely on automation instead of putting all the overhead on your customer success representatives.
A one-to-many approach is perfect for common errors and issues. Your customers might work in a different time zone or they might work weekends. Believe me, they would love to get a quick and easy-to-implement solution to their problems, instead of waiting for a customer success representative to call them and walk them through the issue step-by-step.
2. Customer success representatives need reminders too
Your customers are not the only ones who need a nudge from time to time. Customer success representatives are people too and they would love to have some of the weight lifted off their shoulders. A customer success software can remind them what's next on the to-do list and show them a complete overview of their customers.
3. Tech-touch means scalability
SaaS businesses need to be able to scale rapidly. While your business might be growing, it's almost impossible to grow all of your teams as fast. When you have spikes in sign-ups a tech-touch approach will guarantee that there is no extra overhead for your business.
4. 24/7 availability
You will be able to offer the same services and support for ALL of your customers, no matter the time zone or the size of the company. Tech doesn't sleep, doesn't take days off, and while it can't engage on the same level as a customer success manager, it is still an extra resource.
5. Product differentiation
Ask any customer and they will tell you the same thing: great customer support is a must nowadays. Implementing a tech-touch approach the right way can be one of your product differentiators because it will leave more time to constantly improve your SaaS solution.
Tech-touch strategies for your customers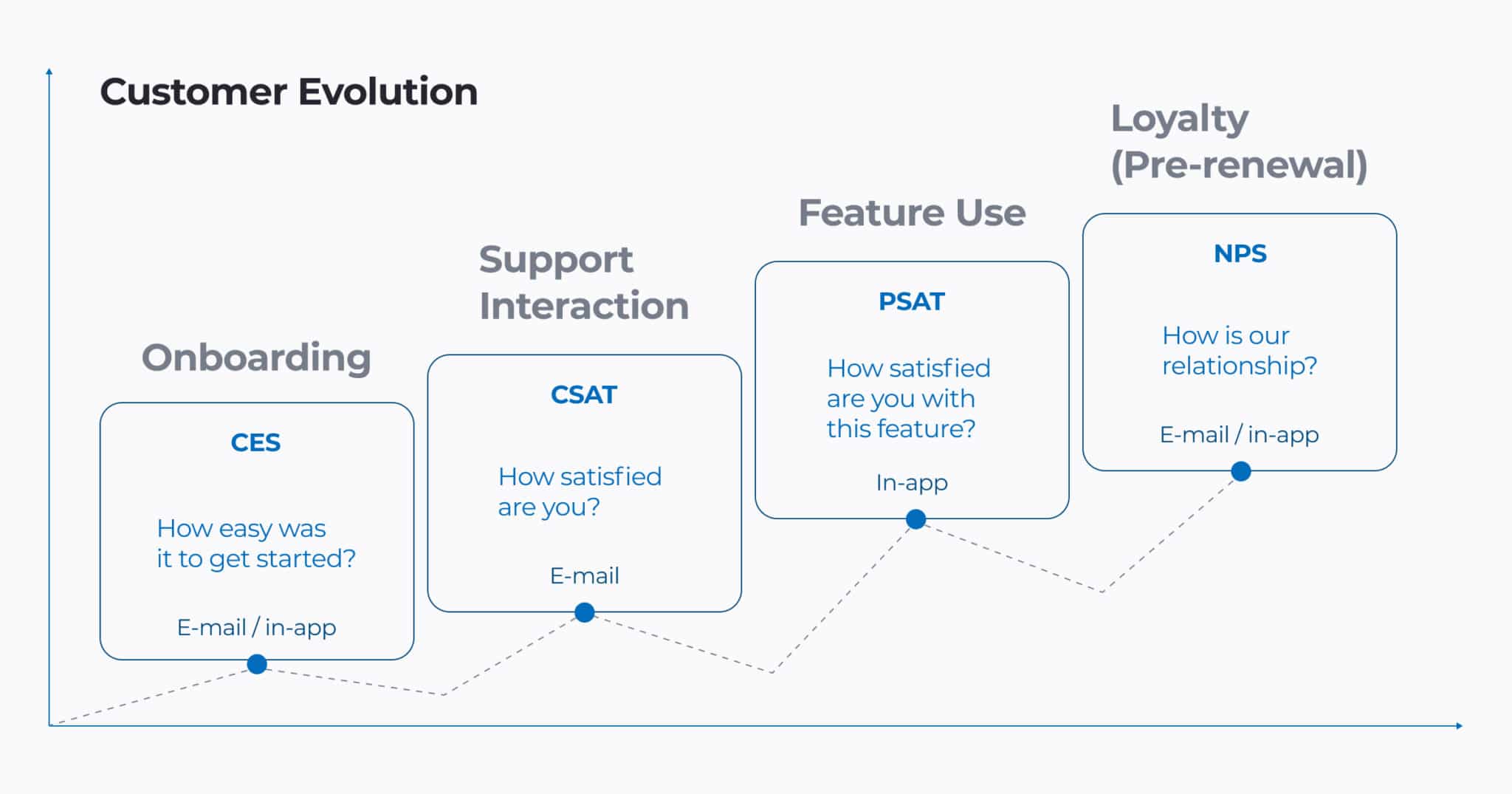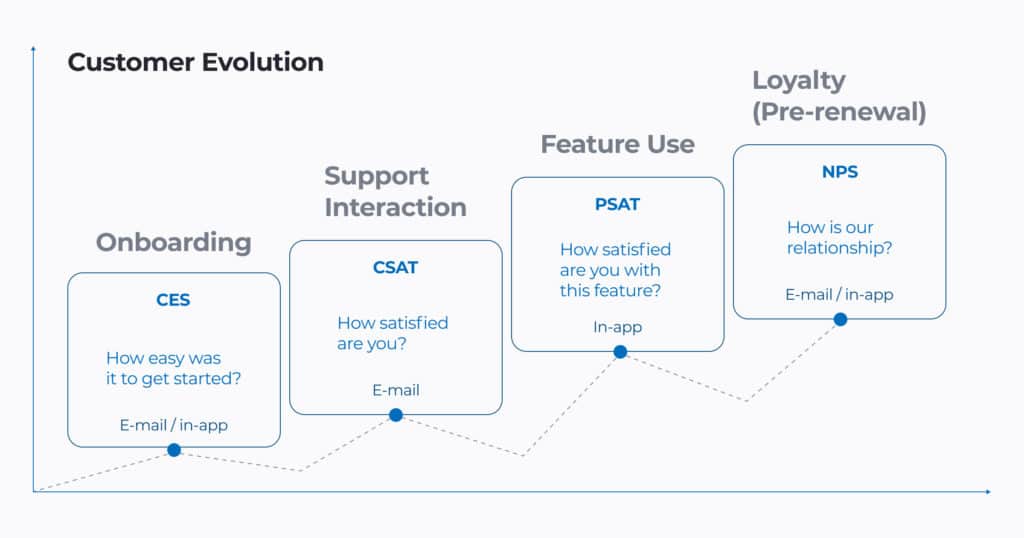 1. Find the right triggers that can be automated
When using your SaaS solution customers have a similar path. While SMBs might not use the same features as enterprises, they still have common grounds. During this journey, customers might experience issues, or they might have a hard time figuring out how a certain feature works.
Your mission is to find these issues or hard-to-understand features and, when a customer gets to that point, send them an automated message to engage with them. For instance, if you know that one feature of your product is not used to its full potential, set a playbook to send an instructional email to customers that clicked on it from the dashboard and ask them how you can help.
You will be amazed to see that your customers will respond to these automated emails which will lead to engaging conversations between clients and the customer success team.
2. Proactivity is key in customer success
Remember that proactivity is one of the biggest differences between customer support and customer success. While your customer success team might do its best to be proactive and reach out to customers before they experience any problems, this can't always happen. For example, your CSMs may not know that there was a bug or an error when one of the customers used your product recently.
However, technology can help in this case. When a customer experiences errors they get frustrated. If they have to reach out to the customer success team, then they are already annoyed. To avoid this, you implement another automated process.
When a customer experiences a bug in the system, you can send them an automated message showing that you know about the error and that your technical team is already fixing it. Then, both the technical and the customer success teams will receive a notification about the error.
The CS representative can then reach out to the customer and offer advice if needed.
3. Automated customer feedback collection
One of the most valuable things any customer can offer your business is their feedback. While some customers might not be able to communicate all of their issues with your customer success representatives, they might be open to filling out a survey.
Sending out a personalized customer survey shows that you know your clients, understand their needs, and are open to learning more about how your product can help them.
4. Monthly recommendations and updates
You don't always have to call your customers to offer recommendations. Another thing that can be automated is the monthly recommendation brochure. Don't send the same email to all of your customers. Personalize these emails by including tips and tricks about the features they use most. Include the name, company, and title of the one you are sending the email to. Plus, make the email seem like it was sent directly by a CSM, not a generic company email.
High-touch and tech-touch with the same solution
If you are looking for a way to implement a tech-touch approach for new clients (or for existing customers) while also maintaining them highly engaged, you need the right solution.
A customer success tool like Custify can help your CSMs offer the best support for your clients, while also automating repetitive and low-impact tasks.
You should compare and track multiple metrics and KPIs like revenue, feature usage, and support activity. Normally to do this you would need many sheets and multiple hours across many tools. With a CS tool, you can aggregate this data in one place and see everything at a glance.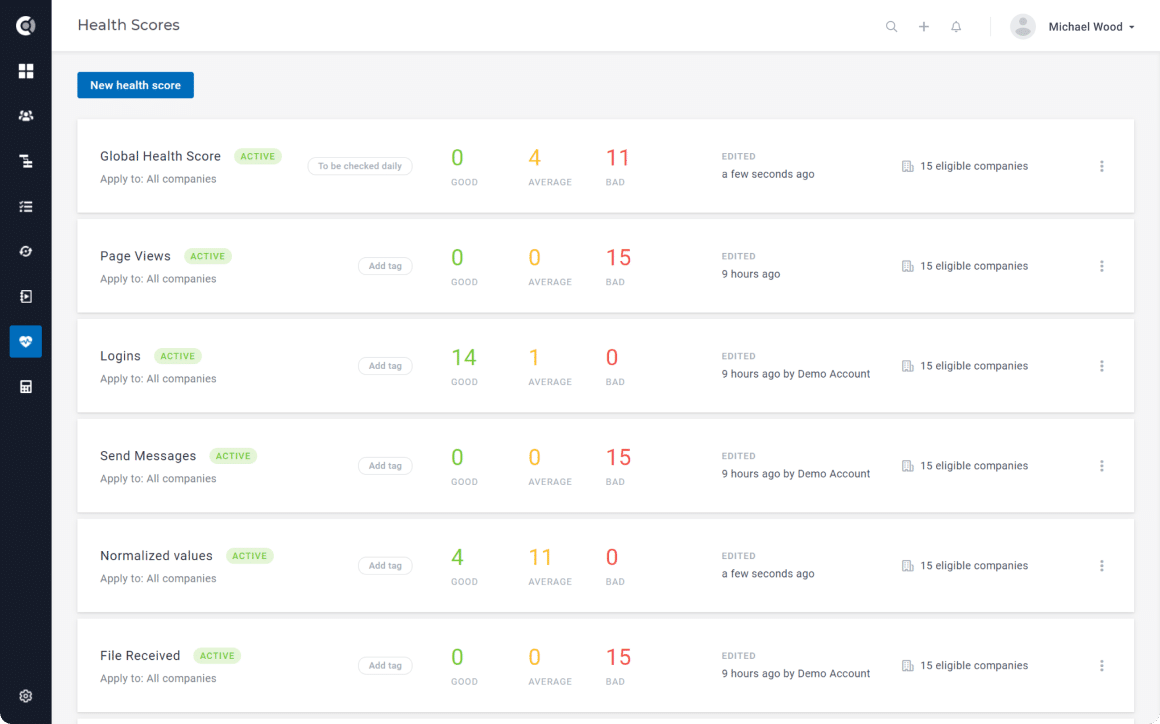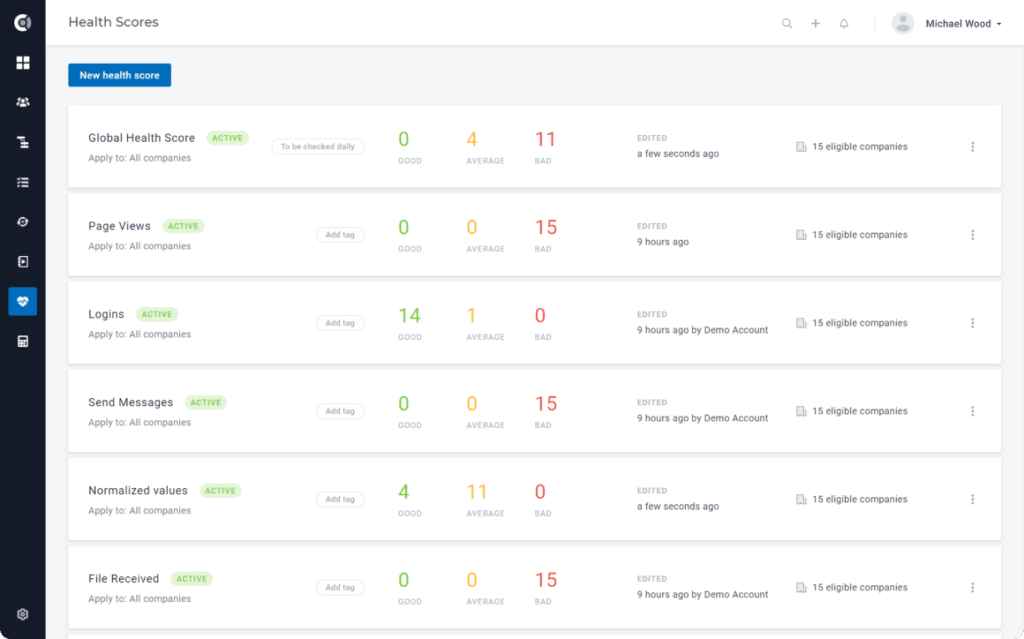 Complete overview (360-degree feature)
Having a complete overview of your customers is a must in customer success. On the platform, you have access to all of your customers' data in one dashboard. No more checking on different tools, looking for contracts and subscription plans. This allows customer success managers to save time and gather all of the data necessary.
Segmentation is a must when using a tech-touch approach. In the customer success software, you can segment your customer base depending on different metrics, events, or triggers. This helps you personalize the experience and always be aware of the stages your customers are in.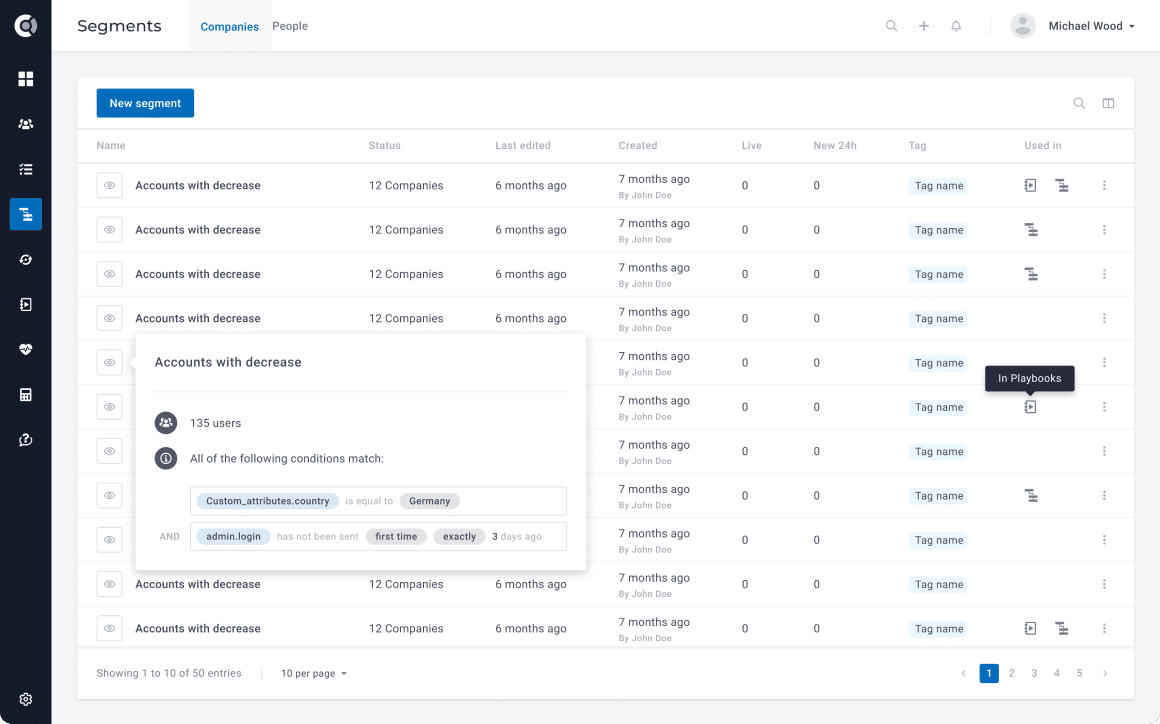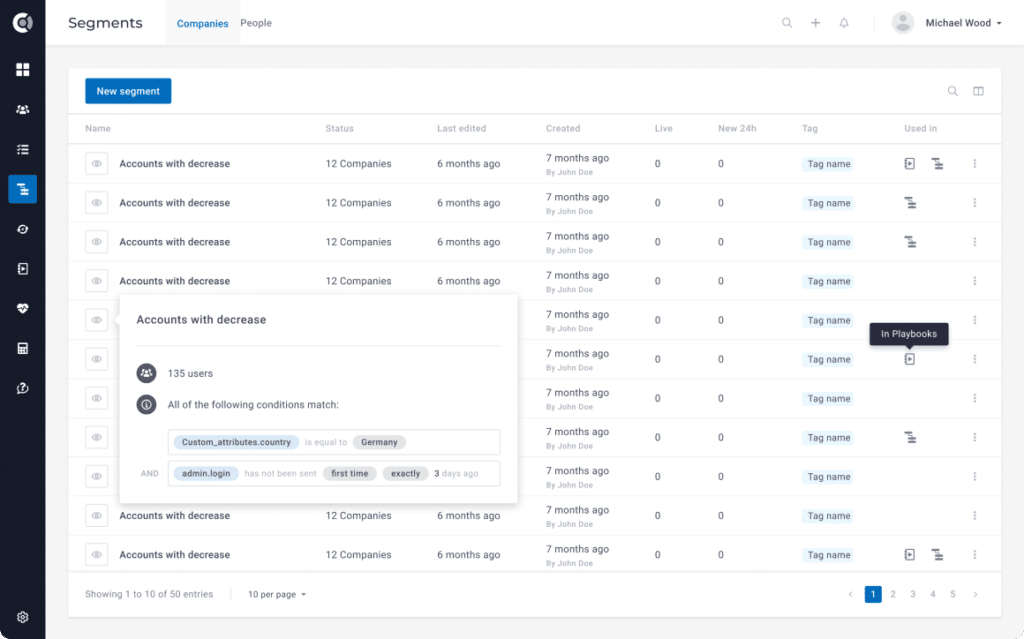 Automate tasks and reminders
Customer success managers can create playbooks and automated workflows. Custify makes it easier to automate repetitive tasks and alerts. Instead of manually sending over onboarding emails, CSMs can automate them.
Identify growth opportunities
See how you can help your customers succeed. With Custify you can see the license utilization. Once it passes 90% or another metric set by you, it's time for a bigger subscription. Upsell customers to increase retention and customer satisfaction.
Combining the tech element with a human touch
With the right solutions and implementation, your customer success team can have a tech-touch approach that feels like high-touch. Don't leave everything to technology though. Without human touch, customers won't feel connected with your product.
Automation features and tools are here to help you scale rapidly and offer your customers better solutions, not to replace your CSMs. People connect and interact with other people, not with products. Your customer success team is valuable and can have a major impact on customer retention.