In our 2022 Customer Success Year in Review article, we explored a few CS trends that will emerge in 2023.
In this article, we'll cover more Customer Success predictions for the upcoming year, based on insights from our experts and industry thought leaders.
1. Customer Success Will Be Treated More As A Growth Channel
For years, many CS teams have struggled with limited resources, stingy budgets, and general neglect on behalf of the management. The main reason for this unfortunate situation comes down to the fact that CS was seen as a cost center for a very long time.
This is bound to change in 2023 with CS assuming the role of a growth channel, a tool for attracting and retaining paying customers — akin to sales. However, this will not just happen by itself. To be seen as a growth engine, CS teams should spearhead their organizations' commitment to Customer Success.
This can be achieved with revenue expansion tactics, such as upselling and cross-selling, and by creating a detailed CS strategy with the goal of reducing the cost of customer acquisition and retention.
Here's how Custify CEO Philipp Wolf puts it: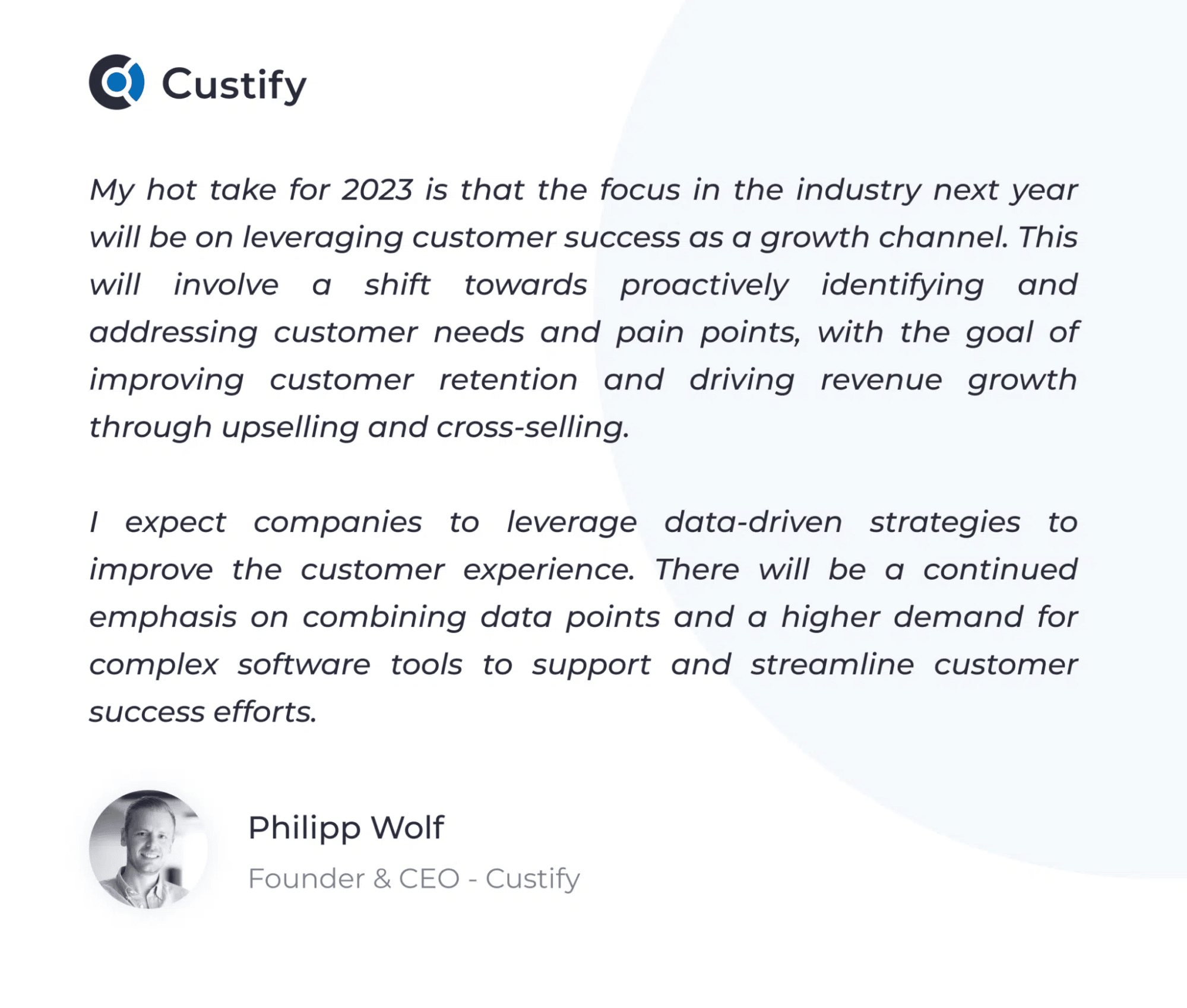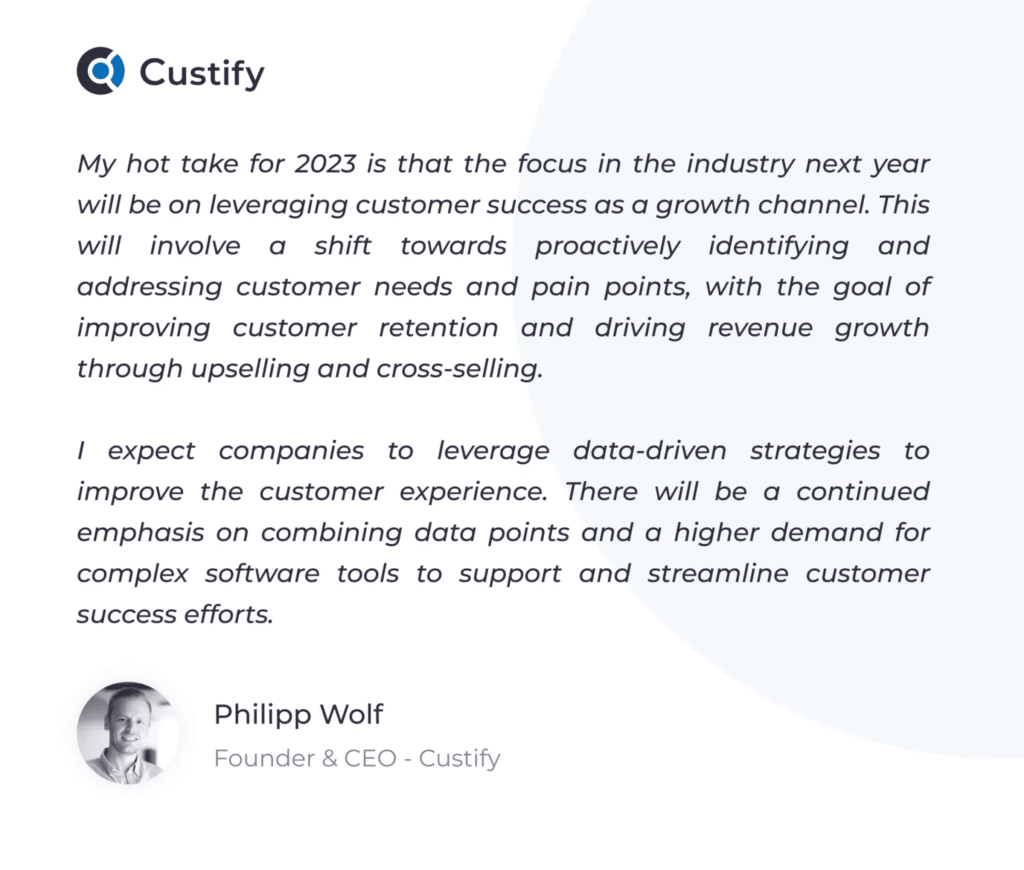 2. More CS Companies Will Use CRC as a Performance Metric
When it comes to measuring CS performance, most Customer Success organizations have consistently relied on tried and true metrics such as Customer Lifetime Value or Customer Churn Rate.
And while these metrics are valuable and insightful, their shortcoming is that they are often only valuable and insightful to CSMs, but not to an organization's executives. Your average CEO or CFO is probably more concerned with the bottom line and the overall business performance rather than the specifics of Customer Success.
So, given that CS is bound to become a business growth channel in 2023 and adopt a more strategic approach, we predict that customer retention cost (CRC), more specifically, the CRC Ratio, will become an important performance metric in the long run for more companies.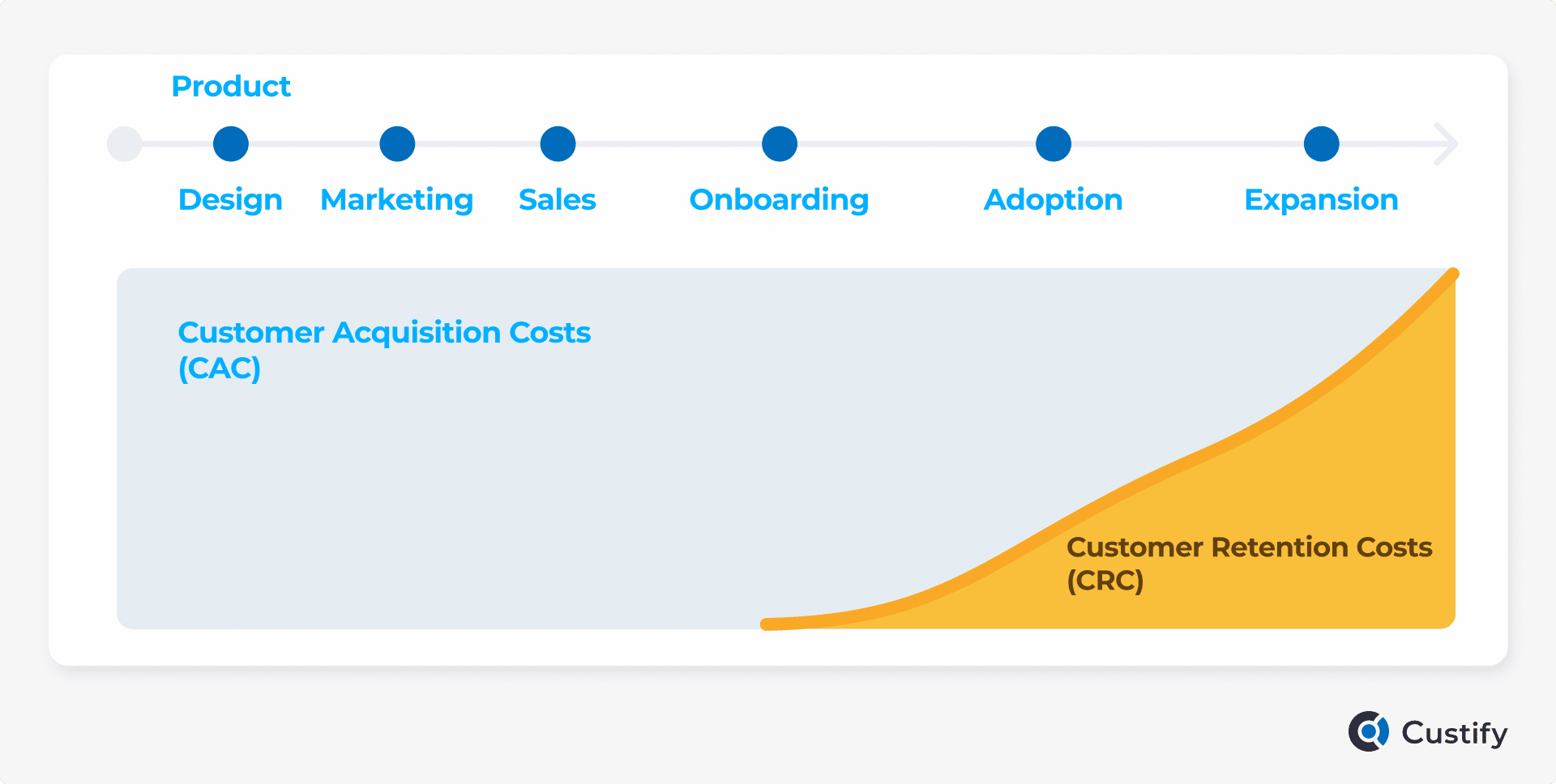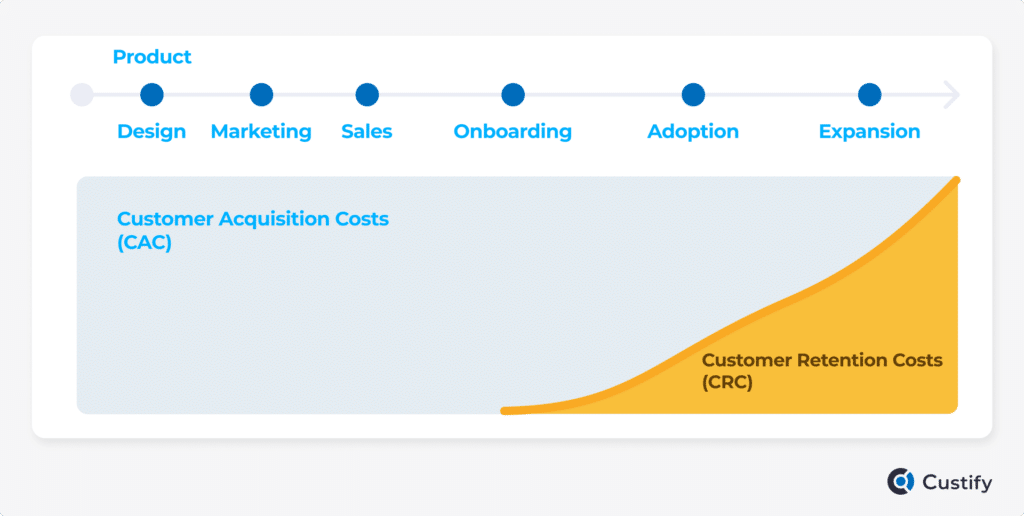 CRC is important in the context of the overall business strategy. It includes all customer retention costs, from investments into CS tools and training to marketing. As a result, CRC can provide a more global overview of your CS efforts and whether they are driving growth.
💡Custify Tip: Check out our guide on "selling" Customer Success to your organization's stakeholders and learn about CRC's role in that process.
3. Self-Service CS Will Become Increasingly Important
Self-service CS tools such as community forums, knowledge bases, and help centers are among the hottest talking points in CS right now — and for a good reason.
As many as 79% of customers are no longer asking for self-service CS solutions — they expect to have them in the first place. We believe that this number will grow even more in 2023, with self-service getting a strong foothold in the CS tool belt.
While developing and implementing self-service solutions can be a labor-intensive project, in the long run, it's a win-win for both your customers and your CS team. With a knowledge base or a community forum, your customers will be able to resolve their questions or issues on their own without getting your CSMs involved.
In turn, this will give your CSMs more bandwidth and flexibility to cater to new customers or those who specifically require a high-touch approach.
4. CS Will Become a Pillar of Organizational Design
In addition to assuming the role of a business growth channel, Customer Success will also become a pillar of organizational design and business philosophy in 2023, according to TheCustomer.Co CEO Dave Jackson.
That's because recognizing and leveraging the value of a strong CS capability will be essential for every SaaS business that wishes to be successful in 2023. Then again, that is not surprising as CS champions the ever-so-relevant proactive approach to driving customer value.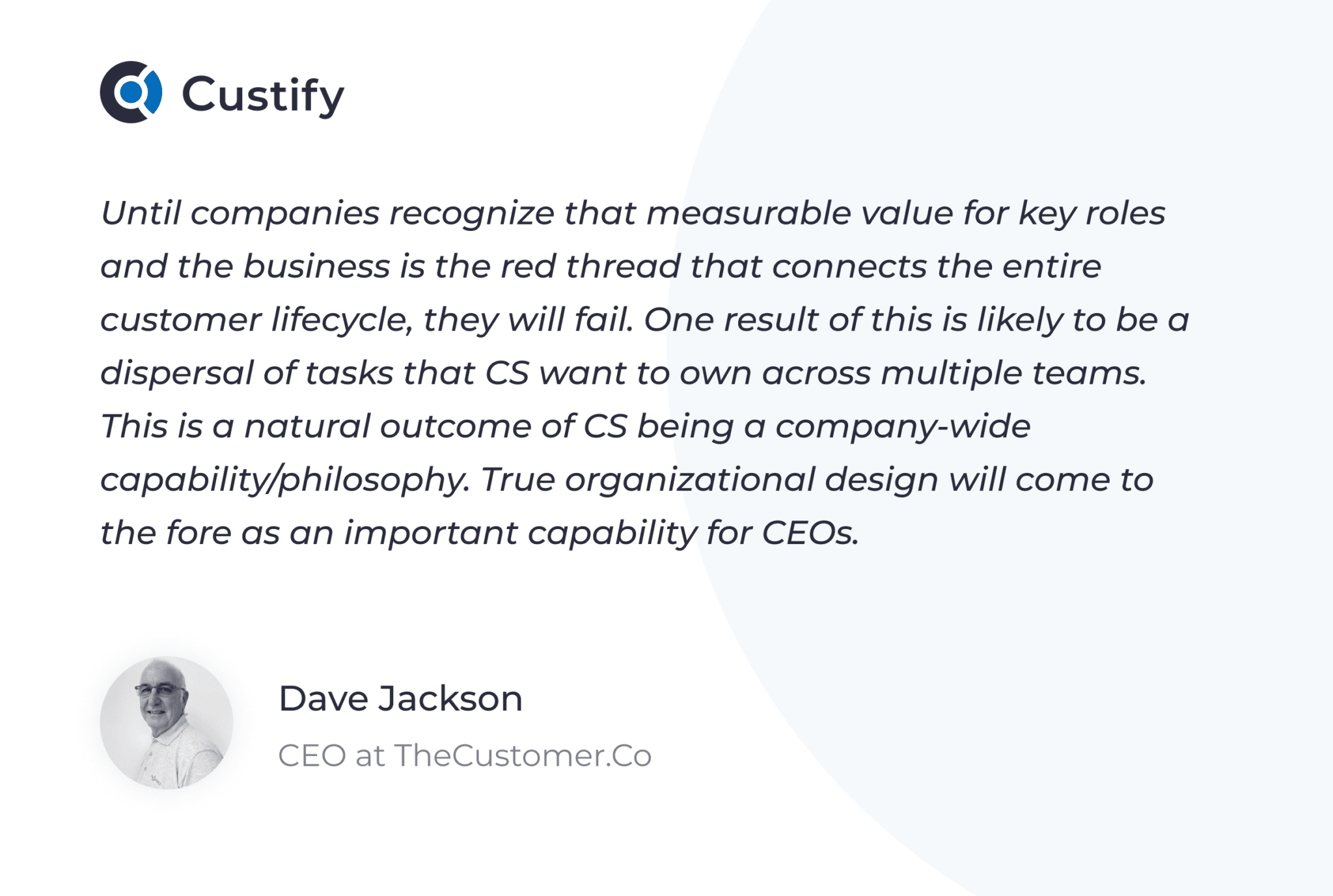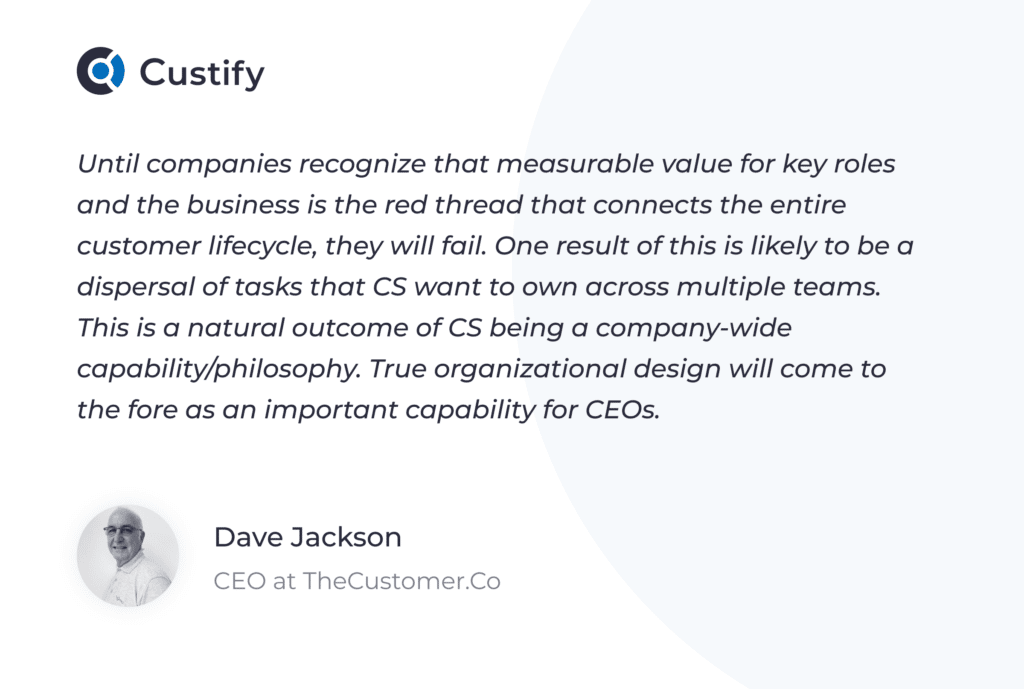 5. Strong Scaling Strategies Will Be Crucial
For a long time, "scaling" was the mantra among CS teams who used it as an explanation for most, if not all their strategic decisions. After all, scaling the business growth was the ultimate goal.
However, the approach to scaling that many CS leaders have been taking is hardly efficient and comes down to throwing more people at the problem — hiring more CSMs so that they can engage with more customers, achieve more upsells, and so on.
As Daphne Costa Lopes, Head of Customer Success at HubSpot put it during our 2023 in CS webinar: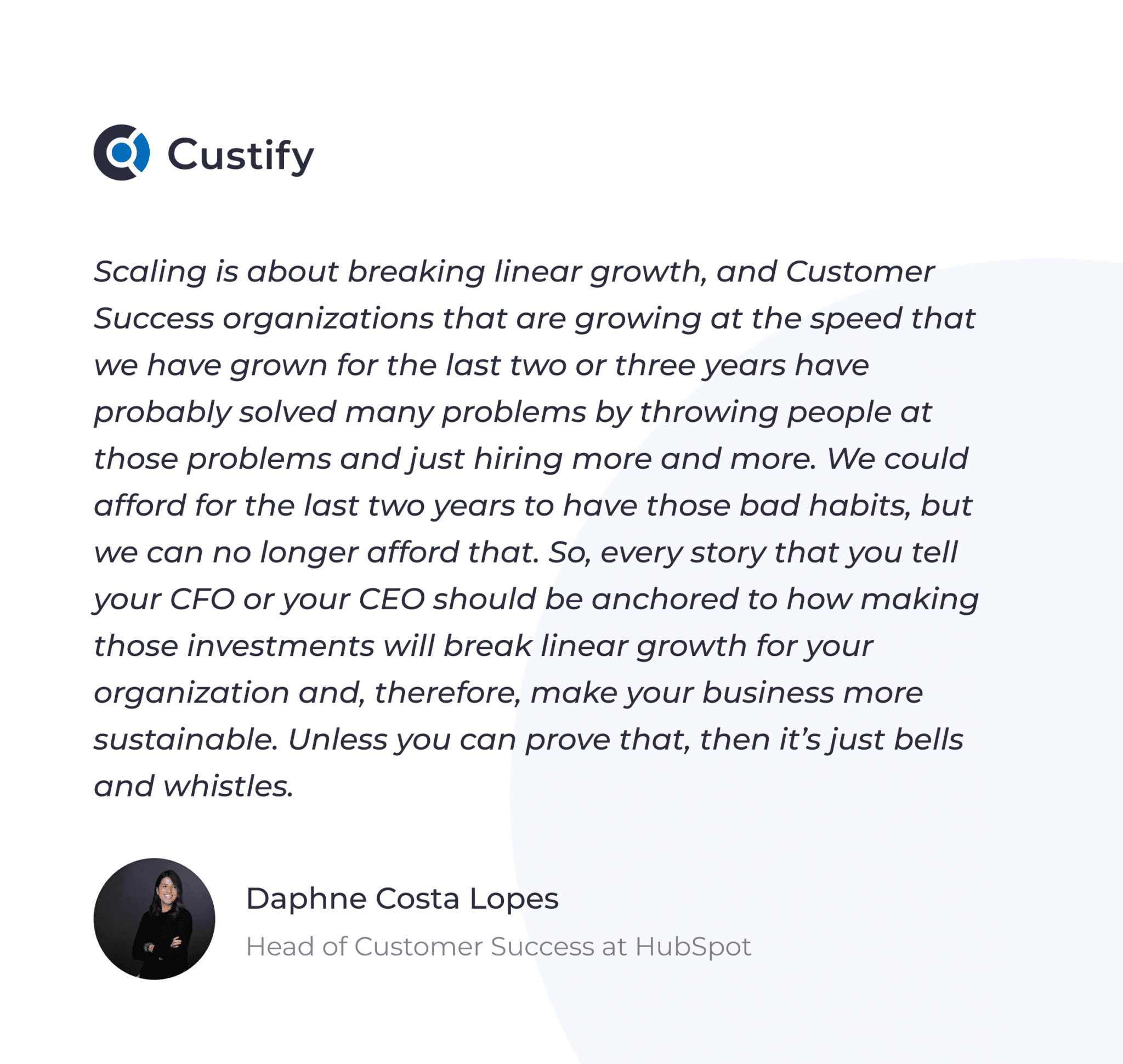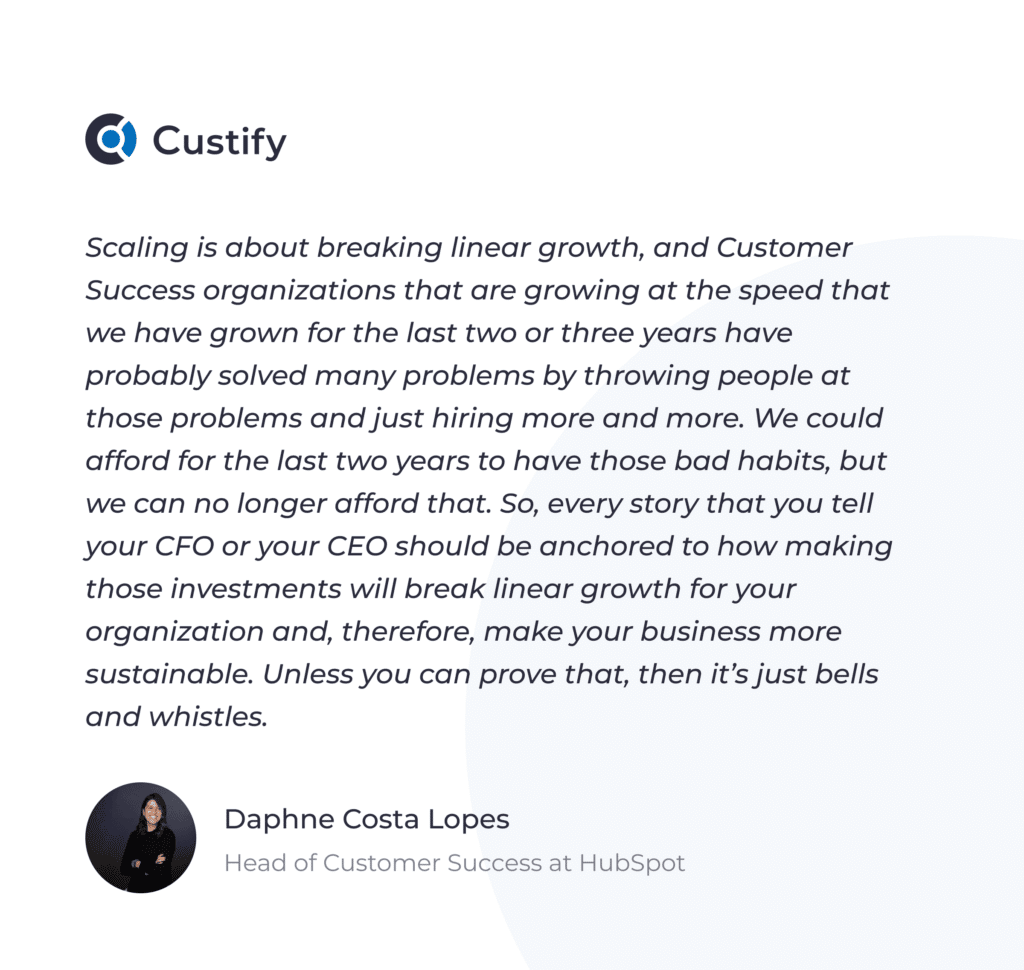 What Daphne suggests is that scaling can no longer be an abstract goal that requires an equally abstract journey and mindless investments. Instead, if CS leaders want to scale their business in 2023, they should approach this with a thorough plan in mind.
In other words, scaling requires a strong strategy that outlines specific growth goals and capabilities of your organization by looking at your organization's RACI models, service offerings, specializations, and more.
💡Custify Tip: Explore our CS scaling eGuide to learn more about scaling your Customer Success business without hiring more people
6. CS Strategies Will Become More Scientific
In 2023, CS strategies will be increasingly guided by science — more specifically, data science. As Peter Armaly, VP of Customer Success at ESG suggests, many CS teams already both possess the tools and know-how for leveraging customer data insights in their CS strategies and best practices.
We agree and believe that a data-driven approach is what will define successful CS organizations in 2023 and beyond, both in terms of delivering unique value to their customers and scaling their businesses.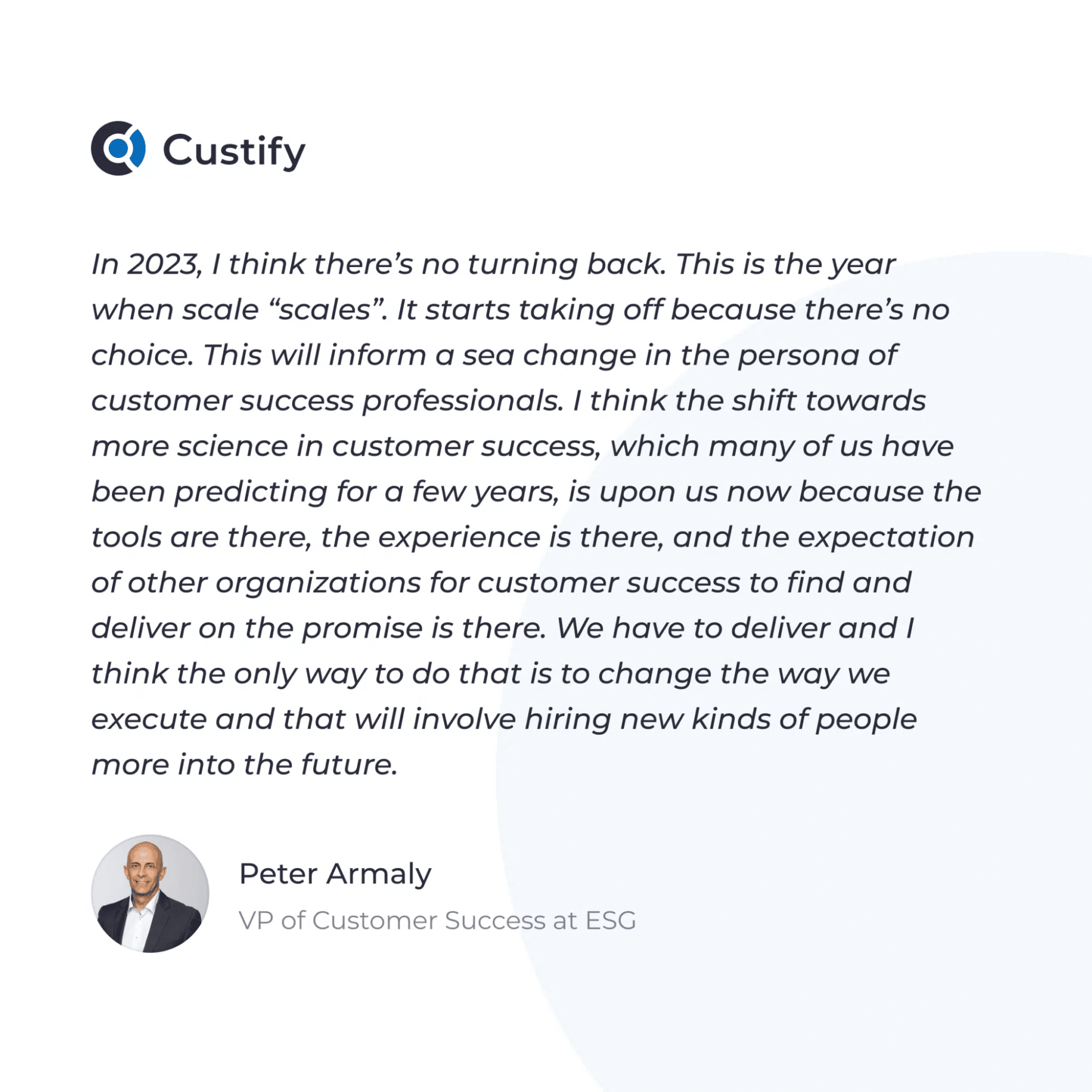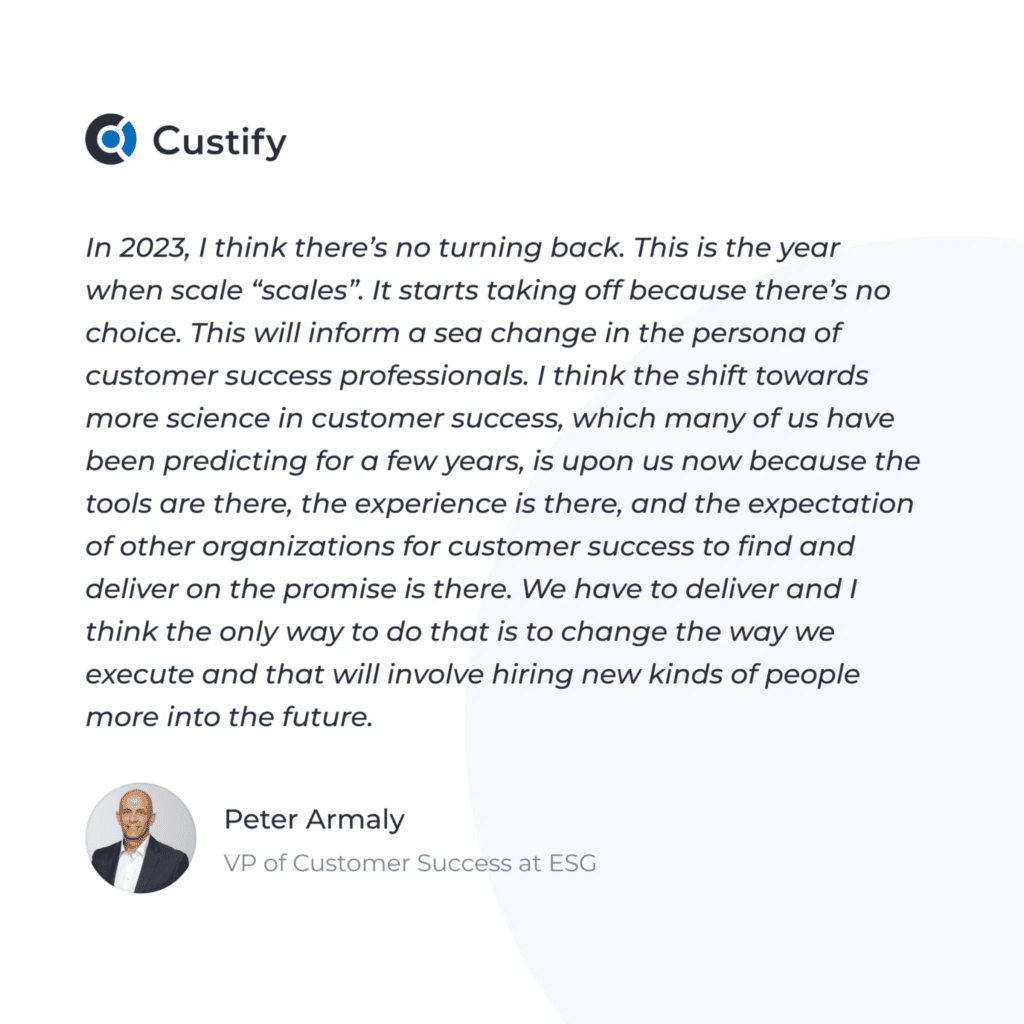 Brigid O'Donnell Colver, Global Head, Community & Content at involve.ai, shares this opinion: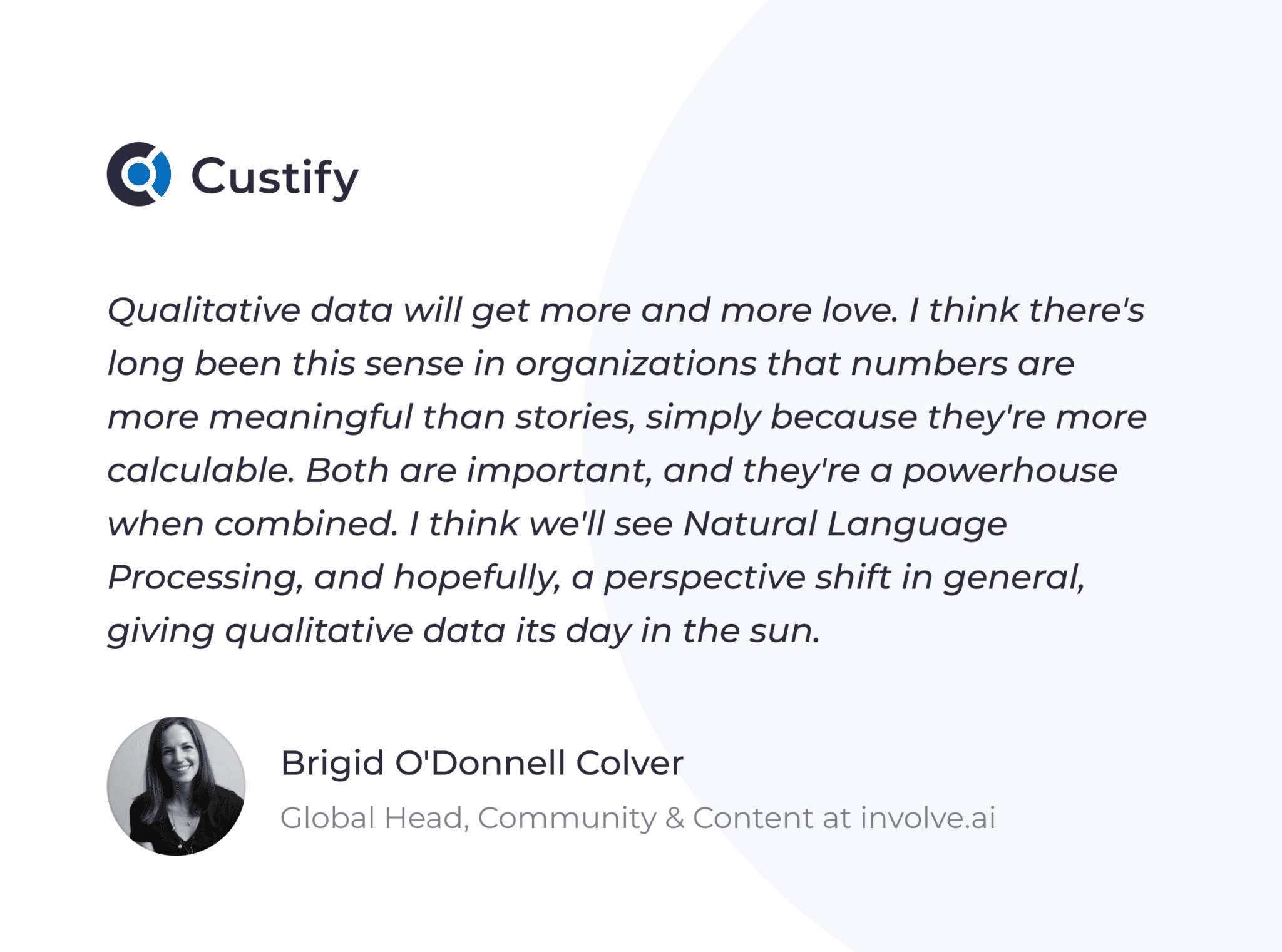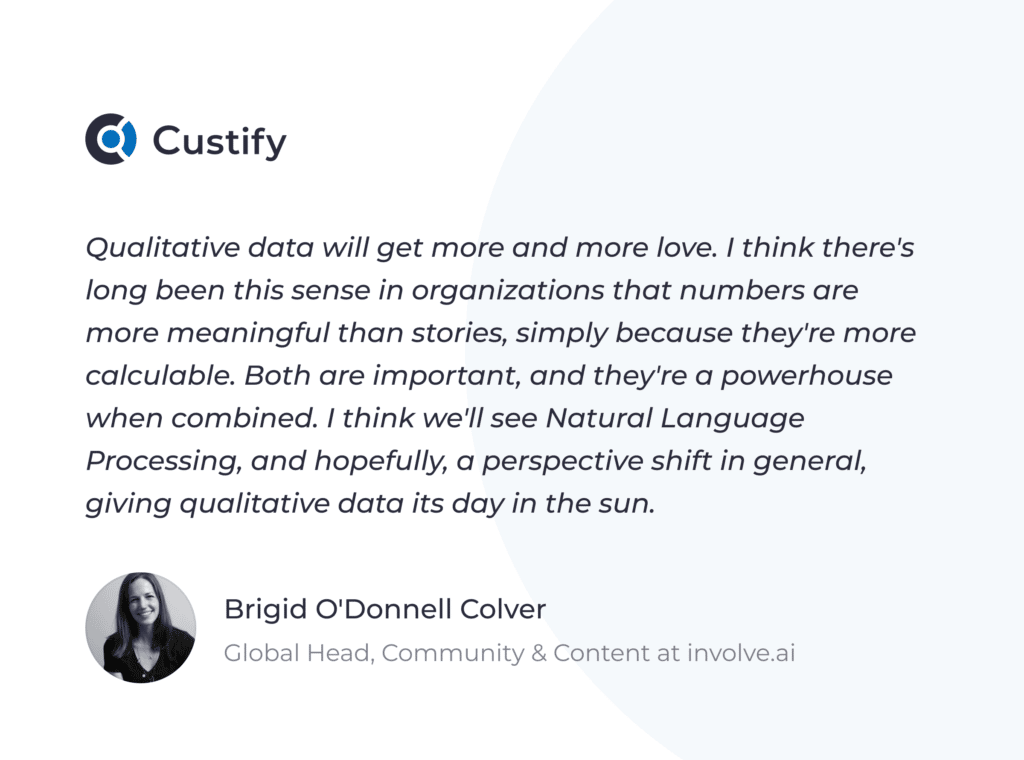 💡Custify Tip: Learn more about the role of data in Customer Success and how you can leverage it with our eGuide.
7. CS Will Generally Become More Strategic
It's not just the CS strategies that will become more data-driven. As Markus Rentsch, CEO at Remark-able suggests, Customer Success as a whole is bound to become more strategic in 2023.
And he's not wrong. As you have probably noticed, strategy seems to be the running theme across several of these predictions. This shouldn't come as a surprise considering that 2023 is, to some extent, the year where CS is going to truly "mature" as both a growth channel and a fundamental pillar of every modern SaaS business.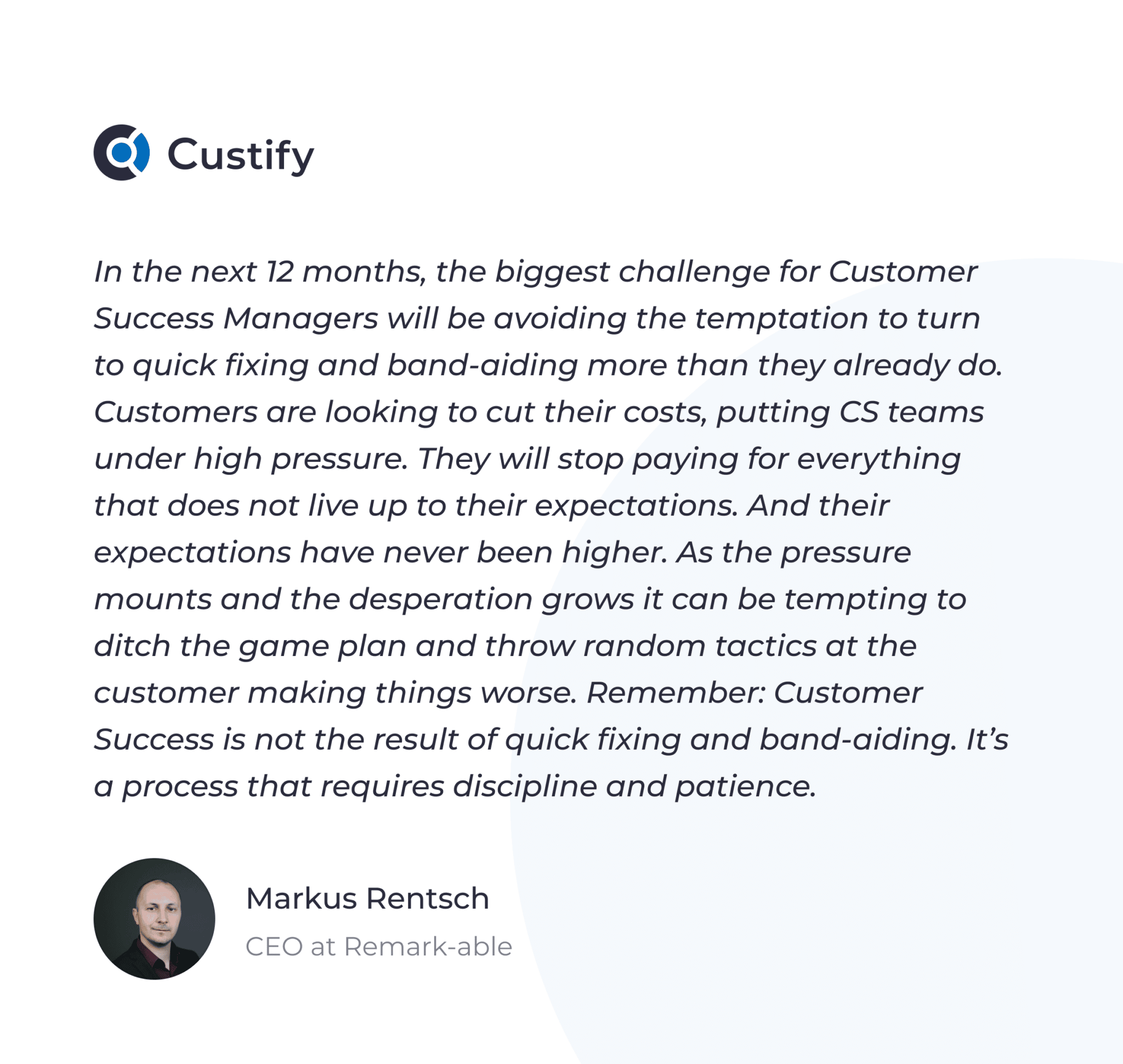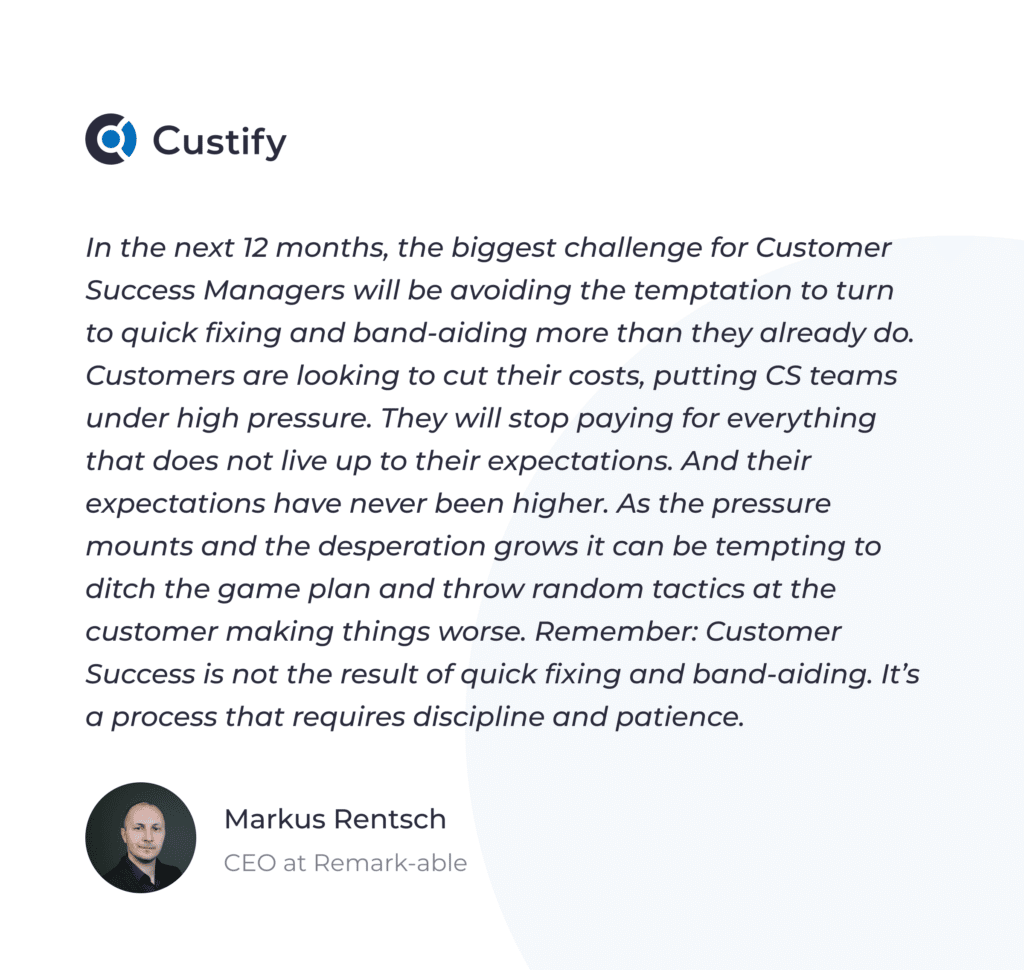 8. Quality and Personalization Will Be Key Growth Factors
Customer Success is a highly competitive environment, and the competition only seems to be accelerating.
2023 will be no exception — so how do you differentiate yourself from your competitors in your customers' and prospects' eyes? The answer is two things: quality and personalization. 73% of customers expect brands to address their personal, unique needs. At the same time, 86% of customers are willing to pay extra for a stellar experience with a SaaS product.
Taking the same highly personalized, quality-driven approach to each customer can take extra effort. Nevertheless, it will ultimately reward you by securing your customer's loyalty and business.
Here's how Irina Vatafu, Head of Customer Success at Custify, puts it: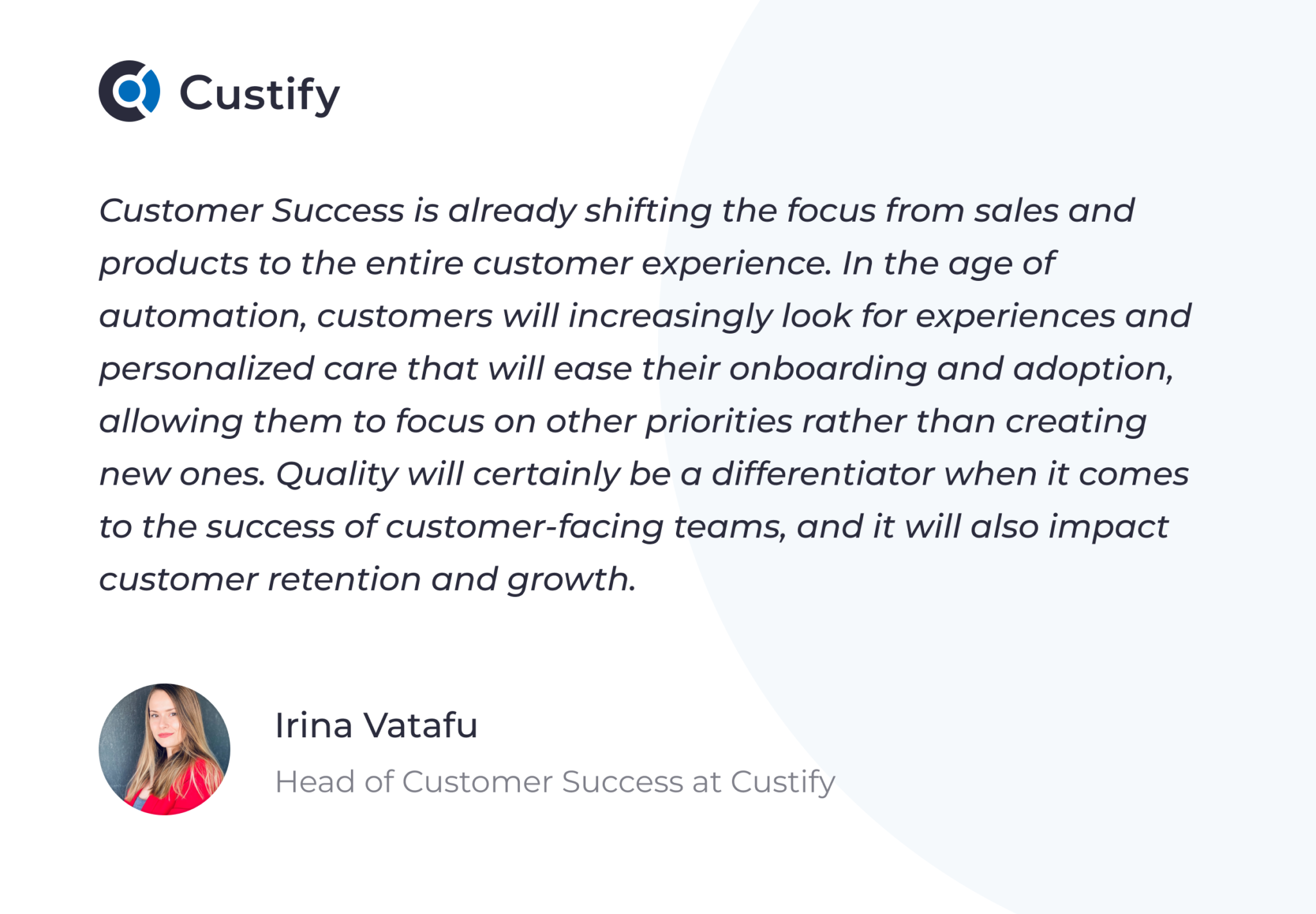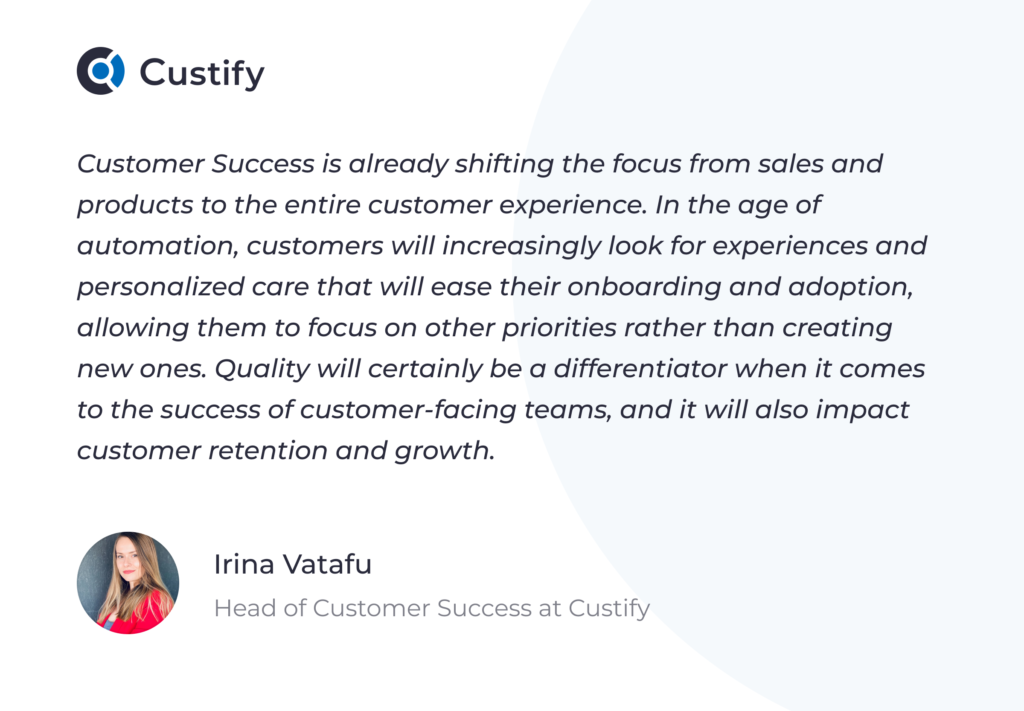 Tal Nagar, Senior Customer Success Analyst at Smore, also believes that 2023 will be all about taking a proactive approach to delivering value to customers: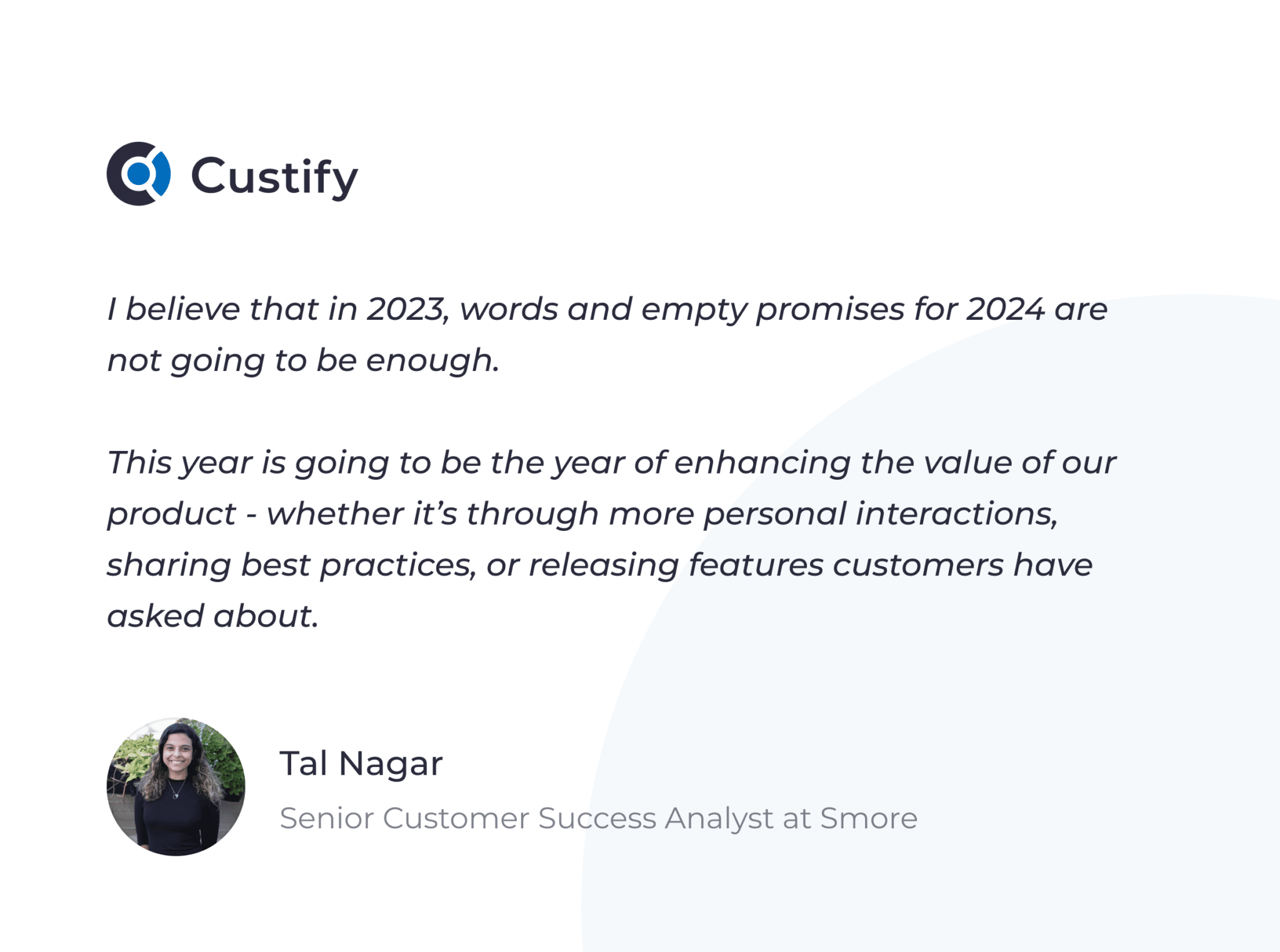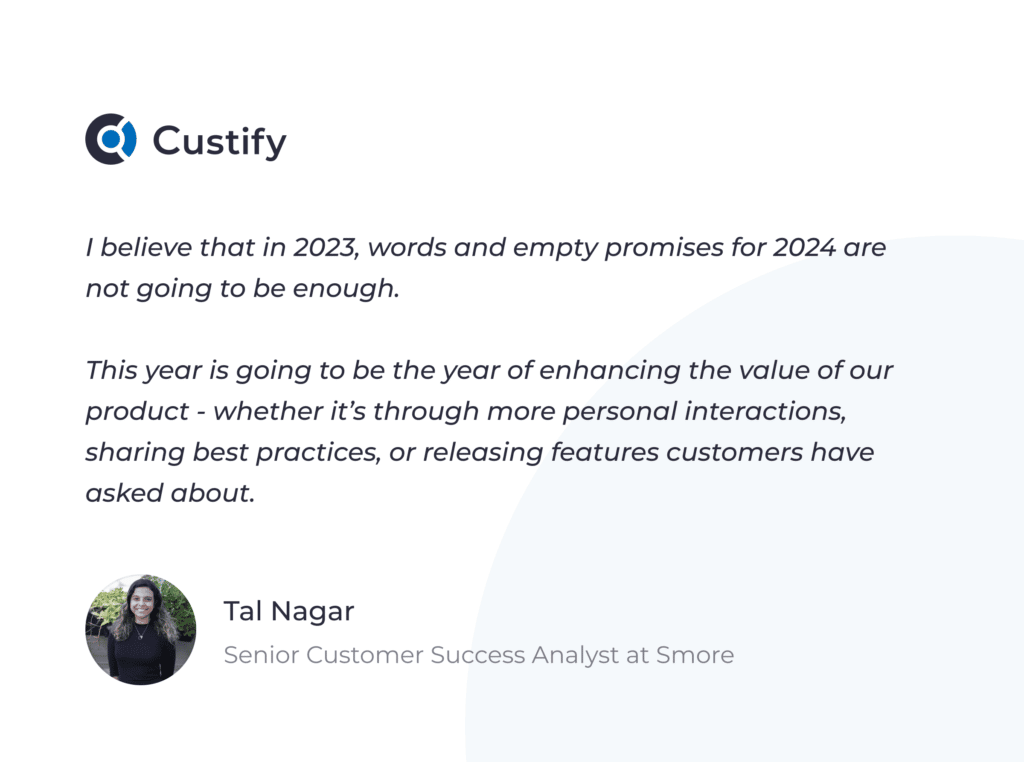 9. CS Ops Will Expand Its Footprint in Customer Success
CS Operations is, arguably, the hottest new branch of Customer Customers, and as many as 61% of organizations already boast dedicated CS Ops teams. We predict that CS Ops is not only here to stay but also to grow in 2023.
We expect a large portion of this growth to occur in CS organizations that have experienced rapid growth and dramatically expanded both their teams and customer rosters. And while growth is great, it can be disruptive and chaotic.
That's where CS Ops comes into the picture. A dedicated CS Ops team will help you develop and execute an overreaching Customer Success strategy. It can also ensure that you're meeting your KPIs, sticking to your workflows, and more.
10. Onboarding Automation Will Become Foundational to Customer Relationships
Dana Alvarenga, Vice President of Customer Experience at SlapFive, touches upon two key elements of a successful CS approach: the quality of the onboarding process and the quality of your relationships with your customers.
The former lays the foundation for the latter — if your customers have a pleasant onboarding experience (which, as Dana suggests, can be achieved by combining automation and human input), it will be easier for you to build strong relationships with them.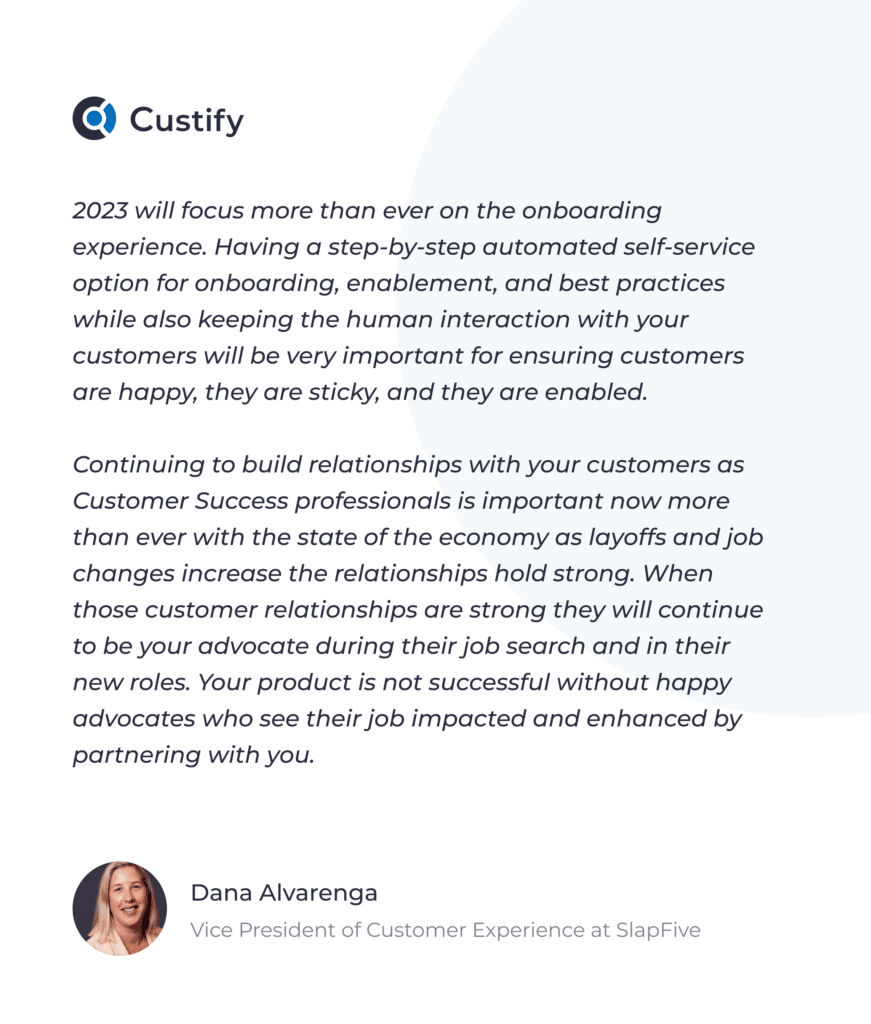 11. Transparency Will Become the Foundation of Customer Loyalty
Being transparent with your customers has always been important, no matter the industry. However, in Customer Success in 2023, transparency and trust are what will constitute the foundation of customer loyalty.
In fact, 68% of customers believe that only transparent and honest companies can be considered trustworthy. So, making sure that you win your customers' trust is a crucial step in securing their loyalty and, ultimately, advocacy.
Depending on your business model and unique value proposition, displaying transparency can range from providing your customers with accessible pricing information to regularly informing them about product updates. You can also inform them about technical issues or maintenance, the general developments at your organization, and more.
For example, here's a snippet of the "Monthly Updates" email that goes out to all Custify users: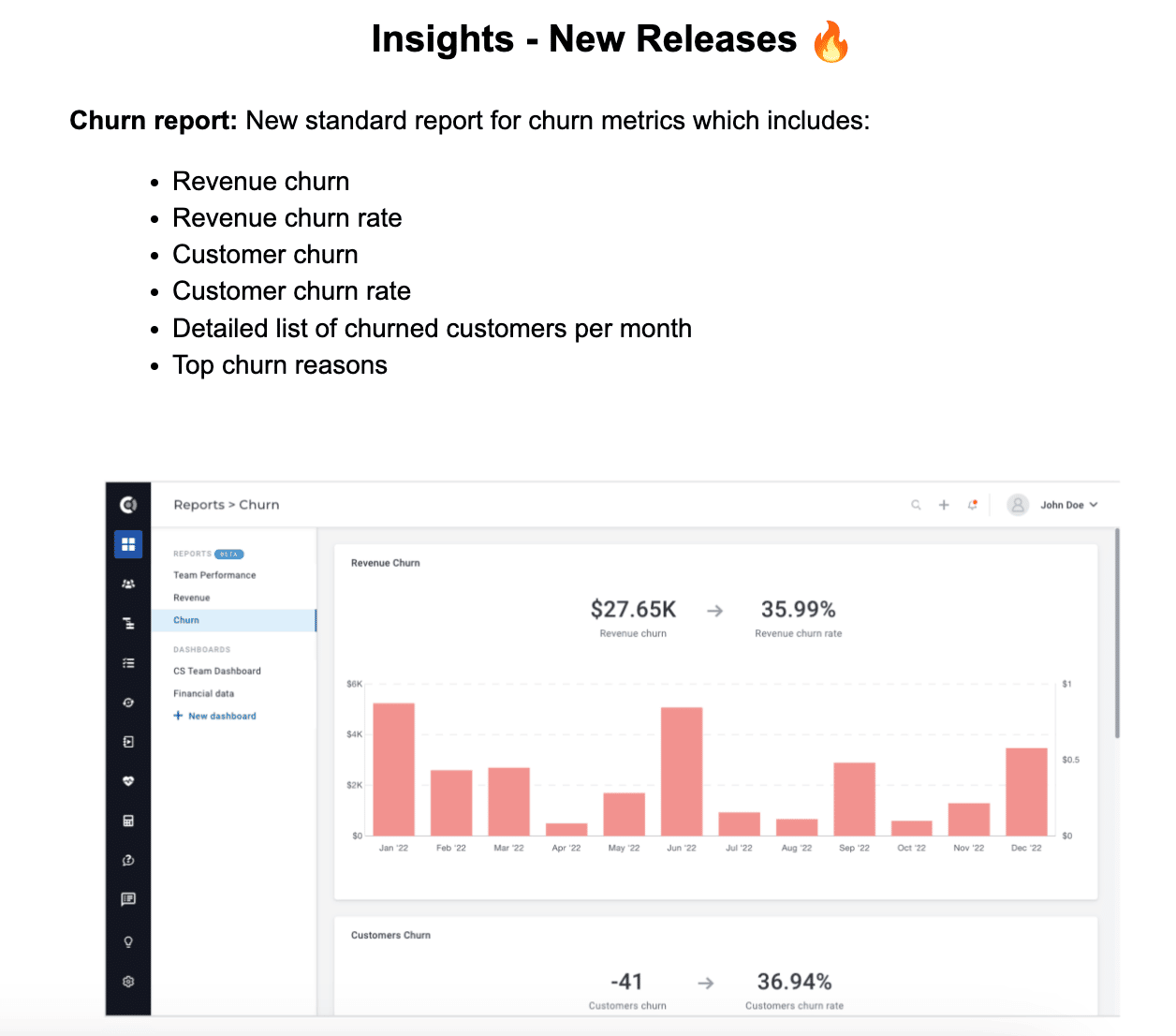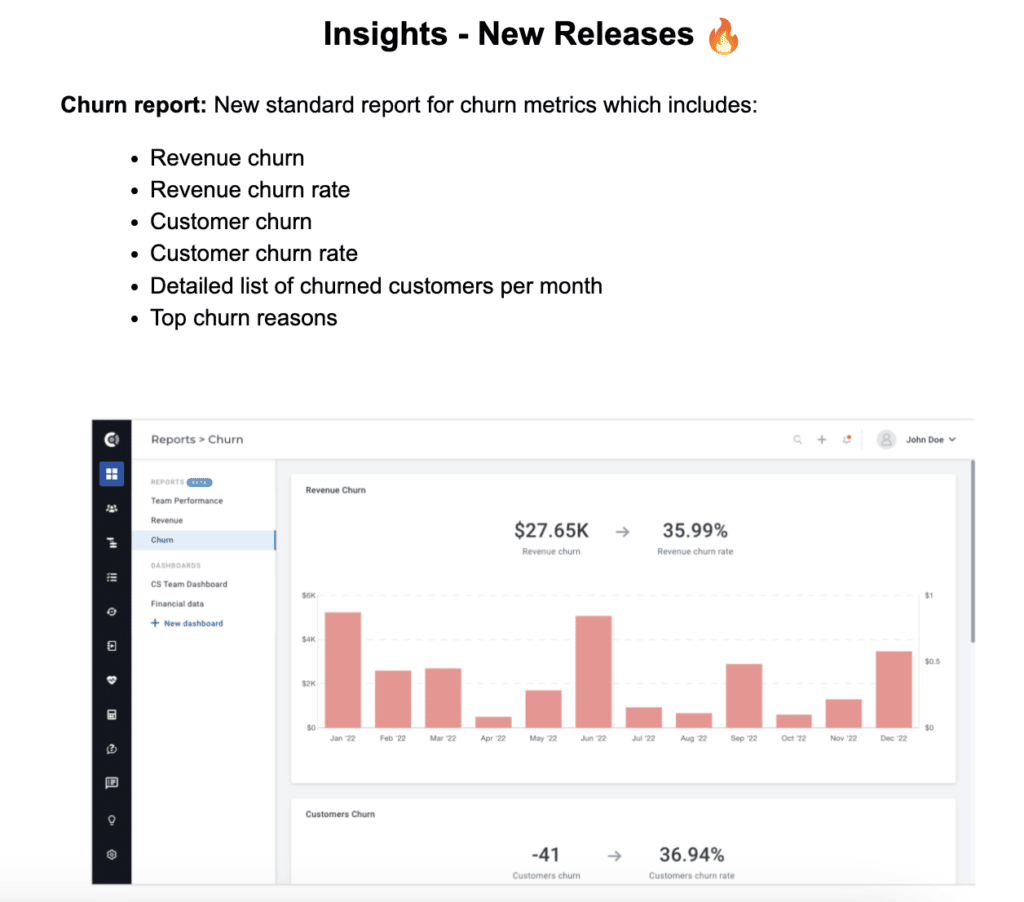 Wrapping up On CS Predictions for 2023
2023 has a lot in store for Customer Success, and we cannot wait to witness new trends and developments come to life. And even though the predictions we have listed here are all equally thrilling, we're certain that the CS industry will go beyond them in this upcoming year.
Of course, it's impossible to make predictions with 100% accuracy — if anything, that's what the past few years have taught us with their global health emergencies, economic uncertainty, and geopolitical tension. Nevertheless, we look forward to 2023 and all the upcoming changes to the state of CS.